IRIS WOMAN: DEBORAH COLTON
Philanthropist. Art curator. Gallery Owner. Deborah Colton has become a force in the art world, and has dedicated her life's work to sharing ground-breaking international artists with her network of collectors, gallerists, and art aficionados.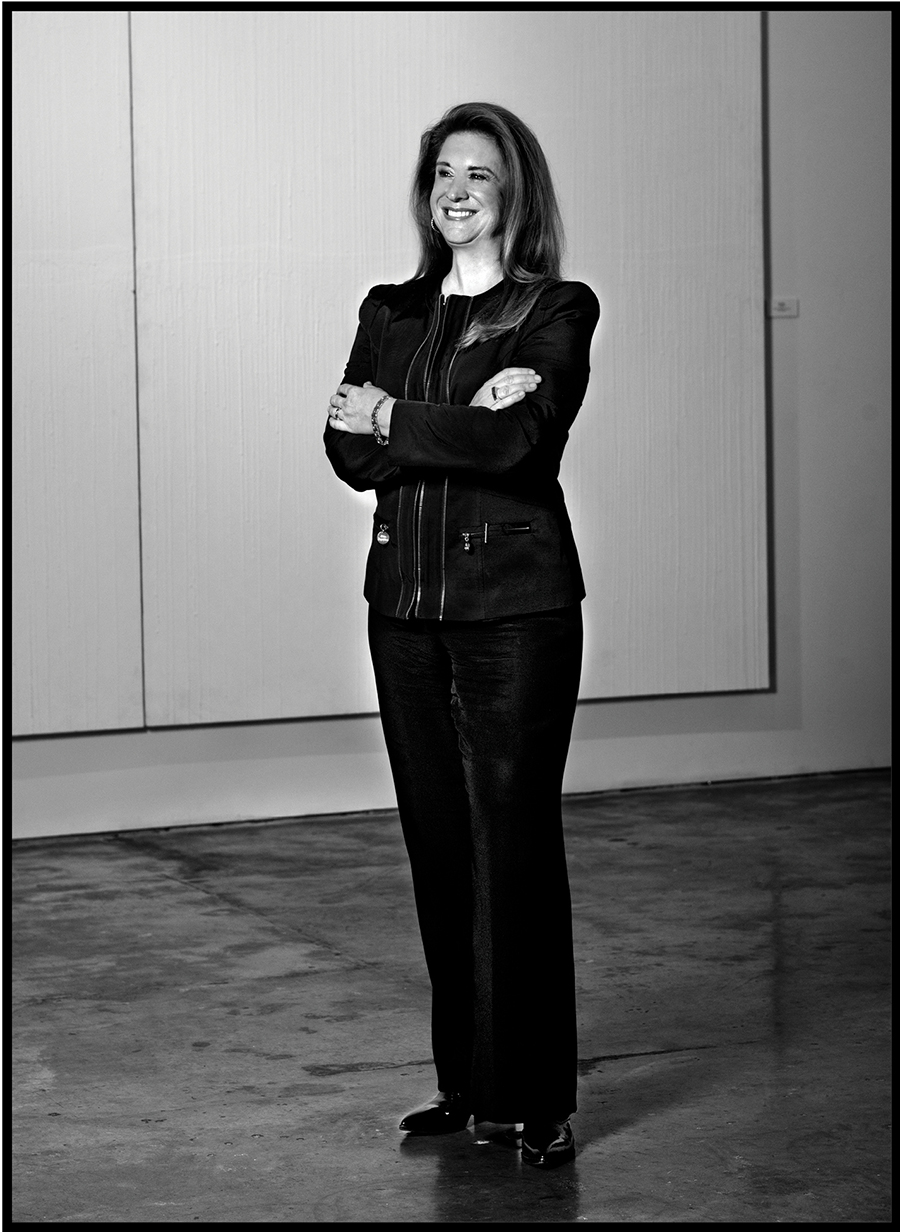 Deborah Colton photographed in front of Untitled Diptych by Daniel Kayne from the Dividing God Series, 2008 at Deborah Colton Gallery, Houston, TX.
While living in Asia for eight years, Deborah Colton's first emanation was a virtual gallery, starting in 1998, whose main focus was to create an awareness and appreciation for the multi-media talents of artists from Thailand, Japan, China and throughout Asia. With a background in marketing and a passion for art along with the support and encouragement of her peers and critics, Colton soon set out to look for her own gallery space. In 2000, finding a dilapidated but promising warehouse near downtown Houston, Deborah was at the forefront of initiating the gentrification framework for other artists and galleries to build out this blank space to curate their artistic visions. A few years later in 2004 she would open the Deborah Colton Gallery in a new Houston location, here she would expand her roster of artist for her now faithful international clients. While continuously supporting many art non-profits over the years, Colton shares her mission through various endeavors that help make Houston a destination city for the arts, nationally and internationally. We were lucky enough to have Deborah sit down with us to discuss her life in art.
What spurred your fascination with art? Any piece you collected that began this journey?
My fascination with art started as a young child with my mother painting on canvas in my playroom. My mother was an artist, and then later studied interior design at the New York School of Interior Design.  She has always had a wonderful sense of style and a sophisticated eye in creating our home in Essex Fells, New Jersey, which was featured in many newspapers and magazines. Living near New York, we would drive into the city to visit museums all the way through my college years. I drew and painted also, but my father wanted me to go more into business. I went that route, but always kept art as a hobby. I started to collect fine art in my mid-30's when my husband and I moved to Tokyo, Japan and I was living a charmed international ex-pat life. By the time we moved to Bangkok, Thailand four years later, I  was supporting Asian artists and continued to acquire a fair amount of contemporary Asian art. Loving art so much and wanting to support artists and the community while trying to create cross cultural exchange are some of the reasons I have the gallery now.
Did you always know you wanted to curate and collect art? Was there another career path you had in mind before you became emerged in art?
My undergraduate degree is a Bachelor of Science in Business Administration in Marketing with a minor in Psychology. After college I was in corporate sales, sales management and product launching in Houston and then in New York. My heart was always pulled towards the arts and I took night courses studying art whenever I could. When we moved overseas, it was easier for me to become more emerged in the arts again since I was not working in my first career anymore.
While living in Bangkok, I became very involved supporting many of the national artists of Thailand appointed by His Majesty the King, many of whom were professors and deans at the major fine arts university there. There they gave me private lessons on art techniques and processes. I have always felt I have had a privileged art education, being mentored by excellent international curators in Asia who studied in Europe at the finest schools, then later having top art historians speak at our gallery and having learned from all outstanding artists we have exhibited over the years. It's been an amazing journey and I am very humbled and appreciative.
How has your view on art changed since moving back from Asia sixteen years ago?
I have realized it is a full-time life commitment being involved in the arts. It was the Thai artists who inspired me to open a gallery when I moved back from Asia. They said historically in Europe, private galleries were created by art patrons who wanted to give the artists a place to exhibit and sell their art. These patrons' friends and peers would acquire the art which would help the artists establish their full-time careers. The art patron-gallerist in Singapore, who did so much for the contemporary art scene in Singapore, including establishing their international art fair, felt I had the personal portfolio to be successful at this too. I had always been involved since college in contributing to my community, so making this contribution to the arts to help make Houston become more of an international art city seemed like something that would fully inspire me.
Why does the Deborah Colton Gallery focus on international artists rather than strictly American or even just Texan artists? Why do you find this focus important?
Every gallerist has their own personal journey and this is reflected in the art and artists they choose to exhibit.  I lived overseas for over eight years with my family.  Our perspective on the world changed, making best friends with people from all over the world and living in different countries with different cultures. We all became "citizens of the world" rather than of one place, and relationships became the most important to us since the places we lived always changed. The first exhibitions I curated in the United States were from Asia. In October of 2000 it was an exhibition of over fifty works from Thailand with Consular Forum 2000 in conjunction with the Asia Society. Next it was China, next Japan, all in conjunction with the Consul Generals of these countries is Houston and with the Asia Society.
Who are your favorite artists to feature and how do you decide who to represent?
All our artists are special in that they don't mass produce work just to make sales. They are true, pure artists and create from their souls and their intellect. Most are trying to create awareness about issues that affect us as a global human race in this 21st century or have concepts that help make people feel "whole" and more connected. I feel that if people take the time to look and understand these artists, the quality of their lives will improve. They will become more connected with themselves, their environment, their quality of their relationships, and how we all co-exist with each other, sharing this planet together right now. Other artists like Jonas Mekas and our Houston based artist Suzanne Paul, help us understand where we come from as art communities, as a nation. Respecting the past and understanding it helps us be more present in today, and prepares us for the future.
Almost all of the artists we present are part of our mission statement, which is to use the gallery as a forum to connect Texas with national and international artists to make positive change. Visual arts are part of the humanities that we can't lose as a modern technological, more commercially-driven society. Our mission is to preserve this and create more world wide understanding through the arts.
What is the most powerful memory that comes to your mind related to art?
I remember I took a lot of time, actually over three years coming back from Asia, deciding what type of gallery I wanted to open and where it should be, based on our programming. As I had mentioned, I had done  "Pop-ups" in various Asian countries before this, and also an exhibition that had only shown in New York which included a film at the Angelika and a "Pop-up" exhibition in conjunction with FotoFest 2002.
This took off, and I wanted to exhibit really cutting edge Asian and international art in the future too. It was all going to be different from what the city had experienced before. Thus, I needed a unique gallery space. So I decided to open a gallery in the First Ward near the railroad tracks in a dilapidated warehouse. My most amazing art experience was the opening of Deborah Colton Gallery during FotoFest of 2004. We had over eight-hundred people come. Then the next show, one of the four artist's entire body of works went into the permanent collection of the Museum of Fine Arts Houston. The next show over 1,200 people came. That was when a building developer decided to restore one of the other old artist studio buildings.
We supported this effort and helped him get artists to rent his studio spaces and then we worked towards making the whole area a protected First Ward Arts District. Now this First Ward Arts District is one of the largest artist studio areas in the United States and is called the Washington Arts District. It's good for the artist; it's a place for them to show their work and sell it and they really don't need a commercial gallery. It brings art to more people which is a positive thing.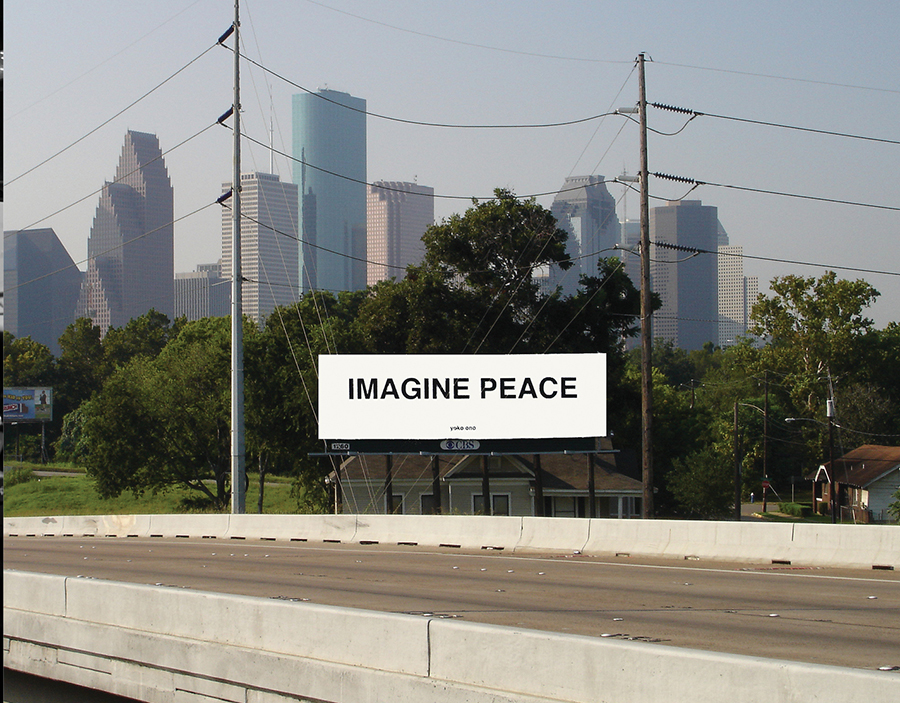 How did the idea of placing the Yoko Ono IMAGINE PEACE billboard come to fruition and what was the reaction from visitors and residents of Houston?
The planning of this show started shortly after September 11th, 2001, a day that changed the way we related and protected ourselves in the nation. Yet, many of us felt more war was not the answer.  I started to organize the 2006 WORD exhibition shortly after we opened the Deborah Colton Gallery in 2004. We had a focus on creating more world wide understanding through the arts and wanted to have a major exhibition of the most historical conceptual and fluxus artists. I believed in extending our exhibitions outside our own four walls and felt very strongly that the largest Yoko Ono IMAGINE PEACE billboard must be placed in Houston, going into downtown where thousands of people would see it each day.  When the billboard went up, the city was mesmerized by it. All of the TV stations covered it, all the newspapers and magazine press. Additionally we had hundreds of emails and phone calls with people giving testimonials of their life experiences and how important this major, harmonious billboard touched their lives each day. The billboard took on a life of its own, since the billboard company also got hundreds of phone calls. People wanted to sponsor it to keep it as a permanent installation. The city of Houston reacted
as much when it was taken down as when it went up, and the billboard also got national and international attention. For this reason I sponsored the billboard again at the same place for our 2011 "Positive Perceptions" exhibition which was the time of the 10th memorial of 9-11. The public was so pleased to have it in the city again and it showed unity in our nation to support those who lost their lives in New York. I was happy to sponsor it again.
Do you feel that being an independent gallerist gives you more freedom to take a risk on showing an artist that might not have the commercial success of a more mainstream artist or do you feel your approach is a good balance of art and commerce?
Luckily I have clients and supporters all over the world. We have artists from every world region and I am established as an international dealer. Thus, I can take risks with exhibitions that make an important social statement for positive change. I don't judge my success by how much we sell locally from each exhibition as much as how much we contribute, and how much of an impact we make.
Why did you choose to create a social and cultural center like the Deborah Colton Gallery in Houston rather than somewhere like New York or Los Angeles?
Houston is much more exciting to me. It is open and I love the way the people are. It's a young dynamic city that is open to new ideas and is a city of the future. The city is diverse and has great potential for growth. It's also very diverse and international, with over ninety-five Consulate offices and so many international leaders in all professions here. The city embraces new ideas and innovation, which is what Texas is made of. I have more freedom here to do really provocative and informative, dynamic, international programming that is fresh and inspiring, like the city of Houston. There is no where else I would rather be. It's great here!
What type of experiences do you hope visitors take away from visiting your gallery?
I hope that they will reach new levels of understanding of issues that affect us in a non-confrontational way through the beauty and essence of visual arts.
You are involved in so many great charities in Texas, is there one that is particularly close to your heart?
They are all important to me. I am on several boards and advisory boards because I believe in the organizations. I must say that helping Jonas Mekas and his Anthology Films Archives in New York is very important to me because it is the largest archive of independent film in the world, and I respect Jonas and his deep convictions. In Texas, I support organizations that help the underprivileged children through the arts, like Community Artists' Collective and City Art Works. I've been helping try to get our art fairs to the highest level and getting them on the same weekend so that we can establish a Houston Art Week that will highlight all the arts of the city. I spend a lot of my focus on Texas artists that did not go as far as they deserved in their lifetimes, like Bert Long, Dorothy Hood, and Suzanne Paul, who documented so much of Houston arts history since the 70s. We are establishing a project now to reveal our city's foundations so that, as the mega international city that we are now, we have something documented and concrete to build on.
Where do you see the Deborah Colton Gallery in 10 years? What is your next step?
I don't want to expand to other cities. Though we work with artists, curators, museums and collectors throughout the world. Houston is our home base and we only want one "white cube" exhibition space and gallery. I am open to the future.
What would you like your legacy to be?
I just get up every morning and try to contribute every day. Besides the fact that my husband and family are always the most important to me, the rest of my legacy the public can decide.  ‡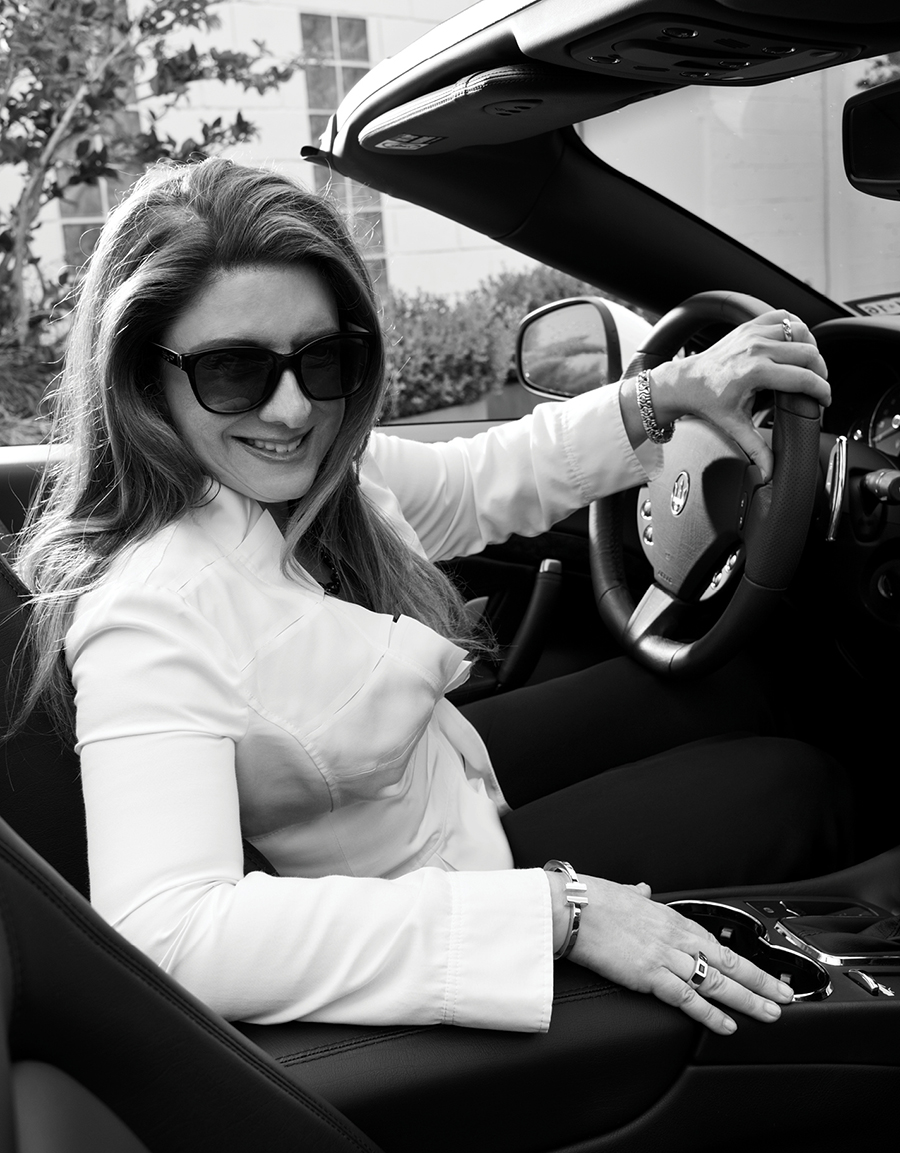 Deborah Colton photographed in her 2015 Maserati Gran Turismo convertible.