IRIS MAN – DR. TED VOLOYIANNIS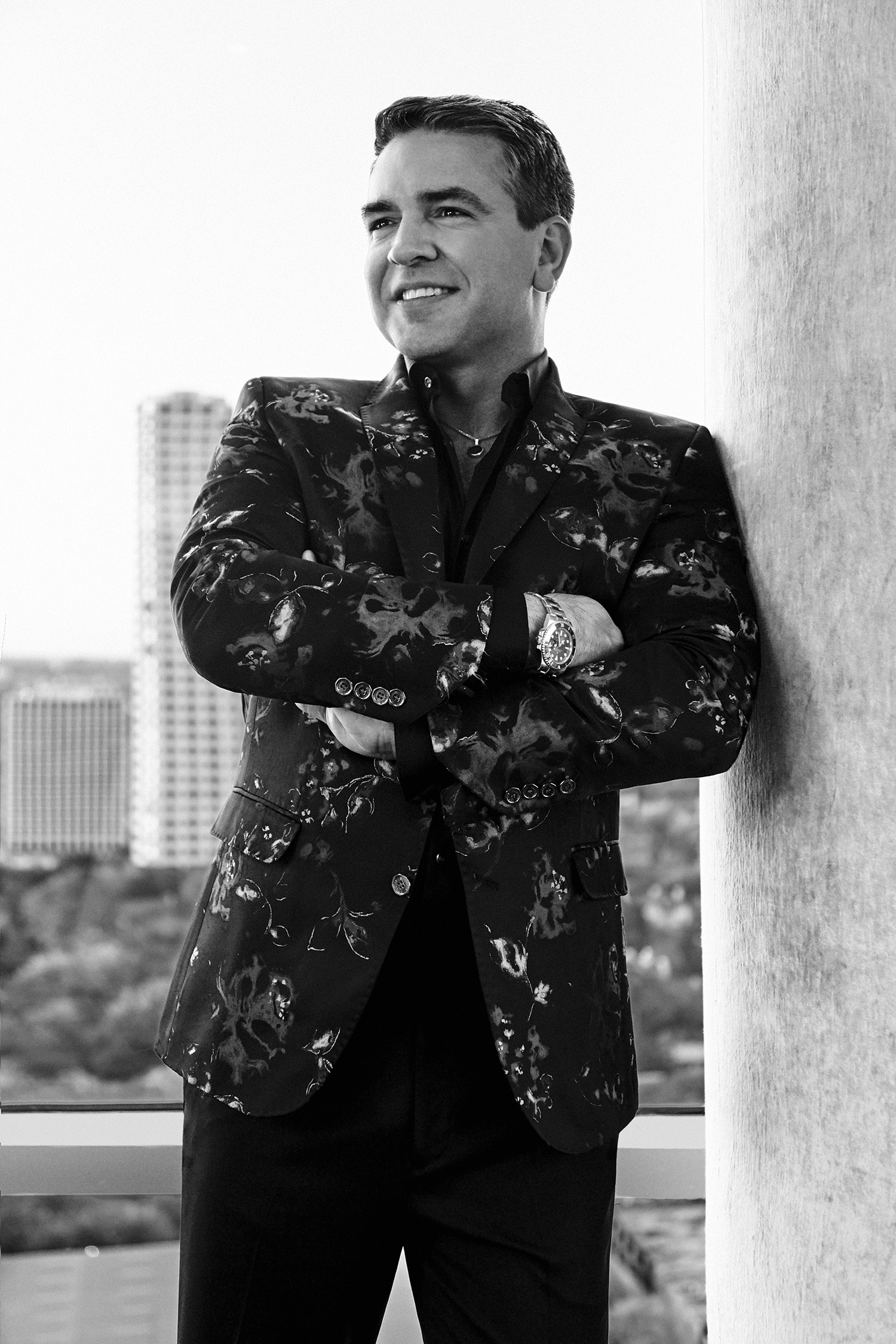 Dr. Ted Voloyiannis photographed at his apartment | Jacket by Bogosse | Shirt by Hugo Boss | Pants by Gucci | Watch by Rolex Submariner | Vintage Roman coin necklace, Dr. Ted Voloyiannis bought in Jerusalem
What made you decide to get into medicine and become a surgeon?
I always wanted to help people since I was a kid, but I needed to see the practical results right away. Also, I am very competitive. So, I decided to get into medicine when I was in middle school and to become a surgeon by my second year in medical school. I decided to immigrate when I was 25 from Greece and pursue my surgery training in the US at one of the most competitive programs in the country at Baylor College of Medicine.
You received criticism and scrutiny for the methods you proposed in the surgical procedures that you spearheaded and discovered. Was there a time that someone told you that you couldn't accomplish all that you have accomplished today?
Yes, a few surgeons who were close to retirement. It still frustrates me because it delayed the innovation in our field. Senior surgeons are often hesitant to adapt new ideas from their younger colleagues. I need to remember not to do the same when I get older!
You're actually known for your personable and friendly disposition and relationship that you build with patients. How do you try to relate to or connect with your patients as a care provider? Does this practice naturally carry over into your personal life?
Don't become a doctor if you don't love listening to your patients. Surgery can't be successful if you can't connect with your patient's background problems. Being more personal helps alleviate the fear, anxiety of the anticipated surgery and builds trust. I am usually "accused" of being too nice and trying to help everybody in my personal live even if sometimes this is not feasible.
You are an avid supporter of the Human Rights Campaign, devoting your free time for surgical services which benefit the LGBT community and patients with HIV in need for the greater Houston area. Would you consider yourself an activist?
I am an activist behind the scenes as well as in the operating room; I strongly support the LGBT community's fight for Equal Rights in our society, the same way I fight daily for excellent surgical care for all my patients regardless of sex, race, religion or sexual orientation.
You and your husband are interior design enthusiasts, what are some of your favorite pieces that you have collected?
Our favorites are The Baccarat Crystal "Marrie Coquine" Floor Lamp by designer Philippe Stark over our dinning table and the Jan Paul Gautier floating master bed!
Do you have a favorite design feature in your apartment?
The master bathroom! It features a unique design that incorporates Italian "Agape" fixtures, digitally printed tile, glass, ipe wood, and infinity views of Houston's city and skylines!
Additionally, you and your husband are avid travelers, what are some of your favorite trips you've taken & what are some upcoming trips you are excited about? Other than Greece and Mexico?
Israel, Egypt and Brazil were unique trips and now we are getting ready for our first cruise ever in Mediterranean Sea, to be followed by exploring Australia!
What is something you can't live without when you travel?
I can't lie: lots of shoes!
What advice would you give to your younger self or to young people in general?
Set great goals early in your life and work hard for them. It will pay off! Don't go to medical school! ( joking)
Words of advice that you live by and whom was it given by?
"Don't let the demanding multi-year surgery residency training change who you are!" My chief resident gave it to me the first day I started my surgical training.
Photography and Interview by Dustin Mansyur | Styling by Marc Sifuentes | Art Direction by Louis Liu | Grooming by MakeupByDiego