RJ RAIZK
Photography and Interview by Dustin Mansyur | Styling by Marc Sifuentes | Creative Direction by Louis Liu | Makeup by Lydia Brock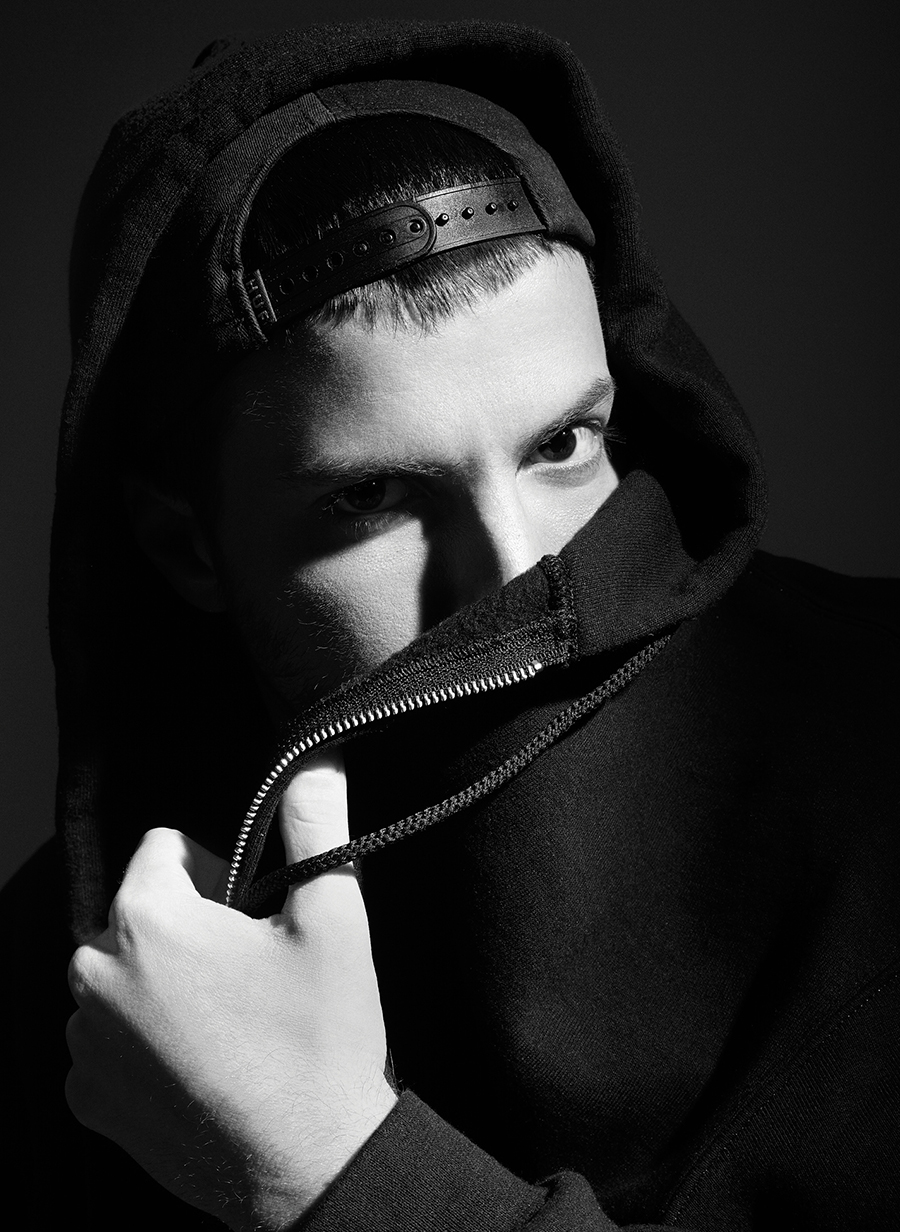 RJ Raizk presents himself as an embodiment of his brand: an austere and seemingly-aloof specimen of cool, tinged with angst–an inevitable by-product of any creative trying to "make it" in New York. But there is something more seductive and sincere about the artist than his all-black-wearing persona. The 29-year-old who transplanted from Ohio to attend School of Visual Arts just over a decade ago, has been incubating his creative sensibilities with a New York state-of-mind. "I'm just planting all the seeds, so I can get the fuck out of here." His breed is the kind of artist that is navigating a post-digital and post-recession career path while reenvisioning ways to create a sustainable life and career as an artist.
Already amassing a hefty resume of commercial projects and commissions with MTV, Restoration Hardware, and several of New York's finest hospitality spaces, including trendy Meatpacking nightclub, Up&Down, The Tribeca Grand Hotel, and several private residences commissioned by interior design clients; RJ's work is dynamic and impactful, making it easy for his audience to connect with his work. Much of his work could be interpreted as studies in dualism, drawing inspiration from some of the most diverse geometric structures and organisms found within the natural world as seen in the artist's intricate and polarized black-and-white pattern work. Raizk's work fluidly moves between analog and digital processes, at times incorporating both into the same piece.
While modernizing representational subject matter through simplified form and playful design, Raizk's work is balanced by a highly-controlled process in which he attempts to utilize his physical body for a mechanical "printer-like application", creating nearly-perfect pattern-repeating murals that are only seemingly-organic. A glance through the artist's portfolio, which he endearingly refers to as his "pattern book", reveals that RJ's work is delicate and energetic at the same time. Patterns that look like constellations, electrons, cell mitosis, photosynthesis or seed-germination all make an appearance
in optic black and white ink on paper, all created entirely by hand. It is easy to be awed by the kind of discipline such detail requires, "I've done this one for the entire entrance of Up&Down," he exclaims proudly, pointing to a pattern that could easily be the microbial makeup of a plant under a microscope.  "I did this one for my friend's place and I've done it for restaurants, to prints on canvases for people, to just prints on paper.  I've done it just about everywhere. I'm leaving it open to every type of medium. It doesn't have to be just drawn or painted."
Many of the patterns within his body of work have been scanned to create digital file assets that can be further manipulated and used as source material for RJ's intricate digital collage work. "A lot of people don't understand that digital work takes about as much effort and time as analog. They don't think digital is as authentic as you doing it by hand.  But in actuality, the amount of time and effort it takes to make a digital piece is the same because you're collaging this giant thing and it's your work.  So, just because there's a computer between you doesn't mean that it's less effort." For last year's Miley Cyrus-hosted MTV Video Music Award, the artist was commissioned to create advertising collateral featuring the popstar, and suggested that the computer is simply another medium. "I love that I can combine my digital with my hand-drawn and I think that's one of the best stuff I've done."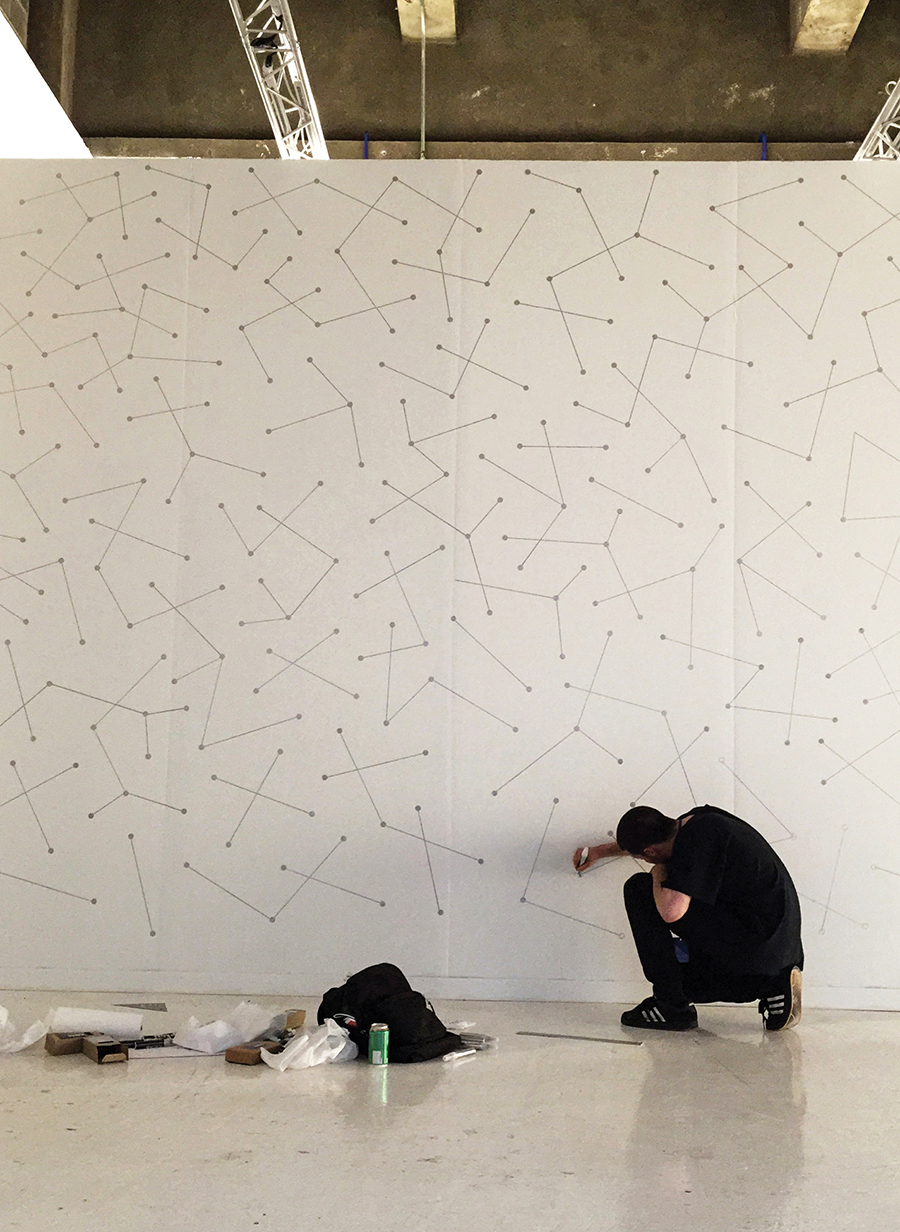 Work In Progress: Constellation Mural, Hand Drawn Silver Ink On White Wall, At Collective Design Fair, 2016
Raizk's first solo show, hosted by friend and fashion powerhouse, Nicola Formichetti, the artist made a return to a more traditional process of pigment dye and acrylic paintings on canvas, showcasing his skill-set as an abstract painter. Paintings carried over from the solo exhibition were quickly snatched up by Restoration Hardware's newest division, RH Contemporary Artists, which markets a curated selection of artists' work to it's long-established cult-following consumer base in the world of home decor.  The potential of dipping his toe in the world of interior design and luxury furnishings and fabrics isn't a bad idea. It's easy to envision Raizk's titillating patterns as fabrics, wallpaper, or carpeting that could wrap any textiled surface.
Positioning oneself for potential licensing deals is good business for any artist. Still, for many millennial creatives living in New York, post-graduation career aspirations can seem daunting, especially when trying to understand how to generate the cash flow to make a dream happen. "If you're looking into studio spaces, they'll be $2000 a month that's a 300 square foot box with no window. If you want a window, then it's over $3000," he said, recalling the reality of astronomical rent that has posed a challenge for so many of New York's artists. "But yet, everyone needs artists, but no one's willing to cater to them."
Merging his talent with a business-savvy drive, RJ's career path hasn't come without its criticism. "They are like, 'Why don't you just get a job on the side?  Why don't you do this?'  And I'm like, 'You guys don't understand.  If I had a job, I wouldn't devote any time to this.  I'd be coming home, going to sleep, waking up, going to the job.'  I need freedom to be able to make stuff, because then, the payoff is actually worth it, now.  It's frustrating, because no one really understands and they're just like,
'You just don't want to work. You're just lazy.' And I know that's not true, because how did all this stuff happen?"
Fortunately, Raizk has effectively been able to maneuver said challenges, learning to employ the same cerebral dance between left and right brain (as seen in his pattern work) and flow effortlessly between them at will. This duality carries over into the profound underlying themes within RJ's work. This is apparent in his crayon drawings of aliens that have become popular cult t-shirts. The series features aliens trying to understand a variety of human emotions, masquerading as tongue-in-cheek t-shirt designs that could easily be sold for the masses.
"I hope you know I'm not that serious," he jokes while showing me a crayon drawing of two aliens holding hands with a sphere of rainbows drawn around their hands with the slogan "Searching for a connection". One could understand them as a deeper commentary on the theory that life is a computer simulation being understood by a post-human civilization, an idea effectively juxtaposed by its delivery in the form of an infantile crayon drawing, reminiscent of childhood.
"Are we nothing but aliens experiencing human emotions for the first time?" I propose.
He agrees, "I think so."
Here, Iris Covet Book sits down with the New York City-based artist at our photoshoot in Soho, NY.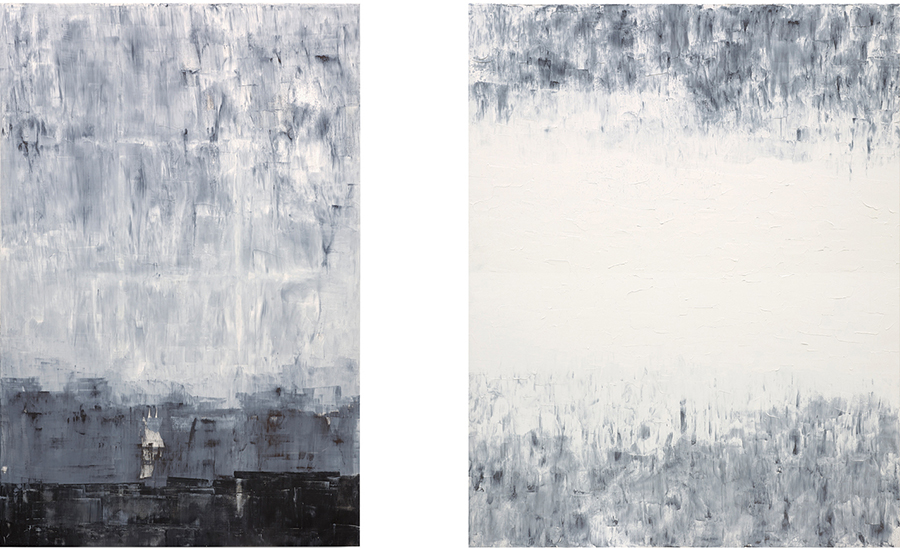 Right: TERRAIN, 2016 | Black pigment dye and acylic on canvas | 60 x 48 inches | Available on rhcontemporaryart.com
Left: GRADIENT, 2016 | Black pigment dye and acrylic on canvas | 72 x 48 inches | Available on rhcontemporaryart.com
When did you know you wanted to become an artist?
It's funny, when I was a child I was constantly drawing all over the walls of my parents' house. At the time, my mom freaked out because I had just destroyed her newly painted shutters. She actually ended up saving the shutter with my markings on it. In class, I was one of those kids that never paid attention to the teacher and would just draw and scribble on the side of my notes and on the back of tests, wherever I could find an empty space on paper. I guess I could say I wanted to be an artist my entire life.
Has this been a career path that you always saw for yourself?
Ever since I was about 13, I knew that a normal life was not for me and I could not handle a 9-5 office job, it would give me anxiety and still does to this day thinking about it. I had this deep instinctual feeling to follow my dreams and what truly made me happy, and that's how I decided that unless I pursued art I would not be happy. I would rather die than not do what I like to do for the world around me.
What influences have helped shape your creative process?
I was one of those kids who loved electronics and video games, the universe and the cosmos and the stylized drawing of anime and Japanese art. A nerd at heart. The way they could create such movement and drama with such simple line work was what really intrigued me. I'm also inspired by how organic structures of plants and the cosmos create such beautiful patterns.
Was there ever a time you were afraid or uncertain to express or put yourself out there creatively because of what others might think?
I want people to appreciate it as much as you do. When I was younger it was more difficult but now it has gotten a lot easier, the feedback has been nothing but positive so it keeps me going.
Is your work an emotional process or more of a technical process?
When I paint it is more emotional, and free flowing due to the movement of it. When I draw its more technical, I go into an almost robotic mode when I draw, it's very repetitive. When I combine the two I feel the most complete.
When commissioned for interior design projects, how do spaces and architecture inspire the work that you create within them?
I have a portfolio of all my patterns that I have drawn over the years, and continue to make new ones for myself.
When I am commissioned for an interior design project I select the pattern that works the best with the space. With paintings, it's the same process, I'll show examples and work with the style of painting they want for their home.
What is something you hope your audience experiences when they enter a space that you have done?
Ultimately, I just want people to feel good about what they see and give them a feeling of awe. That's why I like doing hospitality spaces so much, because if people are enjoying themselves in
the space, I feel like their reactions will be more positive.
So that you automatically feel energized being in it?
I'm basically taking a really stark, boring space, adding something crazy to it that is mine. So, it's basically like me going out and leaving a giant autograph in a space and people really love it.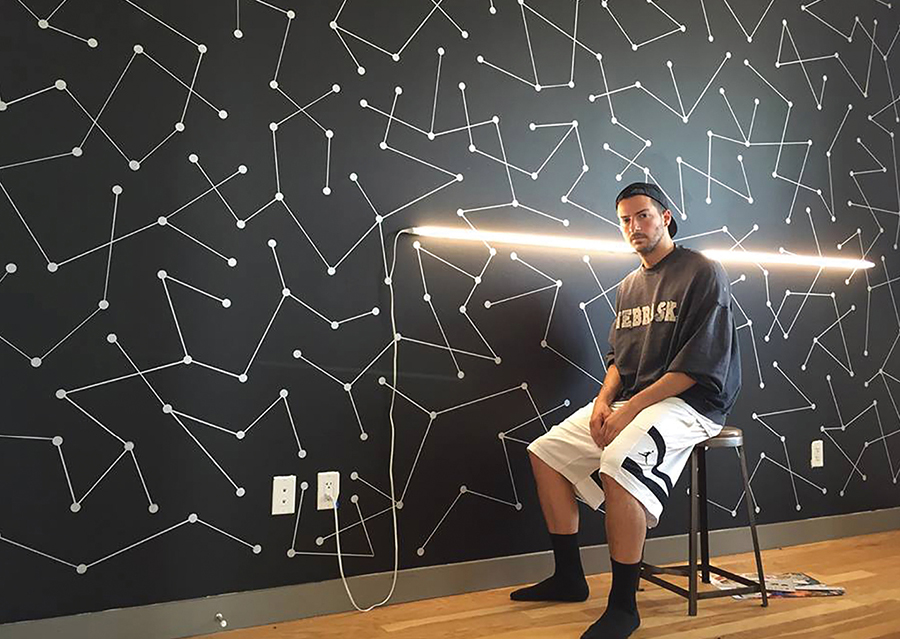 Work In Progress: Constellation Mural | Hand Drawn Silver Ink On Black Wall | At A Private Residence,2016.
Do you feel like an incredible amount of energy has surged through you physically when you have completed a mural?
After I've finished, then I'm basically brain dead. I've been focused during the whole process and then once I've finished, I literally cannot do anything else. I feel like I've given all of myself to this work.
Do you consider yourself an entrepreneur in addition to being an artist and is there a balance between the two roles?
They do go hand in hand, you have to be smart about your work and how it represents your brand, your brand being yourself. Today, people want to know everything about you and what you represent.
How have you overcome the challenge of making art a viable business and what advice would you give young creatives hoping to make a career as an artist?
I have overcome the challenge by being very patient. You have to be patient. Sometimes the world isn't as forward thinking as you are but overtime the world will catch up to your speed. My advice to young creatives is, keep practicing your craft and keep doing what you love to do. If your heart and soul is present in your work, you will always find success. Especially in this day and age with social media and all the other platforms that we have to show our work to the world. Keep putting your work out there, and positive things will come to you.
What makes you feel nostalgic?
I was a small town boy, in Wilmington, Ohio growing up. When I think about the fun I had running through the streets, bike riding through the neighborhoods, walking to the one gas station to buy candy, climbing trees, I feel nostalgic.
What makes you feel cerebral?
I love walking around the city and listening to music, I could do it all day when I'm not working. The music I listen to ranges from ambient, vapor wave, electronic, techno, hip-hop and classical. Music in general at all times makes me feel very cerebral.
Do you have anyone that you look up to professionally?
Yayoi Kusama and Keith Haring, I believe we are cut from the same cloth.
How has art helped you discover yourself or the world around you? What personality traits has it helped you develop?
It's the core of my being and is the basis for everything I am.  ‡