TAIPEI FASHION WEEK SS2021 – RE:CONNEXT
In the hopes to reconnect people during these uncertain times through the art of fashion, as well as present the industry with digital experience concepts to inspire the future of fashion show events, this year's Taipei Fashion Week SS 2021 RE:CONNEXT brought together the classic aspects of a conventional fashion show with a number of virtual, interactive elements.
Taiwan is a country mix of cultures and talented designers who have often studied abroad in New York, Paris, and Italy. As 2020 had an unusual beginning: the energy crisis, global warming, and a worldwide pandemic that has not only created social distances between humans but also redefined how we communicate. Designers remain true to our heritage, returning here to showcase their dazzling and original contributions to a global fashion language."
Many of designers are taking humanity as its concept, exploring nature, sustainable textile, and the post pandemic complex matters.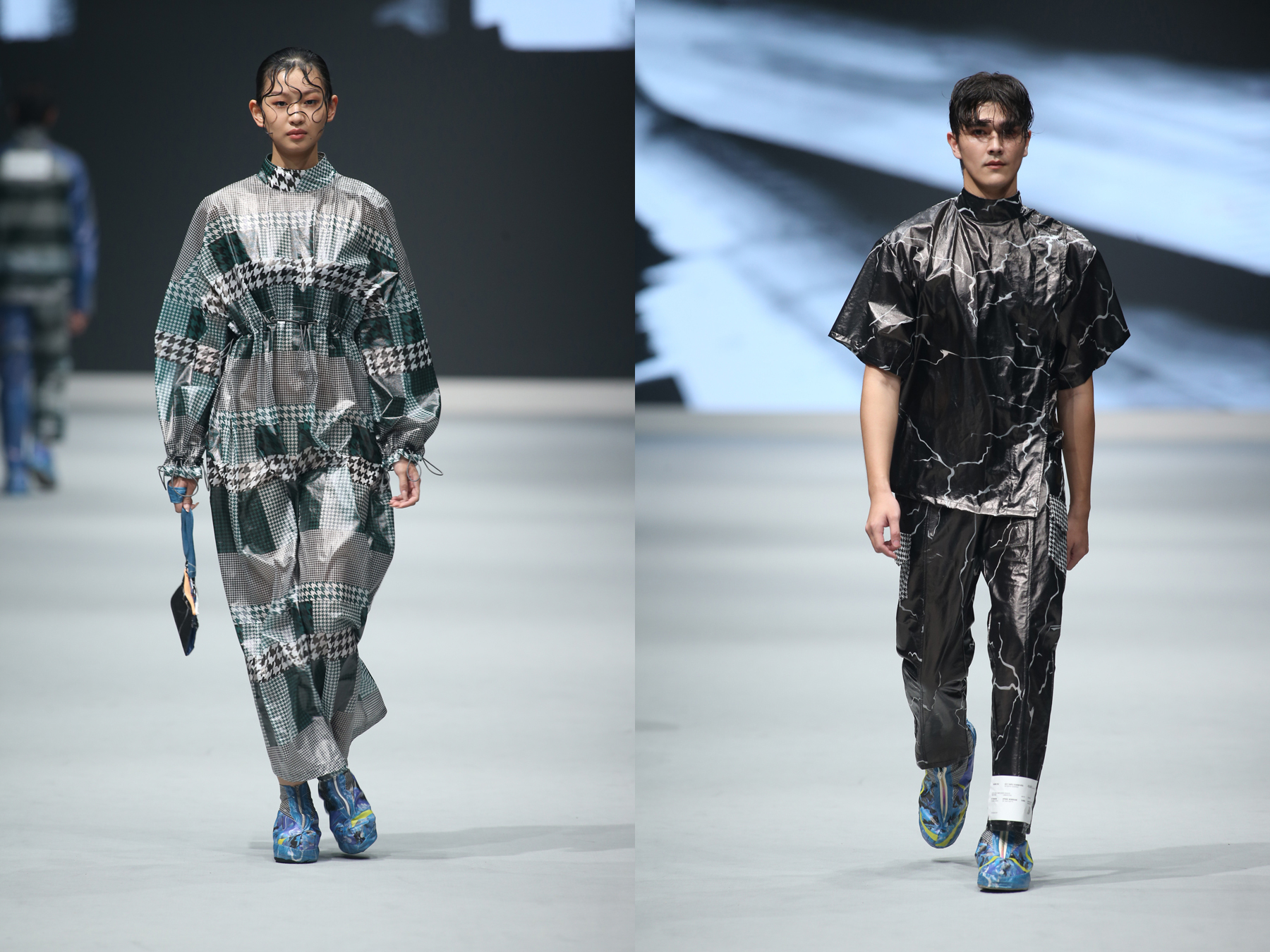 #Damur works with textile manufacturers and chemical plants to create water-proof, light and foldable clothes made by grade P2-rated protective medical materials. "We add houndstooth prints, denim flash prints, animal prints on to the non-woven fabrics with 3D printing technology to broaden the use of medical fabrics. These garments will have diversified uses, including travel and in-flight wear."
"With the advancement of digital technology and materials, we can produce excellent products everywhere. Designing a piece of garment is actually about designing the language of a society. The important key is to find a community that recognizes and resonates with your language or perspectives," stated Damur Huang as he prepares for his #kiosk project that aims to "up-cycle" clothes.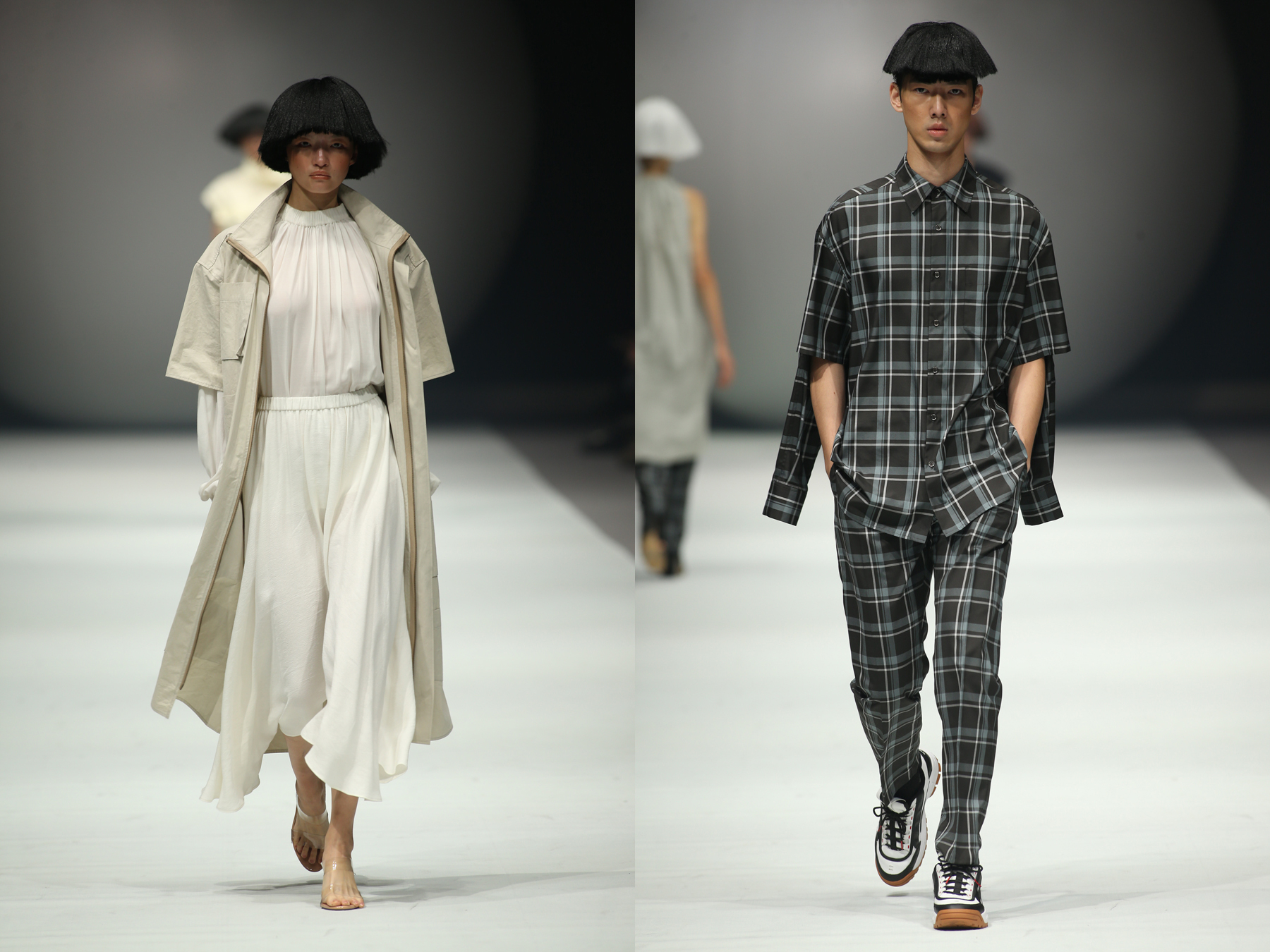 Stephane Dou and Changlee Yugin, a rare designer duo, is a brand known for many firsts in Taiwan, including a large concept store in the alley of Taipei's Chung Shan North Road in 2003 and being the first to initiate gender fluidity in Taiwan's fashion scene. This year marks the brand's 25th anniversary. For them, the brand is one that comes into maturity, becoming a brand that knows what it wants, what it does not want, and what responsibilities it has. DOUCHANGLEE's 2021 Spring-Summer collection takes the palette of black, white, hemp, denim and neutral colors such as tones of stone, moss, and cement. "We like natural fibers and we mix them with high-tech materials to make our garments more comfortable and structured." The play of sporty and luxurious elements symbolizes a mixture of values.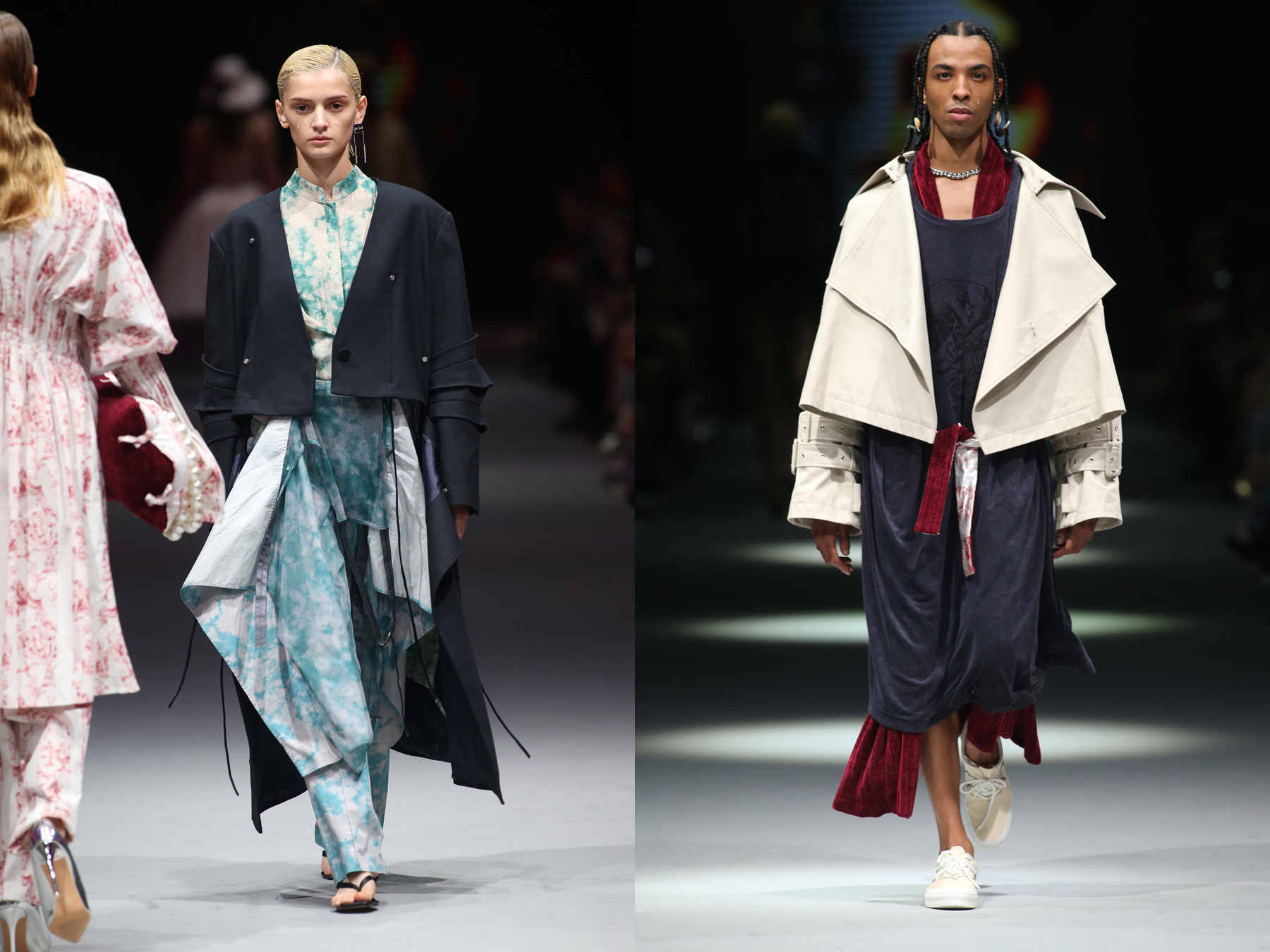 Founded by Jill Shen in 2017, the name Seivson is derived from two French words – Nos and Vies that mean we and inspiration. Seivson's logo is adorned by a small screw bolt, signifying the pursuit of perfection in details. The designer contemplates deeply on the functionality of her designs. For the 2021 Spring-Summer collection, Jill Shen plays with Hermes carre and the Burberry trench to portray a story from the end of century. Her inspirations came from her dreams and her observations about society: In a theatrical style, she uses multiple looks for daily wear, illogical and oversized clothes. For the fashion show, Seivson collaborated with floral artists to create a stage with withered plants to portray the imagery of apocalypse. Seivson uses the environmental friendly elements and materials, plays with the eco- friendly fabric and naturally-dyed techniques in our new 2021 series. Expressing through Seivson's signature print developments and the pattern cutting constructions, fusing the design and art energies, Seivson considers the practicability and uniqueness of how a garment can be. Speaking out the reflection of environmental sustainability through the designs.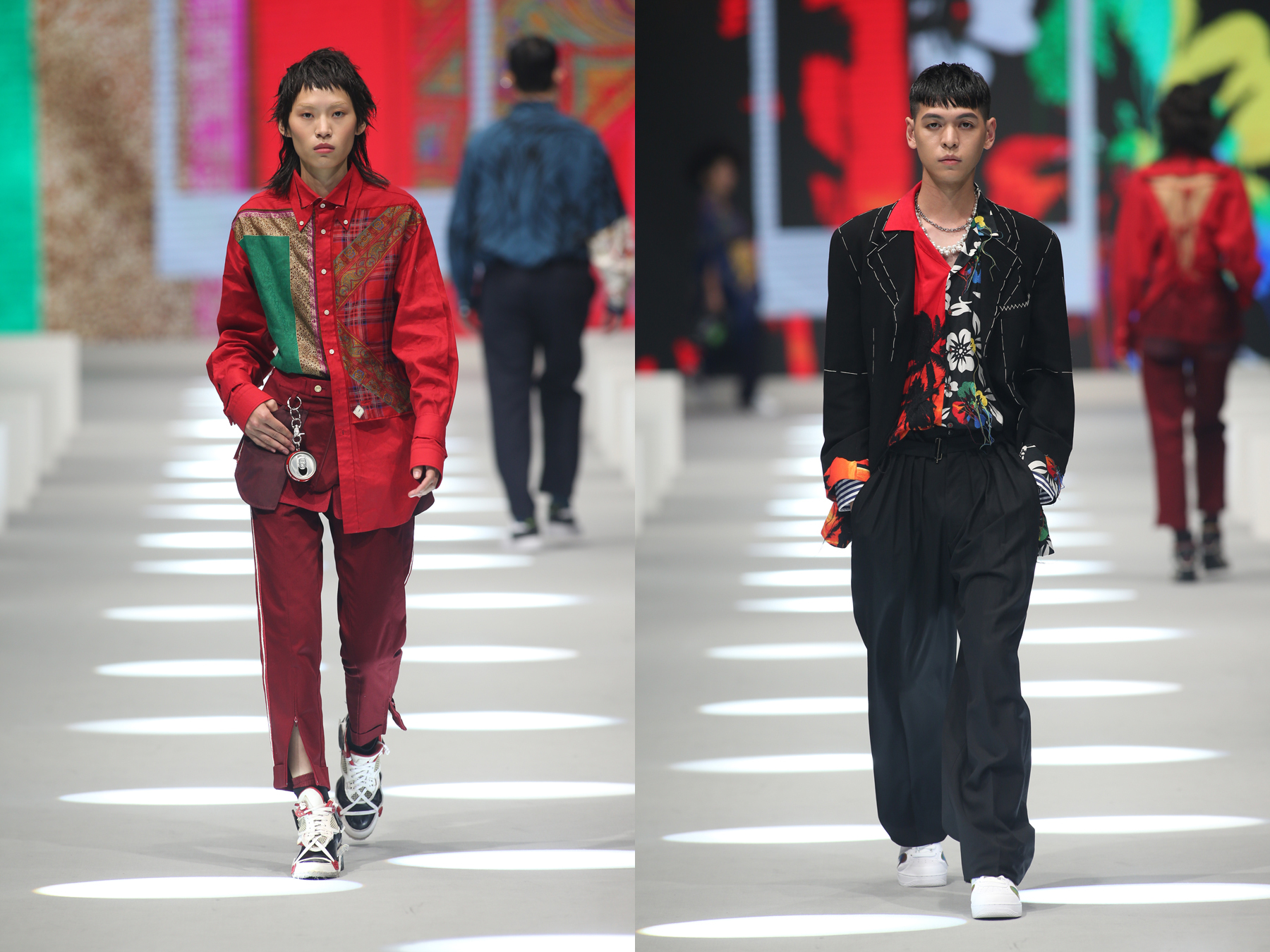 "The more you stay true to your roots, the more globalized you become." This is one of the values Justin Chou believes deeply in his creative process. He is very skillful in mixing and deconstructing elements of East and West. Luxxury Godbage, a sub label from JUST IN XX, offers products from reusing and upcycling materials, second-hand garments, used accessories and vintage pieces. To Kuo, it's sort of like molecular cuisines. Kuo feels the idea of luxury is time – how to express craftsmanship in fast fashion. We may not need massive clothes. We need clothes with meaning, stories, and crafts. He says: "During this time, I had time to think. Being a part of fashion, what can we do to minimize waste and pollution? This is an issue that we all have to think about, not just the fashion industry but everyone on this planet."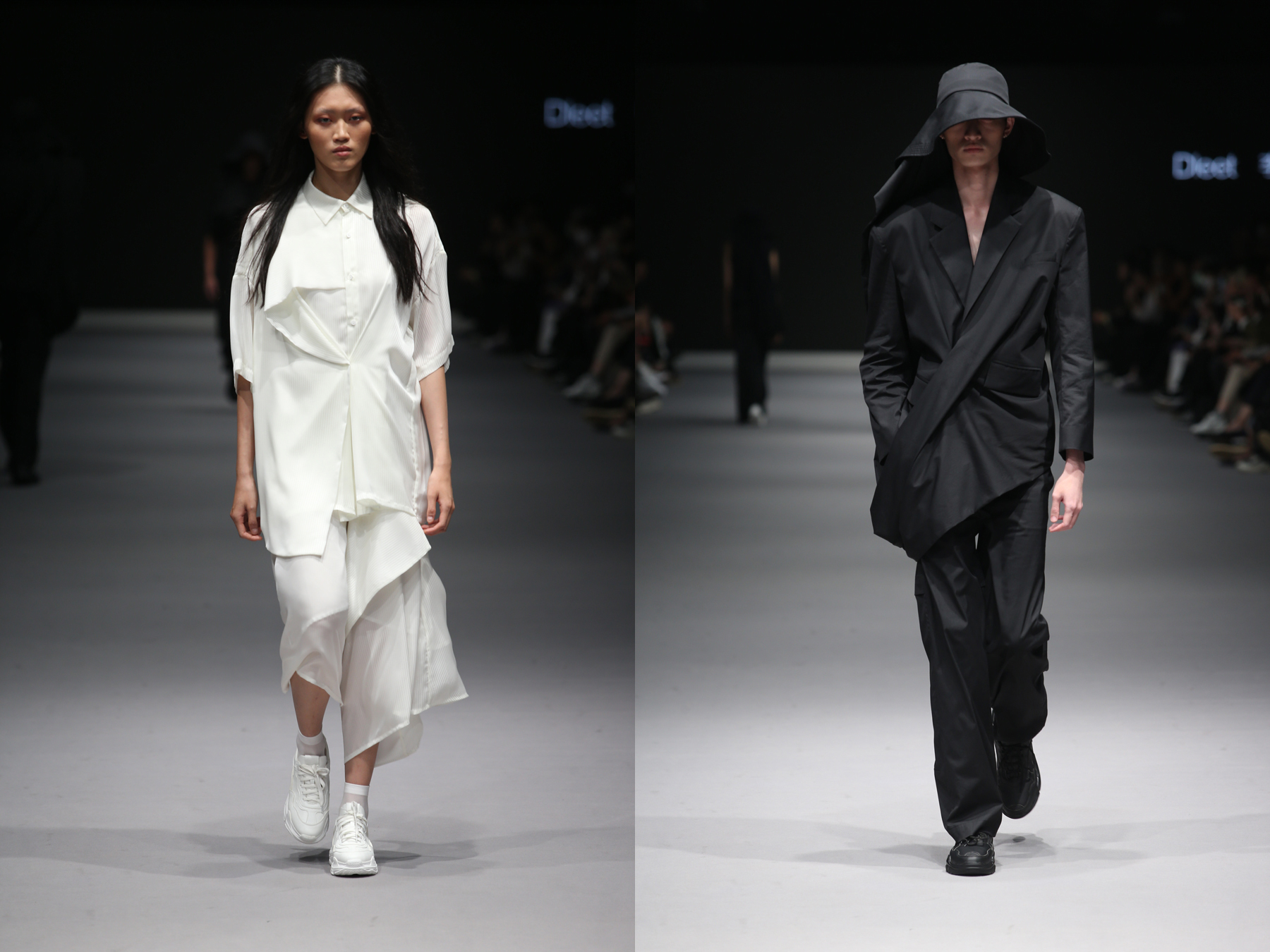 Founded in 2011, Dleet started as a designer for menswear. Upon demands by female consumers after its initial success, Dleet launched its womenswear which rapidly became the main business for the brand. In the beginning, Dleet was a small label showcased in a friend's boutique.
By chance, Dleet participated in a joint event for local rising designers at Eslite Tun-nan. In the 2-week event, the brand received overwhelming responses. Until this day, Dleet has a strong client base in the Eslite stores with loyal followers. The 2021 Spring-Summer collection takes the theme of dual personalities, interpreted by layering and mixing two individual styles, such as uneven sleeves and collars. His garments are known for sleek lines and high wearability, Dleet has very high aspiration for Taipei Fashion Week. He says: "I hope it would be very energetic and free from boundaries – an event that is not limited to local fashion and culture, but more global in its outlook."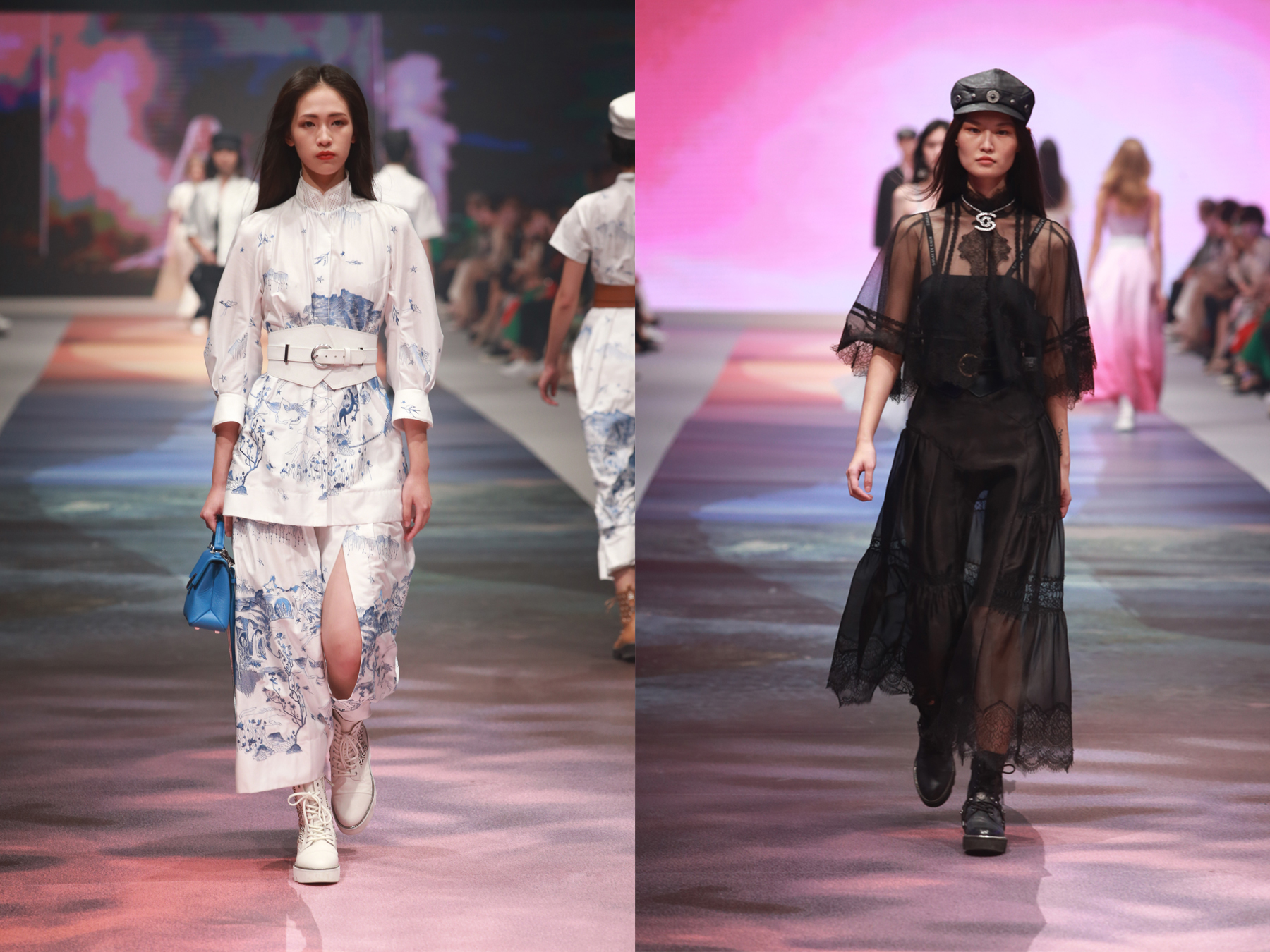 Just like an epic poem, after the setting from earlier chapters, the story of Shiatzy Chen evolves with richness, broadness, and imageries. As a pioneer for Taiwan's fashion brand. Shiatzy Chen was one of the first brands that has successfully established itself in the Paris fashion scene. Founder Wang Chen Tsai-Hsia speaks of the brand's future plans for the international market with lights in her eyes. Starting with pattern-making, selection of materials to making of embroideries, all the processes have become globalized: patterns made in Paris, fabrics from Milan, and embroideries that combine aesthetics of the East and the West. The embroideries are developed by Wang Chen Tsai-Hsia, utilizing techniques and advantages of European court garments, Suzhou embroideries, Miao embroideries, and more to make the ultimate creations. "The key to luxury products is the commitment. When we are committed, we can embark on a road less traveled." The theme for 2021 Spring-Summer collection is "Circular Journey". It's a part of the brand's mission to expand on the richness of Chinese culture. Although fashion is an industry based on constant changes, Wang Chen Tsai-Hsia has a longer vision. "When we have a global vision, we realize how small we are. That realization allows us to see a different world."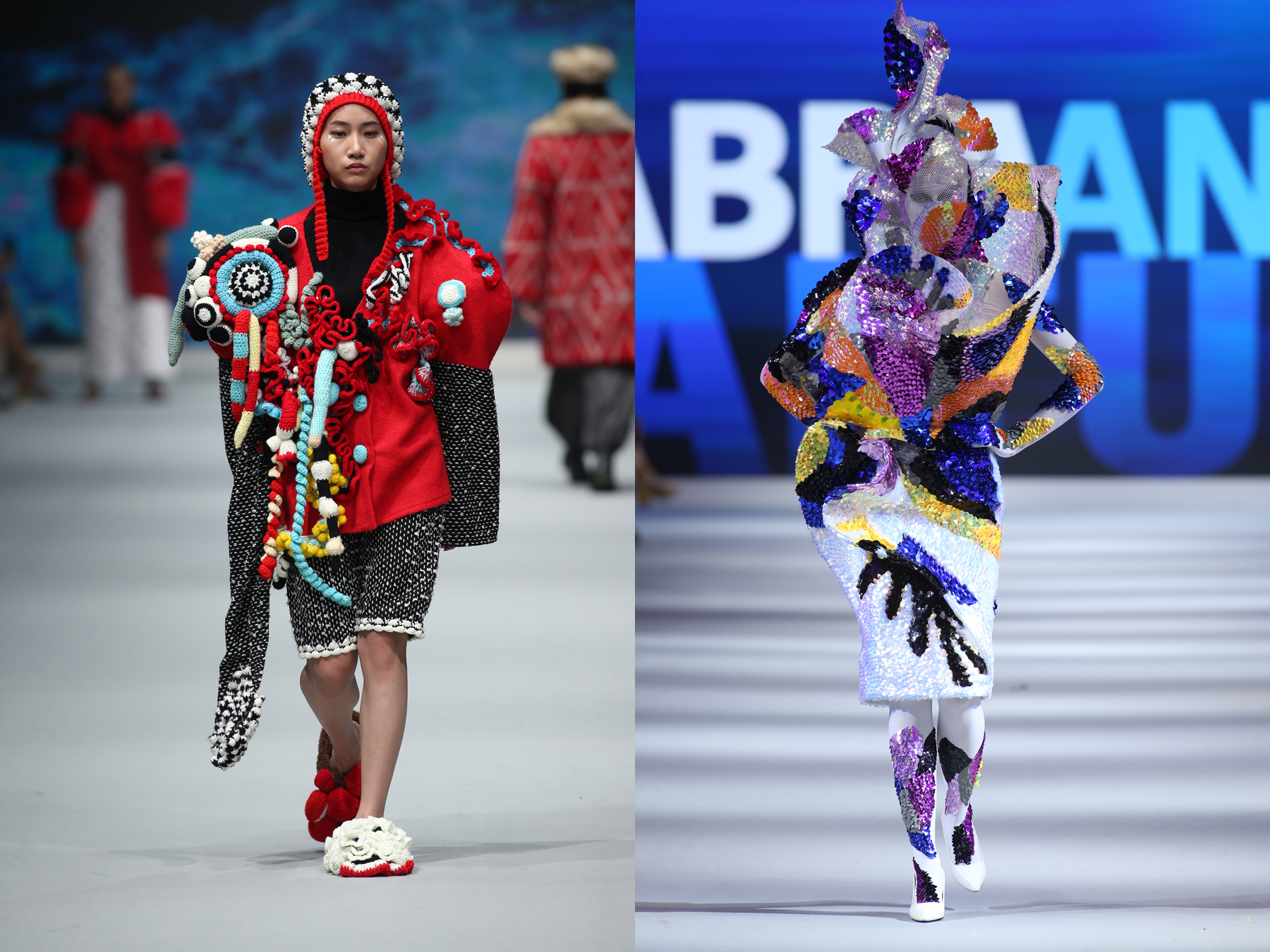 Inspiring ourselves through sustainability, ecosystems, and ancient crafts to evoke a primitive wisdom of ancient times where humanity suffered but also persevered against the heavens. Land should not be forgotten and each article of this planet has nourished our cultures. We must seek within ourselves for an innate instinct and create value through recycling.
In the "PRIMITIVE SENSE" themed exhibition, we showcase two design teams : SABRA ANDRE and Paru Cunuq as representatives of the aboriginal viewpoints.
The student team of the Taiwan contemporary aboriginal experimental clothing course at Shih Chien University also woven out with their own design language. The beautiful vitality dedicated to this land. Paru Cunuq is committed to the research of traditional fabric crafts, and has long invested in the teaching of native tribal crafts and industrial development, sorted out the development context of aboriginal clothing culture, promoted the development that emphasizes differentiation, and conveyed more precise lichen decoration culture to the indigenous The balanced development of fabric culture in various regions is regarded as the ambition to invest in the industry, and the pattern record and fabric experiment are regarded as the brand purpose.
SABRA ANDRE presents us the first part of the Taitung trilogy this time. Designer ANDRE transformed the childhood memories of Taitung into bright prints and decorations on clothing. The strong colors are impressionist canvases spread out under the sun in Taitung. All the packages displayed are hand-made with the elderly , contributing to the inheritance of Taitung culture. Shung Ye Museum of Formosan Aborigines is matched with the second-year clothing design course of the Fashion Design Department of the Shih Chien University, aiming at the in-depth field adjustment and reorganization of the aboriginal culture, integrating the logic of clothing fashion and the use of different materials to produce experimental clothing.