GARREN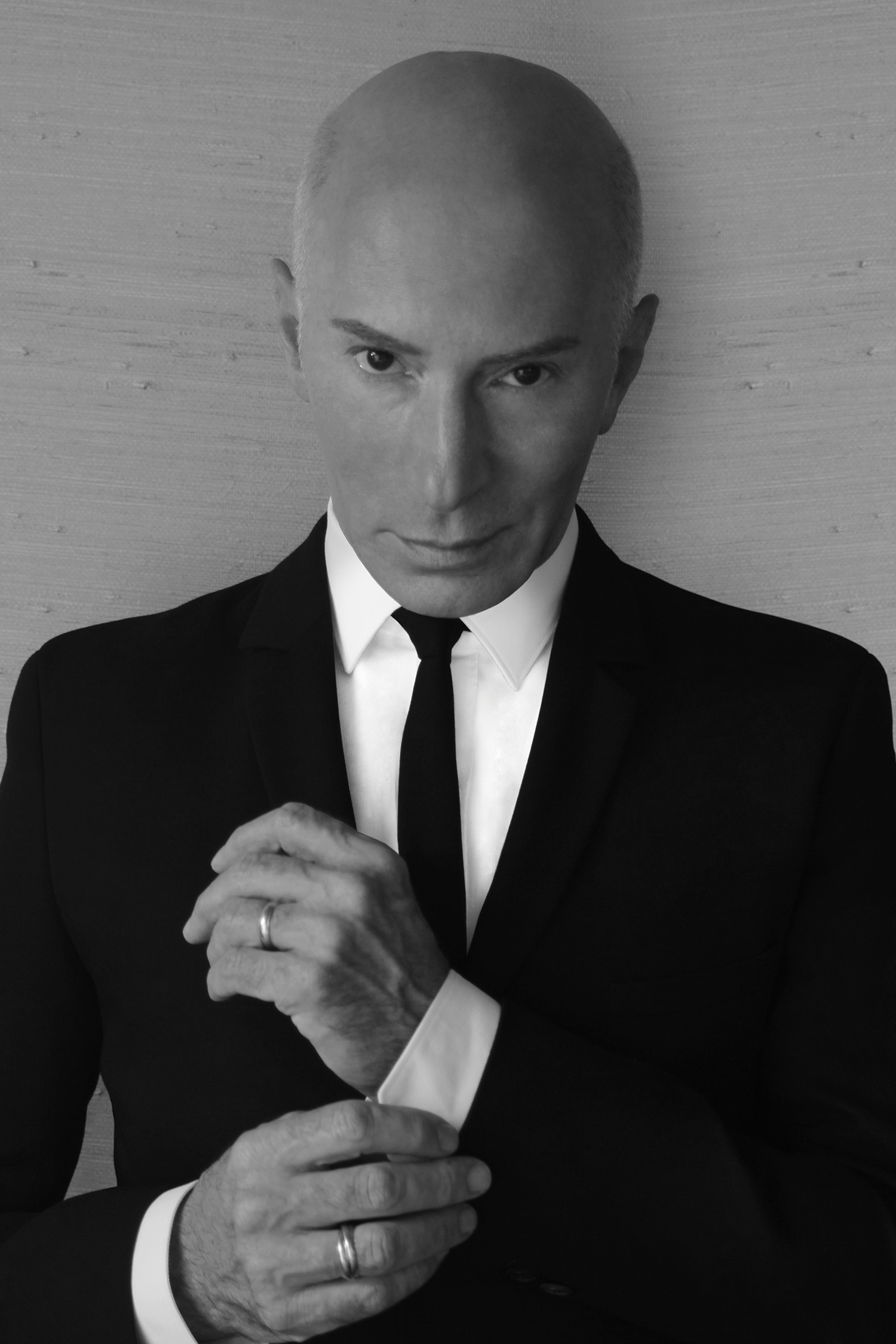 Garren Portrait by Michael Del Buono
He took Madonna to platinum for her cult photo book expose SEX; transformed Victoria Beckham's infamous angled-bob of the Aughts into a pixie cut; and turned a pair of sun- kissed girls, Taylor Swift and Karlie Kloss, into pristine young women for the cover of Vogue. Fashion's go-to hair guru has had a decades- spanning career, a lifetime achievement in an industry known for its volatile, fickle, and often cutthroat nature. In the process, he's amassed an editorial and advertising portfolio that includes work created with every major photographer, stylist, supermodel, and celebrity that has worked within the last four decades to be exact. There is no denying that the visionary hairstylist known simply as Garren, is a creative force to be reckoned with. Still, for as much pageantry as his resume demands, especially in a world as excessive as fashion, it isn't necessary. As we discovered, Garren's humility, authenticity and talent are a rare blend for people of his caliber. With
a salt-of-the-earth story telling ability and a natural gift to connect with others, it's easy to understand why the living legend is still one of the industry's leading mane magnates.
I first want to talk a little about your background, when did you know that you wanted to work in fashion?
When I was 13 I was obsessed with Vogue and Harper's Bazaar. They were like my bible, my mother would buy them and I would go through each page. My mother was prematurely grey; every time she would go to the hair dresser they would do a skip wave like an old lady's hair, I would tease her out and make her into a bouffant. Her friends started asking who did her hair and she would reply, "You wouldn't believe if I tell you, it's my son." They thought it was my older brother, but before you know it, they all wanted to get their hair done. So I started going from house to house after school on Friday and Saturday. I would do three ladies on Friday and six ladies on Saturday.
This was at 13?
Yes, in the 60's. I was obsessed with Jackie O, Marilyn Monroe, and Elizabeth Taylor – all the glamorous women. My father built a little salon for me in the basement where I did hair after school on Thursday and Friday, and all day Saturday too. My father and mother would make all the appointments so that every twenty minutes there was another lady coming to get washed, set, and cut. I used to look at magazines which used to have little booklets to show how Kenneth [Battelle] did the hair. It would have a picture and instructions of how you set or cut it. I kind of taught myself!
That's amazing and sounds like your parents were very supportive.
Yes, there was no issue…until it was a big issue when I was in 10th grade. The student counselor at my high school called me for a meeting to talk about my goals and which college I wanted to attend. I told him that I wanted to go to the beauty school and he objected, "Men don't go to beauty school." Later, he called my father and I in for a meeting together. He told my father that he thought it was the wrong career path for me because he thought I couldn't make money out of that or have a future. My dad was quiet for a moment… He stood up and said, "Mr. McDonald I understand your concern but my son has been doing hair since he was 13. He's very good at it, and already making a good living at it; he will do this in the future, it's going to give him a big future. This conversation is over and my son will go to beauty school. My son will be really successful so you better watch out for his name." Then he walked out of the room!
I went to beauty school and started doing hair right away in Buffalo in a big department store. It was there that I competed in my first hair show. Christiaan Houtenbos – he's been in New York forever now – was one of the judges. At dinner, after the show, I asked him what IneededtodotogettoNewYorkandhe gave me his information to contact him if I ever visited. When I went to visit, he introduced me to some people at Glenby, which owned 1600 to 1800 salons around the world in major department stores like Bergdorf Goodman and Bloomingdales in New York. I met the people who owned the company, and they decided to appoint me as style director at a salon in the Boulevard Mall in Buffalo. They wouldn't bring me to New York City right away – I had to prove myself first.
After three years, I was ready for change, so I gave them an ultimatum and I ended up at a salon in Bergdorf Goodman. My husband ended up at Henri Bendel. We came together in the city in the end of '73. I guess we were at the right place at the right time. Within a year I was asked to go meet Polly Mellon and Irving Penn for Vogue, so I started doing Vogue. I was on a rollercoaster, I didn't know how I had got there, but I knew it was a big deal! Polly took me to Paris. She asked me, "Do you realize what's happening to you?" The truth was, I didn't know at that time because I was having fun working and creating. Everyone was so nice then… but now I know that they are not nice and dramatic! (laughter) I absorbed every bit of knowledge I could. In New York, I was working with Irving Penn and Patrick [Demarchelier]. I was doing all the big sittings and getting all the right covers and editorials. That was all the way through the 80's.
Three years later in '76, Glenby decided to open a salon for me at the Plaza Hotel, since I had become the style director of the company. Then I left in '82, as the company was slowing down and just in time before they closed everything. So I continued freelancing doing advertising and editorials. At that time I was working with Bill King, Arthur Elgort, Patrick [Demarchelier] and then I met Steven Meisel. I worked for him exclusively for about 20 years. During that time, Paul Cavaco had become involved with Henri Bendel, and he invited me to meet the President of Bendel's so that they could build a salon for me. After my contract was up with Henri Bendel, I decided to open my own salon at the Sherry Netherland, where we were for 9 years.
I was lucky to be in the game with the supermodels of the 80's and 90's. Back then, I could fantasize and take it to a place where we created amazing images together. Now it's only celebrities. Working with celebrities now you need to be politically correct. You have to do what they want you to do. Fortunately, with me they let go and aren't as demanding. I'm very lucky that I've been able to cut and create looks for celebrities and all the supermodels. It's allowed me to go against the grain of what's really in the fashion…to make a statement of what is going to be in fashion.
Now, I still freelance and I'm also working on my product line, R+Co. I'm very grateful because I know I have an amazing career. And sometimes, people don't get it! You had to have a mastery over your skill and craft because at that time there was nothing digital. Whatever you created was what you saw in the final printed photographs. Now everything is so digital, if you're a wiz on the computer, you can make anything look good. But the quality of the work isn't as good.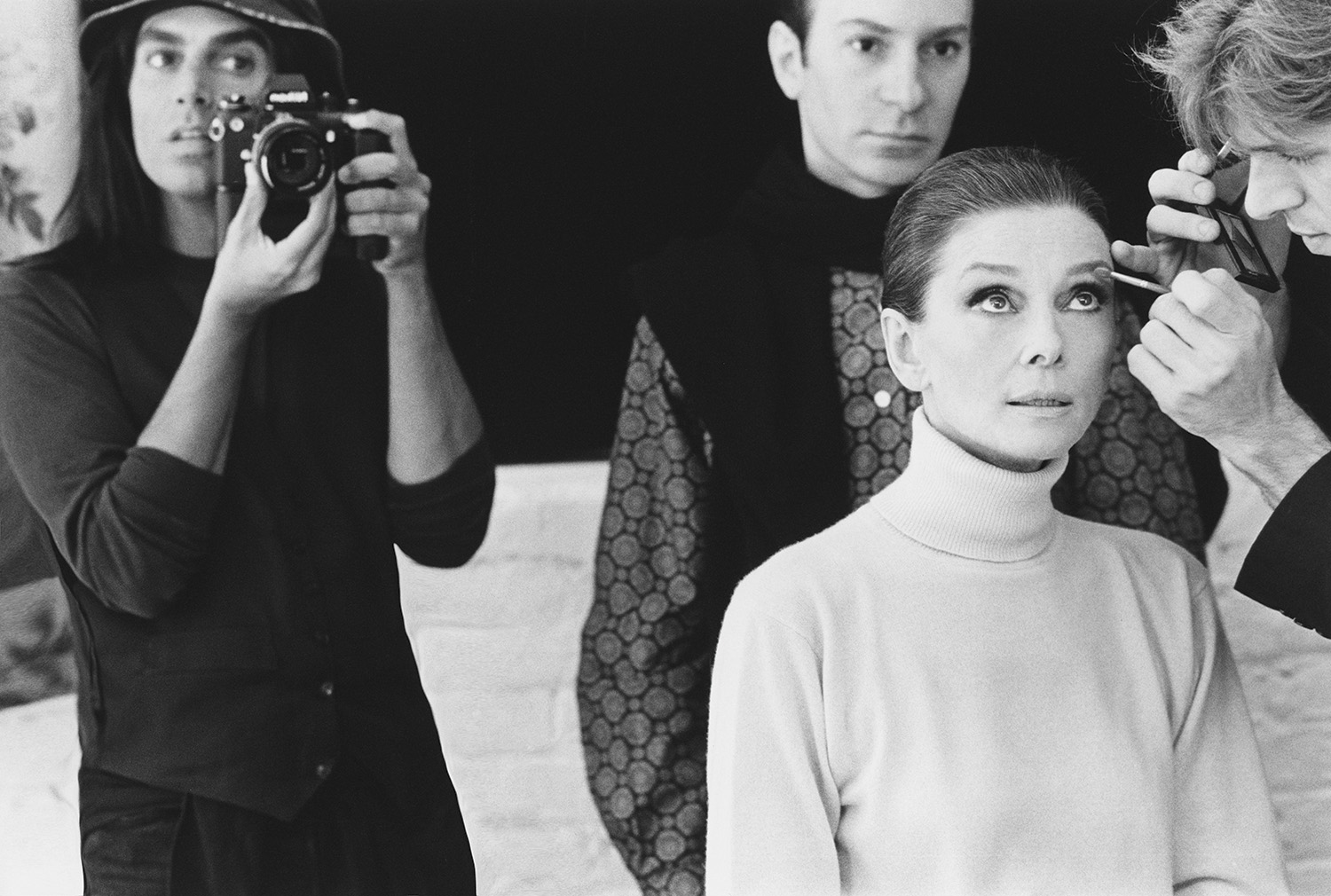 Onset with Audrey Hepburn, Steven Meisel, Kevyn Aucoin, and Garren for Vanity Fair Magazine, 1991 | Photography by Steven Meisel | Hair by Garren. Makeup by Kevyn Aucoin | Styled by Marina Schiano
Did you ever imagine that your father's words to your high school guidance counselor would become a self-fulfilling prophecy of your life?
Not until I started doing these educational hair seminars for R+Co. For a portion, we do a question and answer and we also share our stories. We talk about our journey and it starts connect with lot of stylists. The hair stylists that are in the audience are overwhelmed and appreciative. You see parts of yourself in them and… it kind of takes all that celebrity out of us and makes us human. So I think that whole story about of my father, is always something that people gravitate towards and they really… they can connect with it because that is something they have gone through or relate with.
It sounds like you have a natural ability and gift to connect with all kinds of people.
And it has done me well! But it's like when I look back at it now, my god, I mean… When you have a salon and start raising your family of hairdressers that work for you, you realize all the baggage that comes with them. You try to pick them up and make them know that it is okay to be who they are. It was a learning experience for me, because it was so easy for me to come out as a gay person. My family was very supportive of it. You know they just wanted me to be happy. So during my whole career, my life, I have constantly made an effort to keep people's morale up and to help them understand that it is okay to be who they are. You know, there are a lot of kids that forget how they started. Then they become so super that they get out of touch with who… you know like manners and politeness, and all that goes away and I look at them and watch them…
They become their own celebrity.
…and it is kind of like they only get "it" after they have one misstep. They remember there are rules, that there are things you have to follow and ways of being while on the job. Kenneth's [Battelle] advice has always stuck with me when he told me, "We are in the service business. You are not on that same level as that celebrity or supermodel whose hair you are doing. Remember they are hiring you."
I know it sounds crazy to some, but as fabulous as you think you are, you really have to be careful that you don't overstep boundaries or start bragging about yourself. Your client or model or actor just wants you to know them. You know what I mean? They might be interested to hear about you sometimes, but it could be really devastating for a hair stylists' career if they cross that line.
Advice that stuck with you and you've passed on?
Yes! That always kind of stuck with me. That humble part of me is there. I try to instill that into my assistants as well. Some kids get overly-fabulous right away just before they get stomped out. But, if they realize what's happening to them at the moment that it's happening, then they'll be able to climb that ladder of success easily. They'll be able to take their time instead of raging to the top and then falling off.
Has it been an enjoyable experience for you to create your product line with R+Co?
R+Co, is completely the opposite of the way I did my first line [Garren NY]. It has everything for something. If you want a curly look, a straight look, a wet look, then we have a product for it. The genius part of it is that it's fun and eclectic because
it is three of us, Howard Mclaren, Thom Priano [my husband] and myself. We keep growing our wish list of what we want to create and what the kids are asking for. Our attitude is like, "What else can we do?" It's been a great two years that we've been traveling for regional hair seminars with an audience of 300 – 400 hair stylist. We get to engage and educate them and
in turn the product is getting it out there, reaching the middle of America, the UK, Europe, and Australia. We're currently putting a team together that will travel to provide training with our techniques, products and brand DNA for other hairstylists at our partnering salons.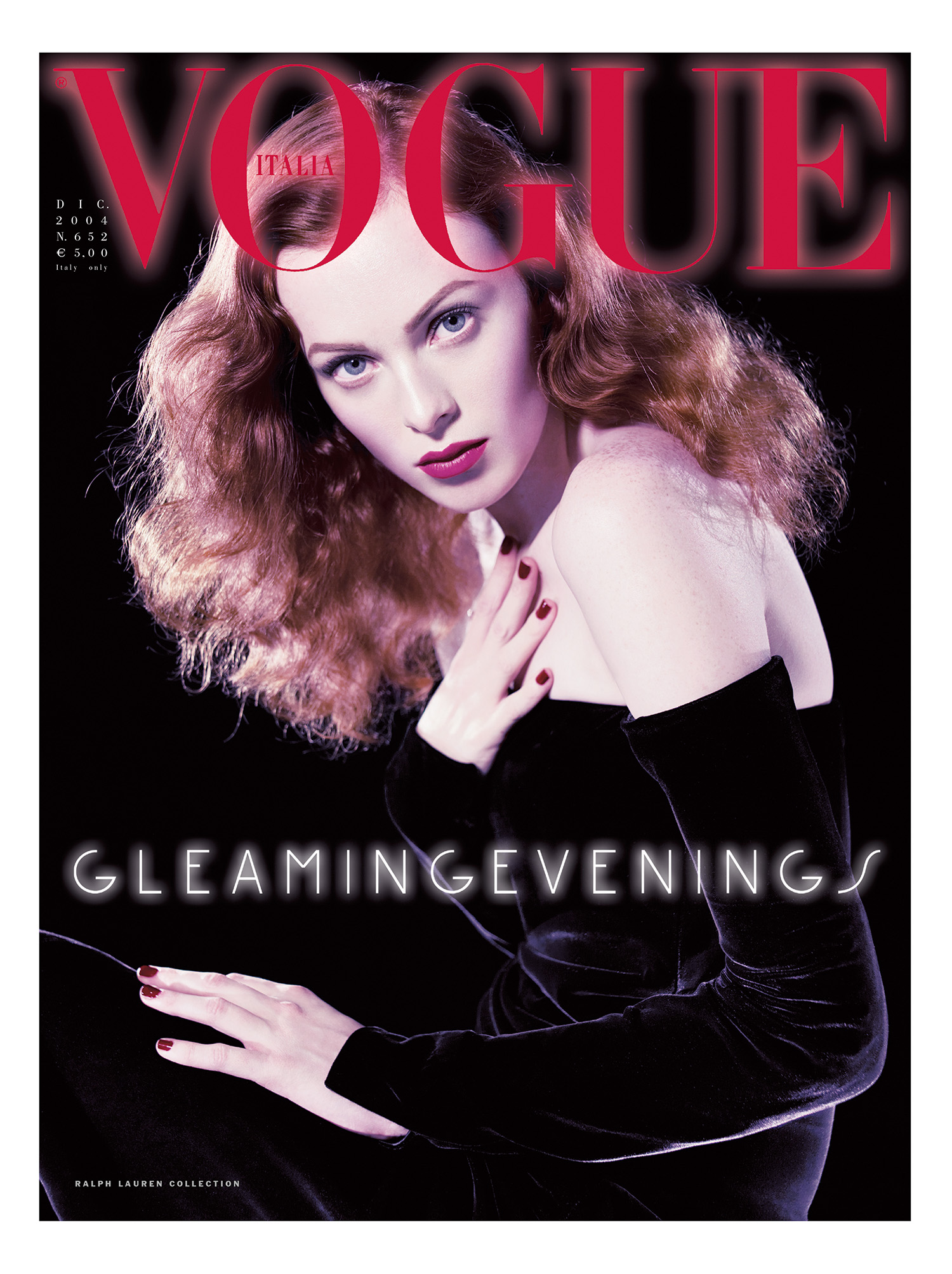 Vogue Italia December 2004 | Photography by Steven Meisel | Model Karen Elson | Hair by Garren Makeup by Pat McGrath | Fashion Editor Edward Enninful
You've experienced a sustaining level of longevity and notoriety within your career, essentially you've been in business since you were 13. Would you say that spirit of entrepreneurship has always been intrinsic and come very natural?
It is natural, but on the other hand I have always promoted other people to take care and handle it. I learned in last 10 years that you really have to be on top of everything to keep it going to the place where you want it to go. I started letting go and trusting others to do the jobs I'd hired them to do. But then, it sort of humbled me to realize that they can fuck up too. You really have to be on top of everything. So that in itself was a learning experience, and I think in terms of success and career, that it was another growing pain. Growing pains are good because I have learned from it. I might not have liked or wanted the outcome of certain circumstances or situations, but it is what it is and I am always trying to figure out what I am doing next.
I'm sure a great assistant has been imperative?
YES! I always bring the assistants on and they stay with me for two years and then the agreement is they go on to create their own career. I continue doing it this way because I get off on that. I enjoy helping someone create their future. For example, when I work with, let's say, a makeup artist, I sometimes hear the makeup artist going, 'Well my assistant went in and did the job. How dare they.' And I'm like… don't you feel like compassion for this kid? I mean he or she's been with you for a while and they're not stealing your ideas. It's like you have to cut the apron strings!
And it is beautiful! The work he or she did is beautiful! Yet the makeup artist doesn't even compliment them and stops using them as an assistant. It surprises me that there are loads of people out there that still like that. It's no difference with big editors who work for a magazine—a big magazine– and they have these assistants that become almost the backbones of what they do. They are so capable and they understand what's going on. But when it's time for them to leave they never take them into the fold. They throw them back into the world and dismiss them. They are really great people, but I just never understood why they don't generate their own talent and drink from that pool.
And it also looks good on you too. By training them, you get to foster that creativity and give them the foundation.
I have always been proud of them moving up. The only time that it would upset me when they undercut me for a job or do something deceitful. But when they are going out and they are starting to do their own thing and they are not overlapping with my world, I think that is very cool and I am very happy for them because they found their way. They find their little piece of magic and they are allowed to do it. They have their own world to create.
You've worked with some of the most talented people in the industry: photographers, models, makeup artists, editors; what do you do to keep yourself inspired so that you can continue creating with fresh eyes?
I think it's about having an open mind and knowing that it is a team effort. It's not going in and doing your own thing. You are having a collaboration of hair, makeup, the stylist, and possibly the designer. You are all working together to make
that image the most amazing image. But remember, you are only creating part of it. I've been lucky to work with people that have a specific point of view. With those people, we can discuss it openly and come up with an idea with which we go forward. If it isn't working or it is not looking great, we know how to tweak it. You cannot go in with the solid idea, and think that you are going to be able to execute it because it might be on the wrong person and the wrong situation.
During the whole 90's, I was so lucky to be able to have Amber (Valletta) and Linda (Evangelista) and all of them as my muses. I would get on set, and those girls would inspire me to cut their hair a certain way and create certain styles. So this is how I have always nurtured the looks that I do. It's how I have always pushed myself by being open
in the collaboration process.
And you feed off the energy of the photographer when collaborating?
Yes! For example working with Steven Klein, I know his aesthetic is very strong and aggressive. Whatever I create with him is going to be a real woman that has something cold and sexual about her. Or, Steven Meisel is like a master of making anyone look cool, modern, and gorgeous. Even when it is a subtle thing it becomes a major inspiration. So I already know the DNA of the photographer and I have always absorbed what the photographers are going for.
Sometimes I get hired by the client and there is a new photographer working that is way younger than I am, but I walk in and they don't even know how to have a conversation because they might feel afraid of me. So I sort of say, "Okay let's do this or that. I want to know what you want. I want to know what you want to get out of the model. Where you are going with this?" We have to talk about the hair, makeup, wardrobe, and lighting so that I know what I am going to give them.
What do you think is stifling creativity in fashion right now?
When I started the business, we would do two pictures a day; then it became four pictures a day. Then it got to be 6 pictures a day. Then 10. Then 10 pictures plus behind the scenes stills and video! On set, everybody is working in a circle and there is never a break so I think it's kind of lost the art part of it. The thing that's unbelievable is that now all the actresses are wearing clothes that just fall off the runway and it gets online or on social media first. By the time it gets to the consumer it already feels old. No one wants to spend five, ten, or fifteen thousand dollars on a garment that's already been worn by 4-5 other women already. I don't know how they are going to figure that one out.
I do feel there is a disconnect, it's just a different world. I'm just glad that I had been in the old world, it's hard for me to adjust sometimes because I get really upset because people are not doing the quality work that they should be doing. I have to stay relevant, and to be relevant you have to be ahead of the game and force through it. Fashion, for me, has been through four cycles already. Every time it comes back of course it is a different point of view, different model, different photographer. It's a different approach.
I laugh when people are putting tear sheets up, and I see my work in the references. A lot are still so consumed by Madonna's fashion. They are like, "Do you remember when Madonna did this or that with her hair?" The kids are so young these days they don't even know that I was who did most of those looks for Madonna, so I just chuckle.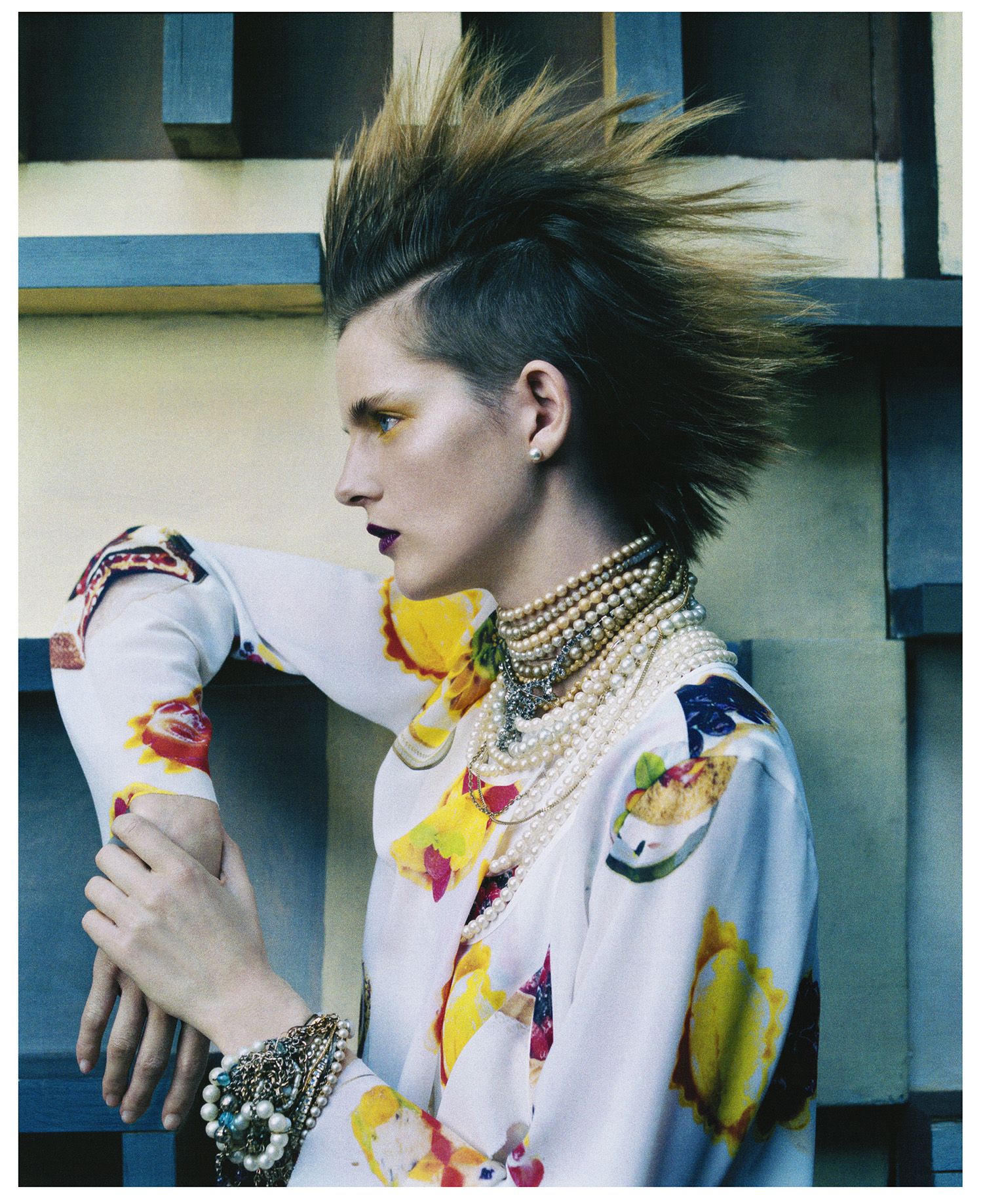 Vogue US March 2001 | Photography by Steven Meisel | Model Stella Tennant | Hair by Garren | Makeup by Pat McGrath | Fashion Editor Grace Coddington
What was it like working on the Sex book with Madonna and Steven Meisel?
We had so much fun! We were hysterical most of the time and it was because our team was so solid. It was Francois Nars, Paul Cavaco, Fabien Baron and Steven Meisel. We really just had fun doing it. When I look back at the scenarios in the book, I know exactly what we were laughing at while it was happening because it was us directing, "Put your hand a little more there…a little more there! Now do this! No! – stand in that position just like that…" and laughing because it looked so funny. But what the photographs captured…it's like, "Oh My God that's so sick!" A lot of things were done spur of the moment. That's what made those photos so major because she really did have that reaction of what was going on with the piercing and wax or whatever and it wasn't so calculated.
So there was a sense of honesty that translated throughout the Sex book?
Yes, when I look back at it, it's really pure, and I remember when we started talking about the book, she was a brunette. I just said, "If you're doing a coffee table book, you've got to be blonde." And everyone agreed with me. I hadn't worked with her for a while before we started the book, but her body was in the best shape. She was 30 years old at the time and she was ready to expose everything. We knew that whatever we did it had to be top notch, cool, beautiful. It had to be sensual and at the same time push boundaries so that people would stop and look at it. Now when you look at it there's like nothing shocking about it.
But for the time it definitely pushed boundaries. I think it's interesting that you've talked about her being 30 in relation to her self-confidence of being ready to expose herself creatively in that way. Models start very young, how is it different working with a model who is just getting started as opposed to an established celebrity.
They are teenagers, though they've always been kind of young. Now a lot are being discovered because they are Instagram girls. When I was asked to work with Kendall [Jenner] at the very beginning when she just started working with Vogue, I was placed in a position where I'm always placed when someone is new. Everyone really wants to create who they are and give them confidence and teach them how to model. I worked with Kendall when David Sims and Camilla [Nickerson] shot her for American Vogue and then I worked with her when she first started doing [Estee] Lauder. Kendall is a pleasure to work with because she really wants to learn and is very professional and on point. Her self-awareness is like a breath of fresh air. She really wants modeling to be her career and I respect her for that. It's totally different when you have a celebrity or actress because they already have been in the game and they have that understanding.
Celebrity or model, they all want Estee Lauder and Maybelline behind them, but now it's a different route. A lot of these girls' names were celebrated before they actually became the celebrity models. So they really want to prove that they can do it and that is natural confidence that pushes them to succeed. I just want to close with two personal questions. The first one is: what is the best advice that you have ever received? The best advice I received was from Polly Mellon, when she said "Garren remember where you are at every present moment. Right now, we're in Paris, we're doing the collection and you're at your first show. You're with me, you're with Mr. Penn and this moment you need to seize it and this will help build your career by the attention that you're giving it. Absorb it."
I remember how Polly would hold her collar up and how Mr. Penn wanted a cuff to look. I would watch how they created the detail of a still life. As well, I loved observing how Avedon taught the girls how to jump and move, or how Meisel taught them how to pose and carry themselves. Those experiences honed me. I knew exactly how I could make it more if they wanted more. I watched every movement, every gesture, and learned from that so that I was able to give them the type of girl that they wanted.
What is the advice that you would give to your younger self?
I wouldn't change anything because if I would have changed something back then, I probably wouldn't have been where I am today. Like if I would have smoothed out some of the rough edges, or the transition periods, I wouldn't have been able to learn from those highs and lows in life. But advice I would probably give: pinch yourself when you're in the moment. Absorb that this is really happening and this is a big deal, but don't go out and brag about it. Let other people tell you how good you are so that you don't become disconnected from the whole process.
I admire how you draw such appreciation for the growth and learning provided by transition periods in life.
You definitely have to, if you don't learn then you haven't really gone through a transition. There are lots of times when we get scared, I still do! I have a big project coming up and I'm just double- thinking myself. If I didn't have that little bit of anxiousness before the project, I probably wouldn't perform as well. I think that is missing in a lot of people today, that nervousness before a job. The thing that has always stuck with me is that you can never be overly prepared but on the other hand, if an idea of your own is shot down you can't take it at heart.
That's the other thing: to be really successful in this business, if everyone else is saying that it doesn't look right or cool, or maybe it needs more, you have to take a step back. Ask how you can make it more or how you can make it work. Listen to the feedback of those around you and consider it. Don't be defensive. Be open to collaborating.
Interview by Dustin Mansyur