IRIS WOMAN – DANCIE PERUGINI WARE
Photography and Interview by Dustin Mansyur | Styling by Marc Sifuentes | Art Direction by Louis Liu
A fifth generation Texan who has risen to the top of the public relations game over the course of the last thirty years, Dancie Perugini Ware possesses a well-honed intellect and sharp wit with which she leads her all-women firm. Influenced by the life stories of many powerful women, the firm that bears her name is testimony of their impactful mark on Perugini Ware. At a time in the 80's when female entrepreneurship was beginning to bud in the mainstream, Ware pushed through gender boundaries and staked her claim as a respected leader in her industry. Her nationally-regarded firm boasts representation of a diverse roster of influential clientele of national and global brands in retail, hospitality, real estate development, and the arts; including Fertitta Hospitality, Simon Property Group, Louis Vuitton, Texas Medical Center, Museum of Fine Arts Houston, Houston Symphony, and the University of Houston.
Dancie is also passionate about historic preservation and serves as trustee of Galveston's Rosenberg Library, Texas' oldest public library, and is also an avid supporter of Houston's Julia Ideson Library Preservation partners. Known for her love of architecture, Ware is collaborating with Ace Theatrical on the historic restoration of New Orleans famed Saenger Theatre, which suffered significant damage during Hurricane Katrina, as well as the Kings Theatre in Brooklyn. Her own firm's offices recently underwent a stunning renovation with Houston-based design firm Mayfield and Ragni Studio (MaRS) located in the historic Niels Eperson building in downtown Houston. A modern mix of high-gloss white floors, open-concept floorplan, mid-century furniture collected by Ware herself over the years, and contemporary art, create a space that is a slick and energetic hub for her team to work efficiently and be inspired in.
Here, Iris Covet Book had a chance to sit down with this issue's Iris Woman during her recent photoshoot.
I'm curious when you first knew that you wanted to be involved with public relations as a career, and how did you come to that decision?
I've always been a reader, even from childhood. I started with Nancy Drew and typical children's books. I used to think that The World Book wasn't so tedious, so I'd read every one of them. History books were always a fascination of mine as well. I was always drawn to the biographies and autobiographies of particularly strong women, from Madame Curie to Queen Victoria. That wasn't contrived, it was a just natural interest from childhood. We had a wonderful library growing up in Galveston, which I frequented weekly!
As I grew older, I began reading more popular magazines like Seventeen and Glamour. I was about fifteen or sixteen and I read a profile of a young woman, I'll never forget it, her name was Karen Bacon. At that time, she was the head of public relations and special events for the Mayor John Lindsay of New York. I read about how she approached every project with a unique curiosity and creativity. I felt like I was Karen Bacon. I learned more about what she did and her background and I thought that's exactly what I wanted to be doing.
So, I realize now that I have been influenced by women all of my life. Later, I was mentored by a remarkable and legendary advertising executive by the name of Anna Wingfield. She had an impact on my career post-college. By mentoring me, she gave me the confidence that I could accomplish it all on my own.
What made you decide that you wanted to then become an entrepreneur and build your own firm from the ground up?
After graduating college, I knew what I wanted to do, but opening that door with limited experience was very difficult. So, I created a couple of jobs for myself. At 21, I had a radio show, a newspaper column, and I worked as a teacher for high school seniors.
How did you balance all of those activities?
I created those opportunities so I made time for them all. I discovered that in life, if you want to do something and that path isn't open, you just have to make it open. Find your path, set your goal, and things happen. I have always enjoyed hearing a young woman's perspective. At that time in the 80's, all of the radio broadcasters were men. There was the sports guy, the guy who talked about politics or there may have been a money guy, but there were no women's perspectives. My talk show formed out of the desire to hear a woman's perspective on these matters. So I started a half hour radio show that only interviewed women. I interviewed women in politics, women who were authors or writers, or women in the arts, about all of these diverse topics. It really worked out for me! The only reason I stopped doing that after about two years was because I was juggling too many things in my schedule between the column and teaching school. I still had in my mind that I wanted to pursue a fulltime career in public relations, but I was finding my way because that door had not opened yet.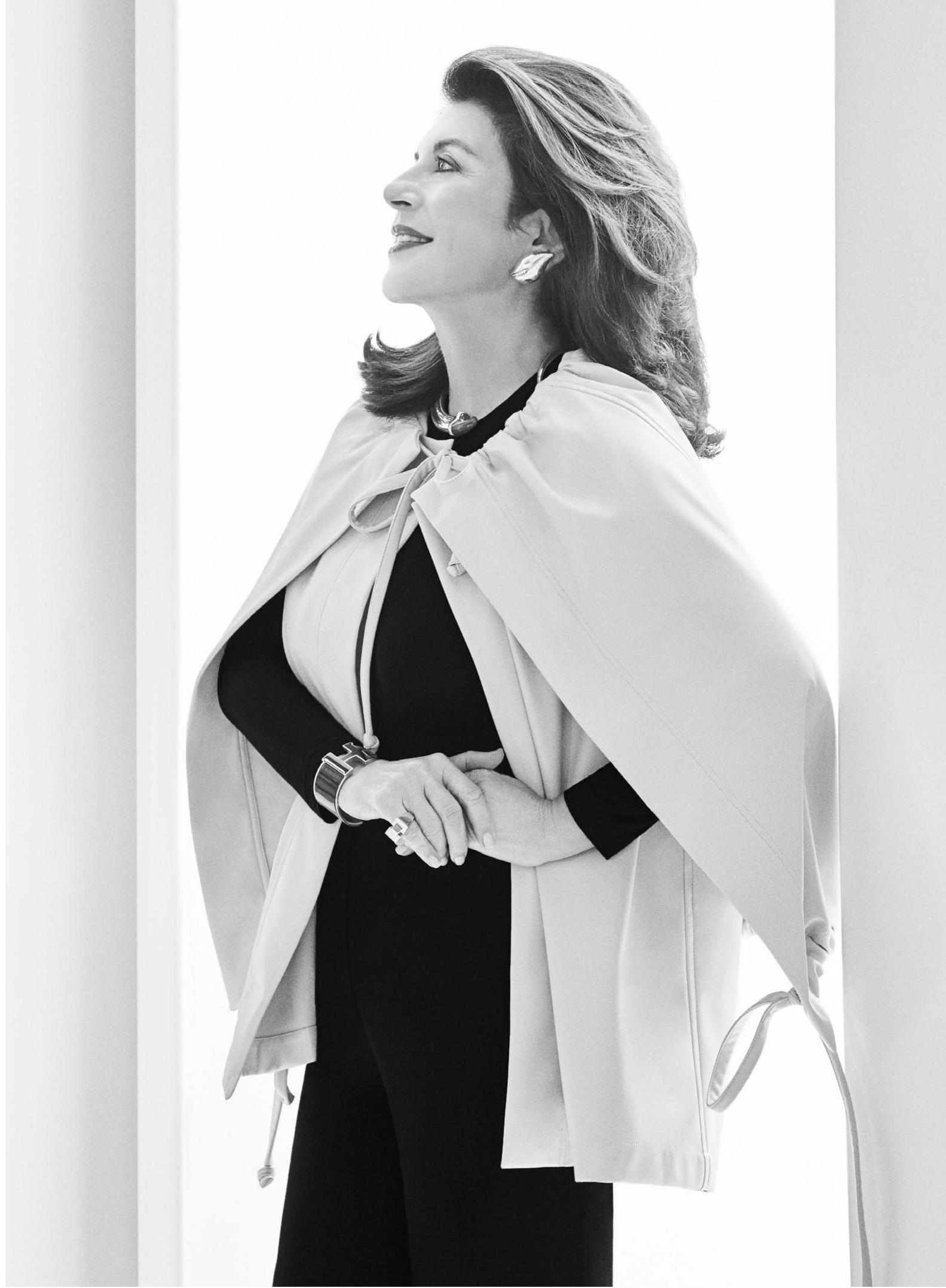 And when did it open?
I volunteered for every charity or organization, just like you build up a portfolio. After about three or four years of doing these types of freelance PR jobs, I applied at a top-notch firm in Houston. It was a very large agency, primarily advertising and public relations that had the most prominent clients. I knocked on the door with the portfolio I had developed on my own, and they gave me a shot. I stayed there for about three years, working under the direction of the senior partner, Anna Wingfield. From there, I had an opportunity to work for a quite a prominent family of the name of George Mitchell who is now known as the "Father of Fracking". He was an entrepreneur who was leading one of the largest independent oil and gas companies in America at that time, and his wife was focused on historic preservation. It was a natural fit. I worked for Mitchell for about three years while I was building up my additional clients and then my company really began to take off.
Most entrepreneurs experience growing pains, especially in the beginning when they're starting something new. Was that ever the case for you?
Well, it took me awhile. I have to say that when Mitchell approached me, and we had a number of ambitious projects at the time, it took me about six months to get the nerve up to believe that I could do this on my own. It wasn't an overnight decision. Once I did, I never looked back. I have to say that every year has been more positive and more profitable than the year before.
What double standards do you believe exist within societies attitudes about power, success, and ways of being in business for a man versus for a woman?
Candidly, there's no question in my mind that women still have to work harder, smarter, and faster.
And did you ever experience discrimination personally simply because of your gender?
I've never felt totally discriminated against as a woman, but I have felt certain challenges throughout my life because of being a woman.
Is there a specific incident that stands out in your mind?
I think it's a challenge when a woman has her own company and is then declined their status credit, and declined their status in a financial relationship with a bank. For example, when one of the first things a banker asks is a copy of your husband's financial statement. That may be in the past now, but I think it's still very difficult for women who are starting out on their own to be able to establish those types of financial relationships. For getting your company going, it's good to find a banker who believes in you.
Concerning this topic of gender equality within the workplace, what do you think that it's going to take to close the wage gap? Currently the national average is that women make 20% less than men.
I think there is no question that the wage gap exists across the board and in just about every industry. I think the only way that they're ever going to succeed in wage equality, is for more women to be in executive positions in the decision-making world, then that ultimately will change. It is changing, and there have been dramatic changes. I look back when I started in my career, at times my salary was half of what a man's salary was in the same position. It can be very discouraging and that's why women have to work harder, smarter and faster. You have to take the risk and you have to have the confidence that you can move on, because there are many companies that will value you in the workplace. If you can't find your niche, then you can make your own.
What advice would you give to your younger self, or to younger team members at your firm?
Become financially independent. That's what I encourage for all women.
Can you define what success means to you? Is it a way of being, an attitude, a list of accomplishments, etc…?
I would say it's an attitude and an overall sense of well being, as opposed to the latter. For me to be successful means to be insightful and innovative in your way of being. Accomplishments? They come and they go. But for me, when a client has confidence in you and values your opinion, that's real success.
What qualities do you try to exude as a leader, not only professionally but with all of the community-related projects that you're involved with?
I think that integrity is something that is very rarely found. So I would say high ethical standards with a sense of decency and respect. I think, respect and goodness are still very important. When you focus on demonstrating these qualities, ultimately, you will be respected and rewarded for that.
CEO's like Jeff Weiner and Oprah have more recently promoted the idea of "compassionate management." What are your thoughts about this management style and is it something that you incorporate at your firm?
We firmly believe in leading by inspiration. Wisdom and compassion are key components of any great leadership style, but inspiring your team is relevant at every touch point. We strive to inspire confidence, loyalty, and enthusiasm. We want to enable our team and motivate our team to deliver an inspired product that goes above and beyond our clients' expectations.
When you first meet somebody coming in for an interview to be hired by your firm, is it something that you innately feel from them when they come in?
Without a doubt! I still prefer to do every interview. I really have to say a lot of it is intuitive to get a sense of whether or not they are going to have the commitment, perseverance and the passion that I'm looking for. We have a very active internship program, because of the fact that I did not have the opportunity to do an internship while I was in college. I have made that a very important core principle that we will give as many opportunities to new graduates as possible. Within a year, perhaps, we'll have as many as 10-12 through the year.
Dr. Emma Seppälä is the Science Director of the Stanford Center for Compassion and Altruism Research and Education. I recently read an article about findings from her research. One of the things she discovered is that high-stress environments in the workplace actually break down the culture and morale of the organization.
I very much agree with that. There are a lot of cues one can pick up. There are cues that someone is overstressed or having a client conflict. I can often pick up on those unique cues and it's my duty and responsibility to size up and be the steward. It goes back to constantly reading. I know this sounds really strange thing. The only way anyone can grow in this business is if they're attuned to the media. Today that includes blogs, stories online, video clips, newspapers, and books. Now, I read about everything online now. I read the Washington Post, Wall Street Journal, the New York Times, the LA Times, the Guardian and several local papers daily. I'm constantly learning with this whole mindset. You cannot sit back and not be fully absorbed with what's happening in the world around you. In everything, we're all connected. In our business, you have to be connected to just about every industry. That's what I look forward to every day connecting with my team and interfacing with a broad variety of clients, so that everyday I feel I am learning and helping my team members to learn, and that's very fulfilling!
With the development of social media's popularity and it's integration into business, many people are seeking to use this platform to achieve "influencer" status through a well curated brand. In light of this, what do you think makes for a lasting brand?
The brand has to be authentic and that's the most important factor for a brand to survive. The DPWPR brand is all about authenticity and creativity. Everything we touch, we think about how to make it the most unique, how to make it totally relevant, but also how to create a campaign, a program, or strategy that is new, fresh, and different. And so, I'd say the brand, our brand is about authenticity coupled with creativity. There are many ways to create a brand. Everything we do–our space, our logo, our fonts, the paper we use, as well as digital presence on our social media platforms–no detail is neglected.
Andy Warhol said, "I never read. I just look at the pictures." I think probably, nobody understands this better, than perhaps, a publicist. How does a captivating image help a publicist and her clients?
We value and believe photography is one of the finest art forms. Therefore, in that, we emphasize the need for the very best photography when working with our clients, to depict their product, their real-estate development, their food operation and presentation. The images are incredibly important, and that can only be achieved through good photography. Now, that said, I also feel the power of the written word is extremely important.
And when there's a marriage of the two?
Then I think that's when you got a winner.