IRIS WOMAN – LAURE HERIARD DEBREUIL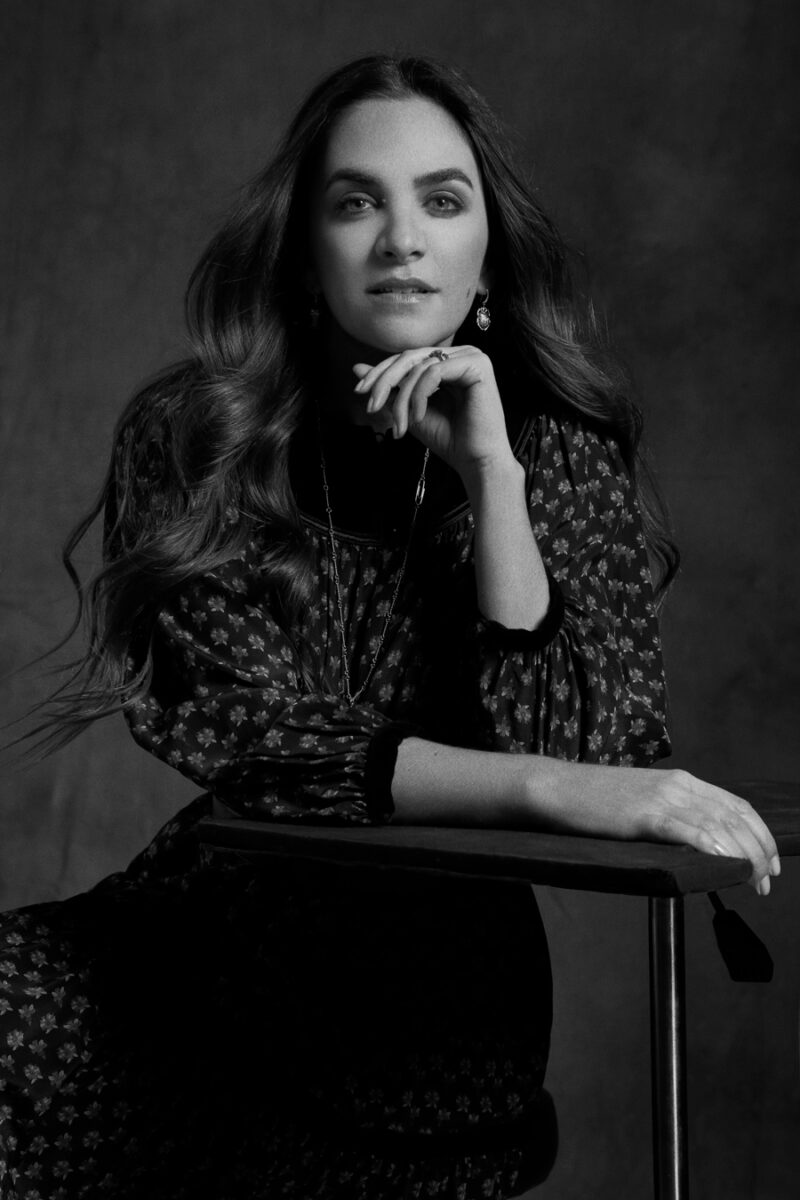 Photography and Interview by Dustin Mansyur | Styling by Marc Sifuentes | Hair & Makeup by Cari Duprey @ Wilhelmina
Laure Heriard-Dubreuil photographed in Manhattan. Dress by Vintage YSL, Earrings by Aurelie Bidermann, Necklace and Ring by CVC Stones.
Since launching her multi-brand luxury boutique, The Webster, at the peak of the recession in 2009, Laure Heriard Debreuil has forged a career as a respected authority within the ever-changing landscape of the fashion industry. An FIT graduate, Laure got her start at famed fashion house, Balenciaga, then under the creative control of renowned designer, Nicolas Ghesquiere, earning her fashion credentials, first as a part of the brand's merchandising team before moving on to become a top merchandiser for Yves Saint Laurent's RTW division in Paris. Now, catering to a cult-cool crowd and building a brand known for purveying a trend before it's even had time to be set, Dubreuil is something akin to a mystic tastemaker. Her own recognizable personal style sets the aesthetic tone for an instinctual buying process when it comes to working with established, well-known design houses or of-the-moment designers at the top of their game, often times collaborating with both to create exclusive, site-specific products for her boutiques.
Responsible for editing The Webster's recherché selection of designer offerings, the Parisian-born CEO quickly evolved the delectable brand over the last 8 years, developing worldwide brand partnerships with Le Bon Marche, Target, and the Ritz Paris while expanding its boutiques to include additional locations in Bal Harbour, Florida; Houston, Texas; and most recently, Costa Mesa, California. Each boutique provides the indulgent sensory experience of the ultimate walk-in closet, integrating a luxurious, intimate, home-like ambience with contemporary artworks and customized antique furnishings. Carrying exclusive brands such as Balmain, Balenciaga, Chanel, Dior, Gucci, Loewe, Saint Laurent, & Vetements, The Webster's women's and men's selection offers expertly curated ready-to-wear and luxury accessories, including shoes, bags, jewelry and watches.
In 2012, just three years after opening her 20,000 square foot Miami Flagship, Dubreuil took the dive into the world of e-commerce, using the same attention to detail to translate the exquisite nuances of her brick-and-mortar into an online shopping platform for customers around the globe. Notably, and at no great surprise, for the past two consecutive years Dubreuil has been among BoF's Top 500: The People Shaping The Global Fashion Industry, as well as participated in WWD's prestigious annual CEO Summit. Currently serving on the expert committee of LVMH's annual fashion prize which fosters young talent, Dubreuil has rightfully taken her place as a revered member of the fashion community.
Here, IRIS Covet Book shares a conversation with creative wunderkind and fashion-business queenpin, Laure Heriard Dubreuil.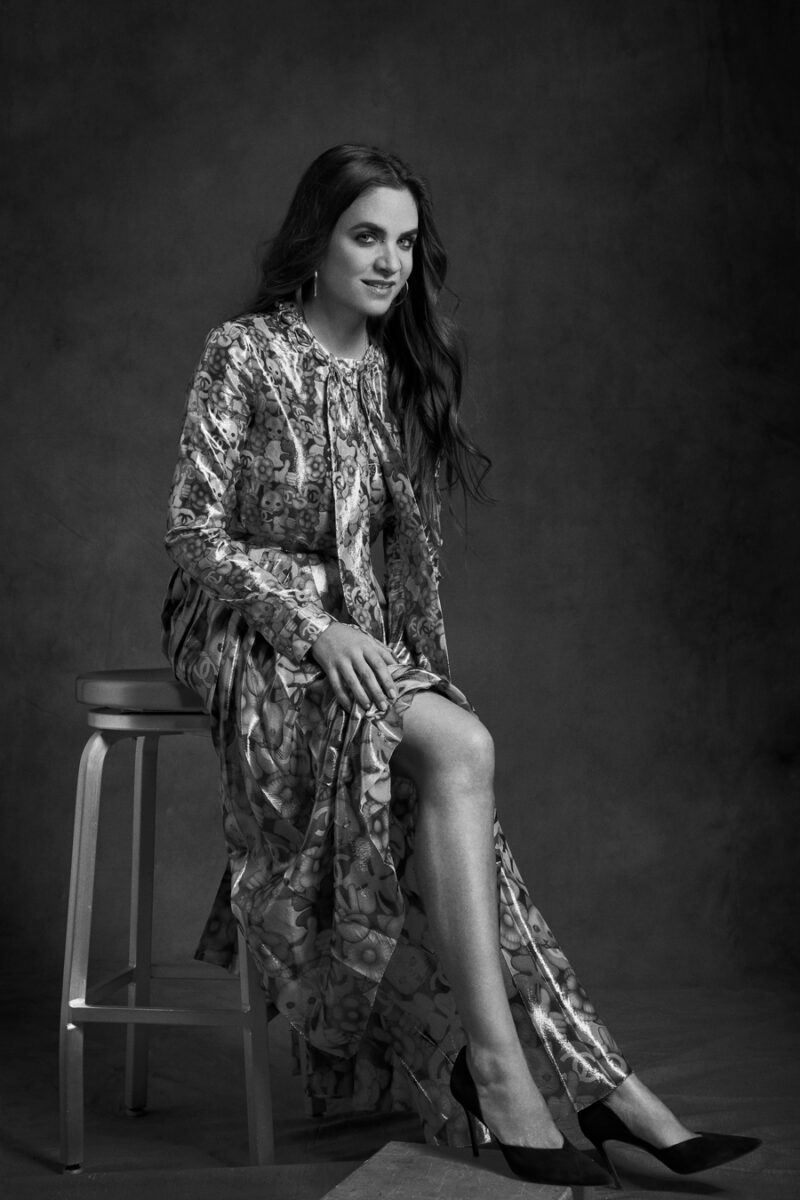 Top and Skirt by Chanel, Hoop Earrings by Céline, Pumps by Saint Laurent | Shop Webster exclusive including a new collaboration with Lane Crawford on thewebster.us
When did you first know that you wanted to be involved with fashion, and how did you arrive at that decision?

As a child, I was always interested in fashion, whether it was playing dress up in my mother's closet or selecting new clothes for my brothers and sisters. As the oldest of four children, I was always making "looks" for them. After finishing university in Paris and Shanghai, I decided to act on my strong interests in fashion and enrolled in FIT in New York City, with a focus on visual merchandising.
Where did you first begin your career and did you have a great mentor in the early years of your career? What was your biggest take away from the experience?

I first began working in fashion through an internship while studying at FIT. Through this, I met Nicolas Ghesquiere who was at Balenciaga at the time and there was an instant connection between us. He hired me at Balenciaga to work within the creative studio and I learned so much from him. I consider him one of the most influential people in my career, still to this day.  
What made you decide that you wanted to become an entrepreneur and build your own business from the ground up? Was there a catalyst that acted as the motivation for change?

I would not say there was one specific catalyst, but it's in my blood – I am from a very long line of entrepreneurs and my parents were always very encouraging and supportive of starting my own business.

Most professionals experience growing pains from time to time, and such experiences can offer us insight and learning. Can you relate a specific incident that at the time was a challenge, but in hindsight, has been one of your biggest sources of growth?

The renovation process of The Webster was a key learning experience; the process took so long and was much more challenging than I expected being in an historical building. We opened the South Beach permanent location in 2009 at the peak of the recession – I felt that things could only get better from there!
Define what success means to you? Is it a way of being, an attitude, or list of accomplishments?
Success is a way of being! For me, if I am happy, I am successful.
What double-standards for a professional man and woman do you believe exist in regards to society's attitudes about power, success, and ways of being in business?
Double standards exist in today's society, but I am hopeful things will continue to improve for women, especially within the workplace. I take significant pride in being the Founder and CEO of The Webster and hope that I can inspire other young women to follow their passions and take risks.
What qualities do you try to exude as a leader, in life and professionally?
Honesty, loyalty, hardworking, passionate, and understanding are the qualities I try to live by each day both in life and professionally.
What have been the biggest benefits of having a point of view and personal style that have helped you on a professional level?
Personal style has given me a confidence to think out of the box and not be afraid to push the envelope. It's helped me to trust my instincts and have confidence when making quick decisions.
Personal style nowadays is one form of branding. Why is branding so important now, more than ever with the advent of the internet and development of social media?
With the internet and social media, the arena has become increasingly competitive, branding is how you differentiate and position yourself within an already saturated market. It allows you to speak to multiple audiences through  concise and clear messaging.
What adjectives would you use to describe The Webster brand? What methods do you use to reinforce this brand?
A few adjectives I would use to describe The Webster would be unique, exclusive, timeless, and sunny. We work tirelessly on ensuring the décor and ambience of the boutiques are inviting. We play close attention to every detail, including plush carpeting, customized and antique furnishings, contemporary artwork as well as a signature orange blossom scent that is consistent throughout all our locations. We are always collaborating with designers to offer site specific exclusive products. This has been a key defining thread present since we opened in 2009, and has become part of our DNA.
During an economic time when many companies were experiencing a downturn during the recession, what made you decide to launch your company then?
We made the decision and there was absolutely nothing that could stop me! I fell in love with the art deco architecture in Miami's South Beach. We experienced so many obstacles but were so determined and felt such a tremendous sense of accomplishment once we opened.
How soon after opening did you begin to focus on the e-commerce market? Do you find a balance between the revenue your company creates through traffic online or in person?
We took our time, evolving organically by launching our website in 2012 and e-commerce (with Farfetch) and have continued since then to carefully expand online, while replicating the experience through unique, exclusive pieces and product drops.
Does The Webster have plans for greater expansion with more brick-and-mortar stores? Are there any upcoming projects or collaborations that you can discuss?
I am super excited to launch a worldwide exclusive collaboration between The Webster and Lane Crawford! It was inspired by our interpretation of the energy and spirit found in Miami, Florida, where The Webster's first and flagship location was built. We will be launching over 70 products from more than 20 brands in all of our locations as well as online, collectively.
Do you find that the consumer experience of shopping in person is unique to your store?
I hope so, it's our ultimate goal to ensure each visit to The Webster is special. We want our clients to feel comfortable spending time with us, especially with how fast paced our lives are, it's important to make the experience special.
Who are your favorite new designers or who is on your radar?
ATLEIN, Wales Bonner, and Nadine Gosh!
What do you look for when you walk into a young designer's showroom? How do you gauge what will sell in your store and does that differ in the various markets your store is present in?
I listen very much to my instincts as well which makes it special/different and we like to build long-term relationships with our designers, so it's important for the young designers we partner with to have market and production knowledge, so they can grow and to have their collections to be sitting next to the biggest names in the industry. We also work very closely with our sales associates and in house stylists, listening to their feedback while ensuring our selection is interesting yet timeless. Our buys are uniquely tailored specifically to each of our four locations.
"Choose a job you love, and you will never have to work a day in your life." Do you find this expression to be true? What do you love about your job the most?
Absolutely, this is the motto in which I live by! One of my favorite aspects of my job is having the opportunity to visit the showrooms and spending time with the designers and their teams.
What practices or habits have been beneficial for you in the mastery of your career and personal evolution?
I attribute my success to my parents, who instilled in me at a very young age to be responsible, respectful, and to always work hard for anything I wanted. This has helped define who I am, both professionally and personally.
Are you involved with any charitable initiatives or organizations? If so, please expound upon which causes you support and why you were drawn to them.
mothers2mothers is a tremendous organization that is very dear to me and am grateful to be an ambassador. I had the opportunity to visit South Africa, where the charity was founded, and was completely blown away by the work they are doing. What is so special about this organization is that they empower women living in townships with HIV by employing them as mentor mothers, who work as support system to other new mothers that are also HIV positive. This helps to not only remove the stigma about getting tested, but encourages women to disclose their status while also educating them about the necessary steps to give birth to healthy HIV negative babies.
When do you feel most creative?
I feel my best creative ideas happen during holidays in the summer, when I am super relaxed and happy spending quality time with my family.
What advice would you give to your younger self?
Never take no for an answer. I firmly believe that if you have determination, anything is possible!
What's next?
You will have to stay tuned!! We are currently focused on the launch of Lane Crawford and continuing to grow within our existing locations!