LYNN WYATT
Photography and Interview by Dustin Mansyur | Styling by Marc Sifuentes | Art Direction by Louis Liu

Top by Christian Lacroix, Earrings, Bracelet, Necklace and Ring all by Harry Winston.
Lynn Wyatt has invited us to afternoon tea, an invitation one makes sure they are not late for. Our team has flown in from New York to meet with the juggernaut philanthropist and international socialite to discuss details of her upcoming photoshoot, also to be held at her home in River Oaks. Greeted by her butler, we are whisked through the foyer with it's elegant curved staircase and ushered into her formal sitting room. Traditional furnishings in buttery yellow and pear greens are juxtaposed with modern and contemporary art which punctuates the room. The two Warhol portraits of Wyatt proudly greet guests as they enter the room, and we are seated in front of the fireplace which wields a colorful painting done by artist, Helen Frankenthaler, hung expressly above the mantle. Just then, we hear the voice, an instantly-recognizable southern drawl with a husky yet benevolent elocution.
As Lynn enters the room, she welcomes us all charmingly with a firm handshake. Smartly dressed in a Chanel pant suit, there is a lightness of being that radiates from the unbelievably spirited octogenarian. A genteel charisma that is not without its depth, her graciousness spills over into everyone she interacts with, no matter how big or small the exchange. Her genuine gratitude is offered to our team as tea is poured and gingersnap cookies are served. As we begin to discuss the details for the photoshoot, there is nothing that is left to chance by Wyatt, whose perceptibility and forethought is sharply on point. Excitement infiltrates the discussion as the topic of wardrobe and jewelry begins, details about every garment she's worn on the red carpet are intimately shared with pride. After all, she was inducted into Vanity Fair's Best Dressed Hall of Fame.
She is the woman most Houstonians esteem as their city's cultural ambassador to the world. For the past five decades, Lynn has raised millions of dollars for charities the world over. In 1982, she was honored by the Government of France to rank of Officier in its prestigious Order of Arts and Letters, for her significant contribution to the enrichment of the French cultural inheritance. A patron of the arts, Lynn has made it her life's mission to endow the arts in all of its resplendent forms, and her love of fashion has garnered just as much interest as the galas she's chaired, honored, or attended. Then there is the trope of A-list international friends comprised of royalty, celebrity, and society with which the Texan rose has kept her company: Princess Grace, Nancy Reagan, Liza Minelli, Sarah Ferguson Dutchess of York, Shirley MacClaine, Elton John, Andy Warhol, Karl Lagerfeld, Valentino, and Mick Jagger to name a few. Privy to even the most pomp of parties, brushing shoulders with the world's elite, Wyatt's attitude is anything but aristocratic. And while others might require one, no spotlight is necessary for a luminary as brilliant as Lynn.
Proudly, Iris Covet Book shares a conversation with Houston's hero to offer a glimpse into the radiant world of Lynn Wyatt.

Leather dress by Talbot Runhof | Earrings and Belt by Emanuel Ungaro Couture.
You're a native Houstonian and you've always been proud to act as an ambassador for this very industrial diverse and innovative city. What specific things do you take pride in about Houston?
I take pride in my hometown because of its people. Houston is a very welcoming city and we have a much diversified population which I think is great. And I take pride in the exceptional first class culture and the arts in Houston. The M.F.A.H (Museum of Fine Arts Houston) is exceptional. I love the first-class Houston Grand Opera and our incredible Ballet, as well as the one of a kind, Rothko Chapel and the Menil collection. To me, I think that the arts are the soul of any city.
Your family owned the well-known department store, Sakowitz, for many years. Was your love of fashion innate, or was it something that you learned more about through exposure to it through the family business?
I think just growing up and being around our specialty stores made me cognizant of fashion.
And did your parents ever make you work at the department store when you were growing up or was it something that you chose to do?
I didn't have to work, no, but I wanted to work.
What did that experience teach you?
Well, when I asked my father, he of course agreed to it. They had a junior miss department and he said he would place me there to begin. So, on the very first day, a girl came in with her mom and I asked if I could assist her. She had brought in several outfits in the dressing room and had asked me to come in. She asked for my opinion. I thought, "Should I tell her the truth? Or just make the sale?" But to me the truth is always the right thing. So, I told her it really didn't do anything for her style. So, she asked me what she should do instead? So, I said, "Let me go and bring some things. You can try them on because I think this is more your style." She then became not only my customer, but she brought in all of her friends and told them to ask for Lynn.
So, the customer isn't always right, but Lynn knows best.
(Laughter) Yes, and you know the truth is what people like! I mean, women like to hear the truth about when something they're wearing isn't very flattering.
Then, at what age did you become interested in philanthropy and humanitarian causes? was gratitude or the act of giving back something that you were taught?
You know what, that is something that was taught to me early, early on because my parents were prominent in this city, and they always taught me to give back to the community.
That's amazing, what an incredible example. What charitable organizations do you support and are involved with?
The arts have always been my passion. I've been the Vice President of Houston Grand Opera for thirty-five years and a trustee on the executive committee of the Houston Ballet for over twenty-five years. I'm also a lifetime trustee of the Museum of Fine Arts Houston. I am the Rothko Chapel's Cultural Adviser and I'm a Special Advisor to Mercury, which is a brilliant orchestra made up of strings that showcases young musicians, but of course to me everybody is young. (Laughter)
(Laughter) So then, what is perhaps the most memorable event that you ever hosted and why?
The most memorable event, was for the Princess Grace Awards Gala. Three months, after Princess Grace of Monaco passed away, I got a phone call from Prince Rainier. He asked me to chair the first inaugural gala, and I sort of gulped. I said, "Oh my goodness." And he said, "No, she loved you. You were one of her dearest friends." So, I said I was so flattered and accepted the invitation to chair the event.
Then I decided that instead of having it in New York, which always has so many events going on, sometimes three or four things a night, that I would have a three-day affair, and hold it in Washington D.C. The President, and Mrs. Reagan were present, as well as the entire presidential staff. I also invited all my European friends, some were princes or princesses and dukes and duchesses. Even many years after, I still have people remembering it. So, that's very flattering for me.

Dress by Tom Ford available at Neiman Marcus | Shoes by Yves Saint Laurent
And you will be chairing the official Super Bowl Galas in Houston, Texas?
I am very proud to be a part of the Super Bowl and chair the official Super Bowl Gala on Wednesday evening before the Super Bowl. You know, it's a big deal in any city but this is my city. So, I'm very proud to be to be involved with it.
Are you excited about the halftime show with Lady Gaga?
Yes! I met Lady Gaga when we were both attending Elton John's AIDs Foundation Gala in Windsor. Lady Gaga was the entertainer and she was fabulous. Later that evening after the gala at Elton's home, Elton said for us to go up and put on our bathrobes. We came downstairs and stayed up talking and laughing until four o'clock. She was just terrific. You know, she's a great entertainer and she was just fabulous. I'll be thrilled to see her in Houston if she has the time.
It sounds like you are busy preparing for all the festivities surrounding the Super Bowl. I'm curious how you decide what to wear when you're hosting a Gala? Do you always purchase something new or never worn before? Or do you revisit some of your archived couture pieces from time to time?
People often ask me this question, and the answer is that it depends on the occasion, because sometimes I change what I'll wear a lot. So, if I say I haven't decided yet, that makes me look like I don't want to tell them. If I do tell them something and then change my mind because my mood changes, it makes me look like I'm a liar. So really, for something like the Museum of Fine Arts Ball that I hosted, I had an Oscar de la Renta gown made-to-measure for me. I was excited about that. But you know, I'll wear my "golden oldies" as I love to call them.
And do you ever mix pieces like that old and new? Haute couture with ready-to-wear?
Oh, I love to mix them!
I would imagine that's part of the fun, right?
Yes exactly! That's what I love about getting dressed. A very famous person who was a very good friend of mine, and also one of the most stylish women in the world, said, "The most fun that I ever have is deciding what I'm going to wear. Sometimes even better than the party I go to." I don't know if I agree with that last part, but I love her for saying that.
How would you describe your personal style?
I have been asked to describe my style, and I have a little philosophy that I dress by. My style is class with a little bit of dash, but never trash. (Laughter)
(Laughter) Spot on! I was going through some image galleries of your most memorable looks online. There's several galleries on the Internet that showcase looks that you've worn and I couldn't help but notice that you gravitate towards a lot of playful pieces too. Like the evening dress with the red lips embellished on it.
Oh right, you know who did that? Yves Saint Laurent!

Necklace by Grazia Fortuna Ward | Dress by Ralph Rucci | Photo by Jhane Hoang
Ah! I was wondering who.
I loved Yves Saint Laurent! And I love Valentino. I also loved Emanuel Ungaro, Hubert de Givenchy, and Chanel! She was the first house that I ever went to purchase haute couture from. When I was early married, my husband went to Paris and took me. I decided I would go in and see about having some pieces made for me. They were very, very, disciplined and they take all of your measurements– I mean everything! I thought they were going to measure the size of my finger nail (laughter). They were so perfect about everything. So, I had a daytime suit that was made-to-measure. And I had this beautiful brocade cocktail dress with matching jacket.
Since then, I also have had evening gowns and other pieces made-to-measure, from other designers who I became very good friends with: Valentino, Givenchy, and Emanuel Ungaro.
Do you ever fret over a haute couture piece before you purchase it or do you have an inherit knowing this piece is right for you?
My dear man, before I ever have it made to measure I agonize over it. Because I would think, and think, and think, "Am I going to spend my money on this? How many times can I wear it? How many times can I mix maybe the skirt with another top?" I mean, I agonize over it. First of all, haute couture is a fascinating experience. One can really turn a garment inside and out. The way it's made is so perfectly sewn and constructed by hand. I used to attend all of the collections in Paris every year and it was always such a great experience. I must admit that I can still wear my "golden oldies" and I feel like they're just good friends.
Do you still own all of your haute couture pieces? Are they archived?
You know, I still have my first Chanel suit. But then I gave eighteen haute couture gowns to the auction panel to raise money for the Rothko Chapel(in Houston, Texas).
I'm furious with myself for parting with one of them. Hamish Bowles (International editor-at-large of Vogue) came up to me before the auction, and said, "You know, I've got my eye on two LW's." I said, "You do?! Well good for your collection, I'm so flattered!" And so, he actually ended up buying four! I was so excited they ended up in his collection.
How did you meet Warhol, and how did your portraits by him come to be? Did you have a sitting with him at his studio?
I met Andy Warhol in New York in the 60's and we became fast friends. We would always go to lunch or dinner together. Sometimes it was just the two of us and other times he would be with all of his talented and amusing friends. I mean Andy was so ahead of his time. At that time, Fred Hughes was the guy that did work with him in the city, and he asked Andy, "Why are all of your paintings the same exact size?" And Andy's answer was, "Because I can picture them in a museum one day." How brilliant was THAT! He would come to my parties at our Villa in the south of France, and he would bring a notebook and take notes about me and the people who were at the parties. I thank all the artists who ever asked to do my portrait, because it's very flattering, but I would always say no to them. But Andy, he was the one that I asked to do my portraits because he was, and I think people would agree, the John Singer Sergeant of our era.
 
Ring and earrings by Harry Winston |  Sheer Long Sleeve Blouse, Blue Satin Top, Belt and Leather Pants all by Saint Laurent, available at Neiman Marcus
What has given you strength during times of trial in your life?
Personally, I believe that trials and tribulations come into everyone's life. The way I handle it, I believe in facing them straight on. I know that whatever trial or tribulation it is, it can always be worse. When you think about it that way, it's like, "Oh, this isn't so bad."
What's been your greatest fear that you've confronted and overcome?
I don't even think of fear. Life is a challenge and I just look at it in the face and go for it.
What does success mean to you?
Whatever I do, I try to do the best job I can. And I'm very happy when it becomes successful.
Have you ever reinvented yourself?
You know I never think of reinventing anything. Especially my life. I believe that we should live life as an adventure, and be grateful for all the gifts one has been given. You know, I'm an adventurer too!
Your family is ancestrally Jewish. In America and globally, 2016 brought to light an alarming rise in xenophobia, transphobia, homophobia and overall feelings of divisiveness. I'm just curious to know what you think it will take for us to unite and celebrate our diversity?
That's a very good question. You know, my parents taught me that every religion is personal and that at the core, religion teaches us to love and respect all people and religions. So, I'm fortunate that I have a diverse group of friends all over the world and have never encountered any division among them. Be kind and be respectful of others, especially their differences.
You've been described by Nicky Haslam to have a "golden aura" and your friend Valentino described you as "a miracle of nature" because of your constant energy and vitality. What's your secret to maintaining impenetrable positivity and light?
First of all, I'm so flattered by those wonderful, incredible words, by my two dear friends. The truth is, I don't have a secret. I think that the light comes from within.
Do you think gratitude is an important quality to cultivate in one's life?
I think gratitude is a very important quality. But I do not think about gratitude as being a quality to cultivate because then one is not truly grateful. It has to come from inside. It has to come naturally. If you have to think about it, then it's not true gratitude.
Good point. The experience of gratitude must be innate and naturally occurring.Can you describe what "having class" means to you?
If you one thinks one has class, one doesn't really have it. Because I think it's the way one lives one's life. However, I take it as the supreme compliment when some guy yells out, "You're a classy dame!" (Laughter)
(Laughter) That's where the "dash" comes in from your style motto! What do you want your personal legacy to say about you?
It's really quite simple, but I would like them to say, "She lived a lot, laughed a lot, and loved a lot." .

Ring, Necklace and Earrings all by Harry Winston | Black Top and Pants by Brandon Maxwell | Shoes by Yves Saint Laurent | Throughout this story, Hair using Susan Zindler | Makeup using Dior Beauty, YSL Beauty, Tom Ford Beauty and Chanel Makeup | Fragrance by Hermes
THE PHILANTHROPIST
Lynn spends much of her time giving back to the world by supporting many charities and one of her first loves, the arts. From the Rothko Chapel to the Museum of Fine Arts Houston and the Houston Ballet, Wyatt has spent much time fundraising for fine arts establishments as well as being a frequent guest at galleries, operas, and ballets alike in her hometown Houston, Texas. Along with her love of art, honed from years of spending time with Andy Warhol at his Factory, the famous Helmut Newton, and many other art icons, Lynn loves to be a supportive pillar for the community. Much of her days are spent with different non-profit groups and shelters like the Star of Hope Mission.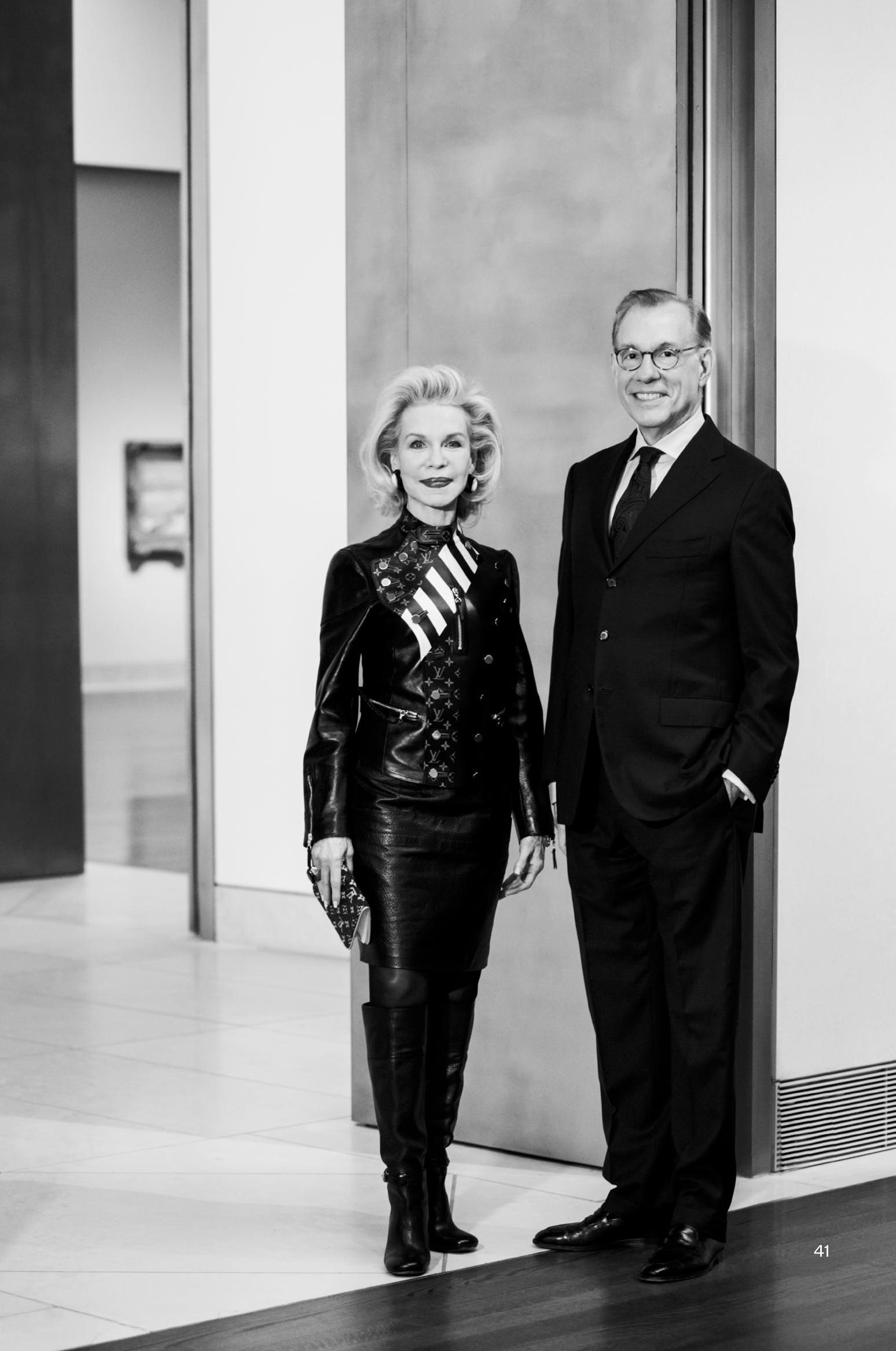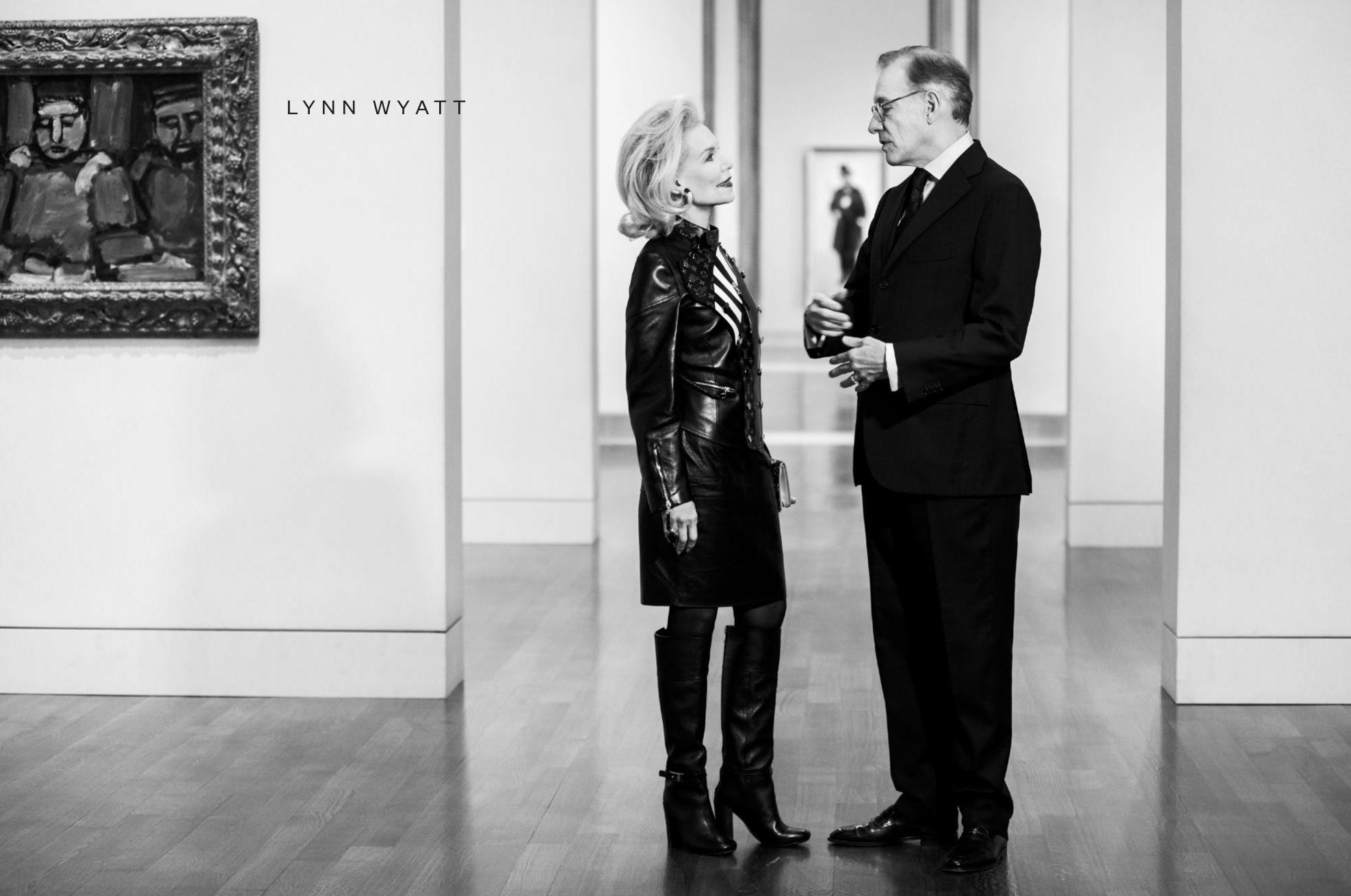 MUSEUM OF FINE ARTS HOUSTON
Director Gary Tinterow and Lynn Wyatt discuss life in the halls of the Museum of Fine Arts Houston, an award winning, world-class museum of international fine
arts; Lynn Wyatt is Chairwoman of the Board of the acclaimed museum.
On Lynn: Leather Jacket and Handbag by Louis Vuitton, Leather Skirt by Chanel, Boots by Yve Saint Laurent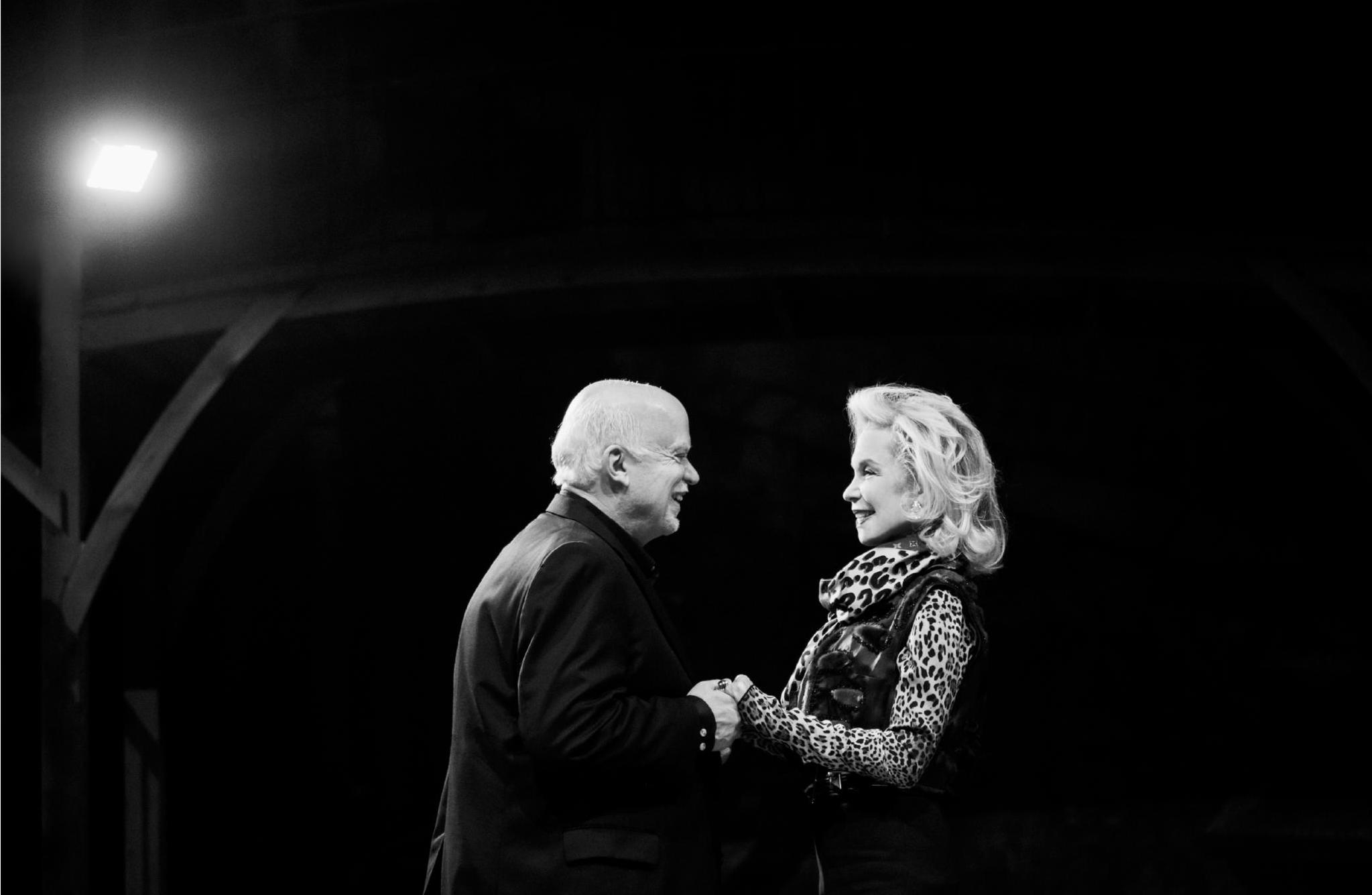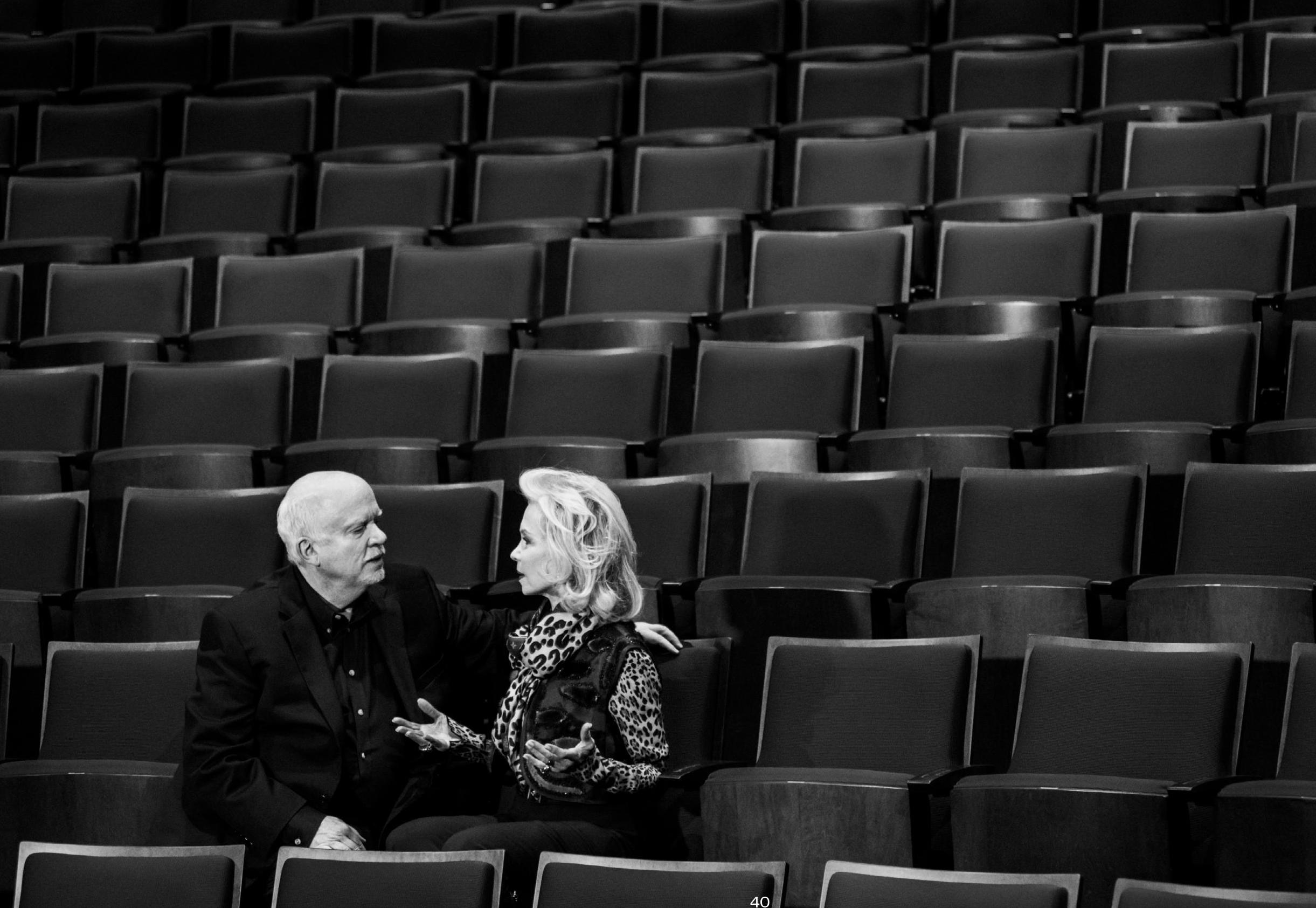 ALLEY THEATER
Gregory Boyd, Artistic Director at the Alley Theater and Mrs. Wyatt sit and enjoy their time in the famed space for the arts. The Alley Theatre, one of America's leading not-for-profit theatres, is a nationally recognized performing arts company, Lynn is an avid supporter, Member at Large, and on the Board of Directors.
On Lynn: Leopard Print Top by Yves Saint Laurent, Vest by Arend Couture, Scarf by Louis Vuitton.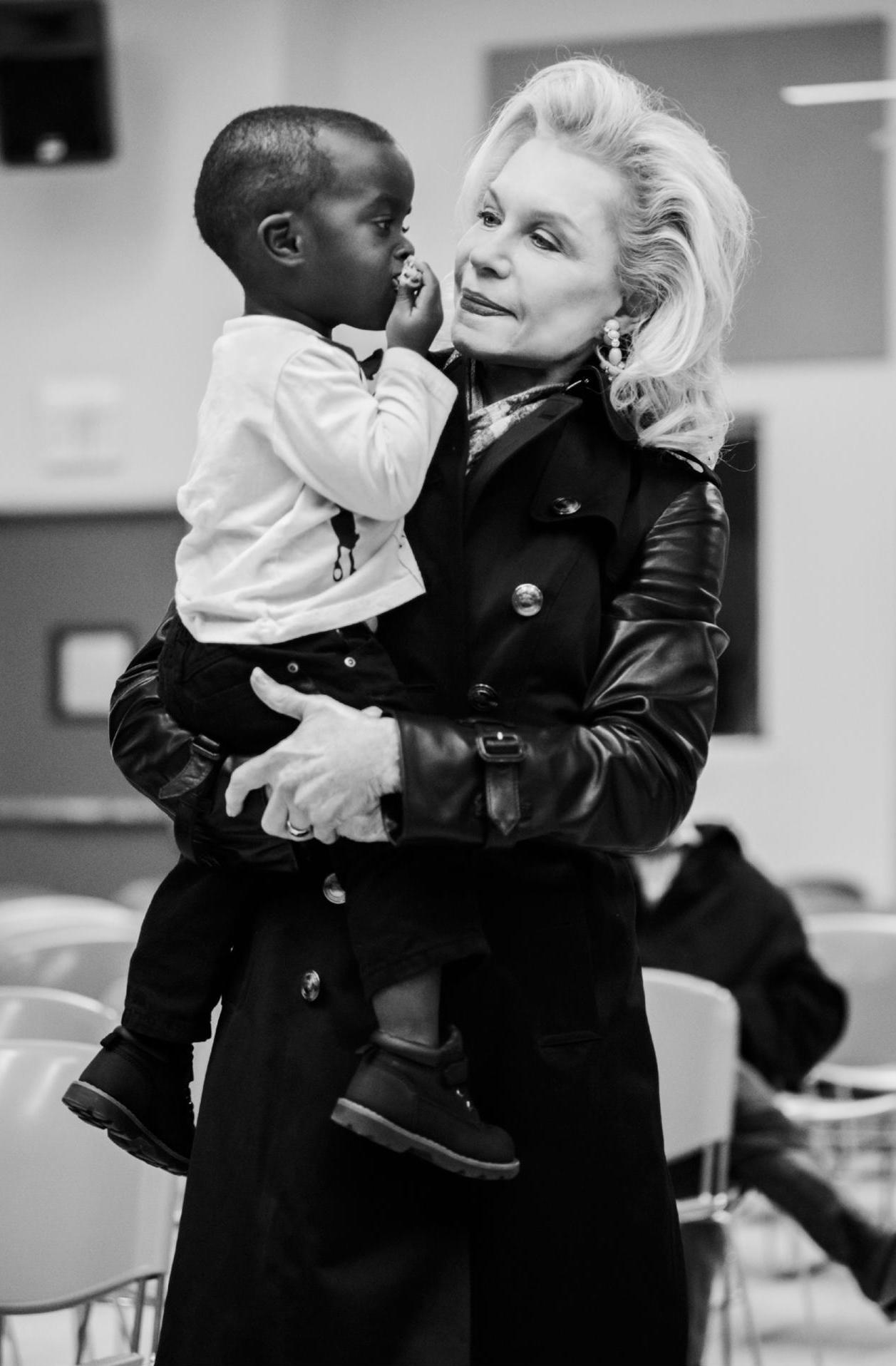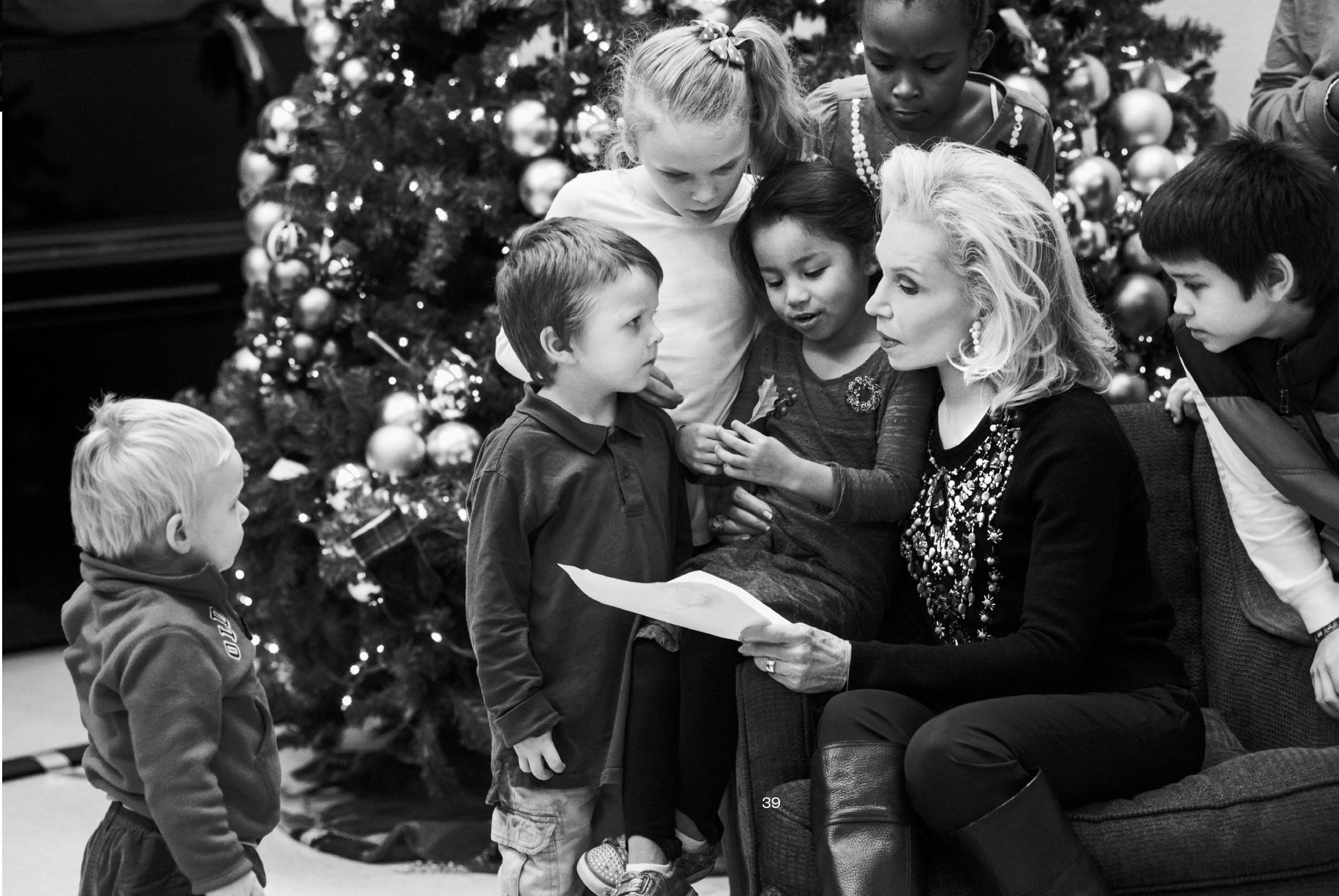 STAR OF HOPE
Lynn reading stories to the children at the Star of Hope Mission. Lynn is a devoted supporter to the Star of Hope Mission, a charity that counsels, houses, and lends a helping hand to the homeless that find shelter at the Mission. President and CEO, Hank Rush, helps provide a safe haven to provide structured programs which focus on spiritual growth, education, employment, life management and recovery from substance abuse.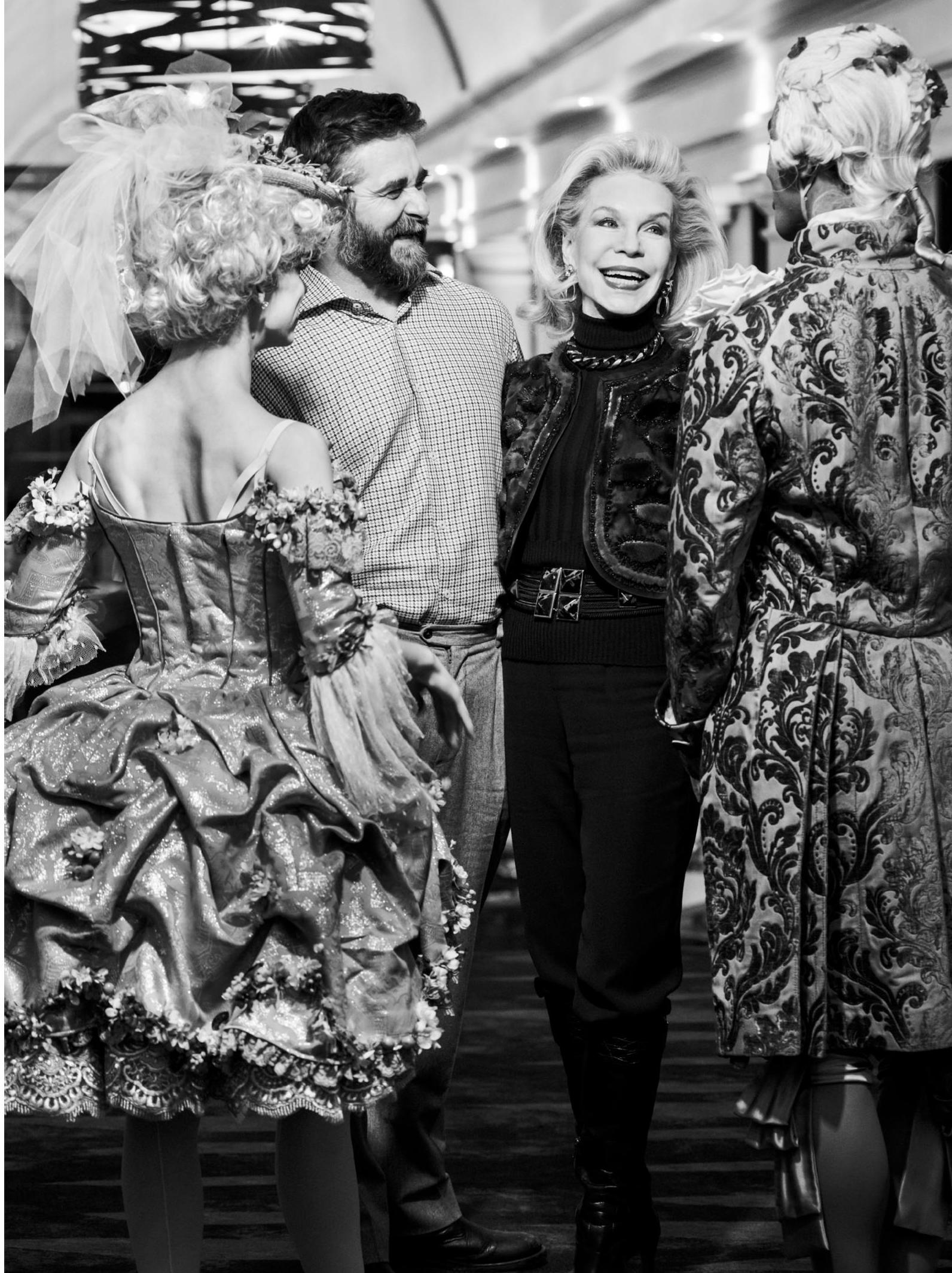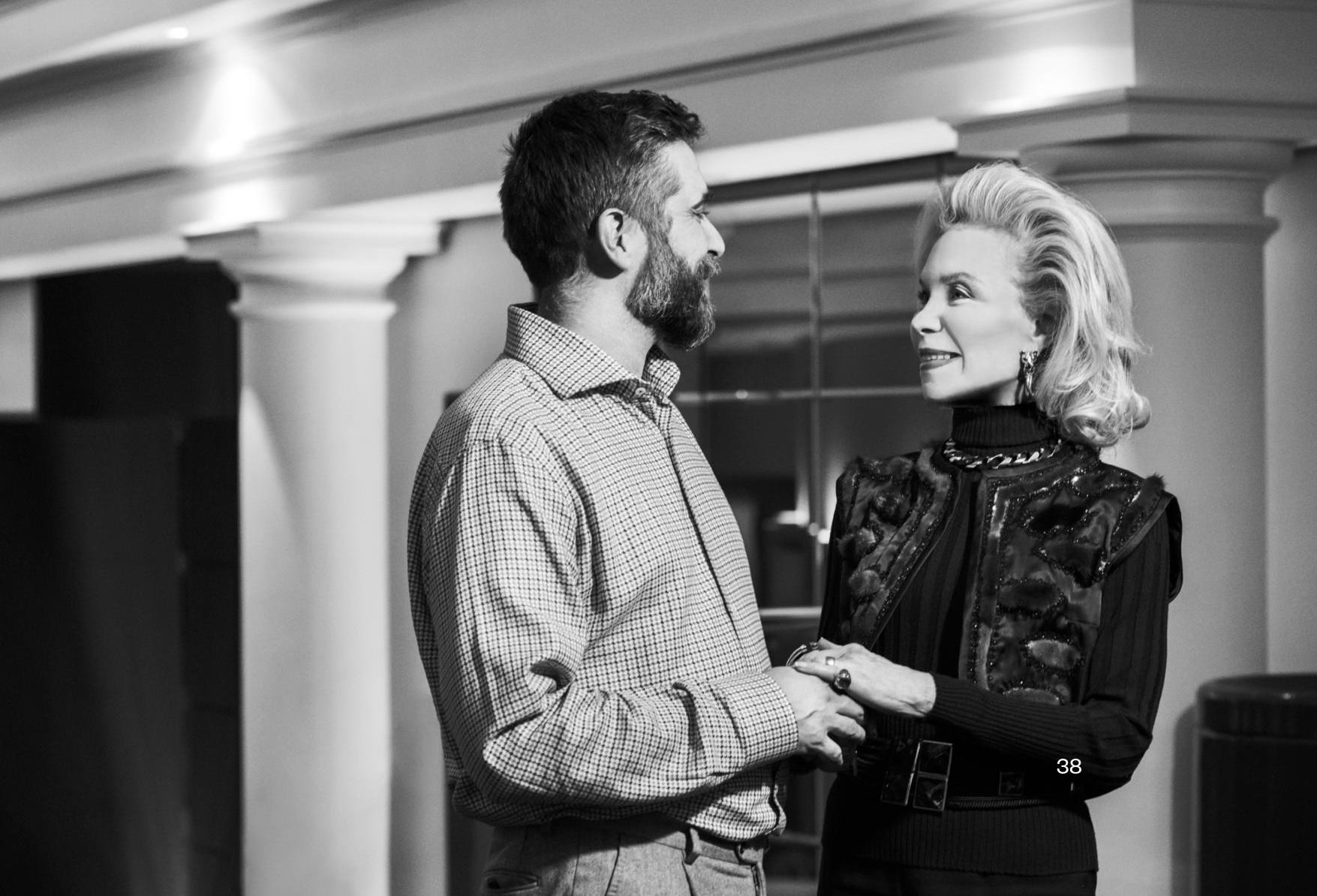 HOUSTON BALLET
Stanton Welch of the Houston Ballet stands with Mrs. Wyatt as they greet the young dancers of the Houston Ballet. The Houston Ballet is another center of culture andfine art performance that has become near and dear to Member-at-Large, Lynn Wyatt.
On Lynn: Turtleneck, Necklace and Belt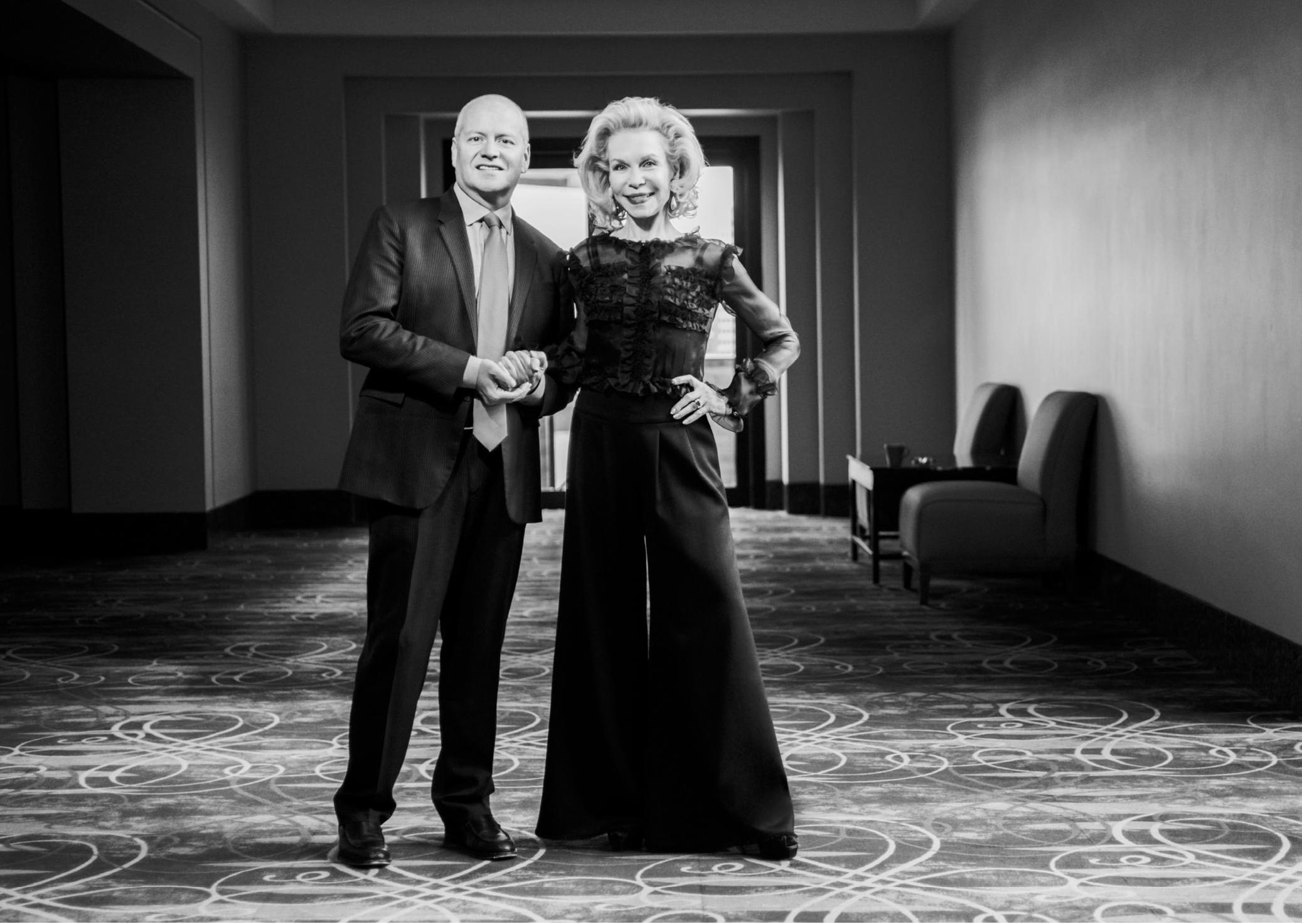 HOUSTON GRAND OPERA
Wyatt and the Artistic and Music Director of the Houston Grand Opera, Patrick Summers, pause mid conversation to enjoy the grand space. The Houston Grand Opera hosts fantastic shows throughout the year, and Mrs. Wyatt sits as Vice Chairman of the Board.
On Lynn: All Clothing by Chanel