MAURICIO AND ROGER PADILHA
Growing up in Long Island with dreams of Manhattan, the brothers behind MAO Public Relations now look back on their journey of how they became one of the top boutique PR agencies in New York City.
__
The lyrics of  "New York, New York" still rings true for many in fashion: "If I can make it there, I'll make it anywhere. It's up to you, New York, New York." The pair who have made it are brothers Mauricio and Roger Padilha, who for the past 20 years have successfully launched the careers of some of today's most influential designers such as Jason Wu, Peter Som, The Blonds, Sally Lapointe and Fausto Puglisi through their company.  The secret to their ability for finding diamonds in the rough and transforming them into fashion industry sensations could be attributed to the unconventional path the duo has taken (and continues to) throughout their lives and careers.
After years of working in the fashion industry, separately and together, the two launched MAO PR in 1997. Mauricio worked as a Public Relations Director for various young designers, while Roger had his own fashion label which was sold in major department stores and boutiques, appeared in most major fashion publications, and was supported by countless celebrities.
Now approaching its twentieth year, MAO Public Relations enjoys a reputation of being one of the hardest-working agencies in the fashion PR industry. Always seeking to further the professional careers of their clients through promotion, publicity, and image management, the two approach each collection as if it were their own. The Padilha brothers wrote and curated The Stephen Sprouse Book, Antonio: Fashion, Art, Sex, and Disco, and GLOSS: The Work of Chris Von Wangenheim.
Their friend, fashion designer Anna Sui, talked to the PR/Event production gurus and authors about fashion, nightclubs, old New York, and the importance of scrapbooking.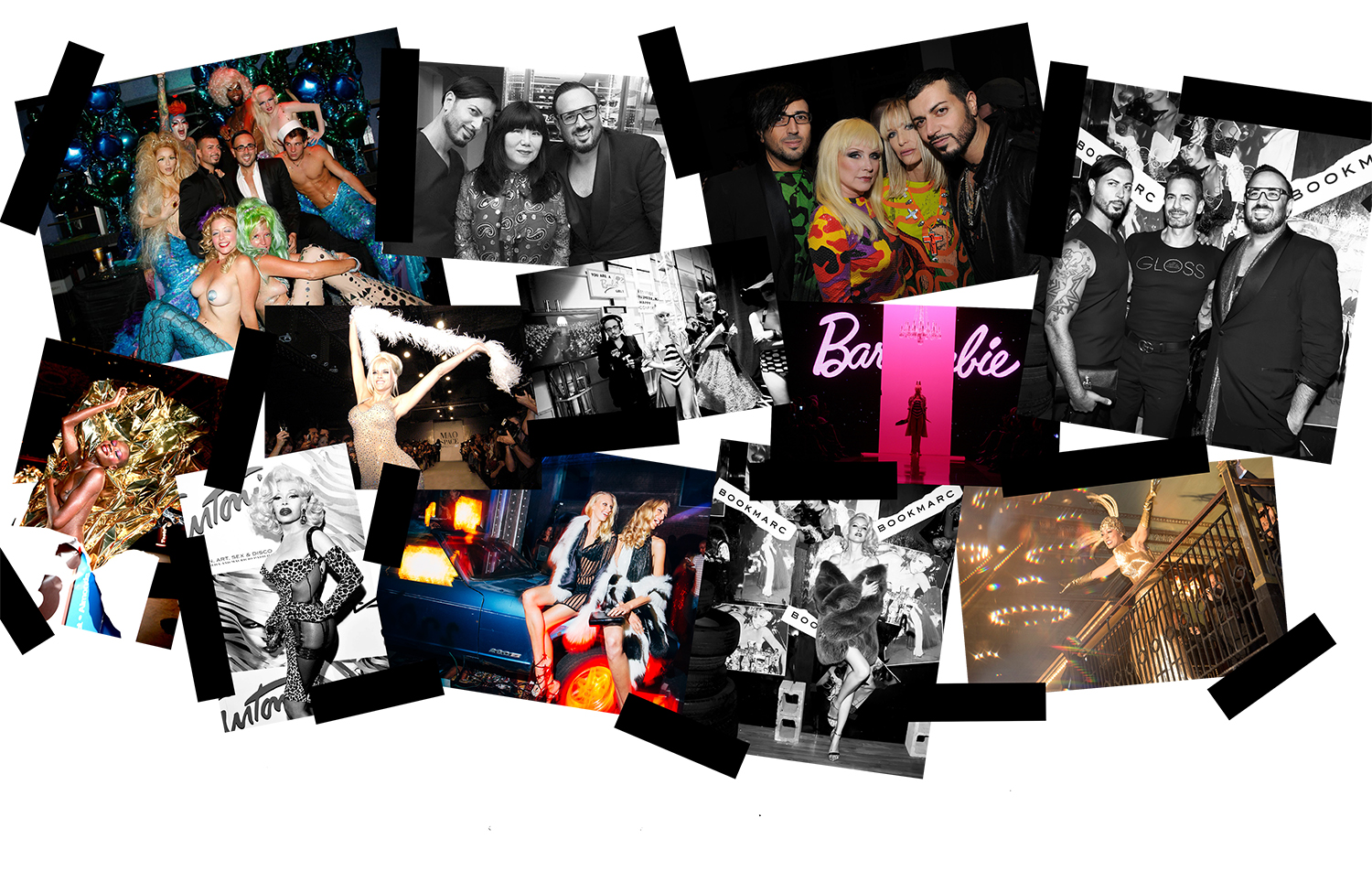 Interview by Anna Sui | Intro by Roger Padilha
From top left to right: MAO MAG 9 party M+R with Mermaids, R+M with Liza during NYFW, M+R with Debbie Harry and Teri Toye, Courtesy of MAOPR. M+R with Marc Jacobs Photo by Sam Deitch for BFA. From middle left to right: Anna Nicole Smith, M calling models at the Barbie 50th anniversary show, Courtsey of MAOPR, Barbie 50th anniversary show Photo by Dan Lecca. From bottom left to right: model at Antonio Lopez book party, Photo by Shaun Mader for PMC, Amanda Lepore at Antonio Lopez book party, Photo by Harel Rintzler for PMC. Models at the GLOSS book party, Photo by Kevin Tachman. Pat Cleveland photo by Andreas Hofweber
MAURICIO: This is so weird. Normally I would like be more comfortable interviewing you…
ANNA: (Laughter) Let's start from the very beginning. Tell me where you were born and what your influences were as kids. What were you dreaming of?
MP: Roger and I were born in New York, but our parents are Brazilian so we moved back to Brazil for a few years after we were born. During that time we became obsessed with comic books that we would cut apart and rearrange.
ROGER: It's funny because it was like a form of scrapbooking, and when we got older we would scrapbook images of our favorite pop stars like Boy George or Grace Jones. We would cut out things from magazines and rearrange the photos in a way that we thought was more inspiring. I guess that a lot of that training really got put to use thirty years later when we started doing books.
AS: You were born art directors! Do you still have any of these "scrapbooks"?
MP: Yeah, I do! They're in my kitchen cabinets!
AS: That should be your next book!
RP: But the biggest part of our childhood that shaped our lives was living in Long Island. It was so boring. There is something to be said about growing up in a small suburb; it really gives one a lot of drive to get out and do something.
MP: We lived through magazines and images. And one of the magazines that we absolutely worshipped was Annie Flander's Details Magazine that covered the New York nightlife scene. We would see people like Debbie Harry or Dianne Brill in Stephen Saben's column and just decided that we wanted to meet these people and go to the places they were being photographed at.
RP: It just seemed like these people were LIVING. They were not the typical celebrities we would see on TV. They were dressing up and making up their own lives and rules and we just really wanted to be part of that world. Believe it or not, our parents let us come into the city when I was just 13 and Mauricio was 16 to go to these nightclubs! The rule was that we had to stay together and do well in school, but otherwise we had total freedom to go to the city. The first club we went to was Palladium and that first night we met Dianne Brill and became friends with her.  We were really ballsy I guess.
AS: That's amazing! And the social life at the time was that you could go out and meet those people. It wasn't such a big scene and everyone was going to the same places, that was the specialness of NY at that time.
RP: And it wasn't as elitist as it is now. There was no bottle service. People didn't have entourages or handlers. As long as you were interesting and had some sort of look, these people were readily available to you.
AS: Tell me your routine, like where would you go every night and what would you wear? What was that period like?
MP: There were different parties every night of the week and you would sort of dress differently for each one. On Tuesdays there was Larry Tee's parties at The Underground, on Wednesdays there was "Celebrity Night" at The Tunnel, or last Thursday of every month was Susanne Bartsch's parties at the Copacabana for those you'd dress a bit more outlandishly. Then on the weekends there was M.K. and Nell's, and for those nights we'd go for a more conservative look.
RP: And a conservative look for us back then would be sequined jeans and a blazer! For the other nights we'd wear the craziest things—Mauricio had a canary yellow fur vest trimmed in fringe with pleather bell bottoms, and I'd wear a motorcycle jacket with hundreds of fake jewels glued onto them…it was just about being creative and not being scared of being individual.
MP: And of course we wore a lot of Stephen Sprouse because we started collecting it back then.
AS: Everyone must have stopped dead in their tracks when you guys would show up wearing head to toe Stephen Sprouse…
RP: Well, it wasn't just us. EVERYONE dressed up back then. Nowadays there's always a few people in a club that really dress up and they are usually on a stage, but back then it was literally everyone in the room. And that was how you'd meet people. You didn't put on a big red fur coat to be photographed or instagrammed, but because it was a good icebreaker for people to talk to you and start a conversation.
AS: Right, it was like a secret vocabulary. You knew if someone would "get it" by how they dressed. It was really such a fun, unique time and I think things are so different in the city now that there isn't that kind of subculture anymore.
RP: Yeah. I always say: "I'm not happy that I'm old now, but I AM happy I was young back then."
AS: How did you decide that you wanted to go into fashion?
RP: In the mid to late 80's, the club scene that we were a part of started really getting into fashion. Dianne Brill started modeling for Jean Paul Gaultier and Susanne Bartsch was bringing international designers such as Thierry Mugler and Geoffrey Beene to the voguing scene. So there was a convergence of the club scene with the fashion industry, and by being there we got to meet all these designers, stylists, editors, and models.
MP: We certainly dressed wild, but we weren't born performers or drag queens. We didn't want to work in nightclubs or do whatever anyone else was doing, but the exposure to all these designers in the club scene helped push us into fashion. Roger decided to leave high school two years early because he hated it and knew he wanted to be in fashion. So, he automatically applied to Parsons and got in. I had another year left in high school and also ended up graduating at the same time from Parsons.
RP: We both majored in Fashion Design. I even opened up a design company after graduating, but we learned very quickly that both of us preferred the behind the scenes aspect of creating which led us to open MAO. There was a real need for PR for young designers, and having been part of trying to start a design company, we knew firsthand the challenges that designers go through.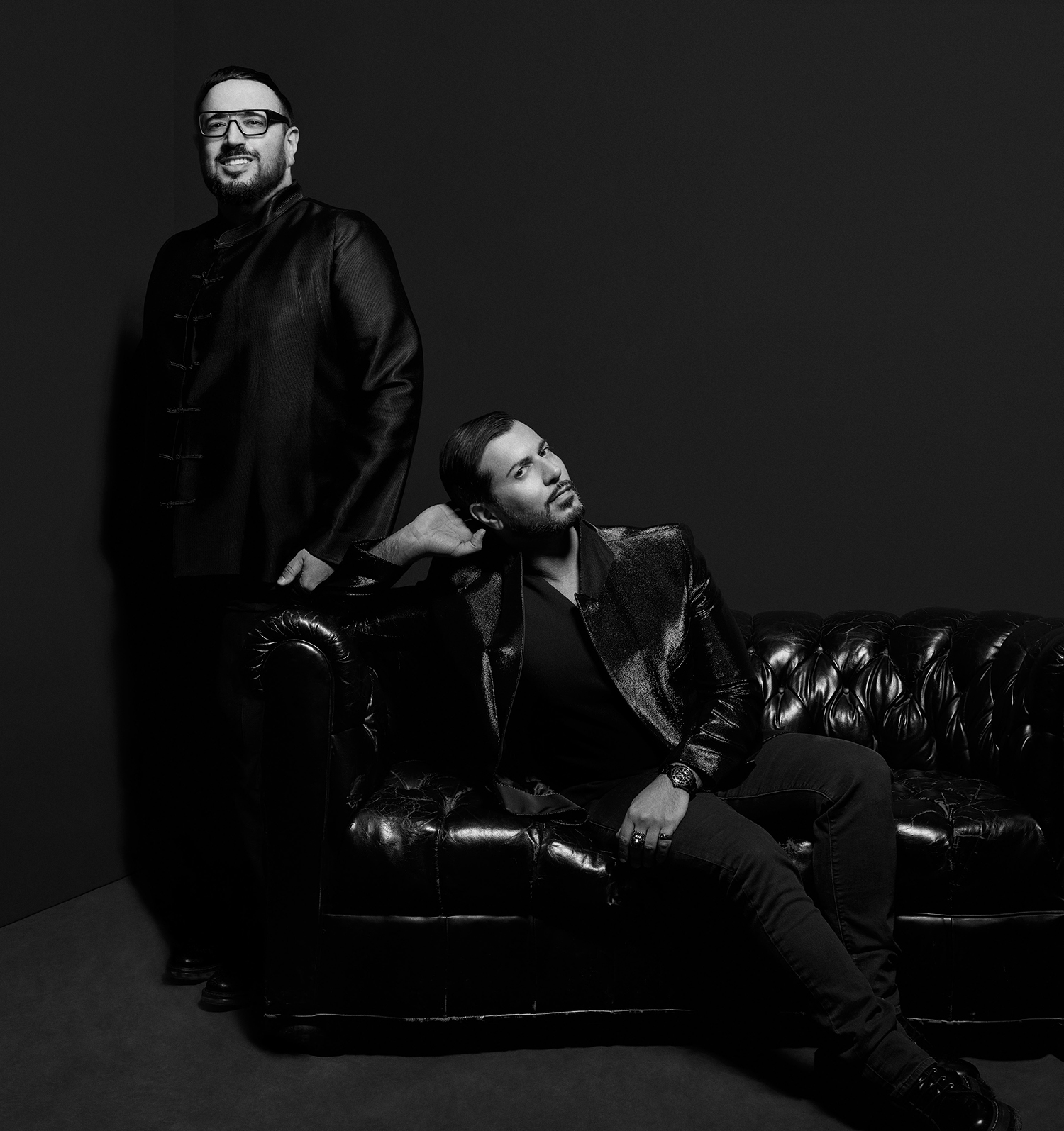 Portrait by Johnny Vicari
AS: How has the fashion industry changed during your career?
MP: So much! As we said, when we started MAO there wasn't much support for young designers apart from us. It was very much the era of labels and logos. It was really not until after September 11th that young designers started getting attention paid to them. A lot of people were seeking newness and a lot of our designers such as Jason Wu started breaking through. Now I feel like we swung back and it's almost impossible for a young designer to get attention or make any noise nowadays.
RP: Fashion is super cyclical in that way, and I feel like we are back where we started 20 years ago. It seems impossible to compete against the big companies who are willing to shell out big bucks to dress celebrities and pay "influencers" to wear the clothing. And beyond that, designers have to design more collections a year than ever before…
MP:…and designers are expected to dress everyone. It used to be that designers would have a focused customer base and really tailor their collections to them, but now it seems that designers are pressured to have something for everyone.   Everyone has started to look the same. The individual style that showed through in your collections, or Marc's, or Isaac 's when you first started got lost in the race to please everyone.
AS: Right. I think a lot of that has to do with it being impossible to be independent these days and designers having investors that they have to answer to. But since fashion is such a pendulum, do you think that it will swing back to be more creative and individual?
MP: I hope so. There's some new designers who are super individual AND successful and maybe that's going to help other designers exert a more distinct voice in the market place.
RP: I think Alessandro Michele at Gucci is setting the new standard by showing that you can take chances and be individual while still being financially successful. Hopefully other companies will follow suit.
AS: What was the best advice you ever got?
MP: We produced an event that was honoring Polly Mellen, and before she took the stage we were chatting and she told me, "Just keep moving forward. Never look back no matter what happens."  As simple as that sounds, it's very true. Clients come and go, Fashion Week starts and ends, and it's really important to focus on what you are going to do next.
AS: You've started the careers of so many designers who have become major in the industry. How can you tell when you meet someone that they have the potential to become successful?
RP: Well, one of the most interesting moments we had was meeting Jason Wu. He had called us looking for representation and at the meeting instead of showing us samples, he pulled out these dolls and told us that he designed the clothing they were wearing and a lot of the doll collectors wanted life size versions of the clothing. That was around the point I walked out on the meeting! (laughter) Thankfully, Mauricio stuck through with it and asked Jason to come back with life sized samples of the clothing, and that's when we started working together.
MP: That's the most fun part for us, to nurture someone and direct their brands. We're different than a lot of other PR companies because we actually help designers develop products and their image to help them find their niche in the market place.
AS: I think that that's your genius because you love fashion so much. You have such great instinct for it and where it's going that you can help guide a lot of these people who have talent but don't know how to channel it. What's been your greatest challenge in your career?
RP: Like everyone in New York, the major challenge is always financial. Everyone is on a tight budget and year after year the budgets get smaller and smaller
MP: While our rents go up and up and up….
AS: Isn't that crazy? How are people even supposed to work?
RP: We've seen such talented people go out of business because they can't afford to run a small business in this city. It's a shame. We've been lucky in that we have been able pick and choose our clients and work with people we want to work with. We don't really do things that we don't want to do. But my biggest fear is that we're going to have to take on a big corporate company just to survive. That doesn't align with what we believe in, and that's always kind of scary to think about.
AS: Yes. It's the economics of the times. I think we all have to face that because of the way things are. But beyond that, what do you consider your greatest success and what does that mean to you?
MP: Every morning I wake up and I love going to work. We're not making millions but we're keeping things going and creatively we're doing what we love to do, and we're doing it together; that to me is success.
RP: I don't think either of us think that making a lot of money is a definition of success. I would love to have more money, of course, but when we get recognition from people like you that we respect for example, that's the biggest thrill. To be able to work with the kind of people we work with, and to be in this special circle of creative people…that is the life that I really wanted when I was thirteen.
AS: And beyond the PR company, you guys have done three books together. How do you pick your subject matter?
MP: All of our books have sort of began with people we thought weren't getting the attention they deserved. When Stephen Sprouse died, the obituaries were focused on his collaboration with Louis Vuitton and Target but no one wrote about the brilliant 25-year career he had before that. Same with Antonio Lopez and Chris Von Wangenheim… For us it's really important to get artists recognized when they do something first. And maybe because we know that in the future someone's going to have to do that for our legacy! (laughter)
AS: So you mentioned leaving a legacy…where do you see yourself in 20 years?
MP: I have a feeling we're still going to be doing this. I don't intend on letting go until it's over. Only death will get us off the merry-go-round.
AS: Well, I think your passion is forever and drives everything you guys do. It's wonderful and a quality more people should have.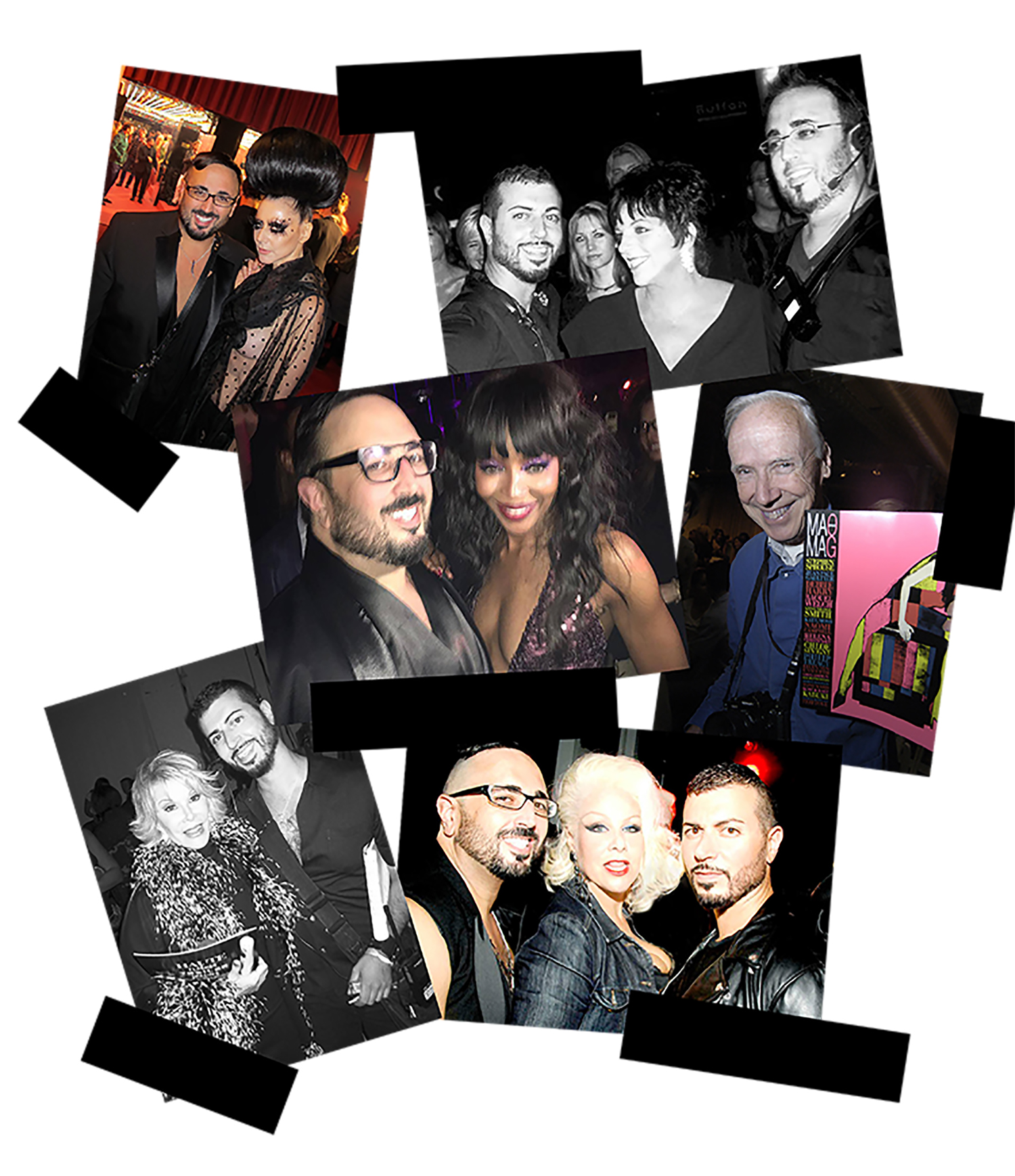 From top left to right: M with Susanne Bartsch in Paris Courtesy of MAOPR, M+R with Anna Sui Courtesy of BOOKMARC, M with Naomi Campbell at her book launch, Bill Cunningham at MAO MAG 3 party, Joan Rivers and R, M+R with Dianne Brill photos Courtesy of MAOPR
For more information, visit: http://www.maopr.com/news.html