STEPHEN JONES
Interview by Dustin Mansyur | Photography by Paul Scala | Styling by Thomas Davis

Stephen Jones is an unending source of creative energy. The "mad hatter", with an illustrious raconteur who has created some of the most iconic moments in fashion, released his new book Souvenirs, published by Rizzoli. It serves as a retrospective of the artist's life and career. An intimate glance at the process and inner-workings of the mind of a visionaire, Souvenirs reads like a journal with a curated melange of personal artifacts, photos, sketches, and notes. With the foreword written by, his friend, and fellow fashion royalty, Grace Coddington, and peppered
with personal memories and stories, Jones' invites us into his world.

Souvenirs spans a lifetime, and reflects on different periods and cities formative to Stephen Jones' career. From his childhood years, to his early millinery days fresh out of Central St. Martin's while frequenting the Blitz, Jones' creativity and talent is instantly undeniable. Responsible for looks he created for his friends, Boy George and Steve Strange, Jones helped launch the New Romantic subculture movement.  In a butterfly effect, he caught the attention of the fashion world.
Catapulting into the arena of fashion is where the real fun begins in Souvenirs. Vintage archival clippings of an editorial featuring Jones' hats in i-D magazine's second issue chronicle the raw creativity of Jones' earliest hats and are an intriguing snippet for all fashionistas. Arriving on the Paris scene marked a period of exuberant creative force, and Souvenirs documents this with beautiful photos and behind-the-scenes sketches of Jones' most significant collaborative works with Gaultier, Mugler, Montana, and Galliano, to name a few. The additional myriads of collaborations that Jones has had with fashion designers around the globe is also well-documented throughout the book's entirety. Souvenirs also delivers a well-curated visual narrative of Jones' fashion editorial and celebrity work, with vibrant photos that won't disappoint.
Iris Covet Book was fortunate enough to speak with Stephen Jones in between fashion shows in Paris.
Souvenirs touches on the influence of your family in the formative moments of your childhood. Has there been a particular family member who has proved most influential in your life and your artistry?
It's so strange when you are growing up, you think you are being this independent person growing up and doing these things and at one point at thirteen or fourteen someone says "oh my god do you remind me of your mother/father", and you think "oh wow all is lost!". Both my mother and older sister, I was the youngest of three siblings, and my older sister who is thirteen years older than me – they were huge influences. When I was a little boy she was a 60's groovy girl and was at London College of Art and Design trying to pursue art, and I got that from her. My love of art and design and those things I really got from her. As a child I just wanted to play with my toys and my mother would drag me along to art galleries and say "look at this!", and I was seven. My mother was very driven to show me what she loved, but she did it in a very sort of educational ways like saying "this is a Tudor building, it's all black and white".  She wasn't saying, "I love this because…" It was a bit more Anglo-Saxon than that.
She was also very interested in gardening too, correct?
I think that because gardening was very difficult – we basically lived on a sand dune. We lived in the breeziest point in the entire known universe, it was always so windy and cold even in August, so trying to make a garden out of that was really difficult. So my mother became quite an expert and took me around gardens all over Britain and would teach me about flowers and perspective and who designed the gardens and made the ground plan.

Were both of your parents very supportive when you chose to enroll in Central Saint Martins?
Oh no, they hated it! (laughs) I thought they wanted me to take ove the family company or at least be a nice accountant or a doctor or something like that. You know how your parents wanted you to find a nice job?
Well my parents are no different. My older sister had been to art school and dropped out, so they really did not want me to pursue it. They did not dissuade me from doing it, but they didn't make things particularly easy for me either. I wanted to find my own way, I didn't want my parents way. I went to college in 1976 during the Punk movement so I had to do my own thing! The arrogance of a 19 year old, you know your parents' ways are no longer important.
They were supportive in their own way, and they wanted to push me out of the nest. I think nowadays parents keep their children for much longer, but I rememeber when I was seven years old I used to walk to the bus stop and go on the bus to the next town and go back and I was all by myself! I would have been horrified if my parents dropped me
off at school!
When you enrolled at Central Saint Martins you were their only male student, what was your experience like when you were there?
I was very much the token male. I was the only male student in my year, but there were others in other years. I learned much more from my friends than I did from any of the teachers.
They were all sort of crazy girls, and some of them were just interested in finding a husband and wearing beige, but a lot of them were these young punks who were really into art, appearances,
and they came from all different backgrounds. I just loved it! It was a real mixture of people, which I loved, and we all went and partied.
Then how did you come to choose millinery as your expertise when you were there?
This was all by chance. I had been at boarding school, and I was a big rugby player and so sewing was not something that we did. So I went to college around girls who were fantastic at sewing and I had no idea how to sew. My teacher came to me and said he needed some help at his couture house where I became a tailoring intern, and I was the only person I knew who was an intern. The term had not been invented yet really and my friends thought I was crazy working in the industry. I was getting coffee and picking up things and all of that, and all of the tailors were very, very, grumpy. But I just thought it was a bit of a waste of time.
The milliners working in the studio next door always seemed so happy. Even though they were also working late hours, everyone was always chatting, and it was somehow a great atmosphere. After the first day working in the millinery studio, I realized that it was the most fantastic thing. I didn't know that was what I was going to be doing as a career, I thought I was going to be a fashion designer. It was out of college that I started to make more hats, and the whole thing started to happen, and then the idea began that I was going to be a hat designer.
So you were instantly smitten once you stepped into that world. Was this your time at Le Chaise? And Shirley Hex was the Head Milliner there correct?
Yeah, Shirley Hex.
What was it like learning millinery from her, because she is quite legendary in the field of millinery?
I would never call her Shirley, I always called her Mrs. Hex. She was always there ten minutes before work started in the morning, and you always had to be immaculately dressed and all of that. I was slightly terrified of her, and she was a real prankster. After the first day, she turned to me with an arched eyebrow and she said, "Stephen, if your hands moved as fast as your mouth does the hat would been made by now." I did not say another thing for a month! It completely freaked me out.  I just worked really hard and millinery was just something I understood. It was easier than making clothes. It was smaller and it clicked!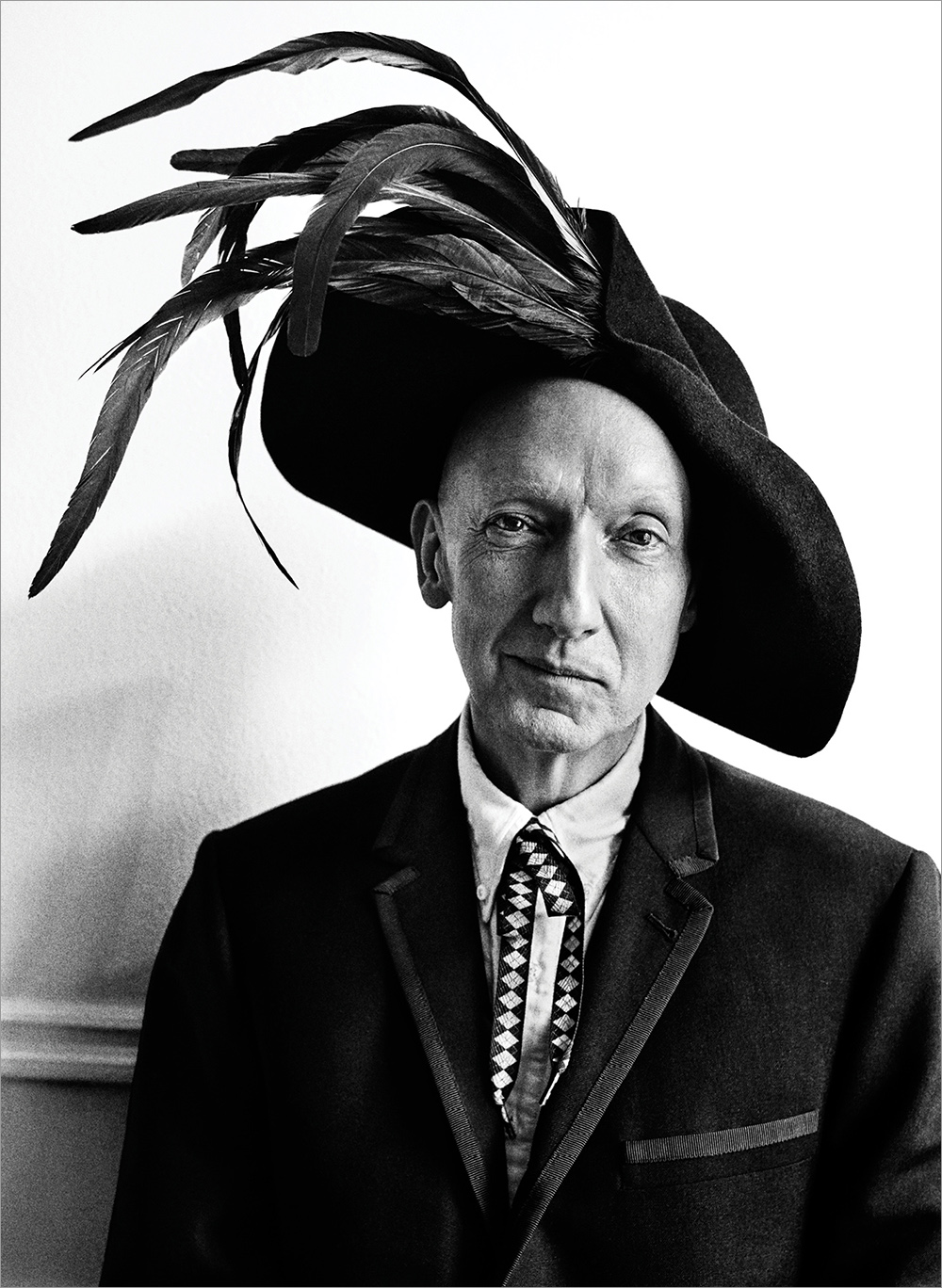 You mentioned earlier the influential effect your friends at school had on you. The late 70's and early 80's was the beginning of your career as a milliner, when you were going out at The Blitz nightclub. The book mentions Boy George, Steve Strange, Leigh Bowery, and you all later became known as The Blitz Kids. That must have been very inspiring to be around all of those creative people! Were you making hats for all of your friends during that era?
It's really funny how the club thing worked, because yes, I went to clubs. I went to punk clubs with a few friends of mine from college, but when I started going to The Blitz, there were people there from all walks of life. They were really inspirational, and just doing what came naturally. At that time New York was really the cool place to be, I missed out on Studio 54 and CBGB's and so we had our own things.
A lot of New Yorkers were coming over and going to The Blitz and places like that, but we weren't really aware that we were doing something that would be remembered. We created our own world because we knew that the worlds that have come before were somehow not applicable and it was the beginning of popular print media like The Face or i-D or Blitz Magazine and they were showcasing everything we did. I was in i-D #2 just out of college, and you know I wasn't in Vogue. I thought at the time it would have been the kiss of death to be in Vogue! Who wants to be in Vogue that's just for old people? It's very, very different now. Five to six years later all of the older fashion people became interested in our "street fashion".
Did you ever anticipate it was going to turn into this whole "New Romantic" subculture movement while you were doing it, or was it just a bi-product?
I think it was just a bi-product. It just happened, and we were aware we were doing something really fun. I lived in a spot with a group of other people, and the whole lot of us were photographed for Elle Japan. They printed the address, and on Monday there was a big group of Japanese people waiting outside to see us. It's so funny and this house was really falling apart, but we were a tourist destination! (laughs)
At that time Kim Bowen was one of your muses, can you describe your relationship with her? How was she influential to your work?
We were in college studying at the same time, I was in my third year and she was in her first year. I had asked if she could come help me during my last collection, and she said she could, but in reality she couldn't. She did look fabulous, and she was really funny. She left college early to come work with me and we became friends throughout the years and she is now a stylist in Los Angeles and she was on commercials and videos and working with Janet Jackson and Lady Gaga, all sorts of different people.
It's always great to work with somebody, you listen to the other person and bounce ideas off one another. I didn't realize that most designers are like that. Dior was like that with his assistant, who actually did the hats for him too. Every creative person has got to have a foil to work against, and Kim was the greatest one.
You later appeared in the Culture Club single for the hit single "Do You Really Want to Hurt Me" and you were recognized by Jean Paul Gaultier. He was really one of the first designers to reach out to you as a milliner. What sort of thoughts and feelings were going through your mind when he called you up?
Gaultier at that point was like the king of Paris. He was the hottest, newest, brightest star in Paris. He was doing real, young, funky club wear. I had seen him at the clubs in London, but he was sort of untouchable, so to have a phone call from him was really extraordinary. He asked me to be in his men's show, but I wasn't able to. It was such an inspiring collection because it was about Moroccan men's dress in the 1950's. All along the way it has been the kindness of other people and them wanting me to do my work for them. I've approached designers before to ask if they wanted to work with me. I asked Christian Lacroix if I could do the hats for him and he said, "No, no, no, Stephen. You can't do that! That's the part I really enjoy!". Whether it's working with Thom Browne in New York or in Paris at Dior, we all have a great time together and enjoy collaborating.
Because you have had so many designer collaborations throughout your career and so many different design processes for each designer, what kind of qualities have you had to learn that benefit with you collaborating with them so that the vision is actualized? Have you ever had to put your ego aside?
First of all, you have to sort of become friends. You don't have to become intimate friends. But you have to understand each other, because when I'm making a hat every stitch is a decision. You have to be a bit of an educator because often a designer will know a lot about clothes but how can you expect them to know about the very "alien" world of millinery? You have to explain the possibilities. You know, you don't have to reinvent the wheel with each hat. Just the fact that you are putting a hat on lends a complete different spin to things.
Also, when viewing their collection in the showroom, I question how they envision using the hat? Do they believe that the hat is just for the fashion show, or that men and women should wear them every day? Do they see them as a punctuation in the collection? I have to be a good listener. What's so crucial to what I do is to make them feel comfortable enough for them to express themselves. It's not just a brief, they need to tell me in a way that understands their vision, fears—they have to be completely open with me. I have worked with many people, but very few of those relationships have lasted through years and years. You have to be a huge diplomat as well! (laughs)
I remember once asking L'wren Scott during her first season in Paris, which was my first too, and I said how do you work with all of those actresses and the most famous people in the world?  She said, "Stephen, leave your ego at the front door." And that was such good advice because you have to be a negotiator. You're a collaborator and it's not them doing their thing and you doing your thing, but you're creating something together. That's why you need so much trust, it's almost like you need to be in love.
Has any collaboration ever pushed you outside of your comfort zone or helped you to grow?
They always do, every time. If they don't push me out of my comfort zone then I'm getting blasé about the situation and I'm not working as hard as I should. If you ever find yourself getting into a formula, you're doing the wrong thing and you're getting lazy. You never get used to it.
The great thing about what we do is it only lasts a month or a season, you have to create something new all the time. It's a challenge, but it's fabulous and exciting, and that's why we do it!
I want to touch on your collaboration with John Galliano because perhaps no other designer has had the passion for referencing the romance of the past as you have. You both have worked together since 1993 and created a body of work together that has spawned some of the most iconic designs in history. So during your time collaborating together, what have been some of your favorite designs or collections?
There are so many! One that particularly stands out was one where it was all about dressing up; it was like children dressing up in their parent's clothes and that was amazing. The second collection that I ever worked with him on was also fantastic.

He showed about sixteen outfits in Paris and it was extraordinary and I was very young ; we were fitting Kate Moss into a dress. He was pinning her, and I was pinning her, and we were like an octopus! We pushed her onto the stage and we shared this long look and it was like, "Ooh! We could really work together". Somehow that was the really magic point. Working at Dior, well there were so many great ones like the very extreme Chinese collection or the Egyptian collection—those were all extraordinary, and we created lots of beautiful things.
I saw in the book the photos from the Egyptian collection, the sketches and the photographs were so amazing. What materials did you use for the Anubis hat, for example?
That was carved in wood by our block maker in Paris. I did my initial sketches then they were reinterpreted in wood. They were actually carved in like a plastic then covered in rubber and the ears were gold leaf and she would look through the neck of the Anubis.
She must have looked like a giant walking down the runway (laughs)
She was huge! And then she had these 7" heels on as well. The weird thing is, you know I'm 5'9" and when you're photographed next to these models they look like the real thing and you look like some strange subspecies! (laughs)
You also collaborated with Comme des Garcon to create two fragrances. Did you take the same creative approach that you do to create a hat with a designer?
I worked as a creative consultant with Shiseido in Japan for about twenty years and I started really becoming interested in creating a collaborative fragrance. I was the first person really to do it, and I worked with all of the people in her fragrance division, I sent everything to Rei for approval. One silly thing was when it came to the box and I wanted to have a circular box, like a hat box, which is difficult and expensive to have done. Rei said, "Of course it has to be round! You're a hat maker. You don't use square boxes" She saw the concept of what we wanted to do. It's great to be able to
have different lives, and experience different things because you learn from the different worlds.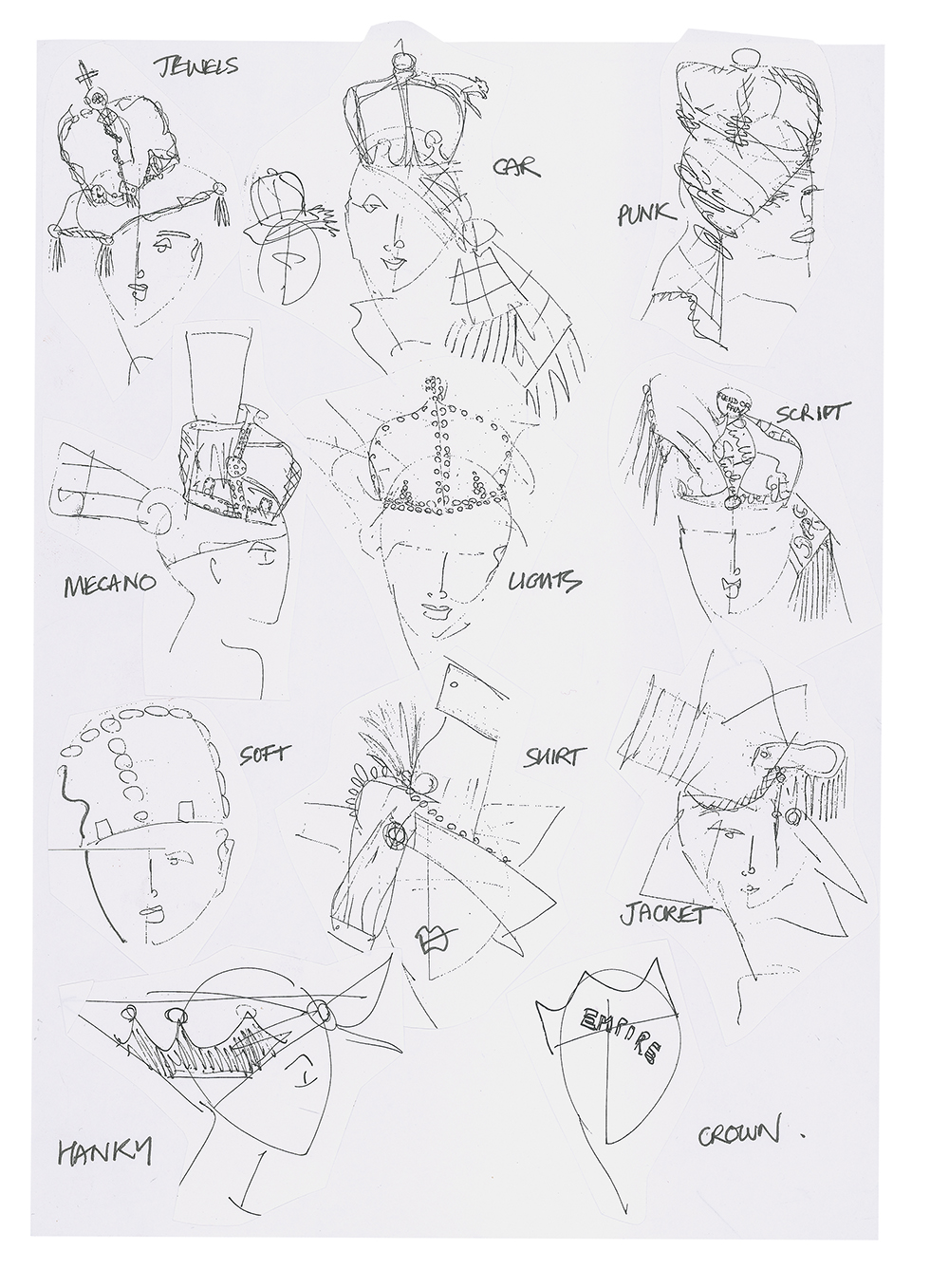 Initial crown ideas for Comme des Garçons Spring/Summer 2006.
Copyright © Stephen Jones. Image Courtesy Rizzoli
I want to move on to talk about your eponymous brand and how that differs from working with other labels and designers?
Much more tortured. (laughs) I'm not saying working with designers is an easy thing, but you know I design in my head all the time and then sometimes we get it on paper or a 3-D model. Of course these things tend to be thematic, so every season I ask what is it going to be about? A hat tells a story because it's the story about who they want to become, not about who they are. They want to have confidence and look cool and be a glamour-puss. They want it to be transformative. So, it has to have a story behind it and every season is meant to be a story.
What are the features of your different lines, because I know you have more than one under your eponymous label?
Model Millinery is more an old-world craft around handmade hats and there's more of an artistic aesthetic and it's more complicated. Miss Jones just has a different aesthetic; it can be as grand, but it's probably easier to wear. Jones Boy is for men but women buy those as well.
Has the Asian market proven to be an opportunity for your labels expansion?
Yes, since 1985 I have had a license in Japan. So, the Japanese people love great hats! Absolutely, on that side of the world Asian people love decorating themselves. It's a very important part of the cultural mindset—they love dressing up. Hats so often have not been a part of their wardrobe historically, so they really love exploring the world of hats. A hat, in a way, is easier to take on and off, whereas if you do the same thing to your hair it's much more complicated.
There's a photo in your book that I was really attracted to and it's a little black and white photo of your workroom and it kind of looks like Santa's workshop! What's the energy or the experience like in your studio?
Productive people are very serious about what they do. People work hard and they play hard! If you want an easy life, don't become a milliner, but if you want something that is sort of magical and evocative and emotional and rewarding, then yes be a milliner. I have people coming to me from all different walks of life – everybody has come to me because they have chosen to, not because they have some sort of plan mapped out.
Are they like an extended family for you?
Yes, and I love that! It's always much more interesting to find out about someone else's life. It's all ages, all races, all sexes. We have an older lady, Anna, who is a bit like the mother of the family and she is the chicest 75 year-old you could ever see!
So you're definitely an equal opportunity employer? (laughs)
Oh my god, yes! I think if you were sort of normal and introverted then you wouldn't be interested, but don't worry we get that normality out of you within the first few weeks. (laughs)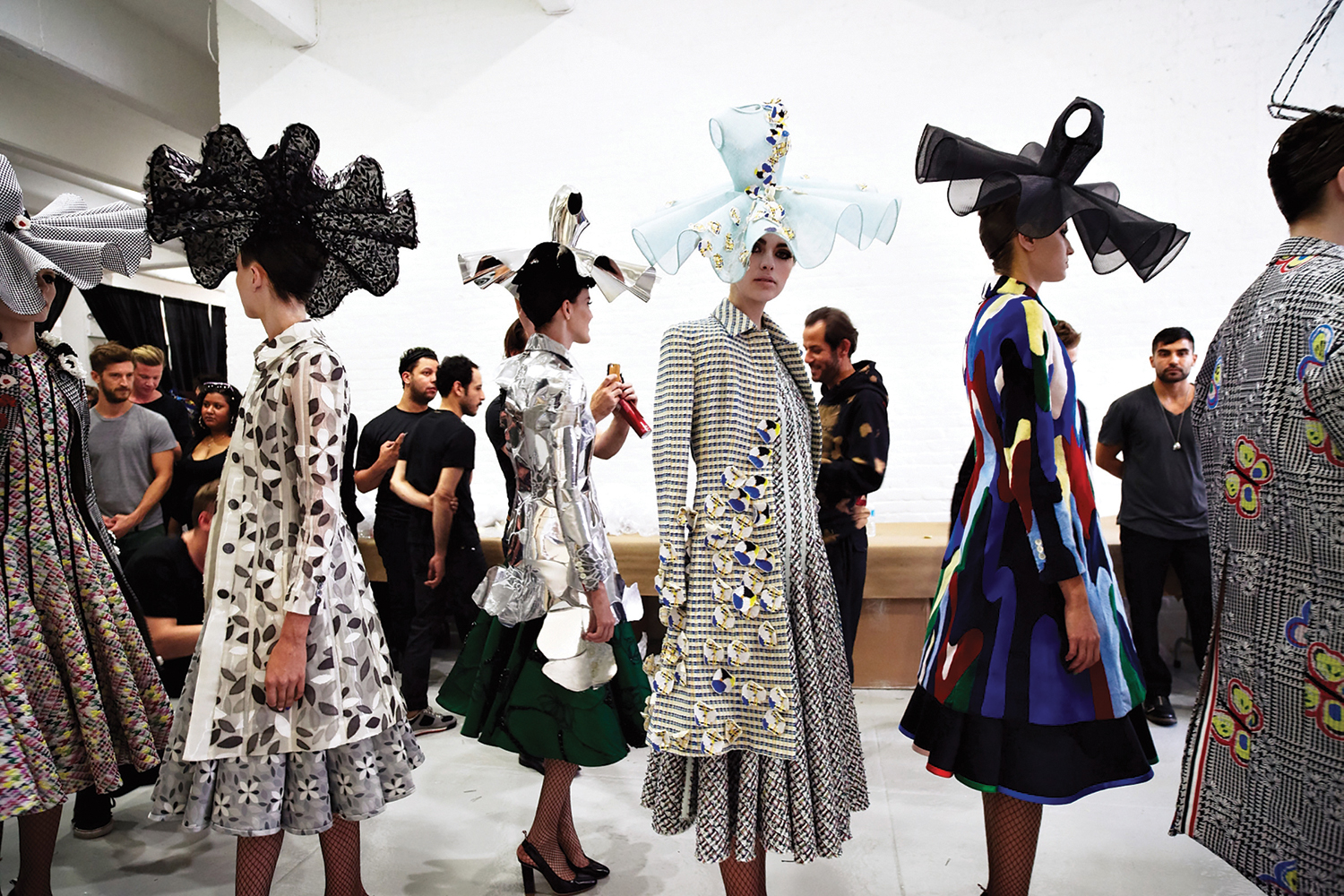 Models line up backstage just before making their entrance for the Thom Browne Spring/Summer 2015 show wearing hat-dresses that reinterpert their outfits. The hats are made of straw, crin, and metal with embroidered motifs. Photographed by Barbara Anastacio.
 Image Courtesy Rizzoli
The book has so many lovely photographs in it, was it difficult to curate all of your work into that format?
Absolutely. We have to have photographs that make sense to me, to other people, and of course the big glamorous photographs of Louis Vuitton with all the girls lined up–pictures like that. I didn't want to do a book full of lovely, big pictures. I wanted to include all of the funny flotsam and jetsam of everything I picked up along the way.
The book also highlights your work with some of the biggest celebrities and pop stars such as Madonna, Lady Gaga, Katy Perry, Rihanna –how does this process differ from designing with a designer of for your own line?
In a strange way it's very similar because you ask, "Where and when?" There's a whole list of technical things for different needs. Like for a film, the bill cannot be too big at the front because it will shade the face, but if you're a singer like Mick Jagger maybe he wants to use the shade to hide his face during part of a song.
Obviously when you are making a hat with a celebrity, you often, nowadays,
are working with a stylist as well. I have to say that every person I work with enjoys hats. A hat can really change their look and they want to look striking and like a star.
Yes, I remember in the book you were talking about fitting the swim cap for Keira Knightley's character in the film Atonement, and how the fitting process was so important because if you moved it back even a millimeter it changed the proportions of her face.
Especially with film, what may be a millimeter turn into two meters once it is projected on the screen, so those details become hugely important!
How powerful has intuition been in shaping your life or career path? Has it been a tool you have used throughout?
I think intuition is important and I think saying "yes" is even more important because it gets you into lots of scrapes. It can lead you down to terrible places and you learn the resilience to deal with it, but more importantly doors open to you into a whole new world.
How do you think that hat culture will evolve into the future?
I think that hat wearing in the beginning was about a sense of belonging, the reason your grandmother or great-grandmother would wear hats and gloves regardless of where they were or what their status was, that was how people were. I think people see hats as just another item in their wardrobe to have fun with. In a way it is the most special accessory because it is the most visible, but because of that is the most transformative and the most fun.
What do you see for your future?
More of the same I hope! Lots of exhibitions though over the next few years which is really great. Working on a new fragrance with Comme des Garcon which will be my third fragrance with them. Redoing my men's hat line "Jones Boy" and expanding that. People always ask me when I will start designing evening gowns or a line of tractors or something, but no I've got the cherry on the cake already, thank you!  ‡