TEDDY SINCLAIR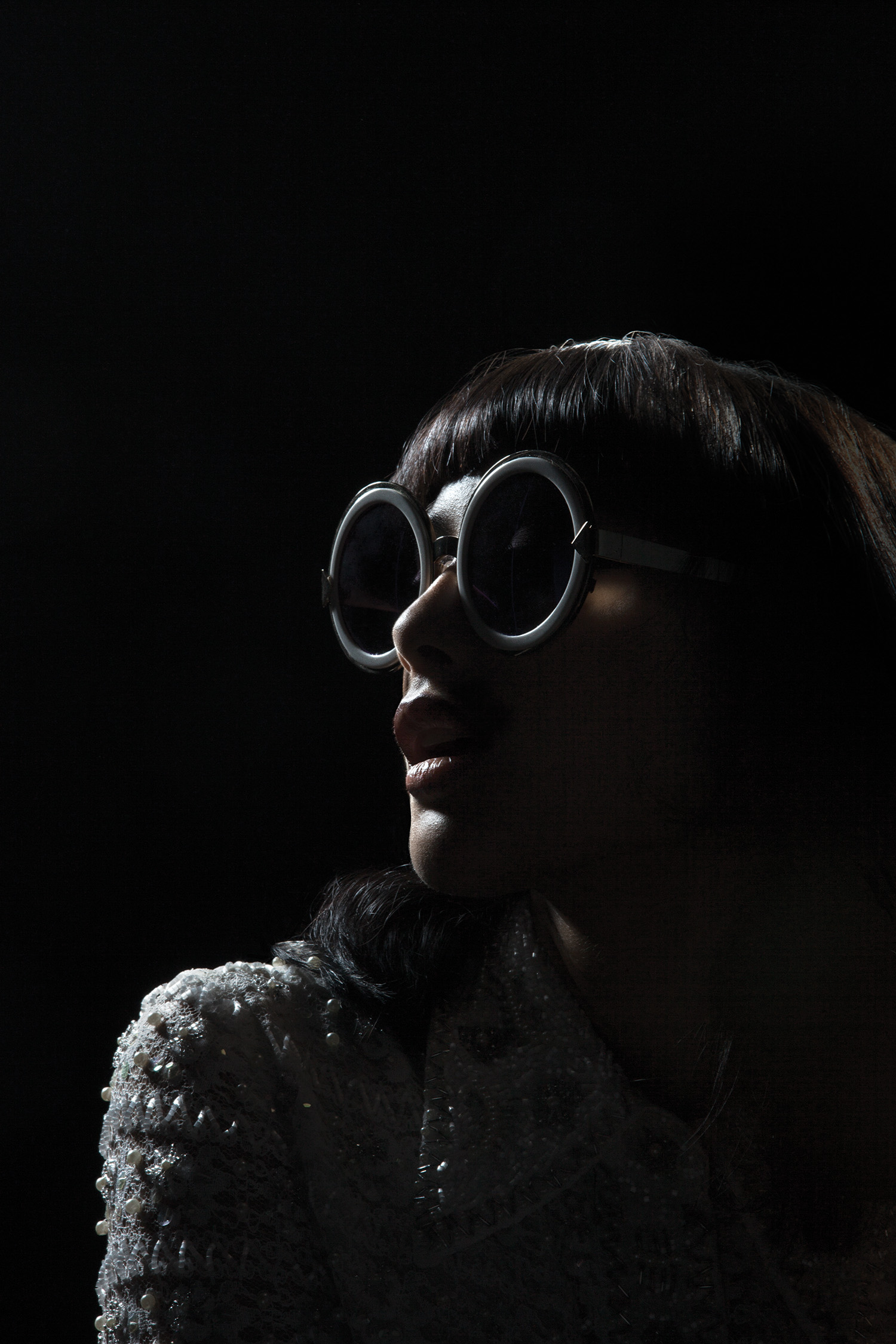 Sunglasses by Karen Walker | 70s Vintage Beaded Dress
Teddy Sinclair is the British born front-woman of Cruel Youth, a three- piece girl band tipped to be one of the hottest new sounds of 2016. Their first single, Mr. Watson, has already racked up over half a million plays, and with their "The Ronettes on Oxy" narcotic noise, it's hard not to get hooked. Cruel Youth, whose debut EP is set for a summer release, is the creation of both Teddy and her husband, artist/producer Willy Moon.
Already a successful solo artist (formerly known as Natalia Kills), she has recently penned songs for the likes of Madonna, Alicia Keys and Courtney Love. And by co-writing Rihanna's forthcoming single, "Kiss It Better", from the smash album, ANTI, it's no surprise that Teddy is becoming one of the most in-demand songwriters of today.
Did you always want to be a singer/songwriter?
Not exactly. When I was about twelve, my Dad was in Wormwood Scrubs prison in London and I'd write to him in between visits… letters, poems, stories… whatever, really. I wrote all the time, even though I didn't mail everything. I think that's how I learned to write songs.
Your single 'Mr. Watson' is a love song to Oxy. How did that all start?
Back when I lived in West Hollywood and I was about to go on tour for the first time, I was doing the dishes and a cheap Ikea glass broke and sliced my thumb, clean, through the bone, nerve, tendon. Blood everywhere, spattered on the ceiling, sprayed on the fridge, dog drinking it off the tiles. I ran out of money and had no medical insurance so couldn't afford general anesthesia. I did the surgery awake. They had to go into the elbow to retrieve the nerve and tendon, pull it down, stitch it back together, all on the joint of the knuckle of my thumb. It was like being in a scene from Saw. They sent me home with a bottle of 30 x 5mg Roxicet. I took off the hospital gown, put two in my mouth and threw back a shot of water from the paper cup… Fifteen minutes later, in the car ride home, I suddenly for the first time in my life felt like myself. It was beautiful.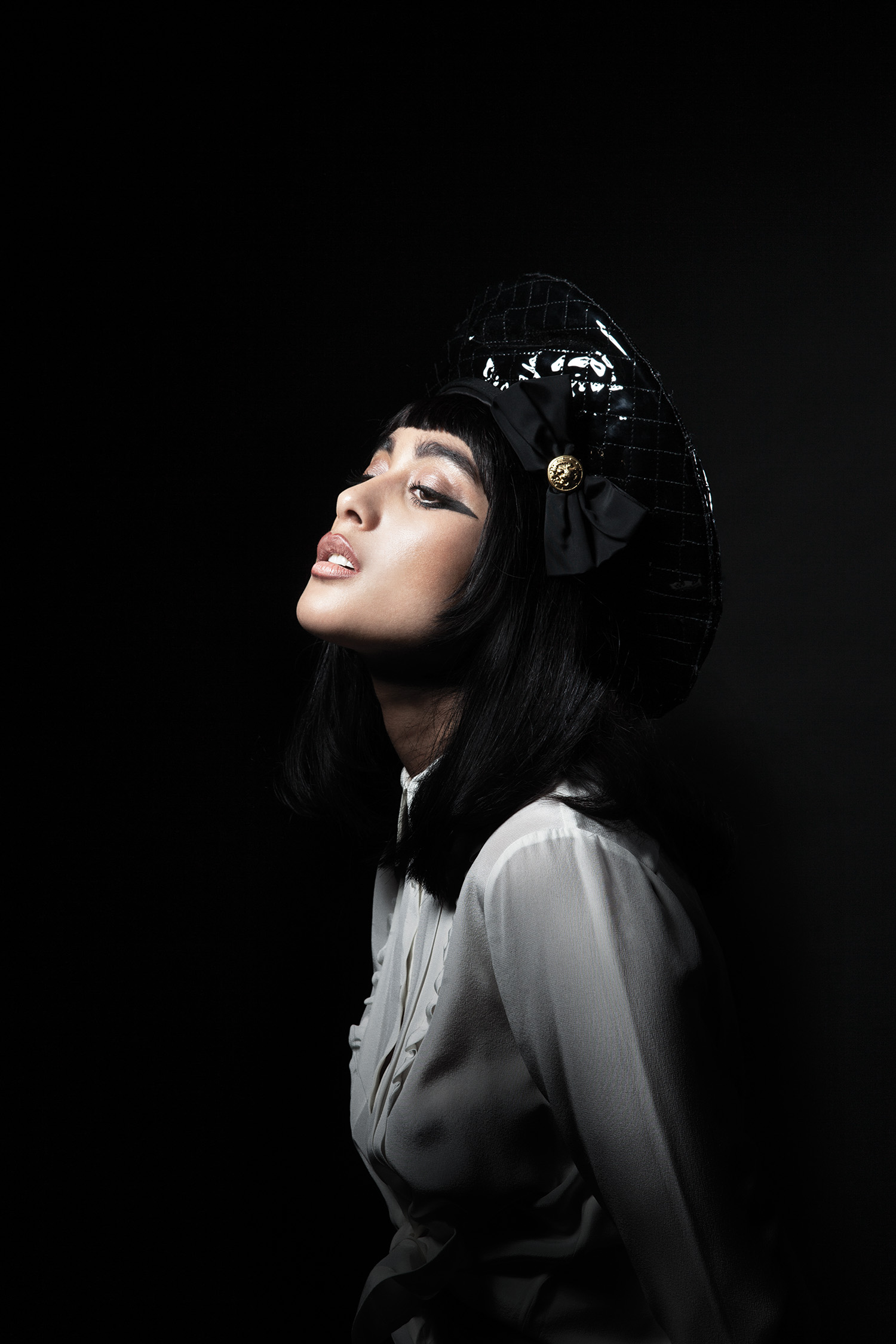 Blouse by Miu Miu | Vintage Hat from Hollywood Mirror in Chicago
When you work with artists like Rihanna, Madonna, Alicia Keys and Courtney Love, what is it like?
Madonna was the first artist I wrote with on an album that wasn't my own. She said she was a fan, we wrote about eight songs, talked about boys, sex and God, and ate cookies. You either make a connection or you don't. It's like dating. Then you write the songs. That's the sex.
In early 2015, you and Willy were the center of a viral media storm that seemed like a publicity stunt gone wrong. Let's set the X-Factor record straight once and for f**king all.
I am still not allowed to talk about it.
Oh really? But what happened?
I'd have to ask my attorney, but their contracts are air tight so I don't think I'll ever be able to tell the truth about what happened. Too many people would get in trouble or lose their jobs. They messed up… I mean, the whole thing was a mess. What's weird is, after the show, we all hugged. It was all high-fives.
No one expected the public to react the way they did, and I guess everyone had to cover their own asses. The thing I found most bizarre about it all was that for a minute there, the whole world suddenly forgot "reality tv" was not real. It's amusing…it's confusing…But I thought everyone knew that all TV is planned, edited and scripted, right?
What were the following few months like? Was there an "oh f**k!" moment? Most people would be scared after becoming so infamous.
A couple of weeks later I was with Rihanna in LA working on her album. Bad girls stick together.
How did you and Willy meet?
Willy and I were both signed to Universal Music Group and my manager took me to see him play a show in New York. Less than forty five minutes after he got off stage, we were horizontal in
his hotel room. The first twenty of those minutes I spent stalling in the bathroom. I mean, I was covered in post-cosmetic surgery bandages from the knee all the way up to the chin, and I still had sutures in. I remember thinking what a cute white boy he was as he kept trying to put his hands through my hair not knowing it was weave. I saved my number in his phone as "Baby Mama" and a few months later we got married.
How did you guys start Cruel Youth?
I met Willy right as my second album was coming out. It seemedas though the people working around me had forgotten who I was, where I came from and that my record even existed… And it seemed as though everything that everyone else was trying to change about me were all of the things that Willy liked about me the most. He liked that I always played live with an all-female band, that I look like Ronnie Spector on a bad day, that my voice was whiny and my lyrics were direct, sometimes to the point of degenerate. He wasn't trying to make me whiter, prettier, Walmart- friendly, or more approachable. And Cruel Youth is a cocktail of all of those truest bits about me.
You've dropped the stage name 'Natalia Kills' and are about to release the Cruel Youth EP on your own label. When you were making Cruel Youth, was it just you and Willy?
Yeah, pretty much. We hardly left the studio [where we live] for almost six months. You gotta understand that before I met him I had people I worked with trying to say shit to me like "Okay, go kill it in this interview but remember, don't be so English, don't be so black. You're gonna seem aloof and unapproachable… no one likes that. You gotta be more likable, smile, act happy." And I wasn't having any of that. Now, writing songs with Willy… I write what I want, say what I want, do it big and have a proper laugh. It's not beautiful, it's not aspirational, it might not get played on the pre- school bus ride… but it's real and it's what I wanna hear, and that's all I care about.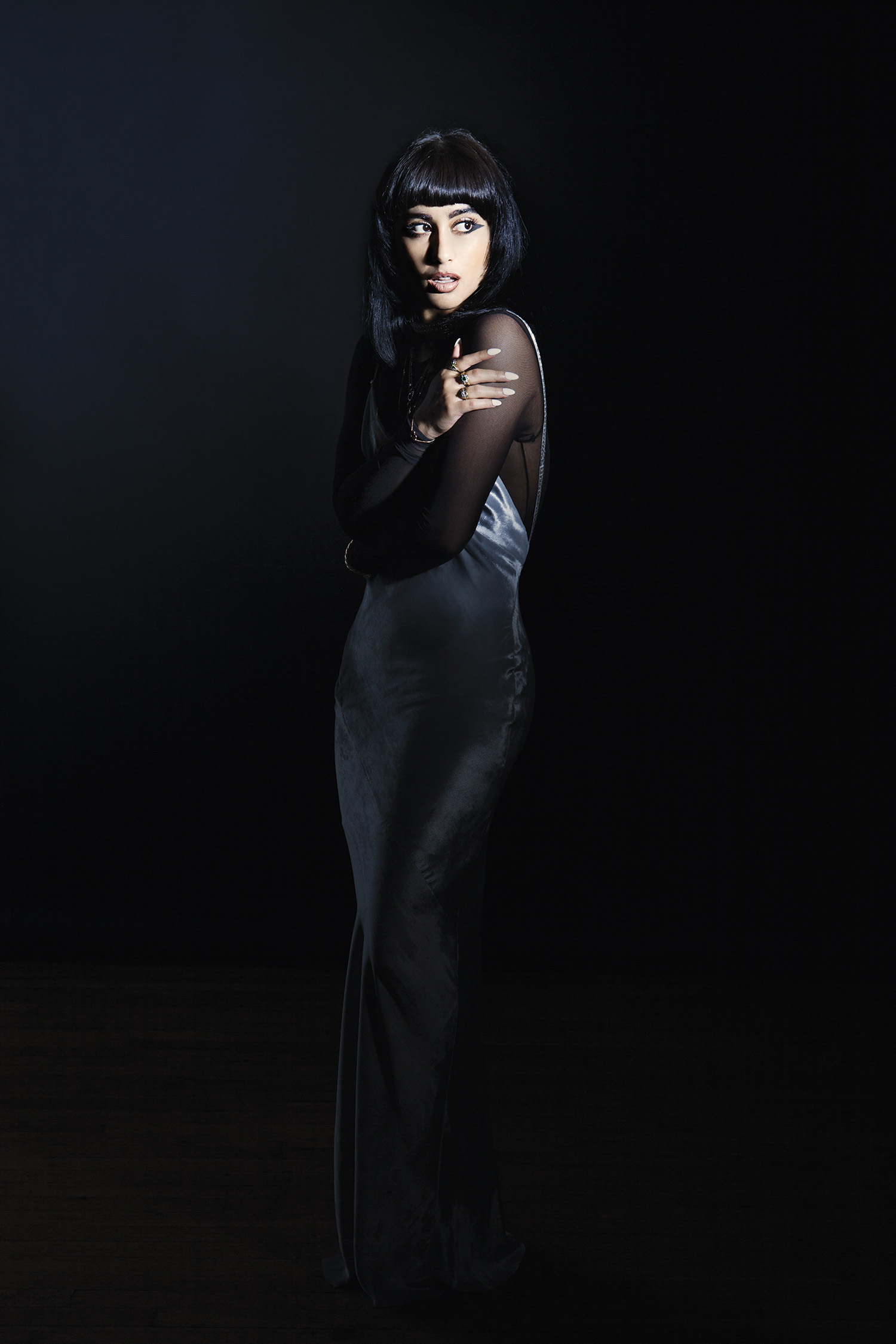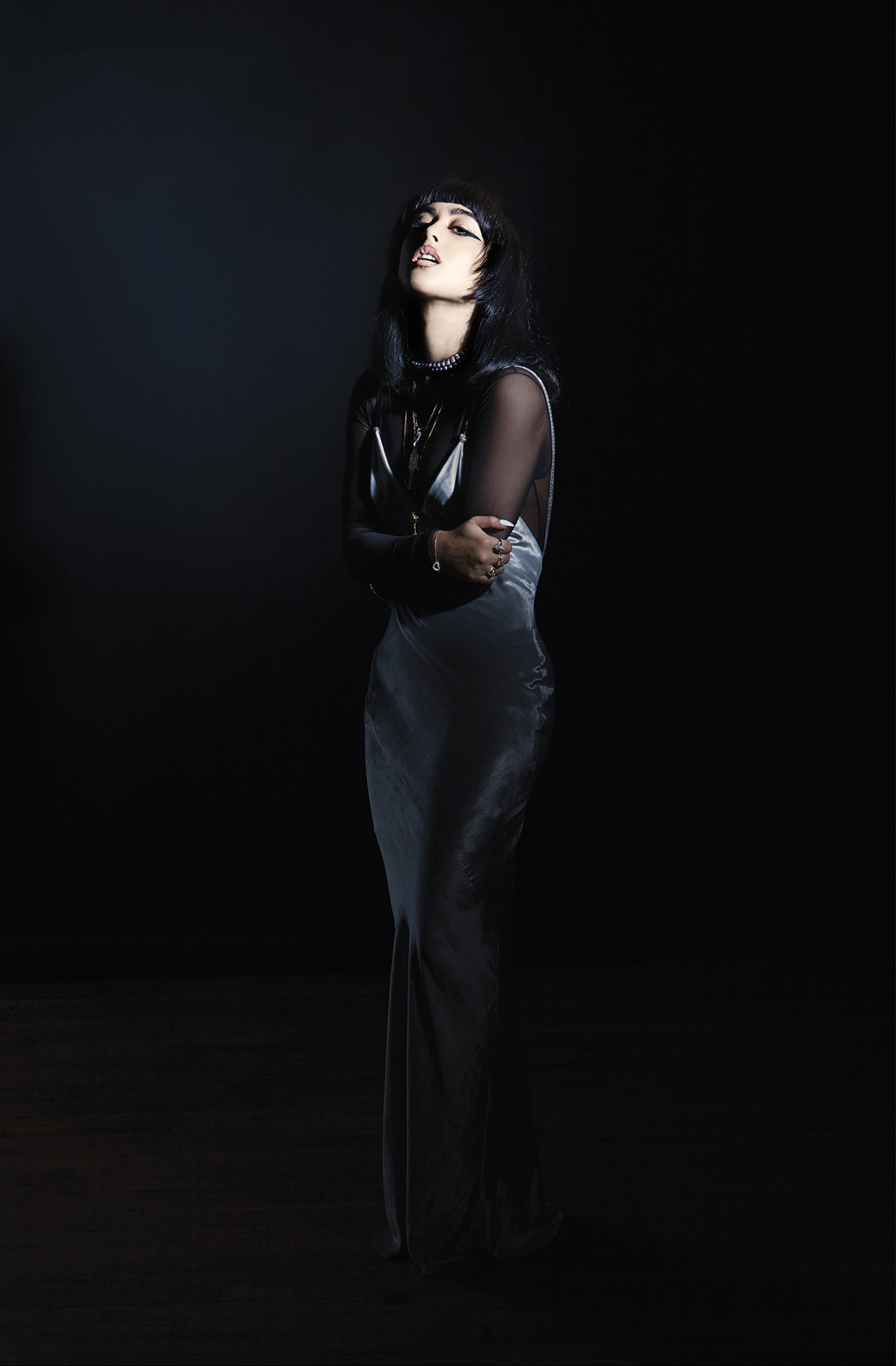 Silver Velvet Slip Gown Custom Designed and Made for Teddy's Wedding by Autie | Black Mesh Dess by American Apparel | Vintage Rings, Bracelets and Necklaces from Cartier and Tiffany
Photography by Luzena Adams @ Balloon Agency | Styling by Marc Sifuentes | Art Direction by Louis Liu |Interview by Alex Catarinella
Hair by Anthony Joseph Hernandez @ Artmix using Oribe | Makeup by Daniel Avilan @ Wilhelmina | Manicur by Narina Chan @ Wilhelmina | Photographer's assistant: Robert Perez Booking | Shoot Production by XTheStudio