SOFIA BOUTELLA – BY ELLEN VON UNWERTH
Positioned to take the main stage with two summer flicks set to be box office smashes, playing opposite Tom Cruise in The Mummy and alongside Charlize Theron in Atomic Blonde, Sofia Boutella is ready for her close-up.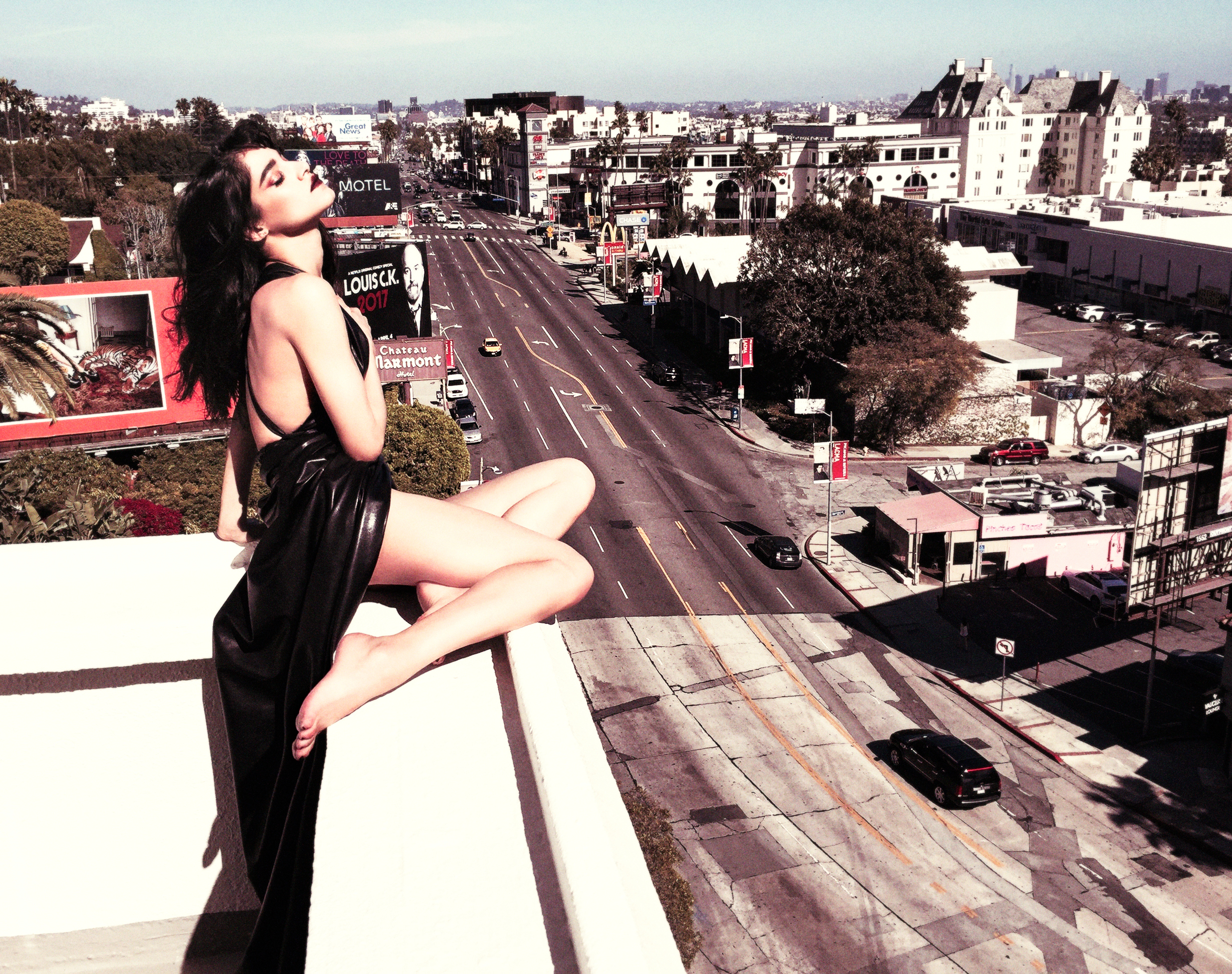 Photography by Ellen Von Unwerth | Styling by Deborah Afshani | Art Direction by Louis Liu | Editor Marc Sifuentes | Interview by Dustin Mansyur | Dress by J GERARD
Sofia Boutella is about to blow out the candle on a chocolate lava cake served up graciously by the pastry team at Chateau Marmont. Glasses of champagne are lined up across a low wooden table, ready to serve. Swarthy and saturnine, Boutella sweeps her dark locks to one side and leans over the cake, pausing momentarily as she closes her eyes to make a wish, before extinguishing the flame with a flash of her infectious smile. "Bravo!" everyone cheers while Sofia flits a bashful round of thanks. The celebration is actually impromptu during a lunch break, and Sofia is on-set for a photoshoot with Ellen Von Unwerth at the famed West Hollywood hotel. Birthday or no birthday, embodying a femme fatale for a crème-de-la-femme celebrity photographer is all in a day's work for Boutella, who's poised to unleash her prowess with two movies in this summer's highly-anticipated release of Alex Kurtzman's latest installment of The Mummy and David Leitch's spy thriller, Atomic Blonde. Maintaining her coquettish sensuality while kicking ass is a razor wire that Boutella jetes upon with ease, even if it involves otherworldly makeup or taking a punch on set.
Hailing from Algiers, the ingénue actress is actually a multi-faceted artist who began her career as an internationally-acclaimed dancer, enrolling in classical dance education at the age of 5. Later, when her family moved to France, Sofia continued dancing, adding rhythmic gymnastics to her education, and joining the French national team by the age of 18. In 2006, with her dance troupe The Vagabond Crew, Boutella went on to win the World Championship Hip Hop Battle, making her an undeniable force in the world of dance.  With several smaller film and commercial appearances already under her belt, she made a breakout appearance in a series of iconic Nike campaigns choreographed by legendary choreographer and creative director, Jamie King. Quickly garnering the interest of several high-profile musicians, Boutella found herself dancing for Madonna, Michael Jackson, Rihanna, Usher and many others. Breaking out on the big screen,  her most recent film appearances include Justin Lin's Star Trek Beyond co-starring Zoe Saldana, Chris Pine, and Zachary Quinto and Matthew Vaughn's Kingsman: The Secret Service, alongside Colin Firth and Samuel L. Jackson.
Here IRIS Covet Book shares a conversation with the blockbuster beauty about lesbian love scenes and mystic monsters with heart.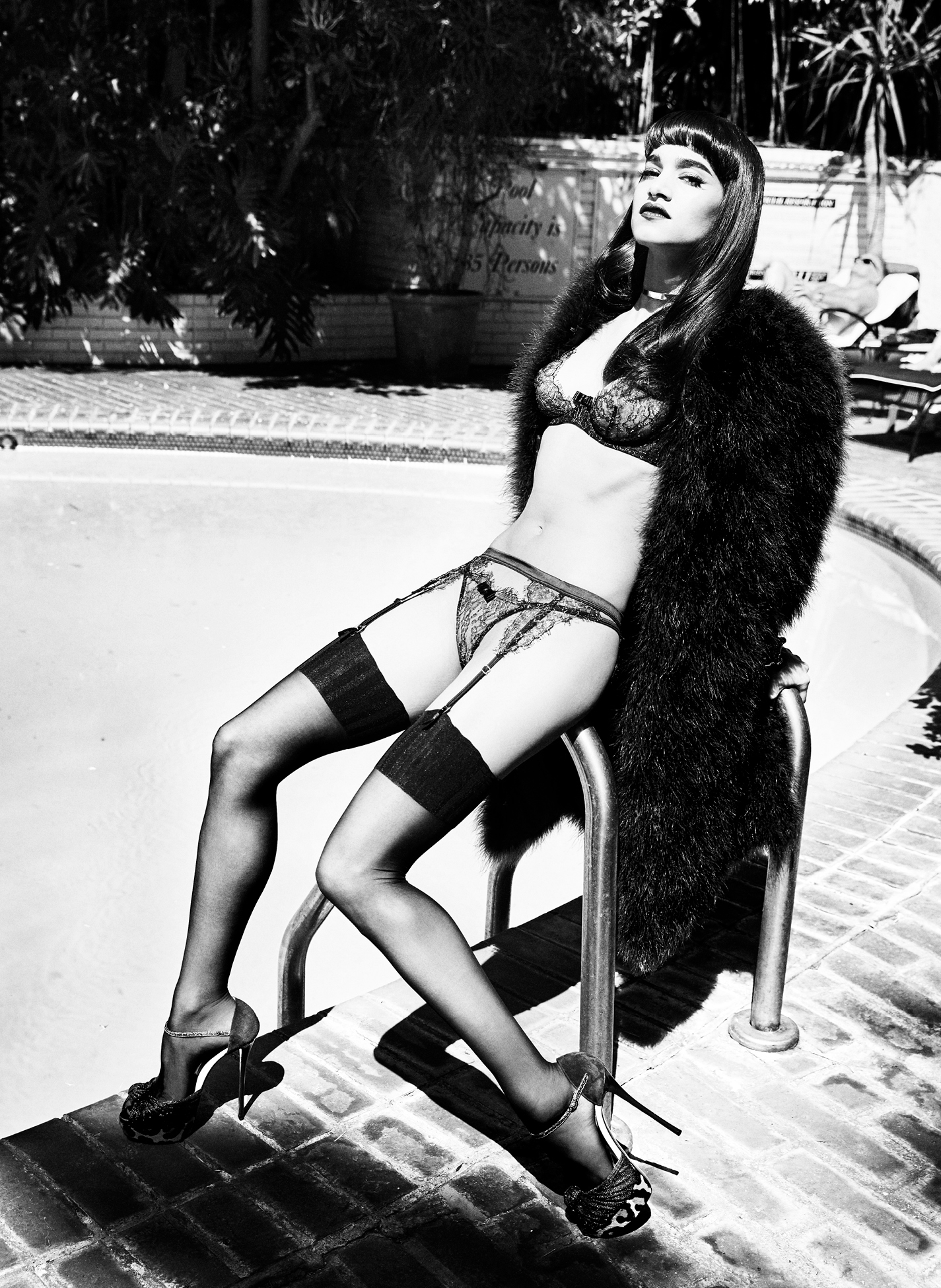 Feather Coat by Vanessa Seward, Bra, Panty and Garter Belt by Maison Close, Black Stockings by FALKE, Shoes by Christian Louboutin, Choker, Earrings and Bracelet by Eddie Borgo
You worked with Ellen Von Unwerth at Chateau Marmont for this cover shoot. How did it go? What was it like working with her?
Oh my God, it was amazing! I loved working with her! I think she's fantastic! I loved her ability to get things out of me. I've never shot with her before, but after working with her I felt like I understood how she's able to get this energy in the photos. Her style really allows people's personality to shine through in the images. She let me be myself while still giving me interesting, creative direction. It was really cool.
What did you enjoy most about working with her? Was there a specific look or shot that you loved?
I just had a lot of fun because it was going to be my birthday the day after. I was having lunch and ordered some French fries because I hadn't had them in so long! I came on set still eating, so she started to shoot me while I was having fun with the fries. We had another moment where we were shooting at Bar Marmont and I was dancing on the bar. While we were there, they were using the kitchen for their pastry department and one of the chefs started talking to me. He asked me, 'Do you want anything?' I said, 'Yeah why not. You have chocolate cake?' So he brought me a chocolate lava cake and I started to eat it for another photo, it was so delicious! There was another moment where we went upstairs on the balcony. I told them to not freak out because I'm very agile and I don't have issues with heights, so I sat on the ledge of the balcony. Hopefully we got some great images from that. However the photos turn out, they're going to be so truthful because I was having such a great time!
I'm so excited to see what you created together. I knew that was going to be a dream pairing. All glamour aside, as a child did you see yourself ever acting in movies? Or what did you want to do when you were younger?
When I was a kid I wanted to be two things. I always said I want to raise dolphins. I wanted to work with dolphins because I was obsessed with the show Flipper when I was a kid. Then, somebody in my family got me into this game that was like "Doctors Without Borders." So I wanted to be a doctor without borders.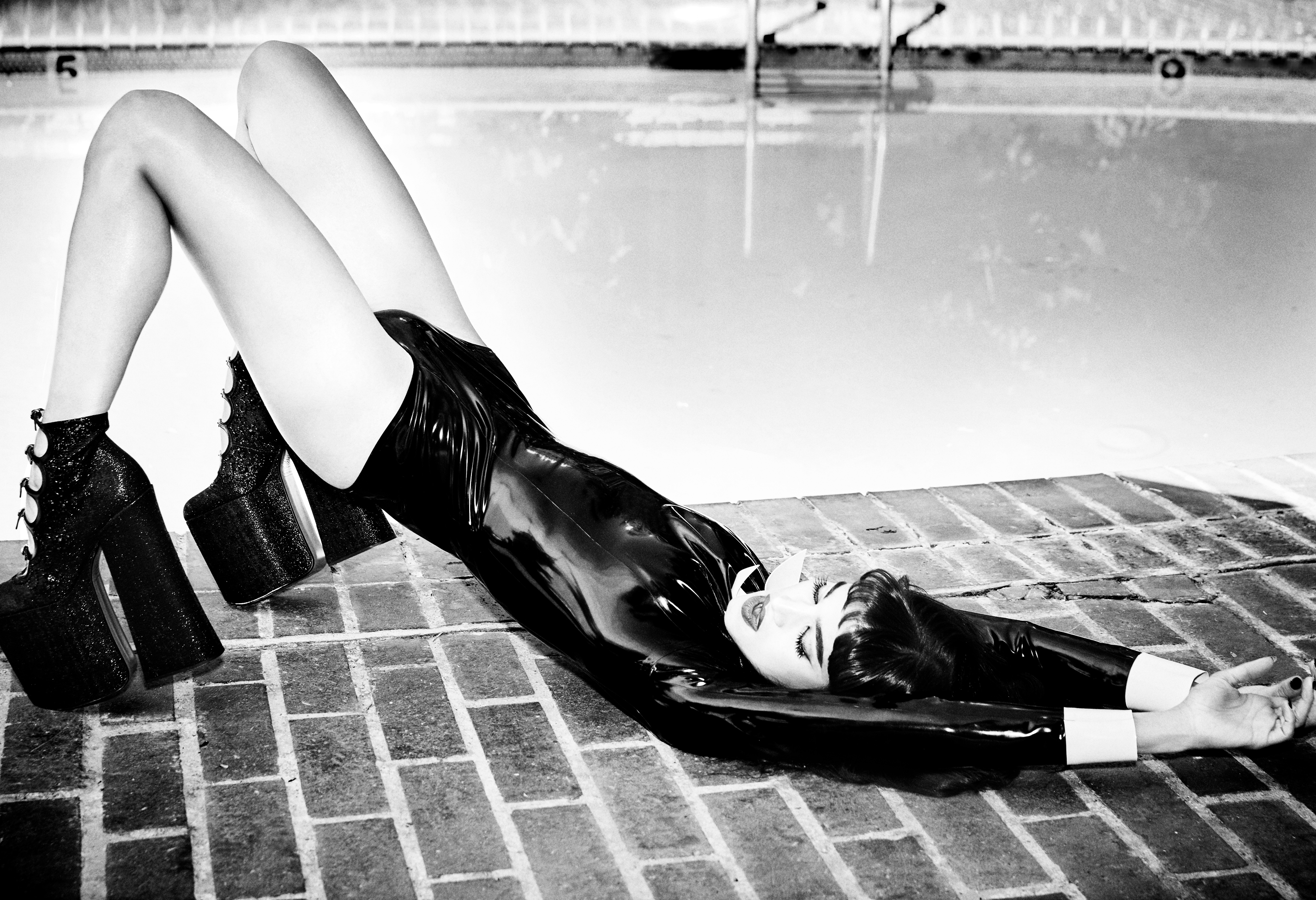 Latex Bodysuit by Dead Lotus Couture, Shoes by Marc Jacobs
That is such a different path than what you're on right now, but I'm sure your fans are thankful that you choose a career in entertainment. You have two summer movies that are projected to be blockbusters, The Mummy & Atomic Blonde. You have the title role in The Mummy opposite of Tom Cruise. How did you get chosen to play this character?
I was finishing the movie Star Trek and I got this script sent over. I met up with [the director] Alex Kurtzman, and he offered it to me. At first, I said no because the part scared me and having just done Star Trek, I was concerned about having to go under an extensive makeup process. I didn't want to be a monster walking around scaring people, that wasn't for me. But I gave it more thought, and was very attracted to the character because she had a relevant and interesting background.
What were some of those things that intrigued you about her character?
I think that she had an intriguing backstory. This is the first time there has been a female mummy. My character is a princess from ancient Egypt, the daughter of a Pharaoh and she's promised to become Pharaoh herself because she was the only child. After her mother dies, her father meets a woman who bears another child which turns out to be a son. The promise of the kingdom and becoming Pharaoh is taken from my character and given to the son, because he is a male heir which leaves my character heartbroken and scorned. She later becomes ruthless when she comes back in modern day seeking what she was promised to begin with.
So then what was the process like working with the director, Alex Kurtzman to reimagine this character and breathe new life into it?
It was lovely to work with Alex! I wanted to care about my character and have her be heard and understood. We developed the backstory so that the audience understands her better and can have some sort of compassion for her. I think a character becomes more interesting when you understand why they do what they do in the movie.
So that she's not just a monster, but that she has a heart and you can sympathize with her emotions.
Exactly and that was very important to me.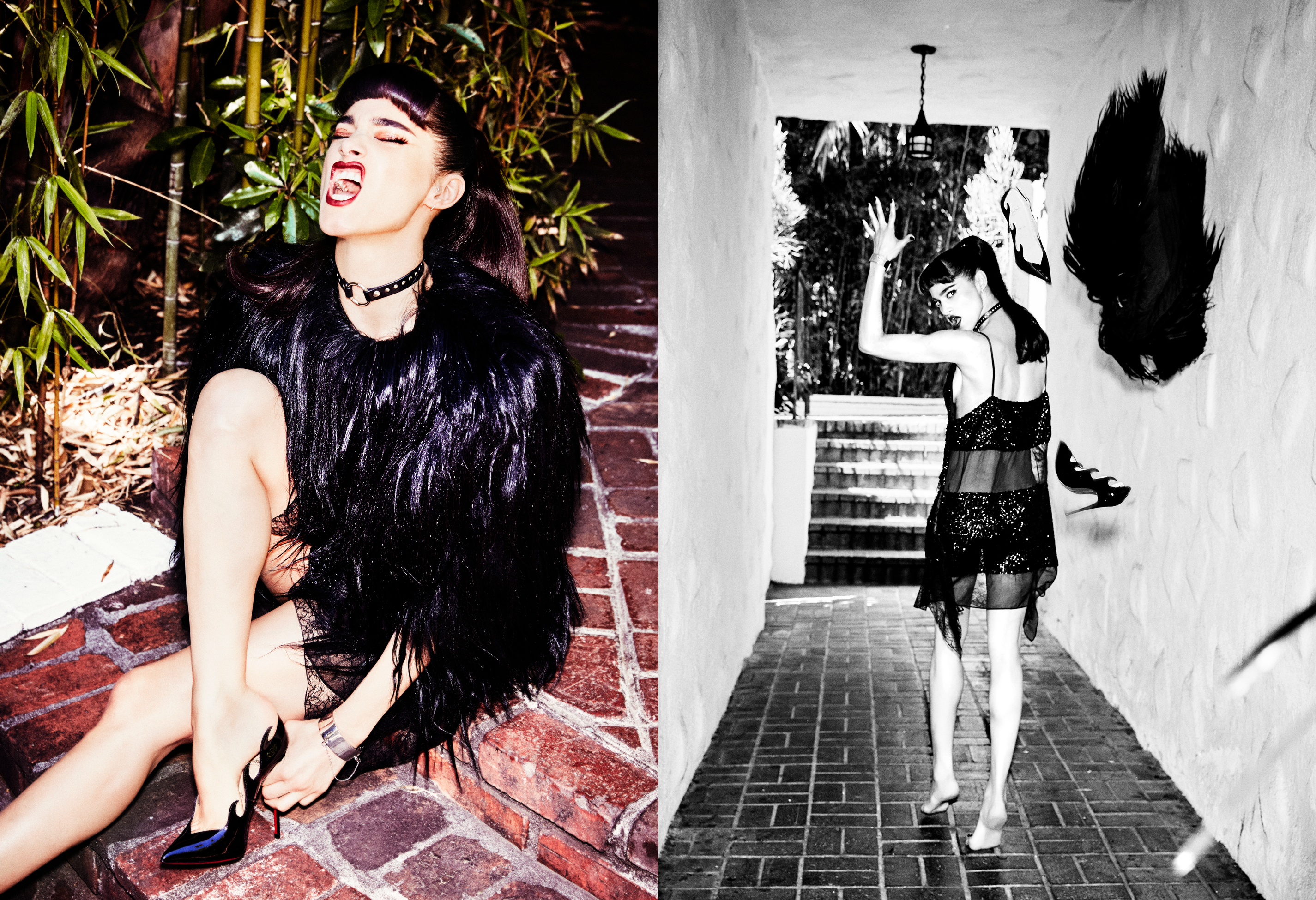 Dress by Lanvin, Black Goat Hair Jacket by Adrienne Landau, Shoes by Christian Louboutin, Bracelet by Eddie Borgo, Choker by YVY, and Sofia's Own Earrings
Did you have to do anything special in order to prepare for this role or get yourself into the character?
Well, you know, the makeup process was something that helped me get into character. It would take about 6 hours to do. Of course, it was painful because they're long hours, but I wouldn't have had it any other way. Once I'd have my makeup done, people looked at me different, and I felt physically different. I also researched about ancient Egypt and Egyptian Mythology. Understanding the body language was important because I wanted her to walk around not like a monster, but as a queen since that's who she was.  She carries herself as royalty, never moving faster than anybody. I also explored playing with the voice and speaking slower to bring in that element of power.
Did you get to have any input on the costume or the look of the character?
Yes, they really let me share my thoughts and we were able to collaborate on much of the character's look together.
So you star opposite of Tom Cruise, who is a very seasoned actor. What was it like working with him and did he share with you any advice or words of wisdom that you might take to heart as an actor?
Being on set with him was like being at school, in a good way. I learned so much from him; he's such a dedicated actor who loves the craft. You see him on set figuring out how to make a movie work. I learned a lot about cameras, lenses, and camera angles when I was with him. He examines those aspects and really understands how to tell stories with camera movement, and it's something that I will definitely use and pay close attention to.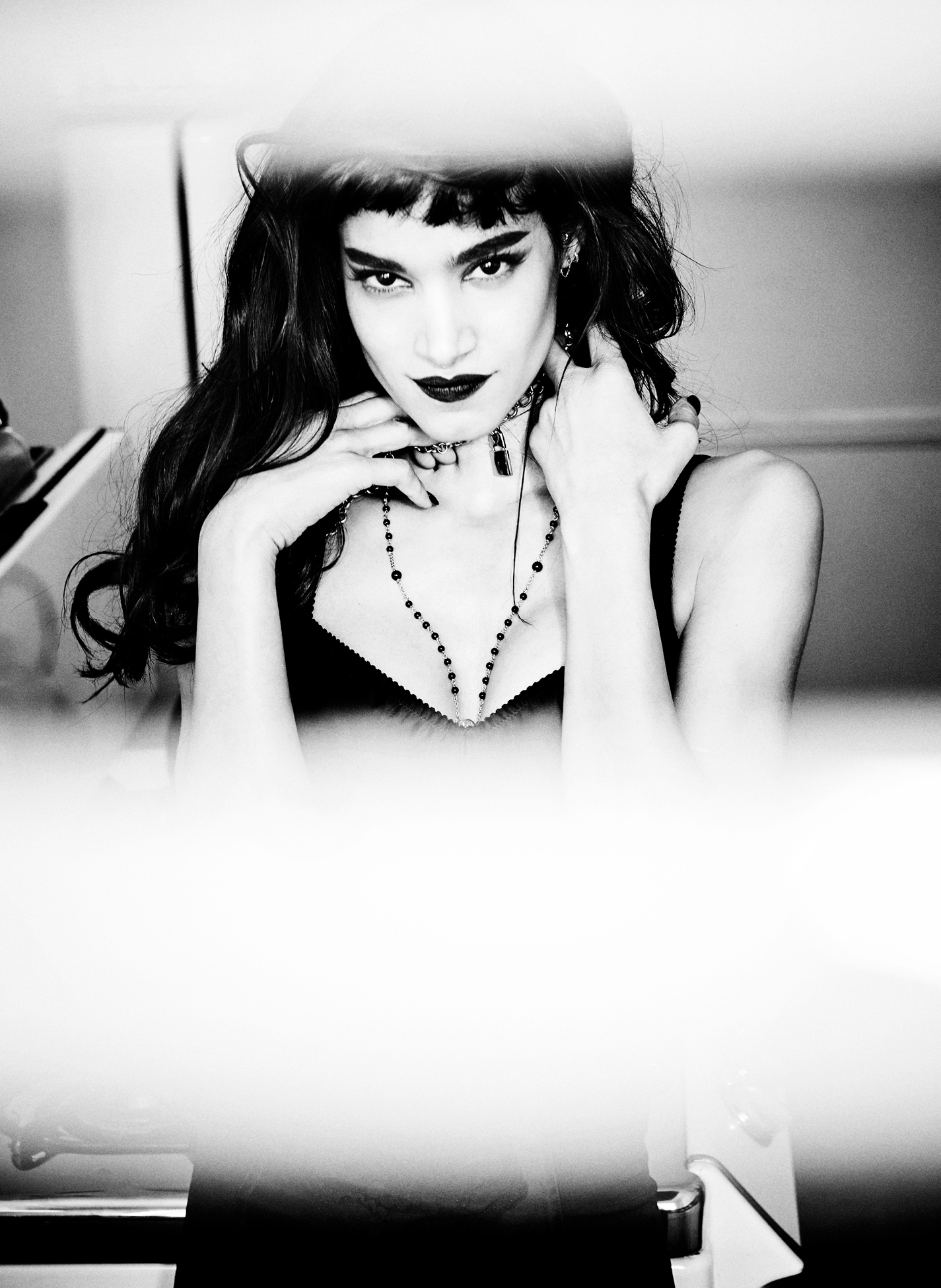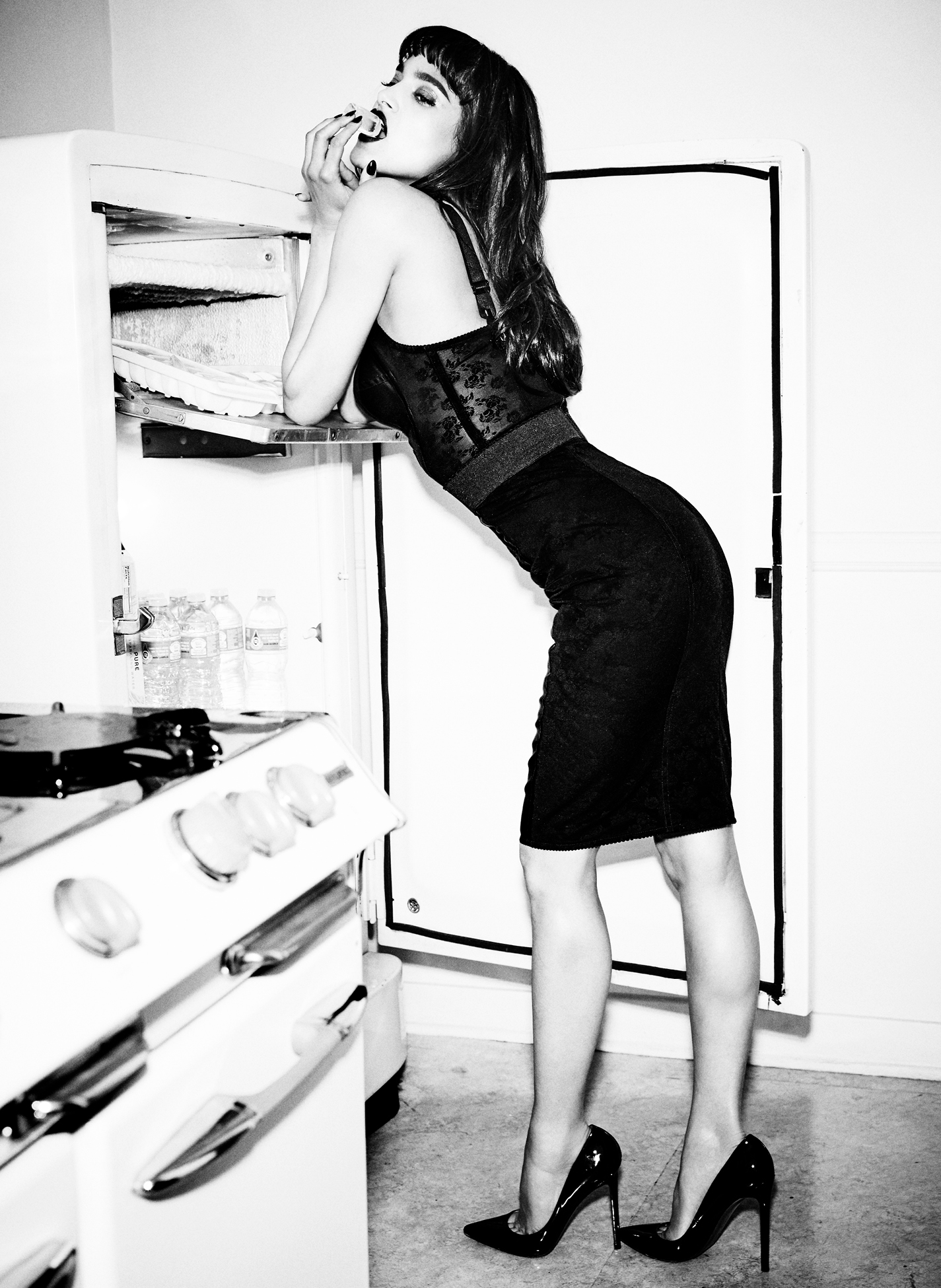 Dress and Rosary Necklace by Dolce & Gabbana, choker necklace by Jillian Dempsey Black Patent Heels by Christian Louboutin, and Sofia's Own Necklace.
Amazing! You recently were awarded the "Female Star of Tomorrow" from CinemaCon for your role in Atomic Blonde opposite of Charlize Theron. When were you first presented with the role of Delphine and can you tell us a little bit about your character in this movie?
She is a French spy who is stationed in Berlin, just before the fall of the wall. She's on the younger side and she's a bit naïve, but she's good at her job while still exploring her identity. She's taking in the dynamic and intensity of Berlin at that time, and learning from it. She's sweet but also a very cool, edgy kind of girl who is a less-experienced spy than Charlize's character. When they meet, my character is supposed to do her job and carry out her mission, but at the same time there is also this romance happening between our characters.
I went to a press screening and you two have a steamy love scene in the movie.  What discussions did you have with Charlize to prepare for that scene?
I was nervous, I've never done a scene like that and this scene was with a girl, which didn't make much difference to be honest. We both felt the scene shouldn't feel forced.  But, you know, Charlize made me feel comfortable and very much at ease. At the end of the day, I was very comfortable with my body and my femininity and I don't feel like I shied away from it. She's super fun and such a great actress so that made it easy.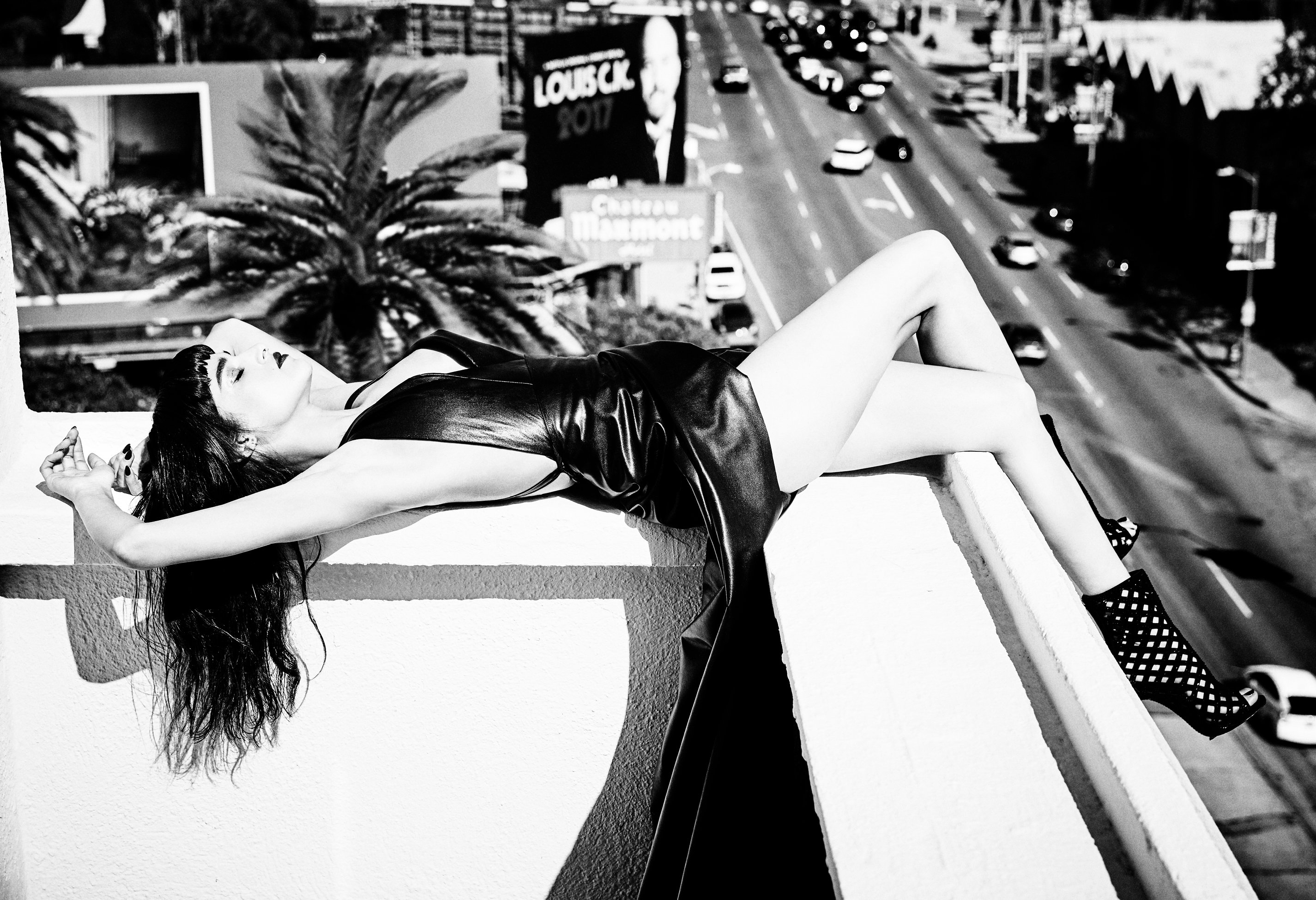 Dress by J GERARD and Shoes by Giuseppe Zanotti
It was very refreshing to see the openness of a same-sex relationship in this kind of scene being explored in a major motion picture. I was curious do you think that there's a stigma in Hollywood which doesn't allow women in cinema to portray and assert their sexuality in the same manner that their male counterparts are allowed to?
Yes, I believe that's true. It's much more often seen in European movies if it happens. I think we do need more movies with powerful, strong women. Charlize's character teaches us that women can be equally strong and powerful. When I saw the movie, I called her and was like, "You were kicking ass in that film!" I'm starting to observe that sexual empowerment being explored more in films. I think that it's still rare, but it's good that it's shown in this film. We need more of it. We need to normalize all these things, until you look at it and it doesn't make any difference if it was a man or a woman. I think people want to see more of that and not shy away from it. There's nothing wrong with that, and I think nowadays we need to focus on the opportunity to push that envelope.
I agree with you and also hope that will be the case someday. You have a background as a professional dancer. You've been in so many music videos and concerts. You've worked with Madonna, Rihanna and Michael Jackson, among many others. I'm curious how you were able to transition from dancing to acting in major motion pictures and what's the journey been like?
I began dancing when I was five, so almost my entire life. I started acting when I was 17 and went to an audition randomly. I joined a friend of mine who was going to the audition, and I ended up booking the part instead.  I loved acting and enjoyed working on that first project, so I thought I really wanted to explore that more. After doing that film, I wanted to learn about it, so I took classes. I did a few small projects in Paris between the ages of 17 and 19. Meanwhile, I was still dancing and I thought that I should keep dancing because I didn't feel like I had given it an honorable go. I thought, 'I'm just going to focus on that one thing that I've been doing almost all my life.' So I did, and I'm happy that I did because I've been a part of amazing projects for which I'm very proud.
When I moved to LA, I thought that I wouldn't mind taking acting classes again in my spare time. My teacher was Marcy Mendoza. She was like the "ballet of acting" in terms of what I learned and I loved my year in the theater. I studied plays like Chekhov and Ibsen and it was very classical sort of material. After that I booked a movie about a year and a half after called Street Dance 2. I thought it was a great opportunity and was drawn to the character because she was a dancer. I thought that I could learn something from the part, but then I wondered, "Am I hiding?" I loved acting so much, but I felt like I was hiding behind the fact that I was a dancer.  Then I questioned myself for about 2 ½ years if I should stop dancing, because, at the time, I didn't feel like stopping just yet. I woke up one morning and I remember feeling like I was genuinely done. That day, I watched Madonna's halftime performance at the Superbowl, and I remember feeling like I was ready to stop dancing. So, I stopped dancing and I didn't work for 3 years after that.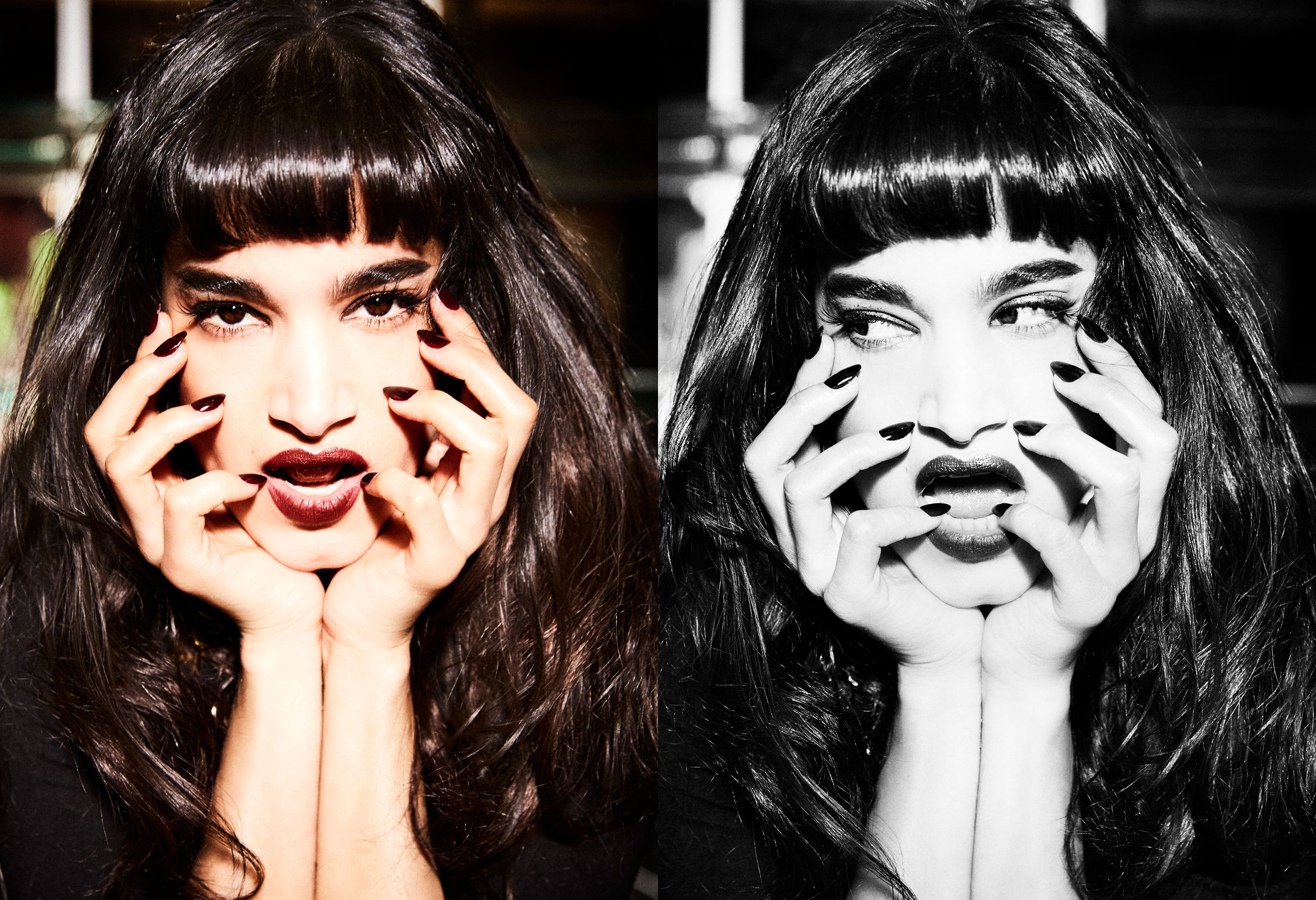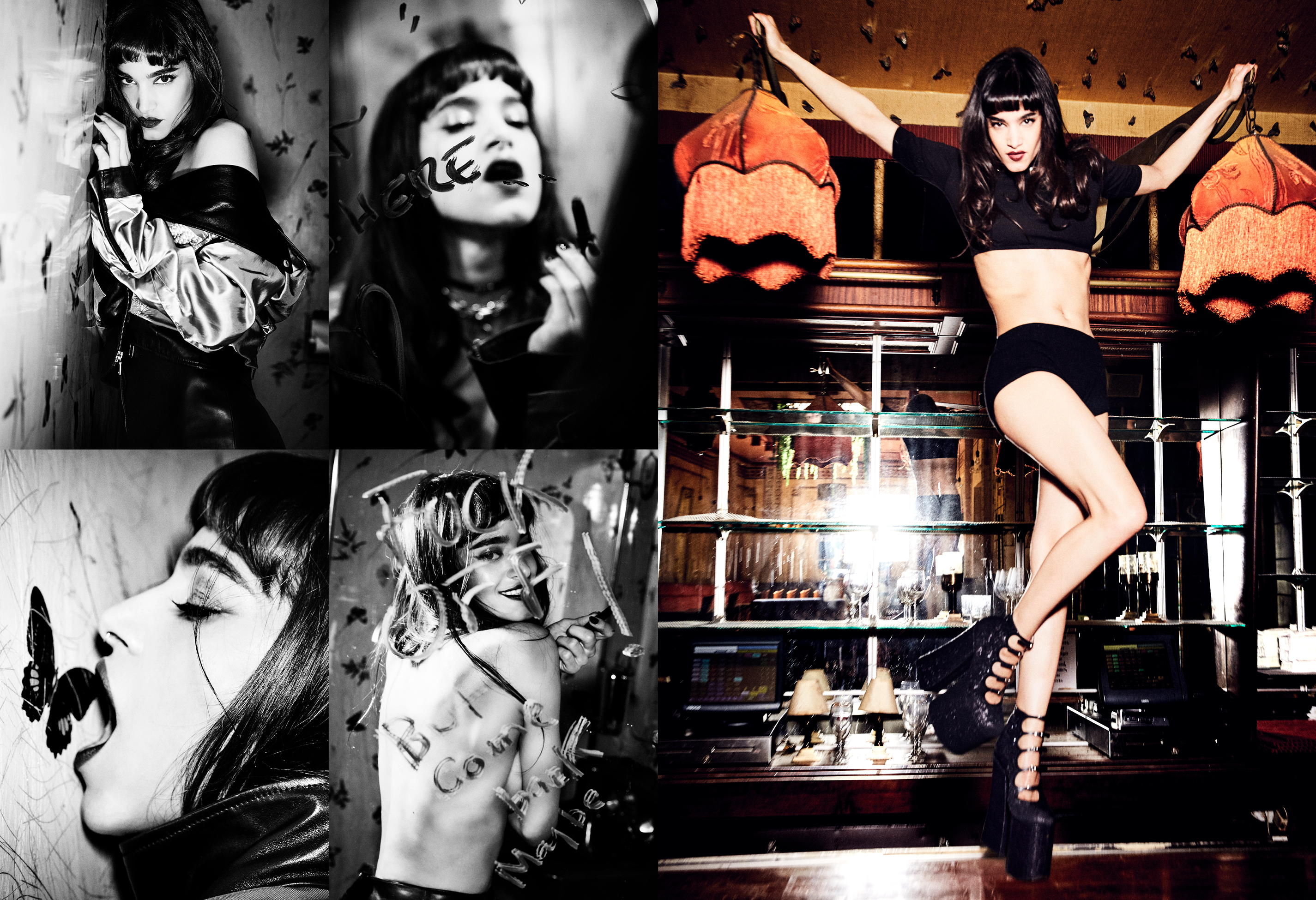 Left: Chain Top by Natalie Fedner, Skirt by Versus Versace, Leather Jacket (worn inside out) by GUCCI, Lipstick by Chanel
Right: Top by Phillip Plein, Shorts by Sonia Rykiel, Shoes by Marc Jacobs, Choker by Eddie Borgo.

 What did that feel like during those 3 years?
It was tough, you know. I never thought that I would give up. I never thought for one second about that because I never had a backup option…I felt like [acting] is all I want to do.  It was hard, but I never doubted myself because I knew my choice truly came from my heart. It seemed like an innate decision and luckily in my life I've never had to think, "Oh what am I going to do when I can't dance anymore?" I never wanted to become a choreographer. I just drifted into acting, not for fame or for money, but because I truly loved it so much.
And do you think the discipline that you learned during your time as a dancer is that that you carried over with you into acting?
Yes, absolutely. That discipline is required as a dancer and it's something that I will carry with me in life. There is a similarity in my approach with dancing and acting. When developing a character, you have to find a rhythm of how they walk and their body language. My experience as a dancer has made me more in tune with my body, and understanding the expression of movement.
During her Confessions tour, you worked with Madonna who is known for being a perfectionist. Were there any lessons or habits that you picked up on while you were working with her or did she ever offer you any advice that you took to heart?
She gave me advice all the time. (laughter) It was all very, very useful. She's a strong woman who works really hard. You understand why she is where she is now. Her dedication and compassion is really inspiring and she has a heart of gold. When I met her, I was really a tomboy. She came to me and asked me if I wore heels and I said no. So she handed me a pair of heels and said, "There's a beginning for everything." She really encouraged me to own my femininity. I loved that she was able to see beyond how I was presenting myself. She challenged me and those were some of my best years working with her.
On your Instagram account I saw that you had a photo of yourself at the Women's March in London and so I was curious why you found it important to be a part of this historic event and support it?
I think we live in crazy times. I think our children and grandchildren will look at us and say, "What the fuck did you do?" But, to be honest, I've decided to look at it as the glass being half full. What is happening now is very important and significant, and we can choose to be empowered by these trials when people get together and unite. Originally I was planning on going to the march in Washington, but I ended up having to go to London that day. As soon as I landed that morning in London, I went straight to the march—I didn't even call my friends. When I arrived, all my friends were already there so we all got together. Cellular reception was going mad because it was so packed, but we did manage to find each other and ended up having a great time being together and supporting that cause.
I went to the march here in New York which drew crowds around 400,000 so it was grid locked in some places. The crowd was so thick trying to get through. What were the emotions that you were feeling that day? What was your experience like?
I thought it was quite empowering. As a woman, I feel like there's a level of consideration that is being given to women now that is far more profound than before.  But, there's still an imbalance between how men and women are treated. It's still a man's world. I think that the Women's March was necessary even if the socio-political circumstances differ from country to country. Things like this are essential and will need to keep happening until things change.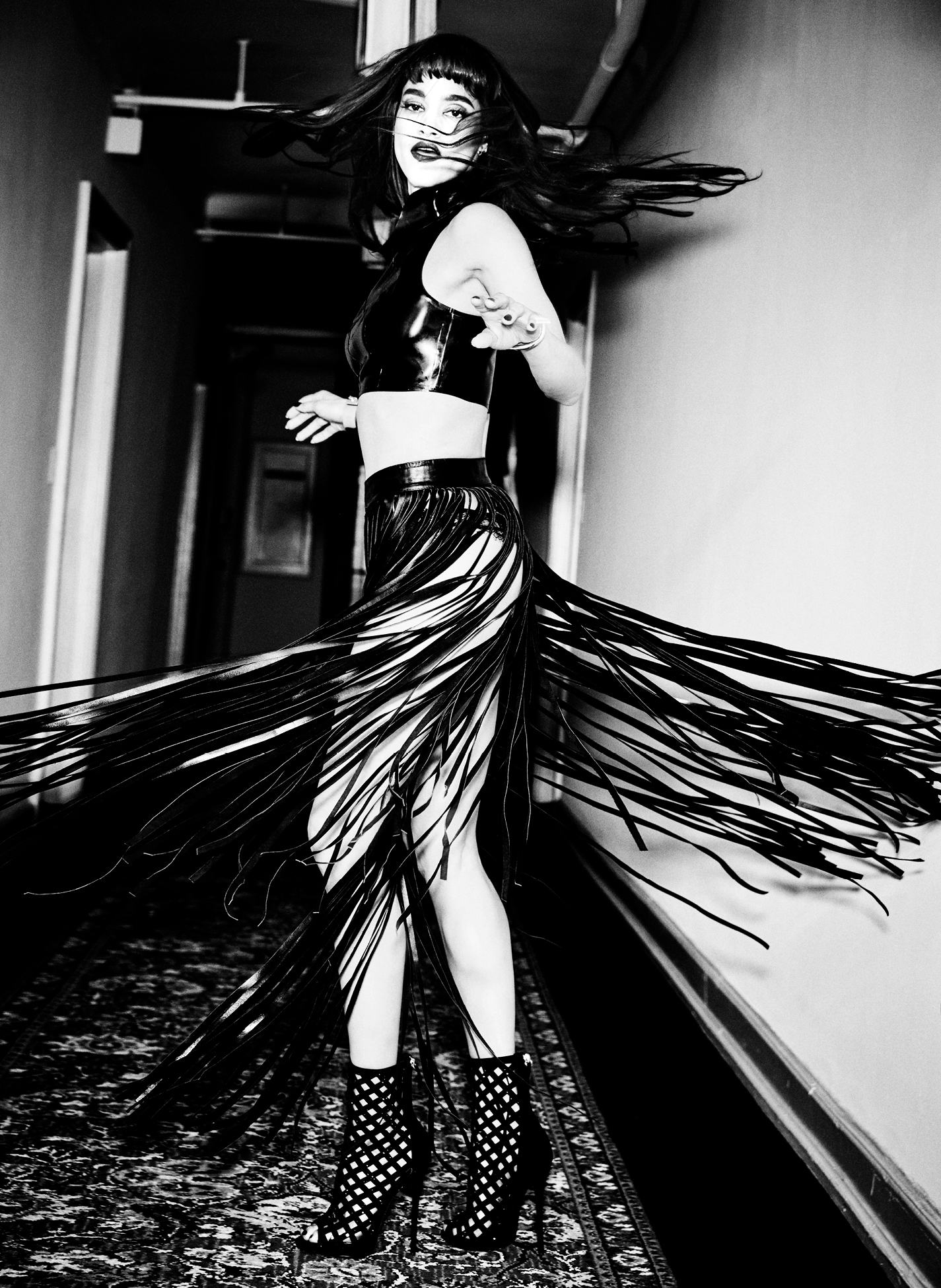 Top by Dead Lotus Couture, Skirt by Zana Bayne, Underwear by Morgan Lane, Shoes by Giuseppe Zanotti, Silver Cuff by Eddie Borgo, and Gold Cuff by Jennifer Fisher
Hair by Renato @ The Wall Group Using Moroccan Oil, Makeup by Kate Lee @ Starworks Group, Manicure by Bettina Goldstein @ The Wall Group Using Karma Organics, Video by Heather Sommerfield, Photographer's 1st Assistant Timothy R. Mahoney, 2nd Assistant Matthew Tyler Ray, Digital Tech Dale Gold, Stylist Assistant Kirsten Alvarez, Production by XTheStudio, Shot on location at Chateau Marmont Hotel. Special Thanks to Matt Haberman, Bryna Rifkin, Annie Butterfield, and Celena Madlansacay at ID PR.