LOGAN BROWNING
Logan Browning's intelligence, humor, and passion for both social activism and performance have culminated into a new controversial Netflix series entitled Dear White People.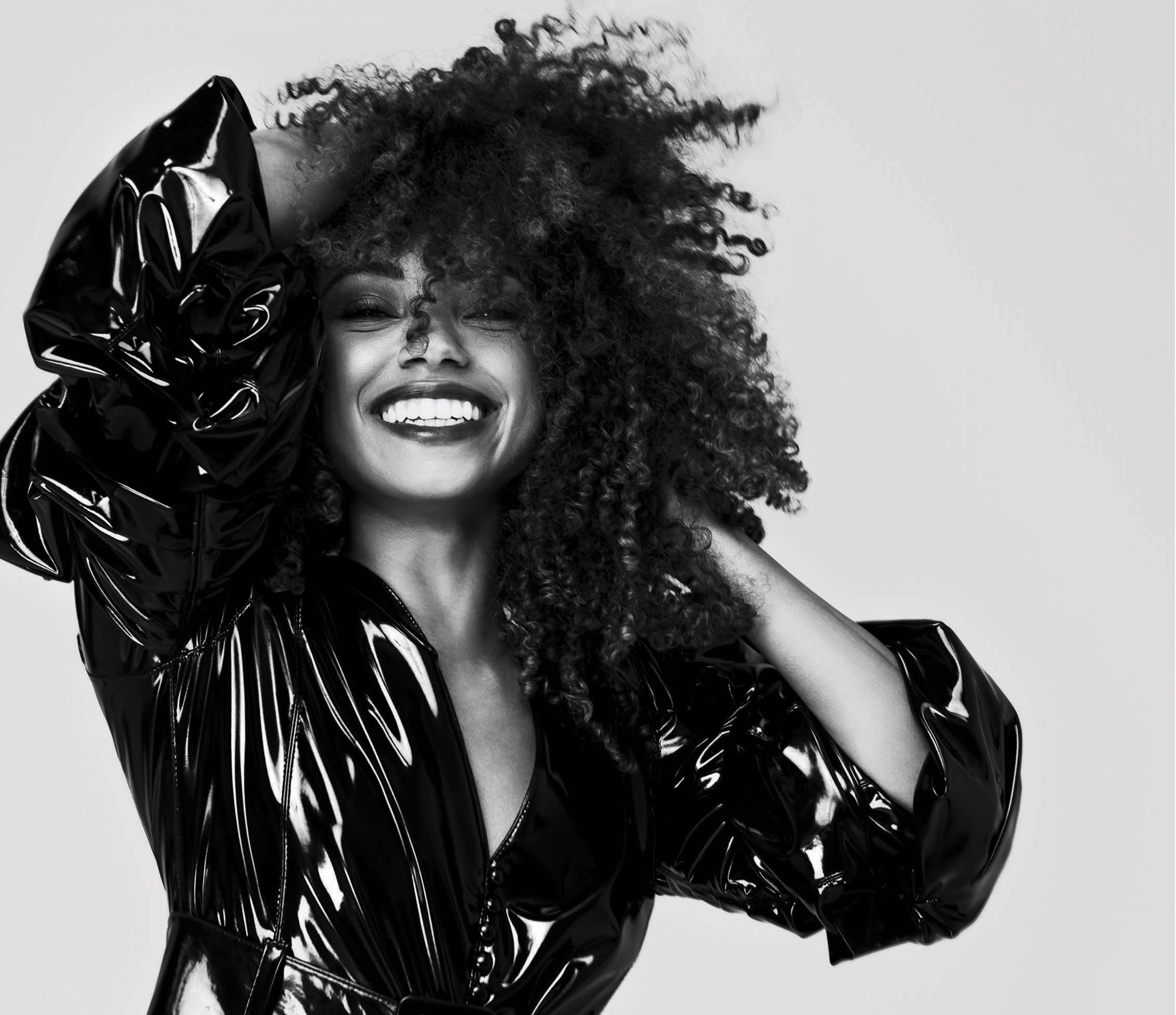 Photography by Raul Romo, Styling by Rafael Linares @ Art Department, Creative Direction by Louis Liu, Editor Marc Sifuentes, Interview by Pauline Snyder-Goodwin | Coat by Victoria Hayes
Success has been no stranger to Logan Browning in both her personal and professional life. Browning started at an early age to pursue her career in film and TV all the while reigning as homecoming queen and honor student in her hometown of Atlanta, GA. With a starring role as Sasha in Bratz: The Movie, Playing Brianna in Tyler Perry's Meet The Browns, and as Jelena on VH1's Hit The Floor just to name a few of her successes, it's no wonder this multi-tasker will star in the lead role as Samantha White in Netflix's original series, Dear White People which debuts April 28, 2017. Browning plays Sam, a biracial film major at a fictional Ivy League University where she hosts a radio show called Dear White People. The show becomes popular amongst black students on campus, and leads to discussions on racially charged topics that students typically avoided. In the trailer she addresses her radio listeners; "Dear white people, here's a list of acceptable Halloween costumes," classical music and images of elite white people serve as a backdrop. She proceeds by listing a series of ubiquitous costumes white people could dress up in: "Pirate, slutty nurse, any of our first 43 presidents. Top of the list of unacceptable costumes: Me." Images of people wearing blackface pans across the screen against a crescendo of the classical music piece.
The 10-episode, satirical comedy is an adaptation of director, Justin Simien's 2014 successful independent film of the same name. Simien has also written and directed the episodes and has found his new series in the fire of controversy sparked by the trailer release. The trailer has fueled some viewers into boycotting the streaming media giant or cancelling their accounts altogether, generating a lot of attention and awareness to the show. Much of the discussion has been superficial, based on the title, alone. But viewers will soon have actual content, in the form of episodes, to discuss.
Browning, under the direction of Simien, endeavors to deliver an insightful and entertaining series while offering a perspective and a criticism on one aspect of race and class tension in our society. With a combination of clever, progressive, and thought-provoking writing and a cast of comedic, young starlets, this Netflix original series is sure to ignite discussions among audiences across America.
IRIS Covet Book recently caught up with Logan Browning in her adopted home of Los Angeles to learn more about the young starlet and her involvement in the original Netflix series.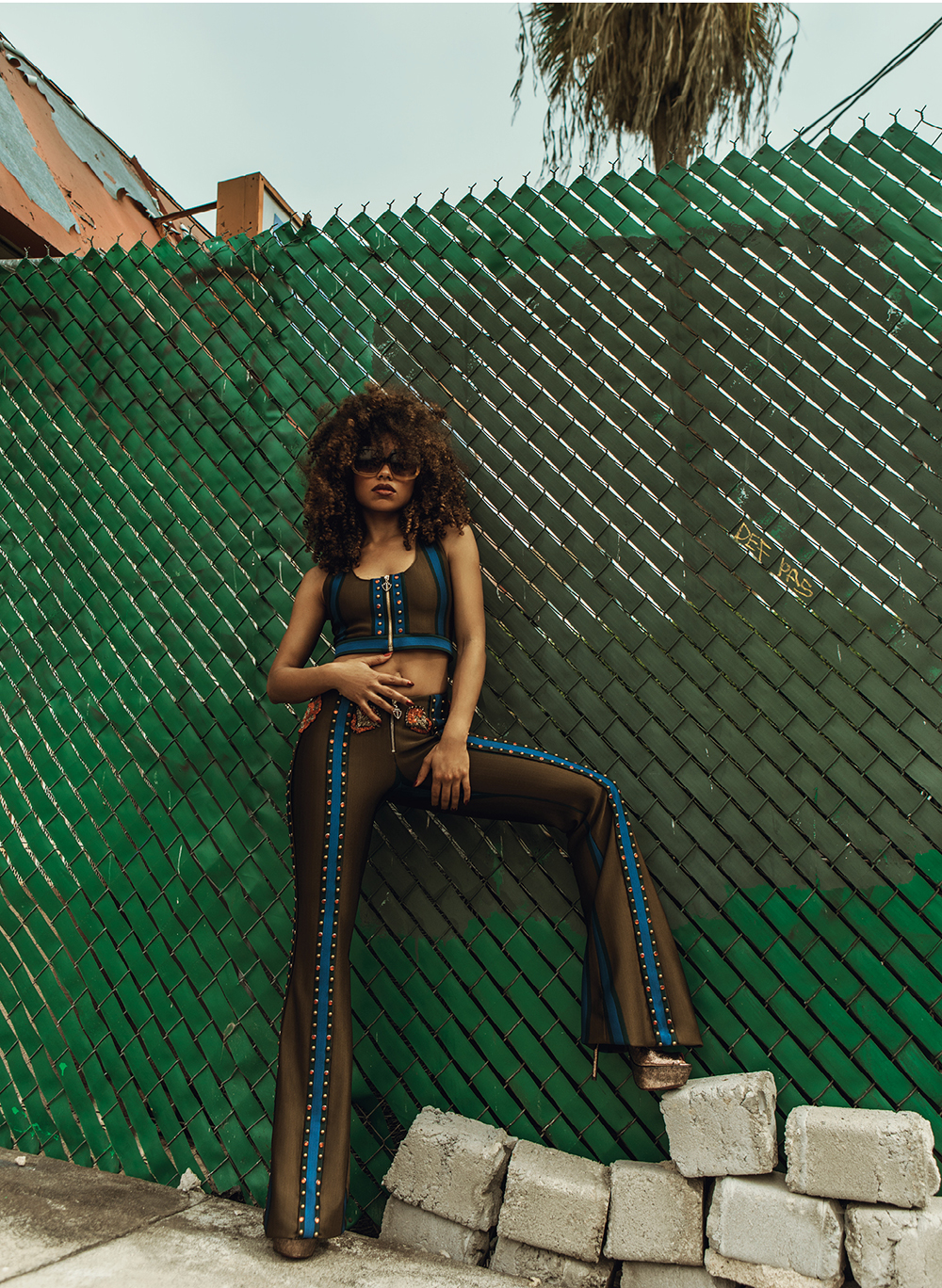 Top and Pants by Raisa & Vanessa, Shoes by Giuseppe Zanotti, Sunglasses by Sama Eyewear
When did you first know you wanted to become an actress? How did you initially get started in the industry?
I can remember my aunt telling me about a time I was riding in the backseat having a full-on conversation with myself as multiple people with different accents. That was possibly an early sign of a disorder, but more than that, it was apparent that I really loved becoming different characters. I loved doing it for myself, but I also performed for my family all the time. I started in the industry the way any how-to book would tell you: move to LA, get an agent, and go on auditions. All this came after I was a part of a competition called IMTA. At the same time, my parents were trying to figure out how to support two households while living in Georgia while I was chasing my dream as a 14-year-old in LA with my godfather and later on with my older brother as my guardian.
Tell us how you got involved with Netflix's Dear White People.
I hate to disappoint readers with such a simple answer, but I just auditioned like everybody else. Sam felt natural to me, and I believe that and my commitment to her voice, are part of what awarded me the role. I also came fully dressed in my version of the character and even styled my hair into an exquisite pompadour. I wanted "Sam", so I confidently walked in as "her".
How did you prepare for your role as Samantha White? Do you find that you relate to her in any way?
I went around telling white people to stop appropriating my culture. Just kidding! I read. A lot. I read the original screenplay of the film. I read letters written by Dr. King. And I read books Justin mentioned during his press tour for the film. I also went to a radio station to shadow a DJ and learned how to work the boards.
You attended Vanderbilt University in Nashville. Any parallels to the campus setting in Dear White People?
Well speaking of setting, I give major props to the set designer of Dear White People. To date, it is the most gorgeous set I have ever been on. They basically built an Ivy League school in a warehouse. The halls were connected for continuous shots. There was velvet and leather and ornate wallpaper, chandeliers and columns. I was mesmerized. It reminded me of the day I visited Vanderbilt with my dad before deciding to go there. I remember how beautiful the campus was. There is a sense of community that Vanderbilt and Winchester have in common, but I think the self-zoning of groups and ethnicities is represented on most campuses.
What's been memorable about working with director Justin Simien in the Dear White People series?
Learning from him! His mind is beautiful. His humor is sharp. He's very Zen. He's an interesting person to watch because he seems to always be thinking. I mostly appreciate his encouragement. As an actress, I still have a lot of growing to do. His notes to trust my instincts, and not to worry about things not happening the way they are written on the page if I'm honest, were such confidence boosters. Those stuck with me throughout filming and will continue to live with me as I work. His approach gave me a sense of calm which is necessary when I'm really excited about a scene and begin to overthink it. Working with Justin has made me a better actress and a more in-tune human.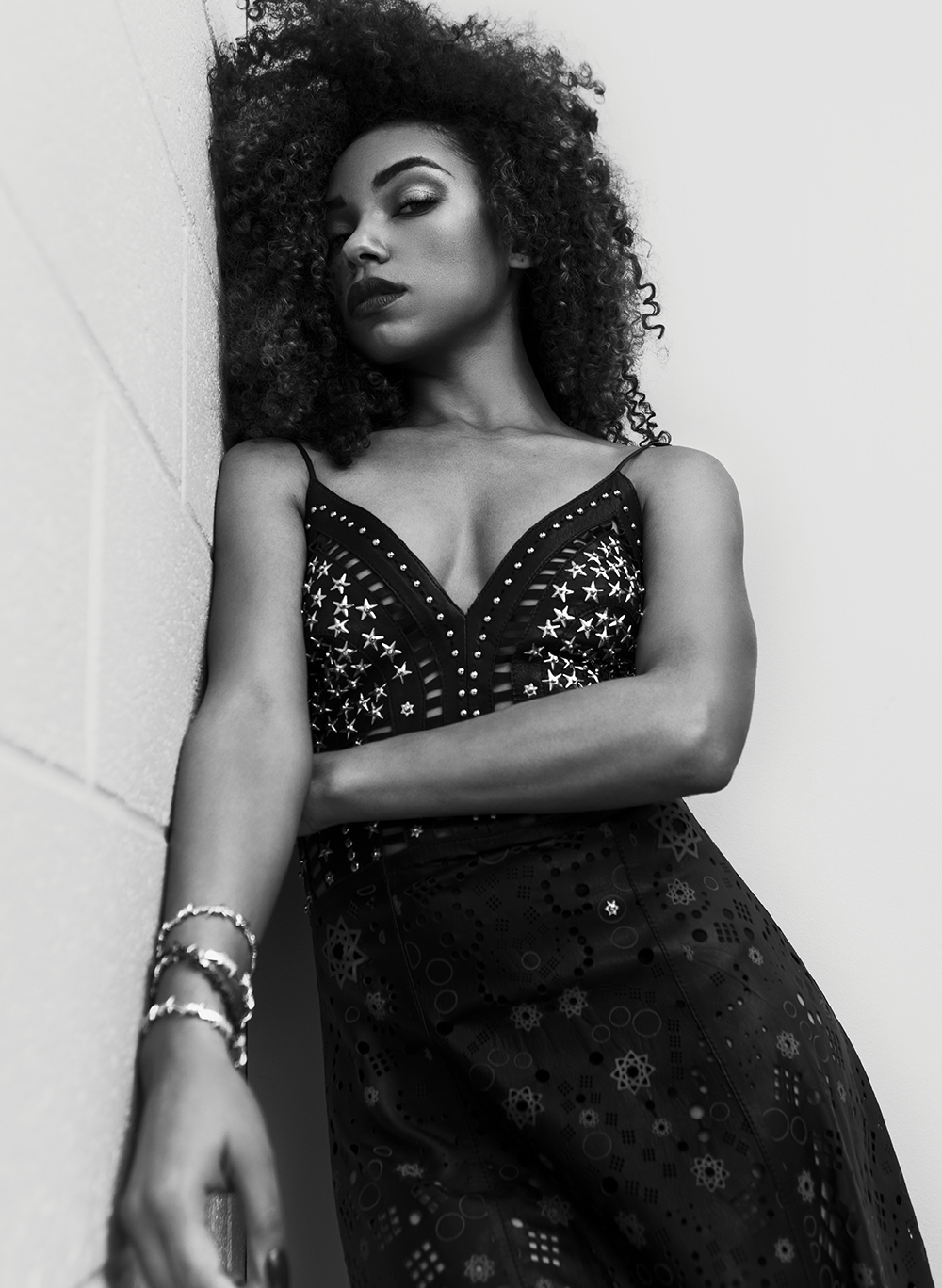 Dress by Helo Rocha, Bangles by Djula J
Any personal life experiences that helped shape your role as Samantha White?
I'm a fighter. I'm a little lady. But I've always been the friend/daughter/sister whose intent is to protect the nest. Through my experiences with confrontation and debate, I've learned yelling may scare people but it doesn't guarantee that anyone will hear you. That is a part of Samantha's journey. She has a natural kick ass personality, but she's also a very emotional and sensitive gal who can move mountains. When I play her, I sometimes feel like I'm living part of my life all over again.
Given our current political climate in the U.S., how do you think viewers will receive Dear White People?  What would you like them to take away from the series?
With the state of our nation and even global political turmoil, it's undeniable that when we ingest any form of art our radars are up for offensiveness, conspiracy, corruption, and the like. Of course, a title like "Dear White People" is going to conjure up a lot of curiosity, and I proudly stand behind the show as something that transcends both intentionally and coincidentally. Specifically speaking, no one on our production could have known that Dear White People would be airing in a Trump presidency; we wrapped filming on Election Day. I'm sure when it came time for editing, the voice of the show became even more specific with cuts and choices because all eyes will be on this show wondering what it's all about. Time and art play important roles with each other. Dear White People was written in a Bush Presidency, released as a film in an Obama Presidency, and will air as a show in a Trump Presidency. The temperature and tone is constantly changing with time, but the reason this title prevails is that there are deep rooted systemic issues that we will always battle as a country. At the end of the day, it's 10 episodes of a 30-minute show. I want people to walk away having enjoyed the characters, the humor, the truth, the opinions, and feel open about discussing the themes of the series.
On VH1's Hit the Floor, you played a team captain for a NBA cheerleading team called the Los Angeles Devil Girls. Dancing was a key part in this role. How did you train for this?
As soon as we wrapped the pilot episode I enrolled at The Edge Performing Arts Center and took Ballet, Jazz, and Jazz Funk classes every day. In a very limited amount of time, I needed to garner technique, flexibility, and confidence. Technique came from the classes I took, and ballet was the core of that learning process. My flexibility came from a lot of hot yoga and stretching every second of every day. Confidence was something I gained as I became more comfortable with myself. I was playing catch-up with women who have been dancing since they were 3 years old. I had to understand that I was hired to play the captain of this fictional dance team because they saw something special in me as an actress that they didn't see in any other actress or dancer. I learned to own my sex appeal and strength as a woman. A lot of my confidence came from the support of the women around me. The dancers helped me pick up choreography quickly, taught me the tricks of the trade, and encouraged me to believe that I was truly a dancer.
What's it like playing a satirical comedy role vs. a drama one?
The biggest difference for me, is playing up the humor. In a drama, I try to make the humor very organic, but with a satire, the goal is to get the audience's mouth open with laughter so they can digest the message you're feeding them.
What are your all-time favorite movies?
That would be such a long list. The Silence of the Lambs is the first thing that comes to mind. My dad loved that movie so I love that movie. I obsessed over the silently lethal Anthony Hopkins, and he became one of my favorite actors to study. I love Miss Congeniality and The Blind Side because watching Sandra Bullock is a treat. She is a truly transformational actress.
What would be your dream role to play in a film or tv series?
During our photo shoot, we were on location by a cool sign that read "Sade". If there was ever a biopic about her life I would do everything possible to be considered for that role. She is so naturally intriguing. I would love to tell her story and transform into her for a film. To play any living or once living person's story would be a dream. The responsibility of portraying a real person is a challenge I'm up for.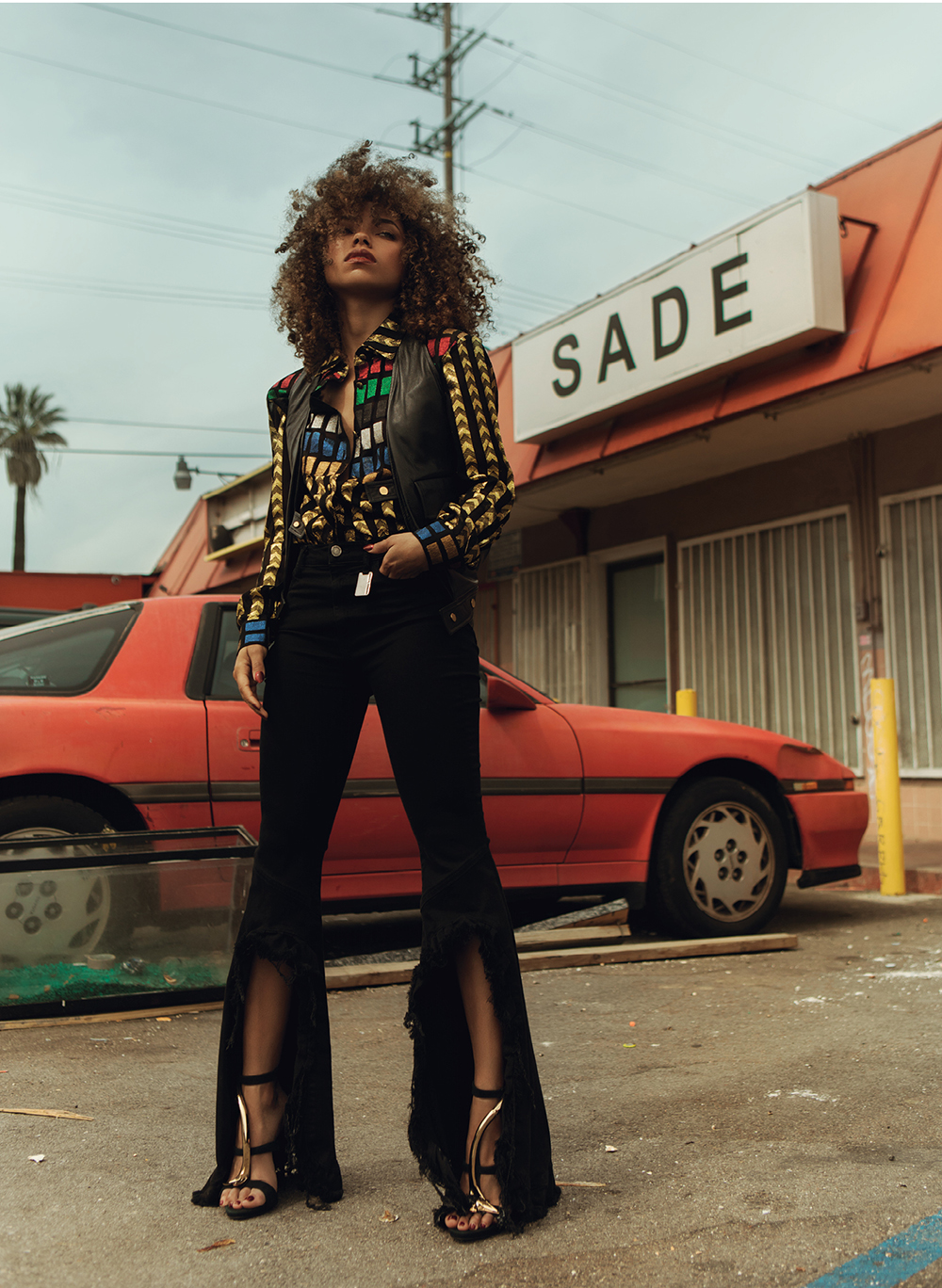 Shirt by Dodo Bar Or, Vest by Shahista Lalani, Jeans by Thomas Wylde, Shoes by Giuseppe Zanotti
How do you keep yourself energized during long hours of filming?
You are liable to find me curled in my cast chair taking a powernap! Number 27 on my list of being a small human is: "fits in most places". I also stretch. Sometimes you just need to wiggle your joints and lengthen your muscles to get the oxygen flowing through your body and into your brain. Stretching also refocuses me and makes me aware of my body and emotional state. Drinking water is one of my magic weapons. Coffee never gives me the lasting energy that nourishing my body with water does in the long run.
What's your go-to work out to stay fit?
A boxing class will always whip my ass into shape. It's high-cardio, endurance, focus, balance, agility, and strength training. I also do a lot of yoga. I never feel like my muscles are super-cut after, but I do know I'm building a strong core and inner strength that will support all my other athletic activities and my general well-being.
Who are your favorite musicians? Who are you currently listening to?
A few of my favorites are: Ben Howard, Thelonious Monk, Lecrae, Billie Holiday, Stevie Wonder, Tracy Chapman, Sade, George Stanford, Kendrick Lamar, and Frank Sinatra. I'm going to stop myself because now I'm just listing my entire Spotify library. I'm currently listening to the Big Little Lies soundtrack, and also Thundercat because my big brother told me to and he knows good music.
Last concert you went to?   
I saw my friend's band perform at SXSW; LoMoon. They're amazing—hop on early. An actual concert I went to see was The Brian Culbertson Funk Tour in Newport Beach with my mom in October.  
What charities in your community are you involved with?
I'm passionate about working with young people and people displaced from their homes. The outreach I do is mostly geared towards those two groups. One of my favorite outreach programs is called Young Story Tellers. It is a program that selects 5th graders to be paired with a writing mentor. They write a play, and after a few weeks actors show up to do cold reading performances of their plays. It is the most fun because kid's imaginations are marvelous! I've been a sheep, a witch, a superhero, you name it! It's also a great experience as an actor because we audition for these kids and have the responsibility of bringing their wildest imaginations to life by performing their play for the entire school after only a few hours with the material. We get creative and use whatever we have with us as props. It's one of my favorite things to participate in because these kids learn early that they are important, talented and supported. I'm also very active with the Black Lives Matter movement. I attend meetings, marches, rallies, and stay knowledgeable so that I can help share important information via my platform.
What advice would you give aspiring actors wanting to pursue a career in television or film? What hurdles do they need to overcome?
Go to college. Finish school. Get involved in your theater. Read. Hang around and play with children. Their imaginations are without borders. The more childlike you can become with your truth and creativity, the less limited you will be as an actor. Knowing yourself is important. You must spend time alone and go deep into your past. You need to discover who you were before life came at you. Who God made you to be before ideas shifted you. Kids can know themselves quite simply because their experiences are limited. We are made up of our life's journey. The longer we exist the more we must navigate to find our true selves. We are who the world sees us as, tries to mold us into, how our parents showed their love or didn't, our failures, accomplishments, produced art, expressed and unexpressed ideas, our conscious minds and our instincts. We are the molded-clay, masterpieces, of God.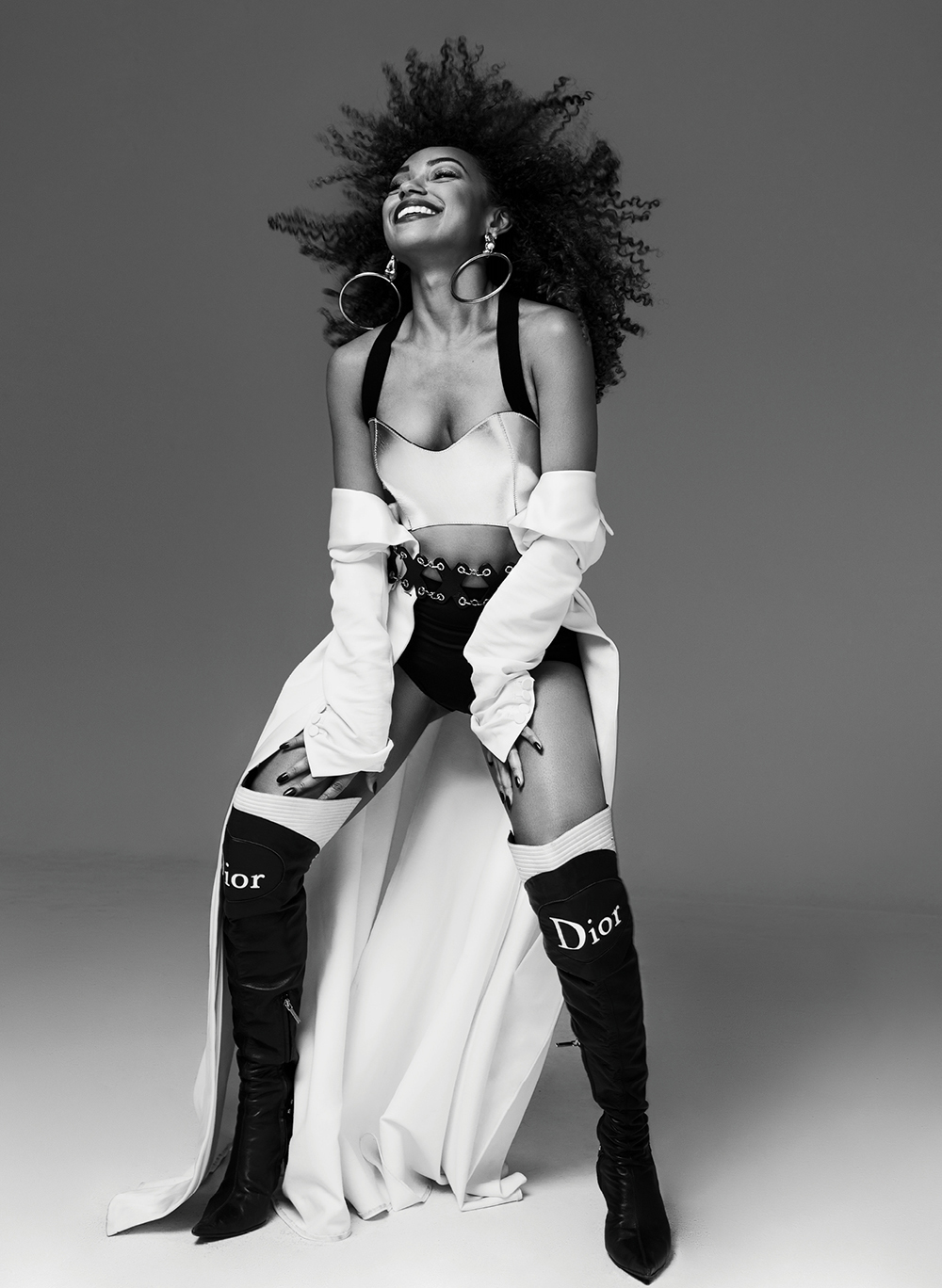 Coat by Styland, Top and Belt by Zana Bayne, Underwear by Agent Provocateur, Earrings by Victoria Hayes, Boots by Christian Dior
Hair by Dritan Vushaj @Forward Artists using Sachajuan, Makeup by Nancy Cialdella using Anastasia Beverly Hills, Laura Mercier, and Giorgio Armani Beauty, Manicure by Stephanie Stone @Nailing Hollywood using Chanel, Video by Heather Sommerfield, Production by XTheStudio. Special Thanks to Mike Liotta @True Public Relations and The Dream Factory LA Studio. Special thanks to Blowpro.