STUDIO VISITS: WING YAU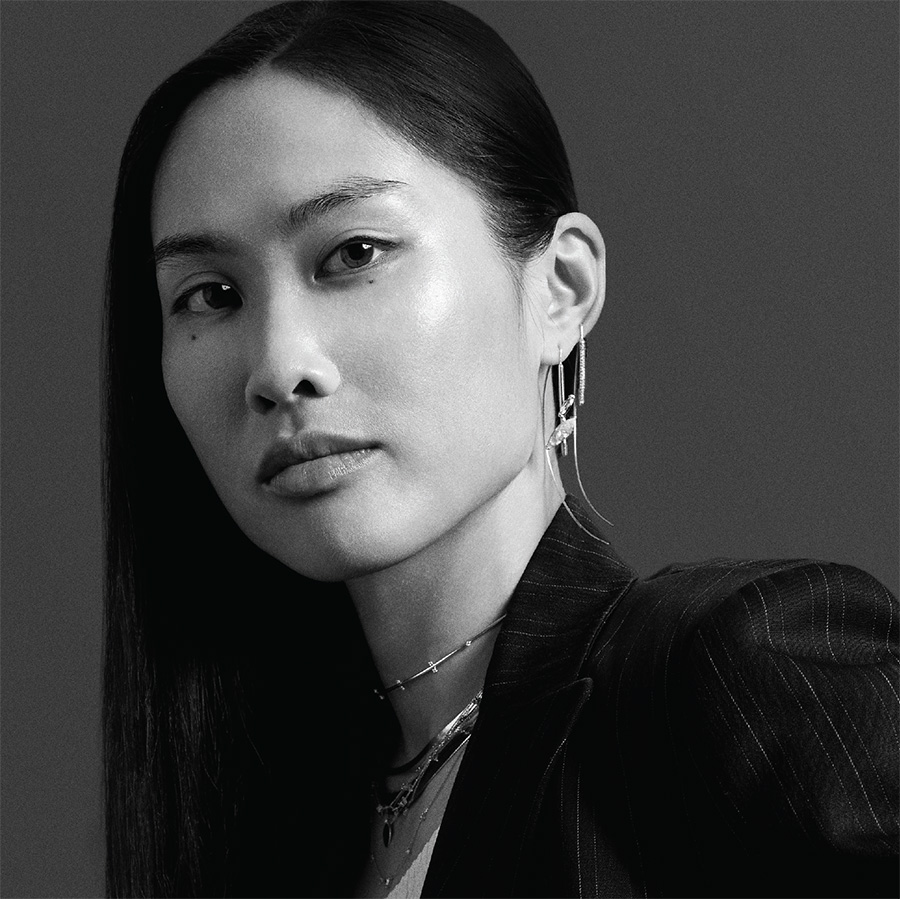 Jacket by Comme des Garçons, Vintage White Dress from The Break
Photography by Dustin Mansyur | Hair and Makeup by Nina Soriano | Interview by Benjamin Price
Breaking from convention, WWAKE creates a new perspective of jewelry as an extension of one's self, personal sculpture, history, and a thoroughly modern reinterpretation of heirloom design. Wing Yau, the designer behind the CFDA finalist brand WWAKE, has successfully blended the concept of fine art sculpture with the intimacy of jewelry. The Rhode Island School of Design graduate came to New York to follow her passion for sculpture, only to find that her love of fine details and complex concepts lent themselves better to the creation of jewelry. Defined by signature shapes, unexpectedly light arrangements, and other-worldly stones, WWAKE jewelry has found a loyal following from women around the world, including notable names such as Rihanna, Cate Blanchett, and Emma Watson. In an interview with Iris Covet Book, the young artist discusses her inspirations, sustainability, and her various upcoming and exciting projects
You studied sculpture at the Rhode Island School of Design, how did you transition to jewelry design?
Truthfully, I thought I wanted to be a practicing studio artist—but nothing was clicking for me. My biggest challenge was making pieces without knowing who my audience was, I kept making these little textile sculptures and hitting a creative dead-end. WWAKE was born out of a need for a more personal connection. I transformed my sculptures into wearable pieces, and when even those felt too avant garde for most, I worked with more traditional materials, such as gold and precious stones, which allowed customers to have a personal, potentially lifelong, connection to my designs. My approach to design was meant to be subversive, but as I've built a real community behind our pieces overtime, it's become a lot more meaningful than that.
When would you say you experienced your big break? And what has been your journey since?
2015 was a breakout year for the brand all around, it's hard to name just one event! I was named one of Forbes 30 under 30, we picked up our first major retailers, and we became finalists in the CFDA x Lexus Fashion Initiative! All of these things gave the brand huge exposure that I'm grateful for, which has allowed me to expand my design offering and build a team that represents a new generation of fine jewelry—everyone is savvy and passionate about what they do—from the miners, to the jewelers, to sales managers. It's so inspiring.
How would you describe the WWAKE woman? What makes her differ from your secondary line CLOSER?
Our core woman believes in simplicity and the value of art, and while she believes in the value of tradition as well, she's taking her own distinct approach to all rituals. WWAKE and CLOSER break the expectation of traditional jewelry design while retaining the heirloom qualities. It's jewelry to honor, with a touch of something inexplicable, a little bit of magic. The WWAKE woman is all about subtle, quiet luxuries—the pieces are designed at a personal scale, they're not flashy or for anyone but yourself to enjoy. To contrast, the CLOSER woman wants bold, sculptural statements from her jewelry. Our jewelry is both a reinforcement of your most valued memories and simultaneously an escape from everyday life to the world of art and the poetics behind our materials.
What design inspiration are you currently obsessed with and why?
Currently I'm obsessing over the sculptural and dramatic mineral formations found in nature, like tourmaline and kyanite, opals and ethereal-colored stones—they're worlds within themselves, and really just take me away from wherever I may be in the moment. There's no better sculptor than Mother Nature.
How does WWAKE and CLOSER reconcile mining and consumption of precious materials with the brands' ethos?
For me, the process of sustainability truly starts with selecting our sources carefully. I'm dedicated to working with micromining communities who rely on this practice to sustain their families and livelihood. I've visited several of these communities now and am happy to share that they work with environmentally responsible practices and use their proceeds to further develop their own communities. A lot of people villainize mining, but it's an incredible opportunity for these individuals to support themselves and develop infrastructure for their future. It's personal. My goal with WWAKE jewelry is to connect you to the earth, and every person that touches it.
What can you tell us of your upcoming projects and collections?
We're super excited to launch our art objects this year that will bring a new layer of artistry to the brand. We will also launch our debut couture collection in Vegas this June!
Currently there are a large number of women taking a stance and voicing their power across multiple fields and industries—how do you feel as a female designer in this day and age?
WWAKE is a company run completely by young, like-minded women, and as painful as this political climate has been, it's driven us to work harder and fight for the future that we want to see. I want to see more female designers, more thoughtful brands that design for progress and use their platforms to bridge difficult conversations, and I want to see customers that stand behind this and make thoughtful purchases.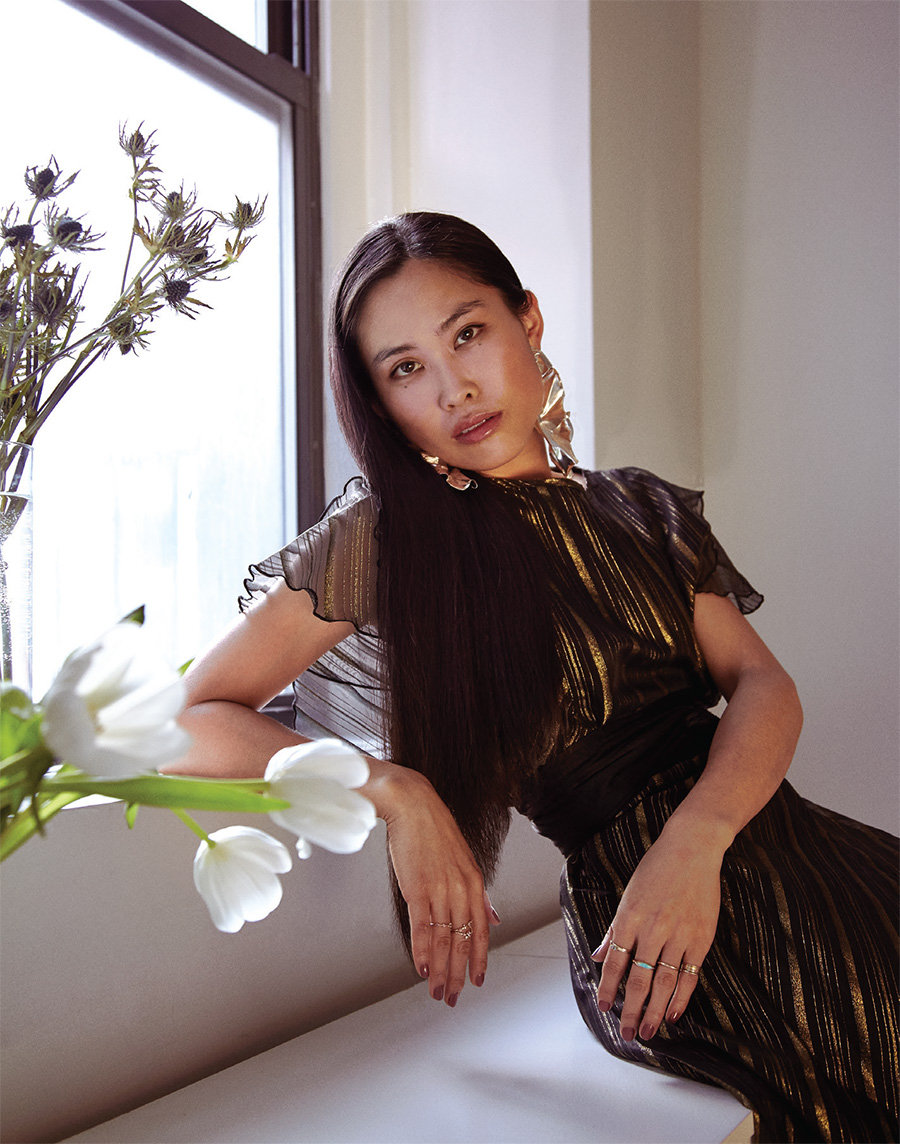 Vintage Dress from Nice Piece in Paris
For more information visit wwake.com