STUDIO VISITS: LYNN BAN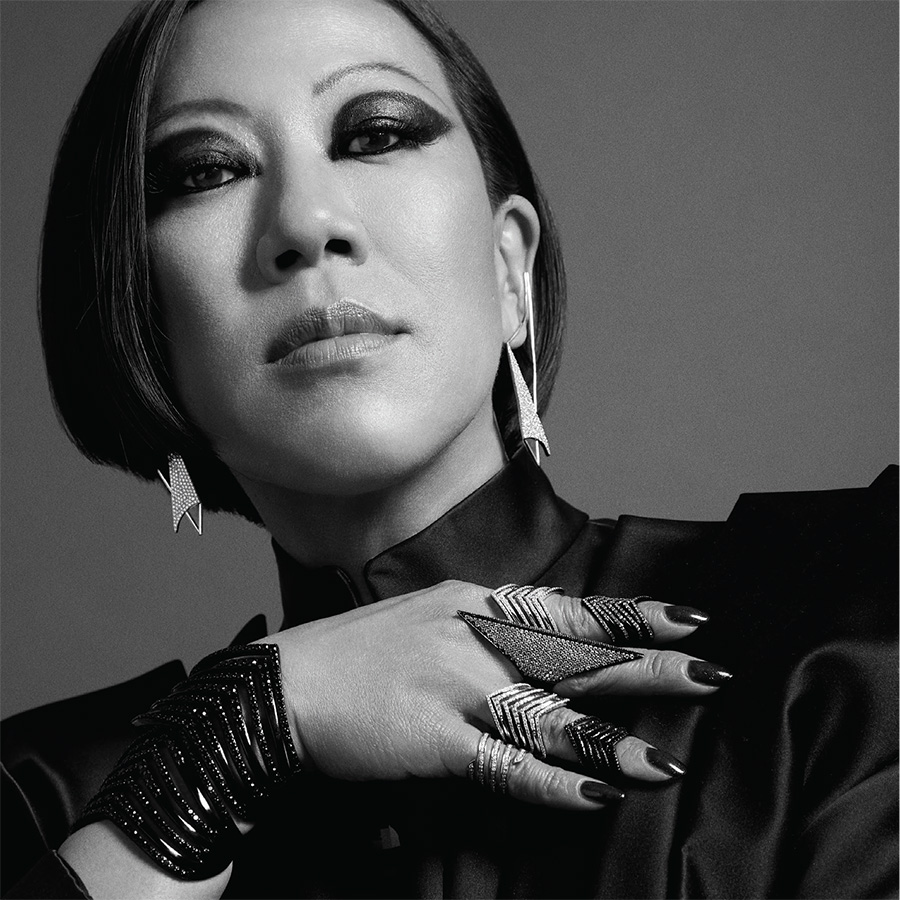 Top by Balmain, All Jewelry by Lynn Ban
Photography by Dustin Mansyur | Hair and Makeup by Nina Soriano | Interview by Benjamin Price
Scrolling through Lynn Ban's Instagram profile is enough to understand the designer's seductively ostentatious aesthetic. Heralding the spirit of modern women, Ban strikes an effortless balance of sensuality and strength, suggesting the dreams of her world within and summoning the mysteries of the world beyond. Ban has designed rings of glittering, articulated armor, ear cuffs akin to the Death Star, and minaudieres that resemble solid gold bricks; she is glamour, excess, and luxury, offset by a healthy dose of humorous self-awareness. Lynn has been influenced by the gritty-meets-glittering allure of New York, and her work is a reflection of the high energy, high-opulence, global-citizen culture of the city she's been immersed in since her family's immigration as a young girl. Her singular perspective transforms bold indulgences into bejeweled sophistication.
If we knew you as a child, would we have been able to see your future as a creative in the jewelry world?
As a child I would play in my mother's jewelry for hours on end. I always saw jewelry as completing the outfit or playing to one's mood and was always drawn to big statement pieces. Pile it on!
What motivated you to pursue a career in jewelry design? Did your family and friends influence your decision to go into design?
I was always interested in design, whether it be clothing or jewelry. My mother is a gemologist and I learned a lot about stones and jewelry through her and her collection. I started making custom pieces for myself; I was drawn to things that did not exist in the market so I started making pieces that I wanted to wear.
When would you say you experienced your "big break" and what has the journey been like since?
Working with Rihanna. I've been fortunate to work with her since I launched my line seven years ago. It's been an incredible journey being able to do jewelry for her tours, videos, and performances, leading up to four seasons of Fenty Puma shows. She really pushes her team to do their best, and it's so inspiring working for her. She is THE BOSS!
You have a vivacious, flamboyant, and daring signature luxury style, where does this aesthetic come from?
Fashion is meant to be fun and fantasy. I've always loved making a statement and over-the-top pieces. Who says you can't wear sequins in the daytime? Fashion should put a smile on your face whether you be the wearer or spectator.
You have worked with some of the most influential musicians and actors in the world – how do these iconic talents change the work you produce? Do you feel your work becomes transformed when someone like Lady Gaga or Madonna wears it?
These artists definitely influence my work. They give me creative inspiration. When designing a piece, I think, .what would they wear and rock? When and how would they wear it?. Artists like Madonna and Gaga are both so influential through their fashion and many incarnations.
Many brands have decided to make their work more sustainable in an effort to combat the harmful effects of the fashion industry – how does your brand reconcile the mining and consumption of precious materials with the brand's opulence and ethos?
I think it's great that fashion and jewelry are becoming conscious of their carbon footprint and sustainability. I obviously use conflict-free diamonds. Jewelry is timeless, and beautiful pieces are heirlooms that retain their intrinsic value through their materials and design.
What can you tell us of your upcoming projects and collections? What direction is the Lynn Ban brand going into for 2018?
I am launching a capsule collection of evening bags. I'm super excited for the Lynn Ban woman to rock a killer evening bag that makes as much of a statement as her fashion and jewelry. I mean, what is more baller than a gold bullion evening bag? Slapping that gold brick on a table when you sit down for dinner says it all!
Currently there is a huge force of women standing up for themselves and voicing their power – how do you feel as a female designer in this day and age? Have these events in Hollywood, politics, and fashion affected you?
Most definitely! The escapism and fantasy and joy that we find in fashion is needed more than ever. In these socially and politically tumultuous times, women need to feel empowered and let those abusers know that #TimesUp.
What have you learned the most about yourself since launching your eponymous label and how has that affected your brand identity since you first began?
To always keep pushing yourself and take risks. Don't be BASIC!
What is the future of jewelry design and how do you think technology will affect it?
Mining outer space and discovering new materials and stones.
Where do you see the brand in 10 years?
At the very TOP of course!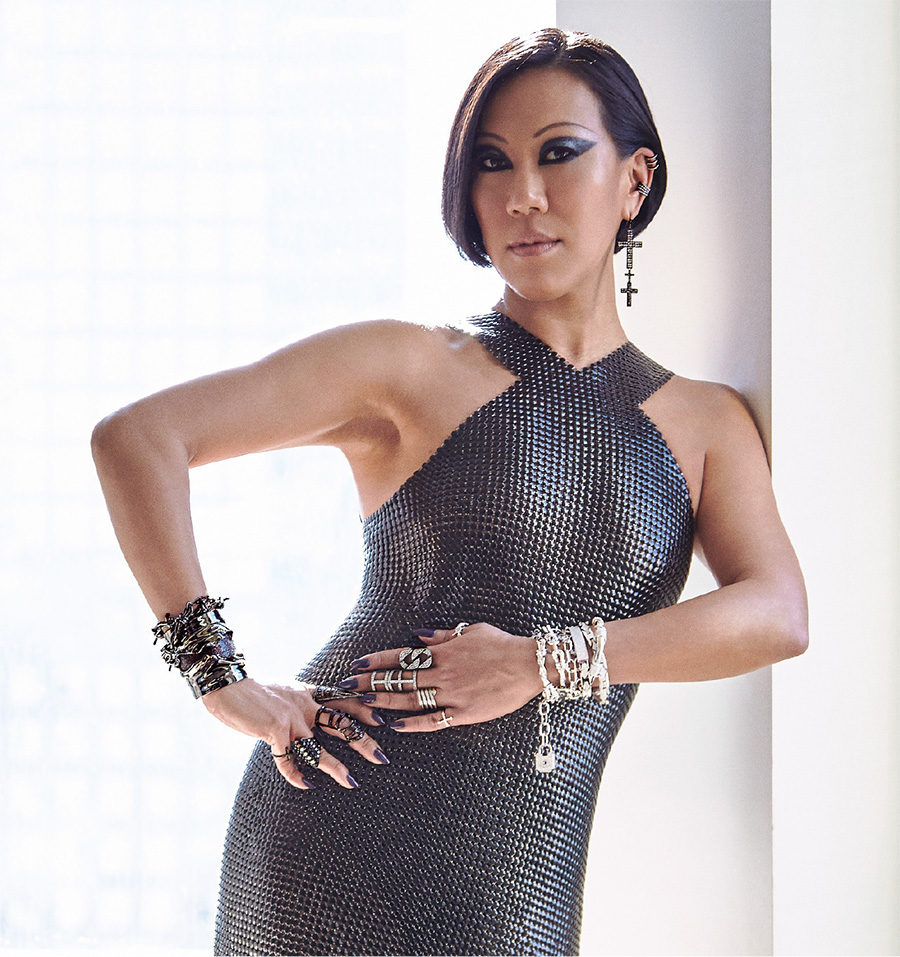 Dress by Paco Rabanne
For more information visit lynnban.com