MOËT & CHANDON C/O VIRGIL ABLOH – "DO NOT DROP"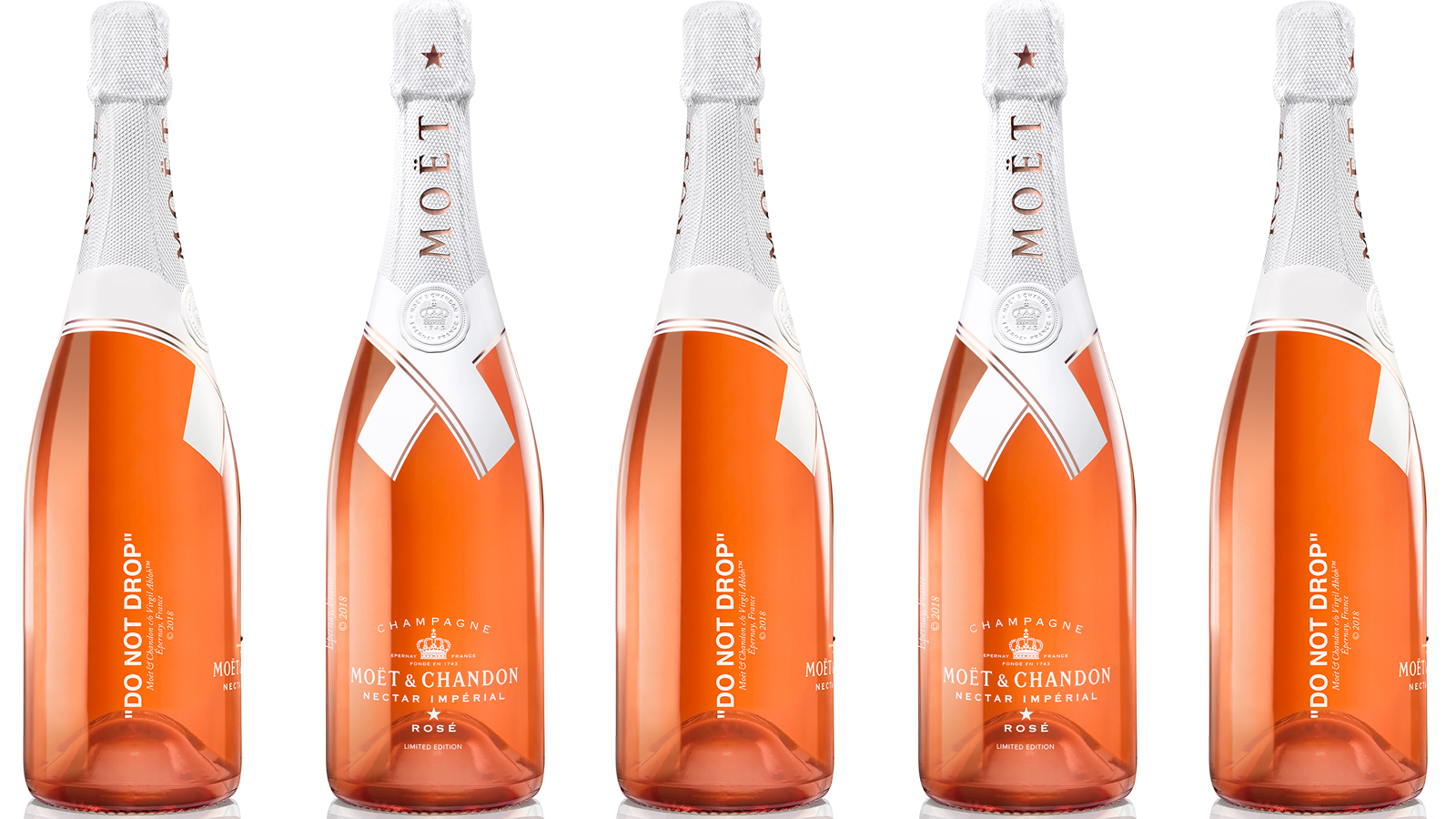 WHO Moët & Chandon, the champagne of success and glamour, and designer Virgil Abloh, the founder of fashion label Off-White and Louis Vuitton's newest menswear artistic director
WHAT Moët and Abloh have come together release a collection of two limited edition bottles of Moët Nectar Impérial Rosé – the #1 selling rosé Champagne in the US – marking the designer's first-ever liquor brand collaboration. A 3L jeroboam, which will be available exclusively to friends and family of Abloh, as well as a 750mL "ready-to-wear" bottle that will be available nationally
WHERE Clos19.com and local retailers (750ml only)
WHEN October 15, 2018
750ml bottles: $59.99
MOËT & CHANDON, the renowned and legendary champagne of success and glamour since 1743, has released a collaboration rosé with fashion's it-boy provocateur Virgil Abloh. This is Abloh's first creative partnership with an alcohol brand, and he has chosen an equally pioneering luxury maison to introduce him to the world of fine spirits.  MOËT NECTAR IMPÉRIAL ROSÉ pleases the senses with its refined and sophisticated richness and distinguishes itself by its extravagant fruitiness, its density on the palate and crisp finish which surprises and delights. Virgil, the American designer, has impacted many creative fields since his rise to fame as close friend and creative director of Kanye West, from fashion to furniture and music, Abloh has imprinted his signature on everything he touches.
The bottle of the Nectar Imperial is stamped with "DO NOT DROP" on the side, a classic trope of Mr. Abloh's as a Warhol-esque nod to the tongue-in-cheek nature of his work, stating the obvious with an artistic twist. These bottles are sure to fly off the shelves as the fashion hoards clamor for anything with Virgil's association, and the refined and luxurious quality of Moet & Chandon is assured with every bottle. 
VIRGIL ABLOH is an American designer, DJ and stylist who came to prominence as Kanye West's creative director. Born to Ghanaian parents and raised in Chicago, Abloh has since made waves in the fashion world with his luxury streetwear label, Off-White, worn by the likes of Jay-Z, ASAP Rocky, Rihanna and Beyoncé. In 2015, Off-White was an LVMH Prize finalist, culminating in his appointment as artistic director of menswear
at Louis Vuitton in March 2018. "This opportunity to think through what the next chapter of design and luxury will mean at a brand that represents the pinnacle of luxury was always a goal in my wildest dreams," he said of
his appointment.