STUDIO VISITS – TALI LENNOX
Away from her newly adopted home of Los Angeles, multidisciplinary artist Tali Lennox takes us inside her New York loft to share her daring, emotional paintings and collages that capture the fleeting nature of memories.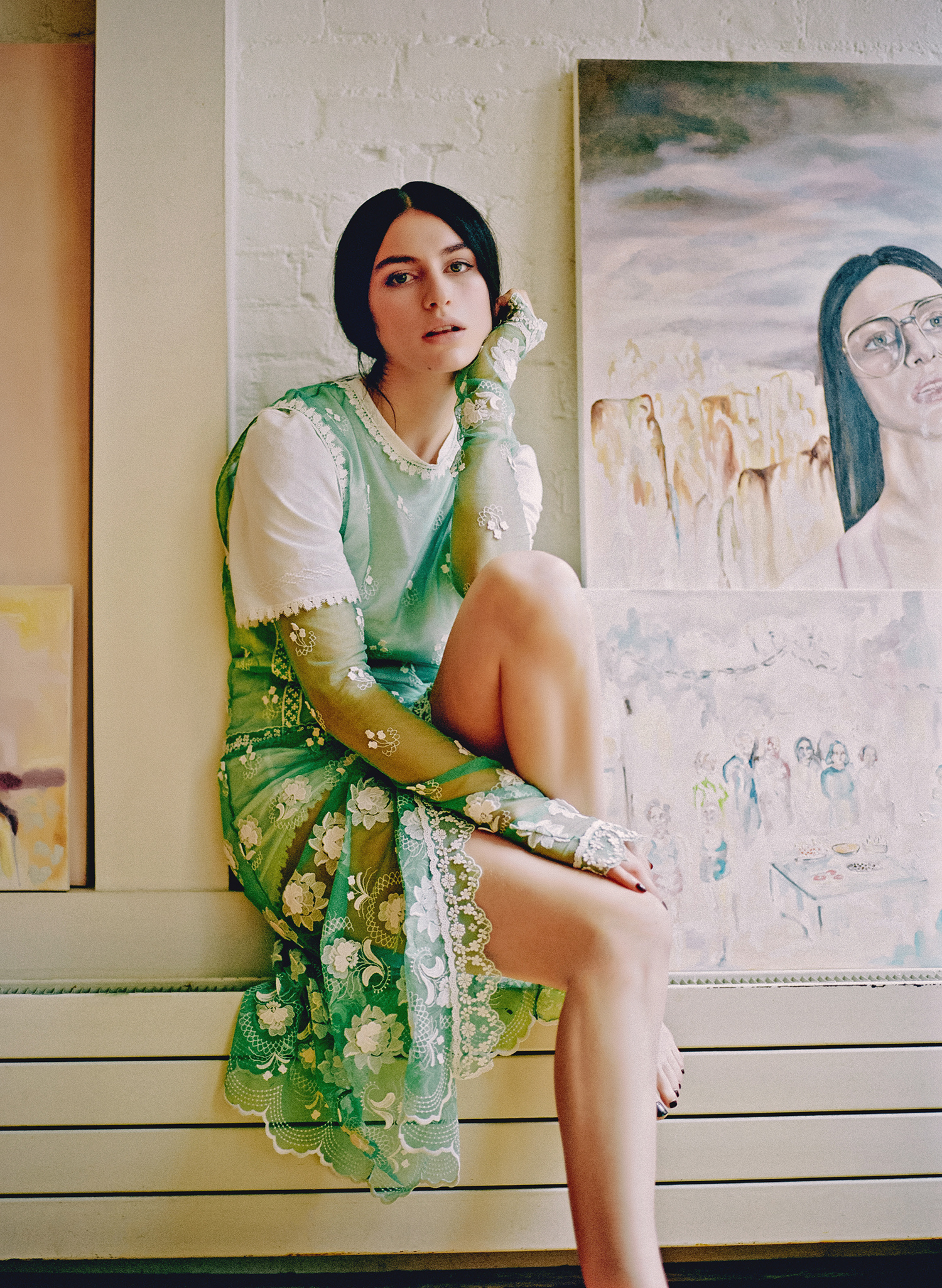 Dress by Burberry
Portrait Photography by Tiffany Nicholson | Interview by Anna Furman
In Tali Lennox's self portraits, her face is often obscured by charcoal-black facial masks or distorted by bulging eyes and drooly, menacing expressions. When she paints figures, their identities are kept hidden and their facial features are imbued with an abstract, spectral quality. The British-born artist, daughter of singer Annie Lennox and film producer/ director Uri Fruchtmann, has made a name for herself in art and in fashion. At the age of seventeen, Tali began walking runway shows for the likes of Miu Miu and Roberto Cavalli (most recently, she starred in the lingerie brand Agent Provocateur's tastefully noir-inspired campaign as well as the international campaign for David Webb shot by Inez and Vinoodh).
In 2015, she spent a month in residency at New York's Catherine Ahnell Gallery, and the following year, mounted an exhibit inside the storied Chelsea Hotel. Both shows explored Western attitudes toward aging and the role memory plays in our collective conscience. She represented grooming habits as odd, culturally specific acts, and took a close look at ordinary gestures (holding a glass, washing one's face)–encouraging viewers to reexamine their own everyday lives. Elements of Lennox's portraiture–unusual head-to-body proportions, sanguine facial expressions–invite comparisons to celebrated American painter Alice Neel.
After tragically losing her boyfriend to a kayak accident two years ago, Lennox moved across the country to start a new chapter of her twenties in East Los Angeles. IRIS Covet Book sat down with Tali to chat about maintaining a bicoastal lifestyle, painting in solitude, and our shared admiration for the artist Tracey Emin.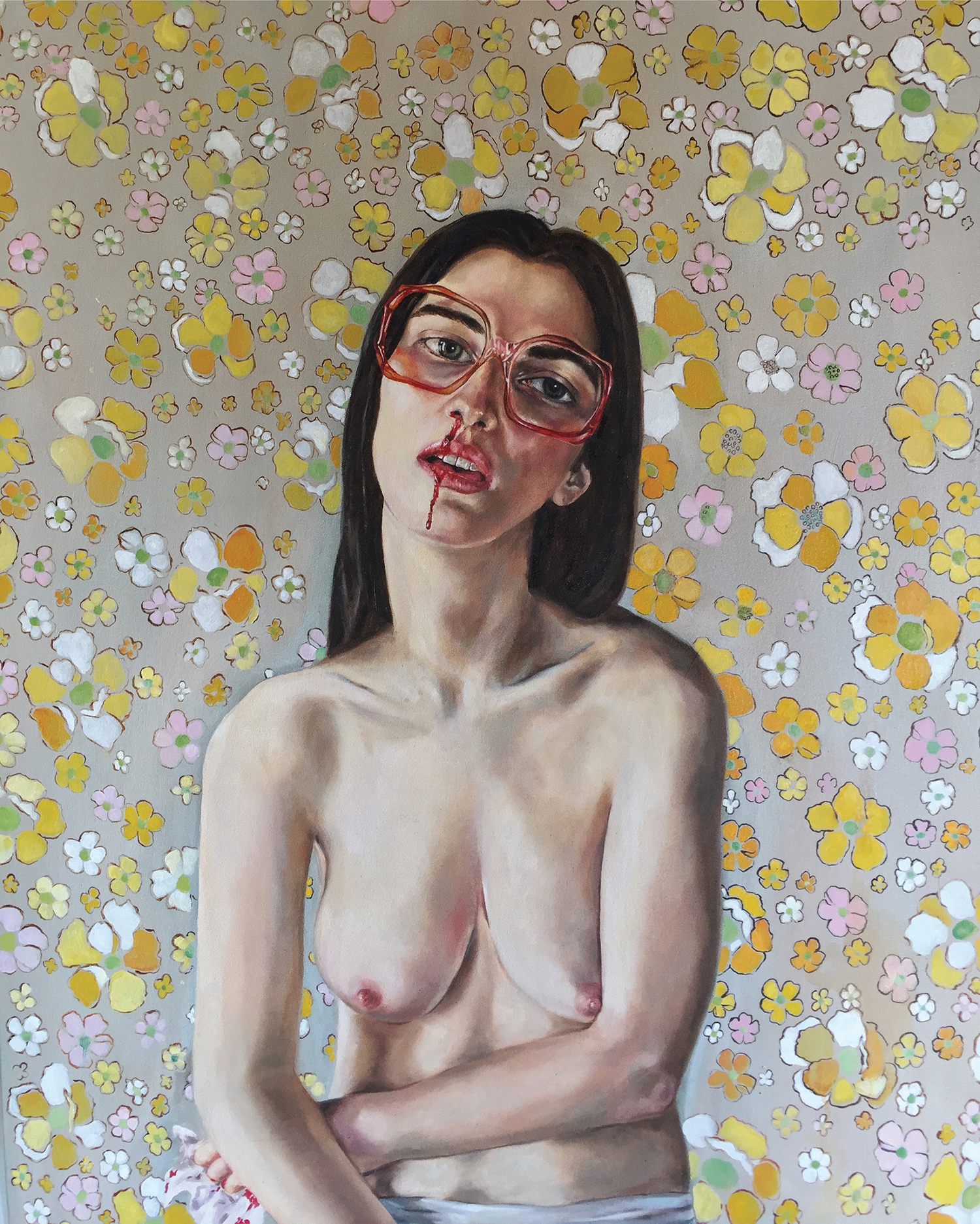 Nose Bleed, 2017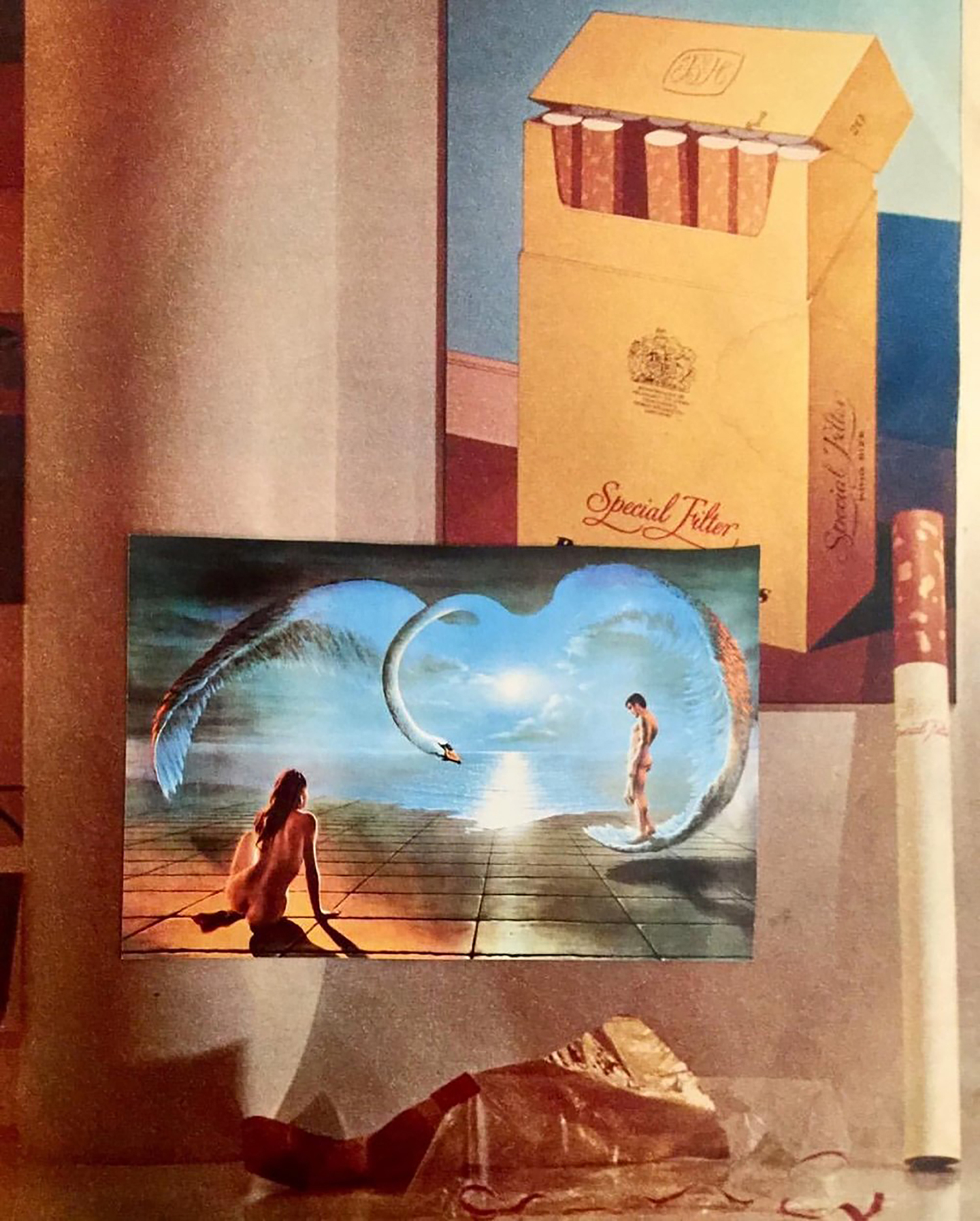 'Inhale the Oasis' collage, 2016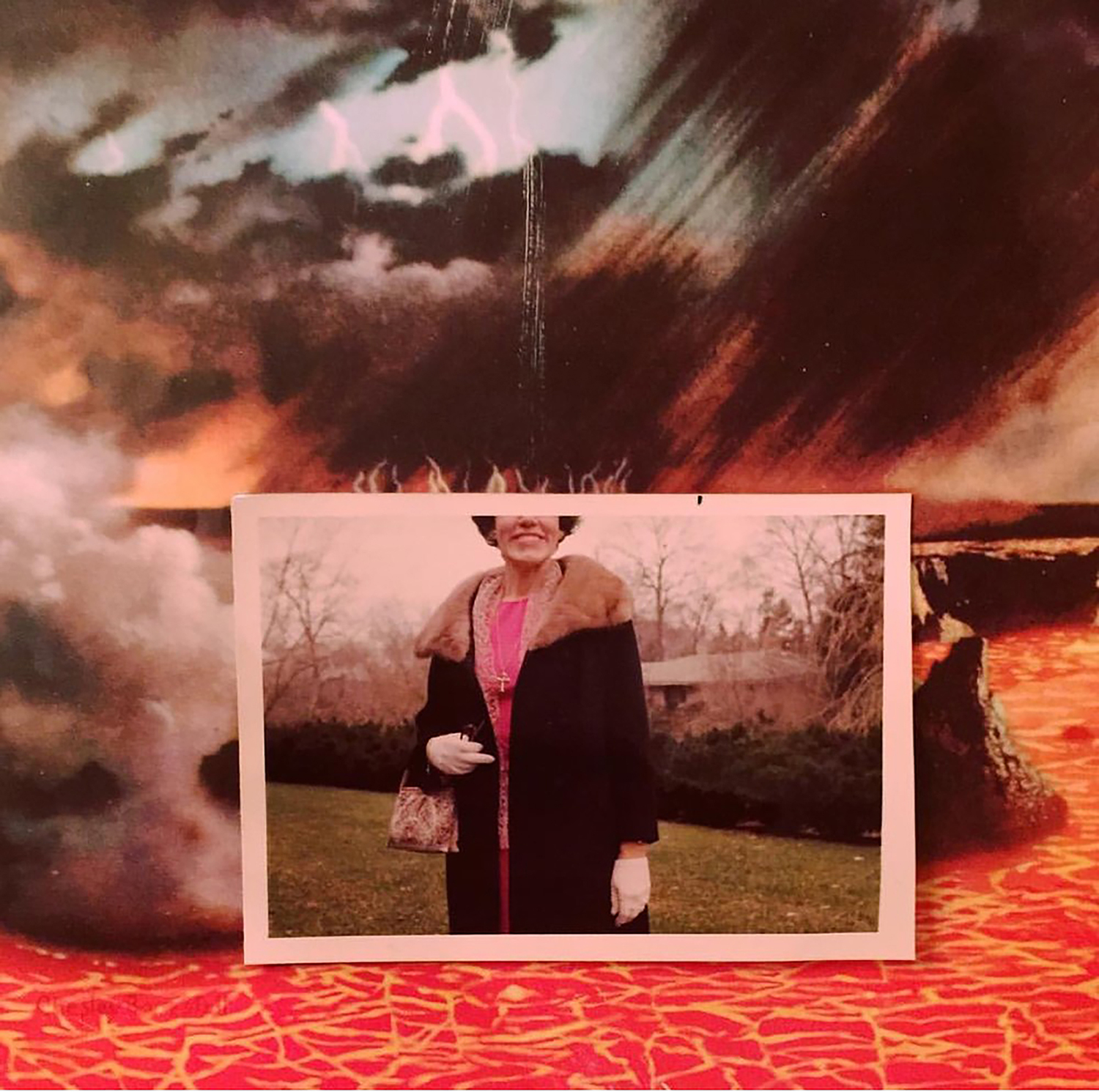 'Mood Swings' Collage, 2016
Hi! How's your morning been?
Very quiet. My roommates are both away right now so it's just me in our treehouse-y home. My favorite hours to paint are either first thing in the morning or late at night so that's what I did. I've had a full day of painting reclusiveness.
What are you painting right now?
I'm working on a painting of my friend Lili. It involves blood, tan lines, and pink silk. I've been curious about what it is to be a woman capturing other women. I want to gently challenge the viewer's own awareness of sexuality. I love to paint nudes, skin, boobs… it interests me to figure out how my perspective differs from that of a man's, which can come from such an objectified angle.
I've had a morbid curiosity since I was a child. I'm fascinated with gore and ghosts. I like to add in elements like blood and drool to my recent portraits, to explore the lines of attraction and repulsion. Recently, I posted a picture of spilled red ink on a mattress and it wound up in the newspaper because people thought it was period blood. Men and women were commenting on it–calling it disgusting. I wasn't even trying to suggest or make a point about period blood when I took the photograph, but it did get me thinking. It's a little absurd that women have been having periods since the beginning of humanity and yet people still find it so outrageous.
You relocated to Los Angeles from New York, but you still live in both cities. Why did you decide to move?
I'm in Silver Lake mostly. I love having trees outside my window, and the sense of vast space in LA gives my ideas a certain expansiveness. LA is weird and faded. It's hard to grasp reality here, which I find so inspiring. I go to New York City every couple of months and it's always just a big slice of cake–in a wonderful and somewhat overwhelming sense.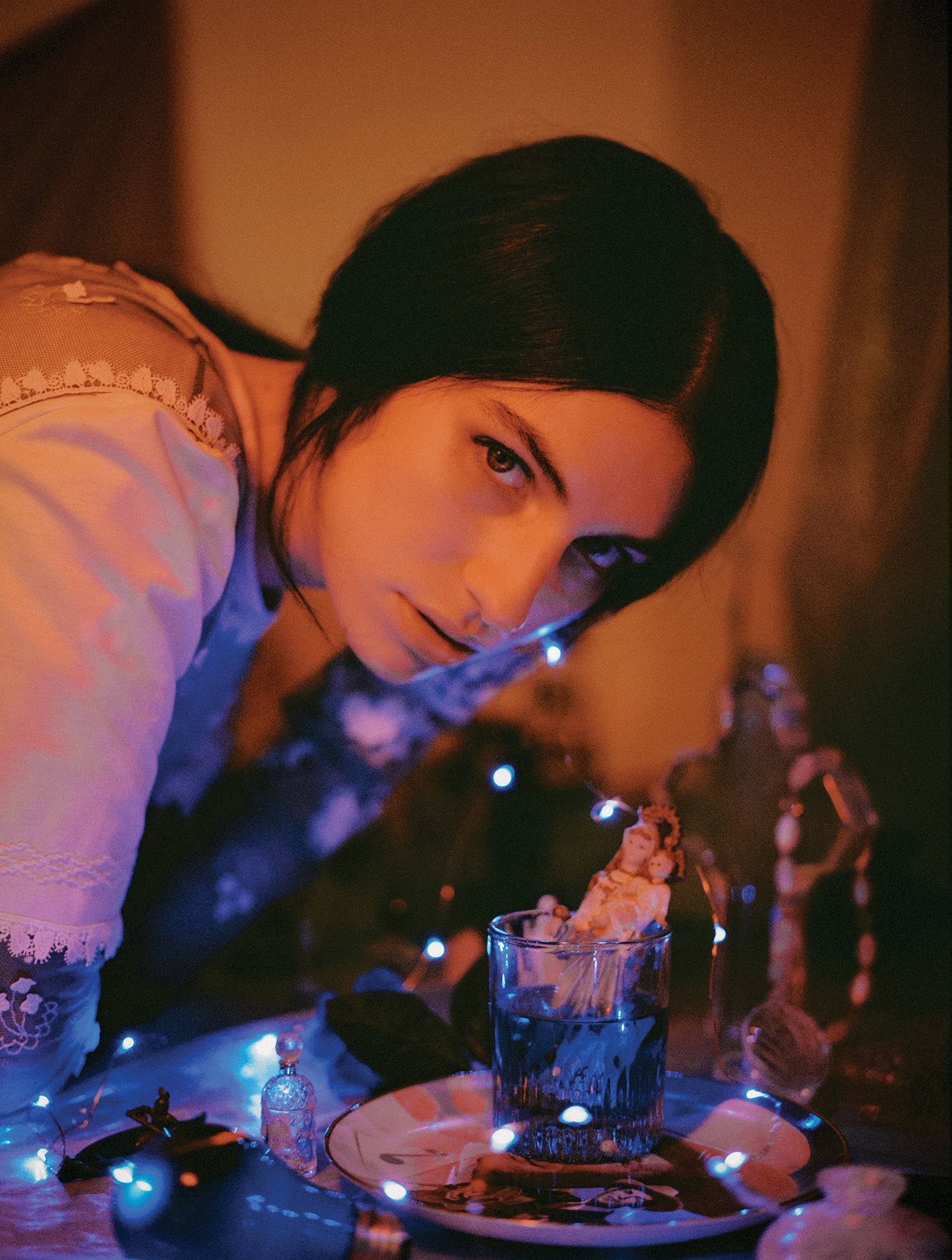 Dress by Burberry
What do you miss most about NY when you're away?
Chinatown, the movie theaters, Serendipity, 24-hour delis, the Met, exchanging a hello with a man who looks like Santa Claus who sits outside my building every morning, the raging desire for a strong coffee in the morning.
Your Instagram bio says that you're a painter slash jellyfish breeder. Jellyfish? Breeder? Please elaborate.
Really the jellyfish breeder thing is just to be silly. I mean, social media should never be taken too seriously. I do have a fascination with sea creatures though. It stems from childhood. I remember being completely hypnotized by fishmongers when I was probably four years old. I loved looking at the fish scales and the variety of colors, and experiencing the strange smells. I would secretly touch the dead fish when no one was looking. I've always been curious about the things others might find gross.
Do you have a regular routine for your creative work? Where is your studio?
I have a rough routine, without regular hours. Right now I paint most often from my room, which I like because I can paint at any hour. Sometimes I like to work late into the night. A lot of people like separating themselves from their work, but I find that working where I live heightens my relationship to the paintings. I mean, I literally wake up and fall asleep seeing it, so I really need to like what I'm doing because there's no escaping it.
Do you listen to music while you're working or do you prefer silence?
I like to listen to a lot of film soundtracks. Hitchcock soundtracks are great. Jonny Greenwood, Disney scores, Alan Watts and Ram Dass are great when you don't want to feel like you're falling down a vortex of isolation. And when I need a little energy, I'll put on the Fat White Family's Champagne Holocaust album.
What are you reading right now? Either book or magazine-wise or just a lingering link in your browser tabs?
I'm about to finish Norwegian Wood by Haruki Murakami–it's utterly beautiful. For a quick bedtime chapter or two, I'll read Anaïs Nin.
Tell me about when you first started painting.
I've been drawing and painting forever, or at least since I was very young. I was the kind of kid to stay in the art room at school during break time. When I was nineteen, I moved to New York and started to develop my work with oil painting. I had been modeling full time since I was seventeen. I guess I was looking for a sense of identity outside of that world. Painting builds such a private relationship with oneself. It's lonely and frustrating–but wonderful.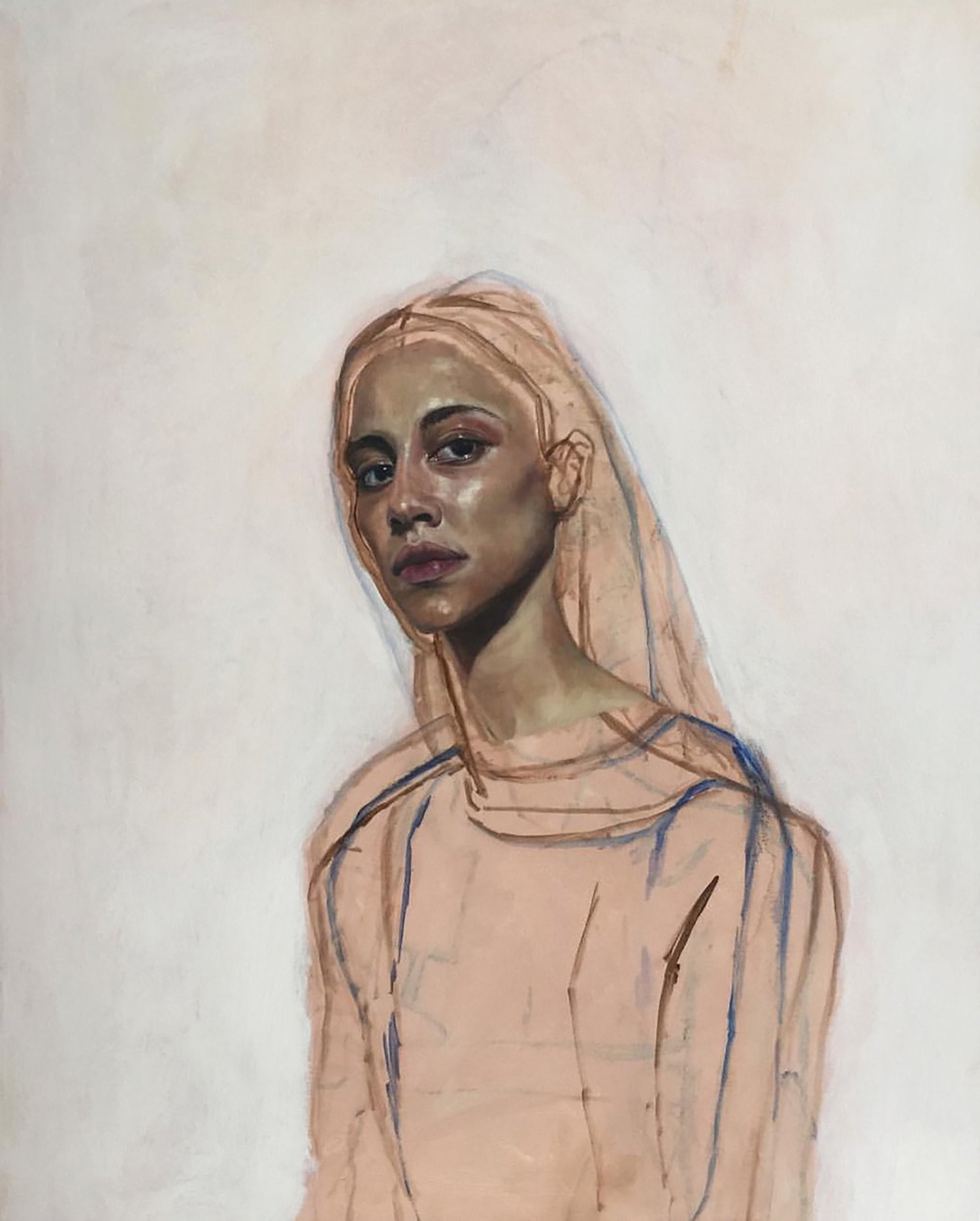 Kaya, 2017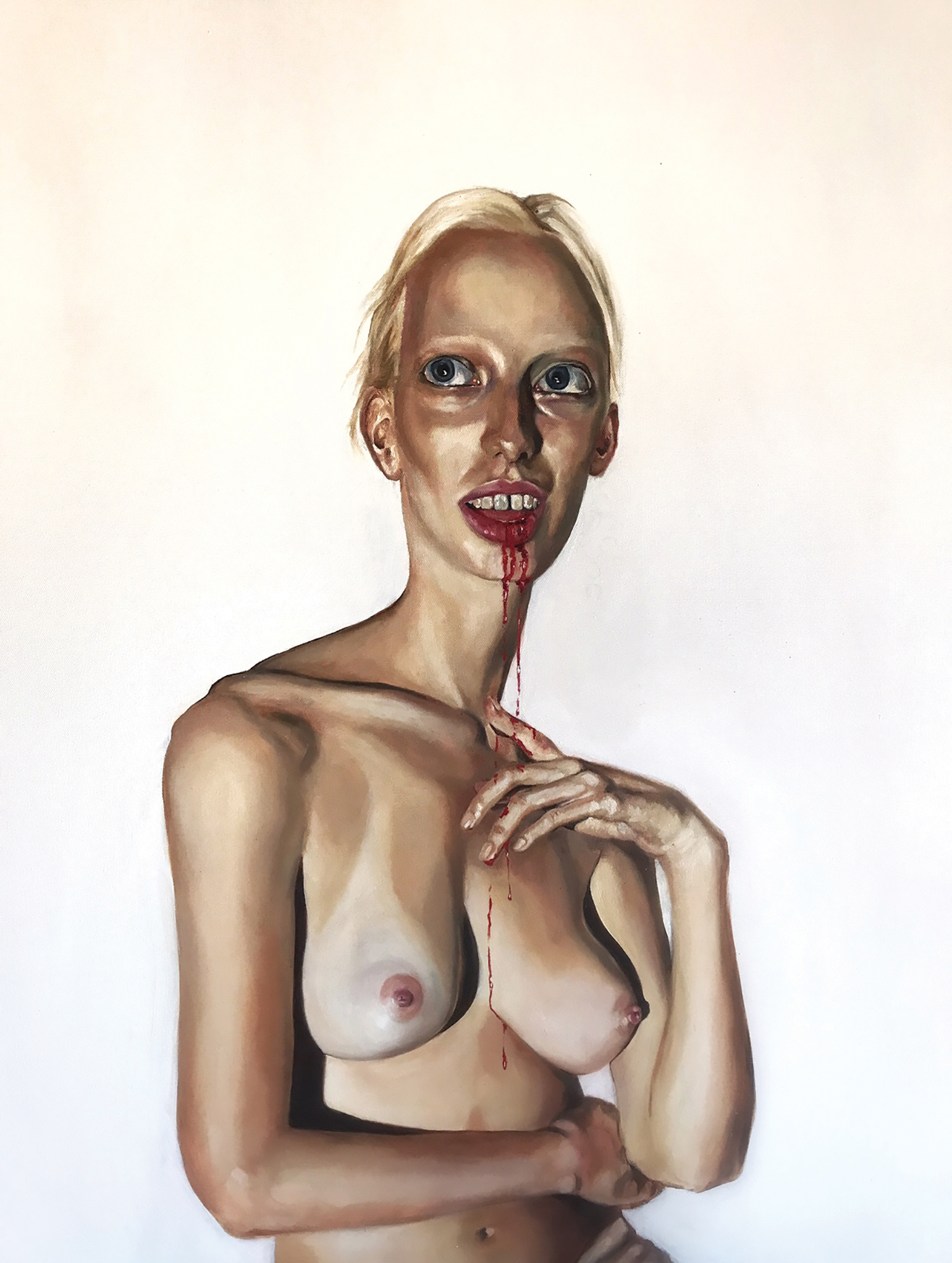 You were raised by world-famous parents– Scottish singer Annie Lennox and producer Uri Fruchtmann – in the UK. Can you tell me a bit about your childhood?
I grew up between north and west London and went to a pretty liberal school called King Alfred's, where it was encouraged to be open minded and independent. Honestly, I didn't feel like there was a difference between my mum and anyone else's. I was raised with pretty strong values.
How has your mom's creative work influenced your approach to art-making?
My mum came up with all the visual concepts for her videos and took a lot of risks. She has always been unafraid to express herself, which has encouraged me to keep exploring and experimenting.
I love how you painted terry cloth in that series of self-portraits where you're wearing a bathrobe and charcoal face masks–what other textures or surfaces are you drawn to painting?
I absolutely love painting breasts. Nipples though can take a very, very long time to get right.
You've talked about how your painting practice helped you cope with the loss of your boyfriend, who died in 2015 after a tragic kayak accident. Have you found other practices to be helpful for emotional processing and healing?
I talk a LOT. I'm very open with people I trust. I've also explored a lot of energy practices, mindfulness, being able to truly sit with one's emotion, being present with what comes up. I'm all for feeling fully, releasing, and clearing the way.
What visual artists do you look to for inspiration?
It changes all the time, but lately I love looking at Gerald Brockhurst's paintings. His paintings are eerie and bold and often have an unsettling quality. I love paintings of the past, before so much technology existed, with female subjects. From the Pre-Raphaelite period, John William Waterhouse and from Baroque times, the painter Georges de La Tour. From the Renaissance, Sandro Botticelli. Their technical skill and level of imagination is simply mind blowing.
Do you have any upcoming shows or creative projects?
I would love to do video and performance art pieces. And curate experiential art shows. My last show was throughout The Chelsea Hotel, and my aim was to alter the viewer's perspective of reality. So I'd love to continue mind-bending experiments in obscure locations.
Do you have a dream collaborator? Any particular artist or designer, dead or alive?
I would love to connect with Tracey Emin. I have so much admiration for the vulnerable honesty in her work. Gustav Klimt for his imagination and mad technical skill. And Hieronymus Bosch because he created vast realms, centuries before there was even electricity, and that fucking blows my mind.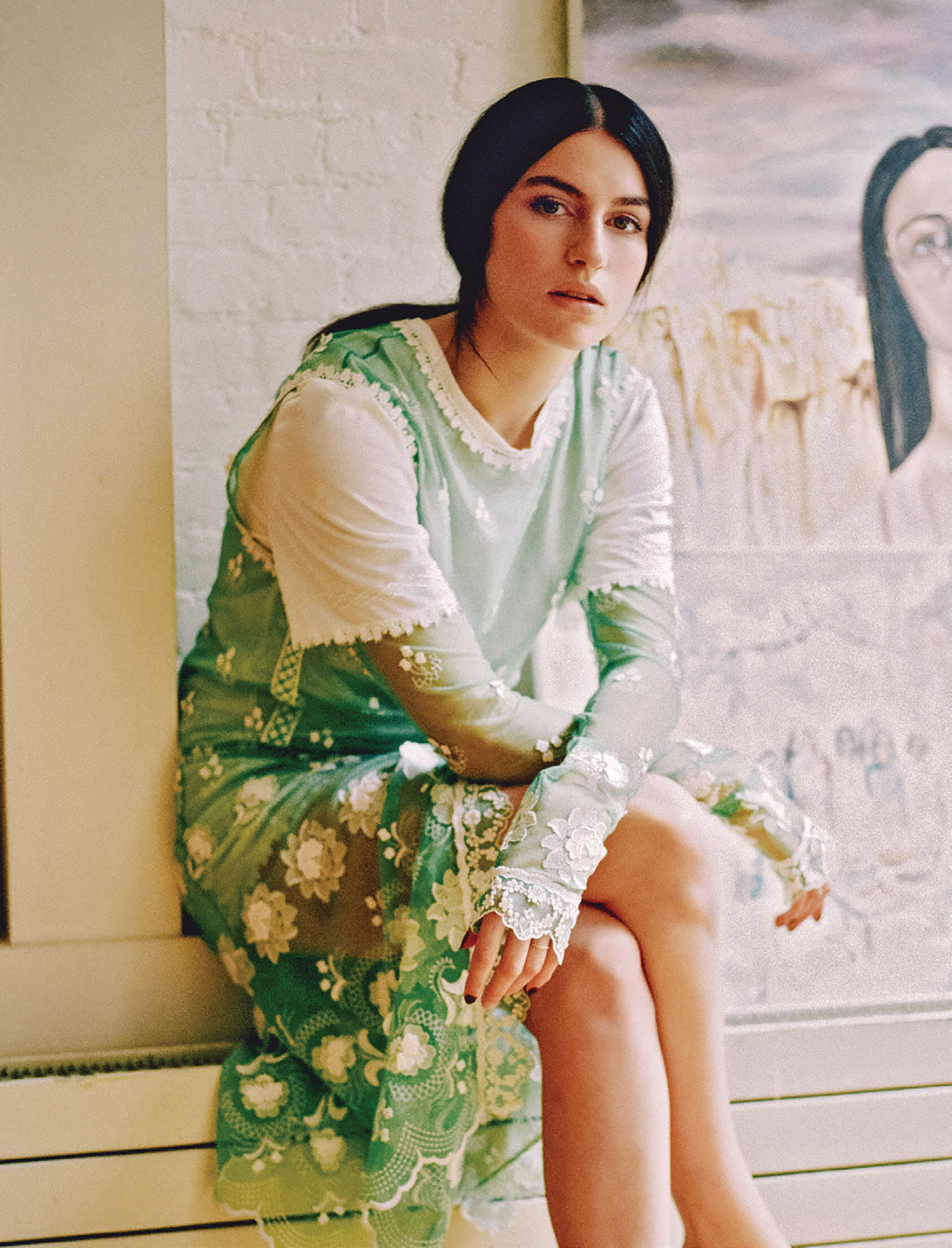 Dress by Burberry
Hair by Austin Burns using Oribe, Makeup by Tonya Riner using NARS cosmetics, Art Direction by Louis Liu, Editor Marc Sifuentes, Production by Benjamin Price
All artwork © Tali Lennox, images courtesy of the artist