STUDIO VISITS – IVANA BASIC
Equipped with a deftly analytical mind full of dark poetry and a taste for flesh, steel, wax, and bone, Serbian sculptor Ivana Bašić explores the fragility of the human condition and invites you to contemplate life's end — if only you're willing.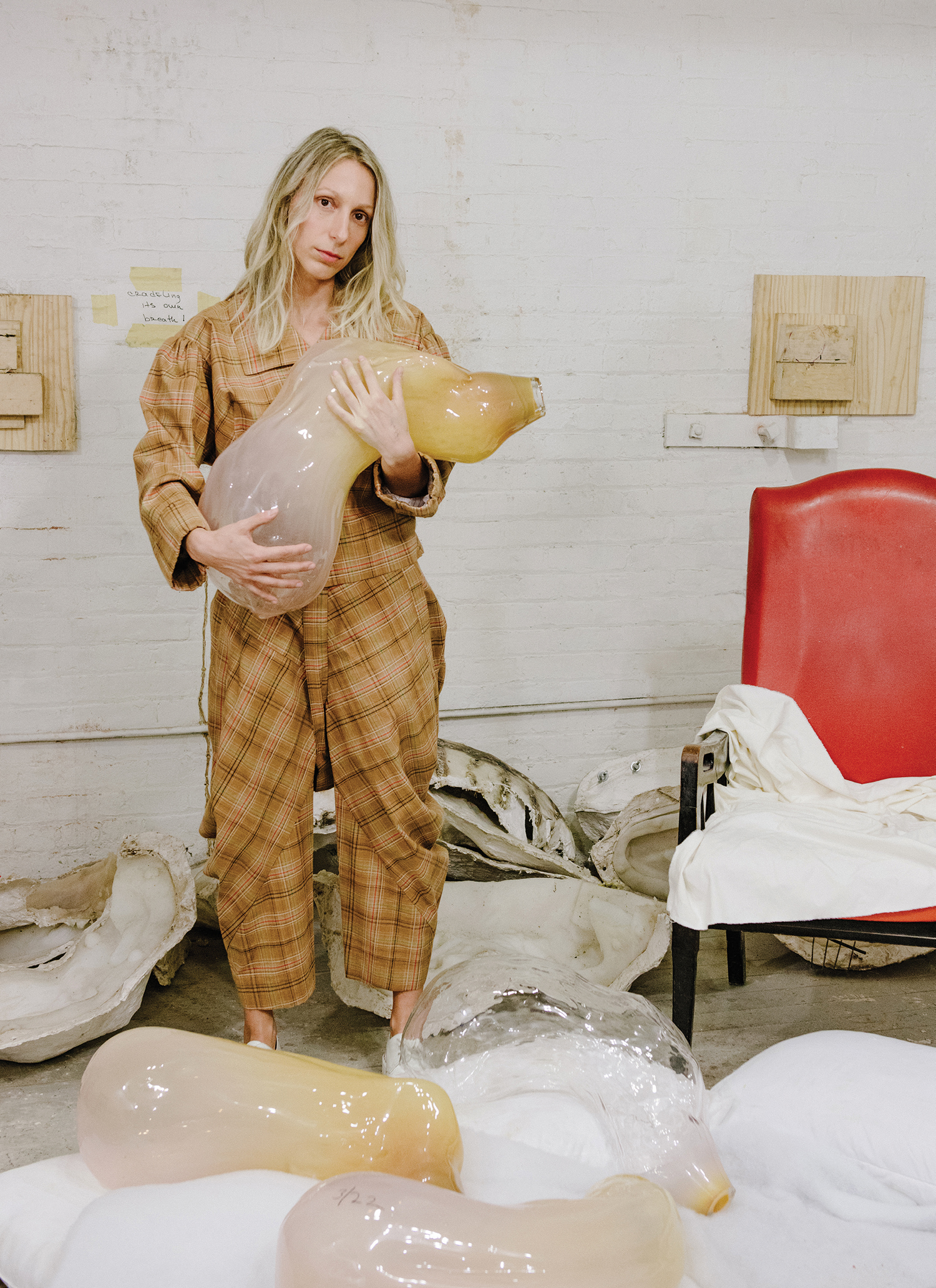 Portrait Photography by Tiffany Nicholson | Interview by Haley Weiss
Unisex Jacket and Pants by Vivienne Westwood, Shoes Artist's Own
Our bodies will fail us. We carry that knowledge as they carry us through life. This corporeal contradiction looms in artist Ivana Bašić's disquieting, stunning work. The 31-year-old suggests the specter of death, whether through figurative sculptures like Stay inside or perish (2016) — which seems to have a force within it that tried to break free, bruising her fragile yet solid physical form — or a performative project like SOMA (ongoing), in which her body is meticulously documented for the creation of a virtual avatar and purchasable 3D model. She ascribes the science fiction bent viewers see in pieces like these to their own fear and avoidance of life's end, because to her, they're simply reality. "People have different thresholds of how much they are capable of bearing, at which point they need to go into self-preservation," explains Bašić. "I think that's okay. The easiest way for people to digest something is to put it into a narrative, to make a fable out of it. They make up a character, and by making one up they're announcing that they're not that character."
For Bašić, who moved from Belgrade, Serbia to New York in 2010, these works are also deeply personal. She funnels her energy and trauma — much of which can be attributed to her youth spent in a country at war — into her art, pushing herself and her materials to their limits. "I have to fully become them in order to make them, otherwise they wouldn't feel the way they do," she explains of the wounded, partial bodies she so often constructs. "It is a lot to become." Since her June 2017 solo show at New York's Marlborough Contemporary, titled Through the hum of black velvet sleep, Basic has been in "hibernation mode," resting her mind after enduring a physically and psychologically punishing production schedule. She worked on the show for six months while maintaining her day job as a designer, and among the material feats she accomplished was suspending her painted wax figures in stainless steel, incubator-like structures, with glass orbs drooping from their necks, for I will lull and rock the ailing light in my marble arms (2017). Now, after recovery and months away from her practice — which by its nature begs draining questions — she is working again, on a new piece for the show titled CRASH TEST, curated by Nicolas Bourriaud and opening in Montpellier, France in February. "I've gathered my strength to dive back in slowly and carefully," she tells us at her Brooklyn studio. In 2018 she will be showing her work back home in Belgrade for the first time. "I want that more than anything, really, because the work is fully saturated by my reality there, and I know the audience will feel it and relate to it," she says. "It would be meaningful to see that something beautiful can come out of it."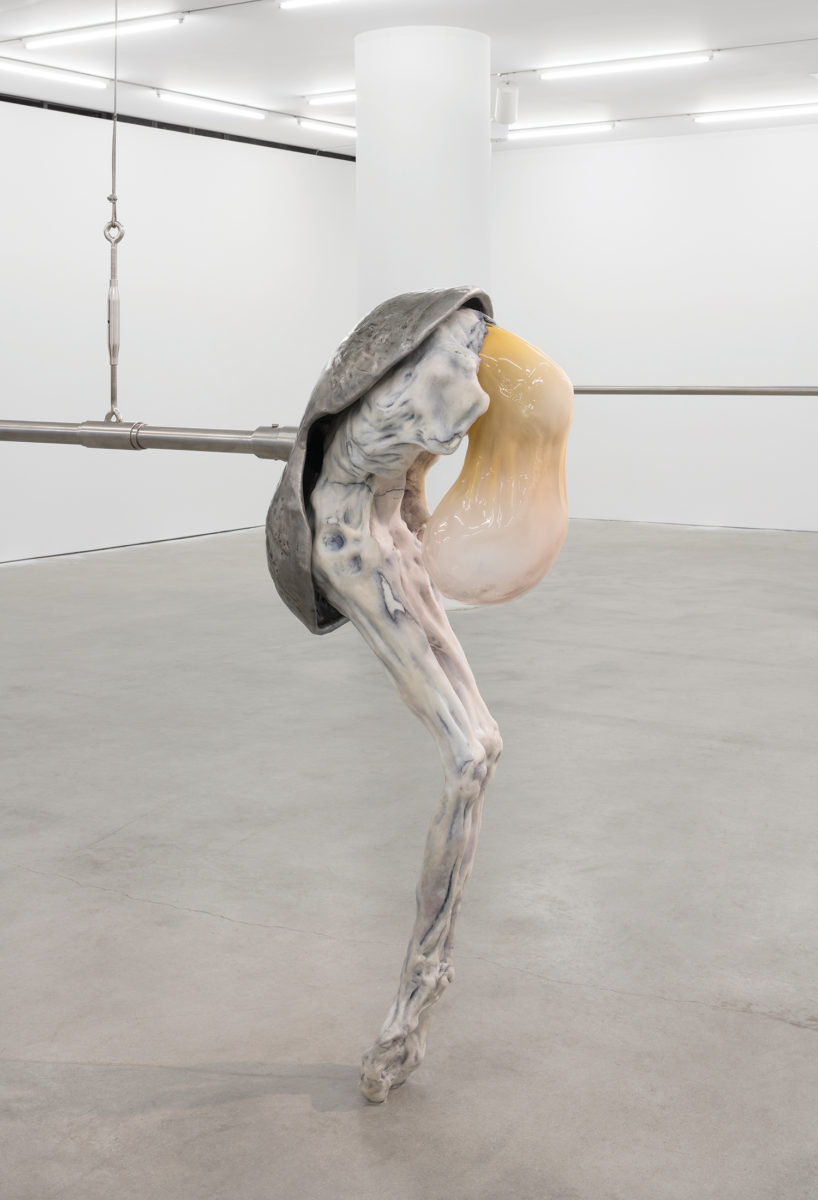 I will lull and rock my ailing light in my marble arms #1, 2017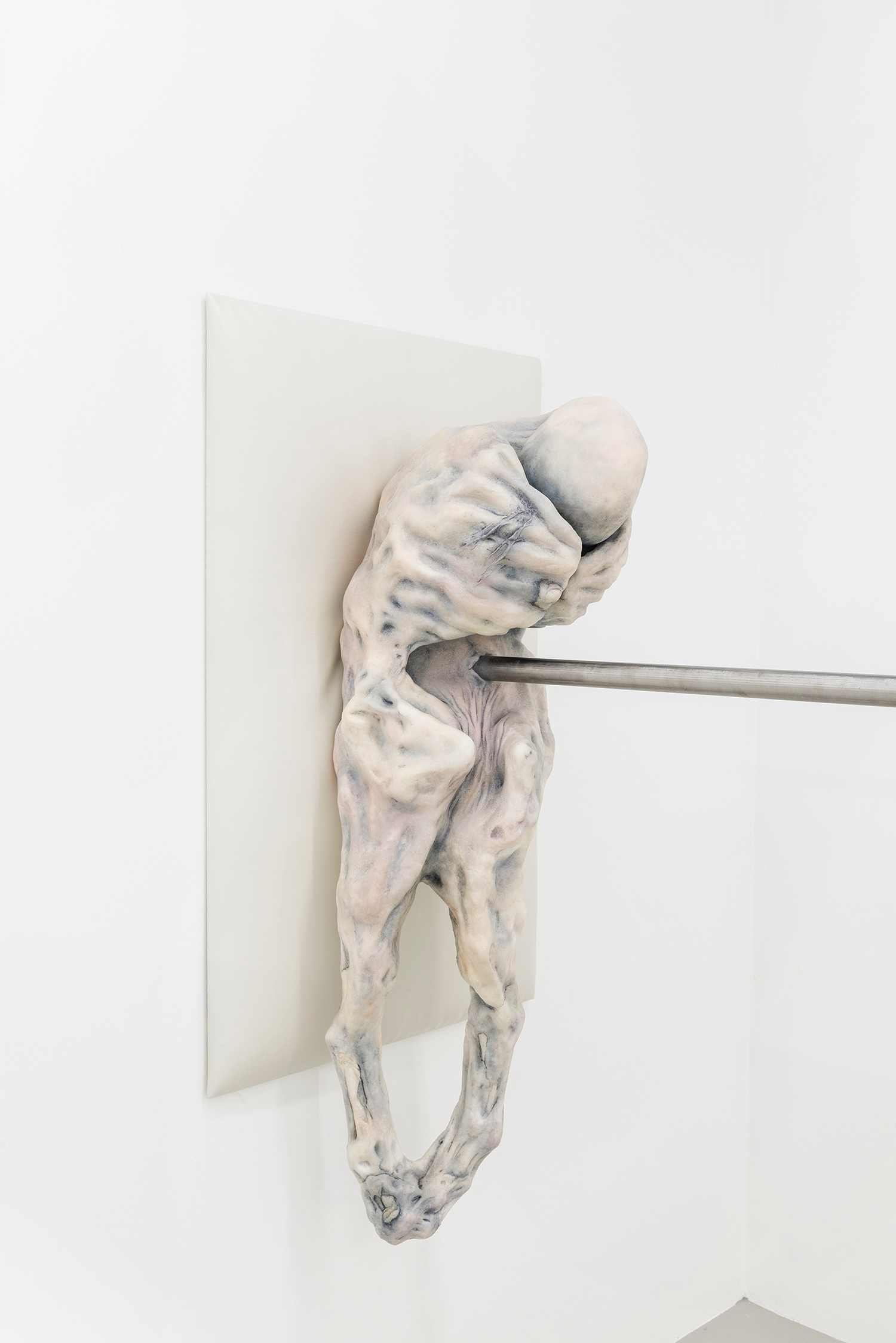 Population of phantoms resembling me #1, 2016
The difficulty of your material process seems in line conceptually with some of what's in the work, like this physical bruising or injury on the bodies. Does the production process deepen your conceptual understanding of what you're doing?
It doesn't in a way deepen it, it's just that's exactly what it is: the pain that I go through is there in the work, it's a direct translation. The process is extremely difficult since I work with very fragile materials and with time you realize that matter always resists. It resists becoming. It's like fractals, where my quest for somehow stretching the limits of the body, or pushing back the end of it, needs to become the truth of each of the elements I work with in order for work to come to life. It's this really complex breakage that happens in your mind, because in order to see the flesh in stone, and in order to see the world in dust — for those things to actually become that — it's not just pure verbal translation, it is an actual transformation of the matter, which is a really complex process. Inevitably, I think the pieces become everything I am.
How do they become everything you are?
Once, many years ago, I was still really caught up into theory and trying to argue my reasons for why I'm doing things, because I felt like I had to justify them. It's the initial insecurities that I think any artist goes through; you feel like you have to support everything with pre-existing theories that are all self-referential and don't really bring much.
I feel like I have come to a point where it all somehow translates into one sentence I was told, which is basically, there is no need to be asserting anything, since the work, like everything that comes out of your hands, will already carry everything that is in you, and it can't not. It will become what you are, so there is no need to fear. It's very direct. For my last show I literally didn't see my sculptures until I installed them into the gallery, and then it was a shock; even though I was making them and lived with them for months I didn't see them, because I couldn't step out of myself and look because I was in. And also there was no need to, since they became everything that was in me so much more than I could have ever tried to insert myself, and more than I was even aware of.
If the work is ultimately a reflection of you — you and the work are one and the same on a certain level — tell me how you see your life in your work. How has being in New York affected your work? How did growing up in Serbia affect your work?
None of those things translate directly for me. I don't make work that is reactive to the outside in any way. I think that for a lot of artists, 'this body of work is inspired by this, and that body is inspired by that.' With me, it's not like that. I have always been on a singular quest.
If I was to articulate one or another [environment], obviously my whole life and my most formative years were back home in Belgrade, which is also where my whole family is. Living there I have always felt a reality of existential fear, the reality of death, which is really something you never experience here [in New York], ever. I feel like the most realistic experience that people have of death here is through TV. It's a simulation at best, and so there is no gravity to life and to everything else consequently, because that builds a whole system of values around it. Really, really early on I understood that the fragility of [life] is something that you can't un-know once you know it.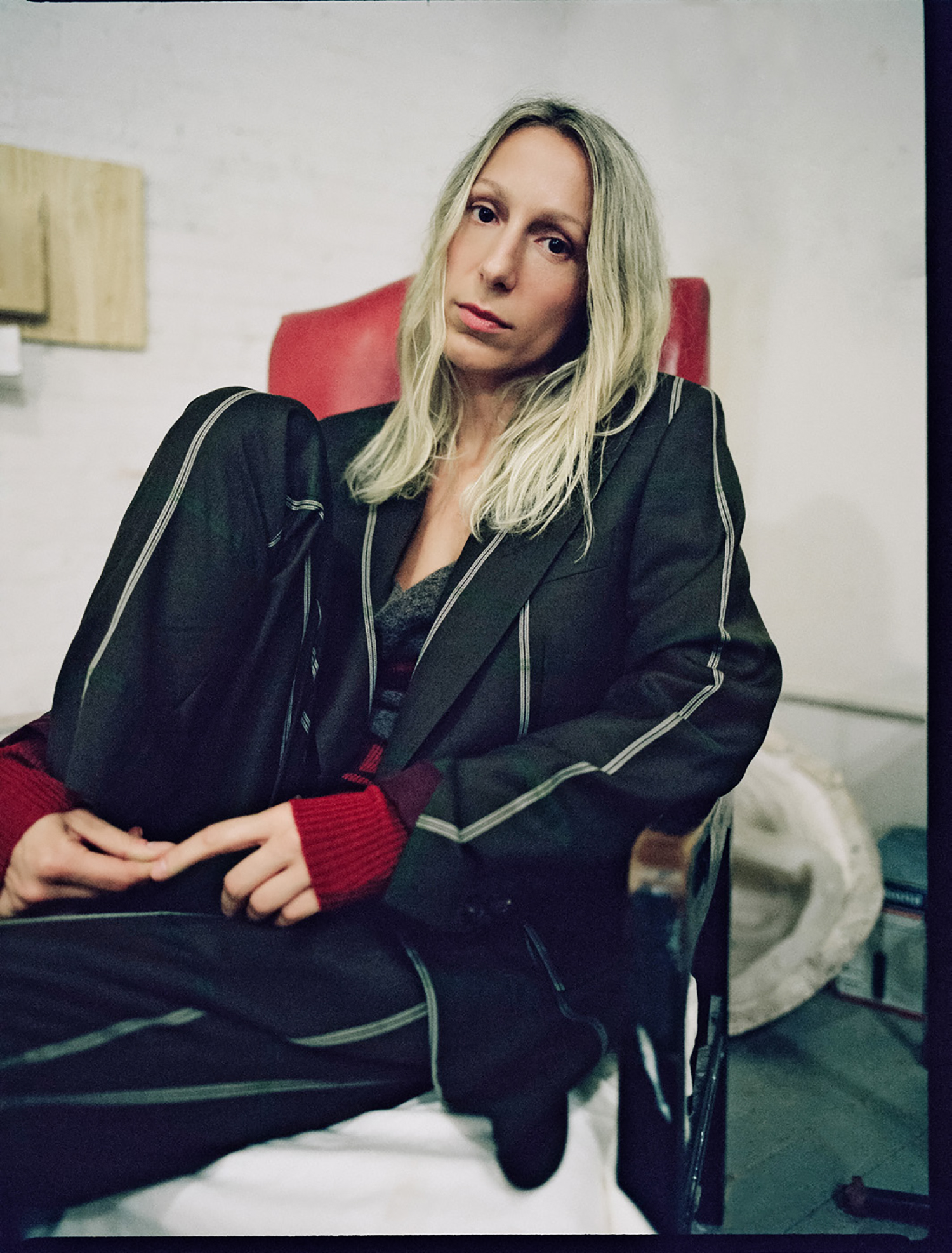 Unisex Suit and Sweater by Vivienne Westwood
In what ways did you come to understand that fragility?
I feel like while I was growing up in Serbia life had been reduced to its barest existence, of people just trying to survive. It was about survival more than anything; happiness felt like a privilege. And there was a lot of bare time. That's on top of the entire political instability — enemies from the outside, and from the inside of our own government. The [1999 NATO] bombing while I was in Belgrade, sitting in shelters for three months and being bombed several times a day… yet still, it's not the specific events of it; it's that you understand what life really is when everything else is taken away.
I think that that has established who I am, and moving away from that and coming here has really propelled some of my fears [about being] able to normalize, as the reality of Belgrade and New York are so extremely different. Here I started to feel the most intense version of all of my fears because on top of the city being as it is, filled with anxiety, there's the underlying solitude of it, which is undeniable.
The relationship that my mind makes is that death is the ultimate solitude, and so the city only exaggerates all the fears, because even though economically, socially in New York it feels like there is all of this cushioned reality around you, I feel like I'm always in this state of pending the apocalypse of that reality. (laughs)
Would you consider yourself an optimist or a pessimist?
I think both. I often encounter in my life strange situations because of my own naiveté, or some kind of idealism if you will, but then I have enormous capacity to construct the absolute worst scenario that can come out of every situation if my fears kick in. It depends — it's a balance.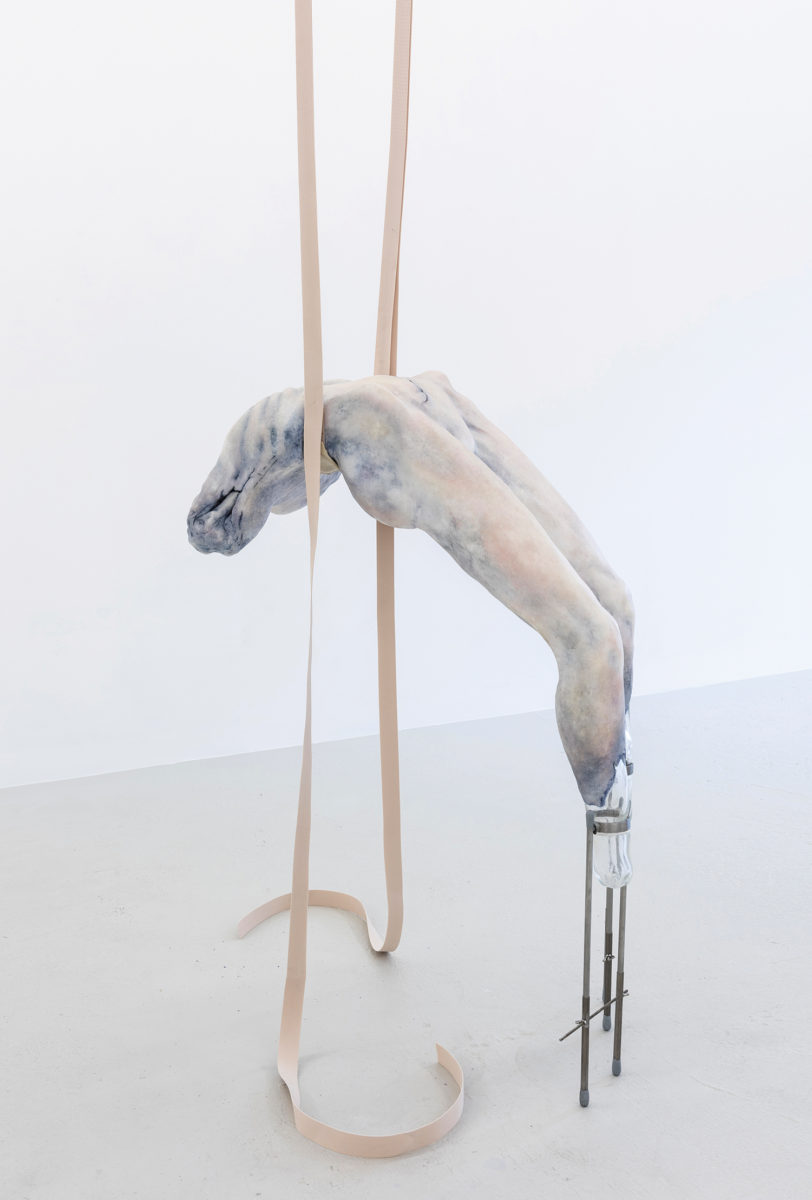 Stay inside or perish, 2016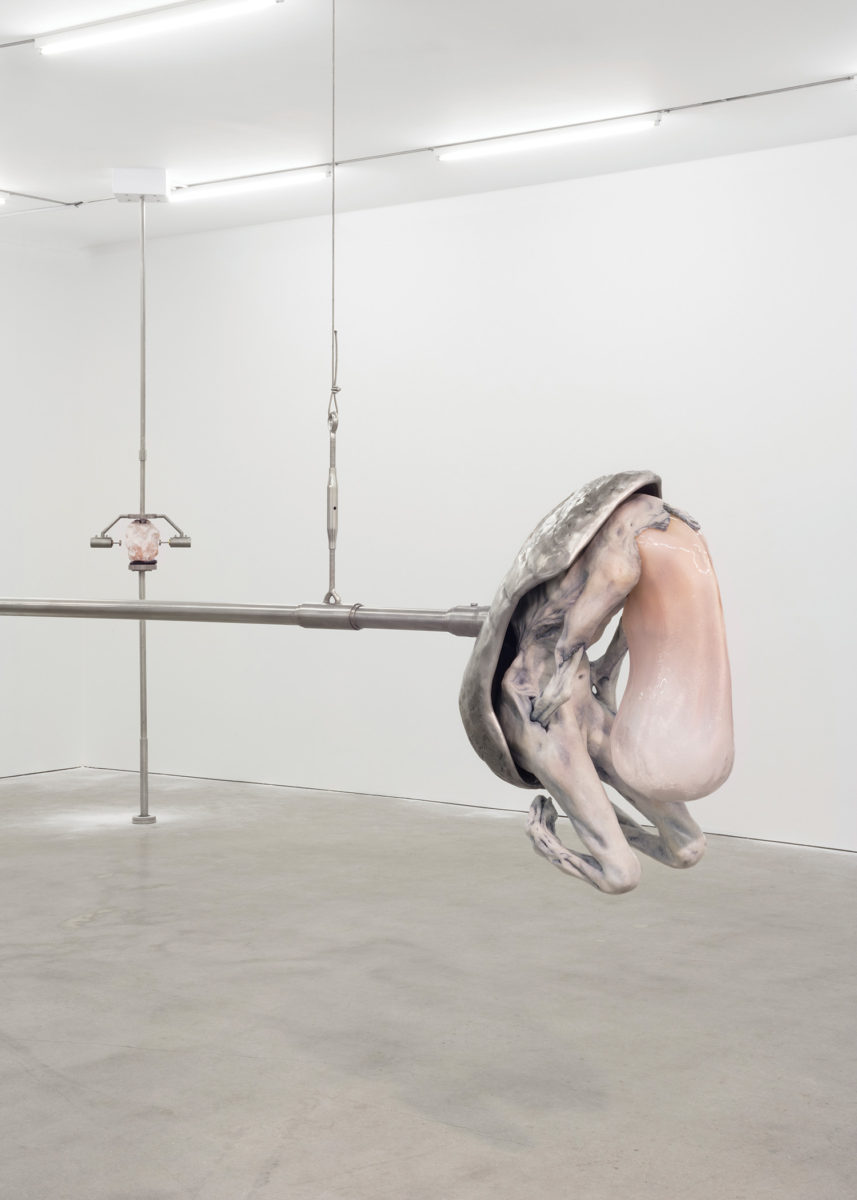 (foreground) I will lull and rock my ailing light in my marble arms #2, 2017
(background) A thousand years ago 10 seconds of breath were 40 grams of dust #1, 2017
I want to talk about text as well, because you have these really evocative, poetic titles for most of the works. But often when you're showing work, the title isn't going to be directly next to it. So in your mind, what role does that text play?
There are two things: there is the voice of the pieces, and then there is my voice over them. At both my show in London, [Throat wanders down the blade at Annka Kultys Gallery,] and the one at Marlborough [Contemporary, Through the hum of black velvet sleep], I worked on a written piece, which was presented as the voice of the sculptures. In my mind, they are not art. They are fully real for me, and giving them voices is just another way to materialize that.
As far as the titles go, that is sort of my farewell poem to them. It always somehow ends up being something that I had felt when I had dreamt them in my mind, and then I went on this entire quest throughout the universe to find them, and when I found them they were exactly how I imagined them. That name is almost that first moment when I thought of them. I think all the names fit perfectly with the pieces, and naming comes as a last thing in my process because I can't know the name until I have gone to find them.
What does making art do you for you? Why do you make art, if you were to put it simply?
It was not my conscious choice, as until a couple of years ago I didn't really even understand what being an artist means and what it entails. Also coming to New York I had realized that for many people it's a lifestyle. People are just doing it because they can, because they want to make something, because it's cool, because they don't know what else to do.
Growing up in Belgrade I had practically no exposure to arts whatsoever, as there was no art scene or market there. Our museums have been closed for 20 years. People were really only trying to put food on their table and didn't care much about art, so for me art felt like a privilege of rich societies. The fact that this, what I'm doing, belongs in "art," is because it was the only context in which this thing that I can't stop doing finally makes sense. I don't like to call it that. When you call it art, you've killed it, as you have announced that it is not reality. And for me it is reality. I do it because I don't know what to do with myself otherwise. I think fear and pain are the two things that are contained in your body, and they're pretty much incommunicable; this is my way to try to let others witness them. It makes it a bit easier for me to cope. I think that my fears are not anything special. I think they're the reality of all of us, so I am just expelling them out and allowing them to be visible. It brings a lot of awareness and brief moments of relief for me. You have to dive so deep in and pull out these things into the light, and then once you do, you have found all these truths, and that changes you. If you make something and it doesn't change you, it means you haven't really done anything. It's my way to understand and be at peace with my own mortality.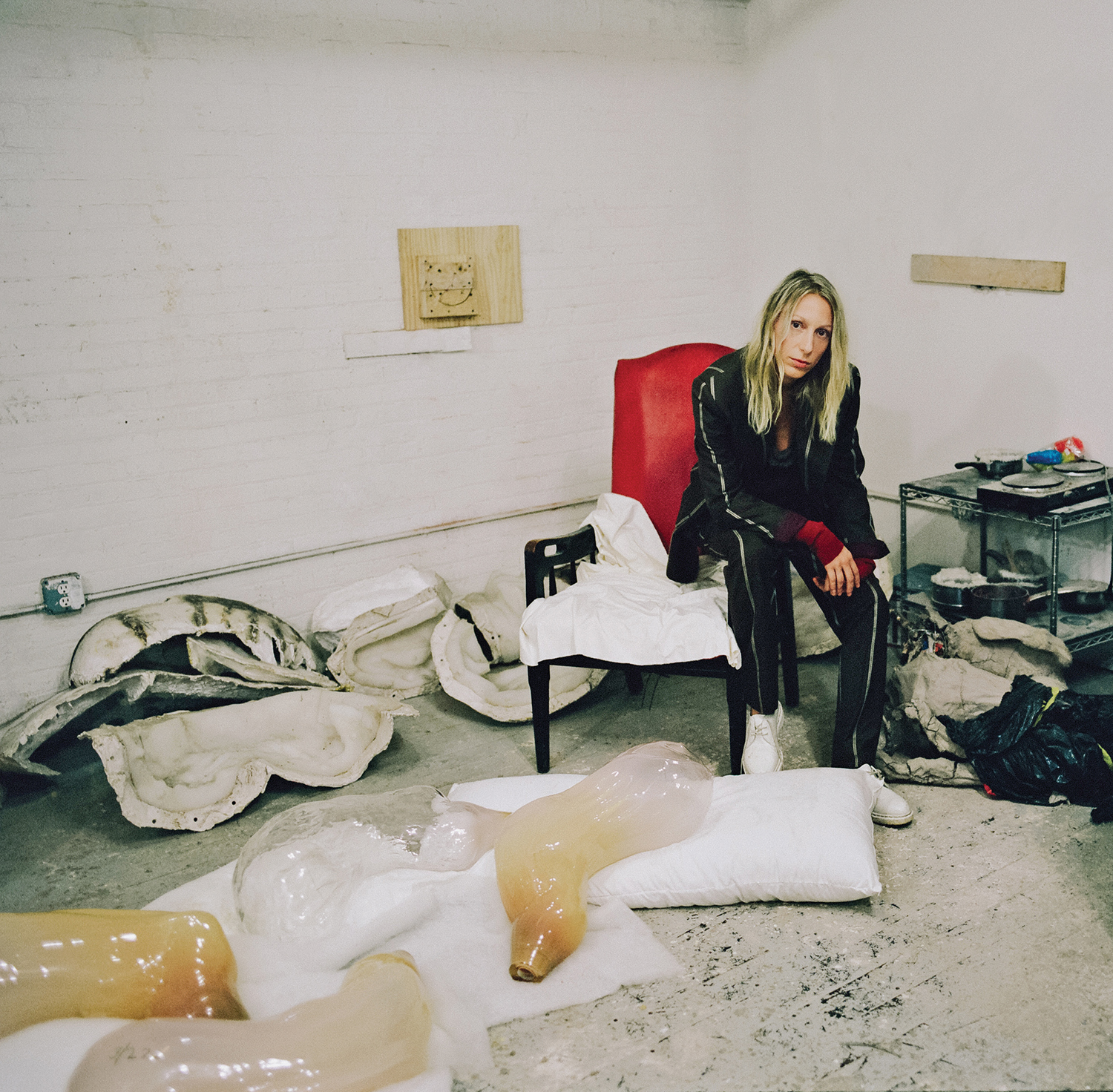 Unisex Suit and Sweater by Vivienne Westwood, Shoes Artist's Own
Hair and Makeup by Agata Helena @ agatahelena using NARS cosmetics, Art Direction by Louis Liu, Editor Marc Sifuentes, Production by Benjamin Price
Artwork images from installation in June 2017 at Marlborough Contemporary
For more information visit ivanabasic.com