DIGITAL COVER: ARGENTINE RAPPER/SINGER NICKI NICOLE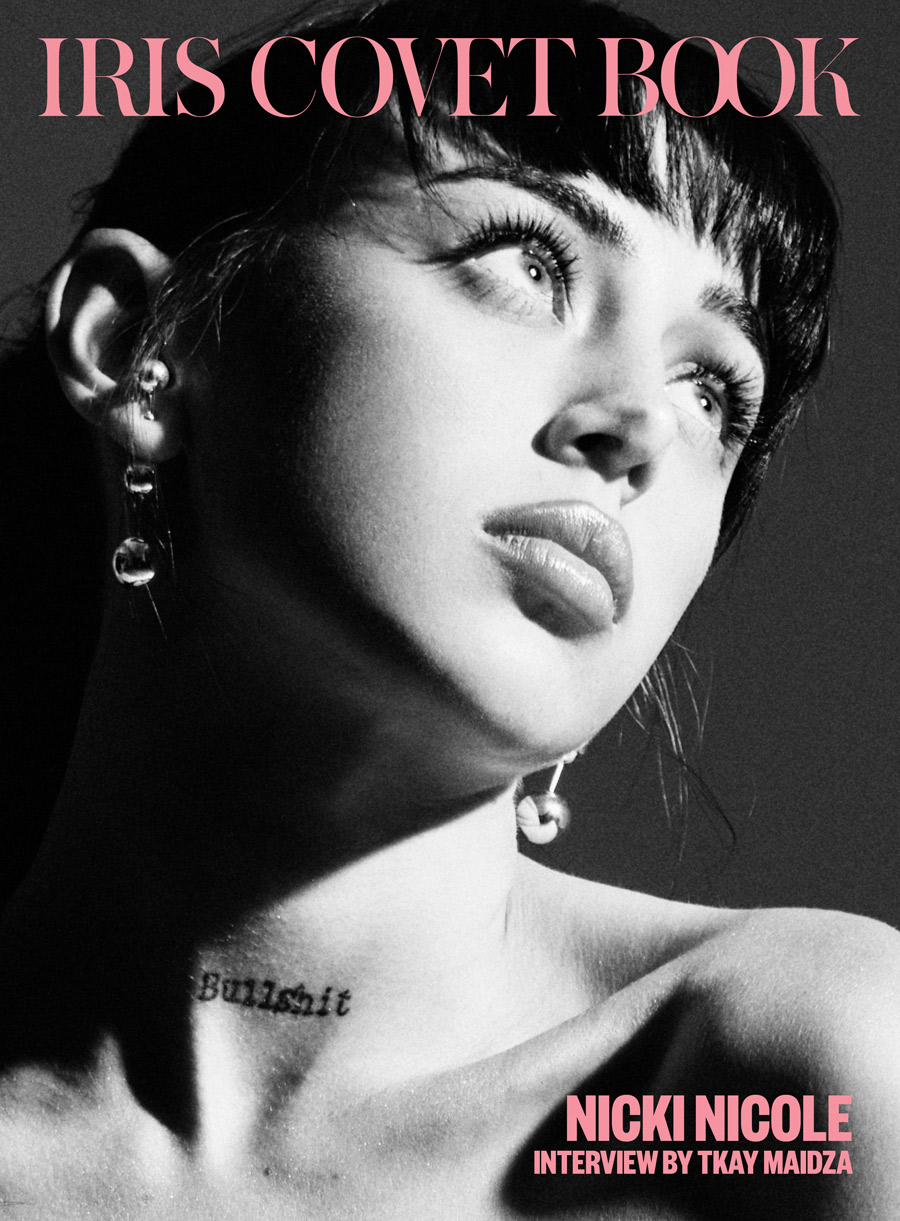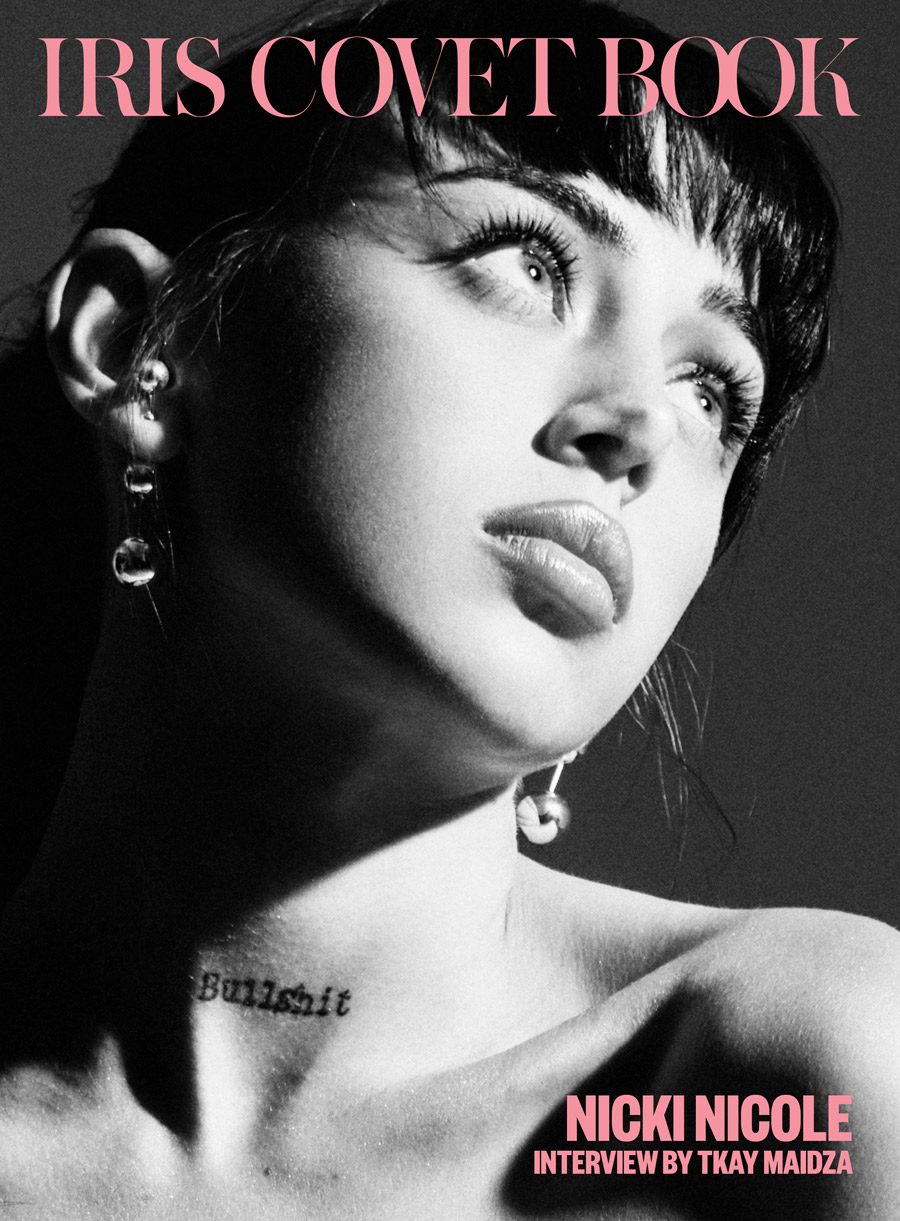 Photographer: Brendan Wixted
Styling: Jacquie Trevizo
Creative Direction: Jacquie Trevizo x Marc Sifuentes
Styling Assistant: Tatiana Isshac
Hair and Makeup: Pablo Rivera
Production: Jacquie Trevizo x Jordan Frazes / Location: Vault Place Miami
Nicki Nicole is set to claim her spot as a wunderkind of the latin music scene. The Argentine rapper/singer's career is a modern example of how social media has changed the music industry, with over 10 million followers on Instagram and a devoted fan base who in many cases push her Youtube video stream views over 30 million. In the span of two short years, the 21 year old Argentine artist has fine-tuned her musical aesthetic, blending traditional R&B with her trap music roots to create a trademark sound that is all her own. Nicole has already garnered the respect of veteran recording artists jockeying for their place to be a part of her next chart topping musical collaboration. Record industry establishments such as the Latin Grammy's have honored Nicole with a nomination for Best New Artist and Billboard Magazine charted five of Nicole's hits in their Hot 100 Chart. All this, in addition to her live performance on The Tonight Show with Jimmy Fallon and her profile piece in American Vogue, help solidify Nicole's path to her dream of making music from the heart.
For her exclusive Iris Covet Book Digital cover, Nicki chatted with singer-songwriter Tkay Maidza about the women that inspire her, why she took her time producing her upcoming sophomore album, "Parte De Mi" and her post lockdown tour plans.
Listen to the new album "Parte De Mí" from the Latin Grammy nominated artist when it goes live October 28th at 6pm ET on all music streaming platforms! Listen to the title-track and watch the video here.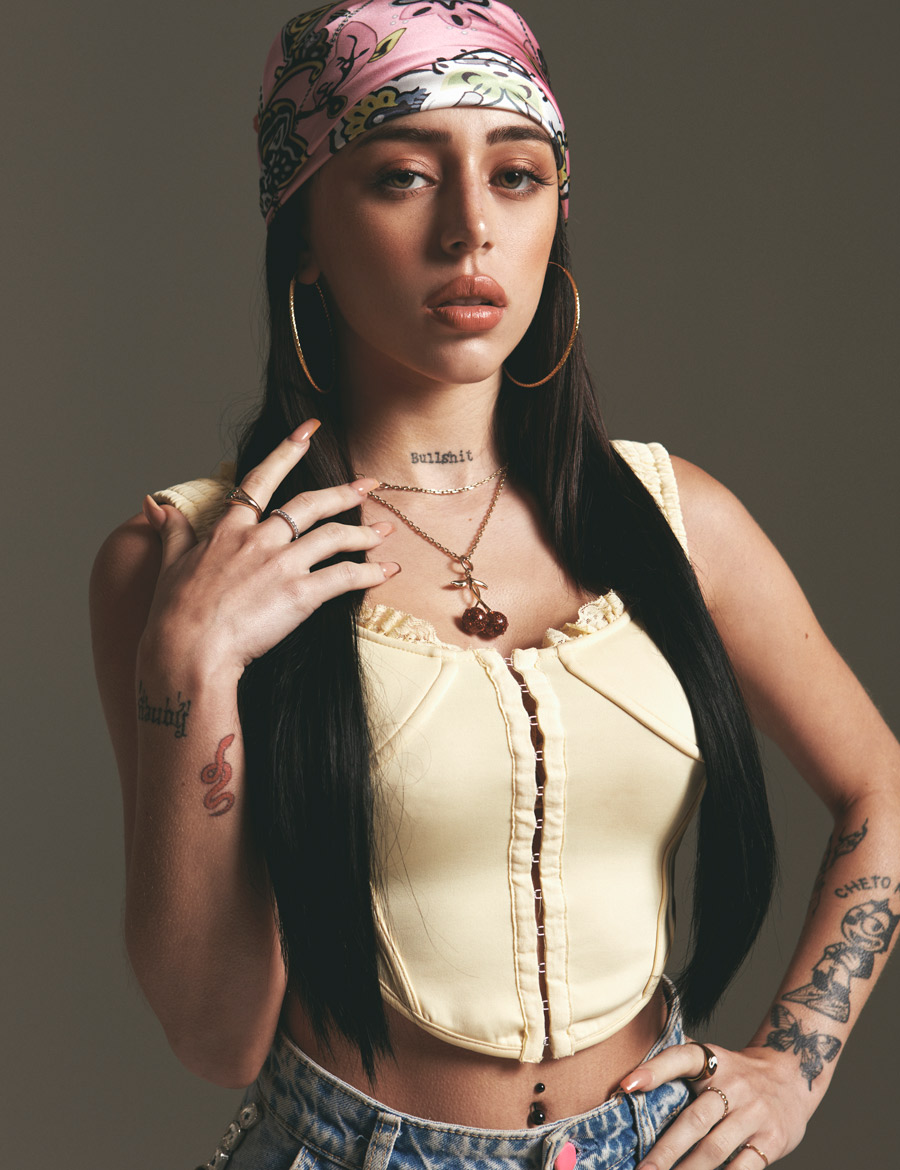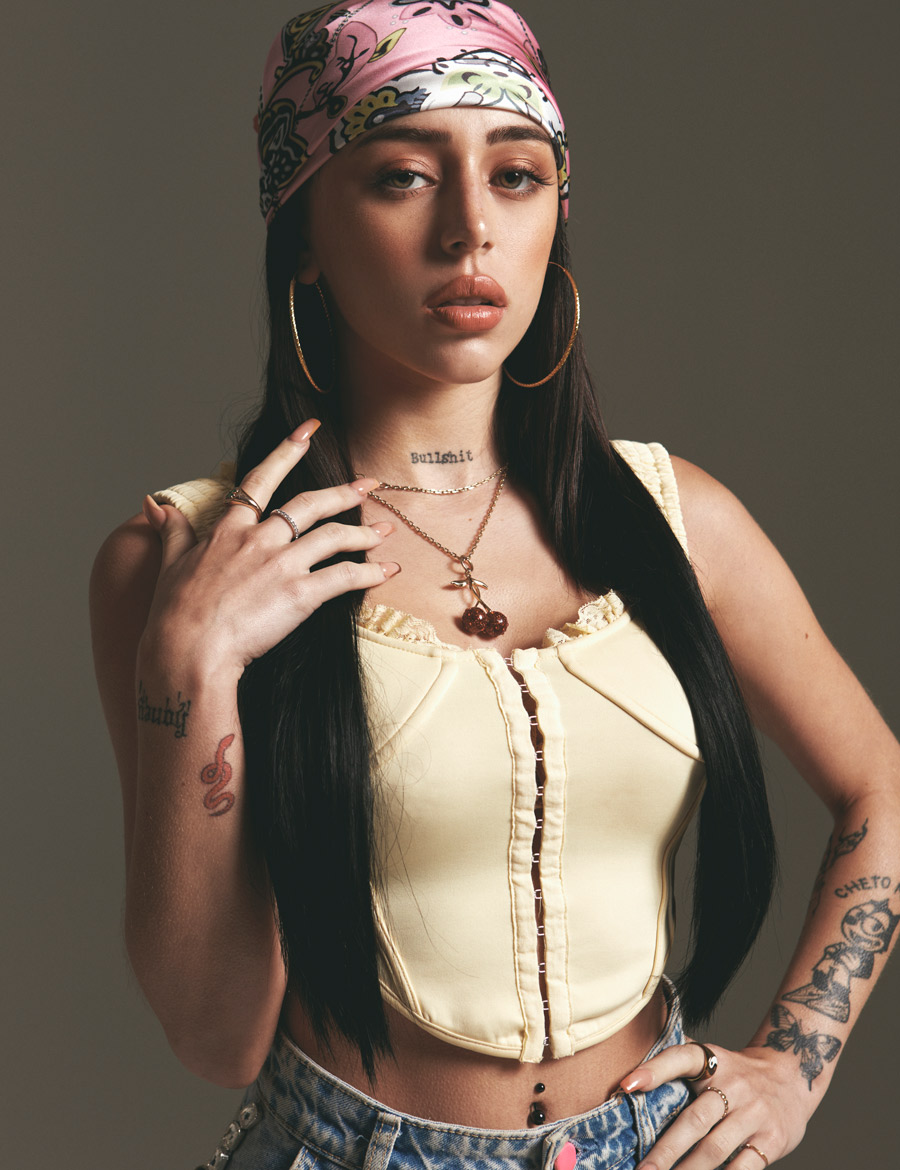 Corset: Serpenti , Head Scarf: via The Confessional Showroom Miami, Necklace: Betsey Johnson , Earrings: via TATA PR , Jeans: MTSZ via PR Solo
Tkay Maidza: How did you first fall in love with American hip hop music?
Nicki Nicole: I have always listened to American Hip Hop, but I think that I fell in love with it when I was about 15, 16 years old. I saw it for the first time on MTV when I was super young, and since then I've always been very attracted to it. But yes, I think I fully became infatuated with it when I was a teenager.
TM: I read that you started rapping around age 15 or 16. Did you ever write or experiment with other types of music before you started rapping?
NN: When I started making music I tried out all types of different styles. But I think I realized that the one that best suited me to evolve in my music was hip hop and freestyle. I started at 15, 16, and I think that was the time where I evolved my style the most as an artist.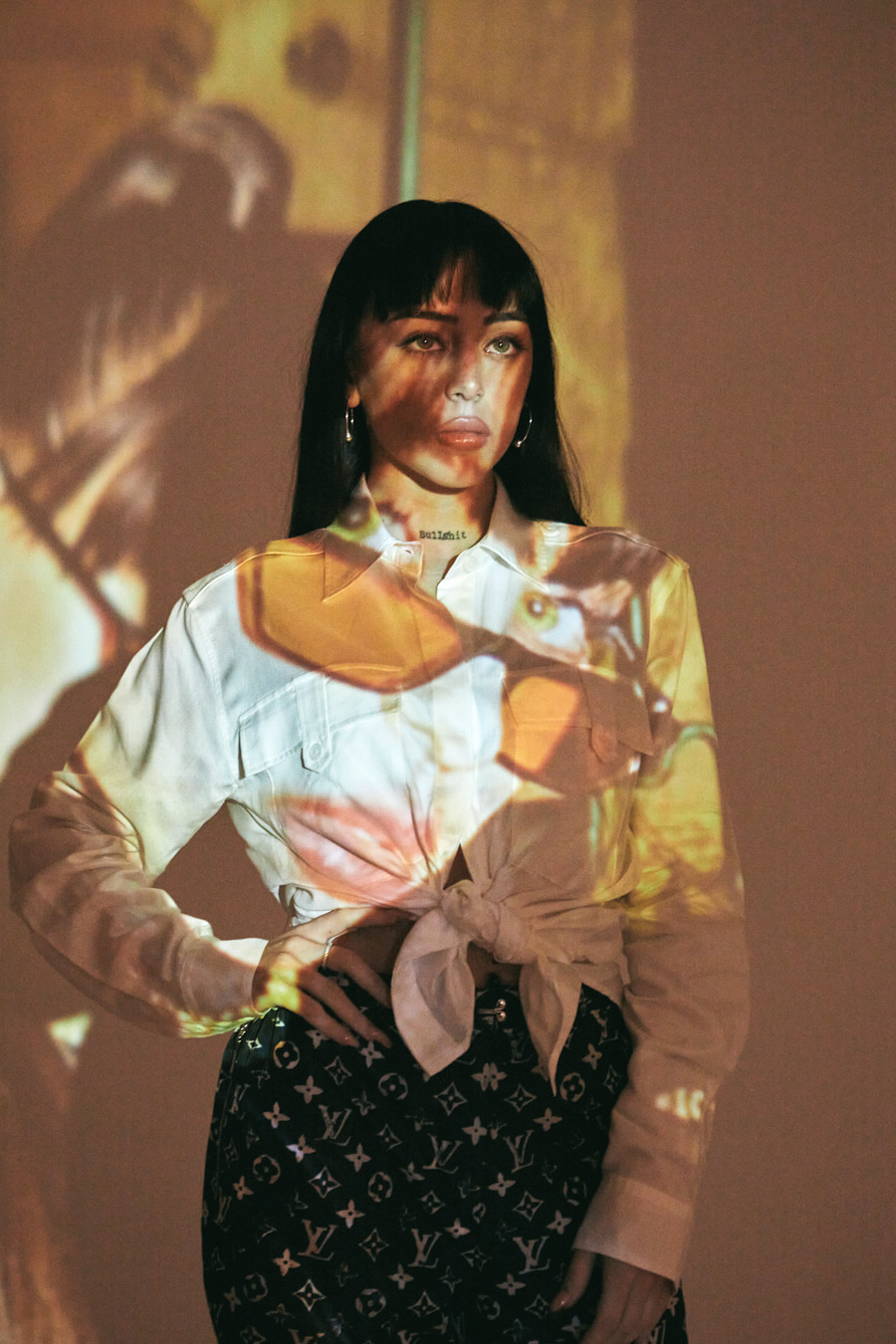 Top: Zadig & Voltaire , Pants: Louis Vuitton , Earrings: Tiffany & Co
TM: Do you remember any of your first bars from that age?
NN: It's difficult to remember specific bars now, but my first song "Wapo Traketero" is part of that first phase in my career where I fell in love with hip hop. I think that song describes perfectly what that moment was.
TM: What made you pick up the pen and actually write your own lyrics for the first time?
NN: I think mainly it was the desire to say things in a different way. It happened to me often that I was very reserved with my inner circle, and when I started writing I became quite open. So I prefered to say things that way, and that eventually led me to make music and made me who I am today.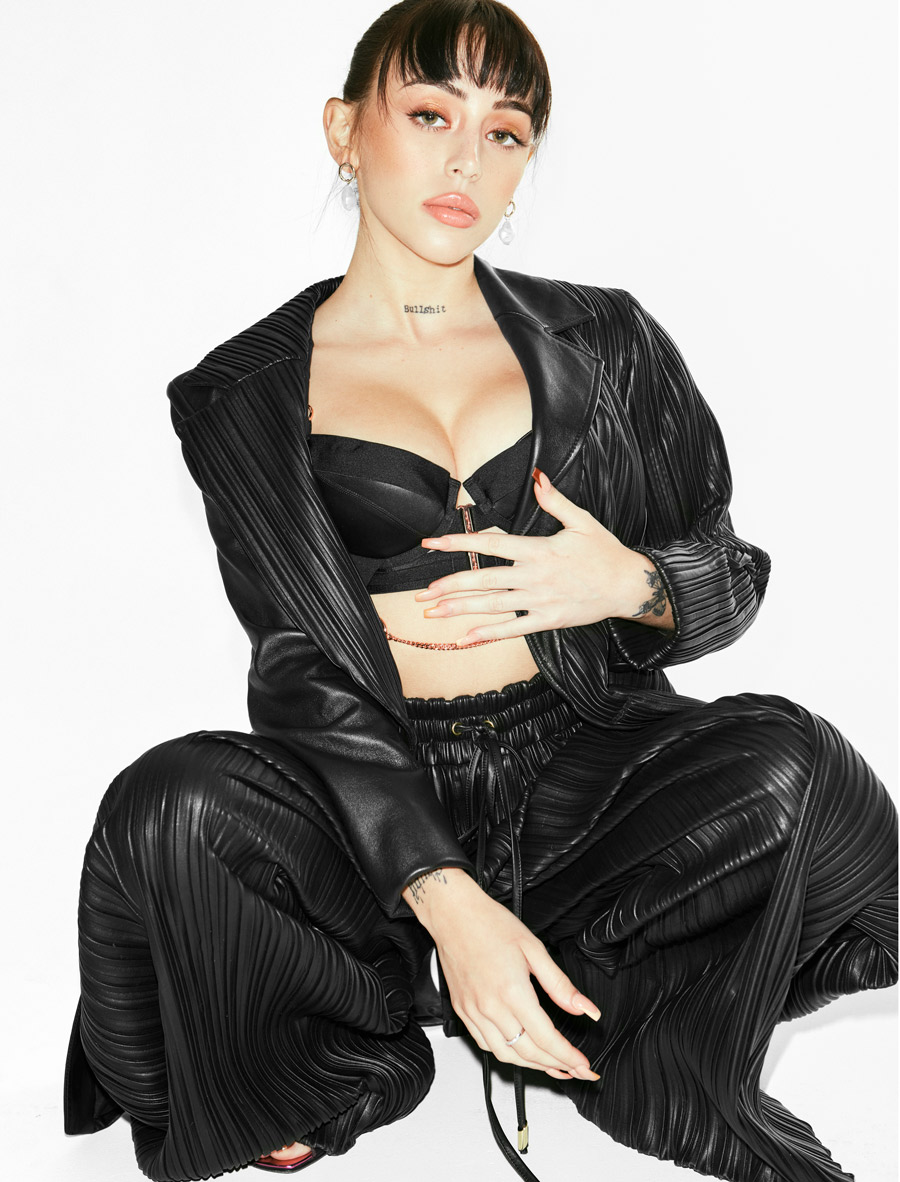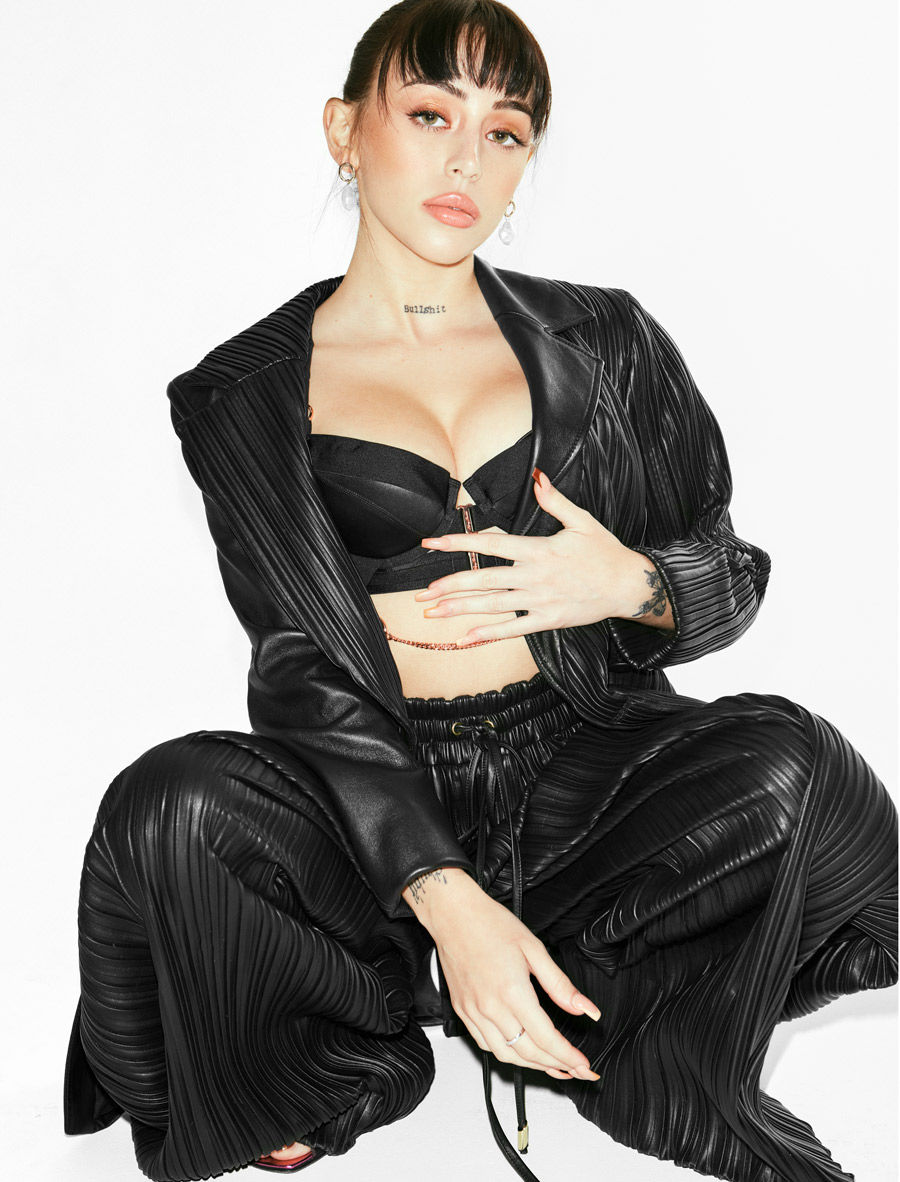 Pant Suit: ABODE  via Brooklyn PR, Bra: Honey Birdette via BLK PR, Earrings: Alexis Bittar
TM: Was there a big life event that happened, which caused you to feel the need to express yourself in a new way or were you just inspired by all the music you were hearing at the time?
NN: At the beginning everything that came out was from different inspirations, because I was very young and had little life experience to talk about. But as I grew older and lived through many different things, I started to write more about my own life.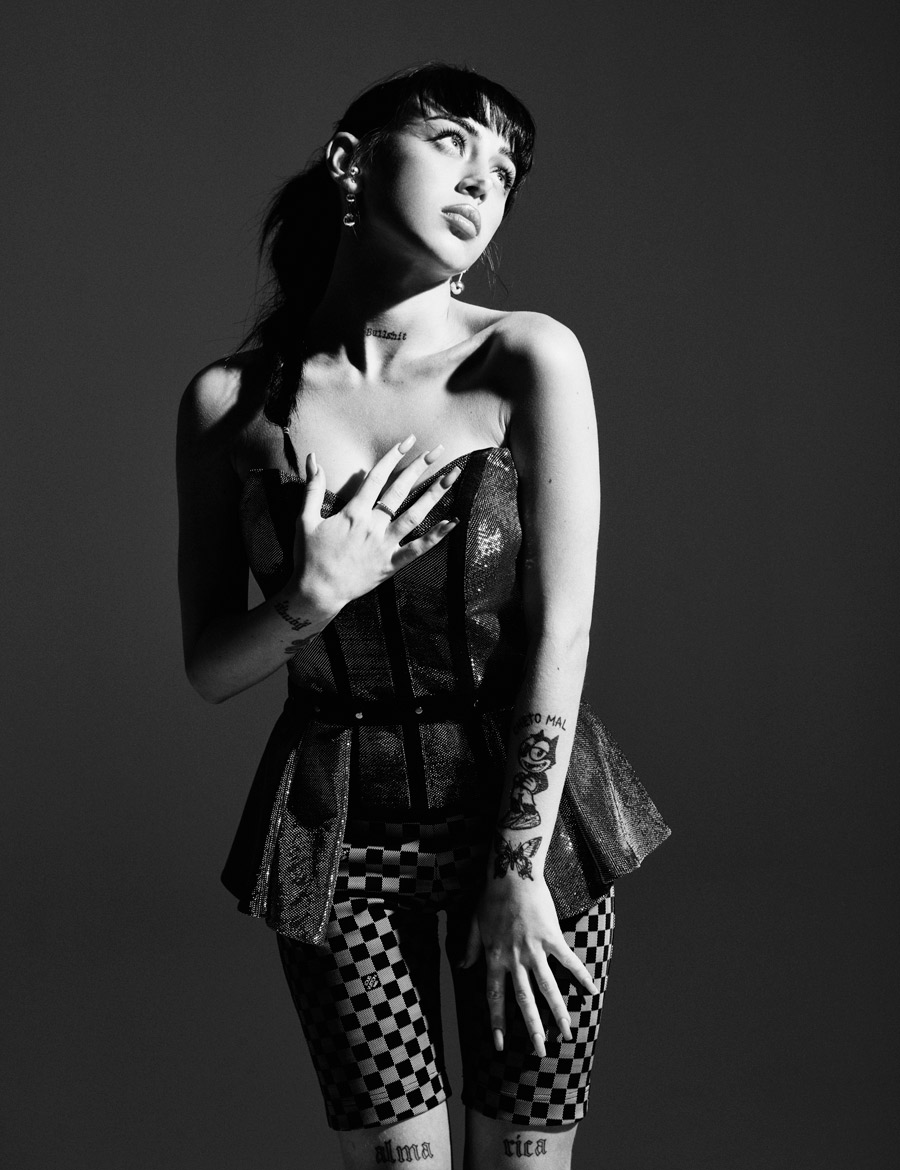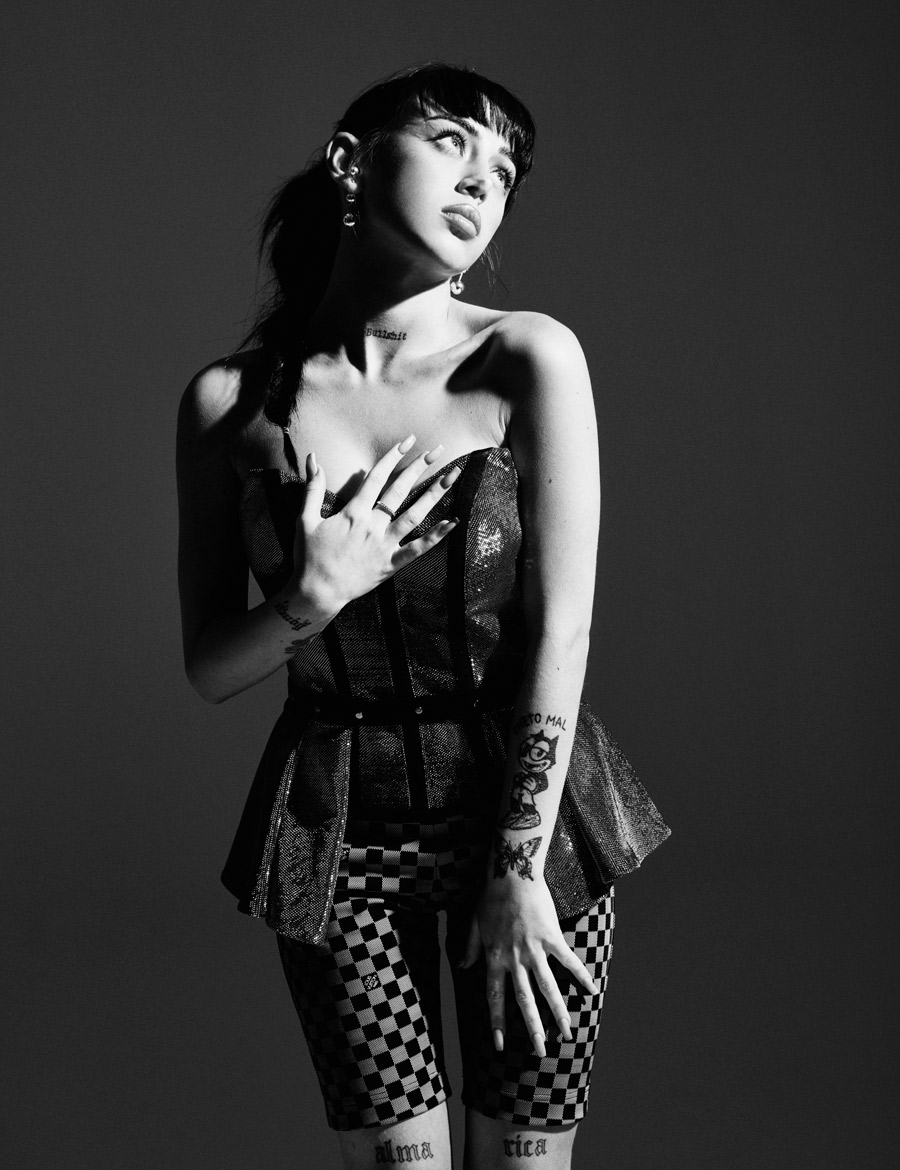 Bustier: Angelika Jozefczyk  via PR Solo, Shorts: Louis Vuitton , Earrings: LILOU PARIS @bemylilou via Brooklyn PR
TM: Who are some of your favorite American acts that influenced you early on in your career? What drew you to their music, persona or both?
NN: The ones I always listen to and that are a constant inspiration to me are Amy Winehouse, Rihanna, and Lil Kim. Beyond their music, I admire how they are as people, how they carry themselves as women, the life they each led and lead currently, they each truly are an inspiration to me in their own way. As for male artists, I really like Drake, Giveon… but out of everyone my favorite is Amy. 
TM: How would you compare Argentinian hip hop to American hip hop?
NN: I think it's impossible to compare the two. They have separate styles, processes, and evolutions that are completely different. They each have their own style and flow. I wouldn't compare them in any way. They each stand out in their own way.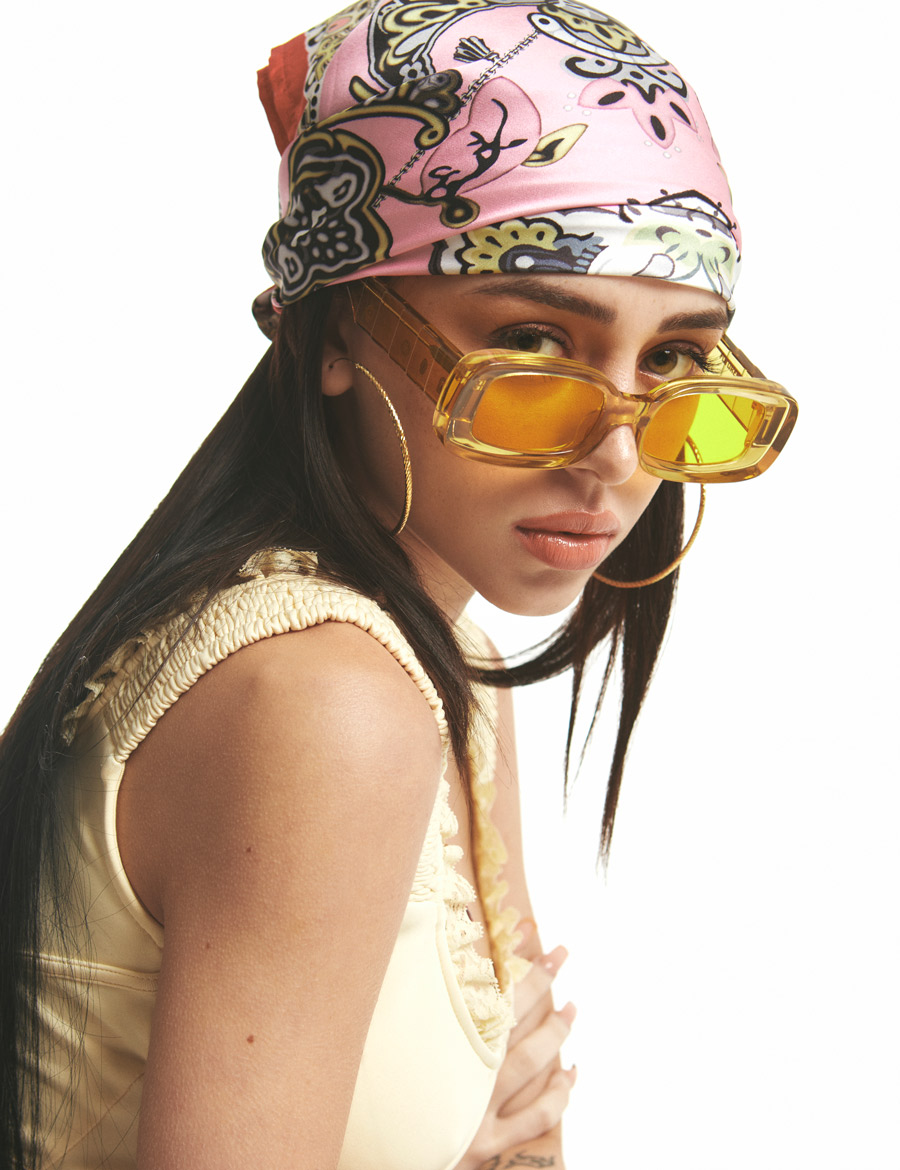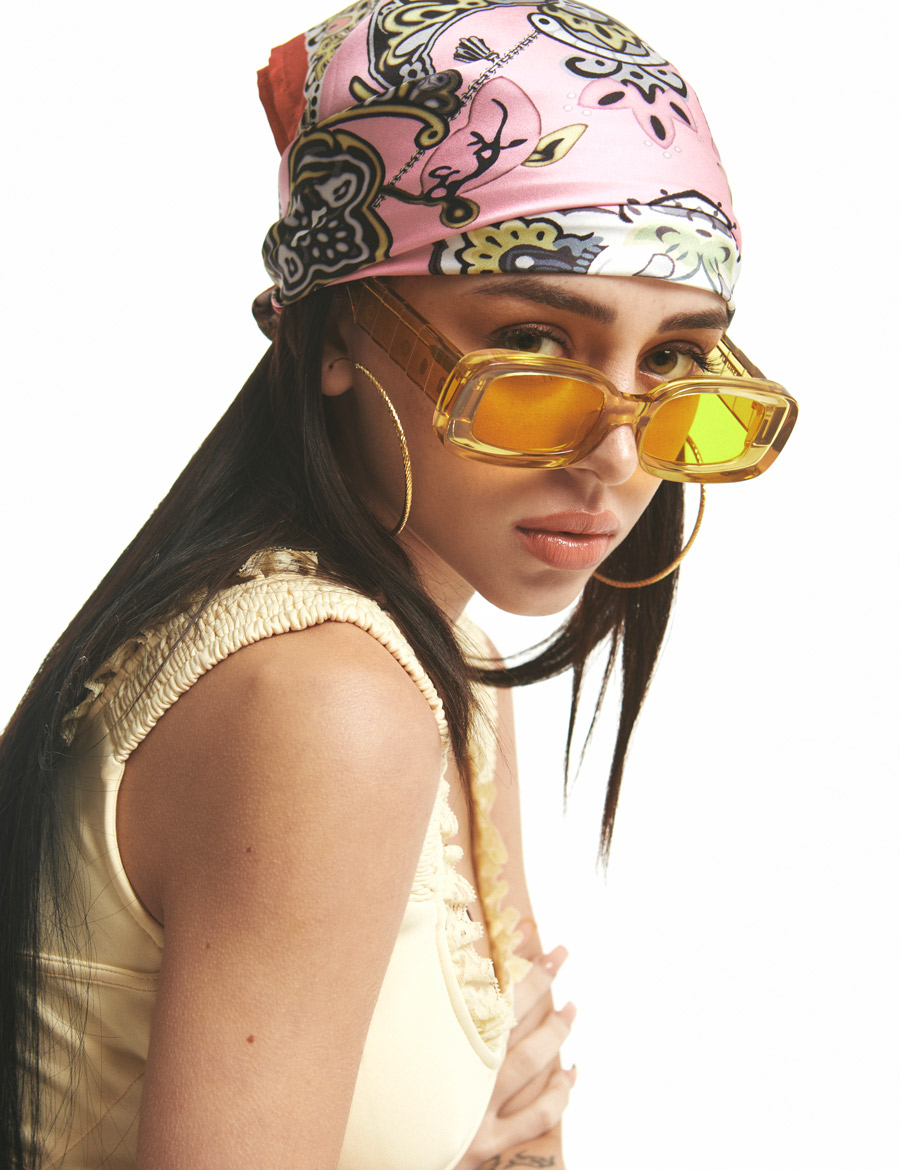 Corset: Serpenti , Head Scarf: via The Confessional Showroom Miami , Sunglasses: Futuremood , Earrings: via TATA PR
TM: Are there certain styles or techniques that you pick up (or enjoy) more from one or the other?
NN: As for genres of music, I have to say I love R&B, Funk and Jazz. I really love listening and creating those styles of music as well. 
TM: In one of your past interviews, you said something really interesting about how you're "never 100% sure of the music [you] release", and how you feel like you could keep perfecting as a songwriter, that's something I really relate to. I also have people around me that I trust to tell me when a song is done. Do you have specific people that you trust to help make the decision to call a song "finished"? Or is it more, "the deadline is coming up, now it's time to wrap this up."
NN: Yes. I have many people beyond my work who know me very well and whom I trust deeply. I usually show them my songs because they can give me their honest opinion, and it always helps me move forward in the process. Because of how I am, I feel that I could spend my whole life working on the same song because I get too into the details, and I feel that it is never enough. Therefore, having people I truly trust tell me when to stop, is always very important and helpful to me.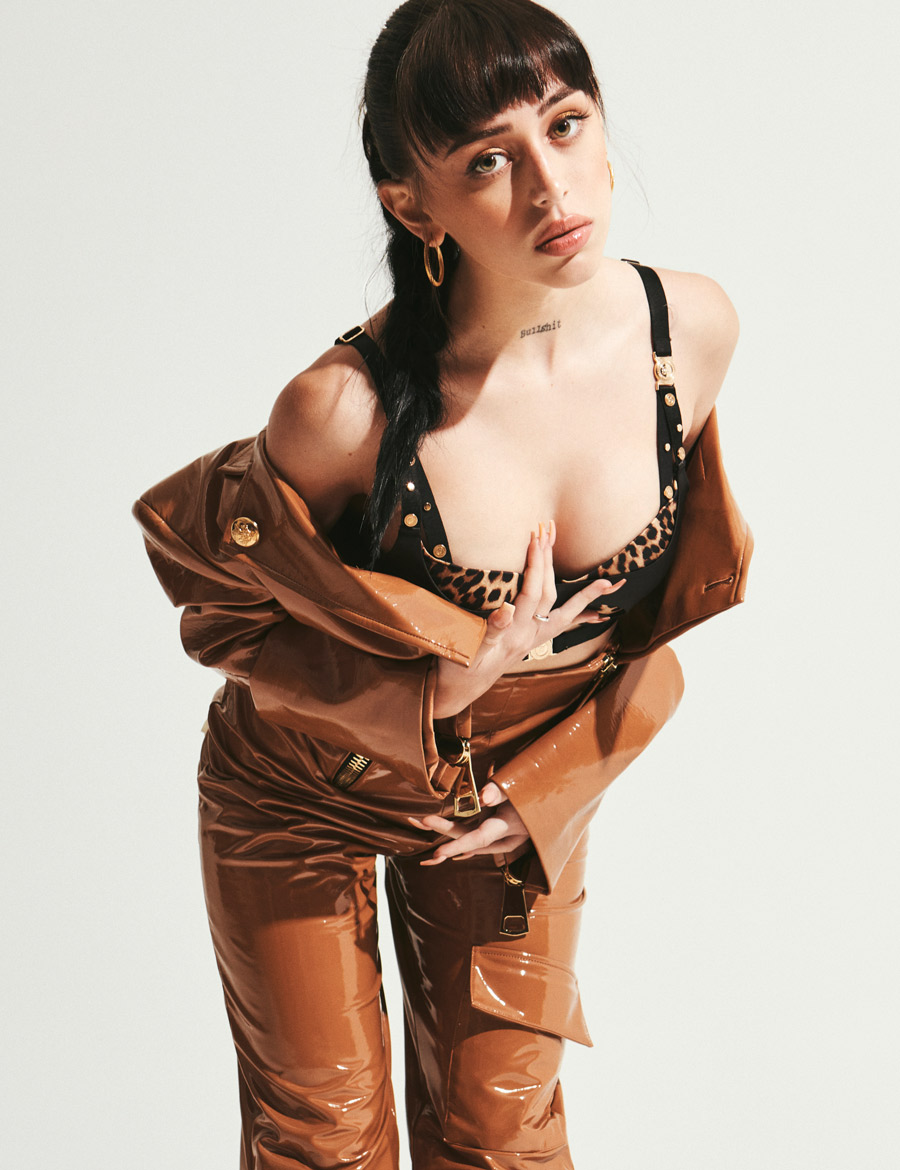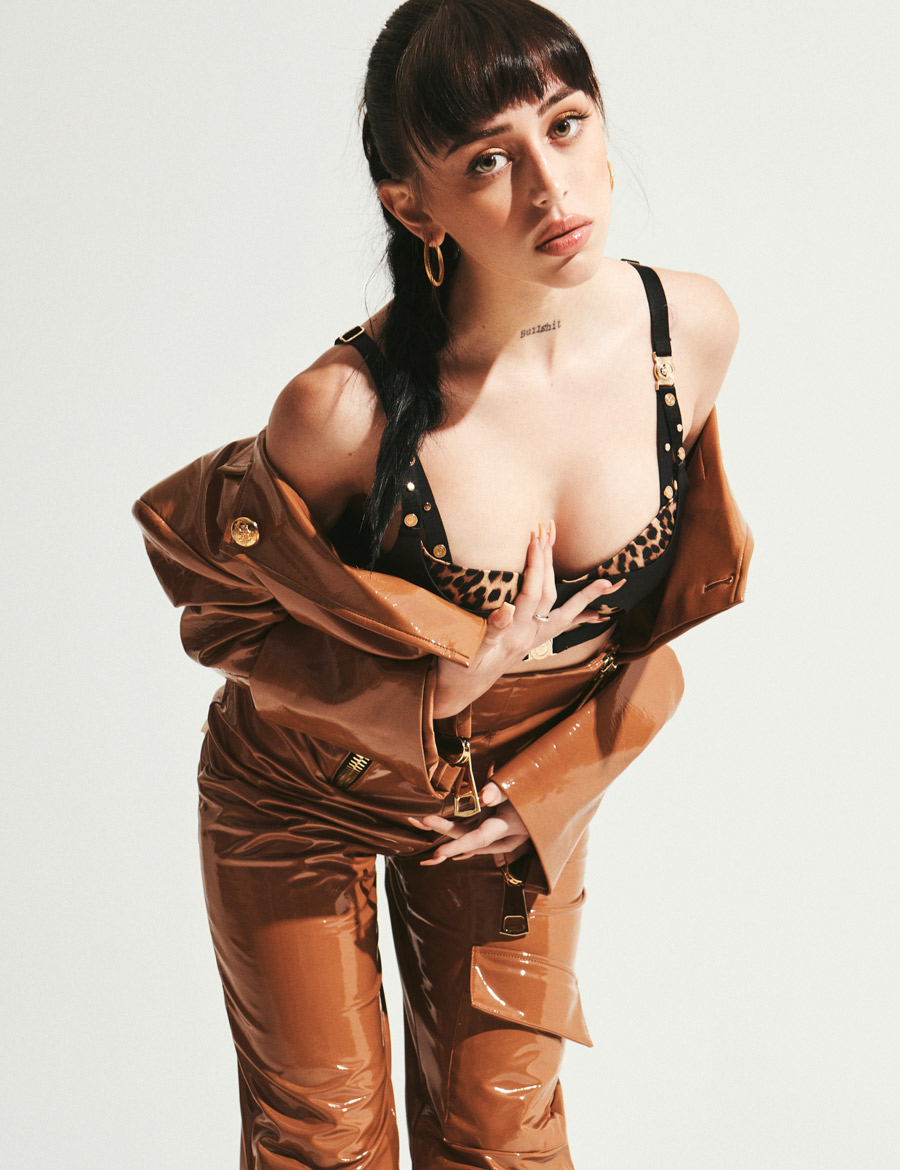 Pant Suit: Jovana Louis via PR Solo, Bra: Honey Birdette via BLK PR, Earrings: via TATA PR
TM: I heard that you're currently working on your second album. Can you tell us anything about that yet?
NN: The album is coming out this year. It's quite personal. It's an album that has many rhythms, and also many different collaborations and special guests. I can't wait for it to come out, to be able to show all these different sides of me and my music, and how it's evolved.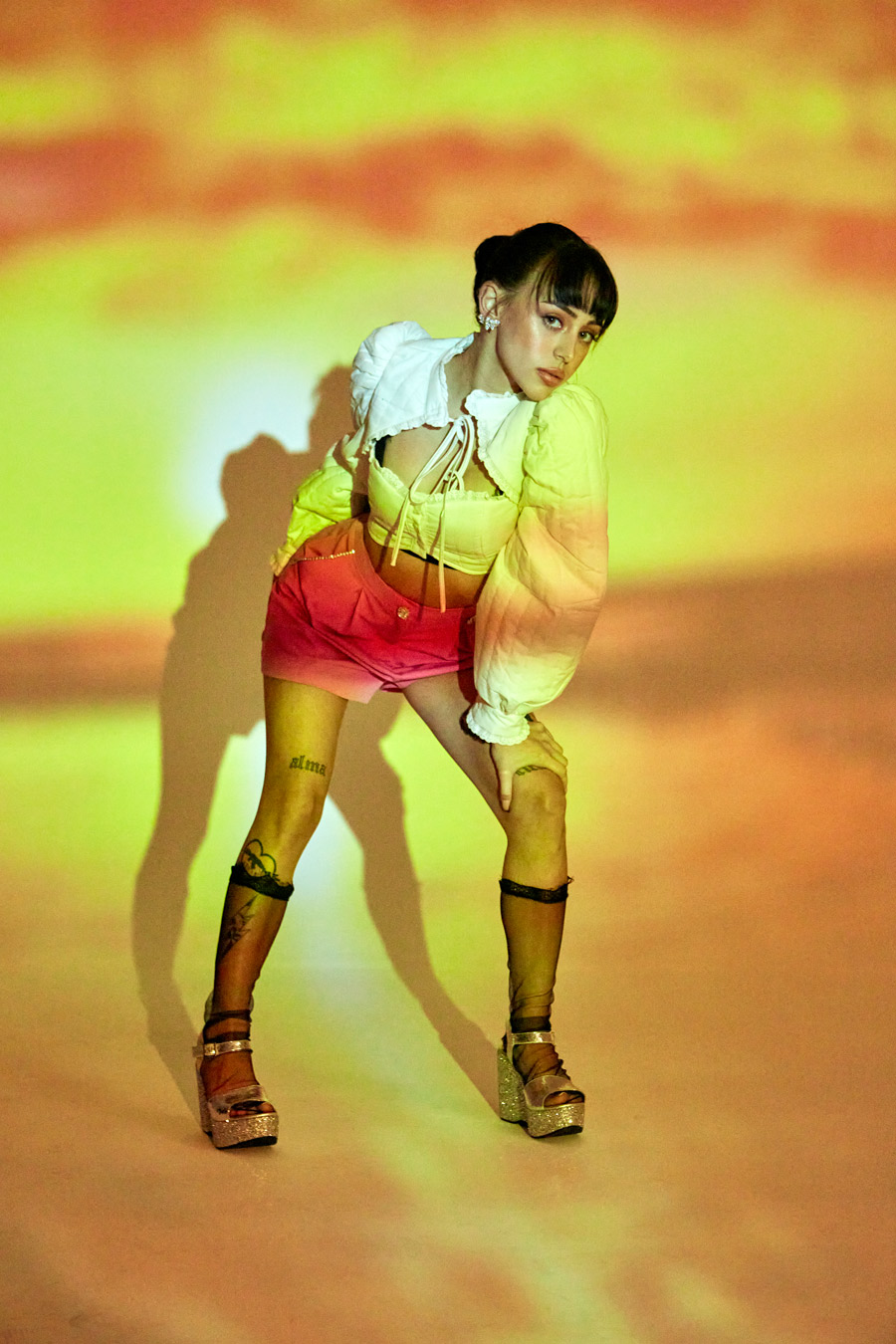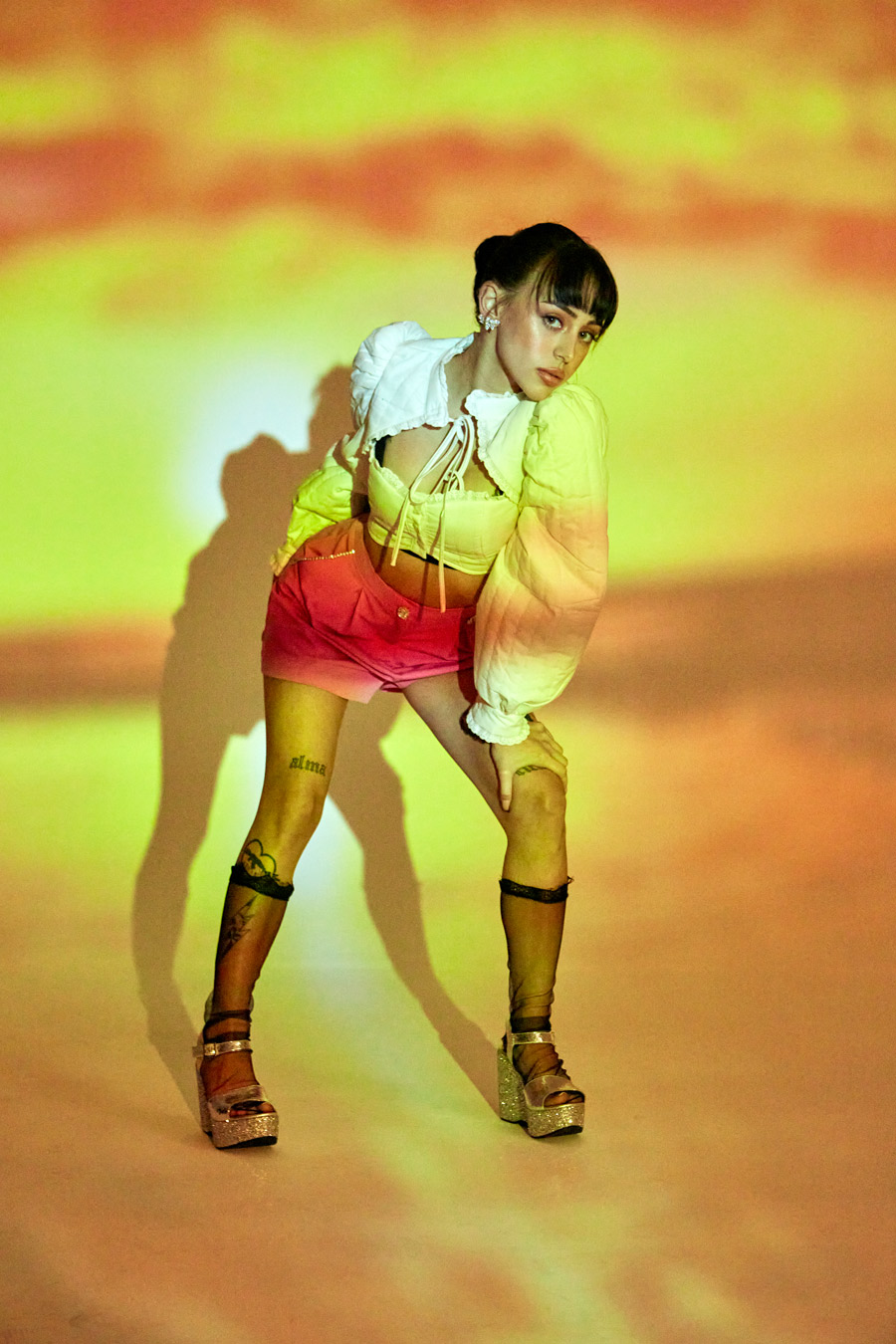 Blouse: Simonett Shorts: MTSZ via PR Solo, Shoes: Freelance Paris via Maison Privee PR, Earrings: Lara Heems via @yayapublicity, Socks: Wolford
TM: How are you treating this project differently than your last body of work? It's been 2 years since your last album, I imagine a lot has changed in your life since then.
NN: The first and second albums are quite different. "Recuerdos" was when I was just starting out, and all I wanted to do was release all the music I was making, without really worrying about having a definite concept or thinking about what could happen next. I just wanted to get my music out so that I could continue making more. With this album that's coming out now, I was able to work on it with a lot more time. I let each song breath, not listening to them nonstop and obsessing over the details like I usually do. I worked on it and took my time and it allowed me to truly polish it and make it perfect in its own way. I think that's the biggest difference, and I honestly cannot wait for it to come out.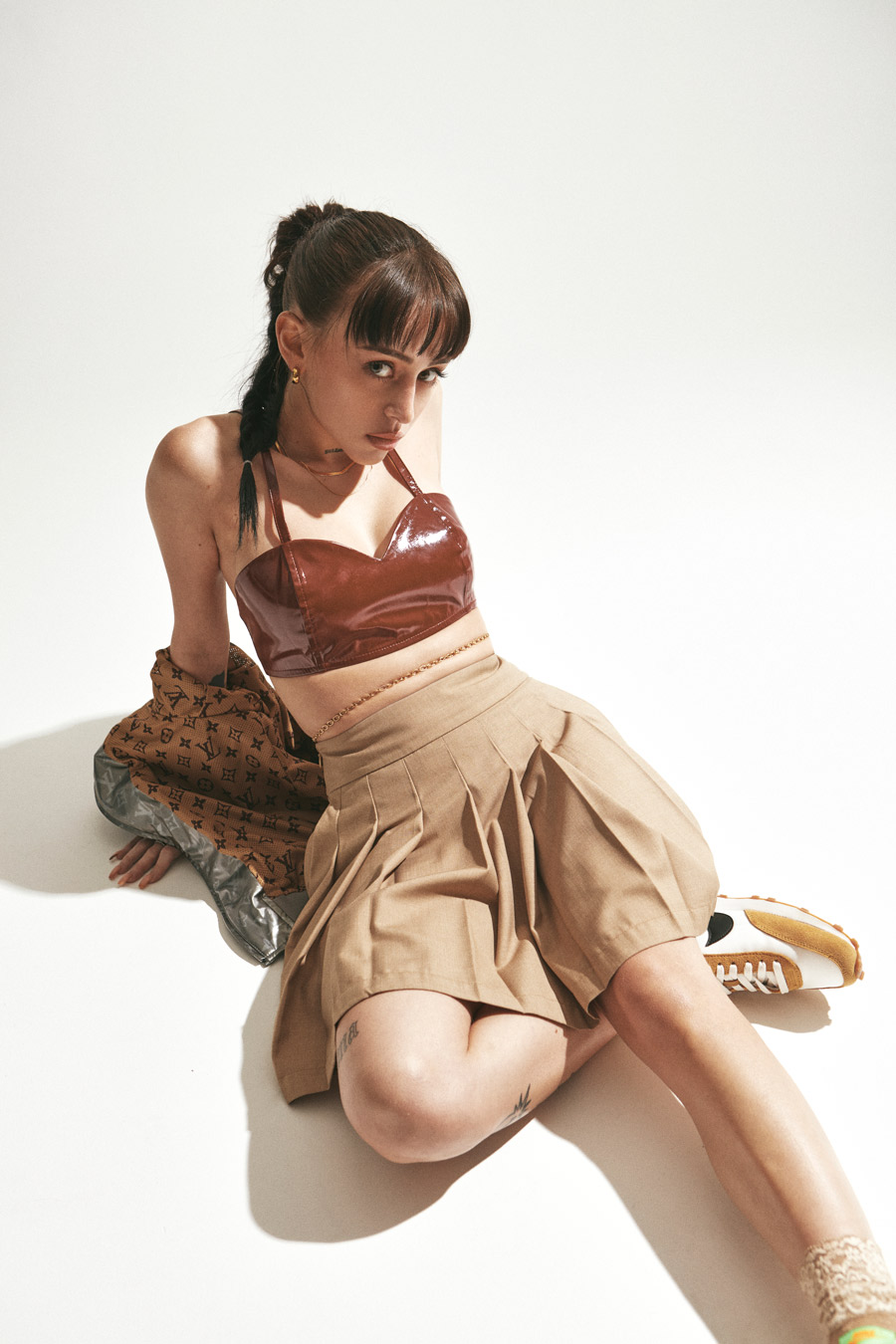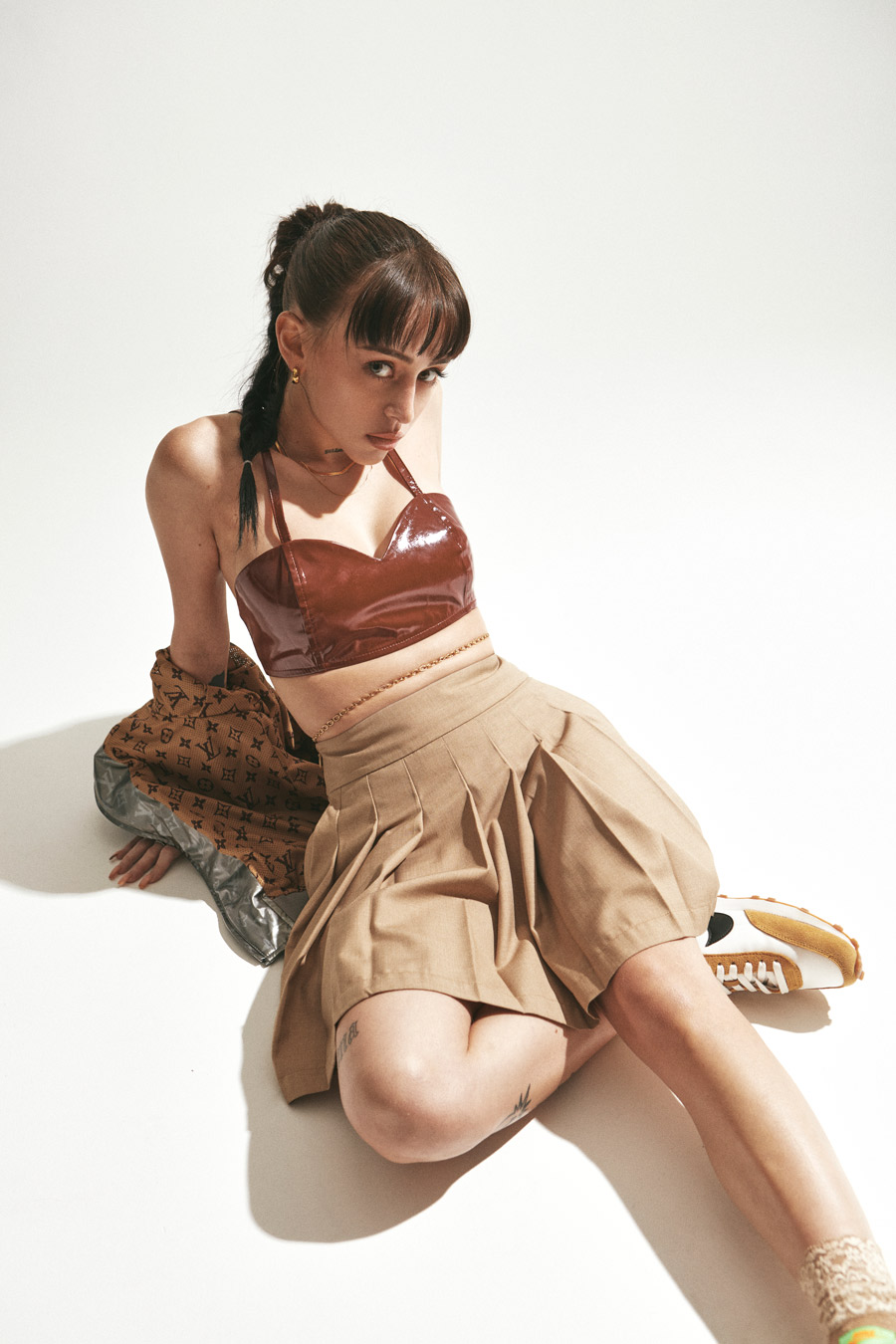 Bra Top: Anouki via TATA PR, Skirt: Annakiki, Jacket: Louis Vuitton, Socks: Wolford, Shoes: Nike
TM: Now that touring is back (finally!), what are your dream venues and cities that you want to perform in?
NN: Mainly I am super excited to perform in Argentina. It is something that we had to hold off on due to the pandemic, so now that touring is back on I really can't wait to perform in many cities in my own country. After that I would love to play in Spain, Mexico, and hopefully the US soon as well. I really can't wait to get back on that stage.