THE HOMECOMING OF JAKE WESLEY ROGERS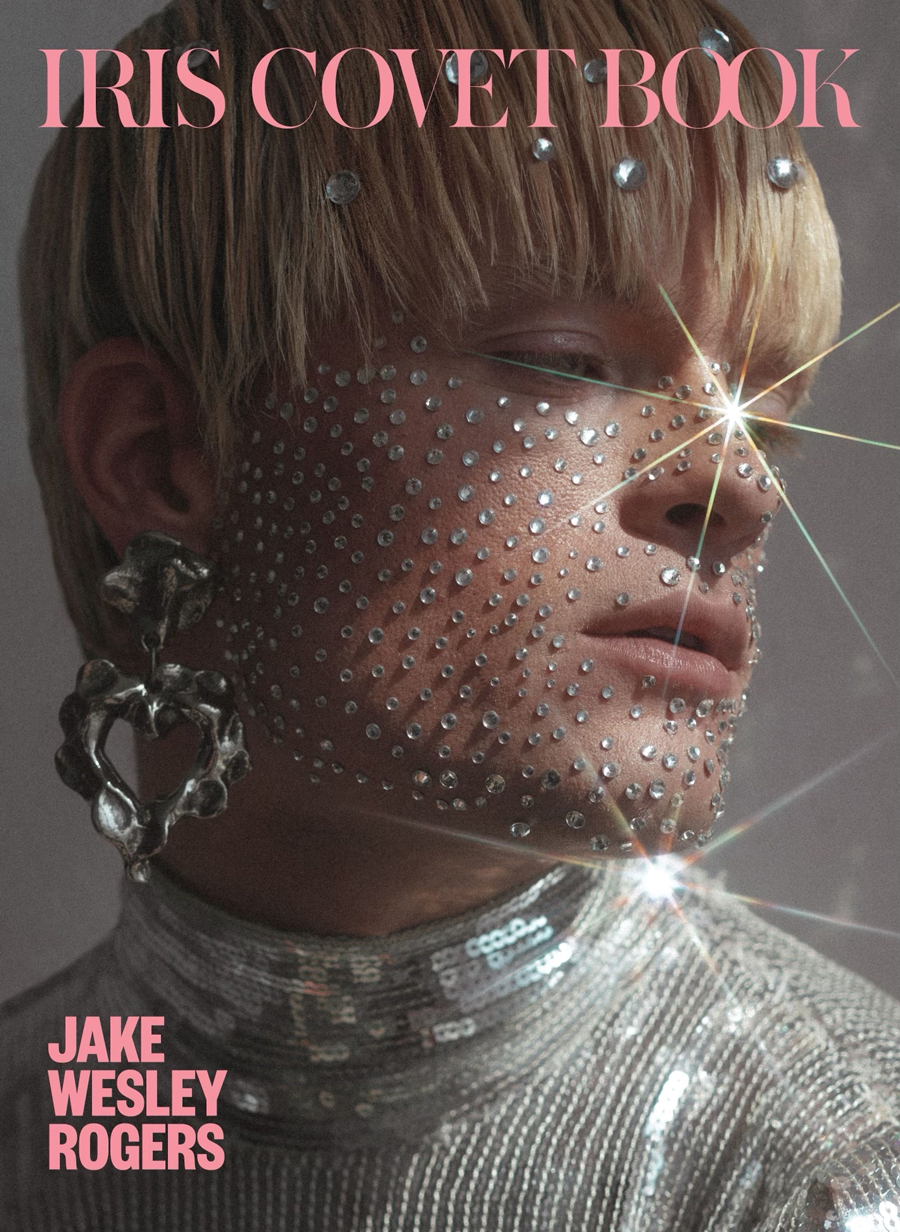 Dress – Shahar Avnet, Pants -Peter Do, Earrings – Christian Lacroix
Creative Direction – Stepp+Dreedn
Photography – Alicia Stepp @aliciastepptx
Motion – Kevin Shivers @dreedn.ig
Stylist – Edwin Ortega @edwin.j.ortega
Makeup+Hair – Bianca Rivas @biancalinettehmu
Photo Assist – Myckenzee Kunn @myckenzee._.ann
Video Assist – Norma Shivers
Retouch – Thiago Peraça @thiagoperaca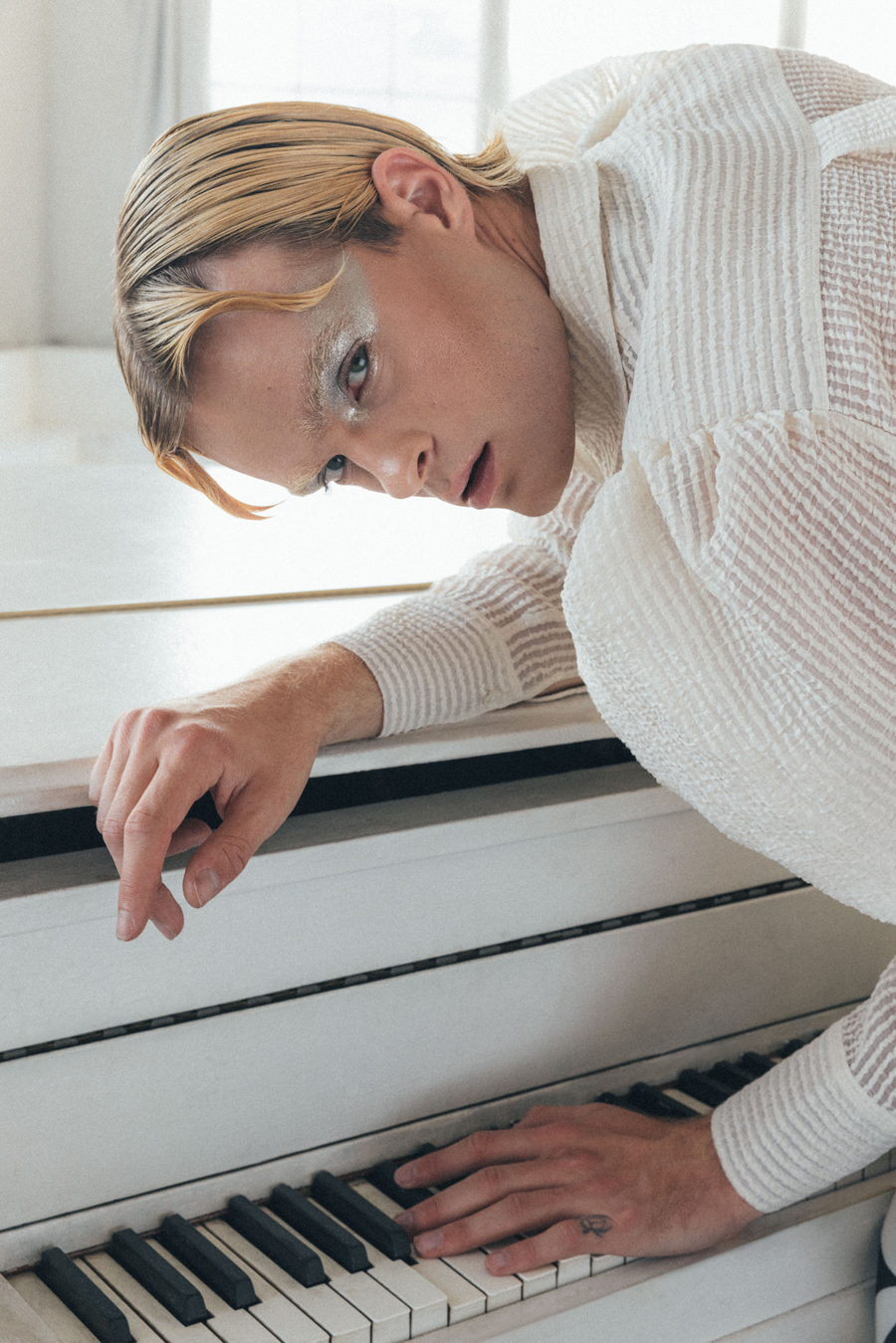 Shirt – Unisecon
The Homecoming of Jake Wesley Rogers
 The queer pop musician talks tour, their new EP, and songwriting inspirations.
By: Hilton Dresden @hiltyhilthilt
You may know Jake Wesley Rogers best from TikTok, which spawned a viral moment for his song "My Mistake." Or perhaps you're a fan of 2021's moody pop Pluto EP, the predecessor to their latest collection of work: the LOVE EP, out this fall, which includes the hits "Hindsight" and "Lavender Forever." Alt-pop and rock influences combine to create a body of work about longing, identity, and the pains of love.
The unapologetically queer Missouri native is only 25, but has already established himself as a force to be reckoned with in the music industry. He's been interviewed by Elton John, performed on Good Morning America, and, most recently, just finished a US tour opening for Ben Platt. Back in his hometown in Missouri, we caught up with the singer ahead of a special homecoming performance.
Candid and ever-honest about his emotions, the rising artist opened up to Iris Covet Book about LOVE, their forthcoming debut studio album, and a host of influences, from getting proposed to by the preacher's son to quotes from Oscar Wilde.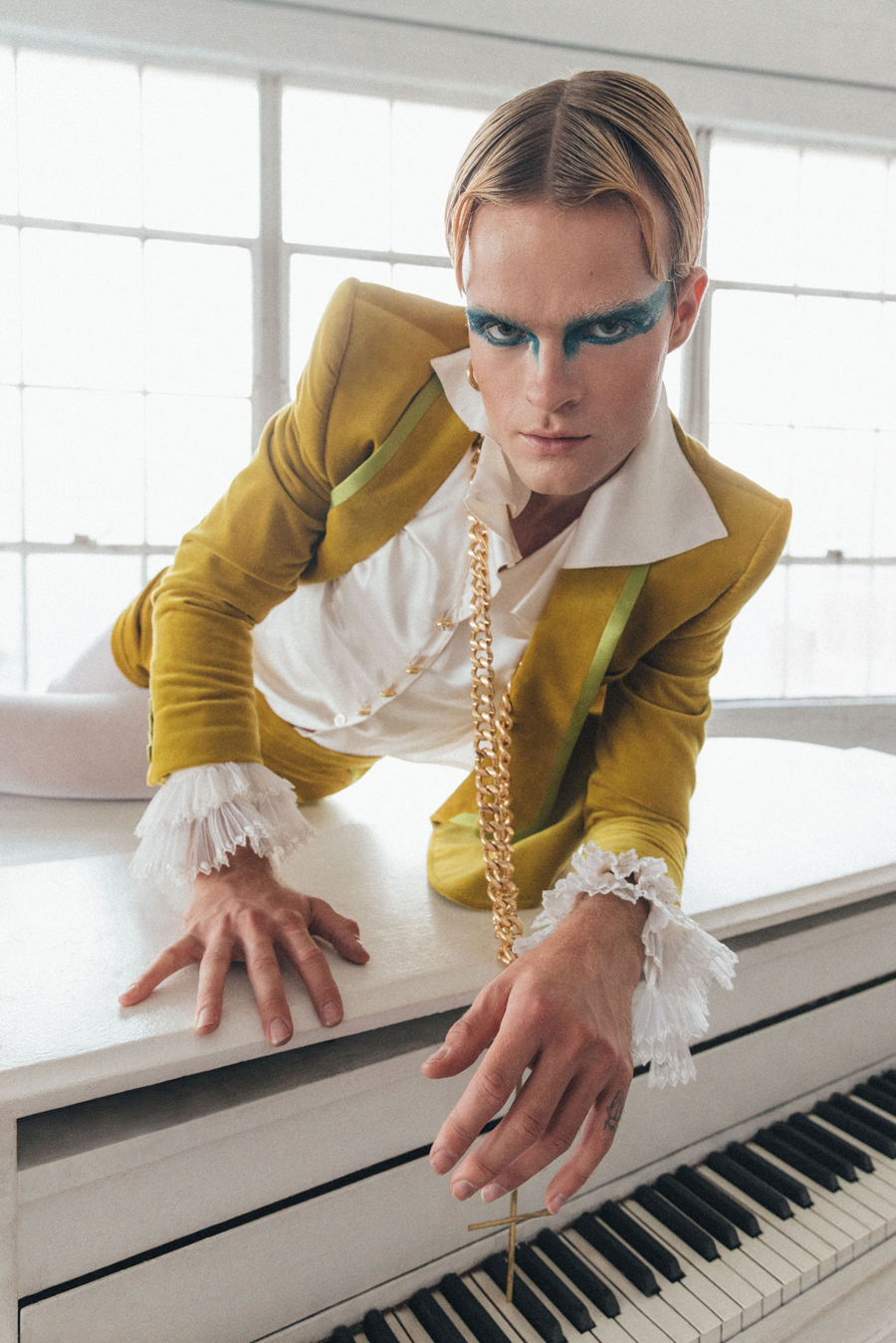 Gucci
You just completed your first tour — how did it feel?
Oh, it was wonderful. It was really my first tour. And it exceeded every expectation. I was so excited. I love performing. There were a lot of variables that we have no control over, because we're opening. And I've heard that opening can be pretty brutal, because it's obviously not your audience, but I feel like we won, every night. I feel like what I came to do was transmitted, and it connected. That's kind of all you can ask for.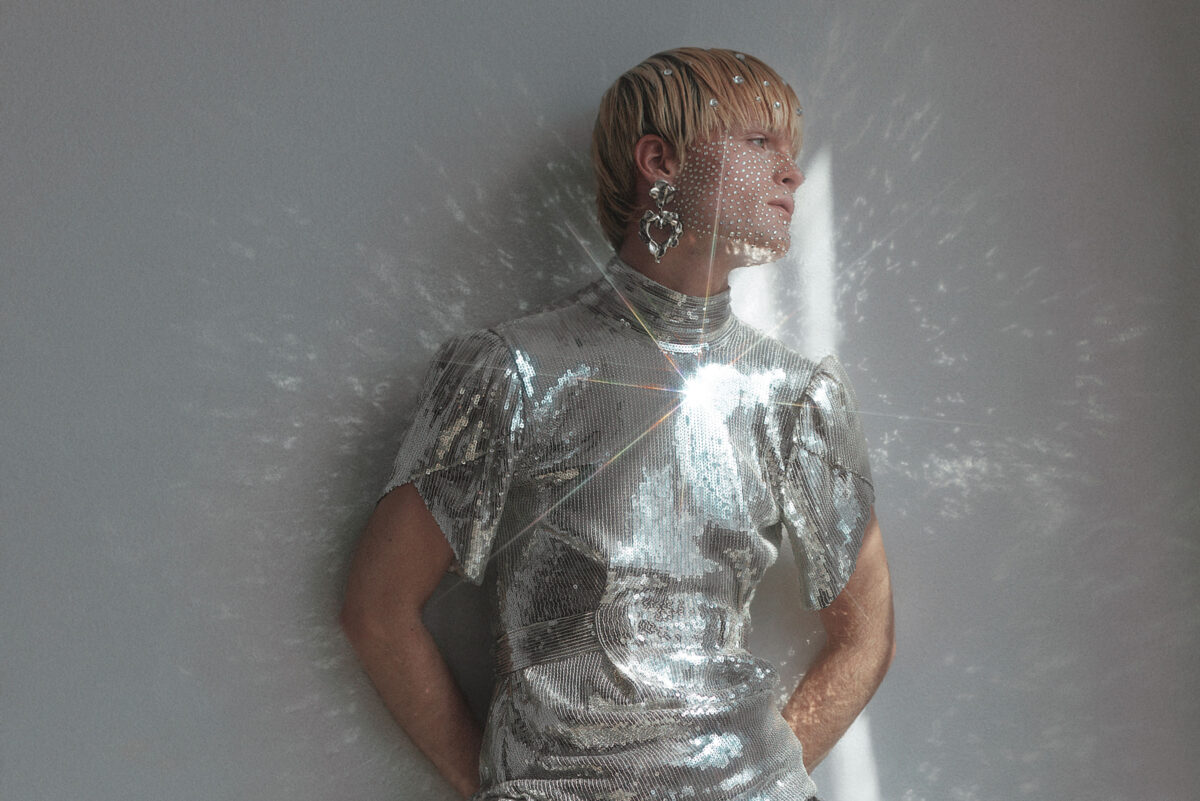 Dress – Shahar Avnet, Pants -Peter Do, Earrings – Christian Lacroix
I want to start with the kernel of the idea for this new EP — from the beginning, the writing process and producing.
I think it's important to say most of the songs are from about two years ago. Which, as you know, as a writer, that feels like 4000 years ago. How fast we move on. But I knew I needed to honor these songs as the true moments that they were. I released my first major label EP Pluto last year. I guess if this were a different decade, it probably would have been — this feels like Side B to Pluto. They feel like they're in the same world and atmosphere. Because with Pluto, I feel like it was sort of asking the question: 'What is love, and why is it making me feel so crazy?' My grandpa was dying at the time. My grandma died, and he was heartbroken. I was looking at my parents' love, like, 'Is that what I want?' Love is the most overused word probably. But it's also essential. When I realized I needed to call it Love, I was reading a Maya Angelou quote, and she says she uses love, because it might be that which pushes the blood through the veins, or keeps the stars in their place. It's a hefty force, for sure. When I listened to the project, it's like, 'Oh, these are just little questions of what is love for me.' I don't know the answer.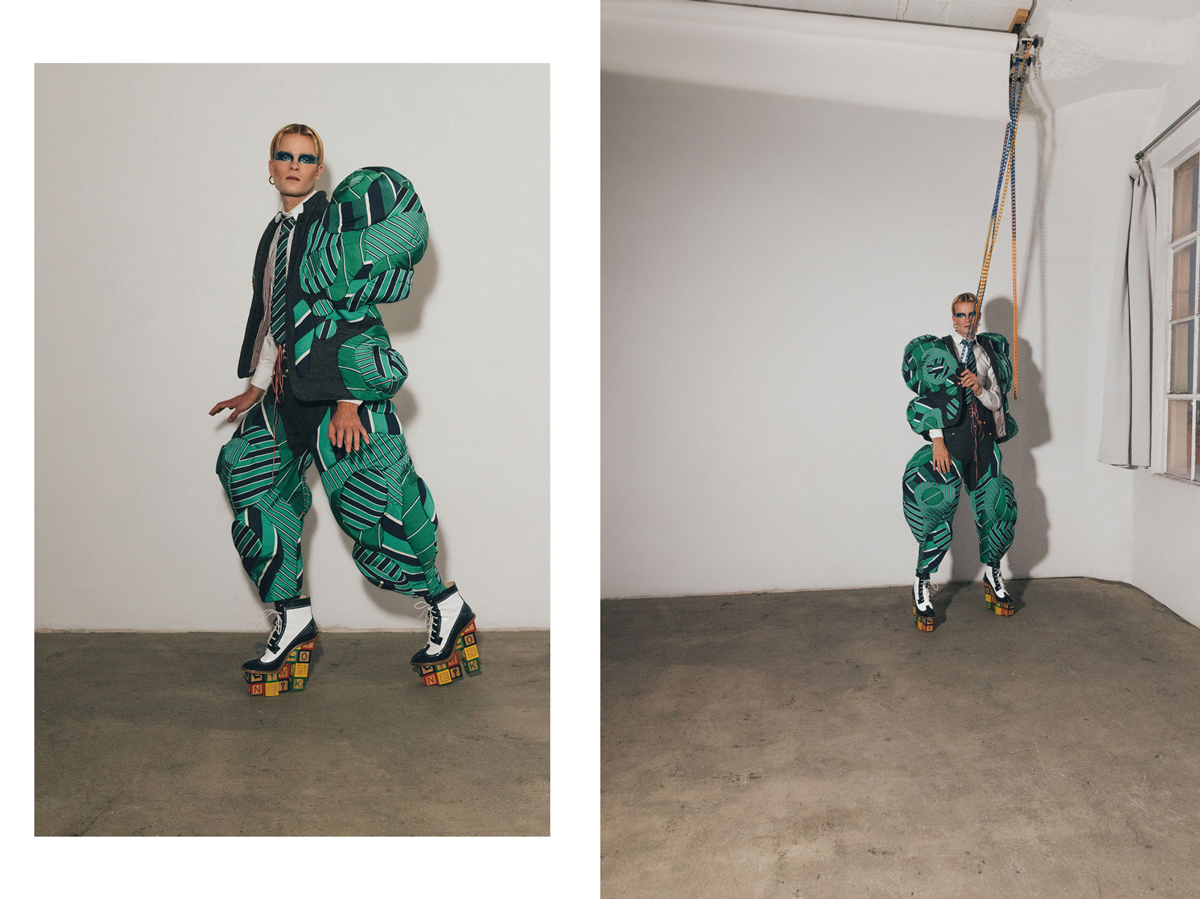 Thom Browne
So if Pluto was asking 'What is love?' What are the main questions you associate with this body of work?
I think it's more like where's it taking me, now. Obviously, love didn't kill me. Even though I felt like it was a few times. Where is it leading me? I feel like this EP is a bridge for me, to where I am now. I'm working on my debut album. And I feel like these are the ideas and songs that took me to this place I am now, which is a much deeper, scarier, more confusing place, where I feel even freer to say everything I want to say. But I needed to write those songs to get here. Those are all true moments. And I love them.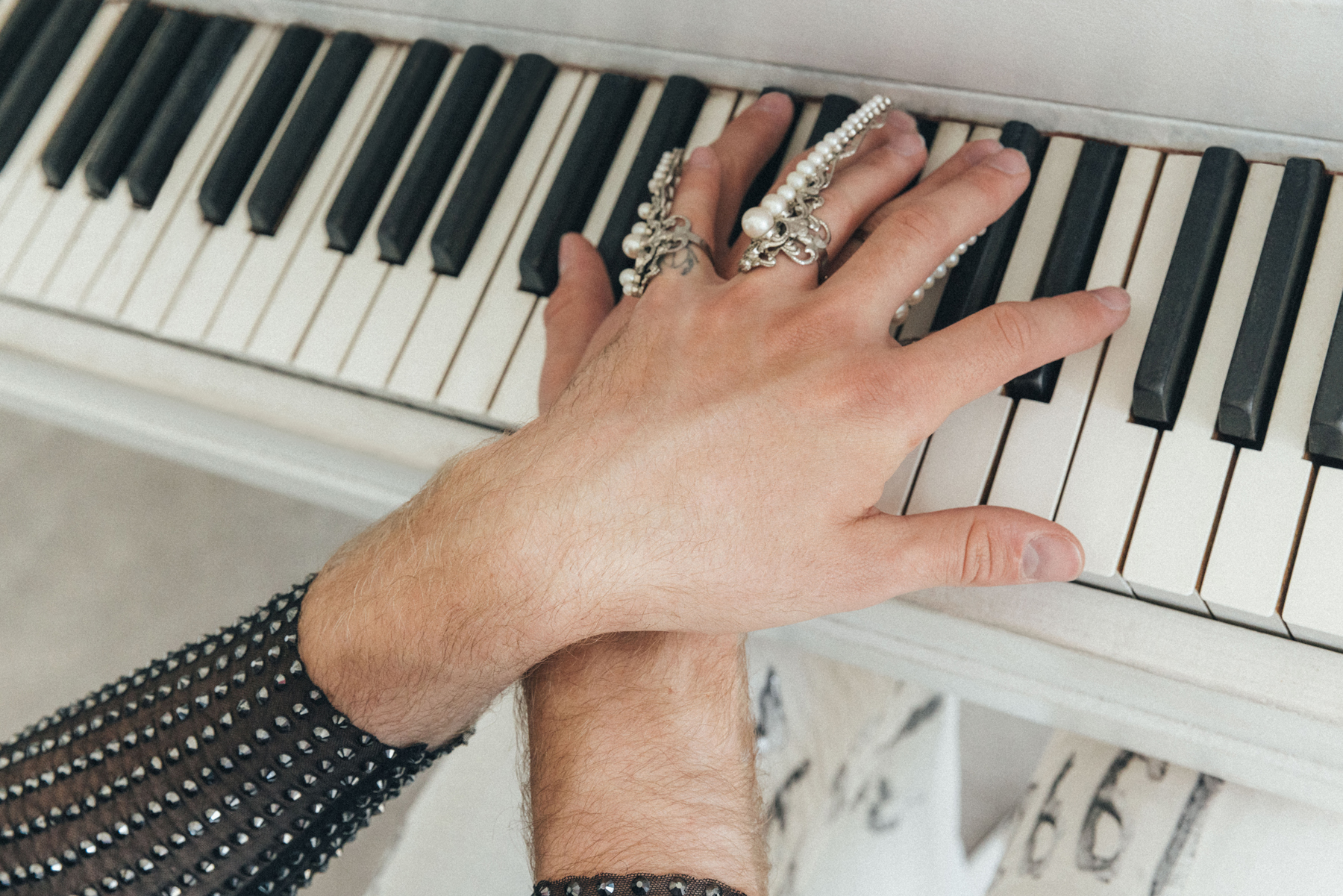 Alexander McQueen
So you say it's a bridge leading you to where you are now. Obviously you can't share spoilers or anything, but with this debut album, what can you share about the headspace you're in and the kind of things that are interesting you now?
I'm obsessed with Oscar Wilde, and I have been since I was, like, 19. He wrote this letter when he was in prison, for being gay, to his lover. And he was talking about being in the courtroom. They were reading all of the evidence against him — 'You hired this rent boy!'
He calls it like a turning point, where he realized, it's one thing to have someone else tell you what you've done wrong. But he's like, 'How amazing would it be if I stood up there? And I said every single sin or stain on my life, boldly. What would that look like?' I was like, 'Oh, that's what this album [is]: What can I say that terrifies me?' We wrote this song last week that affected me so much that I am going back to therapy. Which is the gift, because I don't think that songs are healing. I think they're cathartic. And I think they point you towards what is actually going on. A song doesn't fix PTSD. Therapy is needed for those things, or whatever is needed, a song doesn't do all the work, but it can point you to where you need to do the work. So that's kind of what the songs have felt like. When I say 'deeper,' it's not that the other songs are more surface level, I think it's just [that] we're getting closer to the points.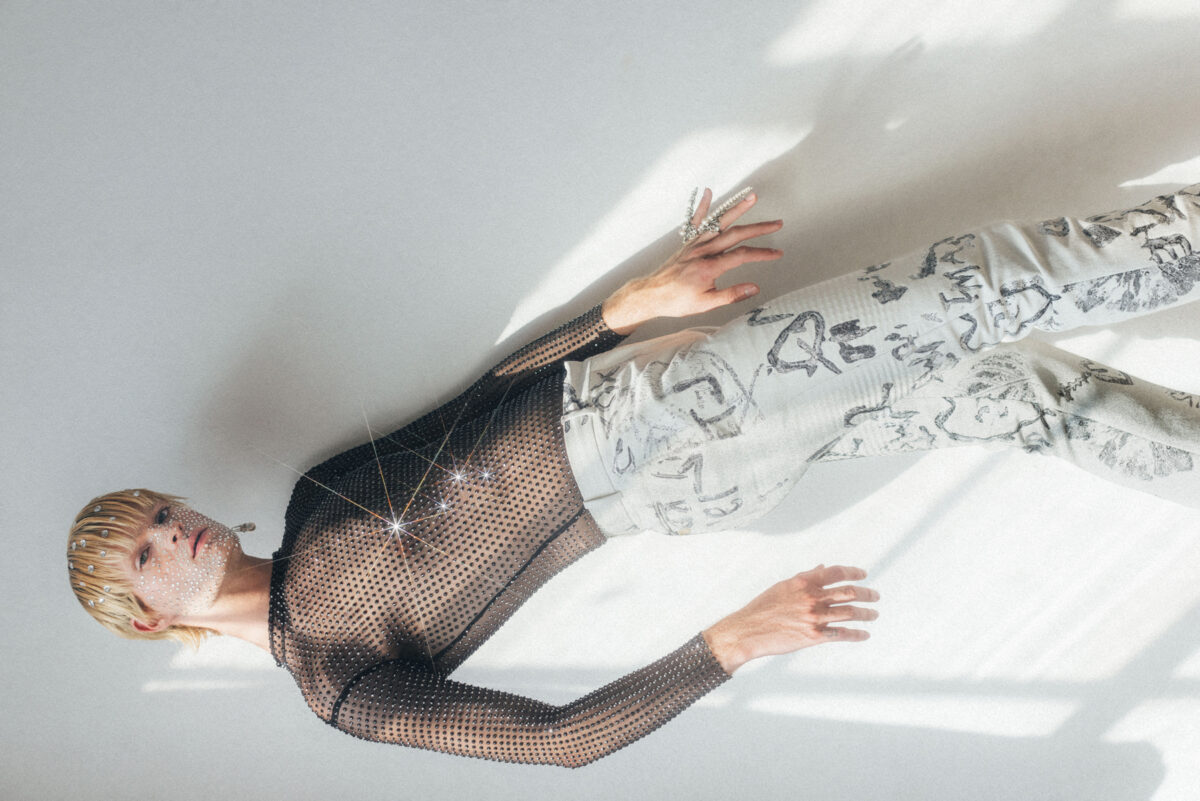 Alexander McQueen
You're saying that the song you wrote last week prompted you back to therapy. I'm curious, what's the song about?
It's like a dark night of the soul song. I'm looking at this tarot card. I'm just going to use it to explain. I pulled it a lot on tours: the Ten of Cups. And traditionally, it's like a happily ever after card because it looks like it's this family, and there's a rainbow. But I was reading this person's interpretation, and she said 'This is a stage card. If you notice, this family is on a stage. They're performing happiness. They're performing this kind of ideal that exists sometimes.' Obviously, we are happy sometimes, but the point is, it's a rainbow to show that to live a fulfilled life is experiencing many emotions. The rainbow is many things: it's happiness, and despair and loneliness and joy, and probably within 20 minutes of themselves, sometimes. So the reason I pulled that card is because there's always this sort of persona that we're putting out. I'm on the stage performing a lot. But the song I wrote last week, I'm not performing for anyone right now, not even myself. So what do I need to say? And what I said was, basically, 'I'm tired of living, but I don't really want to die.' That's the gist of it.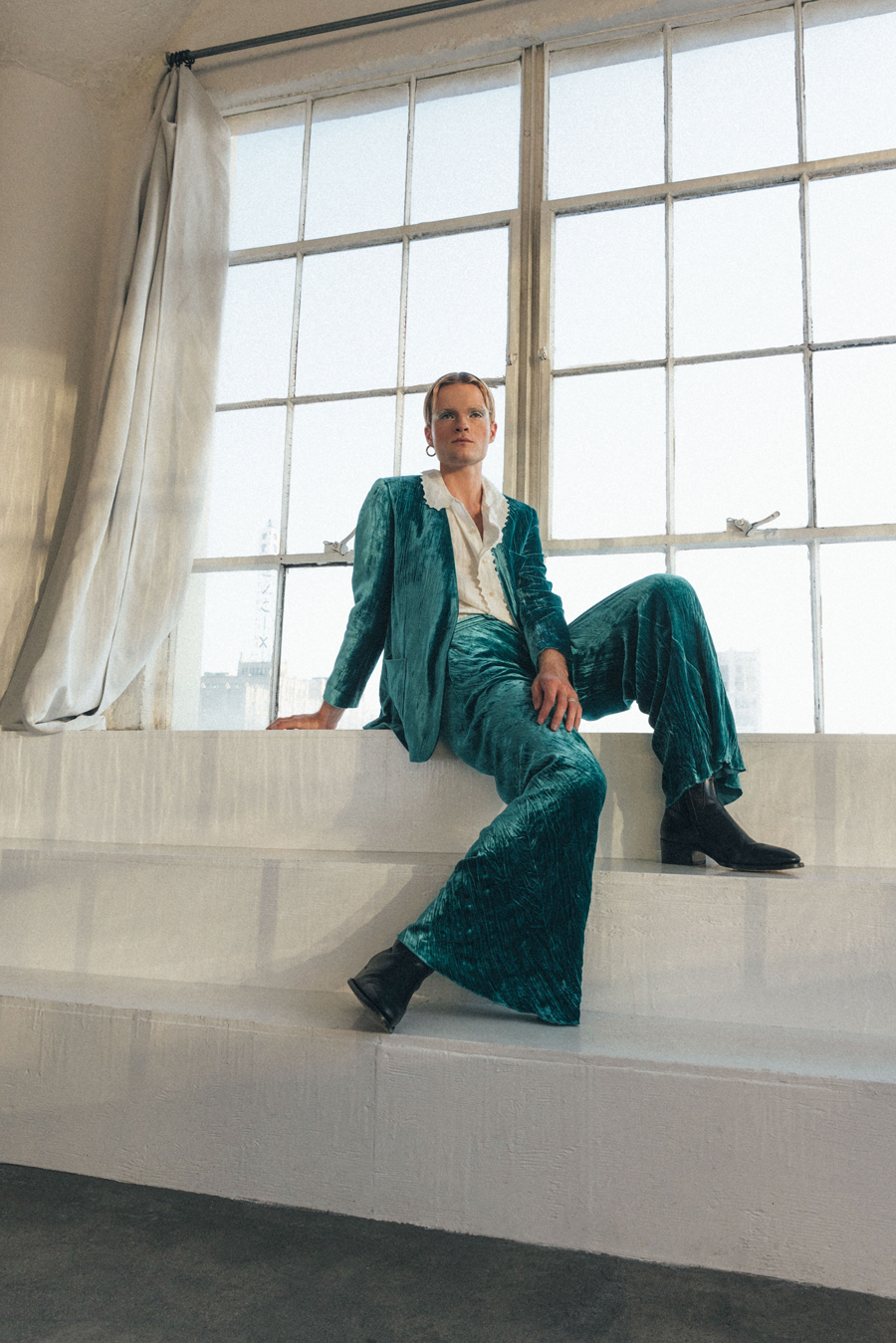 Dries van Noten
Which songs on the Pluto EP are resonating with you the most these days, as you're performing them?
It's funny — the ones that are my favorites actually haven't really [been] performed yet. "My Mistake" and "Call It Love" and "Dark Bird." I don't really perform those yet, just because the set was so short. Okay. Right. I'm going to say "My Mistake" is probably my favorite. And it's really resonating, from what I can tell. It's just me, at the piano, telling a story of dating the preacher's son in high school. He proposed to me before I went to college. I said 'Yes, question mark.' I didn't say no. But it was a capital T trauma moment for sure. So anything you say is not coherent. I put that song on Tiktok, like, two years ago, and it had a little moment. People do just want to hear the truth in the story. I think the more specific we are in telling our story, and the more explicit we are in telling our story, the more universal it is. It's not really the other way around. I tried to do that on the song "Call It Love." That's an ode to Oscar Wilde. It starts with an Oscar Wilde quote, he said 'The secret of life was in art.' A lot of my music has coded terms. "Lavender Forever," I mean, the last night of tour, my band was like, right before going onstage: 'What the fuck is "Lavender Forever" about?' I was like, 'Gay sex what else?'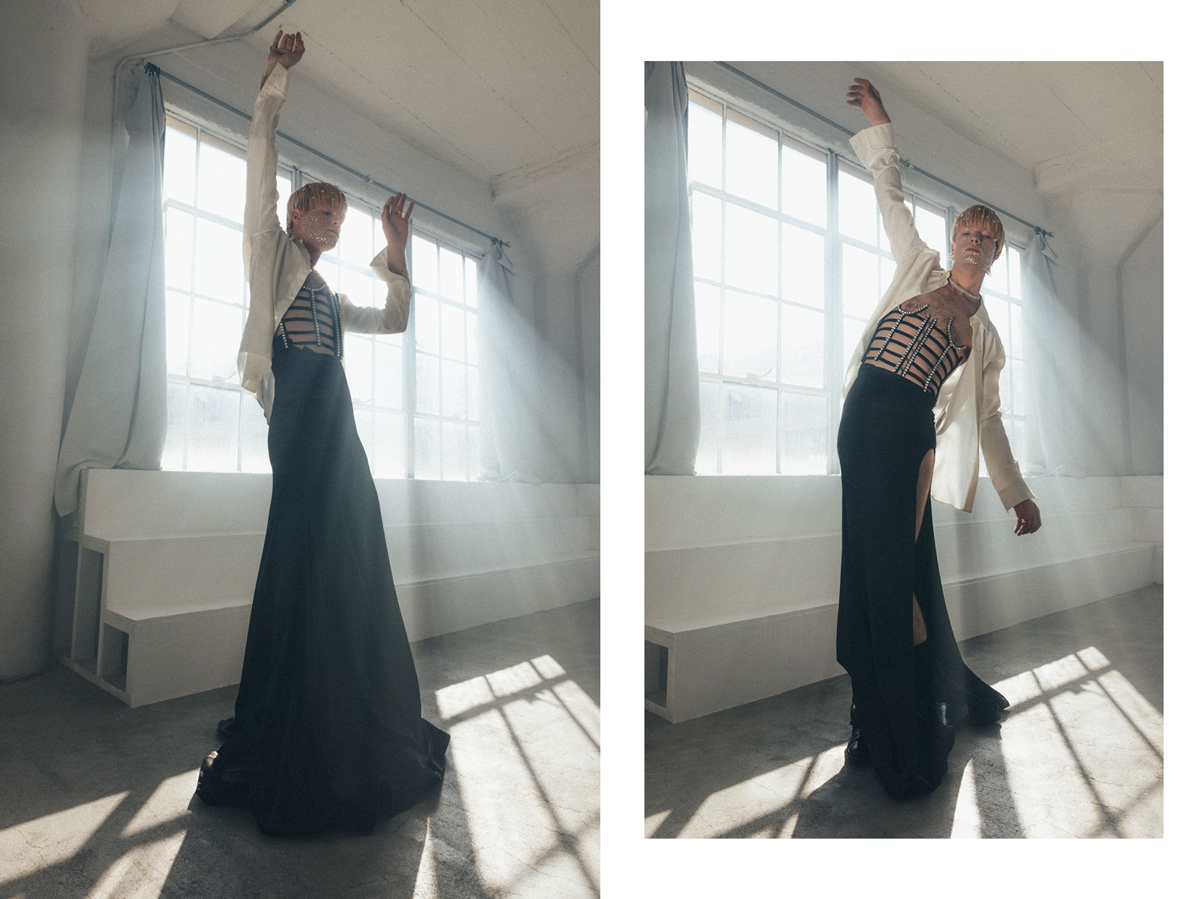 Corset – AREA, shirt – Y/PROJECT, skirt – SEYIT
You were talking about Oscar Wilde — I'm curious, are there other sources of inspiration that you are taking these codes from right now?
I don't think I'll ever shake the Bible metaphors. I don't really know why. But they're there. I just love telling the queer story through biblical metaphors. I feel like it's happening, I see it everywhere now. It's kind of in the zeitgeist. It's a bit of a reclamation. But I do find most inspiration from authors, at least lyrically. And lately, a lot of Beethoven.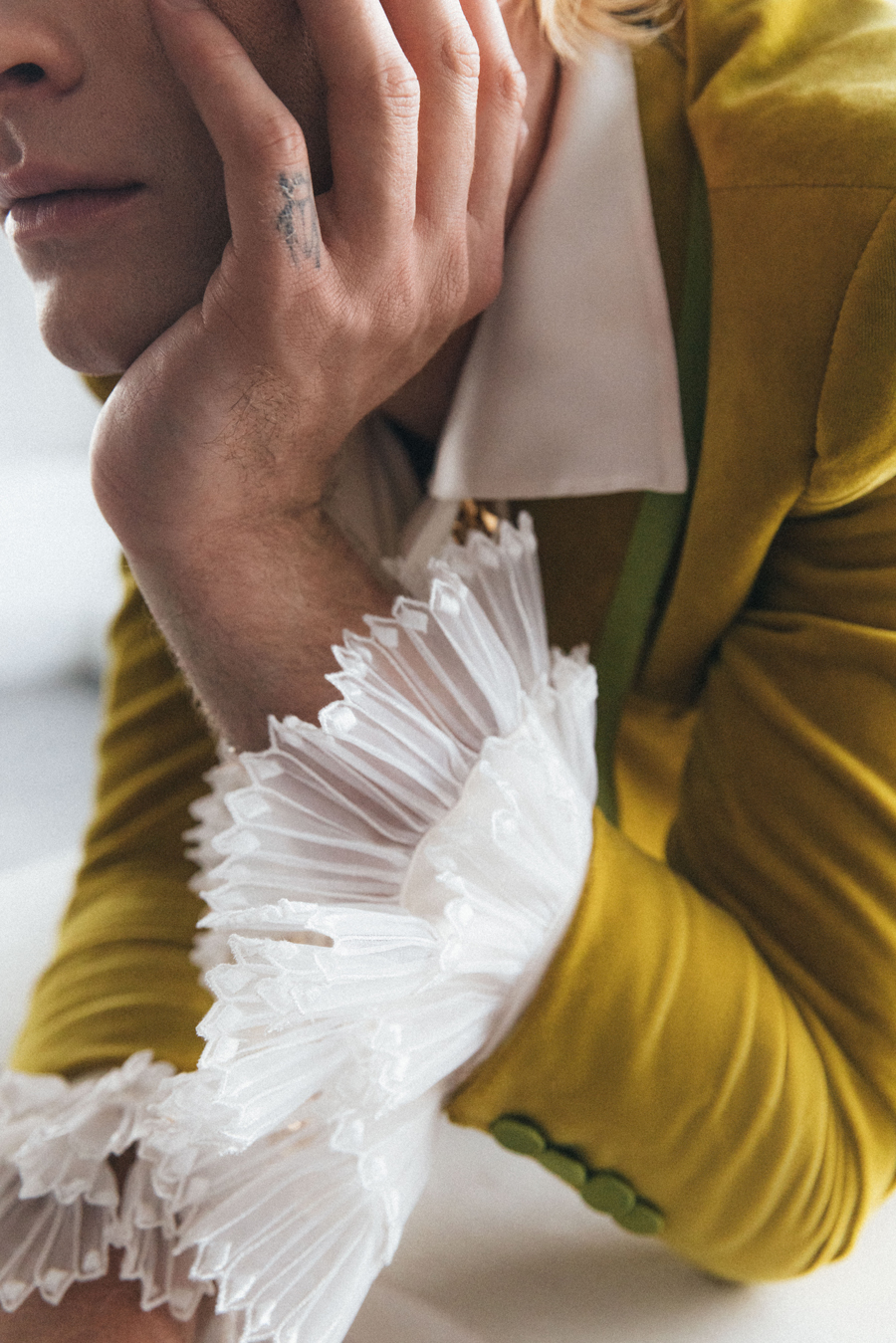 Gucci
So you're home right now — do you like being home?
I do love going home actually. I think there's part of me that will always probably feel most at home in Missouri. I don't predict that'll live there anytime soon again. Same as the Christ archetypes, I don't know why I just can't shake this. I've tried to shake it and it just kind of creeps back. I guess it's accepting who you are and how you're raised. You can let go of the things that don't serve you. But if there's parts of it that still do serve, you don't want to let go of all of it. I do love going home.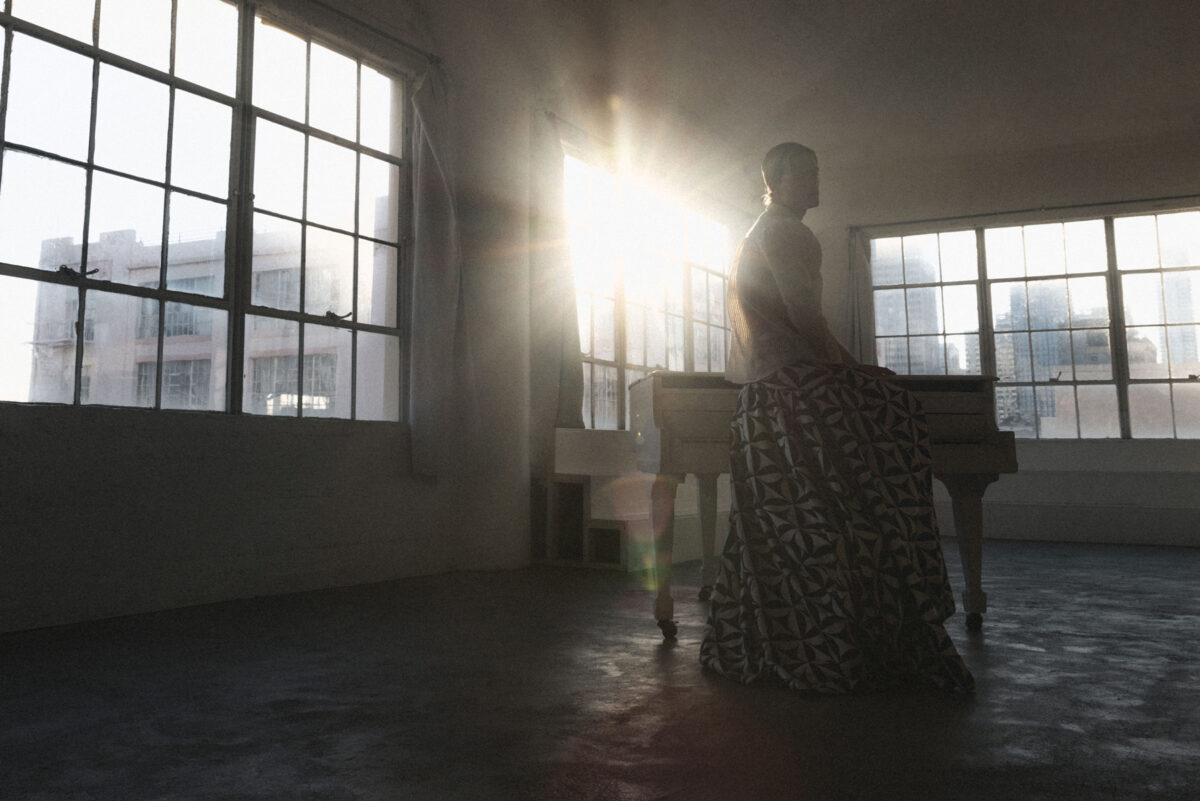 Dress – Annakiki, Shirt – Unisecon