LUKE EDWARD HALL
Charmingly-maximal, Luke Edward Hall's whimsical take on interiors offers an escape from the mundane white box of minimalism.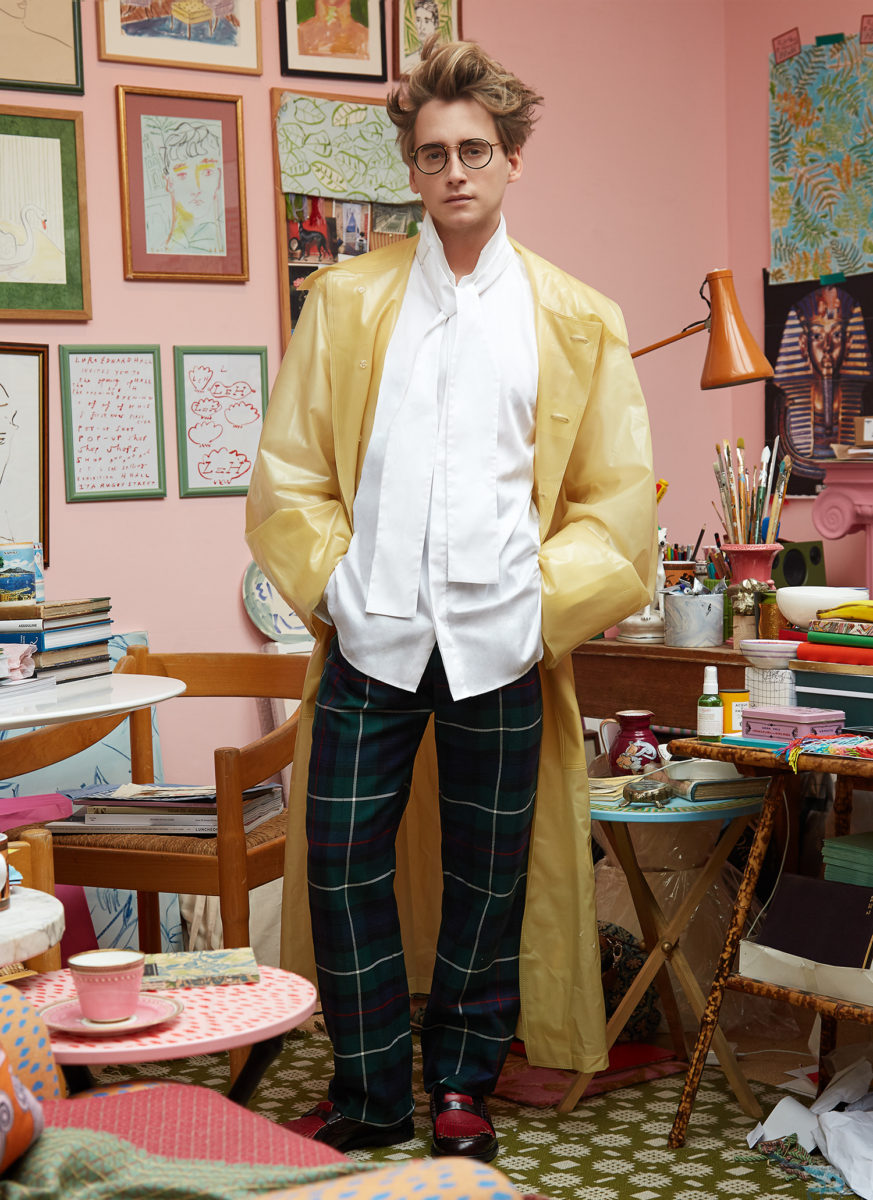 Photography by Wikkie Hermkens | Styling by Sonny Groo | Interview by Dustin Mansyur
Full look by Burberry 
Peruse through Luke Edward Hall's instagram feed, and one will find a story vibrantlylayered in color-clad interiors, candy-colored hues of hand painted ceramics and drawings, and peppered with images documenting the 27-year-old creative's quixotic travels. Stylishly dandy and tousle-haired, Hall curates a dreamy world as if seen through the most decadent shade of millennial pink lenses. A visit to his North London studio enforces the idea, with it's bubblegum-painted walls and scatter of colorful tools and materials strewn across his work table. Daring fabric remnants, bouquets of colored pencils and brushes sprout charmingly in a collection of vintage mugs and vases, vintage photographs, magazine clippings, and the occasional tchotchke clutter the artist's space like a decorated nest. In the center, a spot is cleared away, just big enough to entertain a drawing in progress.
Hall has been dubbed by Vogue.com as the 'interior design world's wunderkind', a hefty seal of approval for a budding artist and designer. With a variety of blue-chip collaborations with companies like Burberry, Drakes, and Stubbs & Wootton already in his portfolio, Hall is positioned thoughtfully for longevity. His idyllic watercolor brush strokes, and gestural, simplified drawings elicit an understanding of the same subtleties of Matisse or Picasso's more expressionistic works, while an array of products he's created in-house suggests similar branding sensibilities of such design heavyweights as Jonathan Adler or Kelly Wearstler. The romance exists in the visual language Hall uses to couple his creative vision with commercial potential, resulting in the fanciful prism of his nostalgia inspired work.
Here IRIS Covet Book offers a glimpse into the auspicious world of Luke Edward Hall.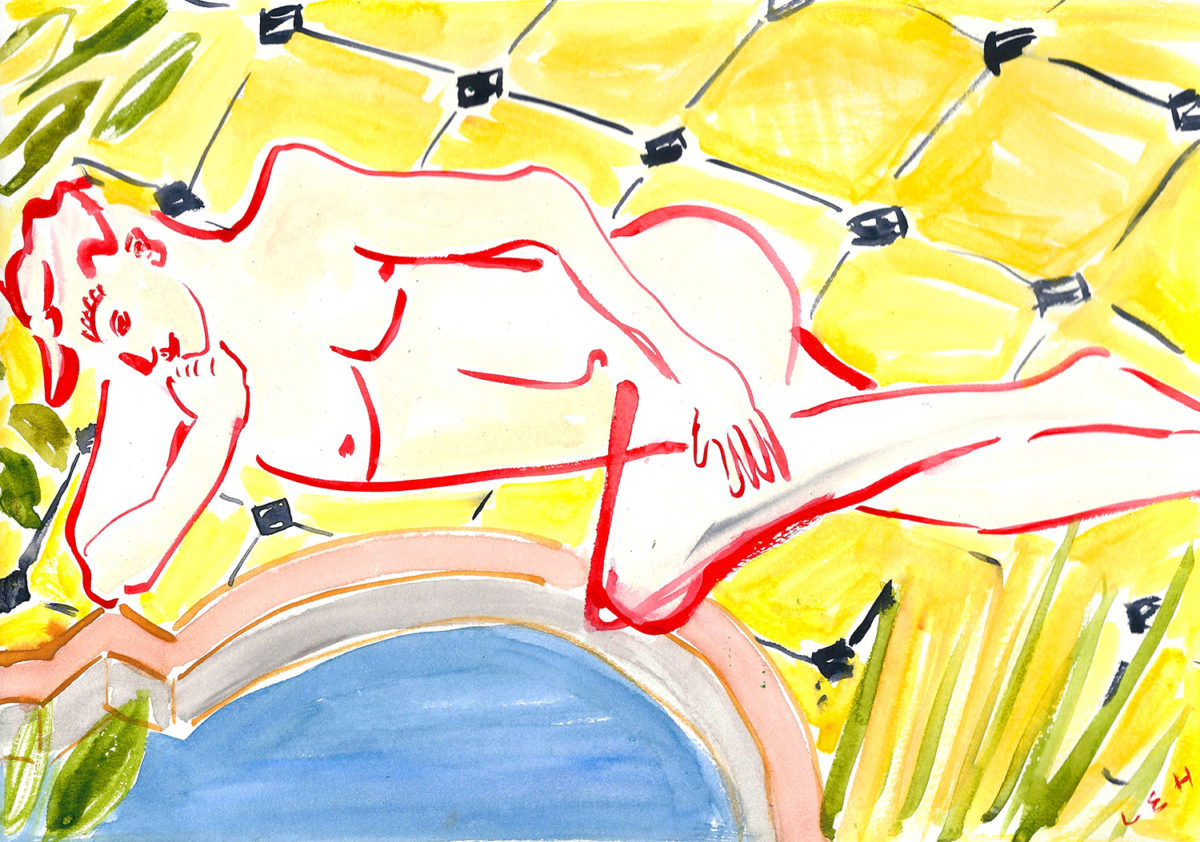 'Gervase by the Pool', 2017
You actually studied menswear at Central Saint Martins before you established your studio in 2015. Your career has really blossomed as an artist, but also as a designer of objects. What influenced your decision, or what shifted your focus, I should say rather, post-graduation, so that you went down this career path as opposed to choosing to stay in men's wear design?
I always had an interest in antiques and interiors as well as fashion. While I was studying menswear, I was also selling antiques online. When I graduated I met an interior designer in London, whose style I really admired. So I ended up going to work for him, and that's how I got more involved with interiors. It wasn't something that I decided, it happened quite naturally.
Then what helped you to make the decision to venture out on your own after working with that architect that you mentioned?
I always knew that I wanted to have my own thing. When I was working full time, I started designing fabrics. I began putting more work up online, and I started doing much more drawing. Then, eventually, I got a few commissions — enough that allowed me to set my own thing up. I worked quite hard to get my work out there, so that I could be able to go out on my own.
What avenues did you pursue to increase your exposure?
Obviously, I've had a lot of work up on Instagram from the beginning. But, early on, I started making products like cushions, fabrics, and prints of my work. I had a lot of product that I could sell. I just tried to make sure that I had my work out there as much as I could. Eventually it began being published in magazines.
Do you do all of your fabrics in-house or are you licensing your designs through a fabric company?
It's full-time in-house. Coming from a fashion and interiors background, I always appreciated good fabric. After I sketch up the design, I'll print them out and work with a factory to produce them in very small runs to be used in my cushions and other products.
Can you describe what your studio's like? Do you share space with others? What is it like when you are there?
I work with my friends in an art gallery where I have a space in the back. It's really nice because it's very close to where I live, five minutes away. I have this corner of a room that I've painted pink. It's where I work on all of my projects.
What's a typical day in the workroom like for you?
I go in every day because there are lots of new things happening. I always have meetings and a variety of projects to work on. Sometimes I'm working on foreign accounts, sometimes I'm drawing, other times I'm painting pottery or sourcing fabrics.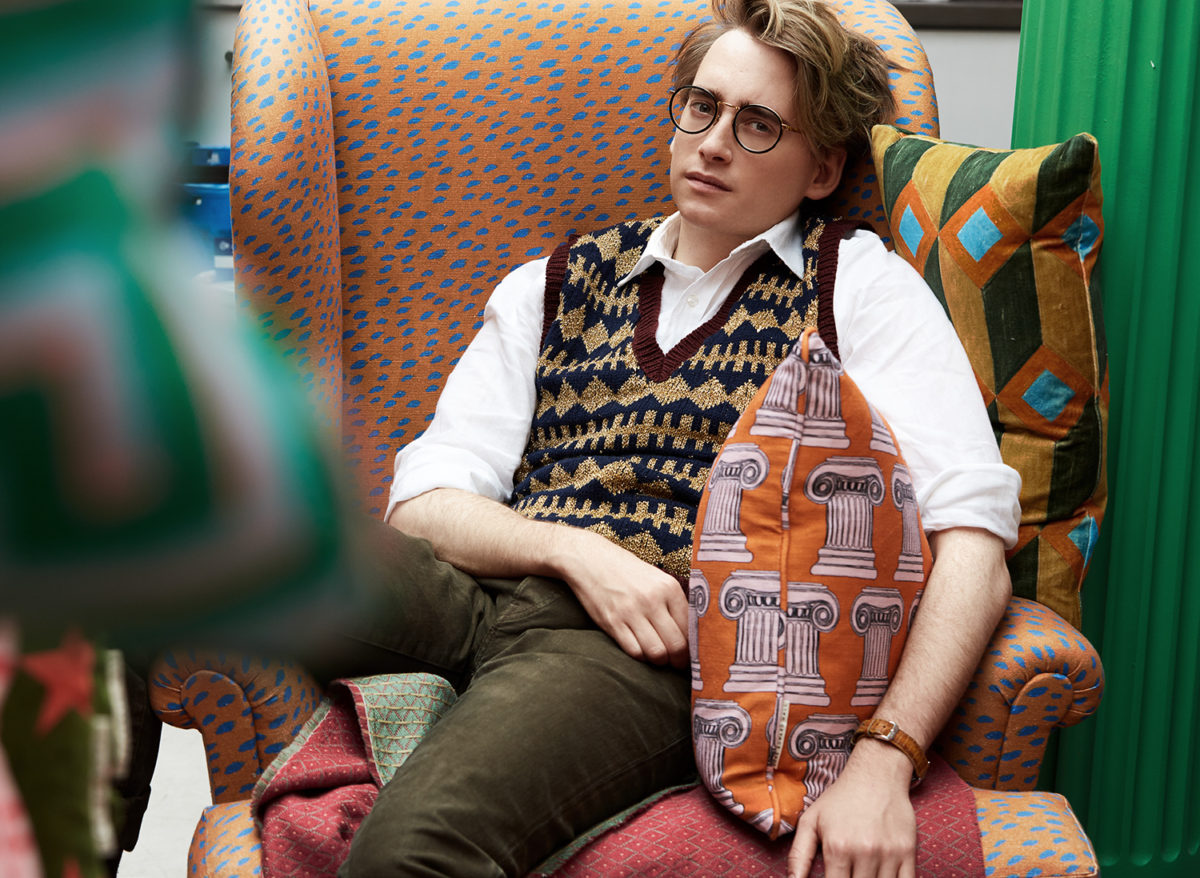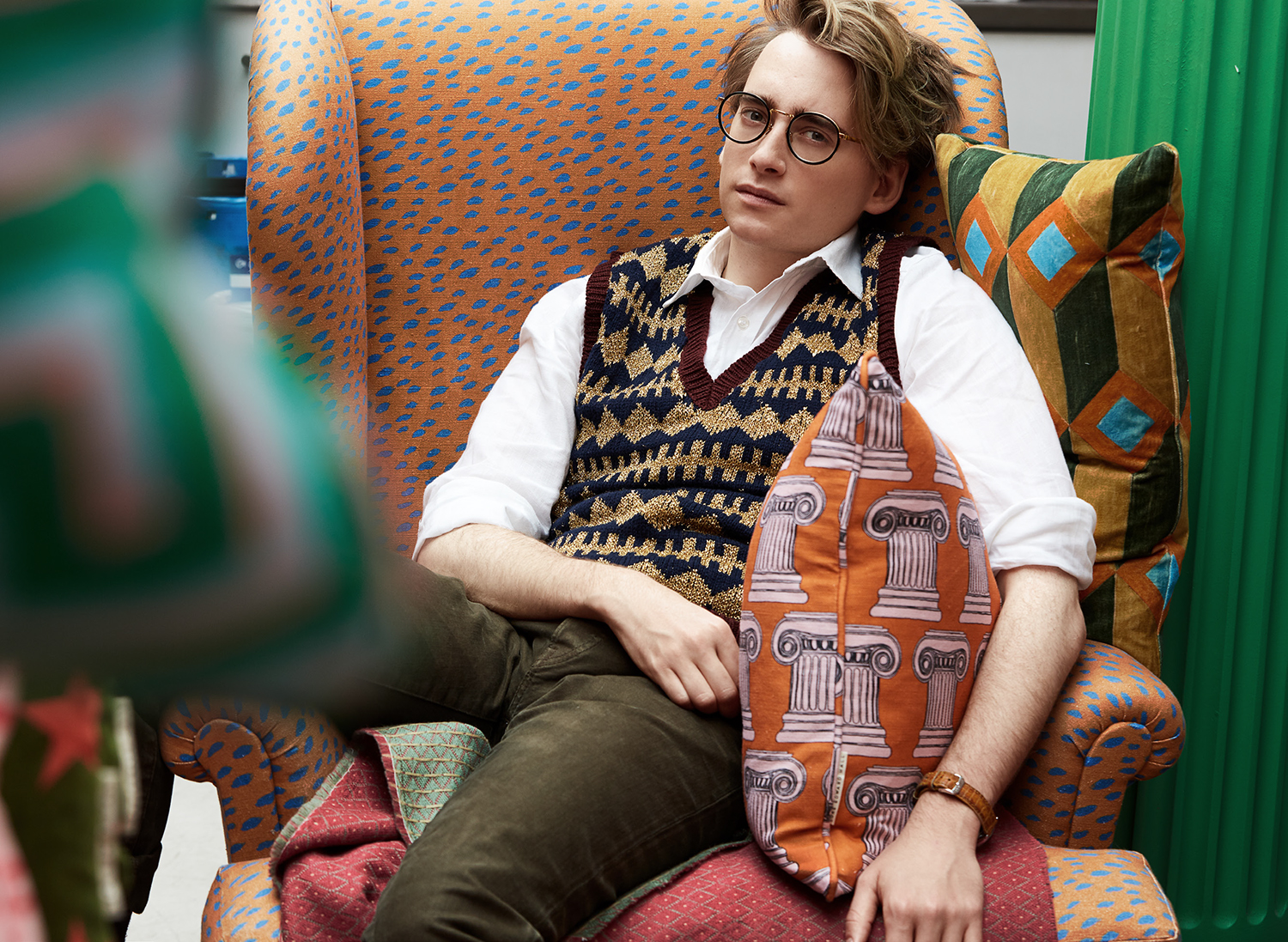 Voluta and Luca Cushion by Luke Edward Hall
You describe your aesthetic as being informed by a love of history, an appreciation of beauty, and a sense of playfulness. Do you have any specific historical influences that you find inspiring from which you pull inspiration?
I draw inspiration from history because often I'm inspired by the stories. I love looking back at ancient Greek myths and legends, also English folklore. I love reading about times in history, like the 1920s and '30s, especially in London. I'm quite nostalgic.
Your work is very sophisticated. How do you draw the line between playfulness and something that's considered kitsch?
The thing is, I do like a little bit of kitsch, but I don't want what I do to be so gaudy and outrageously mad that it becomes off-putting. I think you can be playful with color and print without sacrificing elegance and sophistication, which is a nice balance for interiors. I love playing with tradition or history, and trying to achieve the balance of pairing something very old with something very new. Curating the right pieces together is always a fun process.
I feel like today people consider minimalism and modern design as being somewhat synonymous, especially when we're talking about interior spaces. Your approach is anything but minimal and yet reads as modern. Do you think there is a shift in the consumer market towards a more "decorated" approach?
There's a general shift toward people being more interested in a more maximal approach, which I think there's lots of reasons for that. Like with fashion, things come in cycles. I don't really think of my lifestyle as maximal…it's more that I just like being surrounded by my "stuff ". I like having lots of color and pattern, and that look is typically classified as maximalism. The thing with maximalism in the interiors I like, is that it offers a little bit of a fantasy. I guess that's why I look at the past, as well. I like the idea of creating something magical into which you can escape. The world we live in at the moment is quite grim at times. I think that's partly why more people are taking to this trend because perhaps they need an escape from the everyday as opposed to living in a white box.
Based on your Instagram, it appears as though you travel a great deal. Is it a source of inspiration as well?
Travel is a huge source of inspiration. Italy is a really inspiring place for me to visit and work; I go there a lot and bring inspiration back. I always feel refreshed after going to the countryside in England because I find the city to be quite intense. Travel for me is just as important as my studio days. When I travel, I end up working every day, and always get re-inspired by the many things I come across.
You've collaborated with so many high profile companies already across several different luxury consumer markets, Burberry, Drakes, Christie's, Stubbs and Wootton, and even Samsung, what have been some of your favorite collaborations to work on and why?
They've all been great for their own reasons. I only collaborate when it feels like the right fit. It has to be something that I feel really passionate about and connected with. Burberry is an amazing company to collaborate with because their reach is worldwide. It was very exciting when that opportunity happened. I also have always loved Stubbs and Wootton, so it was really fun to work with them to turn my drawings into embroideries for their slippers. Drakes was also a great collaboration that gave me the opportunity to see my drawings on silk for ties and scarves. It's a great experience working with other people when they do something really well. It allows me to add my touch to it, and we come together and create something beautiful.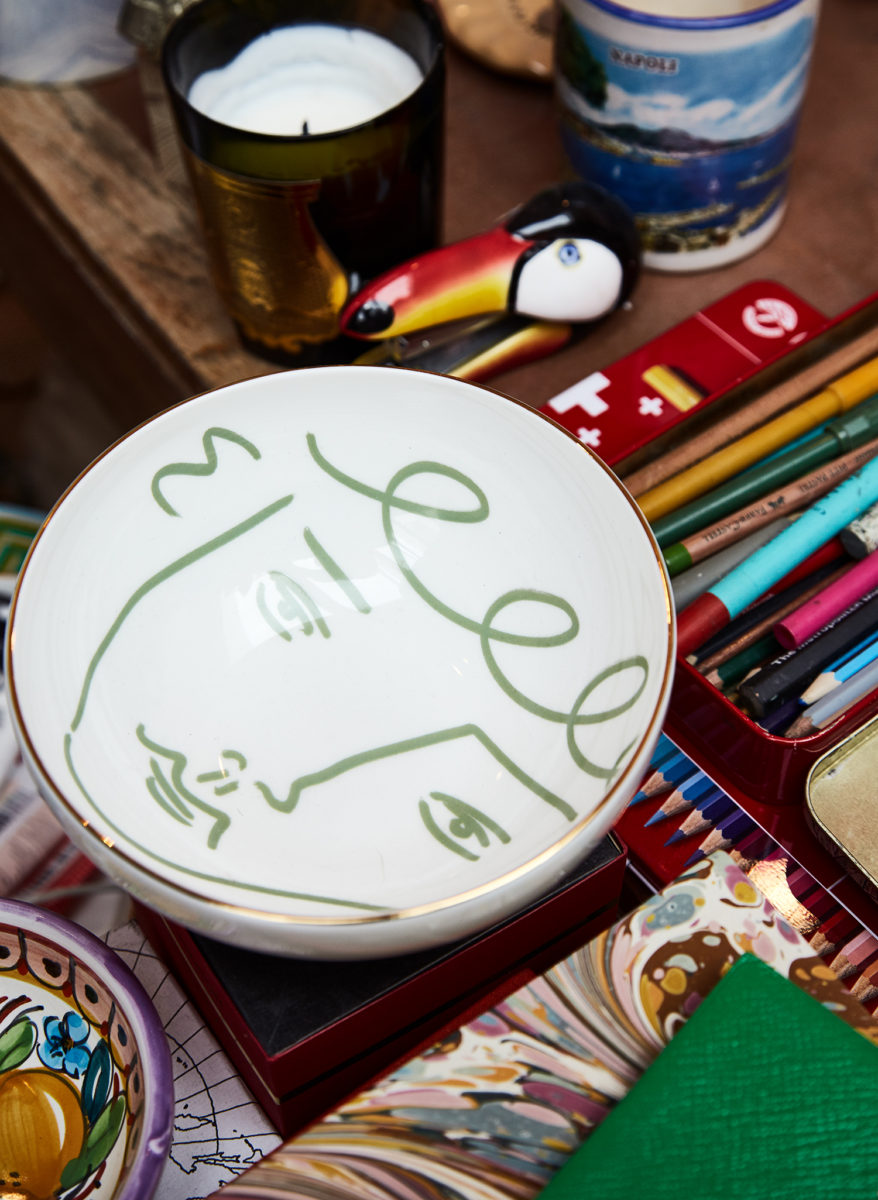 Luke Edward Hall x The Store 'Face Bowl' (available from The Store x Soho House Berlin and The Store x Soho Farmhouse)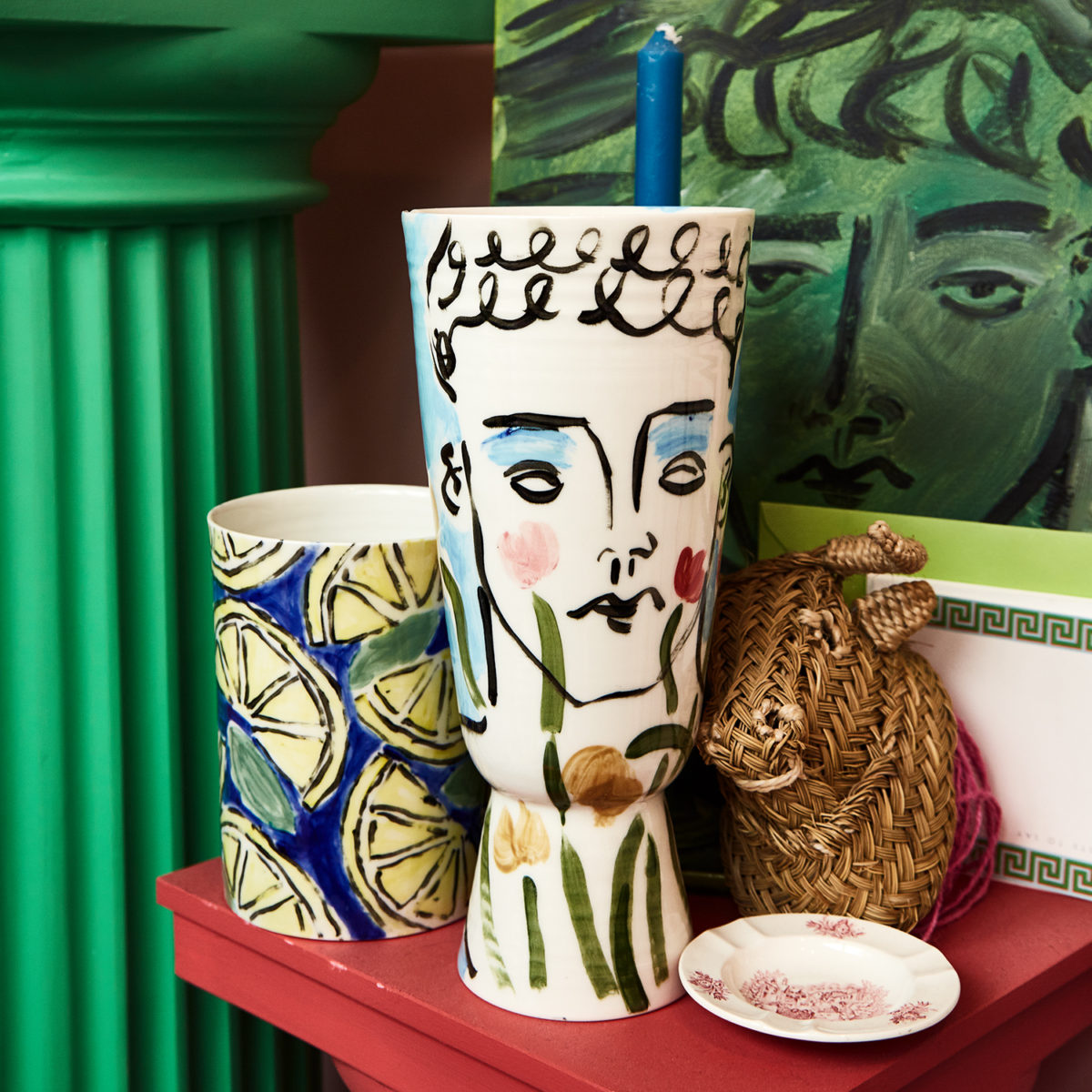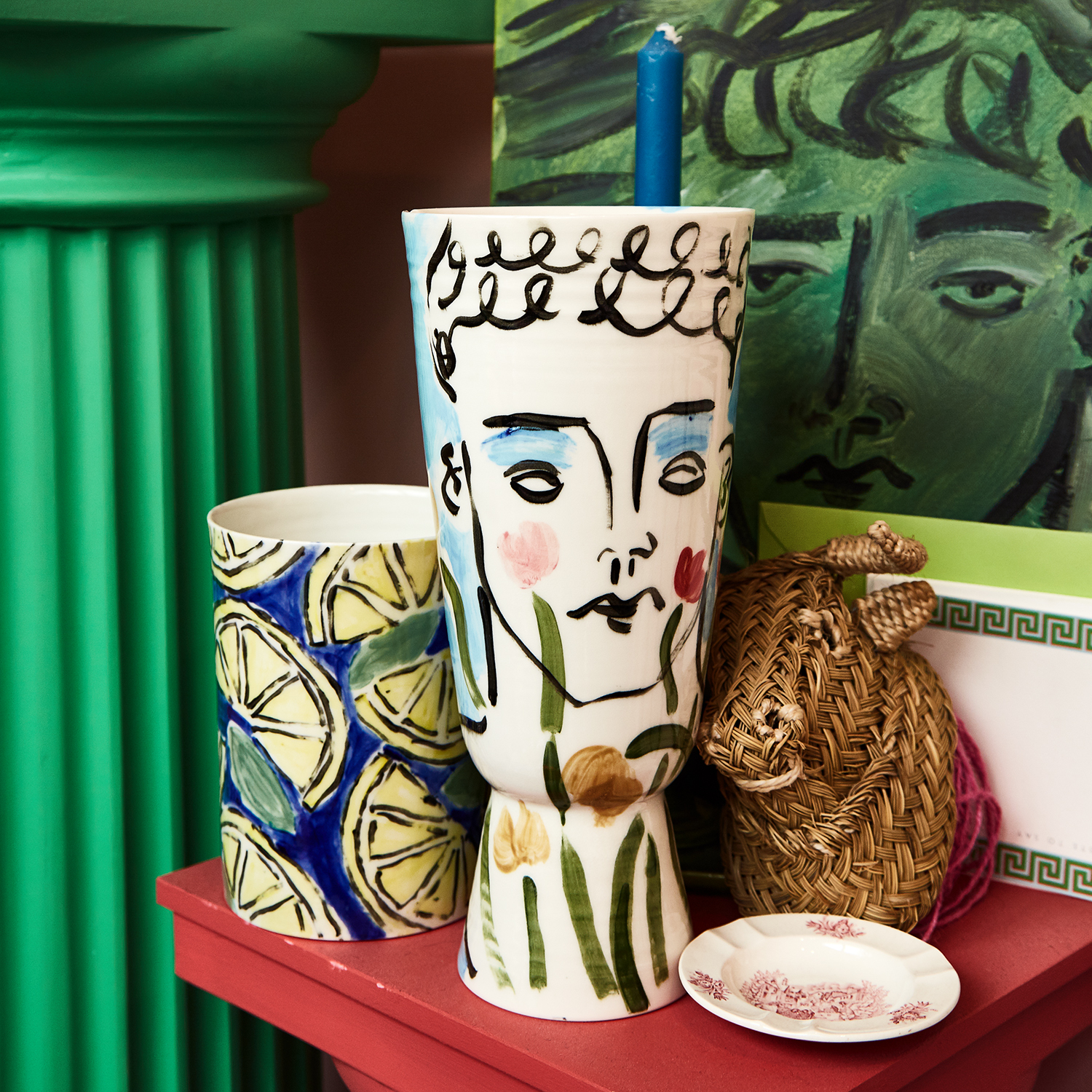 Vases From Left: Lemons, 2016, Flower Prince, 2017 (Personal Collection)
You're working on many different projects that span different disciplines, do you do all the your own business development or do you work with an agent?
It's sort of a mixture. I don't employ anyone. I just work by myself. I have an agent for Europe and they get me more illustration jobs. Most of the work comes to me, though. If the project involves working with a bigger company, I may hire someone short-term if needed, and I have relationships with vendors to produce what needs to be done.
I feel like drawing, itself, is such pure, analog art form. Now, we're living in a post-digital world, all connected to a screen, advertising ourselves online on whatever platform we can. Do you think that social media and the Internet are simply just an extension of the artist's tool kit?
I don't think everyone has to engage in social media. I completely appreciate the people being like, "Oh, I'm not doing it. I'm not doing Instagram," and that's totally fine. For me, I like having a visual diary to see and process what I'm working on. I've always liked working on blogs and documenting what I'm doing. I've received lots of work through Instagram. When I got my first big job, which was for the Parker Palm Springs, it came from Instagram. So I owe a lot to it really, because it's helped me. If you don't need it, fine, but it can definitely be a great tool. If you can get greater exposure, then I think, why not make the most of it?
Warhol said, "Being good in business is the most fascinating kind of art." You have an ecommerce portal on your website, you also have 1stDibs shop, and you did a pop-up shop last year. I'm curious what entrepreneurship means to you. How do you maintain the balance between art and commerce, being commercial without sacrificing your vision?
I've always been fascinated by retail. And while I like drawing and painting, I also like making products. When I first started selling antiques online, I'd go buy old antiques and restore them for resale on 1stDibs. I love graphic design and the process of branding things, so creating a variety of products with my artwork was natural. Now, I'm thinking about doing a little exhibition next year, so I'm setting aside time to work on those pieces. Maybe people think, "Oh, well, you're not a real artist, you're more of a designer." I don't really mind what label I've got. I think you can have all of these worlds that fit together, and I quite enjoy doing it.
I saw images online of your pop-up shop. Do you ever think you'll venture into doing a little shop, a flagship store, for all your creations to live within?
At some point, I will probably do some shop type of thing. The thing is that at the moment I'm doing one-off pieces. I almost went down the route doing more products, but I'm now fixating more on hand-made ceramics, which are hand-painted and all one-off pieces. During the holiday season, I make more pieces and products for online and pop-ups. Right now my focus is on projects like the exhibition next year, which is going to be drawings, prints, and ceramics.
Do you have any advice that you might give to a young person considering to choose this as a career path?
Make sure you feel it pulling your heart; be brave. Go for it and believe in yourself. When something is completely yours, I think people always pick up on that. So do what makes you happy, because that's what people respond to. You need to couple that with being on it as a business, thinking about social media, and having a bit of a strategy to give you direction. I do think you do need to have both sides – a creative side and a business side – in order to make it a success.
You've worked on many of amazing projects and I'm sure you only want more, but what do you envision for yourself in your future?
That's the thing. I don't actually have a plan. I've got so many exciting stuff happening, like the exhibition next year, and I'm going to carry on doing more interior projects. I've only been doing it for two years by myself so there's still a lot that I want to do. I'd love to do a book and I like the idea you have, maybe, opening some sort of showroom. But for now I'm also just playing it by ear. I'm happy to just let things happen.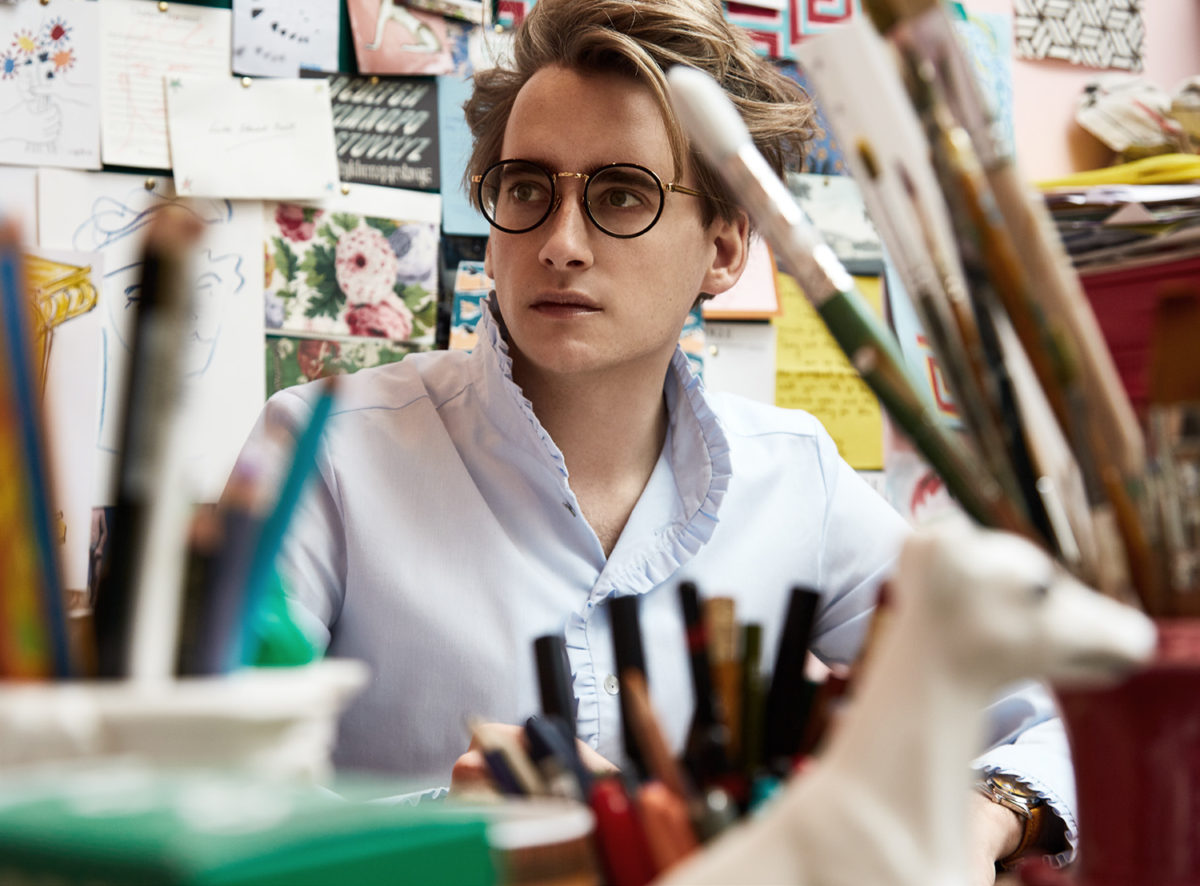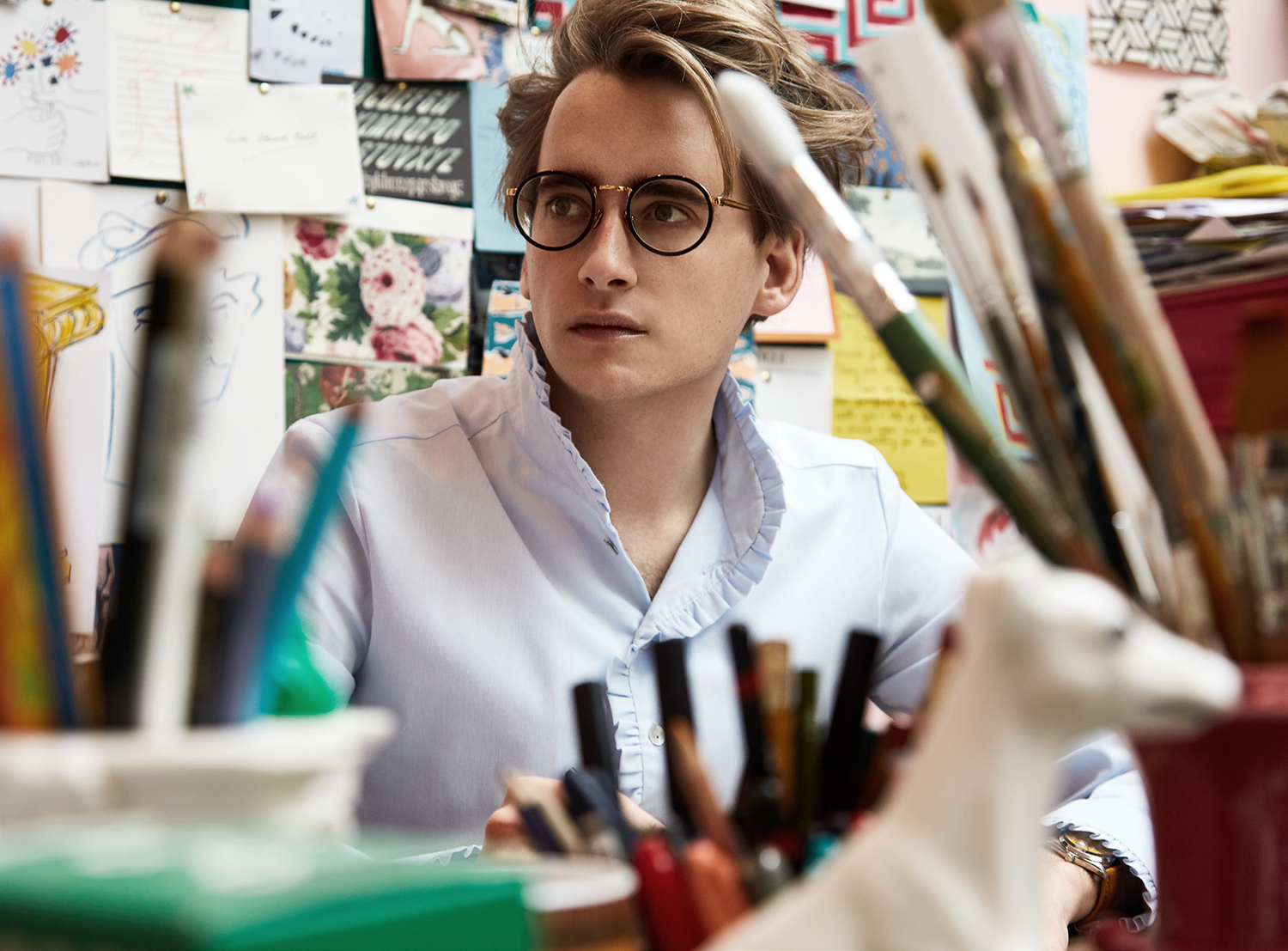 For more information visit lukeedwardhall.com