MATTHEW STONE
Beginning his career with an involvement in numerous counter-cultural movements, and rising to notoriety as a founding member of the South London art collective, !WOWOW!, Artist and Art Shaman Matthew Stone is bringing bodies together through his life-sized digital paintings.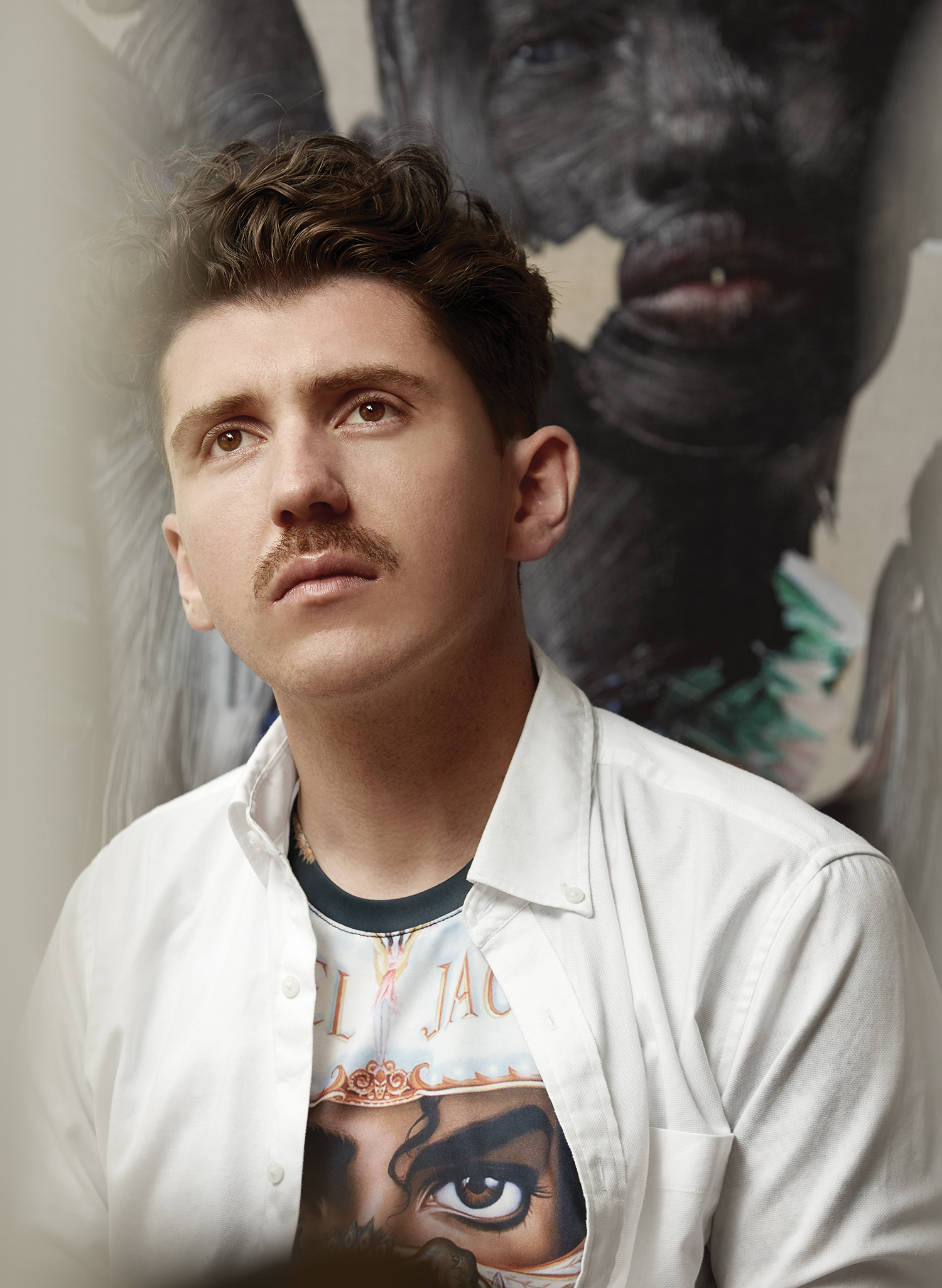 Photography by Wikkie Hermkens | Styling by Sonny Groo | Interview by Ashleigh Kane
In the early 00s, Matthew Stone took the teachings of Andy Warhol's Factory era and the concept behind Joseph Beuys' Social Sculpture and transplanted them to London, where he and a group of friends had just graduated from Camberwell College of Arts. Consciously eschewing the rental market, they founded !WOWOW! and housed it, and themselves, in an abandoned store in South London with a revolving roster of exhibitions, residencies, studios and parties. "When I was young, I had a really strong vision of how I wanted to live my life", Stone recalls over the phone from his studio in Hackney, "and I was specifically interested in squatting." Having grown up with his family in a cottage on a canal in Bath, England with no permanent source of electricity – just a generator which Stone says was often not in use – it's not hard to understand his draw towards other people. Now 35, content with living alone and much less the party animal he once was, Stone's work is still crowded with bodies. He contributes to his own series titled "Interconnected Echoes" whereby he interviews the people he admires, has participated in several group as well as solo exhibitions, photographed the cover of FKA Twigs' M3LL155X album cover, and most recently exhibited his life-sized digital paintings at Somerset House under the title Healing With Wounds.
Here he talks to IRIS Covet Book about connection, spirituality, and shares some invaluable advice for young artists.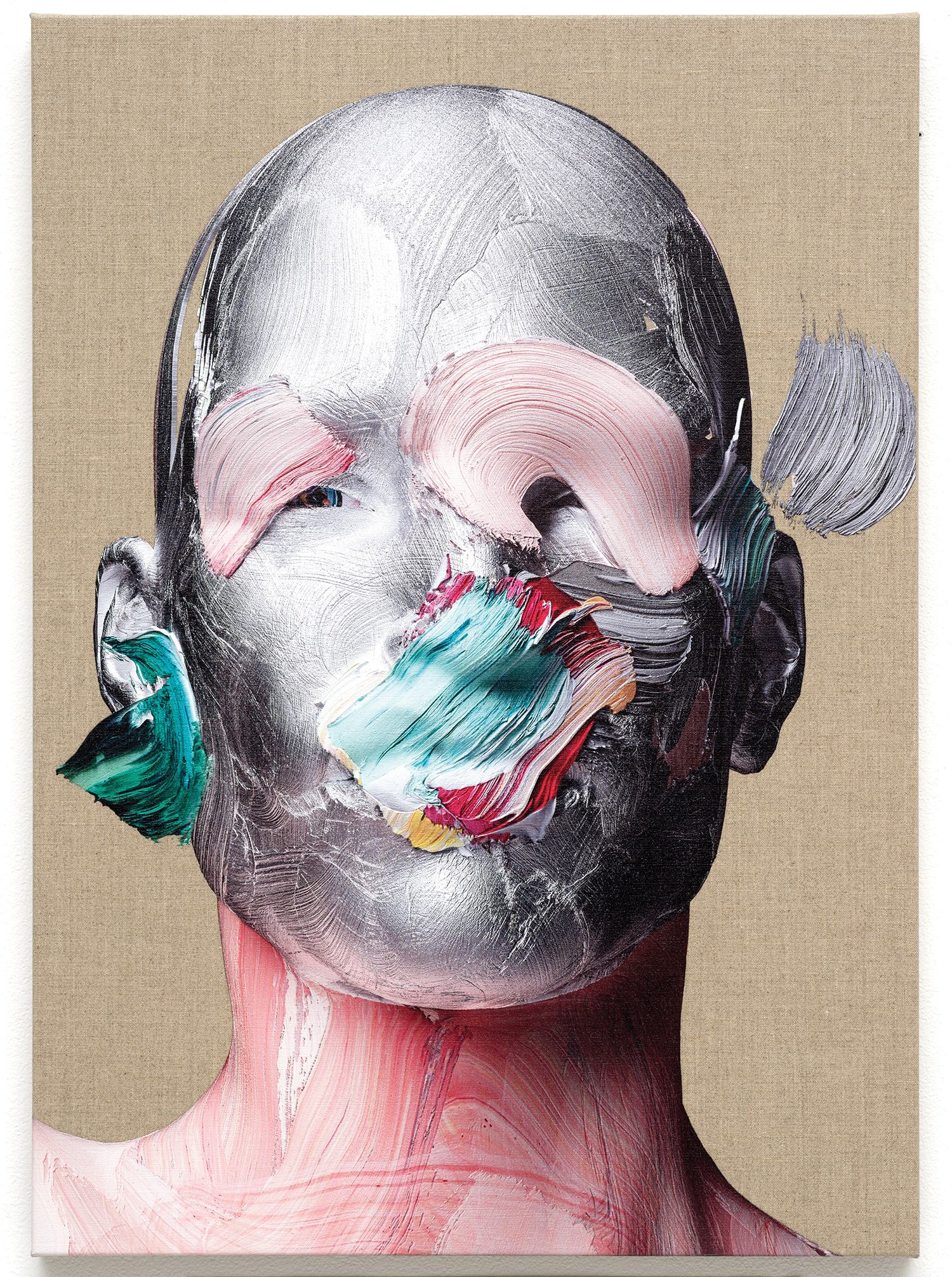 Upper World Portrait, 2017
Can you talk about the process in which you make your paintings?
I physically paint and then photograph the strokes individually and create really high-resolution images of each brush stroke. Then I cut them out in Photoshop and use them to texture 3D models that I make of people. I'm working in 3D CGI software and using virtual cameras and lighting setups. Then with a printer, they're finally printed onto linen with a technique that I developed. I only ever print each once so they live like actual paintings in the sense that there is only one of them.
Why did you want to work in a digital realm?
I didn't want to make something that was backwards facing. I wanted people to look at them in a way that they look at contemporary imagery, in that they have not seen something else exactly like it before. To look at it with that freshness, with those eyes, and then start thinking about their bodies and each other. For a long time, I wondered whether that was through photography, or pushing photography into sculpture. With this technique, I feel like I've nailed the method (laughs) and now I can get on with just making paintings. The majority of the work was developing the technique and there were years when I worked on it without showing anyone any development. I went through waves of development without over-excitedly sharing it with everybody, and that was a big education for me.
One of the reasons that I've stopped doing lots of other different things and focused on the paintings is because I've realized that I can do everything I need to do within other realms, within this world of painting. Because of the way that I work in 3D virtual space, I can't help but think of them, when I hang them on the wall, as a window into that space. Increasingly, I'm doing things in life-size so as you look at them, you're looking into a virtual reality or mixed reality.
The people who appear in the paintings are not based on real people, they are completely invented like avatars that I've posed and painted. But those figures have started reappearing through different images, so it's almost as if I'm investing in these metaphysical beings that live in the world that is my painting.
You came to London from Bath at age 18 and began to study at Camberwell College of Arts. What artists did you admire back then?
I wrote my dissertation on the spiritual content in Andy Warhol's work and argued that you could read a religious trajectory in his work. Then I came across Joseph Beuys and was really interested in his work from a performative perspective. Through him, I developed these ideas around the artist as Shaman.
Were you always intrigued by spirituality?
My mum was a Catholic and as a result – and as a reaction to that – she was very much like, 'You are not going to be indoctrinated in any way.' We were left to work that stuff out on our own. Looking back, I had an interest from a very young age in mysticism; The X Files and UFOs, which I feel were very much of the times.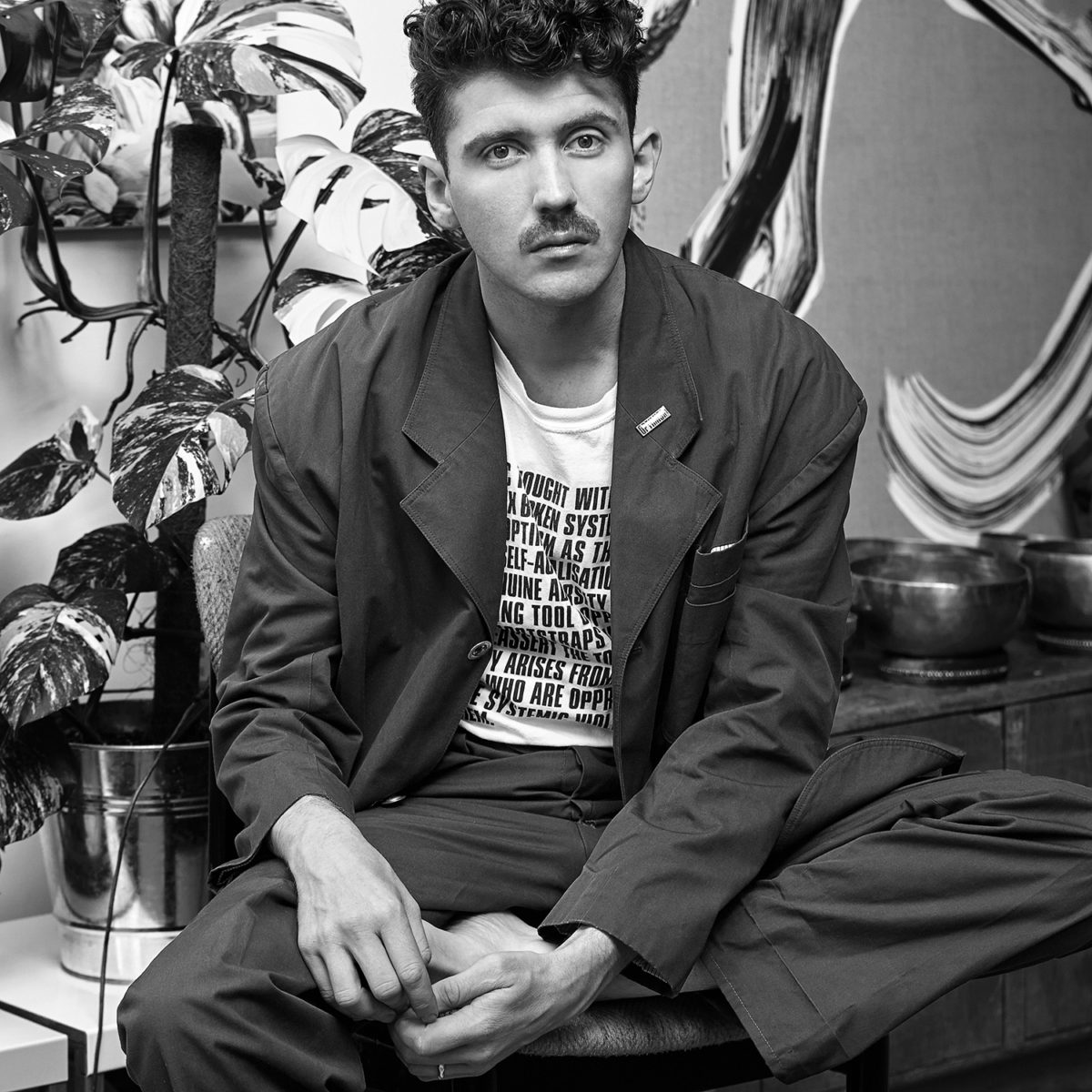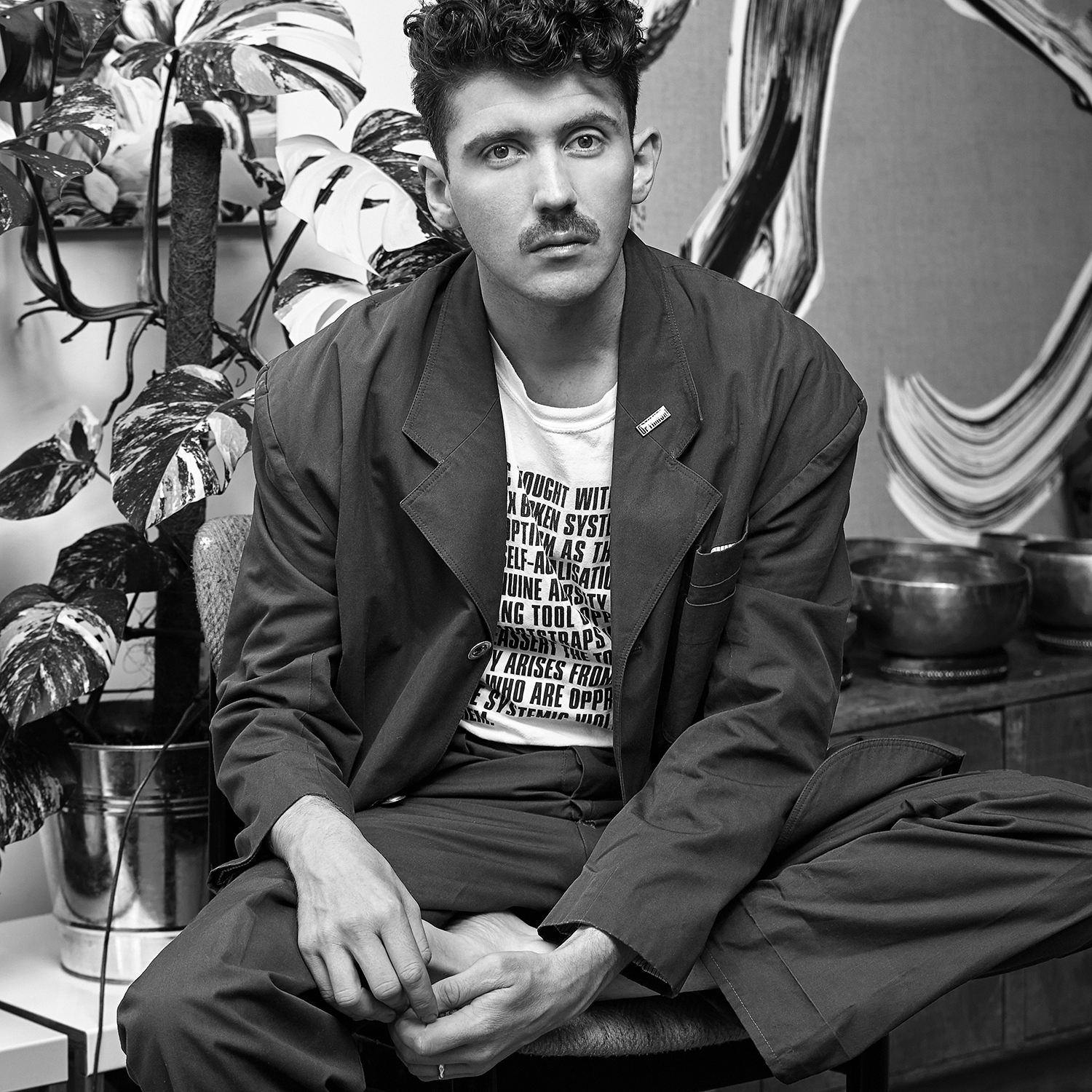 Photography by Wikkie Hermkens | Styling by Sonny Groo
Can you talk about the out of body experiences that you have had?
They're not something that I had a ton of but there are some significant ones – and I wish I could go into them at will, but I can also go into altered trance-like states. I used to do a series of performances where I would perform under the stage name "The Art Shaman" and the structure of the performance was that I would get a cover band to play Paint It Black by The Rolling Stones, and I would use the song to enter altered states.
What was the significance of Paint It Black?
Maybe something about the drumming. It has this rhythmic pull. In a sense, me talking about myself as a Shaman stemmed from that period. At that time it was very playful, essentially. But people, other artists, have found it intensely problematic. Someone wanted me to publicly apologize – which is almost as pretentious as me calling myself a Shaman (Laughs).
Why did it bother people?
I think they thought that it shouldn't be a self-bestowed title. There's definitely a question about using something like that – like spiritual appropriation – but, for me, the word itself, in its contemporary usage, describes behavioural patterns that are different on every continent and so it doesn't feel super specific as a term, it feels quite general. I'm not trying to cut into any tradition that I'm not a part of. It's more in an abstract sense that I'm trying to push the boundaries, or trigger thoughts, about the role of the artists and whether that extends beyond an individual creating expensive objects.
I use it to trigger intellectual debate because increasingly I'm interested in intuitive moments of thinking. There are certain points when I've thought – because of explaining it, over and over again – 'why am I doing this?' and that maybe I should just say that it was a phase, but I realized that me having said it had its own resonance and power anyway and that I have to live with the consequences of that – whether or not they are uncomfortable. More recently, I feel like I've gotten a bit more of a practical and personal practice that relates to it – there's more humility. But I'm not going to take it off my Instagram account.
After university, !WOWOW! was founded. Did that come about because of situational circumstances or was it planned?
When I was young, I had a really strong vision of how I wanted to live my life and I was specifically interested in squatting. In college, I was obsessed with reading about Warhol's Factory and had this idea of collaborative and collective living. I was thinking about Joseph Beuys' Social Sculpture, which was the idea of an evolving artwork that was multi-author – it was all of society.
Once we graduated, we were like 'let's not pay rent, let's go and squat!' and so we started it and invited people in and it spiraled from there. My hope at that time was that people would perceive some of my activities within it as being a kind of living artwork and certainly not one that I'm the only author of. I was really interested in the idea of presenting a network of people as an artwork and I always had a great reticence to concretely transfer that to a gallery – in terms of installing people into a gallery. So yes, it felt like something that was situational in a sense because if you took it out of the environment that it had sprung from, it would become an illustration of it.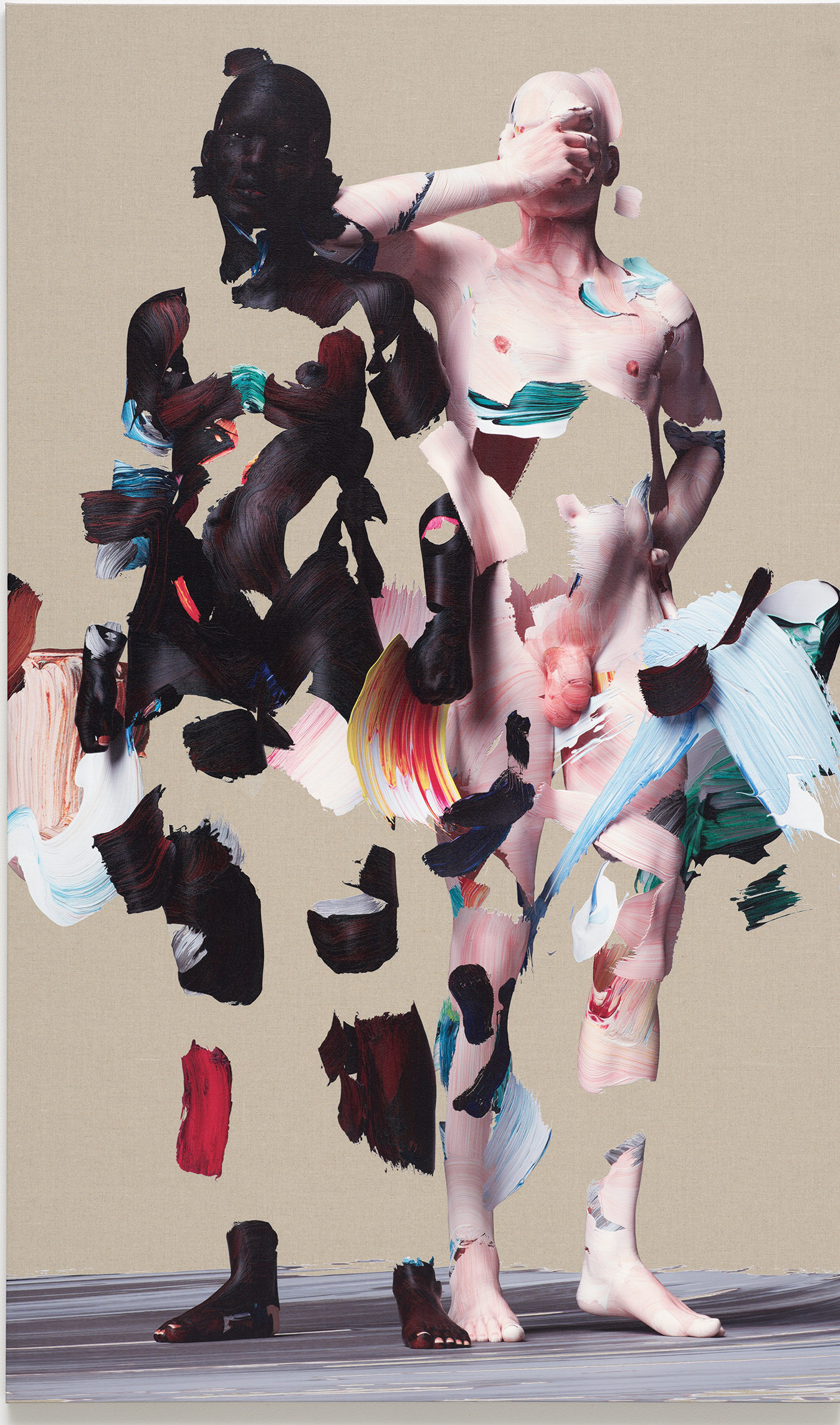 Feminine Teachers, 2017
Other People's Energy, 2017
You mentioned earlier that you want to see if the artist can be more than someone who is just making expensive objects. What do you think the role of the artist is today?
Everyone as an individual has a political responsibility, so obviously, that includes artists. I don't think my work has ever really been about art or the art world. Obviously, it emerges from the history of art and in lots of ways my work is very much about the history of religious art in terms of the use of the body and flesh, but I feel like my work has always been about interactions between people. Looking at the idea of collaboration over competition. Coexistence and compromise in conflict and how complex networks of power and connection occur. When I was younger I felt like I had the answers for things, but as I go on my thinking changes. Now I know that my thinking will probably change again in the future. I feel, with my work, I'm trying to frame the development of that thinking more than my thinking specifically.
Healing With Wounds featured the Somerset House show titled Utopia. Is utopia something you explore in your work?
I've always been interested in the idea of being engaged in developing ideas or using creativity to envision a more just world, but I've never claimed to be an activist. Essentially my thinking about optimism and utopias has always been about questioning if these dialogues are useful? Is it better to acknowledge the violence that already exists by making violent work? Or should I, as an artist, focus on promoting visions of a post-violent world? I've looked at art and culture that has explicitly been violent and understood it as potentially being part of a critique of violence, but instinctively, I've never said, "well I'm going to make violent imagery because that is a way to show people that it's a bad thing." I feel uncomfortable thinking in that way and I don't know if that's because I'm naive and I can't deal with reality, or it's because that type of imagery can be traumatic and does little to destabilise violence.
I go back and forth between thinking about how the power structures unfold in the images I make and how they deal with violence and what they suggest. More recently, I'm realizing that there is a lot of ambiguity in the ways in which you can read the body language of the people in my paintings. That's quite important because I don't think the world needs simple illustrations like "violence is bad" because the world is more complex and intelligent than that. If I can create anything where when people look at it and think about what's happening, then that feels like the more useful contribution. Ultimately, when people look at my work, I want them to feel something and I want them to think about what they feel.
What advice do you have for young people coming up?
I always say, "listen very carefully to the advice that you give others because we verbalize our own insecurities when we criticize other people, when we give them advice." The other thing is, "pay attention to your own mistakes, they might be the only original ideas you have."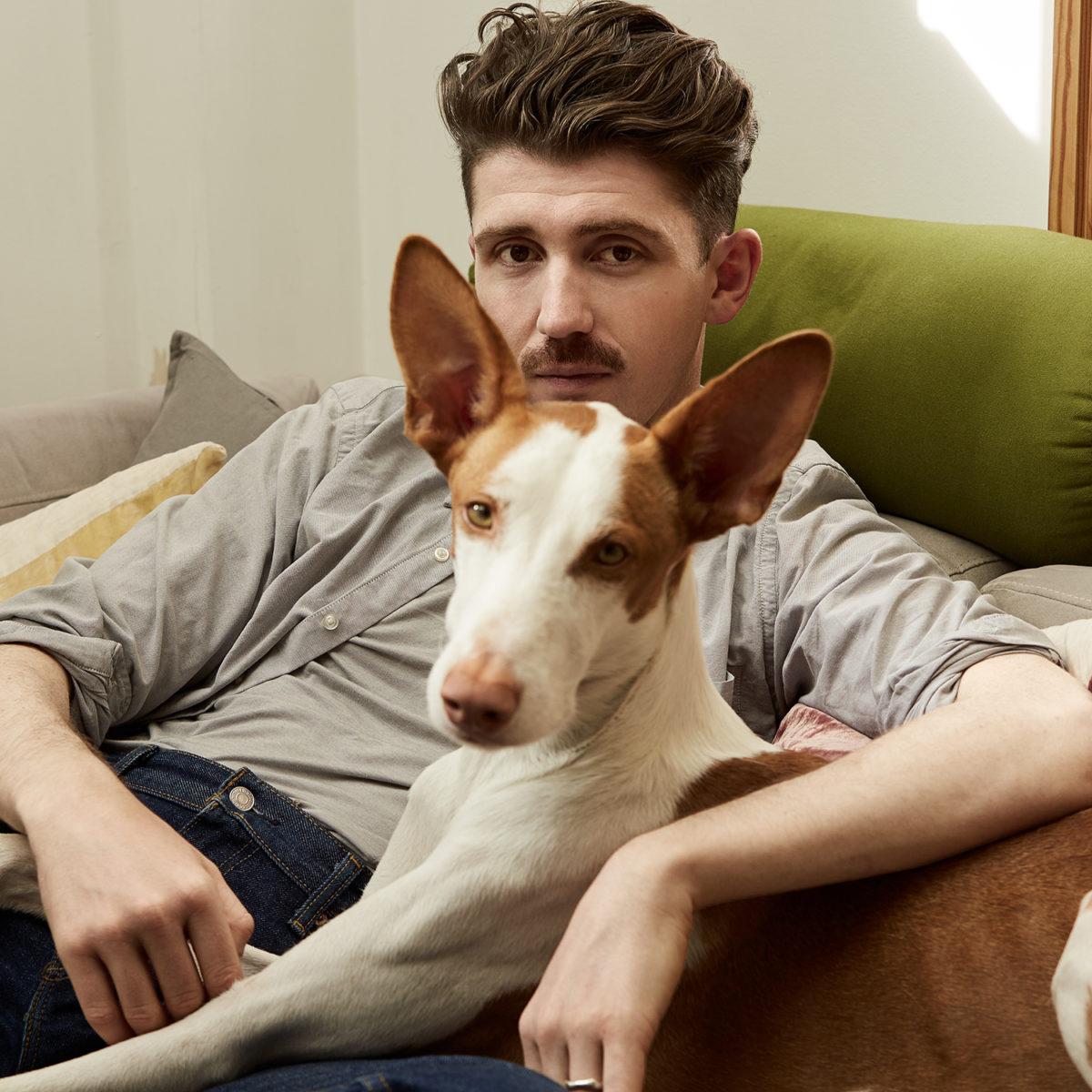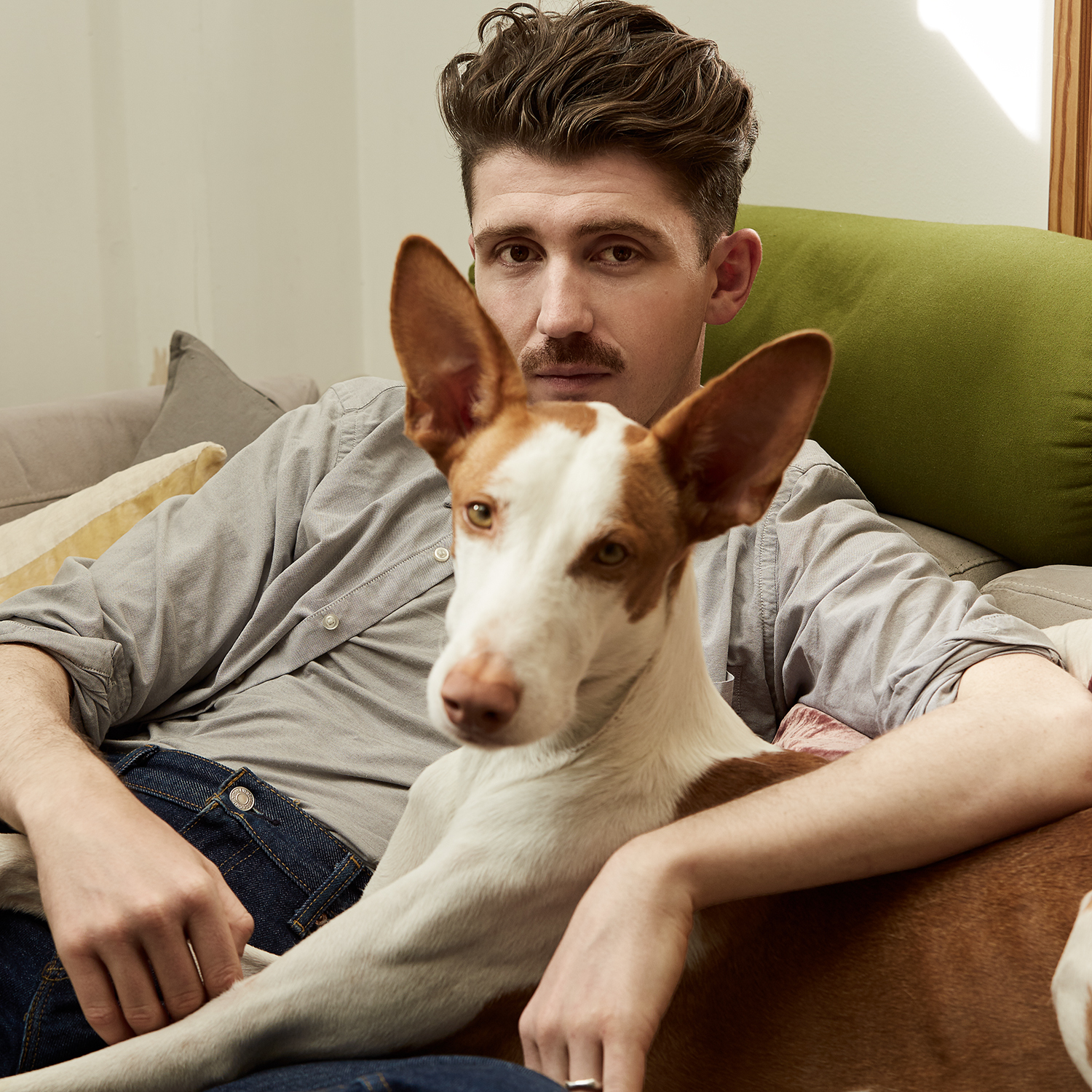 Matthew Stone with his dog Beau. Follow Beau @beauthehound
All artwork © Matthew Stone images courtesy of Choi&Lager
For more information visit matthewstone.co.uk