ERIK BERGRIN: THE 8 DISSOLUTIONS EXHIBITION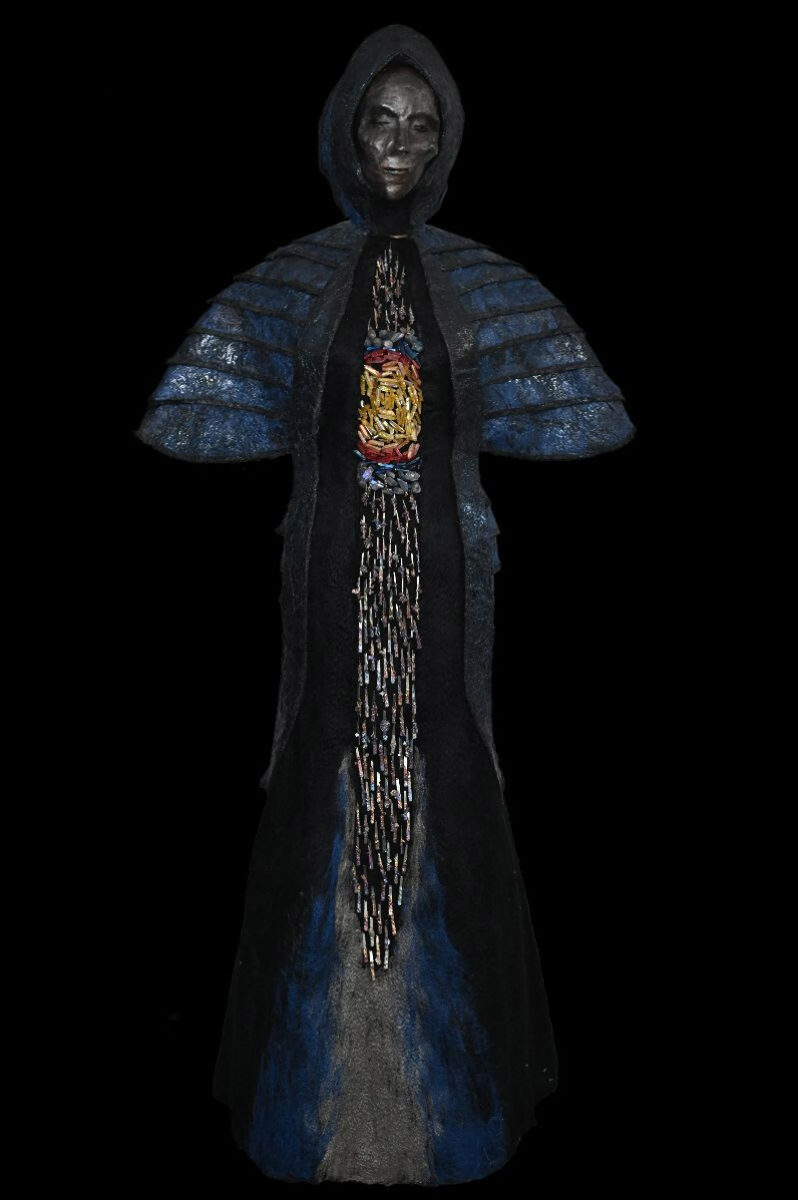 Dissolution 8 – Emptiness – One starts to become conscious again, the clear light of death manifests. This appears as a clear vacuum-like empty sky. "I visualize the vastness of traveling through space. An open vacuum of blackness with shining stars and colorful nebulae, harnessing the energy of the sun in order to be reborn."
Morris Museum Announces Fiber Sculpture Installation by Artist Erik Bergrin Exhibition on View January 28 – July 10, 2022
The 8 Dissolutions is a fiber-sculpture installation by New York City-based artist and costume maker Erik Bergrin. A student of Buddhist philosophy, Bergrin explores the transience of the human body and the eternity of the mind in this new collection of work. The exhibition takes its name from the eight dissolutions, a Tibetan Buddhist meditation practice that visualizes one's mortality in the recurring cycle of death and rebirth on the path to enlightenment. The costumes are entirely handsewn, made from fabrics created by Bergrin using traditional techniques such as weaving and felting, as well as grown from unusual materials such as seaweed, fermented tea, and crystallizations. Some include integrated drums and rattles. A video monitor documents a performance with the costumes making musical sounds with each movement, revealing the multidisciplinary nature of Bergrin's artistic approach.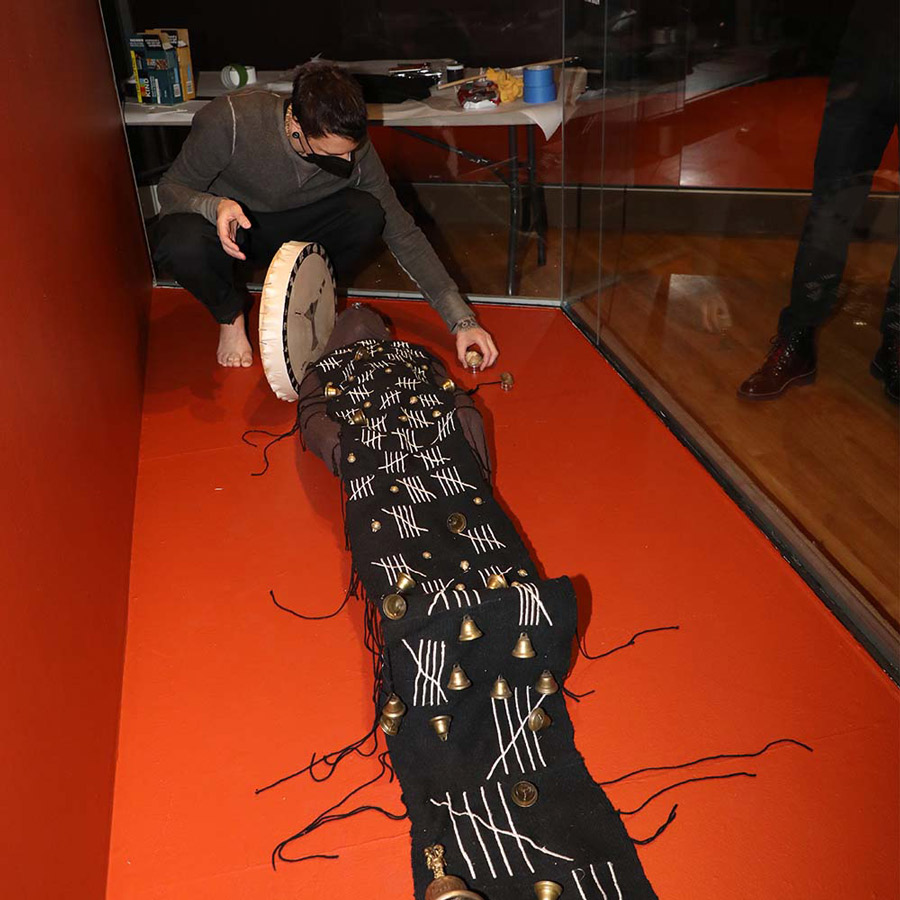 "The 8 Dissolutions," is a Buddhist death process in which the senses and elements shut down in 8 stages. There is a visualization meditation that guides you through the 8 stages. Dissolution 1 starts with the earth element dissolving, as well as your sight. Dissolution 2, is water and sound, etc. I practiced this visualization repeatedly to imagine the pieces. To create the visceral textures that I was seeing, I experimented with developing new kinds of textiles. I developed fabric made of sodium alginate seaweed,  spent a year growing leather like materials from kombucha scobies, growing crystals on fabrics, embedded handmade drums in pieces, making bioplastics from seaweed, and melting bismuth to make colorful crystals, along with weaving, coiling, and felting. During the visualization, my hands always wanted to move a certain way, which is why each piece is associated with a mudra, or hand gesture. Each of these mudras is photographed and printed on fabric that was sewn into dresses which will hang behind each piece to act as a shadow. The show has a video component of people wearing the pieces, along with a teacher showing the mudras to each model. Each piece is also associated with a sound that will build up one by one and will play throughout the gallery to accompany the video.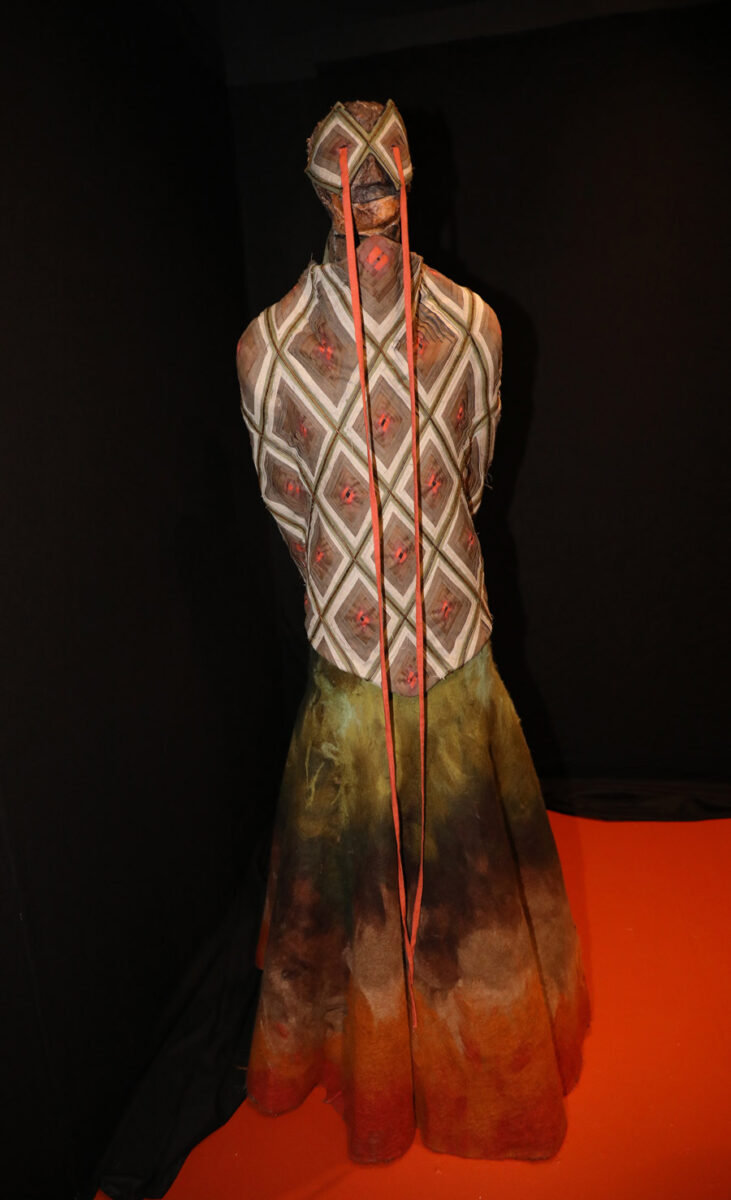 Dissolution 1: Earth and Sight – The element of earth dissolves. The eye sense power deteriorates. The person ceases to see clearly, unable to open or close their eyes. As the earth element dissolves it evokes the experience of the dying person being buried beneath the earth. The visualization of this dissolution brought forth imagery of straps crossing and binding over my body as my arms hung lifeless at my sides sinking back.
In Tibetan Buddhism, meditating on the eight dissolutions, or eight stages of death, allows the practitioner to prepare their consciousness to move into the cycle of rebirth without fear. Erik Bergrin first experienced this visualization meditation at a monastery in Nepal, where he was struck by imagery of colors and textures. Through repeated practice, clear visualizations of each dissolution emerged with a corresponding symbolic hand gesture known as a mudra. Each of the pieces in this exhibition is a representation of Bergrin's visualizations realized. "Meditating on your own death is a way to realize how precious your life is." -Erik Bergrin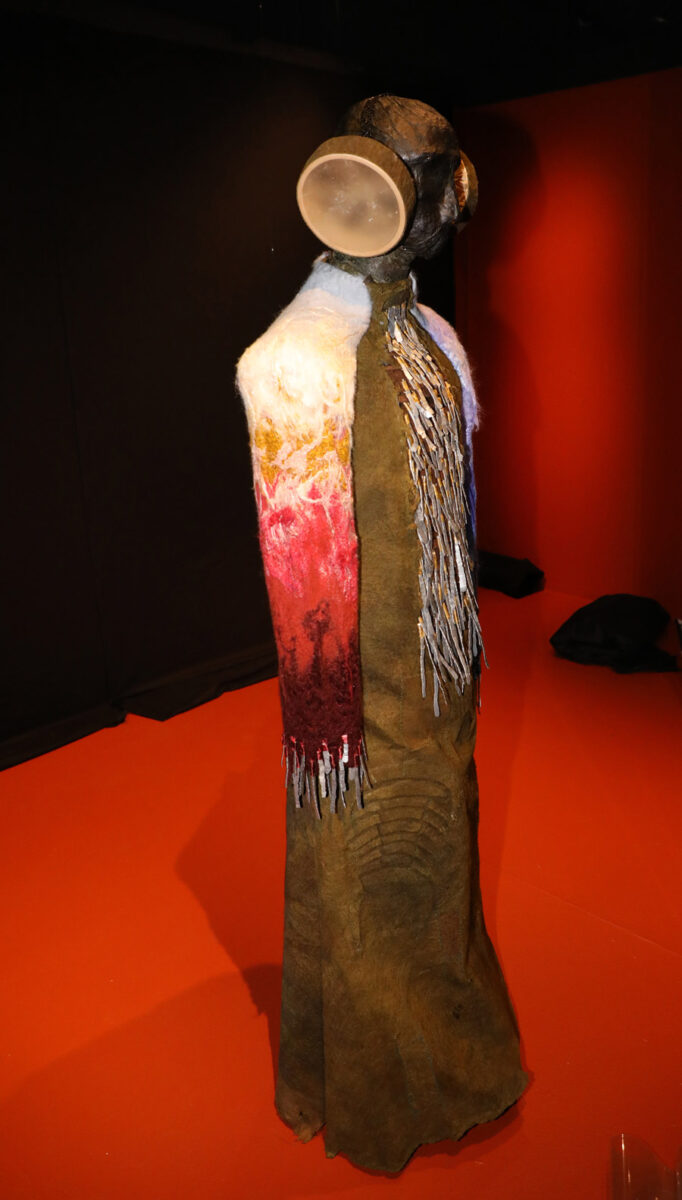 Dissolution 2: Water and Sound – The element of water dissolves. The ear sense power deteriorates. The person can no longer hear sounds. The body can no longer feel the three types of feeling: pleasure, pain, and neutral. The fluids from the body dry up: urine, saliva, blood, and sweat. The burning heat of red pain creeps up one arm and the uplifting icy blue creeps up the other, meeting at neutral at my neck. My body starts to shrivel and dry up, like a vacuum sucking away all the fluid leaving the fossilized bones remaining. What hangs in the center is the reminder of the sound of where water once was.
Sculptural Processes:
Kombucha Leather  developed similarly to kombucha tea. Scobys (symbiotic culture of bacteria and yeast), water, sugar, and tea are brewed in a large container and fed once a week. The scobys produce a layer on top of the liquid as a way to protect themselves, which after a month is removed. This thick flat sheet of slime dries into a translucent piece of leather after a week. The leather is colored using different types of tea and food coloring during the growing process. It took almost a year to grow enough leather for the pieces in the exhibition.
Seaweed Textile developed from sodium alginate, glycerin, and water mixture then laid over wool roving and sprayed with calcium chloride to harden.
Grown Crystal Textile Pipe cleaners with rubber mat backing are soaked in a bath of borax and water to crystallize. The mixture is then sprayed with translucent tint spray.
Armature Wire and Wax Armature wire is hammered down and wrapped with wax thread to create strands that sound like water when a hand is run over them.
Drums Rawhide is soaked and stretched over a wooden frame and laced together in the back.
Bismuth Silver charms are dipped into melted down bismuth to create colorful bismuth crystals.
The exhibition is curated by the Morris Museum's Ronald T. Labaco, Director of Exhibitions and Collections/Chief Curator, and Michelle Graves, Curatorial Assistant.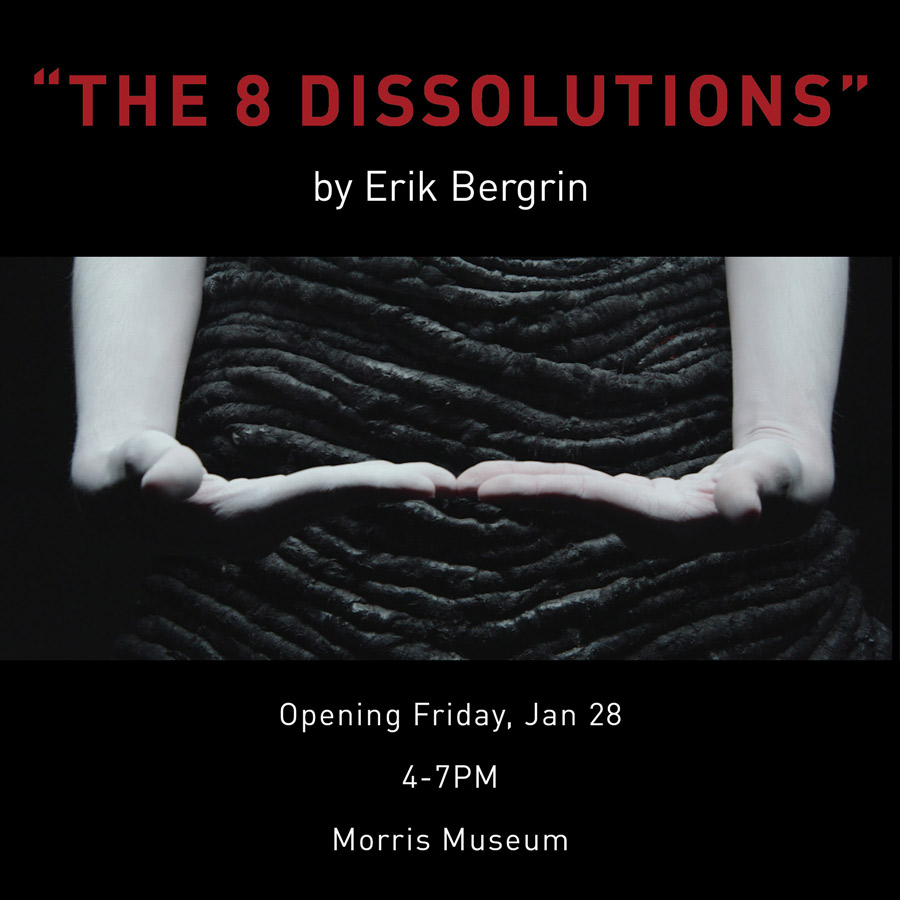 Founded in 1913, the Morris Museum is an award-winning, multifaceted arts and cultural institution serving the public through its exhibitions and performances, which strive to interpret the past and discover the future through art, sound, and motion. The Museum is home to the historic and internationally-significant Murtogh D. Guinness Collection of Mechanical Musical Instruments and Automata. The Museum's Bickford Theatre is a 312-seat performing-arts facility, offering unique programming in film, jazz, and live performance through its innovative series, Live Arts. As New Jersey's only Smithsonian Affiliate, it launched Spark!Lab, a dynamic, Smithsonian-created learning space which will inspire young visitors to create, collaborate, and innovate.
Morris Museum
6 Normandy Heights Road
Morristown, NJ 07960
Museum Hours:
Monday – Tuesday, Closed
Wednesday – Sunday, 11:00AM to 5:00PM
https://morrismuseum.org/