THE ORIGIN OF LOVE: THE SONGS AND STORIES OF HEDWIG – INTERVIEW WITH COSTUME DESIGNER ERIK BERGRIN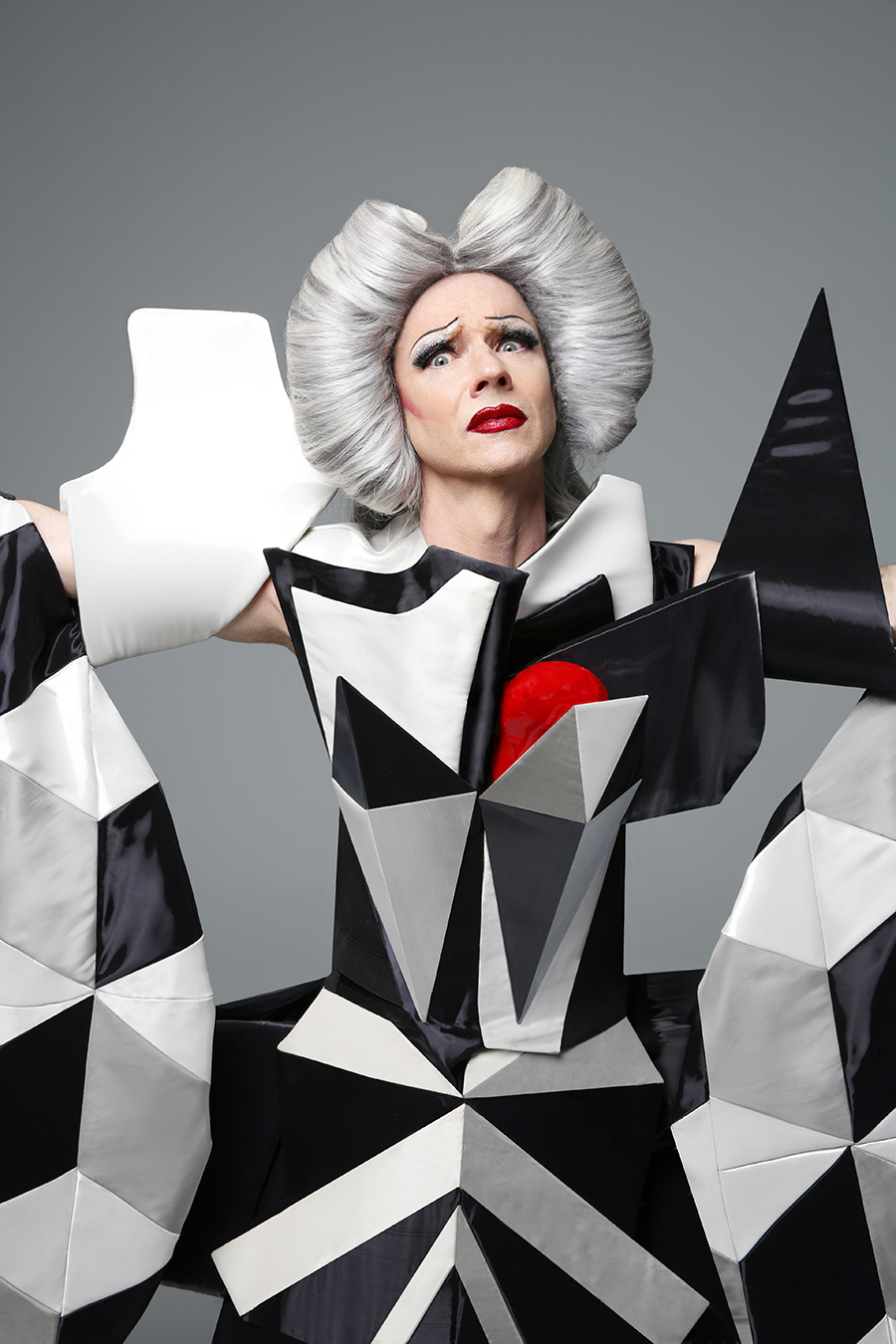 Photographs of Hedwig by Mick Rock | Talent: John Cameron Mitchell | Interview by Benjamin Price | Costume Design by Erik Bergin @ The Industry MGMT | Video by Brian Lynch and Pier 59 Studios | Production by Liz Vap/FeralCat Productions | Wig and Makeup by Mike Potter using MAC Cosmetics @ Ray Brown | Costume Assistant Lauren Hoffman | Makeup Assistant Andrew D'Angelo 
John Cameron Mitchell rose in the world of cult-entertainment after directing, writing, and starring in the award-winning film Hedwig and the Angry Inch (2001). His Broadway production of Hedwig garnered him a 2014 Tony Award for Best Revival of Musical and a Special Tony Award for his return to the role in 2015. His seriously impressive depth of work includes the improv-based film Shortbus (2006), and 2010's Rabbit Hole starring Nicole Kidman which scored an Academy Award nomination for her role. He executive produced Jonathan Caouette's Tarnation (2004) and has played recurring roles in HBO's Girls, Martin Scorsese's HBO series Vinyl, The Good Fight and current season of Mozart in the Jungle. Mitchell has also been busy behind the camera directing and co-writing the film adaptation of Neil Gaiman's punk-era How to Talk to Girls at Parties starring Elle Fanning and Nicole Kidman.
"At last! My journey to Oz, long-deferred by silly obstacles like unemployment and air fare, is a reality! I shall strap on a Cubist corsette and chromium wig, regale you with haphazard stories from 55 years of fake rock stardom and wail your favorite Hedwig songs like some kind of wonder woman within. Please prepare for my eminent arrival", Mitchell said.
Producer David M Hawkins said, "John Cameron Mitchell is one of the great artists of our generation – a multi-award winning writer, actor and director. I first saw him on Broadway as Dickon in 'The Secret Garden' in the early 90's and next in his Tony winning rock star turn in 'Hedwig and the Angry Inch'. Since producing Hedwig in Australia in 2006 I have become good friends with John, our connection means the world to me. We have talked since 2008 about a concert tour to Australia and at last the stars have aligned. We intend to bring a decent hit of the Greenwich Village vibe to Oz. I am so very excited to share  this incredible artist with my country. You are in the best hands for one hell of a ride meeting the original Hedwig, and the man behind her!"
We had the chance to interview the artist behind the transformational costumes, Erik Bergrin, and discuss Hedwig, lucid dreaming, and finding inspiration as a bored teen at Blockbuster.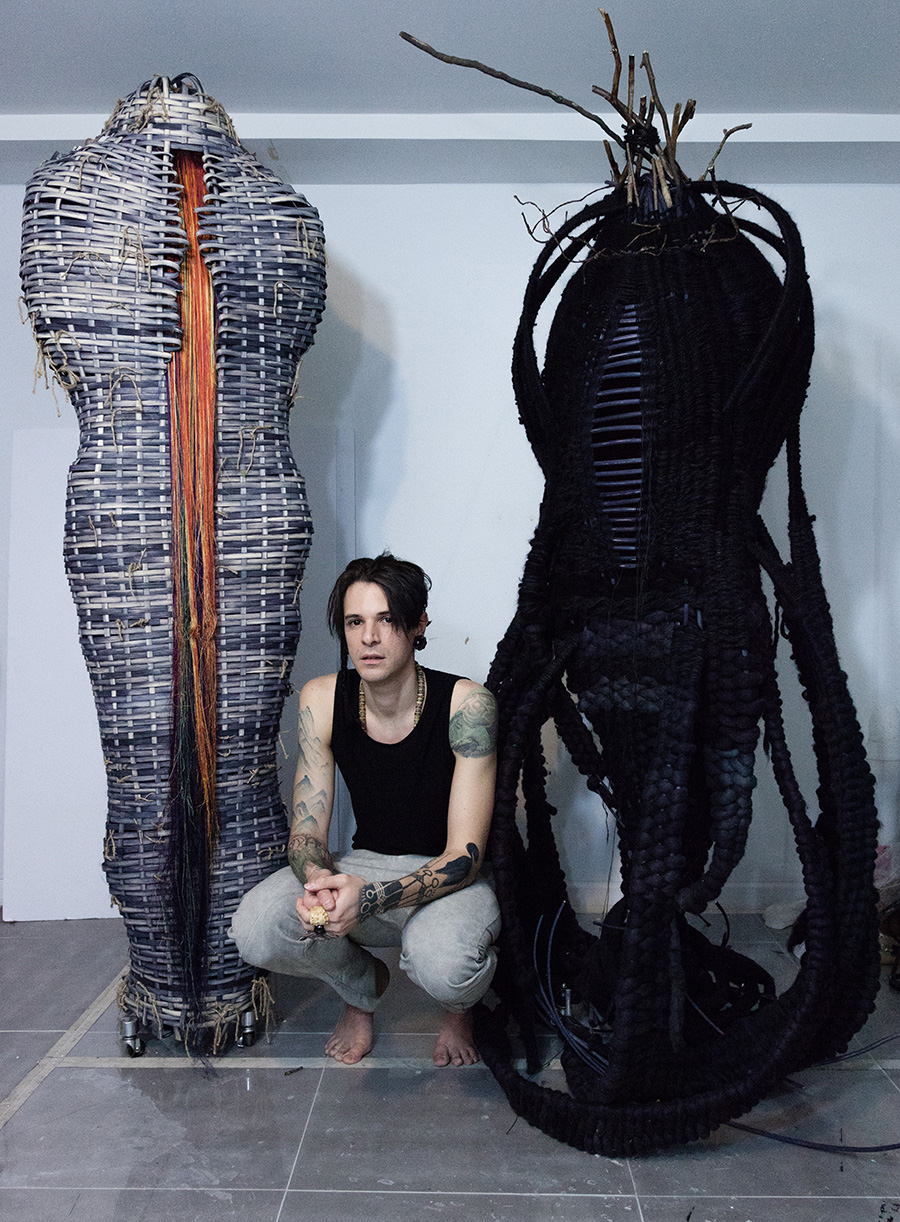 Photo by Eva Mueller at the artist's studio
What was your inspiration behind the costumes for the tour?
John came to me and said he was thinking about a costume that had this cubist, geometric, Trompe-l'œil, black and white thing happening that wasn't Hedwig but Meta-Hedwig. As in, it has some reference to Hedwig in the costume and there should be panels that are removed during the show to become more boy in the end. He mentioned there was not going to be a built set, but that the costume should act somehow like a set–which was the sentence that made me convulse with excitement. I love doing huge wearable things, which I think is one of the reasons he came to me.
Initially I made tons of drawings of huge pieces on wheels that would drag behind him. All of these outfits packed with tricks such as a gigantic overcoat that would slowly come apart and piece by piece be thrown onto a giant magnet board behind him to reveal a story on the inside. Or this huge mirrored contraption that would come out backstage and be placed around John, and he would spin in a circle and the drawings on the costume would come to life in an animation reflected through the mirrors of the contraption. But I had to edit it down after every meeting and not let my imagination get carried away. I knew he was going to the Sydney Opera House, so I thought it would be fun to play with multiple overlapping triangle shapes. Basically my inspiration was working in these parameters, but still making it my own.
How did you get involved with the project?
I met John years ago as an extra on one of his films, "Shortbus." We stayed in touch and I guess he thought of me after seeing the pictures from my latest art exhibition, Shadowwork. It is a series of 9 large figurative fiber sculptures, each about 7 feet tall. I have a background in costuming and I work as a costume tailor for Broadway shows, so I think it was the combination of my large costume work and the fact that I know how to create for the stage. I was working on the costumes at the same time as preparing for Shaddowwork. At a meeting with John, I met Mike Potter who did the wigs, hair, and makeup for Hedwig since the very beginning and we became very close. He was helping me with both shows and I was helping him with sewing the wigs. We worked closely, bouncing ideas off each other, so the wig and costume were from the same world. It made the whole process such a blast!
How did the idea of the gender binary and Hedwig's transformation from female fantasy to undressed man come about?
I always felt that the film is more about finding yourself and less about gender or another person that can define you.
And speaking of Mike Potter who has been with the show since the beginning, the film and original show, I will quote him as a more qualified source…, "It's like she gradually sheds her armor. Her costume and hair are almost a defense mechanism. But she comes to realize she doesn't need any of the things that she think she needs. i.e. all her artifice, in order to be whole. She's only whole when she's stripped bare. It's like being reborn."
How does the idea of Hedwig's iconic character come into the costume construction?
Hedwig was always famous for her brilliant handmade-style clothes and is now busting out on an international stage. Enjoying the spoils of her riches, she is debuting a next-level, more mature, steel-hued Meta-Hedwig look. Shining like the brightest star. The tour is called The Origin of Love, and when the show opens John comes out singing the titular song. The sleeves open up to reveal the faces from the origin of love animation, and when closed the front of the sleeves form Hedwig's tattoo. Mike Potter's wig and makeup are classic Hedwig, but aged to show her impending mortality, as he says in the show.
When you began your artistic career making costumes for the clubs in NYC while in school, did you ever think it would become a career in fine art/ performance?
I don't think so? But I'm not sure because I never really had any goals. Which I know is unusual to say, but I never really did anything with a goal in the end. I started sewing when I started making costumes. Eventually, I put a book together of the things I made and got hired at a costume shop my friend was working in. Then I hopped to other shops and spent a long time working with really brilliant tailors. Every day I used to leave feeling terrible because I was working with super talented and experienced people and I wasn't able to do anything properly. That kind of experience really humbles you when trying to learn. It taught me to put severe focus into everything, because I never wanted to have that feeling of a broken spirit when I left the shop. I soon realized that the fear of not wanting to feel like that caused a snowball effect that grew until it was impossible to do anything right. As soon as the tiny seed of fear was planted, I kept at it and at some point something shifted, and I can't at all tell you when, but things seem to work like that with me.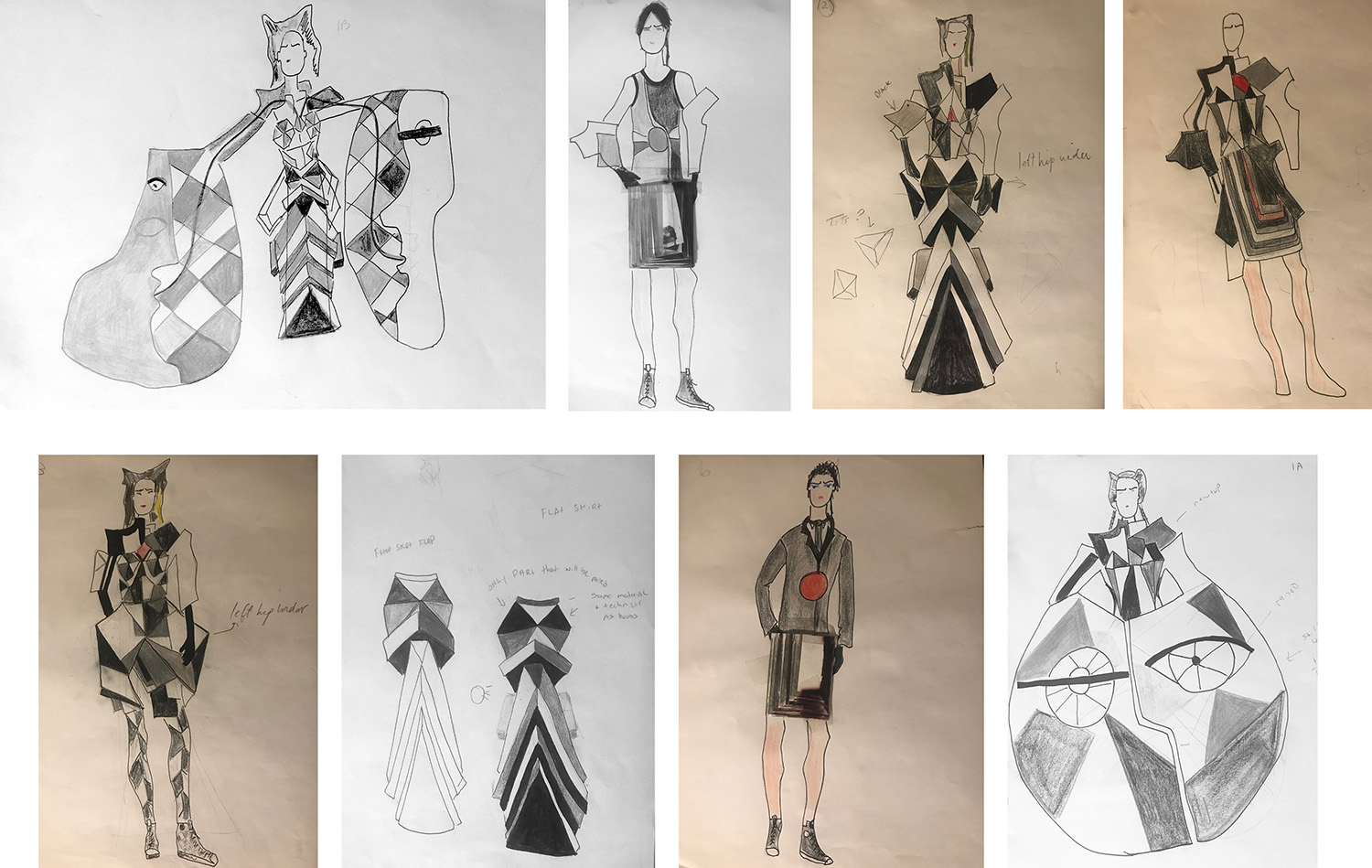 Some of Erik's early sketches of Hedwig's transforming costume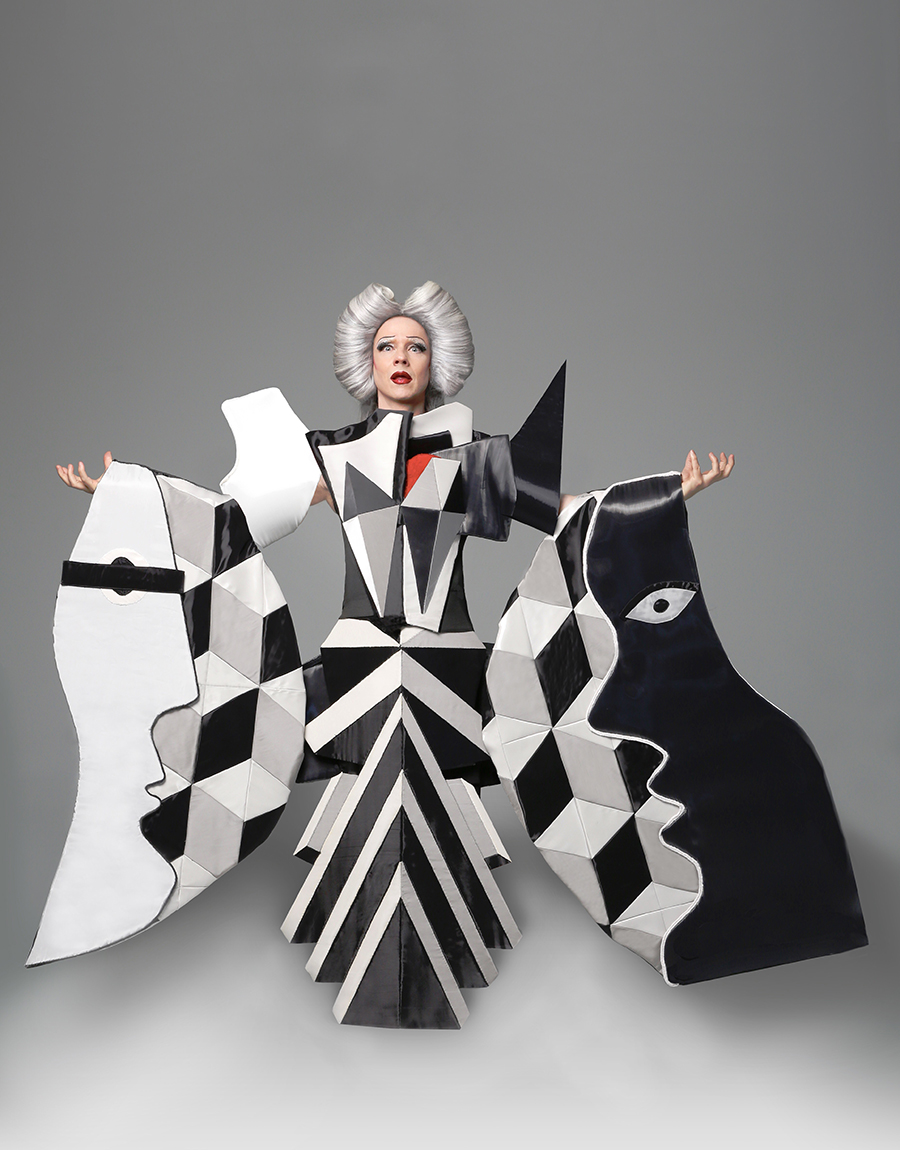 Can you elaborate on how your background/education in psychology influenced your work on Hedwig?
I would say everything in my life up until I made this costume are causes and conditions for the way I designed it. All of the experiences in my past have subtle effects on how I design, so its difficult to distinguish how each particular experience directly influences me. I can, however, tell you that my psychology education brought me to my study of eastern philosophy and meditation, and lucid dreaming. One instance where lucid dreaming directly influenced the costume happened a couple of weeks into the project..
I was hitting a block when I was sketching. When I get stuck sometimes I'll turn to my dream practice for advice. I do several exercises during the day that help me become aware of the fact I am dreaming when I am asleep. When you're in a dream you're in a subtle part of your subconscious, so there are all of these practices you can do to explore the darkness or shadows you have lurking in there. I was in the middle of a dream that had my best friend in it, who I have a deep and long history with, and I became lucid and turned to him to ask for help.
I turned to my friend and said, "What should I do with my project?," In a quick and desperate manner, because I wanted the answer before I woke up. Every time I leaned in close to ask him this question, his face morphed into wolf features. He wasn't answering so I asked again, "WHAT SHOULD I DO WITH MY PROJECT?" The wolf morph happened again, and again he didn't answer, so I asked a third time and this time we fell together off of a balcony to the ground floor. We were looking at each other and he said to me,"This is all I ever wanted. For you to be nice to me…" I completely froze and remained still for a minute, just staring, and it generated this incredibly raw feeling of tenderness. I immediately had my heart broken open. I woke up after a minute or so and even when recalling this now I get choked-up. It left me in a sensitive and vulnerable state. I woke up a minute later and the strong feeling was still there. I knew what I had to do was stop working from a mass of thoughts and references and just hold this feeling to guide my mind to make the decisions. I made some drawings from this place of vulnerability and it all came together that day. I trust any design that comes from that place. I had so many moments like that when I was making, "Shaddowwork." These experiences have taught me my creativity is best accessed from a place of vulnerability and tenderness.
What was it like working with John Cameron Mitchell?
Magical. He's the perfect mixture of professionalism and fun. He is super sharp, always coming up with new puns. Working with someone who can bring a costume to life so magically is so valuable. I had my idea of what the costume would look like on him, and then he would try it on and animate it in a whole new way. You just have to surrender to the magic because it's so much greater than anything you could have come up with in your head. It forces you to detach yourself from your original ideas. Something like that can only come from someone who has the magic.
When did you first watch Hedwig and the Angry Inch (the movie or the Broadway adaptation) and what did you feel from that experience?
I think I was 18 on a really boring vacation in Florida with family, and I rented it from Blockbuster video. VHS. My sister fell asleep and I watched it alone, and I couldn't stop thinking about it the next day. I don't think I fully understood all of it, but was so mesmerized by the way it looked and sounded, that I watched it a couple of times in the 2 days. The songs stayed with me. I got the soundtrack and the more I listened to the soundtrack the more I wanted to watch the film, and the more I watched the film the more I wanted to listen to it.
What was it like working with the legendary rock 'n' roll photographer Mick Rock?
It feels like you're working with a legend. Reading about his background and everyone he's been on tour with and the iconic shots he has photographed, it's all in him as soon as he walks in the room. He had amazing stories; I could listen to them all day.
What was the inspiration behind the photoshoot and video?
The goal was to really capture this next interpretation of Hedwig in an amazing way. This is a whole new direction for the character, which was truly born for The stage. Mick Rock, who already shot one of the penultimate Hedwig photos as well as so many other iconic rock photographs, was the perfect photographer to capture it.
As an artist and costume designer, what is your goal with each piece? What do you want the viewer to take away from your work's message?
I definitely made Shadowwork as a way to get something out of me. I know there are ways to merge the dream state and the conscious state. I've read a lot of about it and have experienced glimpses where the lines were almost blurred. It's like lucid dreaming. When you become lucid in the dream state you can call out to different shadows in your subconscious. Shadowwork was one of my ways of doing this in the waking state. Building this series of my own mental hell in order to get it out and confront it. So one of the larger goals is to merge the dream state and the waking state.
For this costume, I think I just wanted to live up to the legacy of Hedwig and make the fans excited and proud.
What can we expect next from you? Are you going to collaborate further with John Cameron Mitchell on any other projects? Or Mick Rock?
I am currently doing a book called WORDS AND PICTURES  about my Shaddowwork series consisting of stories, drawings, and photos… and about John and Mick: I HOPE SO!!!!!!!!