STUDIO VISITS – RACHEL ROSSIN
Exploring the fine line between reality and our digital avatars, coder-turned-artist Rachel Rossin pulls us into her virtual worlds before ejecting us back out. In the disorientation of the experience we are left to wonder — what is reality?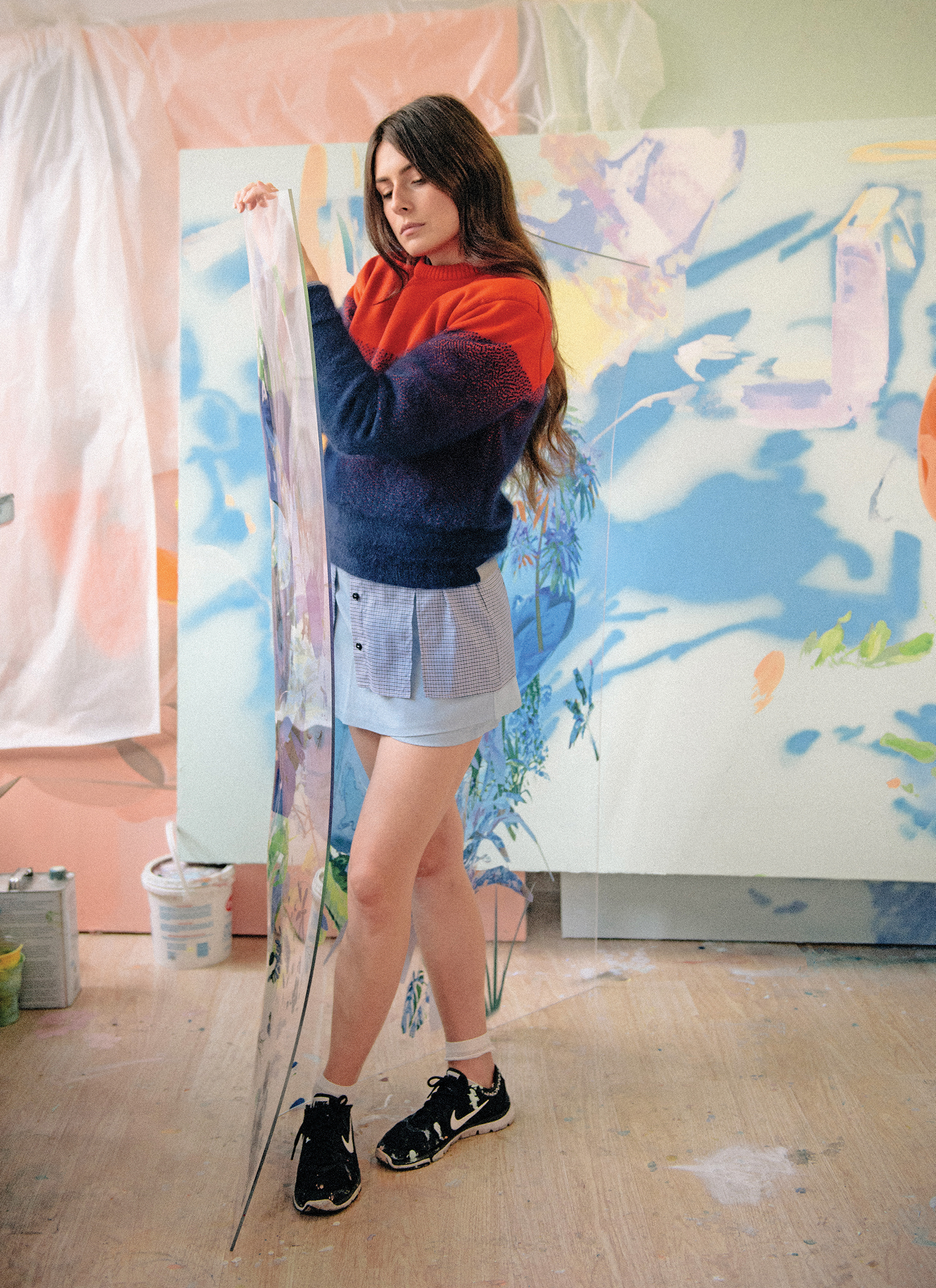 Portrait Photography by Tiffany Nicholson | Interview by Haley Weiss
Sweater and Shirt by Versace, Skort, Socks and Shoes Artist's Own
While Rachel Rossin was growing up in West Palm Beach, Florida, like many American children of the late '90s and early aughts, she read Harry Potter books, cared for her virtual creatures on Neopets, and repeatedly played SkiFree, a game on her mother's Windows '95 computer — even though she knew its likely end: "death by yeti." However, unlike many of her peers, she could code by age eight, although she didn't yet define it using that term; picking apart websites and hacking video games were simply fun and ordinary activities. "It felt natural, probably in the same way that three year olds now are intuitively using iPhones," the 30-year-old recalls. "Escapism is natural for some people. Without a lot of access to culture, especially where I grew up, I felt pretty isolated, and so this was my community."
Years later, after running her own web design company, playing her fair share of Call of Duty, and furthering her technology tool-kit at university, she began translating her digital experiments into art. When she moved to New York in 2010, she was already making "crude" VR (virtual reality) videos using 3D modeling software. By the time of her first-ever solo show, n=7 / The Wake In Heat of Collapse at SIGNAL in 2015, viewers could experience her VR work on an Oculus Rift headset, making their way through the fragmented digital world she created. She also started painting; for her 2015 show LOSSY at Zieher Smith & Horton, she showed a VR piece alongside canvases that recreated scenes from that virtual space. She's continued to push the medium's boundaries, showing her work at institutions like The New Museum, where she was a Virtual Reality Fellow.
For her second, recent solo show at SIGNAL, Peak Performance, she thought about body awareness; after building virtual world after virtual world, she felt disembodied, and wanted to work with VR in a way that would allow her to be in touch with her emotions. She modeled 3D environments, as she has in the past, but with an acute awareness of what she was experiencing. Throughout the process she asked: "What does my body feel like in this moment?" From the VR models that resulted, she made paintings, plexiglass sculptures, and aquarium-like tanks — all of which were shown without the original VR experience. Rossin's work summons the question of where reality lies: on the headset or in person, online or offline, or — the more nebulous, likely conclusion — somewhere in-between.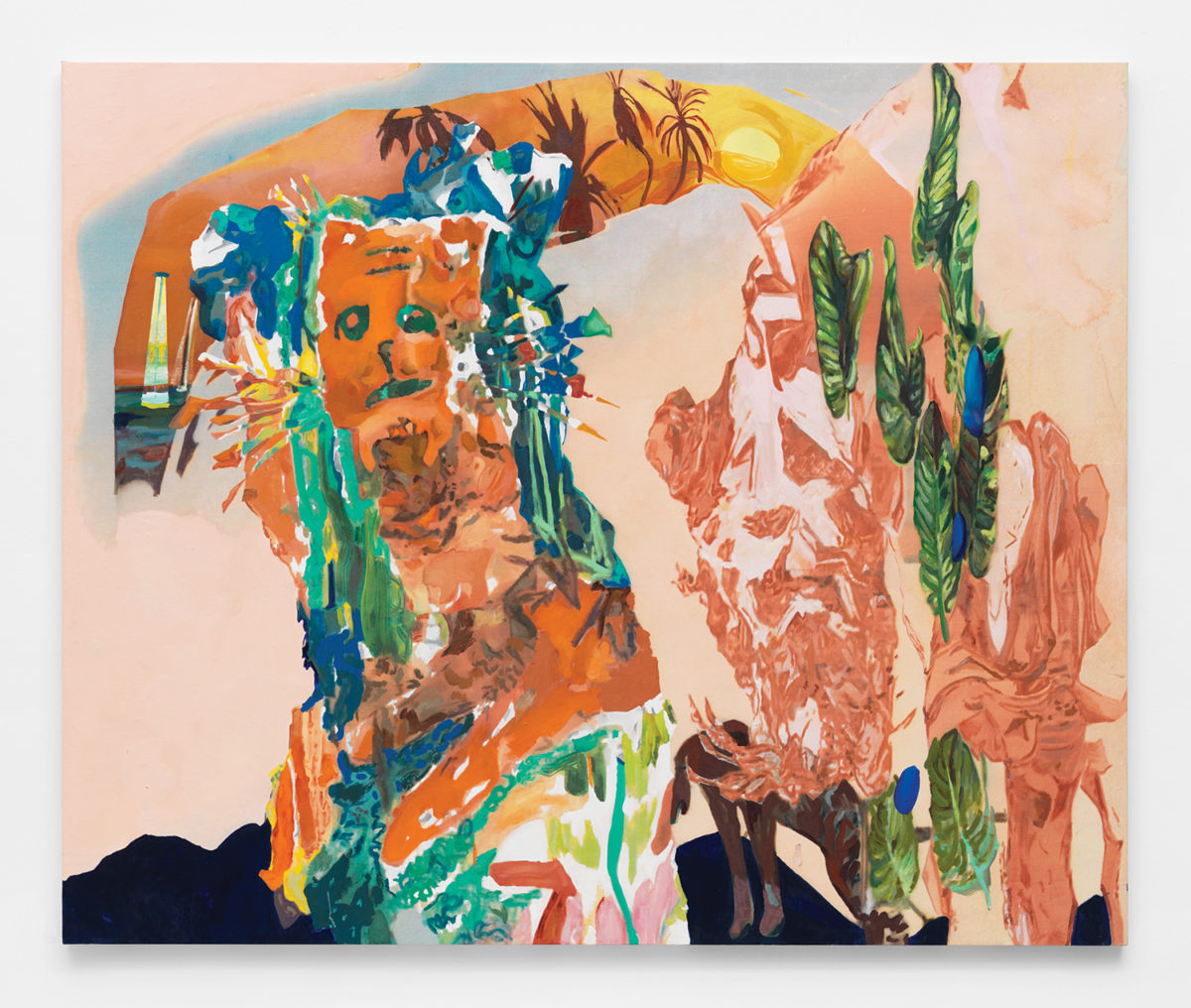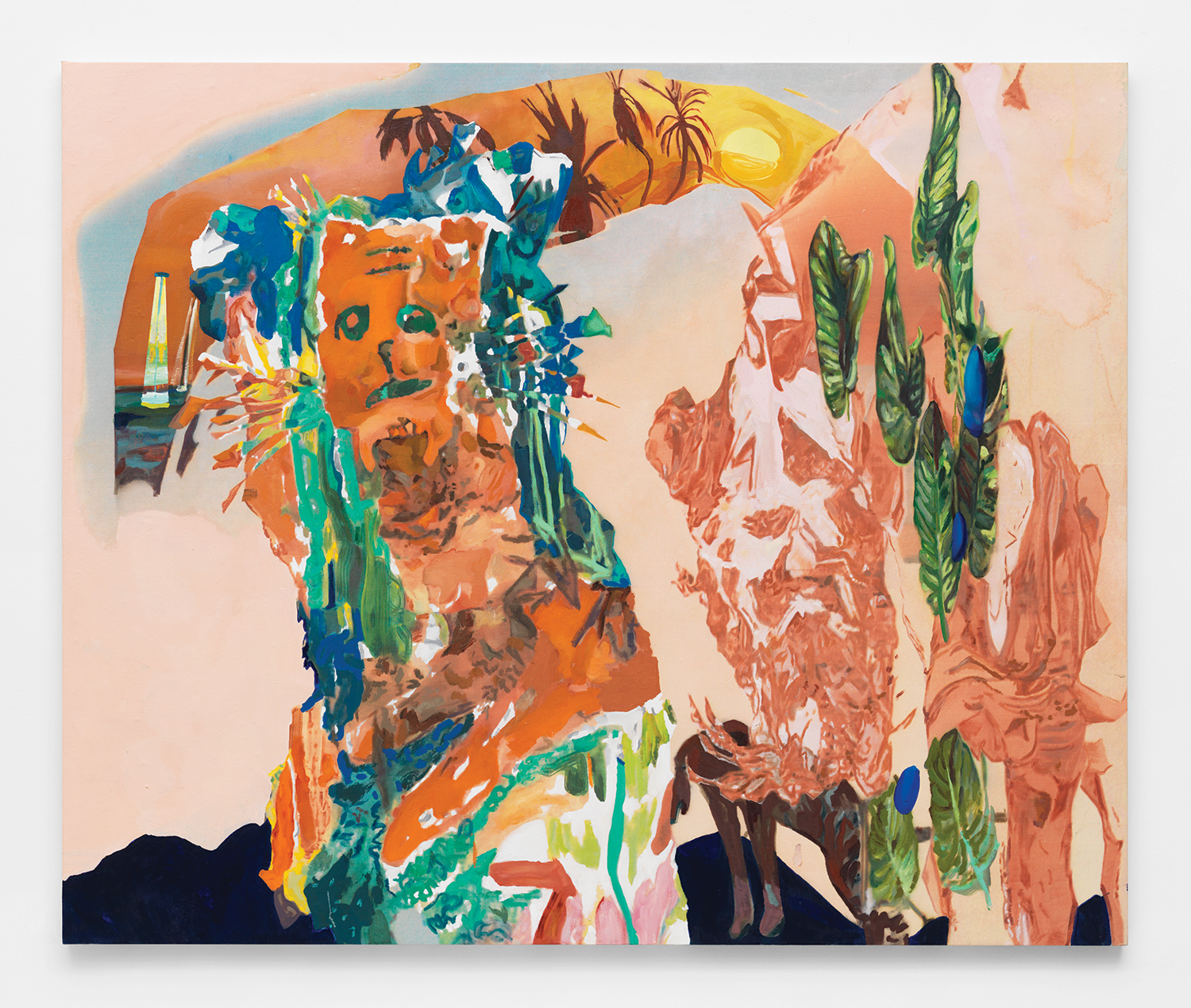 Mirror Milk, 2015 Lossy, Zieher Smith & Horton, New York, NY Courtesy of Zieher Smith & Horton and the Artist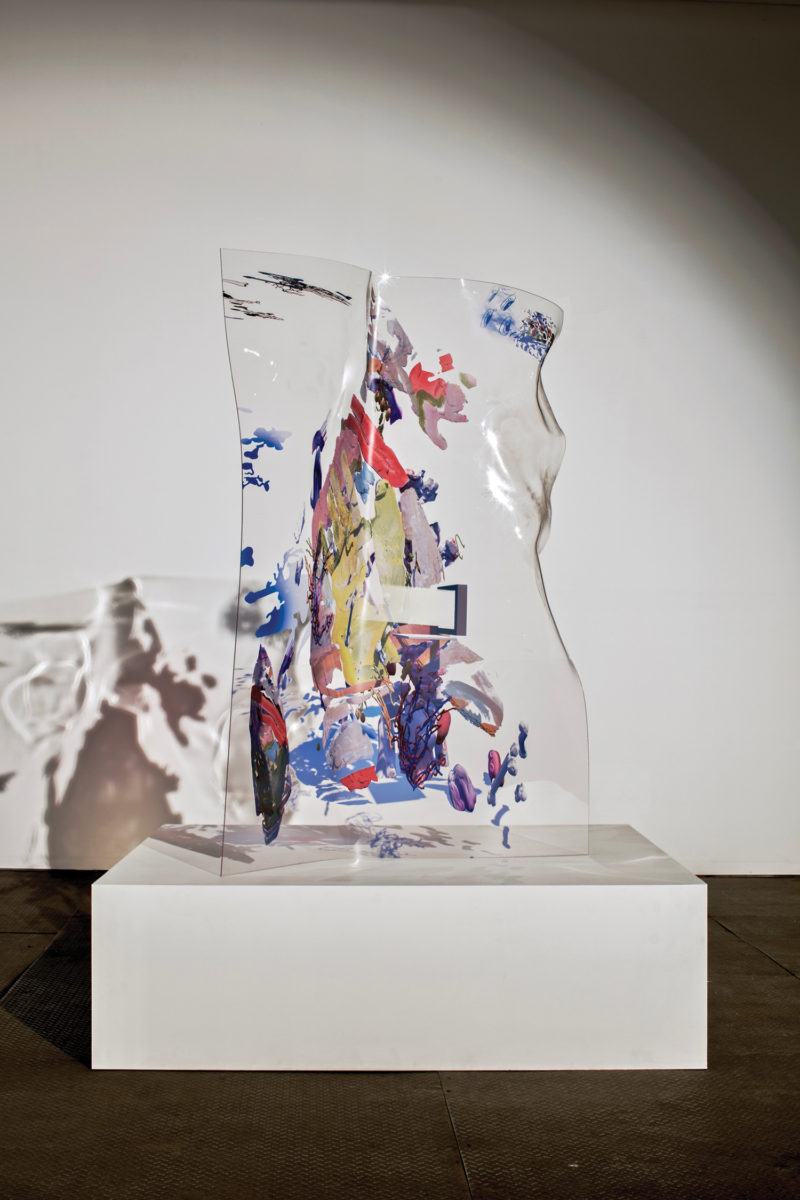 After, Horizon with Oranges, 2017 Peak Performance, Signal Gallery, New York, NY Photo courtesy of Signal Gallery
Obviously the reality within VR is disorienting, but the moments you put the headset on and take it off are equally as disruptive to your sense of the world. I wonder if you've watched people experience your VR projects, and what registers with them that you've found interesting?
It's funny you ask that. The way I tackled this for the SIGNAL show, which was the first time I did a VR show and that was in 2015, is there were things in the VR space that were also art objects in the physical space. Then what people were seeing was also projected up on the wall, so when you exited, which is a pretty sensitive and disorienting time or transition, I had things that were registration points that left a feeling or a residue of what you had experienced in my VR piece. And then with my show LOSSY, those were paintings that were made from the VR piece, so you had an acquaintance with the paintings when you first entered the room, and then after you left the VR piece, you saw that same reference material but now as static windows that you just experienced or felt. That's always been interesting, because there's something about the gradient of reality, for lack of a better word, where right now these things are very polar. That'll probably change, but they're very binary: you have the virtual world and the physical world. There's a moment that you can get into very, very quickly that's in-between those two worlds when you're making physical objects, and if it's a show that's not so much about programming, if it's a show about that disparity, then that's what I try to find.
Then there are the pieces that are about programming, like the piece that's at Kiasma [Museum of Contemporary Art in Helsinki, Alembic Cache Passes (Time-snark) (2016)], where it's time moving. It's a piece that I've been working on for a while. There's a type of VR where you can map time; I found a way to map time to where a person is in a room, so the piece is aware of where the person is, and that's sort of the human scrubber of time, and so two-dimensional time becomes three-dimensional time. With that piece, the floor is the same in both worlds. That's another way I think of trying to find registration points. It's like putting people through the uncanny valley, squishing them through the uncanny valley. Sometimes, the uncanny valley, the disparity [between the virtual and physical], is pretty brief.
In art it does seem like it's a binary; something is either multimedia and tech-based or it's not. But in daily life, that's not how we experience technology. Our digital and real memories are all intertwined, so I wonder why it is that there's such a gap in art.
I always think about the advent of the cursor as a parallel to this, because part of that consideration is that it's natural. You have the advent of the cursor — everything is command line before this moment — and then there's the advent of the operating system, the advent of GUI, Graphical User Interface. We didn't have a way to really put ourselves in VR, put ourselves in the digital space, until the cursor was invented. And then, at that moment, there was a representation of our hands that was on the screen that you could use, which is pretty interesting if you think about what's coming next for us. I really hate making predictions about what's going to happen in the future because it seems so frivolous, but it does seem like, if I had a gut instinct or a hunch about that, it'll probably shrink — that disparity, that feeling will naturally shrink with time. I don't know if that's fortunately or unfortunately.
Our emotional lives, especially our superego, can't tell the difference between what's real and what's not because it still hurts when whatever slight happens on the Internet, or if there's a threat made on the Internet, my god, my reptilian brain certainly reacts to that. But our bodies definitely can tell the difference. My body can follow my reptilian brain, but it still feels pretty separate in this sphere, while our emotional lives, our primitive brain and our pheromone brains — our more primal or animal instincts — live in technology pretty seamlessly. That's kind of incredible because we assume that it's not like that, but it is. If you just take a temperature of your body in real time, [the reaction to something taking place virtually] is completely the same as in real life, if not increased — the fear is increased, it seems like. I find that to be enchanting in a dark way.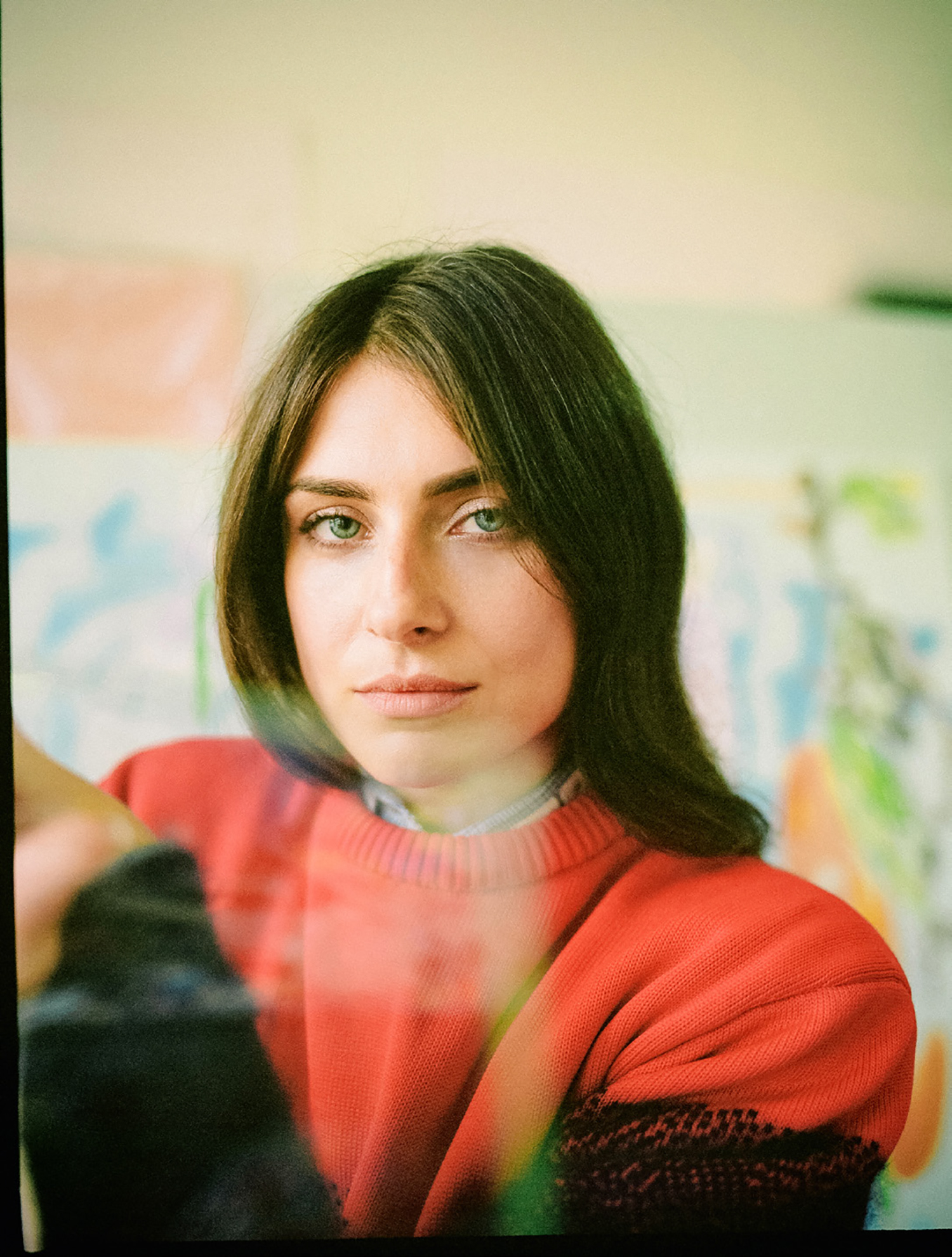 Sweater and Shirt by Versace
For your second show at SIGNAL you don't have any VR headsets. But the plexiglass pieces, do they follow the same process as the paintings where it begins as a photo, is put into a program, and then is made physical again? What's the process behind these works?
Not everything starts as a photo. Sometimes it does, but I use almost every tool available, and sometimes it starts with me purely modeling things in 3D. Sometimes I use a VR sculpting program. Sometimes it's me ripping stuff, like for the Call of Duty piece, Man Mask [(2016)], it's me literally hacking Call of Duty figures out of their little shells and texturing them. So depending what the body of work is, it's always going to be different. But for these plexiglass pieces, what they are is VR. I have paintings and then the plexiglass pieces and then there are these strange tanks. The paintings and the plexiglass pieces are made from the same seed, the VR space; we're using VR as a loose term to talk about 3D microcosms that have their own physics and their own light. What I'm doing is I'm using the same scene [for both the paintings and the plexiglass pieces]. I paint from that microcosm or that VR world that I've sculpted, I'm [physically] making paintings of that space, and then I'm printing them out on plexiglass — it's almost like they're part three of this gradient. Then I wanted them to begin with the body and then end with the body, so what I did for the plexiglass ones is they're then blow-torched while I'm nestling in them for as long as I can take it. If it gets too hot I have to leave. But it gets pretty soft, and I sort of hug them around me.
In your mind, how do the aquarium-like sculptures play into this? Because visually they seem like a departure, but there's something weird going on there that seems similar in a lot of ways to the VR works, like, what's the original piece, what's the "real" part of it? How are you thinking about these?
Something about building computers and building machines feels very intimate, like building worlds or building microcosms; they feel like building cities or VR worlds. That's something that, before I was even coding [as a kid], I was breaking stuff and trying to see how computers worked — bless you, Mom. So I've been building computers for a long time, and then I became fascinated with the idea of the show and going back to the body. Of course there's a little bit of a knee-jerk response in the idea of water combined with some sort of technology; that's the part of it that's amusing or silly. But they feel like vivariums or like geological core samples of a VR space.
All of the screens in those tanks are literally the VR spaces; you see them through these very pixelated LED screens. I wanted to make something that very much felt like the body, sort of crudely self-contained, that wasn't VR, that felt that there was a way of describing the landscape, as aquariums do, really — here's a slice of the ocean."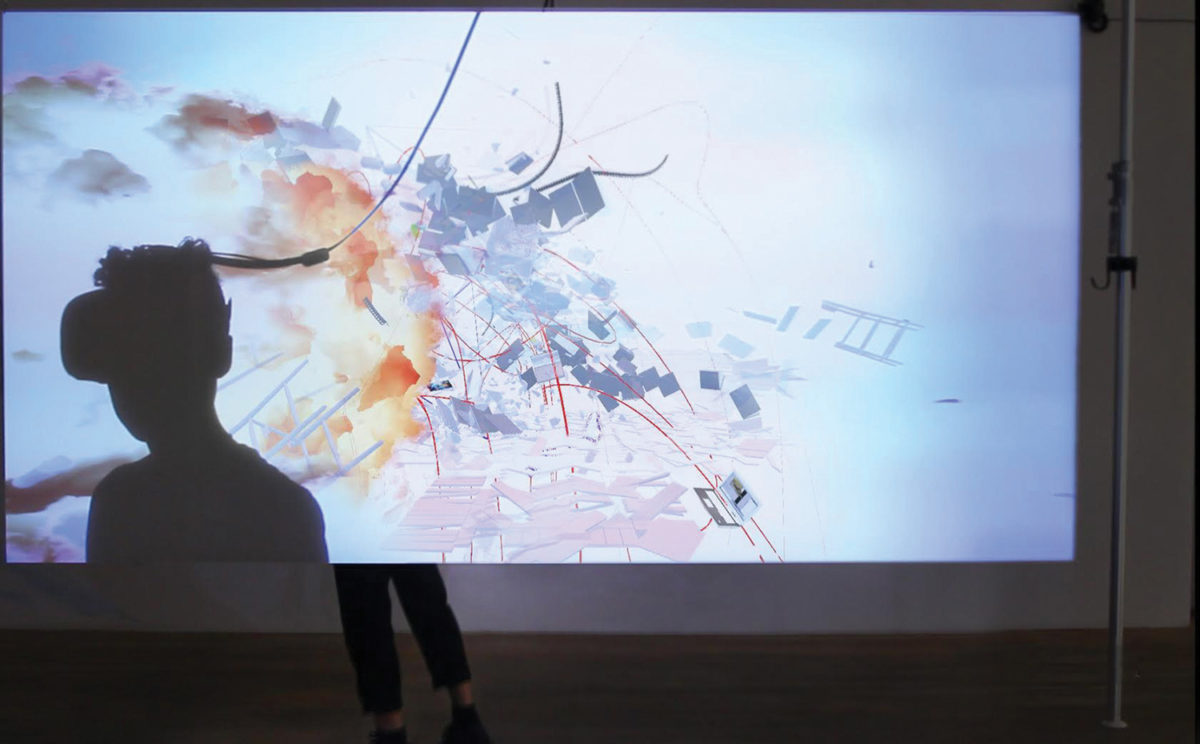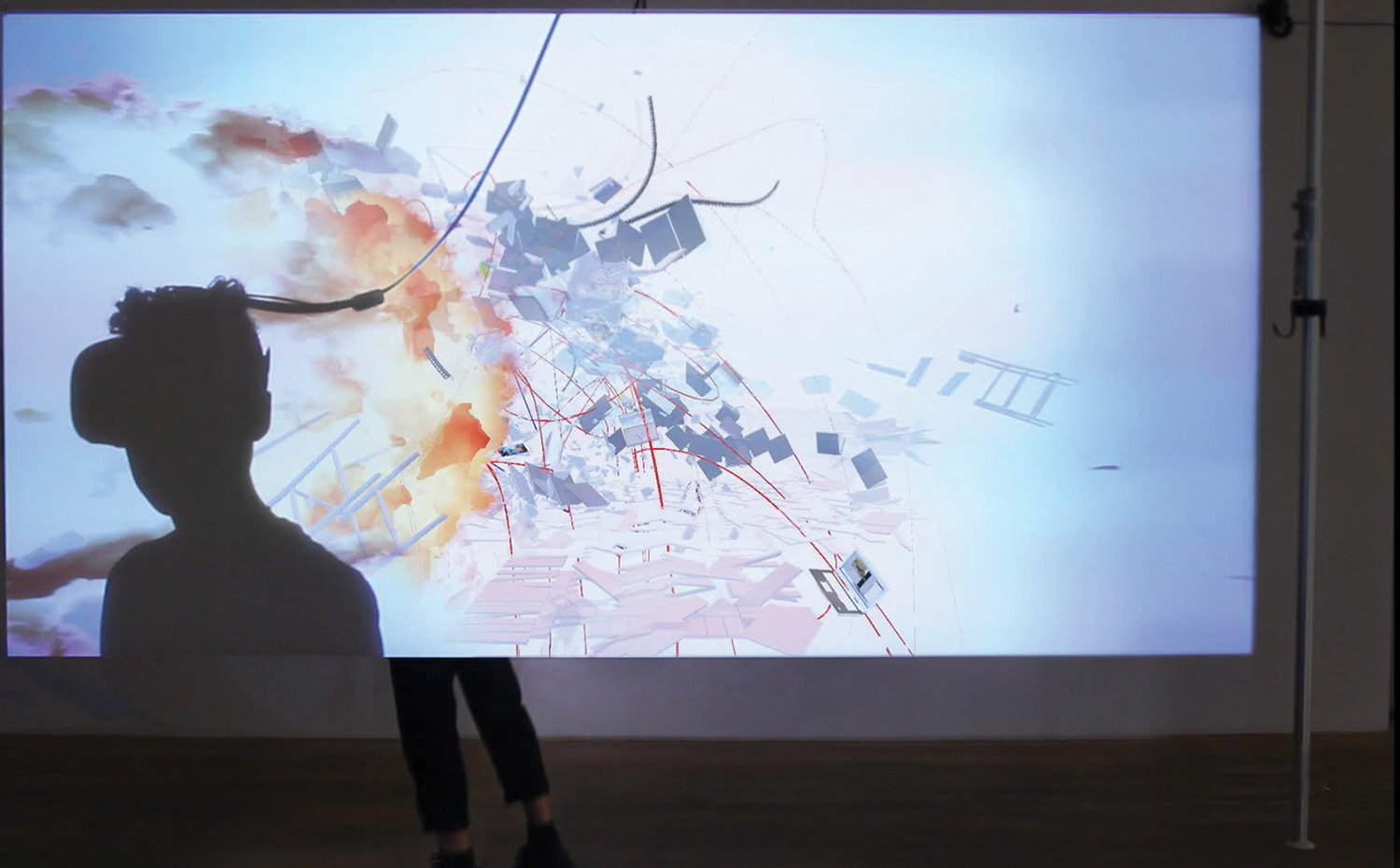 Timescrubbing, Maquette, 2017 ALT FACTS, Postmasters Gallery, New York, NY Photo courtesy of Brooke Nicholas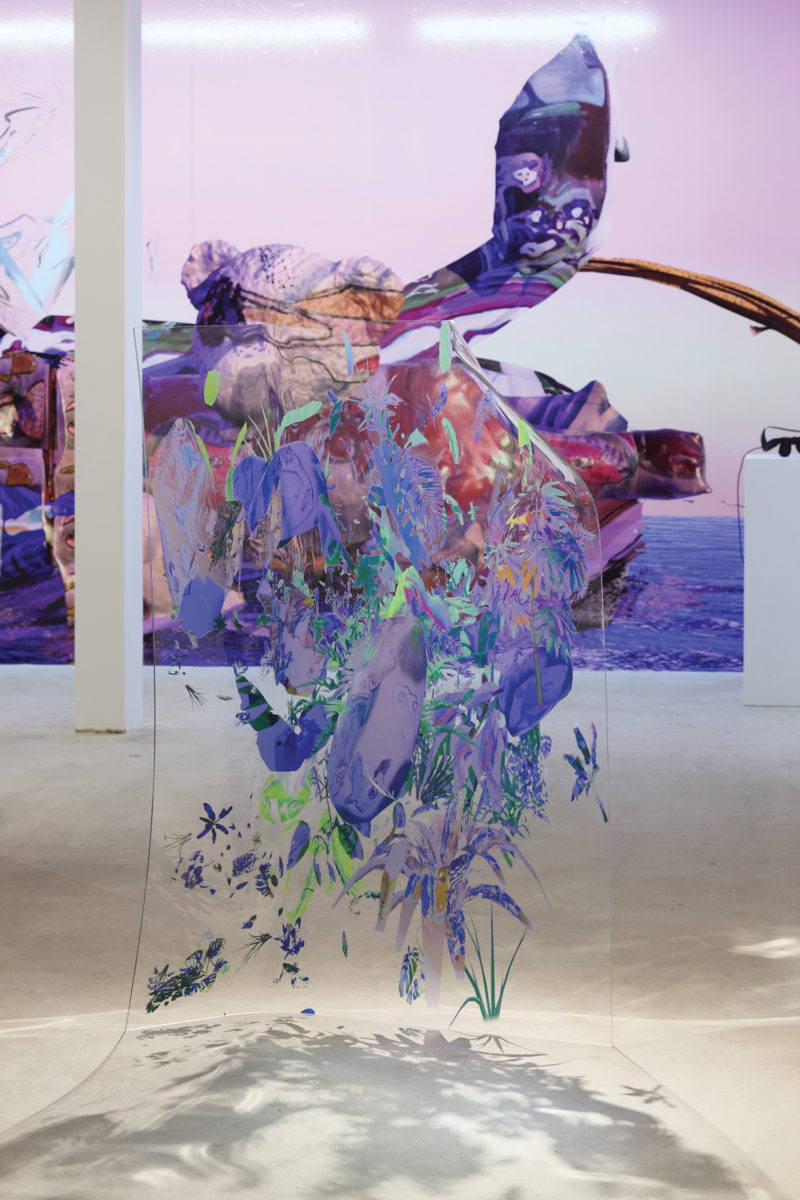 Safe Apron, Safe Cape, 2016 My Little Green Leaf at Art In General and Kim, Riga, Latvia Photo by Ansis Starks, Kim and Art in General
You talking about body awareness and the act of forming these plexiglass pieces around your own body is interesting, because it grounds VR in the human form literally. How did you start thinking about body awareness and what made you want to physically cocoon yourself in these pieces to make them more human?
When I was growing up, being online was a safe place despite the perverts. It was this place that I felt like was pretty necessary, like my community was there. There was an adventure. It could be because I'm getting older, but I felt in light of… I don't know if it was a response to technology or politics, that's what I'm trying to figure out. I think I was wanting to make work that was more introspective, that was simpler and less about technology and less about process, and more, "These are the tools I have right now." I wanted to strip it down to something very literal. I've been making a lot of VR work and I've been existing in VR and in digital spaces because I had back-to-back museum shows, which was amazing, but they were all VR installations. I was existing kind of without a body and then not making anything physically.
I think it was a response internally, and it was also a response to the fact that any time I went on social media or went on to where I thought I had community, it was chaos. Because it was chaos and, frankly, pretty stressful, I started thinking, "What is my response? How do I feel right now as I'm reading this horrific news story or my aunt's Facebook posts? Right now I just feel like a pile of lungs." One of the paintings is kind of about that. It was about using fear responses or technology as the prompt for that type of body awareness exercise: I have a fear response, and it's in a space where I don't have a body, so what is my body doing? But the baseline of what we're talking about is that I wanted to make something where the work wasn't serving technology, technology was serving the work.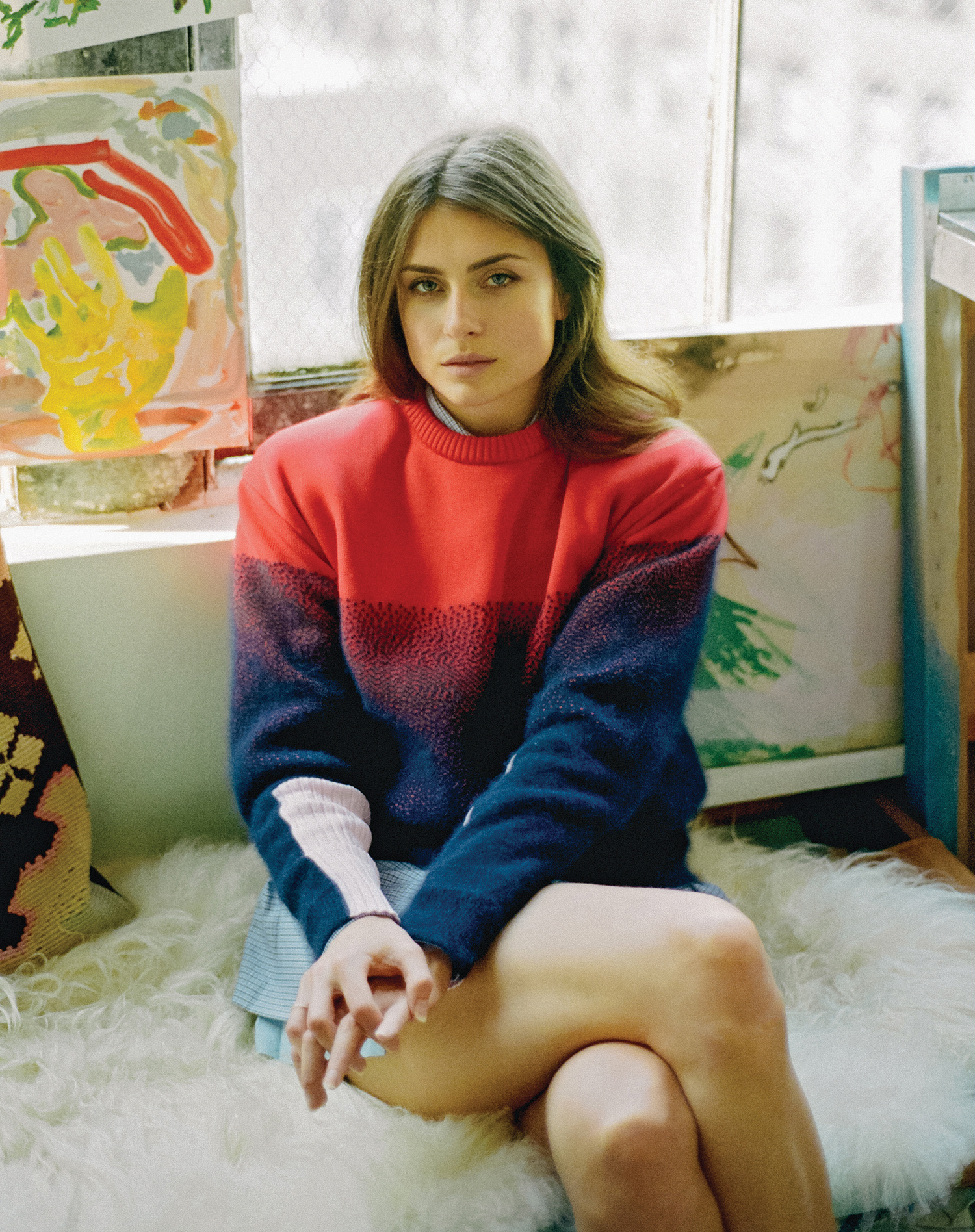 Sweater and Shirt by Versace, Skort Artist's Own
Hair by Austin Burns using Oribe, Makeup by Agata Helena @agatahelena using NARS cosmetics, Art Direction by Louis Liu, Editor Marc Sifuentes, Production by Benjamin Price
–
For more information visit rossin.co