JACQUELINE NOVAK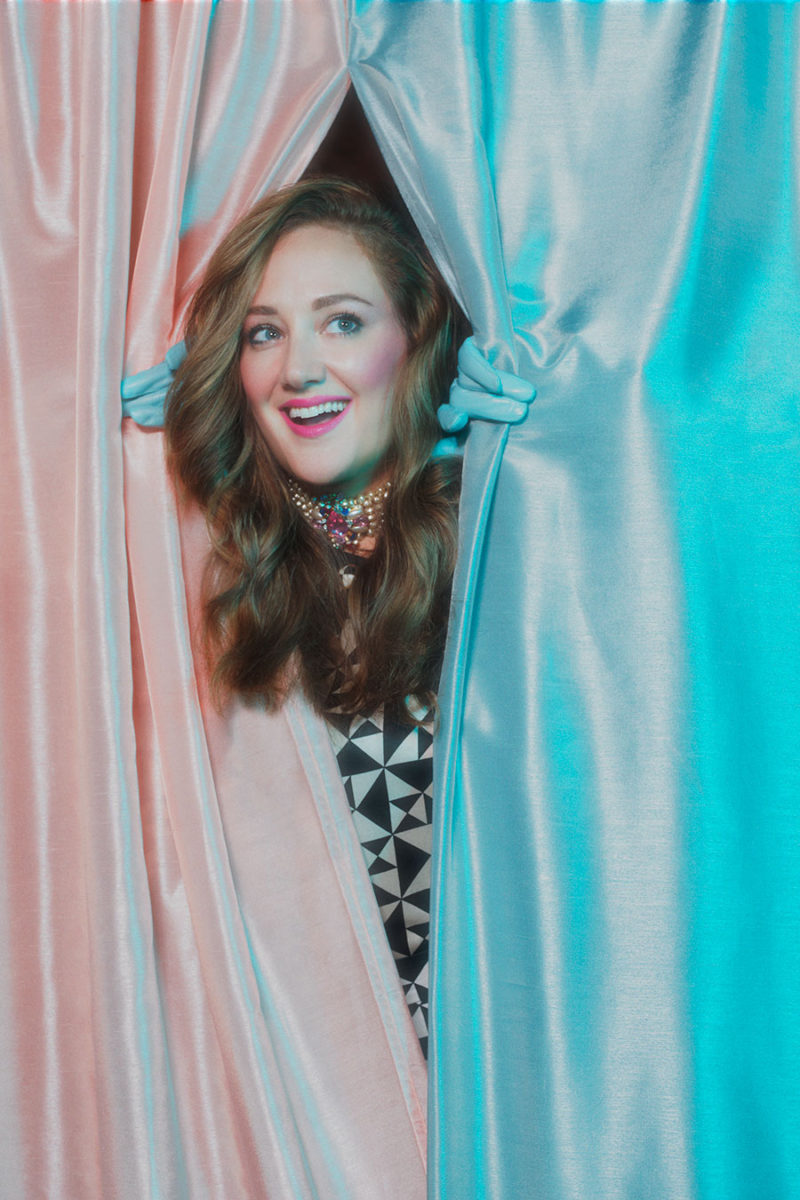 Suit by Escada, Gloves by Dior, Choker by Christian Lacroix,
Courtesy of Gabriel Held Vintage
Photographed and Interviewed by: Dustin Mansyur @dmansyur
Talent: Jacqueline Novak @jacnov
Stylist: Gabriel Held @gabriel_held_vintage
Lighting Tech: Johnny Vicari @johnnyvicari
Hair: Isaac Davidson @isaacdavidsonhair @Industry Mgmt.
Make-up: Nina Soriano @ninasorianomakeup
Production Assistance: Genaro Ordonez @genaroordonez
Special Thanks to Cherry Lane Theater for providing location
Going up from going down, Jacqueline Novak's sold-out one woman show is extending its West Village run. With her prolix and personal storytelling style, Novak's Get On Your Knees is sure to please. 
Jacqueline Novak is on the floor. Stretched out languid and feline in a vintage black and white color block three-piece suit, knees bent and feet mid-air kicking back and forth like an 80's teen flick fantasy. In lieu of a landline phone she cradles the microphone, a fitting prop for her to divulge all of her juiciest momentos to. After flexing about her floorwork in hair and makeup, the Get On Your Knees comedian is happy to oblige for our shoot. Today she's giving us a montage of her realest moments of recent: the backstage nerves before her entrance, the tenuous question, "Can she do it", to finally owning the stage with her one-woman show. Glammed up is a good look for Novak, who's giving us nods of comedic "it girl" with appearances on Seth Meyers and Jimmy Fallon and sparkly reviews from the New York Times and Rolling Stone. Sold-out and extending are also good looks–with its initial stellar off-broadway sell-out run at Cherry Lane Theater, the one-woman show Get On Your Knees presented by Natasha Lyonne and executive produced by Mike Birbiglia will remain in the West Village, continuing its run at the larger Lucille Lortel Theatre through the fall. 
Exploring the etymology of a blowjob, Knees takes us on a meandering discursive journey filled with Novak's hilariously self-reflective personal anecdotes, hyperbolic metaphor peppered with sage wisdom weaving a story of sexual coming-of-age. Poetically examining all the feminine qualities of the penis was an entertaining concept for me to embrace as a gay man, and coupled with Novak's articulate script-flipping on long-held stereotypes of masculinity was nuanced, comedically refreshing if not insightful. Profoundly-layered and self-aware, Novak's delivery comes across at times like an unadulterated soliloquy of the voice inside her head conducting a many-angled dissection of the conundrum of catalogued oral sex experiences, preconceived ideas and expectations pushed upon her since youth, a storytelling technique that drives you to lean in. With Get On Your Knees, Novak proves comedically there's no question of "if" or "can"–she's done it and she'll do it again. 
IRIS Covet Book caught up with Jacqueline in her dressing room just before her final show at Cherry Lane Theater.  [read more below]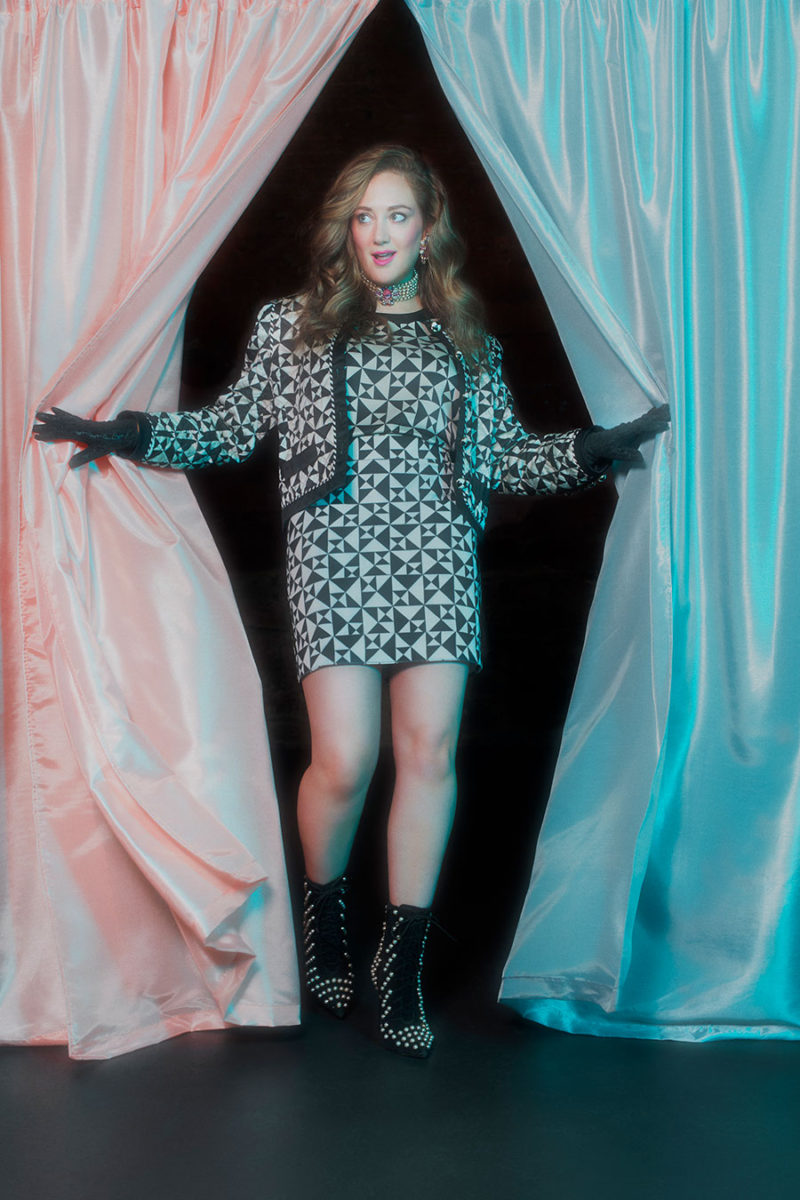 Suit by Escada, Gloves by Dior, Choker by Christian Lacroix, Boots by Jeffrey Campbell,
Courtesy of Gabriel Held Vintage
DM: I had a really great time on our shoot yesterday. I'm so happy you trusted the team to push you off into a campy kind of character which is a departure from your show. Gabriel is such a genius with styling and character reference. Did you have fun? 
JN: Oh my god yes, I had the time of my life!
DM: We were in love with this Bette Midler kind of "Big Business" fashion reference for the styling with lots of prints and costume jewelry. 
JN: I loved it!
DM: You took our photo direction so well – I love how you put your spin on the idea. What's that like when you're asked to play a kind of character like that for a shoot? 
JN: I think I played my cards right by basically keeping it incredibly simple for my show wardrobe, right? Part of the thrill of the shoot was the departure from that. It's a really exciting time right now with my show going up and going well, and as I said yesterday at the shoot, I felt like I was playing out an 80's fantasy–like a montage in a movie for my big break. There were lights flashing and I'm in those kind of looks representing these moments–so it was really fun.
DM: When you were growing up, who were your comedy icons?
JN: Probably people in specific roles. Steve Martin in…Roxanne. Thenardier in Les Mis. Chris Elliot in Get a Life. In high school, Parker Posey in Christopher Guest stuff and of course, House of Yes. Chris Rock.
DM: In your stand-up, you mention writing poetry. I was just curious how you began your career writing…was it always satirical comedy or was that something that came later?
JN: I started writing poetry and short stories in high school. Then in college, I started doing dramatic writing, play writing. Then, personal essays. Around the time that I was doing improv in college. Stand up allowed me to be both a writer and a performer.
DM: So, it was more of a natural transition because it combined all the things that you were exploring at the time…
JN: Well there is no natural transition to stand up. It's always an uncomfortable, awkward and outrageous leap. Unless, it's 1902 and you sort of find yourself talking in a saloon night after night with an ever growing crowd. Otherwise, it's showing up to open mics which isn't natural. But for me, looking back, sure, it's natural. It was the intersection between comedy, performance and different parts of what I was interested in.
DM: Your show has been a huge success, you sold out and you have moved to a new theater and extending it. When did you start to realize that your show was becoming somewhat of a phenomenon?
JN: I'm still in shock! Even when you articulate it that way, I'm like oh my God! Is it true? Well, it's very absorbing doing the show and there's no time to think. I moved to LA and I put it up for a few nights and got a great response which was exciting because it felt like "these people don't know me and they enjoyed it."  In terms of the NY run, in previews we were selling well which the producers said was a positive sign. I keep waiting for the rug to be pulled out from under me. Then with great reviews, the run kept selling…until we sold it out! I'm truly still processing it. This is one of the cases where my brain works for me – my ADD hyper-focus brain keeps me weirdly in the present with it.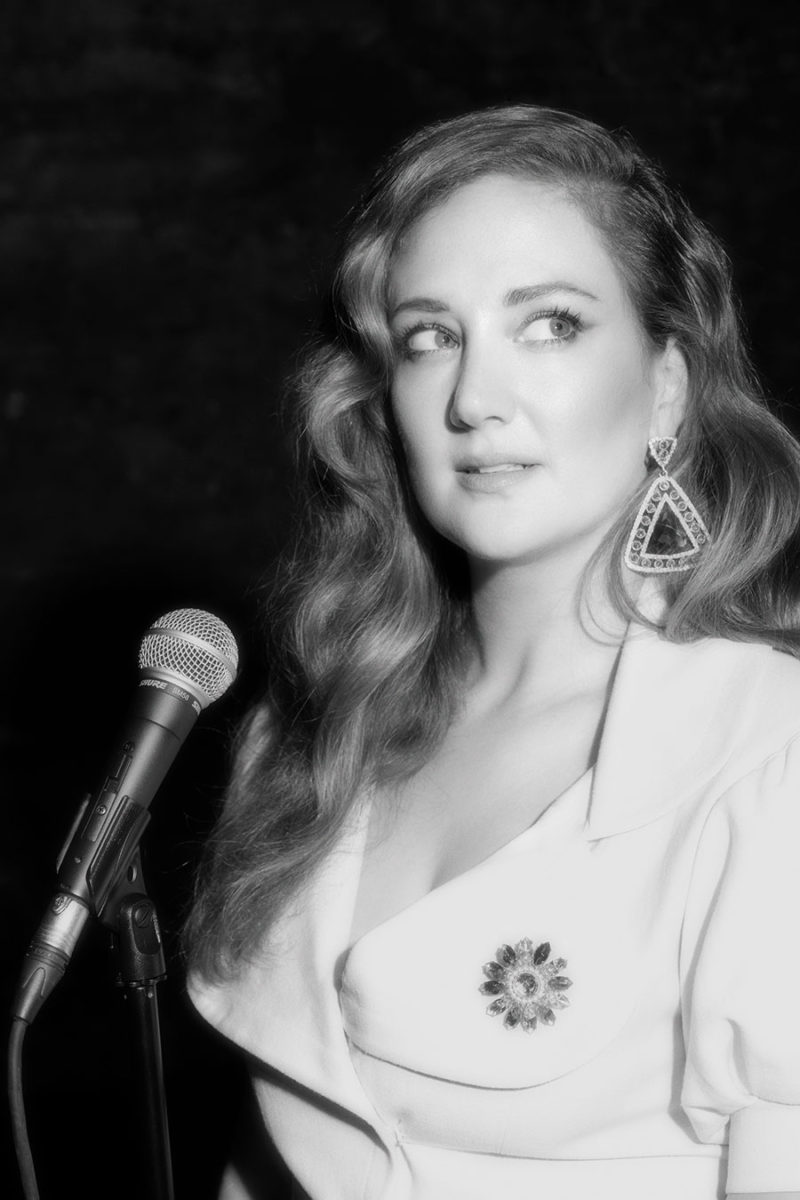 Jacket by Christian Lacroix, Jewelry vintage,
Courtesy of Gabriel Held Vintage
DM: The producer Natasha Lyonne has been complimentary. She said that she thinks of you as "a great new philosopher with a fully existential show." In your words, how would you describe your show and where did your inspiration come from for the material?
JN: It's a show about blow jobs, but really it's a show about ideas. I love how that sounds so I keep saying it. But it's kind of a show about thinking, and one's evolving thoughts around a particular subject. Yes, it traces a narrative but it's a narrative of ideas – here's what I thought at 12 about the blowjob, then at 16, then at 20, etc, with a few key moments shaping the whole thing.
DM: You share a lot of vulnerable and personal anecdotes. Does it feel liberating to just lay it all out there in this format?
JN: I've always been pretty comfortable with that kind of personal divulging, so that aspect didn't feel new. The liberating part was letting more of me into the show – not just what I think of as 'suitable for stand-up.'
DM: I love how you poke on the anxiety of walking from the door of the stage onto the stage. When you began doing stand-up, what were you most nervous about that no longer phases you?
JN: When I started, I was very scared of the embarrassment of having people perceive me attempting to be funny, but I also found it embarrassing to try to act like you had not just said the punchline that you wanted to [say]. It was embarrassing to cover up a joke that I had just said by rushing into more speaking to make it seem like the audience's lack of laughter was not a problem. I wanted to skip the landing of every joke, so to speak, but then that requires kind of admitting that you think what you just said is funny and just pausing for laughter, it's kind of the inherit thing of being a comedian. I think Mitch Hedberg had a joke that said something like, "I pre-approved all these jokes as funny." That expressed what's most embarrassing to me in comedy. The self-appointment. Inherent in standing up there, you have informed people that you believe you deserve to be up there, to make them laugh, and that you think you're capable of doing so. Seems like something only an asshole would think.
DM: What's the last thing that you say to yourself in your head before you walk onto stage, or what's the last thought that goes through your mind?
JN: At the beginning of the show, Madonna's "Like a Prayer" is playing. I feel the physical nerves before going on stage. I try to experience gratitude for what's happening…in a juicy way not in a moralistic way. I remind myself that feeling this kind of fear is exactly the fear I wanted to be in a position to feel. So take note and appreciate it, bitch.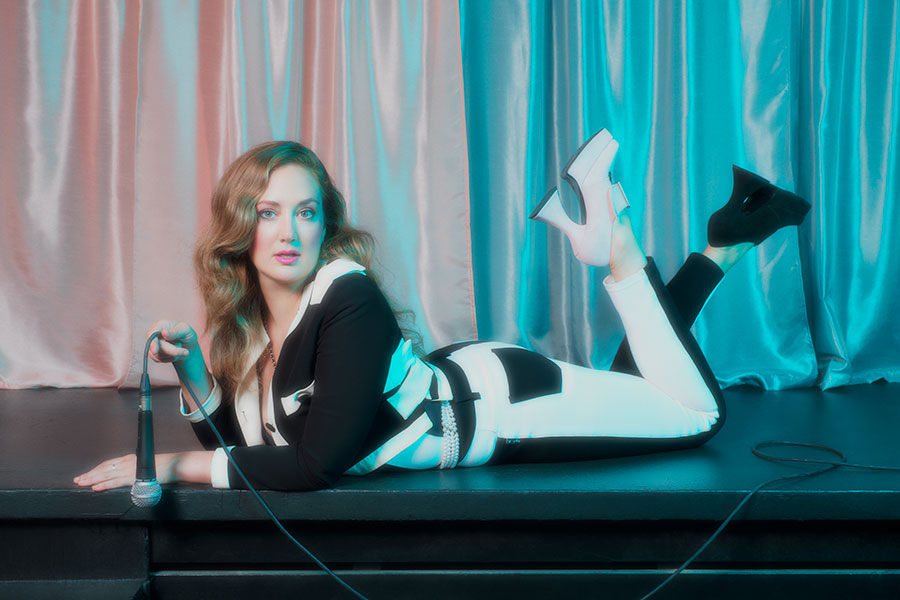 Jacket by Moschino, Necklace by Chanel, Bodysuit by Bill Blass, Pants by Agnes B., Shoes by Fluevog,
Courtesy of Gabriel Held Vintage
DM: What do you like most about performing for a live audience, and in particular, the audience for this show?
JN: It's nice how few distractions there are generally in theater versus a comedy club. I remember Mike Birbiglia, in a conversation before the run, when I was running the show on the road in clubs. He likened performing in a comedy club to driving a car on a bumpy road and that performing in a proper theater is like driving that car on a racetrack. Everything is tuned up and ready to go. It's a more ideal circumstance to present your ideas."
DM: One of the brilliant things that I loved about your show is that feminization of the penis and how you personified it with the stereotypical qualities that are assigned to women like it being over-sensitive or hysterical in nature. How did you come to the realization that the penis has feminine qualities?
JN: I had noted that the vulva is compared to a flower, but I never found that image suitable. I then liken a penis to a flower instead, and from there the feminine imagery expanded. It's hard to say though, it all kind of develops simultaneously.
DM: When we were at the show, there was this older gentleman behind us that was goading his wife to leave when you started to unpack the idea and she kept telling him to calm down and to let it play out. I was just curious…have you encountered anything of this among the attendees who didn't know the nature of the show?
JN: I feel like for the most part people have been pretty well behaved in the first couple rows, which is where I could see. Do you remember specifically what I was saying?
DM:  I think it's when you used the floral kind of reference.
JN: No! That's hysterical!
DM: Yeah, you had just started to unpack it. You hadn't gone too far into it and I thought [about the couple] are you serious right now? This is a comedy show so chill out!
JN: That's wild! It hasn't been too bad. Occasionally, I'll see someone's face in the front row and they start opening the program and look in it. I'm like, if you're not enjoying the show, there is nothing in there that can help you. It's just bios. I have a sense of some of my audience – like the people that come are comedy fans in general and then there's the audience that just comes because it's an off-Broadway show in NY. I particularly enjoy mixing the high and lowbrow, so to speak. I honestly get some pleasure of that mix.
DM: You take us on a journey of your experiences giving a blowjob, beginning with your initial insecurities surrounding it, overcoming those insecurities, and feeling as though you mastered it. I couldn't help but feel like it was a metaphor for something a little more subliminal. I guess, without trying to get too Freudian about it, what is the blowjob implying to you and what do you hope that your audience takes away from the show or  the material?
JN: The blow job was something I was worried about, wanted to do well, had my own ideas about, and found this in conflict with the world's. One thing I would like for people to have more understanding or empathy about is the idea of a teenage girl giving a blowjob is a pretty limited idea that is reduced to a stereotype, so it's trying to complicate that image a little bit for people. It bothered me at the time when adults knew that you gave a blowjob they would think you were not a good girl. And in that way, a big part of the story is the blowjob could represent my changing perceptions around it, what it meant in different points in my adolescence. Then the question is – do you live your life by what other people think things mean or what you think things mean. Ultimately, the message, I guess, if I may be so vulgar, is that in this life you can cultivate your own narrative about yourself, even if it's not bulletproof, even if it's tenuous, even if all the proof is not there.
DM: In your book How to Weep in Public, you discuss your experience with depression. How did comedy help you make sense with the experience of it?
JN: I don't think it really did. I think comedy, like anything, is just made harder to do when you are depressed.
DM: Was it therapeutic in any way to write and explore this darker form of humor?
JN: In order to write that book, I had to be in a better place than I was when I conceptualized it. I like to be clear about that. I feel like writing a book is NOT a therapeutic experience, and getting feedback and working on it is incredibly difficult. Writing is hell. Just happens to be my favorite kind. I'd love to be able to say it was therapeutic but that ain't it.
DM:  So much of the work of a comedian and a writer is observing life experiences and dynamics and then finding the humor or meaning in them. Do you feel like you have a heightened ability for empathy as a comedian and a writer?
JN: I wouldn't want to say I have heightened ability over someone else. I suppose I'm a little looser with my thinking than non-comedians. I am willing to draw inappropriate comparisons.  Comedians are never upset by that. Comedians are usually willing to go on thought experiments.
DM: You've written for popular TV series, such as "Broad City." If you had a chance to create your own scripted series and star, what kind of storyline and character would you create?
JN: I'm actually too vain to properly do an autobiographical show.  I'd want my character to always be right and lovable. Ha! I'd rather not tell a story about a comedian, I know that. I'd rather go far and wide, away!
DM: I am excited that your show has been extended. I'm just curious – after the show concludes, do you have any other projects that you are willing to share?
JN: Nah. Gotta keep it all secret, while it's still in the cauldron. Can't open that oven door. And other analogies.
DM: Besides overcoming the insecurity of a blowjob, what's the thing in your life and career that you overcame that you're most proud of?
JN: Let's see … doing stand-up at all. I've been doing stand-up for a long time, and the original leap, it seems, was the scariest part.  I'm most proud of the initial leap and I'm most proud of sticking with it. I'm proud of myself for being continually consistent and I'm in a position where I'm really getting to do it at a level that I want to do it.
DM: I feel that's relatable for anyone working in a creative industry. I watched an interview you did a few years back and I think you said, 'some of us are just scratching and crawling at relevance behind the scenes trying to make it' and I was like, 'I totally get that'. I completely agree with you.
JN: The long-term part isn't flashy, but it certainly is important. And it can pay off. Even if it seems like it won't. And I don't think anyone regrets effort.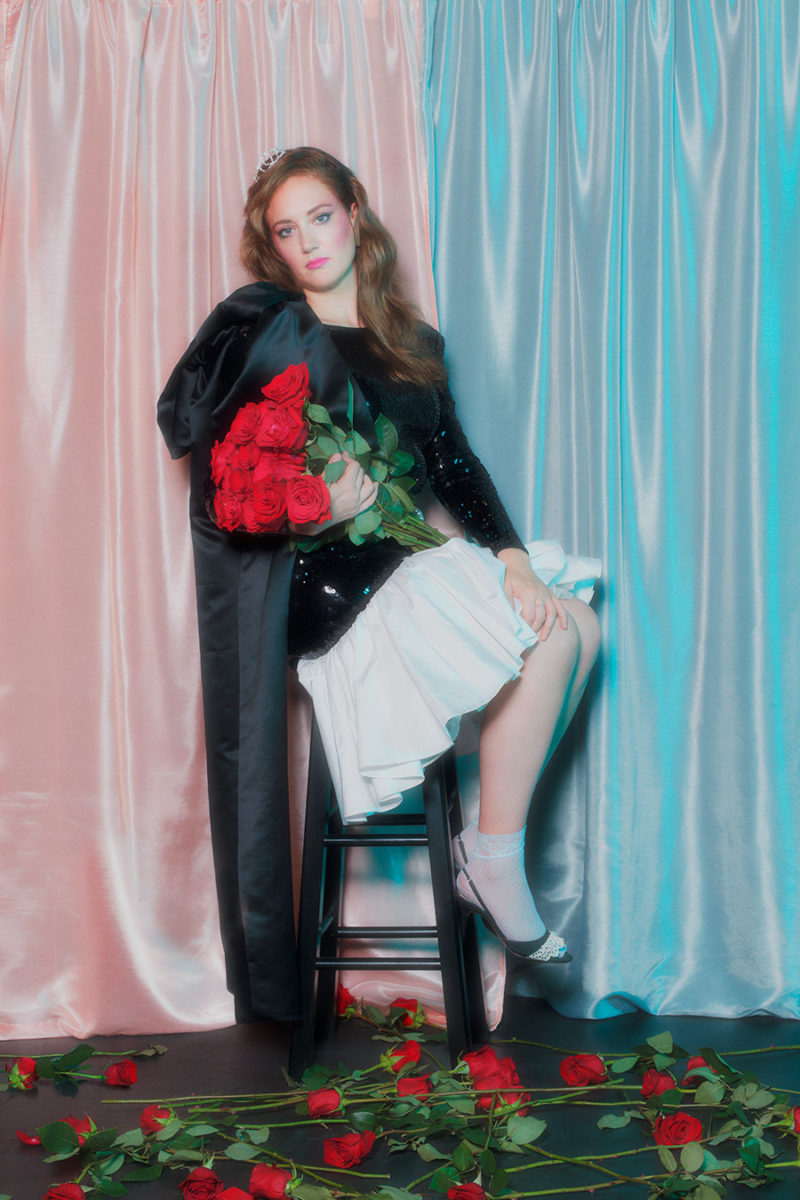 Dress by Casadei, Shoes by Christian Lacroix,
Courtesy of Gabriel Held Vintage