COMEDIAN/ACTOR AND STAR OF HULU'S DOLLFACE ESTHER POVITSKY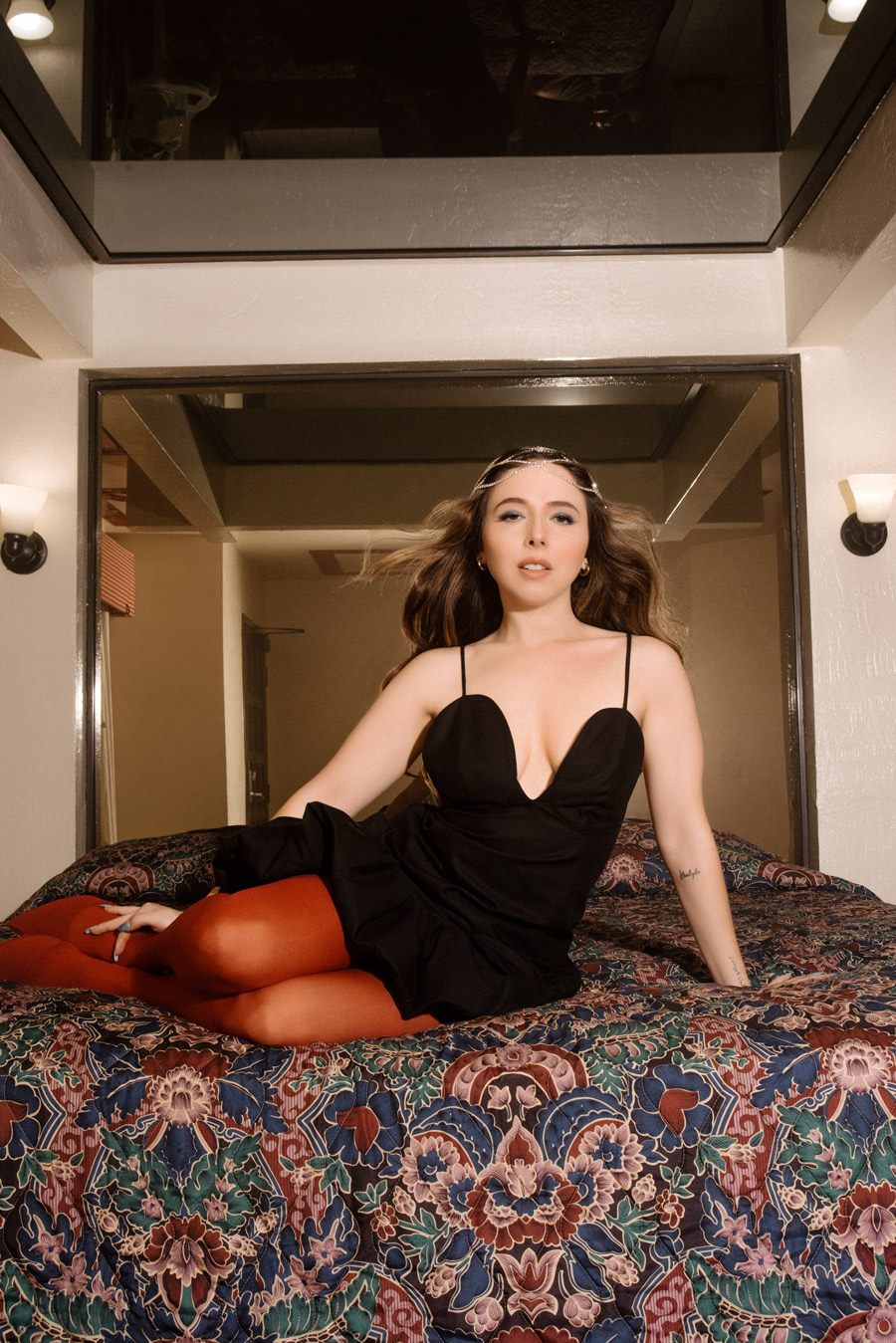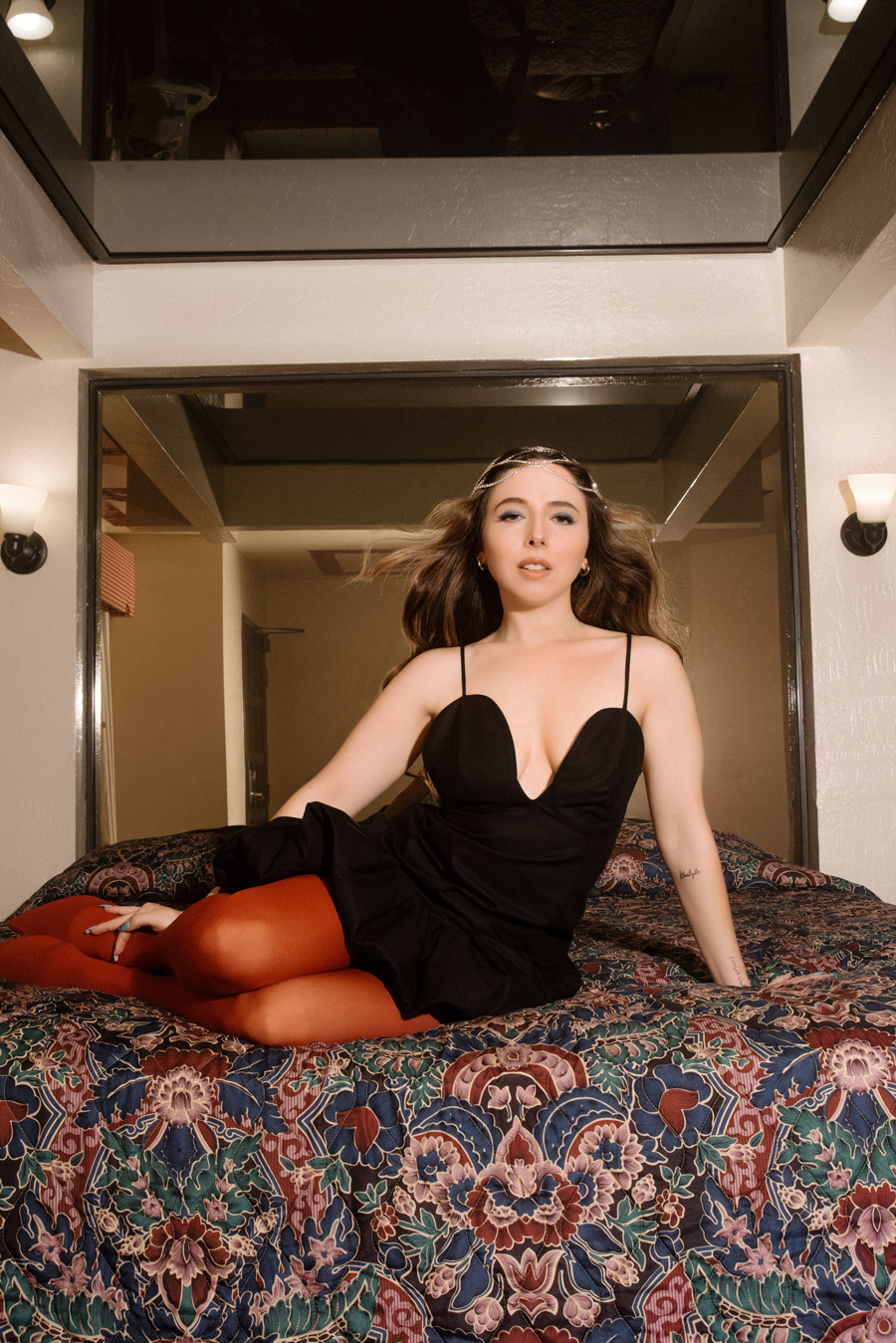 Dress: Khaite, Tights: Fogal, Headpiece: Vintage, Shoes: Open Edit
Comedian and actor Esther Povitsky is perhaps best known for her Lonely Island-produced comedy series Alone Together, or her supporting role in the Hulu series Dollface. Maybe you're just a fan of her neurotic, deadpan online comedy persona. But what many may not know is the story of how Povitsky became one of the digital age's biggest names in comedy, and the intense personal obstacles she had to overcome to get there.
The internet-viral comedian opens up about overcoming anxiety to create her own work.
By: Hilton Dresden
Photography:
Michelle G Gonzales
Photo Assistant-
Sydney Patitucci 
Stylist-
Jensen Leigh Edmonson
Stylist Assistant – Priscilla Alejandrina Langdon
Hair:
Joseph Torres
Makeup: Brittany Leslie
Povitsky grew up in Chicago, in a household full of laughter — her dad set the tone for daily silliness, she explains. After studying at comedy institutions like Improv Olympic, she ultimately made the decision to move to Los Angeles, realizing she'd need to spread her wings if she were to reach the fiscal and professional goals she had for herself.
While starting out on the West Coast from scratch was far from easy, performing at open mics around the city eventually led to representation, and then roles on acclaimed TV shows including Parks and Recreation, Key and Peele, Brooklyn Nine-Nine, Difficult People, and Crazy Ex-Girlfriend. Her breakout came with Alone Together, which she co-wrote, co-created, and stars in alongside her bestie Benji Aflalo. What started as a self-made short eventually became a full TV series, currently watchable on Hulu and produced by Saturday Night Live video legends The Lonely Island. Additionally, Povitsky currently has a Comedy Central stand-up special, "Hot For My Name," now available for streaming.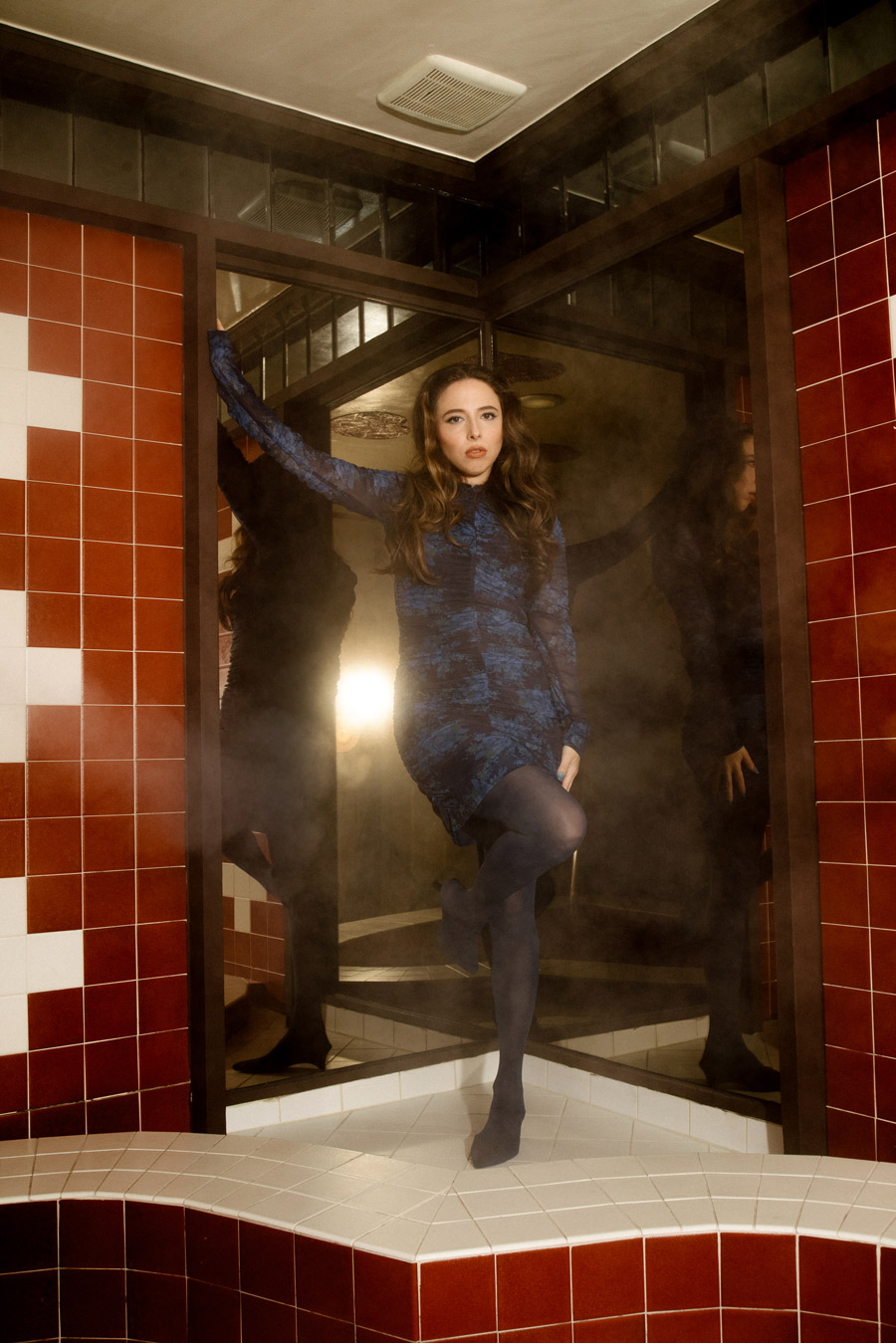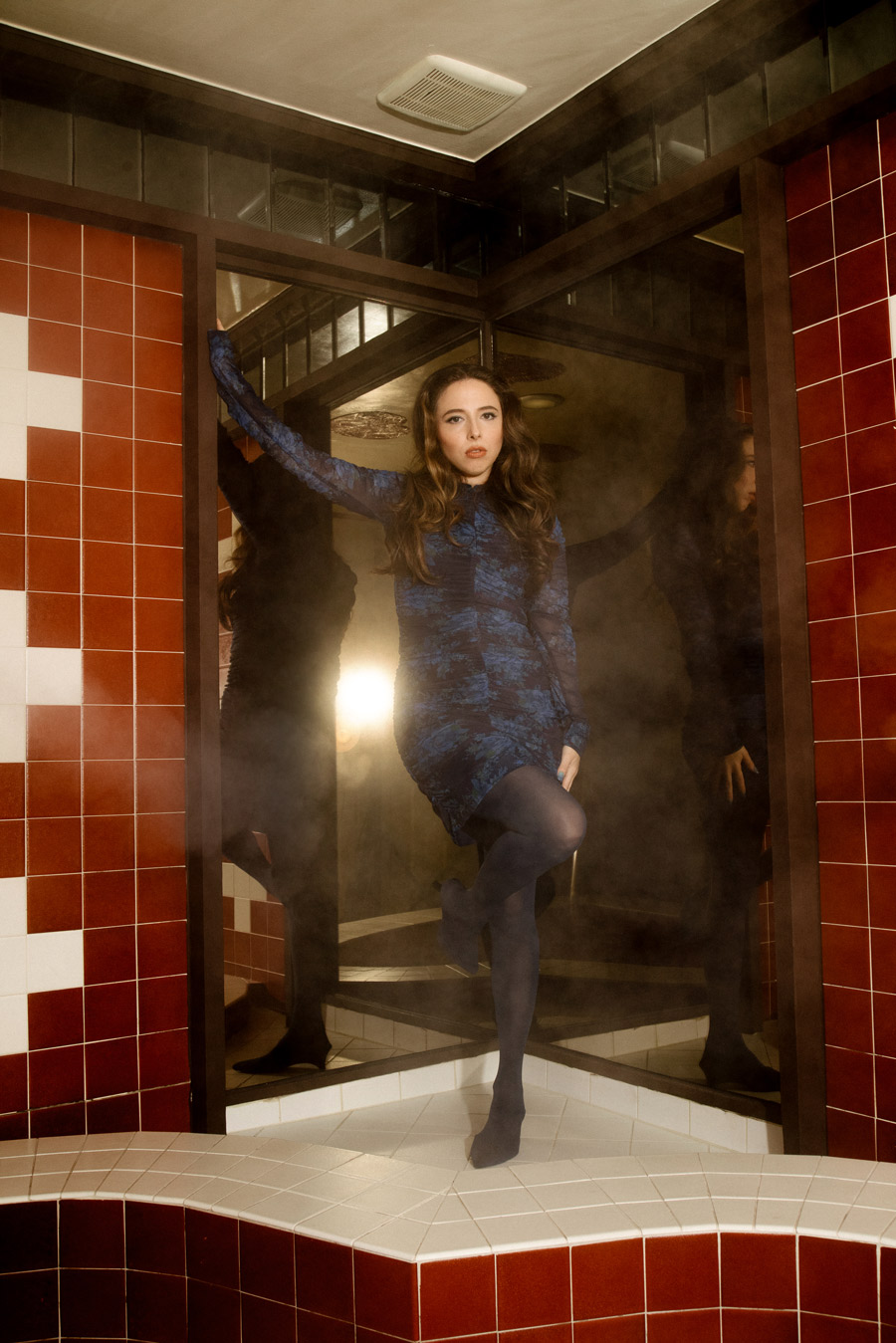 Dress: Ganni, Tights: Fogal, Bag: Ferragamo, Shoes: Open Edit
What was initially inspiring you to comedy as you were growing up?
Esther Povitsky: I grew up watching SNL and loved Chris Farley and Adam Sandler and David Spade and all those people on the show. Cheri Oteri. Will Ferrell. And I just always wanted to live in that universe. I thought I was going to be a professional dancer because I love taking dance class. And then I just realized: "I think what I loved about dance class was making my friends there laugh." Wanting to work in comedy, it's like you kind of don't even really know what that means when you first think about it. There's no clear path of what that could be. So I just knew that and discovered stand up comedy as a good option to get me started. That was how I ended up moving to L.A. and pursuing stand-up full time.
You studied at iO in Chicago, and then at Groundlings in Los Angeles. Tell me about what you took from those places, and about the decision to make such a big move from your hometown.
EP: I would say my time at iO, Improv Olympic, in Chicago is really memorable and special, and I felt for the first time like I had tapped into something that made a lot of sense to me. It was where I wanted to be, and I loved my teachers and my classmates and my instant life goal became to be a performer on the stage there. Then I realized that the people who were performing on those shows were not being paid, and they made no money off of what they were doing. And I just felt like, "Gosh, that makes no sense to me." Like, if these people are rock stars to me, I want to be them when I grow up, so to speak, and they're not being paid… that just freaked me out. And it made me really confused. I was like, "I think I need to leave Chicago, because this doesn't make sense to me. I need a different way." And that's what prompted me to move to L.A.
I'm a homebody. If I had the choice to stay home at my parents' house versus, like, go into the city and do an open mic in Chicago, I'm lazy. If the option is to sit at home, I'm taking it 10 out of 10 times. So I just knew I had to shock the system: go to a different city where I have no money, nowhere to stay. Not that I had money in Skokie, but I had a place to stay. So it would have been easier. I just was like, "I need to throw myself out there." I was scared. I was terrified. I mean, the day I moved home from school, my 21st birthday, I dropped out of school and my parents came and helped me pack up my stuff and we moved home. I don't think they spoke a single word to me that whole day while they were packing my stuff, and it was my 21st birthday. They were so solemn. I never use that word, but I don't even know what other word to use. They were somber. It was so sad. They were so sad because my mom had never gotten the opportunity to get a college degree. She thought it was this big opportunity for me, and my dad had actually dropped out of the same school, so he wanted to see me finish there. And I just was like, I can't do it. They were really, really sad for me to leave. And I remember I woke up the next morning in my childhood bedroom and I was like, "What did I just do? Did I just do it? Did I really just submit my form for a partial refund from school?" I immediately started Googling community college in Los Angeles because I just couldn't believe what I did. But I fought through that fear and just pushed and followed through.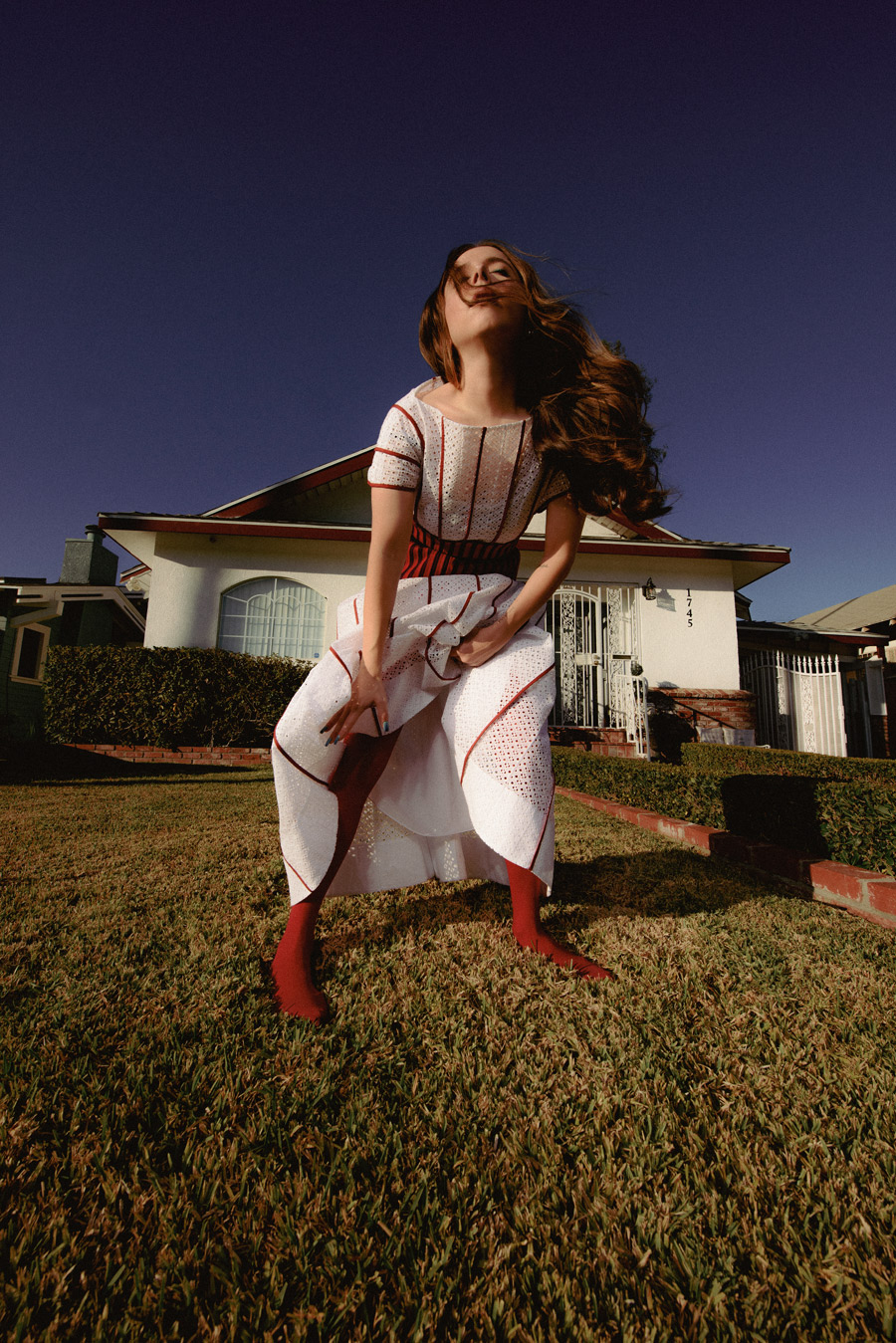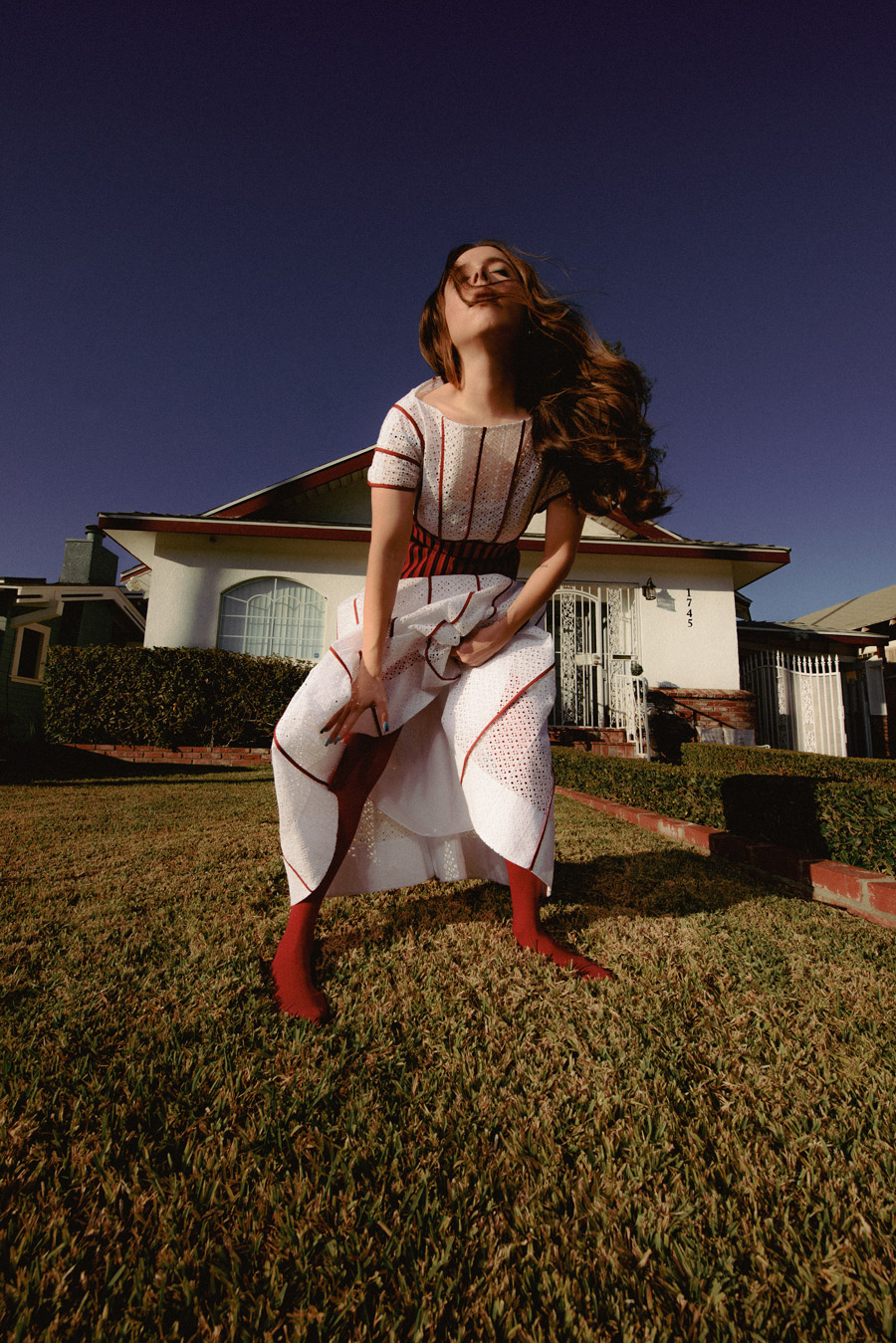 Dress: Tory Burch, Belt: Isabel Marant, Tights: Fogal, Shoes: Open Edit
Did you find the standup scene in LA welcoming at first? What were those early years like?
EP: I don't think any community is overly welcoming of newcomers, so I wouldn't say that, but I got here, and the first night, I was with one of my college friends and I was making fun of them at the bar. And the bar owner literally came up to me and was like, "You're so funny." I was like, "Really?" "Yeah, you're really funny. You should do stand up." And I was like, "I can't believe you're saying that to me because I literally just moved here today to do that." And I was like, "I don't know where to go, what do I do?" She said: "You should go to The Comedy Store. I've heard of that." OK. And just because that bar owner said that that night, I was like, "Great." And then I went there the next day with a resume trying to get hired, and they didn't hire me. But they explained Sundays and Mondays were the open mics, and then that just kind of became my home base and where I hung out the most and met people and made friends. Then I did open mics all over the city after that.
I want to hear about Alone Together and how it went from a short to a pilot and then a series produced by Lonely Island. What was the kernel of inspiration there?
EP: So one of my close friends that I met during that time was Benji, and he and I, we just became instantly inseparable. We just had all the same things in common, but we were so different. He's a guy. I'm a girl. He was from Beverly Hills, I was from the Midwest. But we were both kind of short and didn't really fit in school. And because we were both short and kind of Jewish-looking people just assumed we were dating, everywhere we went, and we would always be like, "What? No!" We would almost both just be insulted, like ill. Just because we're both short and ugly doesn't mean we're dating. We both thought we could do so much better than the other person. And we were not shy about it. Then eventually, we were like "Everywhere we go, people keep spinning this narrative to us about how we should be together and we're so adamantly not about that. Let's make a short film about our lives." Literally exactly from real life to the script. We just did exactly what was true to us, and that was how we made the short film that came to be the show.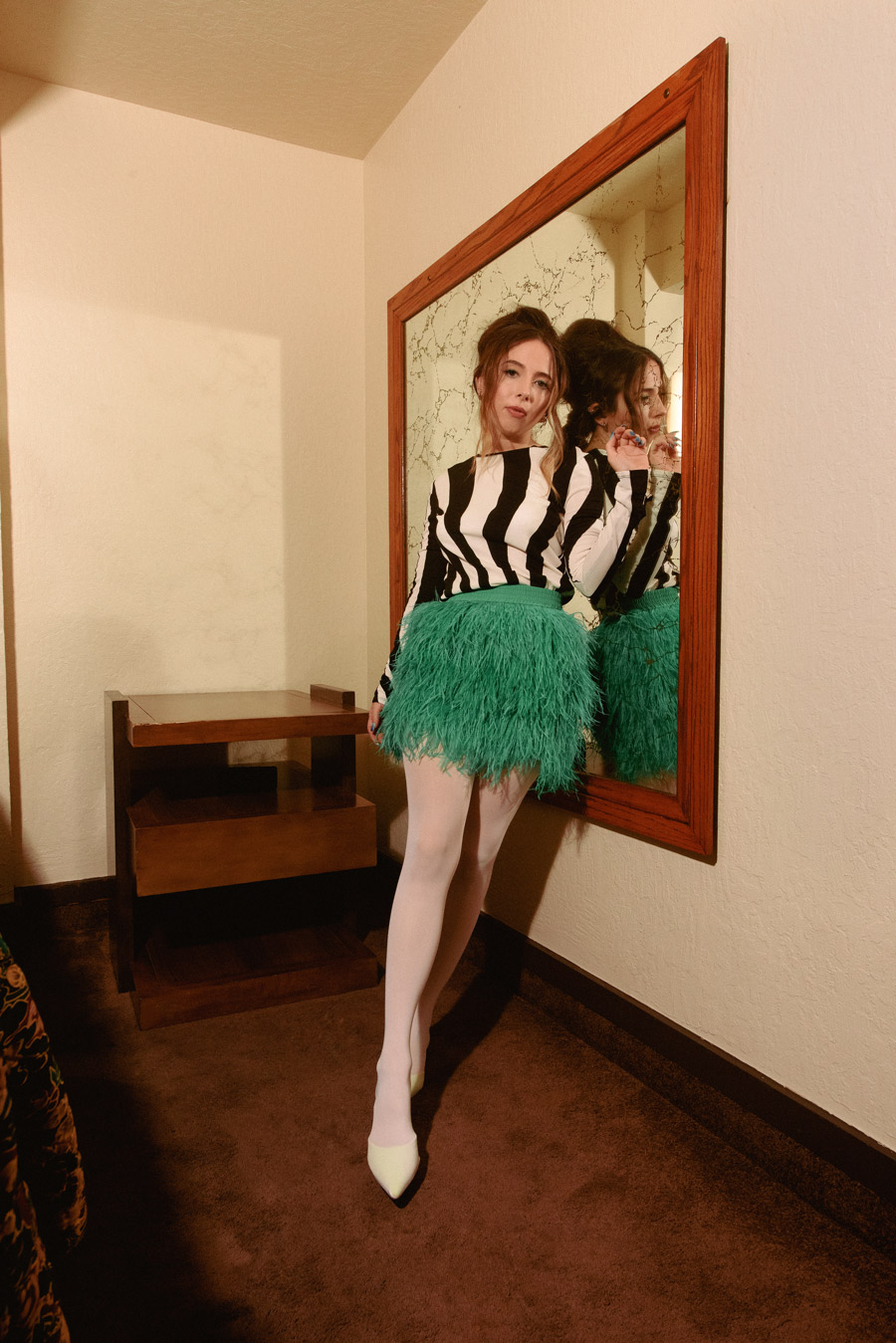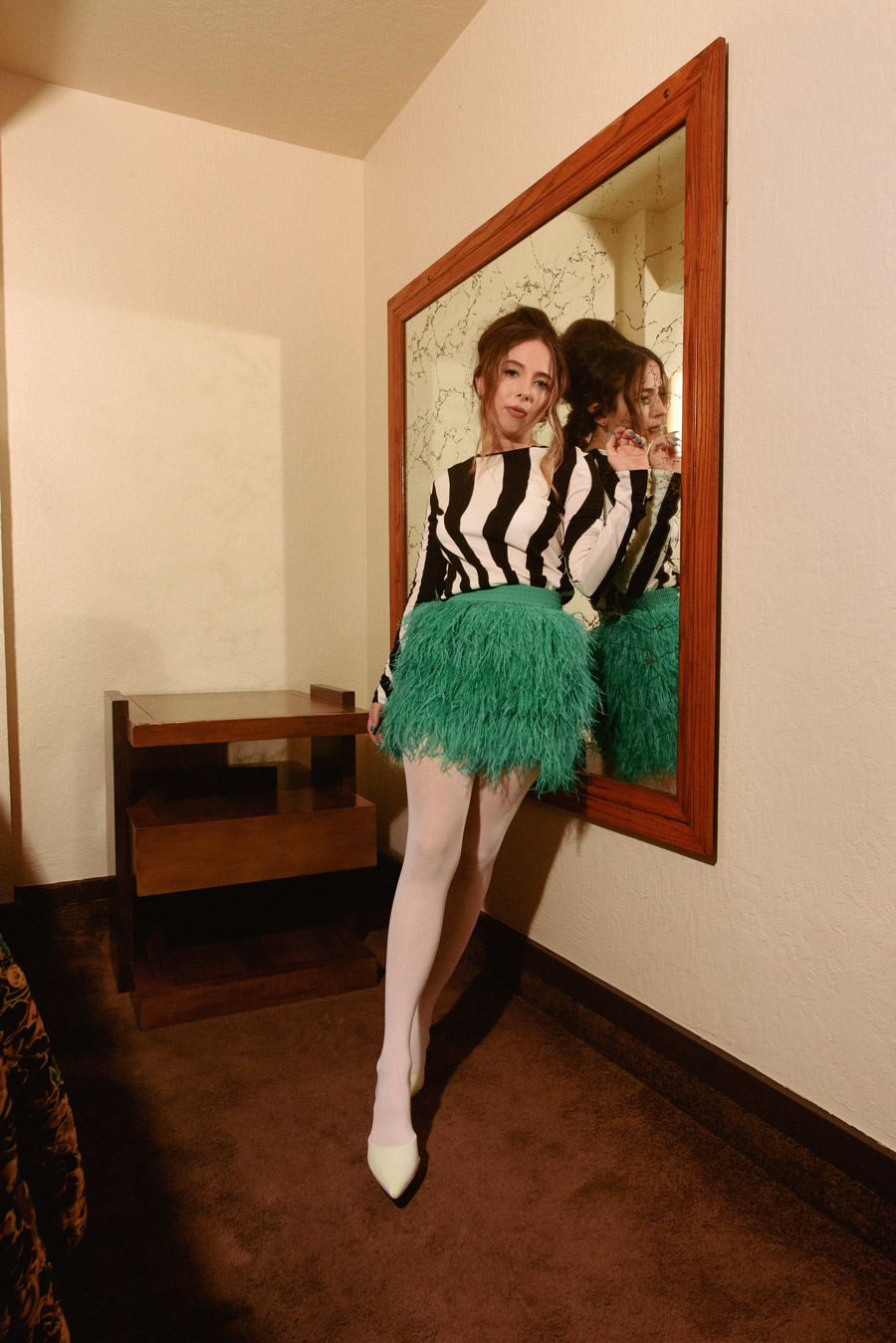 Top: Tory Burch, Skirt: Marco Bologna, Tights: Fogal, Shoes: Open Edit
What was it like when you found out Lonely Island was getting on board?
EP: We most certainly made the short film with the intention of it becoming a TV show. We definitely knew it was very unlikely, but that was the end goal. Creators are really making their own stuff, so we [thought we] might as well take a swing. It was such a slow process from start to finish that there was no like, "Oh my God, it's going to be a show" moment, because when we pitched it, we pitched in four places and no one bought it. That night we were like, "It's over." We were both sad and we were like, "You know what? I'm so proud of us that we tried. There's nothing worse than not trying. And then the next day, my agent said "They want to buy it," and I was like, "Who?" And he said, "Everyone, everyone wanted to buy it." We couldn't believe it. So what does that mean? They buy a script. OK, then they have to decide, do they want to shoot the pilot for the script? Then they have to decide, do they want to pick up the series? I think now that streaming is changing it a little, where you just go from script to series and they cut out the pilot stage. But it was a really long process, and I remember the day that they told us that they were going to shoot the pilot, I found out that I didn't book this audition for literally a one line role in a Netflix show, and I wanted it so bad because my scene was going to be with Timothy Olyphant. I was so sad, I did not get the one line role. I got the news that they were going to shoot the pilot, and my fianceé was like, "You're crazy. Why are you upset that you didn't get one line when they're making your pilot?" I was like, "I would have rather had one line on a show with Timothy Olyphant than do my own pilot with Benji." I just wanted so badly to be accepted by normal show business that that meant more to me than this project that I made on my own, which now I feel the literal complete opposite. But it just goes to show how insecure I was and how I've changed so much since then.
So then fast forward to Dollface. I want to hear about booking that and and your approach to that character and your experience filming and anything you've taken away from that?
EP: That was such a game changer, working with all those women on that show. They really elevated my performance, I think, because they were so professional and so experienced and so talented. Working on that character, especially in the second season, was so cathartic for me, because her character arc in season two is dealing with anxiety and self-sabotage and those are things that I really did in my 20s. My anxiety ruled my life. I would self-sabotage unconsciously. And so showing those things on screen, I would not have been able to write those things out because at the time, I didn't even have the self-awareness to know that's what I was doing. I almost needed someone else to write it for me to then realize, "Oh my gosh, I can help tell this story and help share what my real experiences are." But it was so deep for me that I wouldn't have been able to do that without Jordan Weiss writing that role.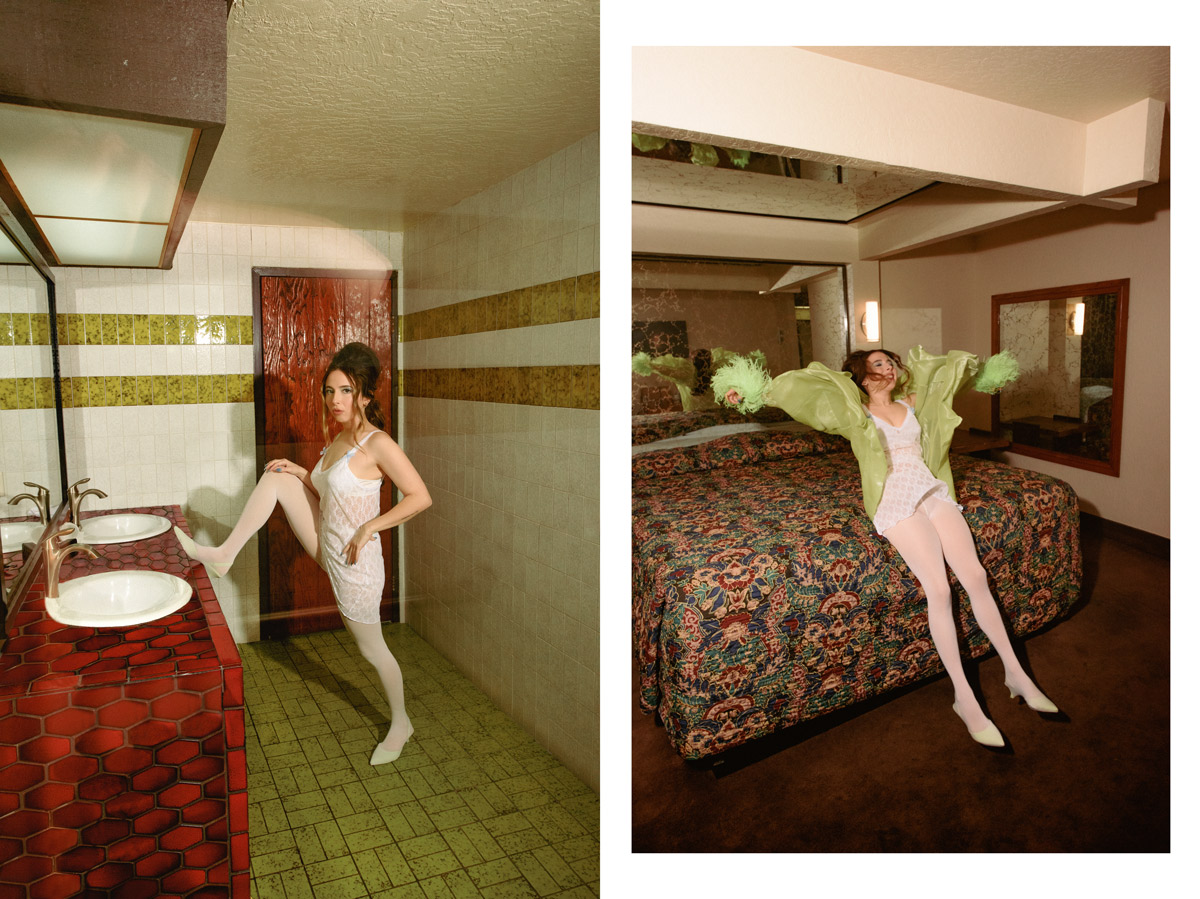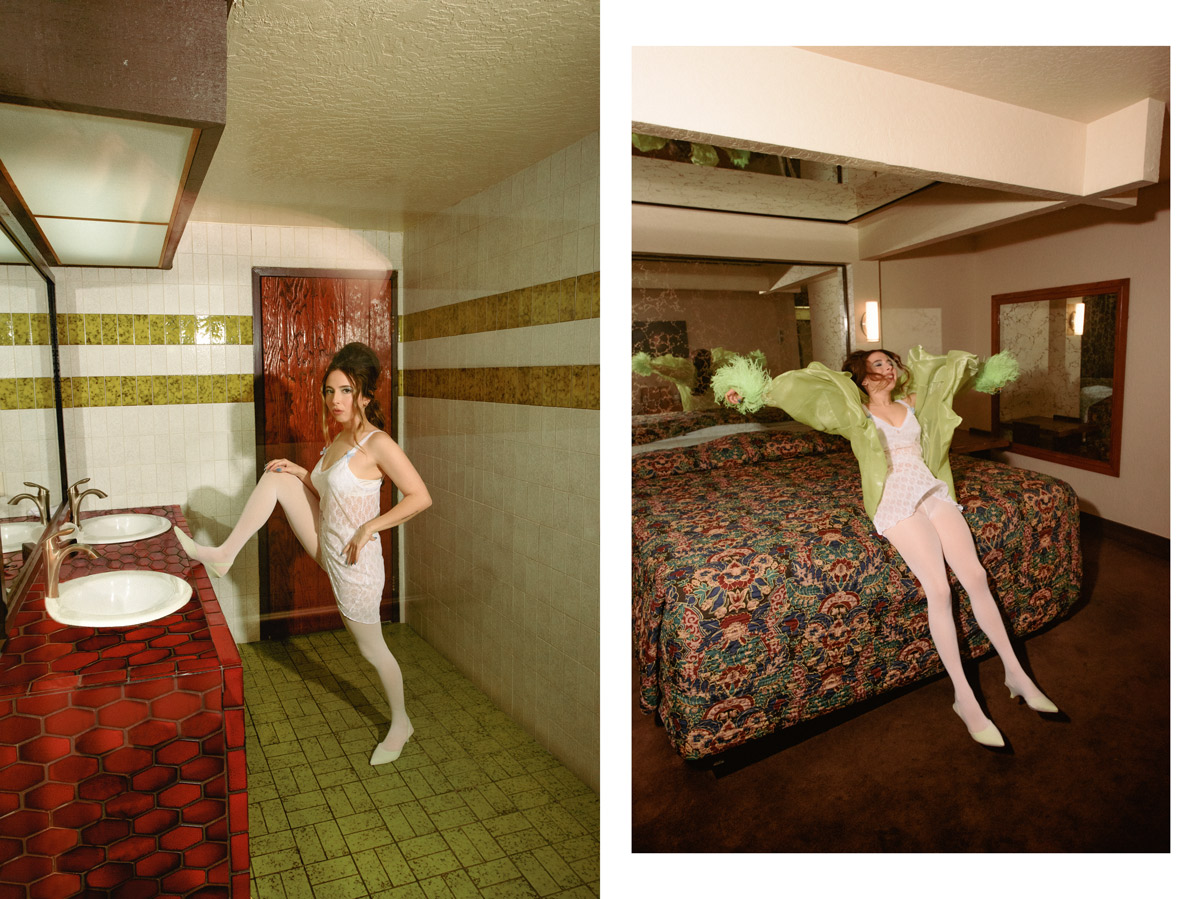 Bra: Vintage, Nightgown: B.Tempt'd By Wacoal, Tights: Fogal, Coat: Lapointe, Shoes: Open Edit
You said some SNL people were your inspirations — are there any other big people you look to as role models?
EP: Honestly, I just scroll TikTok all day and there's so much good motivating stuff on there for me. Whitney Cummings — I think just knowing her…when I moved to LA, I didn't really know her, but I saw her perform every night at the Comedy Store and I saw her write and star in her own TV show. I feel like she almost paved the way. And a show like Workaholics, where they were writing for themselves and found a lot of success with that… I think seeing other people do things and then being like, "That's what I want to do," is kind of how I've always operated.
What shows and movies have you been enjoying recently?
EP: Well, obviously I'm obsessed with Euphoria. Succession. And then right now I'm working on developing a new show that I would write and be in, and that is inspired by my favorite show, Eastbound and Down, but is not the same subject matter at all. That's one of my favorite comedies of all time: Eastbound and Down.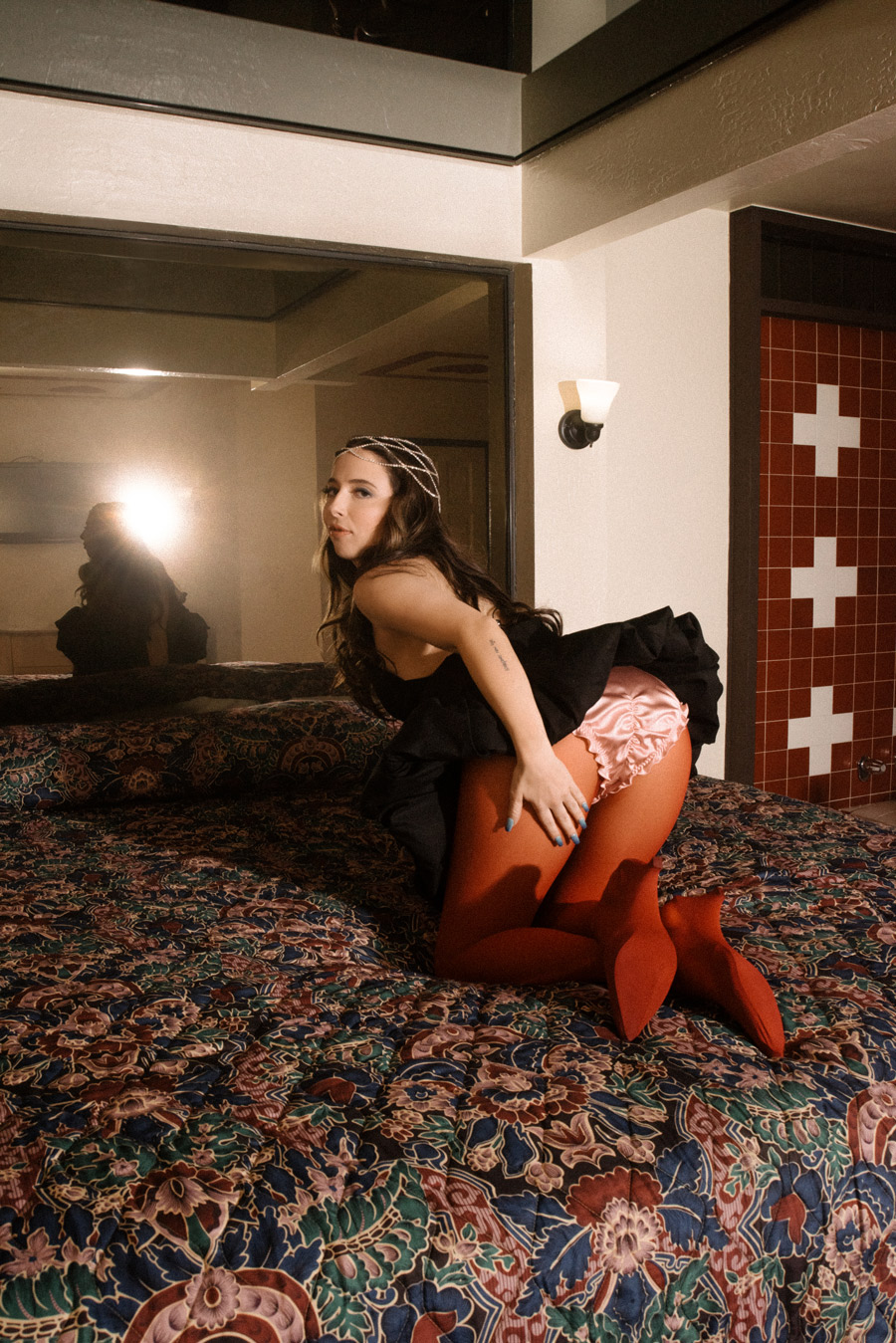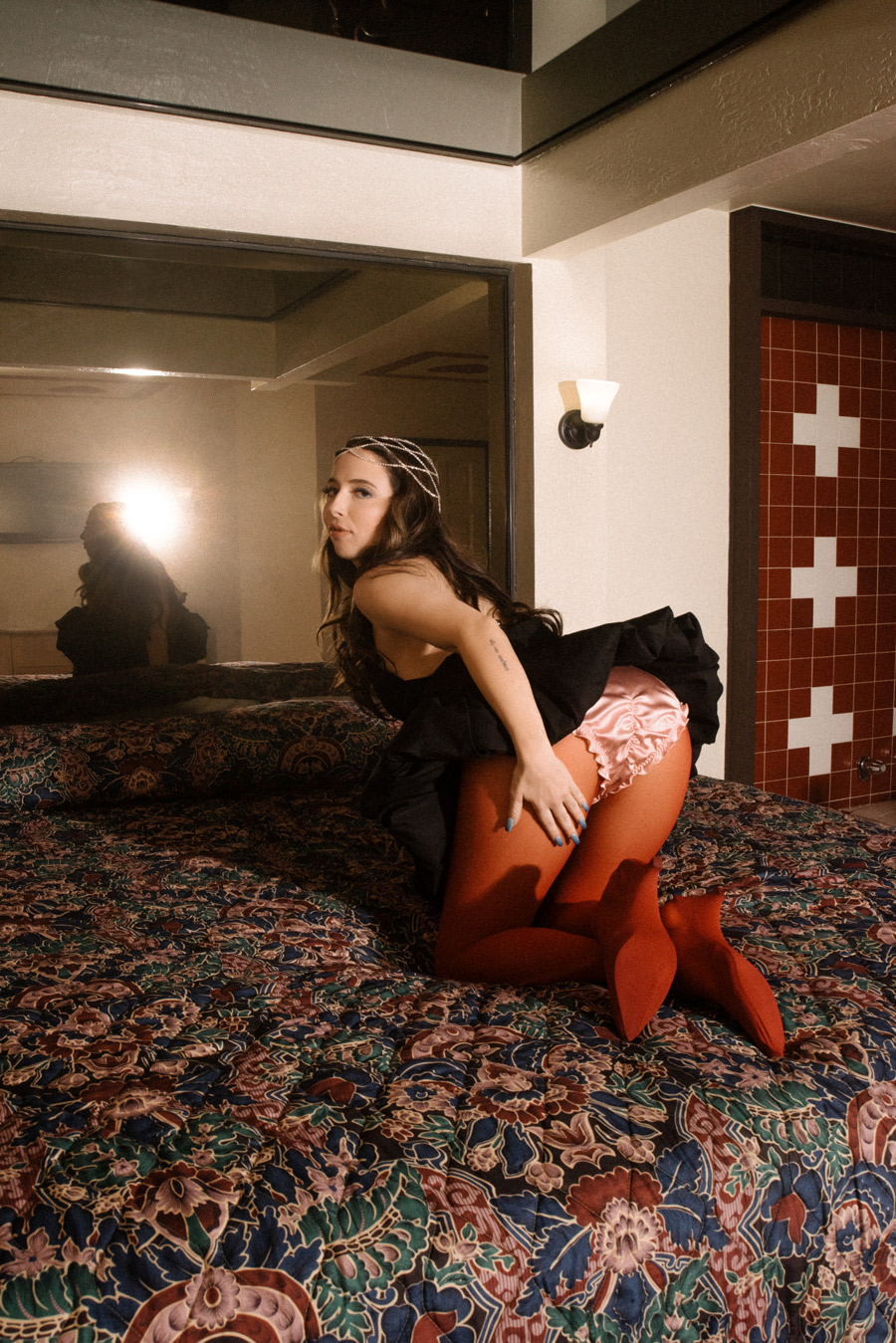 Dress: Khaite, Tights: Fogal, Headpiece: Vintage, Underwear: I.D Sarrieri, Shoes: Open Edit