THE MANY FACES OF DOMINIQUE FISHBACK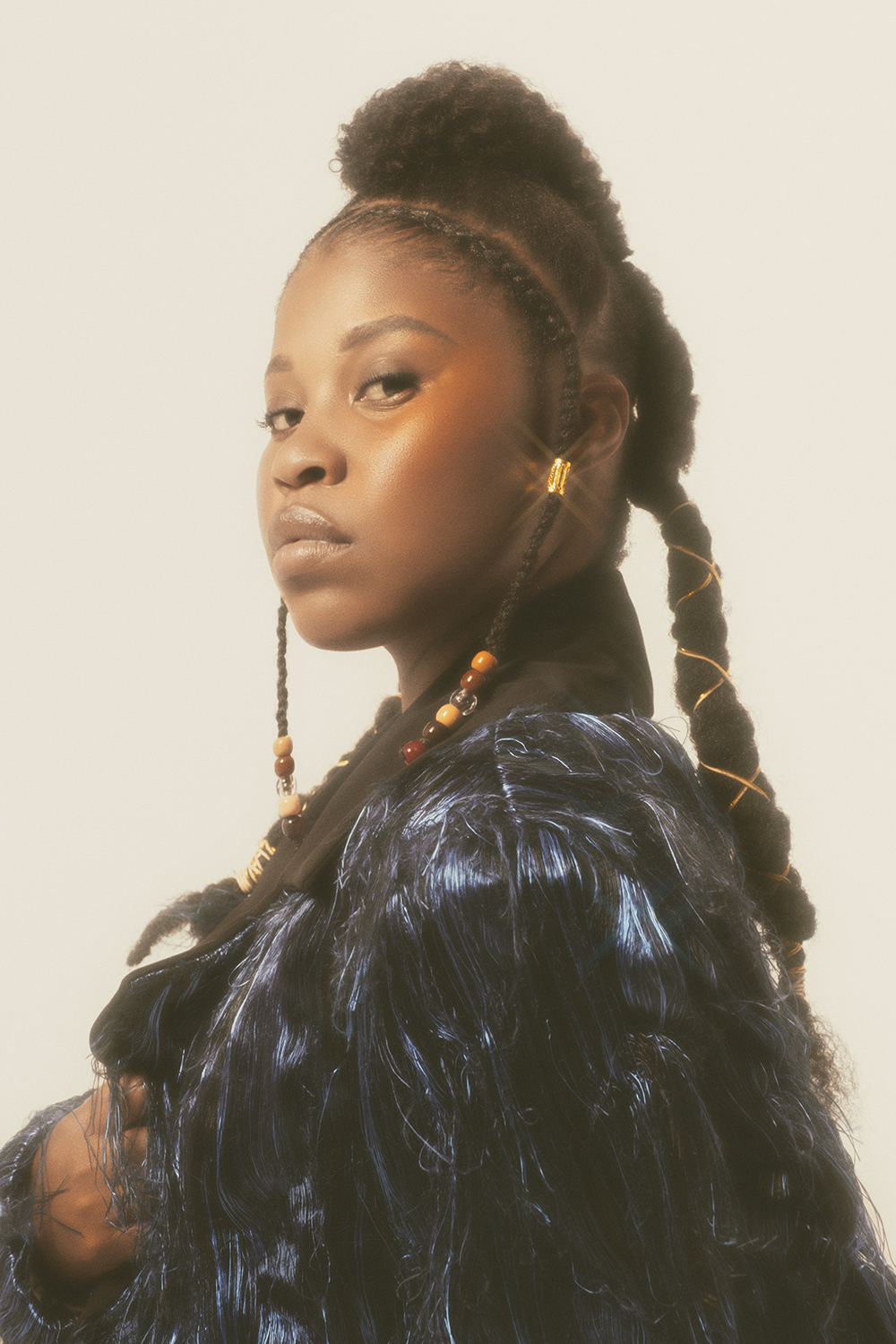 Jacket by Carolina Sarria
Photography by Dustin Mansyur | Styling by Julia Morris @theindustrymgmt| Interview by Benjamin Price | Hair by Monae Everett | Makeup by Daniel Avilan using MAC Cosmetics @theindustrymgmt
Talent: Dominique Fishback
Dominique is a theatrical chameleon. Whether playing a prostitute in 1970's New York on HBO's The Deuce, or a high school girl in a violent and disenfranchised neighborhood in the upcoming The Hate U Give, or playing in a series of sketch comedies in HBO's midnight show Random Acts of Flyness–Fishback effortlessly glides between personas. Born and raised in Brooklyn, NY, Fishback started her artistic path in her local elementary school. Dominique has propelled herself both onto the silver screen and onto one of the most globally recognized cable networks as an inspirational young voice.
The Hate U Give, Random Acts of Flyness, Night Comes On, and much of Dominique's personal writing and performances celebrate diversity and critique the constructed barriers between us. The writer, actress, and artist clearly has a wide breadth of talents, but what is truly spectacular is her ability to apply these to helping shed light on systemic problems in our society. Watching Dominique perform is a true joy, as you are immersed into the world of the characters she embodies and witness a complex array of emotion enfold on screen. Here, with Iris Covet Book, Dominique dives deep into the many layers of social discourse in her work, her roots as a child drama queen, and her plans to change Hollywood.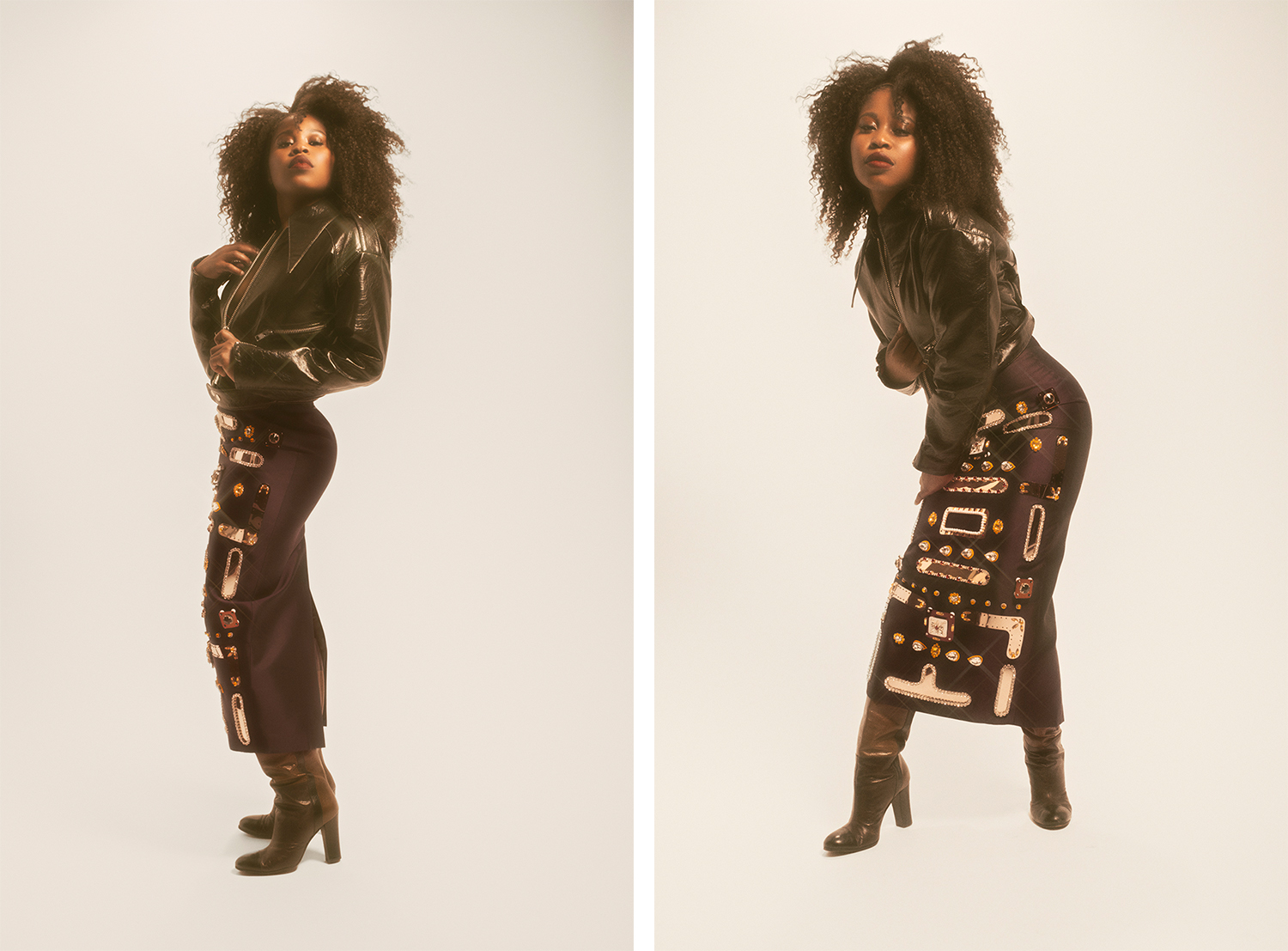 Jacket and Skirt by Victoria Hayes
We recently attended a screening of The Hate U Give and your performance felt so natural that it made me wonder how you first got into acting. Were you always a natural?
When I was 10 years old my mom said I was so dramatic and should give acting a try! She really believed that I could do it which was awesome! I had been writing little poems and I wanted to perform anyway. My mom tells stories of when I was 5 years old and pretending that I was the Wicked Witch of the West saying, "I'm melting! I'm melting!" When I was 10 I auditioned to be part of a children's theater organization called Ta-Da! I auditioned three times but never got accepted…but 10 year-old Dom didn't let it stop her, she just kept going! We got pulled into one or two scams after that, but when I was 15, I got into a company that requires you to write and perform your own material which I think helped make me into the artist that I am today.
But you know there is so much rejection and hate out there with actors, especially on social media. Everyone has an opinion or something to say about your performance, your look, or a mistake you make. It's hard; you need a tough skin.
Speaking of exposure, social media, and having a tough skin–do you think your exposure in The Deuce and The Hate U Give has changed  your day to day life or are you still that girl from Brooklyn?
I'm definitely still that girl from Brooklyn!  Sometimes I bump into people from my childhood who say I still look the same and are surprised to see I'm still down-to-earth, but I think I am really a chameleon personally and professionally. But because of The Deuce I have had some people come up to me on the street, as well as my episode on (HBO's) Random Acts of Flyness. I have been receiving such a great reception.
It seems like you are cast in roles that exist in chaotic and disadvantaged environments – playing a sex worker in The Deuce in 1970's New York, convicted felon in Night Comes On, and a young girl in a rough, drug-filled neighborhood in The Hate U Give. What attracts you to these roles and what would you say is the common thread with the characters you like to play?
The characters really find me, and they refuse to let me go! For Night Comes On I was introduced to the character and the story after playing Darlene on The Deuce and I didn't want to be typecast into tough characters all of the time because I am fun and silly…but I took the weekend and read the script considering what my agent was saying, and I just really felt like I had the experiences and authenticity to really go after this character! But I love to play dress up and dance and perform too, which I think really shows another side of me, like the photoshoot we did for this. When I was a kid I would watch I Love Lucy, and Lucille Ball was a big inspiration for me and I would stay up and watch her until 1:00 am every day! I would love to do a show like that, whether I write it myself or not.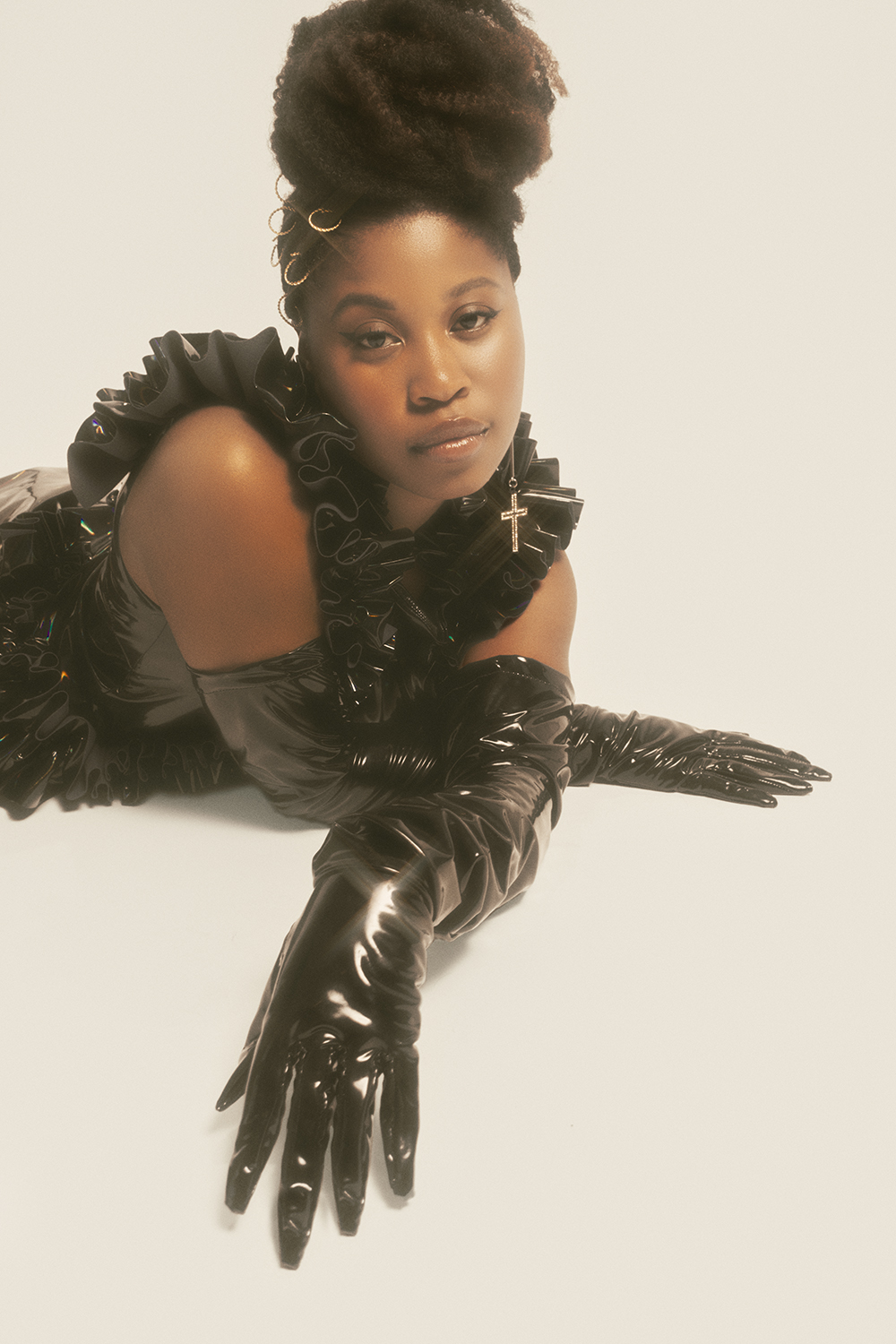 Dress by Kelsey Randall, Gloves by Livne NYC, Earrings by Laruicci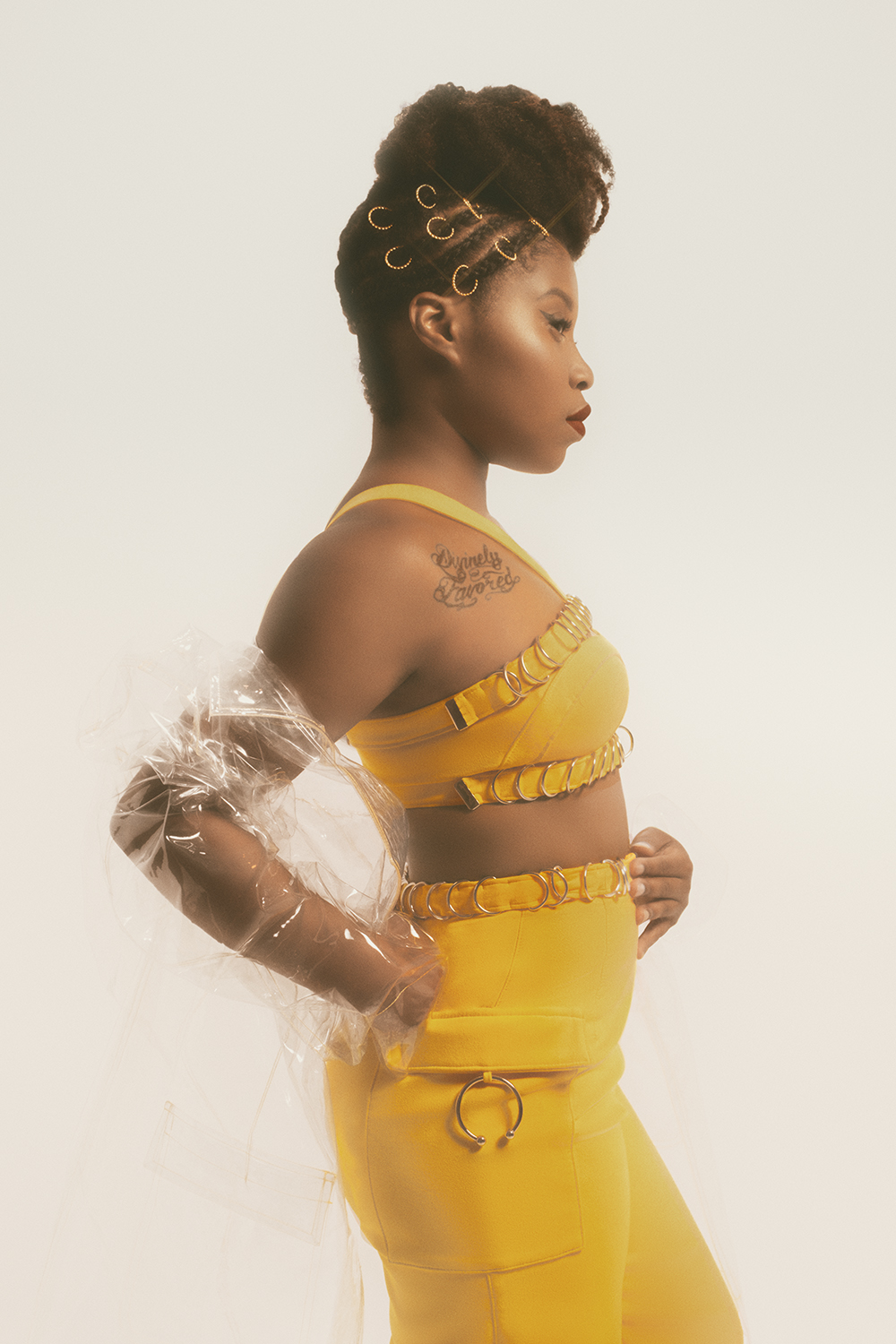 Bralette, Pants, and Clear Jacket all by Livne NYC
It sounds like you really are a chameleon and are interested in so many genres! So back to The Hate U Give and the messages and layers that it has within it such as racism, police brutality, Black Lives Matter, etc. — how did that layer of commentary affect your performance?
Well, actually, I have a one-woman show that I wrote and have performed for the past 5 years called Subverted where I play 22 different characters, and it's about the destruction of black identity in America. The show has a slavery-era side and a modern-day-era side, and both comment on issues like police brutality, education deficits, lack of healthy food in areas like East New York, Brooklyn where I grew up. So I was already very aware of these issues and the injustices that African Americans experience, and that I experienced, in my neighborhood or when I was working at the local movie theater just praying and hoping to be on the screen. When I was at Pace University I was often the only African American person in my classes. I remember in one of my classes this caucasian boy said that African American males in low-income communities would not be stopped by the police at random if they "dressed normally." I was infuriated, choking on my words, debating with him, and I realized that no one around me could understand my point of view, so instead of getting mad and yelling and cursing I decided to use this as an opportunity to start my one-woman show, educate people, and have them watch and relate to a character who they normally wouldn't. Just like the few scenes of Khalil in The Hate U Give change the way you see the representation of him later on through the movie. I graduated from my high school as valedictorian in Brownsville, BK, but when I got to Pace I was admitted as below average in a curriculum for students who needed more academic attention. Then I looked around and realized that these schools only prepare you for colleges at the same level…but we need to overcome this adversity and talk about this issue on a bigger scale.
I think The Hate U Give really achieved that and personally it took me from laughing to crying to anger…What are the main points that you want people to take away from the movie?
I would want them to take away the moments where they felt sad for Kahlil, where they laughed with him and saw his eyes twinkle at the beginning of the film, and when another (police brutality) event like this happens in America they can care about that victim in the same way. I really believe that art changes people's minds and hearts the most and gives power to our feelings. Being able to see it, not just hear a name or see a mugshot, is so powerful.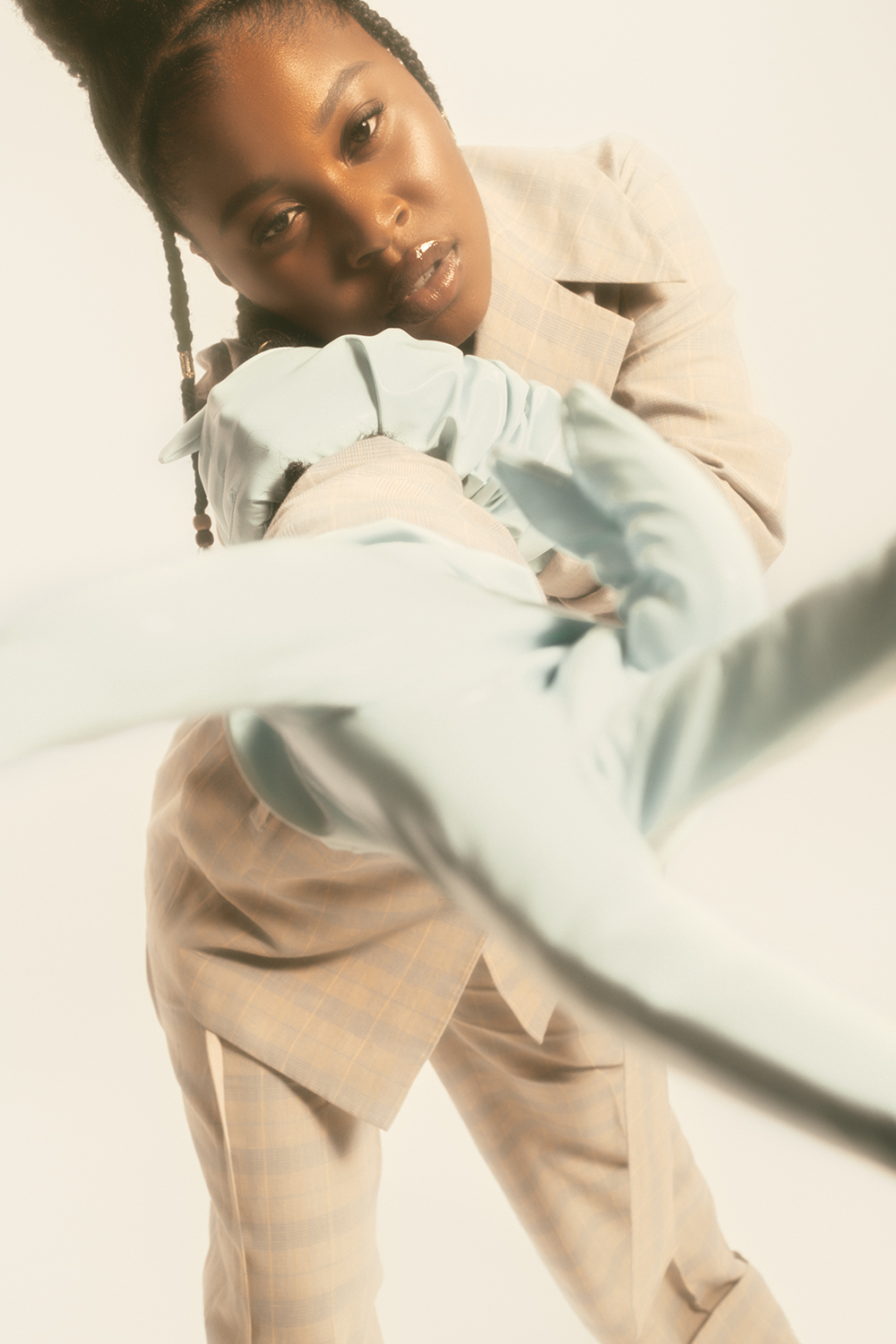 Jacket and Pants by LEHHO, Gloves by Livne NYC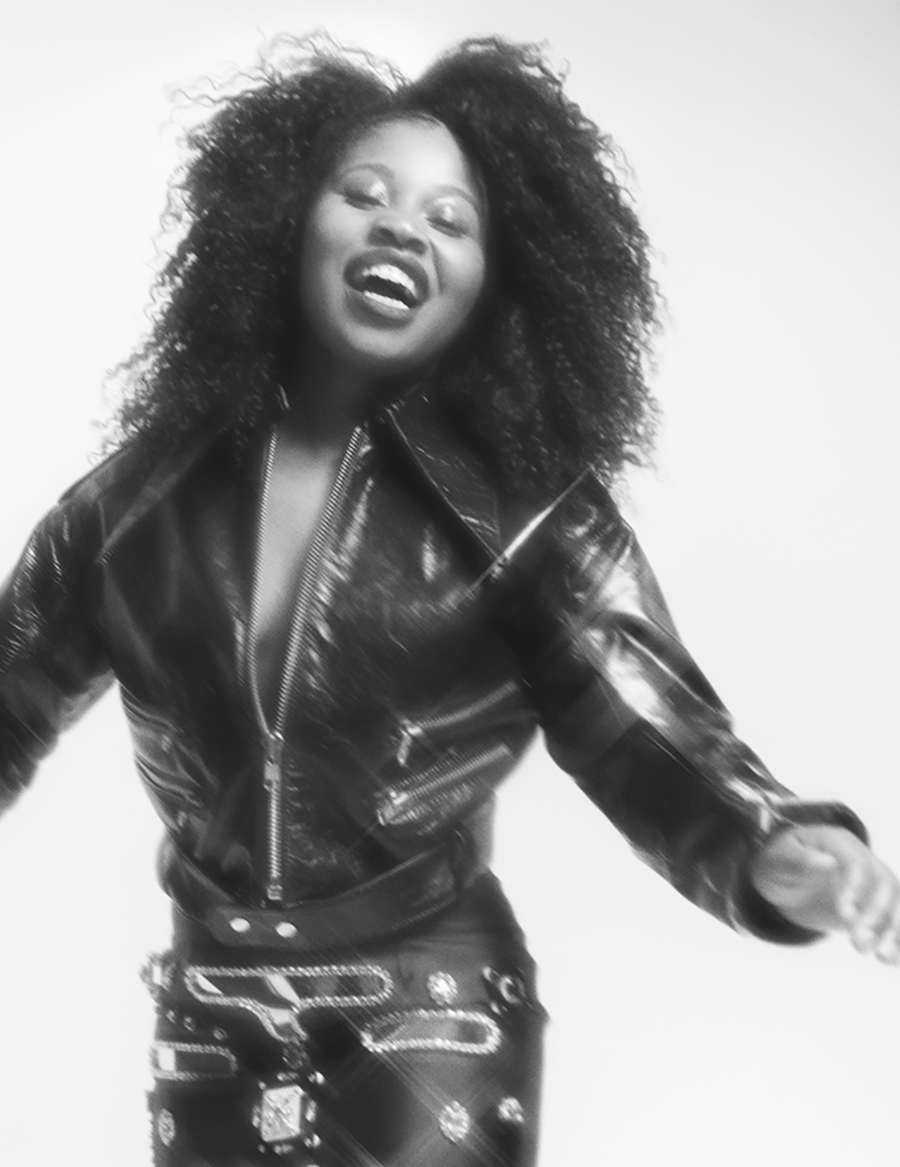 Jacket and Skirt by Victoria Hayes
As a woman of color, how do you feel about the changing castings and views of POC and women in Hollywood?
I definitely believe that it has changed over the years, and as a younger person I can sometimes only see the injustice because that's all I know, but when you ask people who came before and hear their stories then you can really see how far we've come. I have been honored to have my first feature film on demand and online called Night Comes On, starring myself and this 10 year old African American girl named Tatum Marilyn Hall, and it is great to be able to watch African American girls not have to be super funny or sexy in a film, but that wasn't possible a few years ago. It was still hard, and the director would tell us about how difficult it was to get funding with the subject matter, and as a female director, but we are fighting the fight and are very hopeful.
I am very excited to see Night Comes On, and hopefully it just means we will see even more diverse story-telling in the future. What would you want to change or add to the world of film and television if you owned a studio?
I would want to tell more stories about African Americans and people of color and celebrate diversity from the casting to the writers' room. I don't want to have the question of "What was it like working with a female director?" Like why does that matter if you are a woman or a person of color? I really don't know though, and I am just researching, writing, and taking it day-by-day. I just finished writing my feature film that takes place in 1968 which is about a male Black Panther who falls in love with a girl who isn't a part of that culture and over the course of the film they learn more about each other, and I think that is an important story to tell.
I hope we can see that soon! What can you tell us about upcoming roles or screenplays that you are working on?
The Deuce is coming back September 9, and then The Hate U Give comes out so of course I am very excited for both of those opportunities! I am very excited about my role in Random Acts of Flyness on HBO, and it's just a really fun way to show different sides of myself as an actress. I am excited about the projects I am writing and being seen as a writer for theater, films, and graphic novels. I am excited to start my own production company one day and have longevity in the industry as a CEO.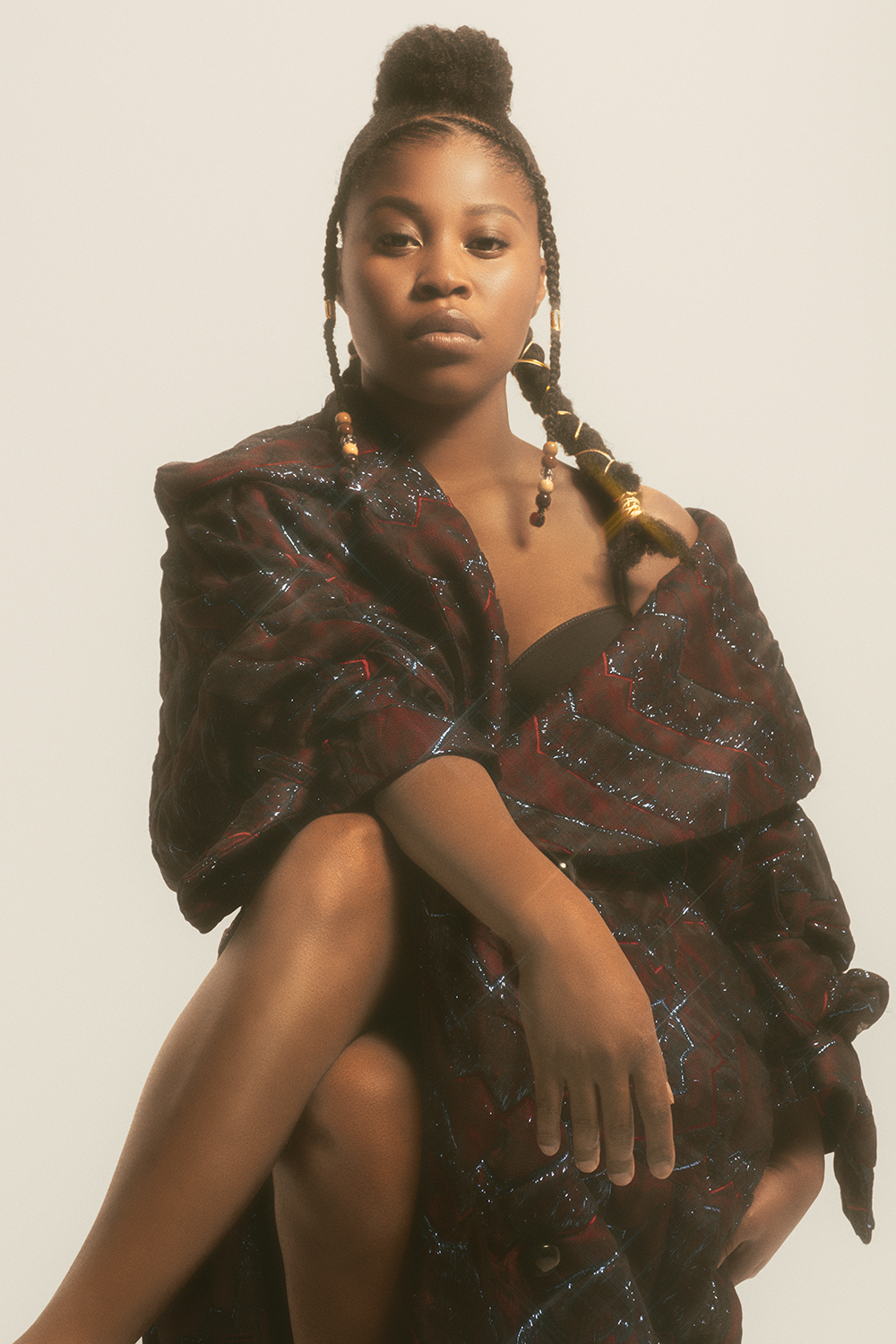 Jacket by Victoria Hayes