JOHNNY SIBILLY STAR OF THE HBO MAX SERIES 'HACKS'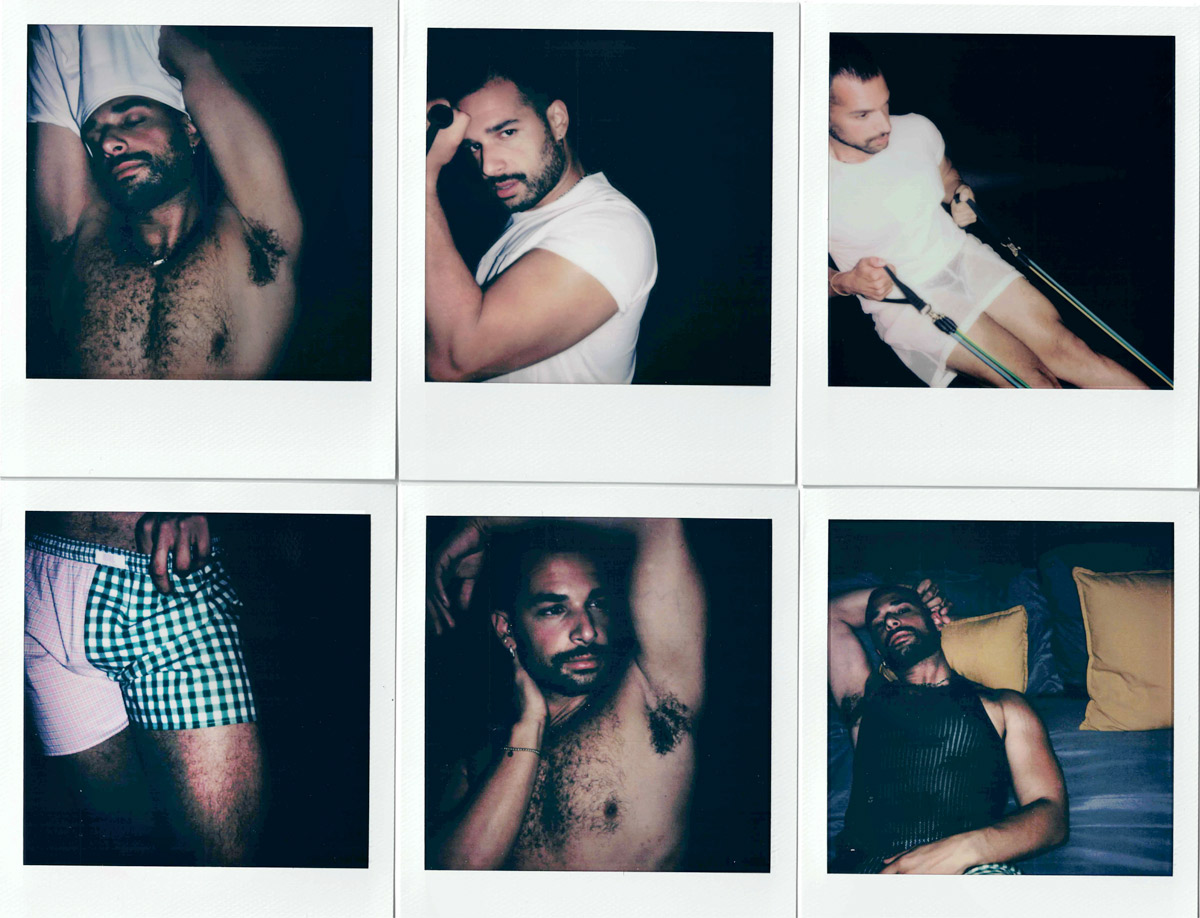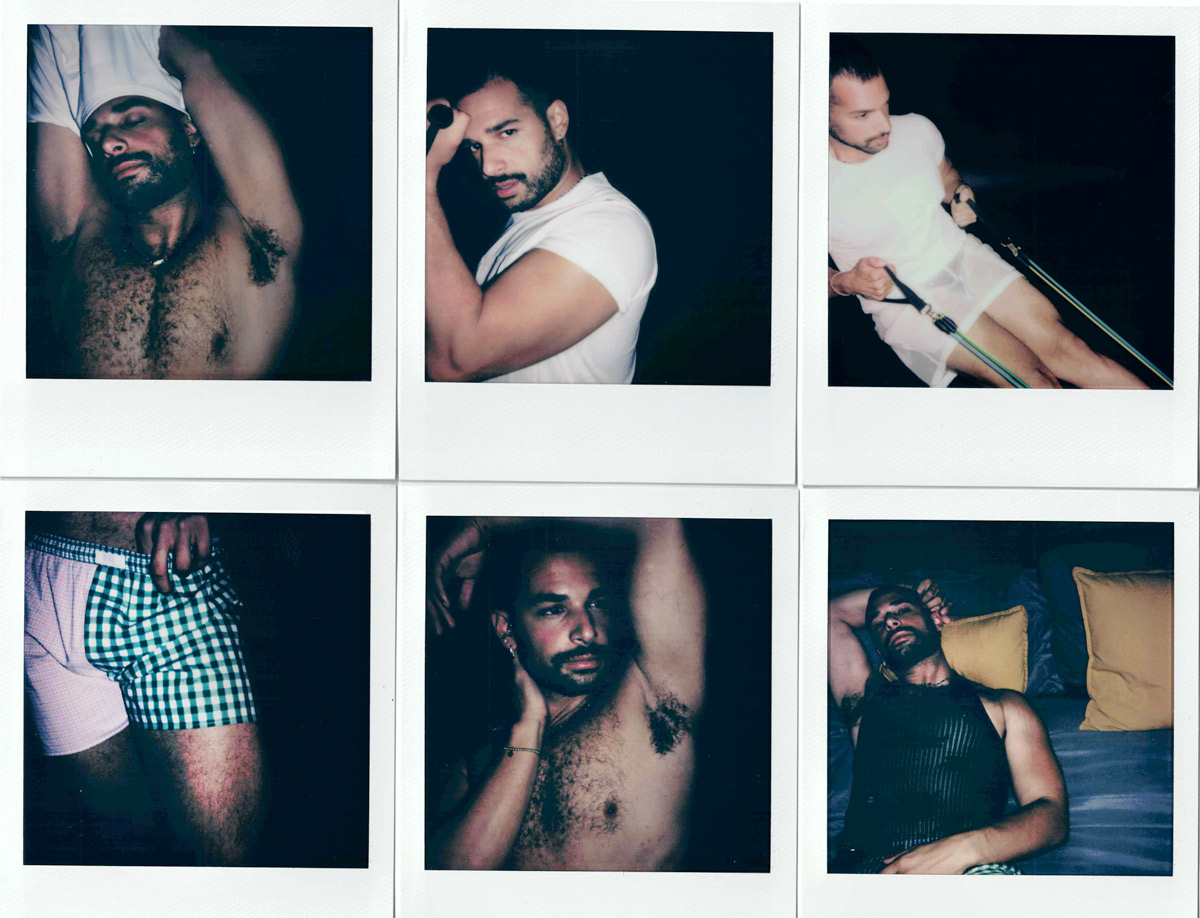 Tank – COMME DES GARÇONS SHIRT, Shorts – BCALLA / Tank – COURRÈGES, Boxers – ERL
Photos and Grooming by Michael J. Fernandez using Glossier and Oribe
Styled by Dustin Ellis
Interview by Adnan Qiblawi
Between his near omnipresence on social media platforms and his full-throttle work ethic, Johnny Sibilly has formulated his own secret recipe for stardom, and he cooks it all up with a limp wrist. Sibilly first gained attention by doing hilarious character impressions on Instagram with his iconic persona Julissa, a loud, opinionated Latina who could have grown up down the block from Cardi B. He soon played the somber, important role of Billy Porter's boyfriend and AIDS patient, Costas, on the iconic, queer-101 show, "Pose." Last month, he landed at the Emmys thanks to his role alongside Jean Smart in HBO's "Hacks," where he plays Wilson, local water inspector and neighborhood babe. The show won three Emmys for best lead actress, outstanding writing and outstanding directing in a comedy series, three wins of its fifteen Emmy nominations in its first season. Earlier this month, it was announced that Sibilly would be joining the cast for Peacock TV's reimagining of "Queer As Folk." Adnan Qiblawi sat down with Sibilly to talk about Hollywood, his future, and staying true to himself.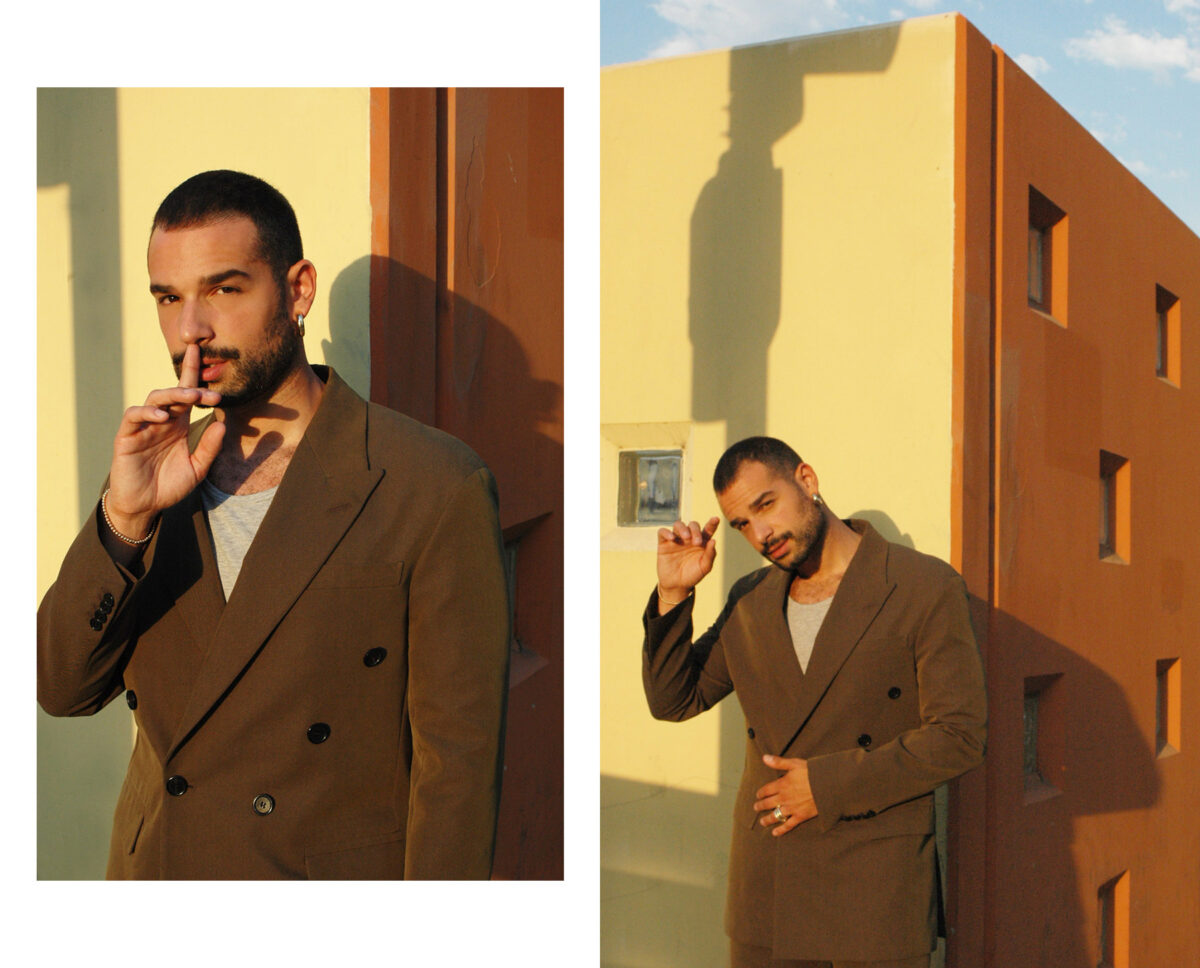 Suit – Acne Studios, Tank – Comme des Garcons, Ring by Spinelli Kilcollin
From Instagram to Tiktok to Twitter, you're pretty much everywhere on social media, sharing a quip, a sultry selfie, or a clip of you voguing. How do you keep up with it all?
Yeah, I love it! From a very early age being online was my safe haven. I wasn't a fan of going outside and playing with the neighborhood kids because I'd get made fun of or feel inadequate. Whereas online, I could create my own experience of who I wanted to be in the world and how I wanted to navigate that, which I feel is a very queer thing to do. You can't be yourself in the real world so you escape to the Internet.
I was a scared, shy kid, and it wasn't until I joined drama that I opened up. When I do videos as myself these days, I'm cringing. But when I get to do it as a character, I'm more confident. Doing characters really opens things up. So many of the things I say as Julissa I'm celebrated for, but if I said them as myself, people would be like, "Oh shut up." 
This reminds me of a RuPaulism: "The power you can access in drag is also available to you out of drag."
 I've grown to feel powerful in who I am without any bells and whistles. But for me, as a gay man, feminine energy is strong energy. When I have the hair or the nails or the lash or even the lipstick, I feel empowered. When I first started doing Julissa, I got a lot of flak like, "Why are you making fun of women?". I'm not making fun of women, this is actually just a part of who I am, and Julissa is a vessel for that. Also, there's nothing wrong with how Julissa is. Sure, she's hyper and loud and in your face, but there are a lot of women who are like that and they deserve to be represented too. The haters are revealing their own judgement.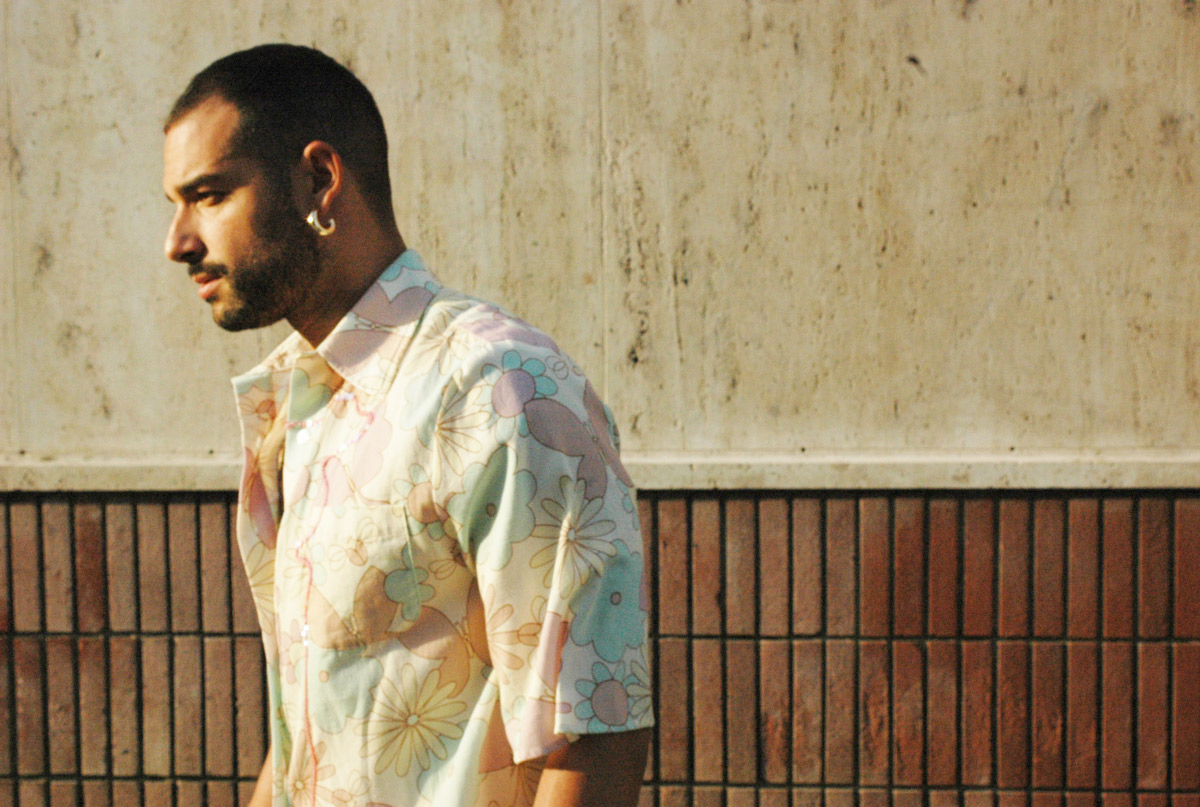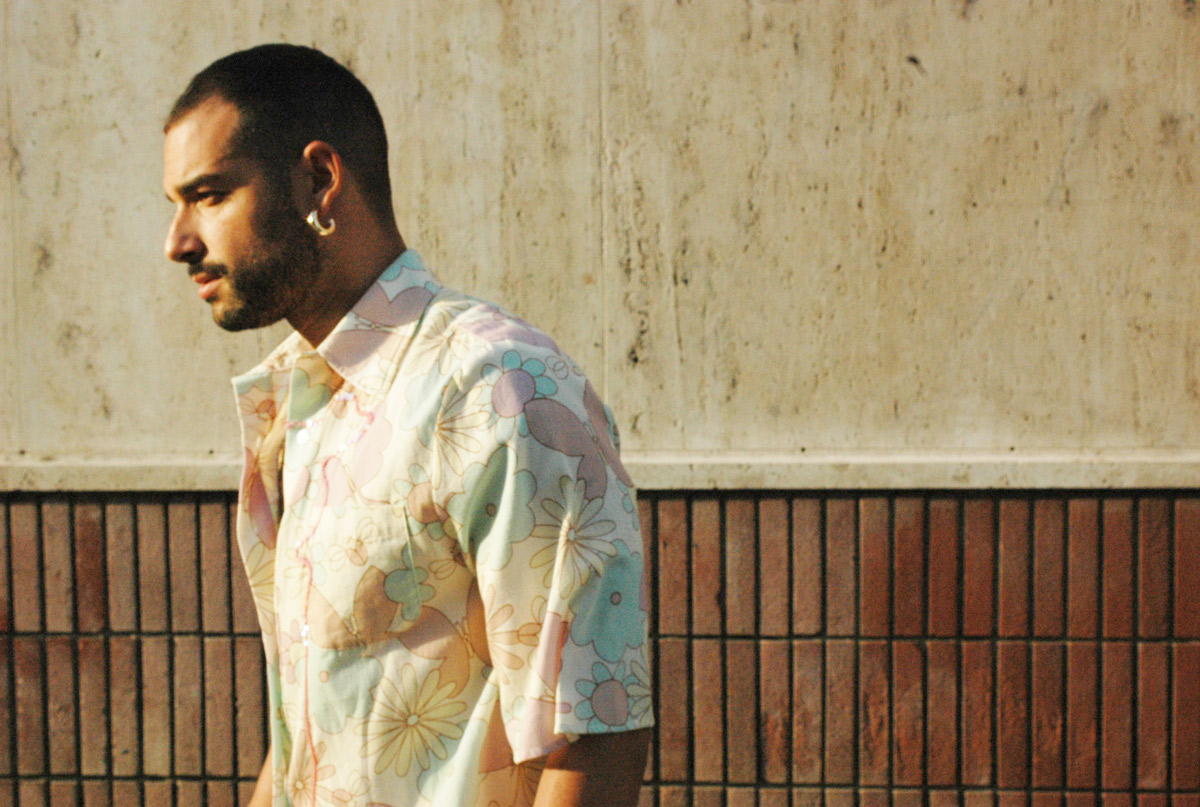 Growing up, and even today, we always hear about actors having to stay in the closet for fear of being blocked out of straight roles. Is this ever a concern for you?
So many queer people try to fit in boxes to book a job, but one thing I'm not willing to compromise is my queerness. It took me so long to love it and feel comfortable with it. And you know when we talk about white supremacy and the patriarchy, there's this expectation that we want to play what other people consider valuable. People say things like, "But what if you only get gay parts?" And honestly, I'm only really interested in playing gay people. No shade, I would play straight parts, I did it for a very long time. Straight roles don't interest me as much because they've been told, whereas our stories haven't been told.
I worked on "Pose" two years ago and now I'm in "Hacks." Those roles are so impactful and important to me, and they're stories I want to see put out in the world. I'd rather play parts that speak to me whenever I can. It's important for me to not compromise on who I am essentially, because the more I am myself, the more I give others the courage to be themselves. While I was growing up, there were a handful of actors who didn't hide that they were gay, but lots of others did and still do. I've been out since I was 14, I wasn't going to go back into the closet for this career. I had to decide on the cost I was willing to pay for it.
And would you say your decision has held you back at all?
Frankly, I feel my queerness has helped me in my journey. It sets me apart. The world is moving away from trying to fit a mold. All the greats from the showbiz industry have something undeniable about them. I'm not saying that's what I am, but that's how people should look at it. Why try and be Beyonce? Or J-Lo? I look at J-Lo and I admire and model myself after her work ethic, but I don't try to be her. I can't be anyone but me. I didn't have a choice.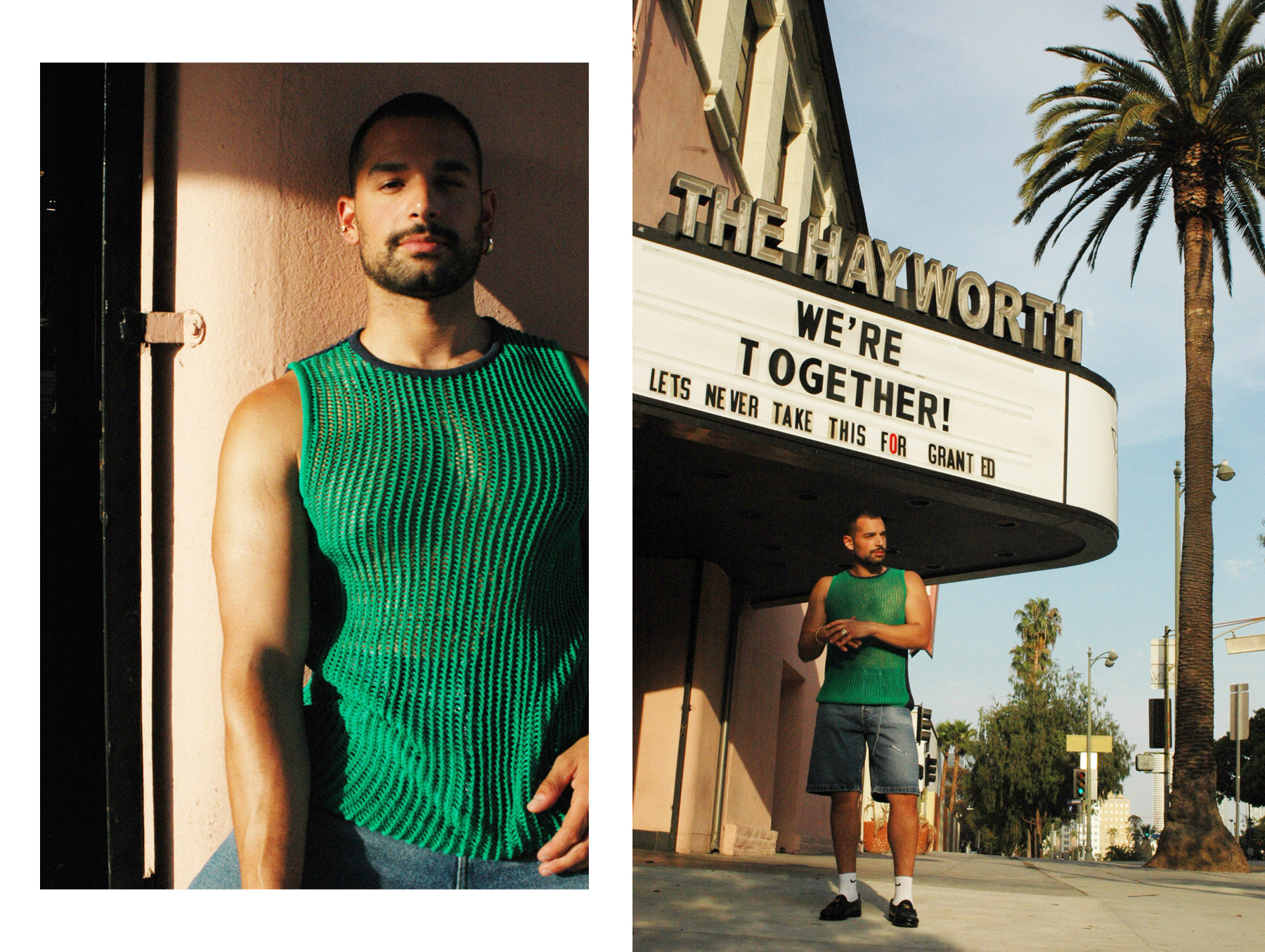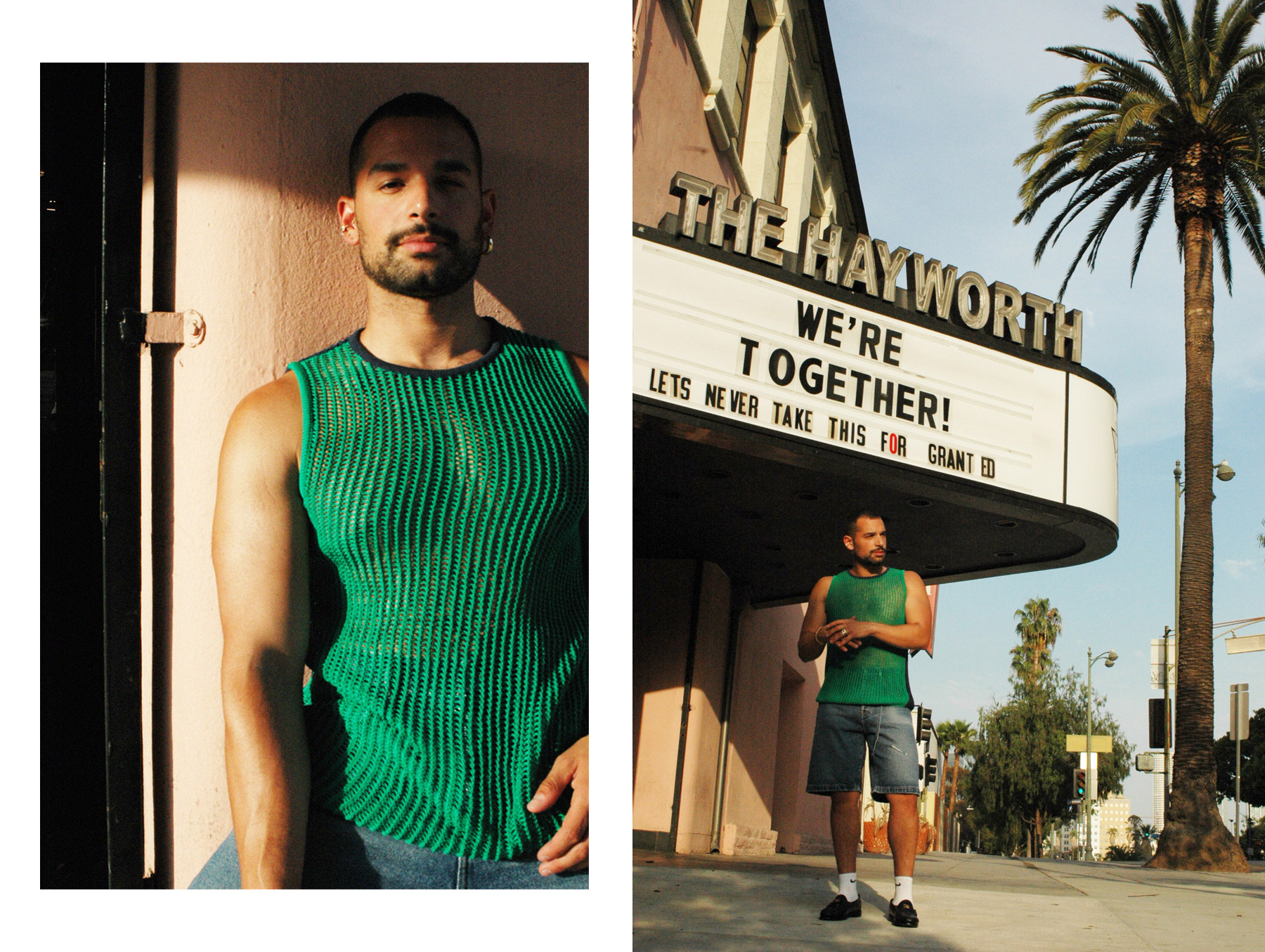 Tank and shorts – Acne Studios, Shoes – Celine
So it's not just that Hollywood is changing, it's the world that's changing.
It still happens in Hollywood here and there. I auditioned recently for a role to play a straight part and I turned it down because I wasn't interested in it. If I had a choice, I'd play interesting queer characters until the end of time.
So in that sense your own personality comes through in your role as Wilson on Hacks? Just like him, you have your values and you're not willing to compromise them.
Wilson doesn't really care about work, he found his job online, but he's got strong interpersonal boundaries. When he's on a date with Marcus, who plays Jean Smart's character's manager, he realizes how Marcus' dedication to his job means he has no room for a romantic relationship and so he walks out. While doing read throughs I was like, "Werk, I need to channel this more." When it comes to career, in many respects Johnny the person is more like Marcus than Wilson. I have Marcus' drive to keep going and make things happen. I don't want to be the biggest star in the world, but I want to be able to look back at my life and say wow I gave that my all. I already feel that way in some respects, even when I look back at my career from five years ago starting on social media, my journey's been different from everyone else's. All the advice I've been given, it hasn't really worked for me the way they said it would.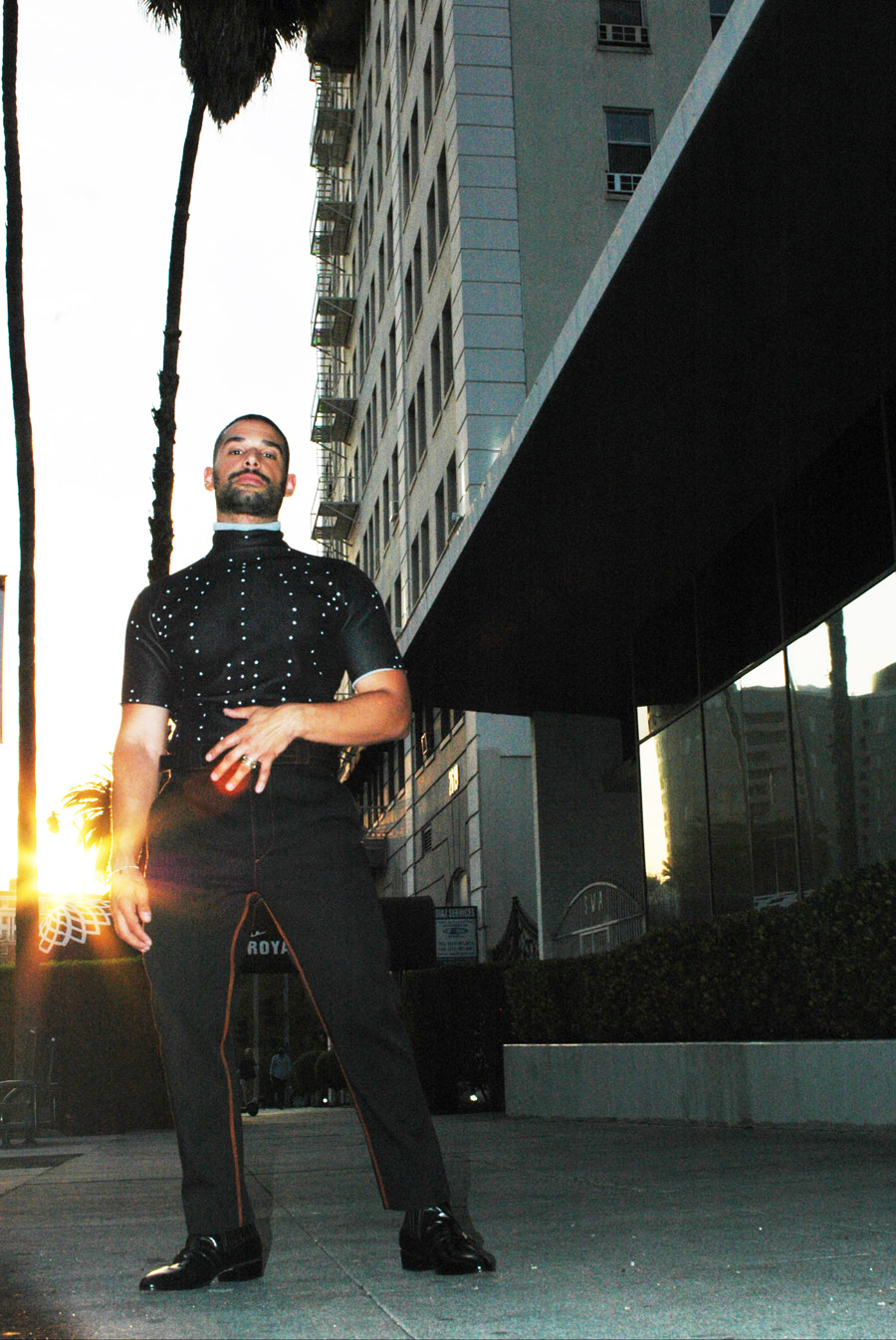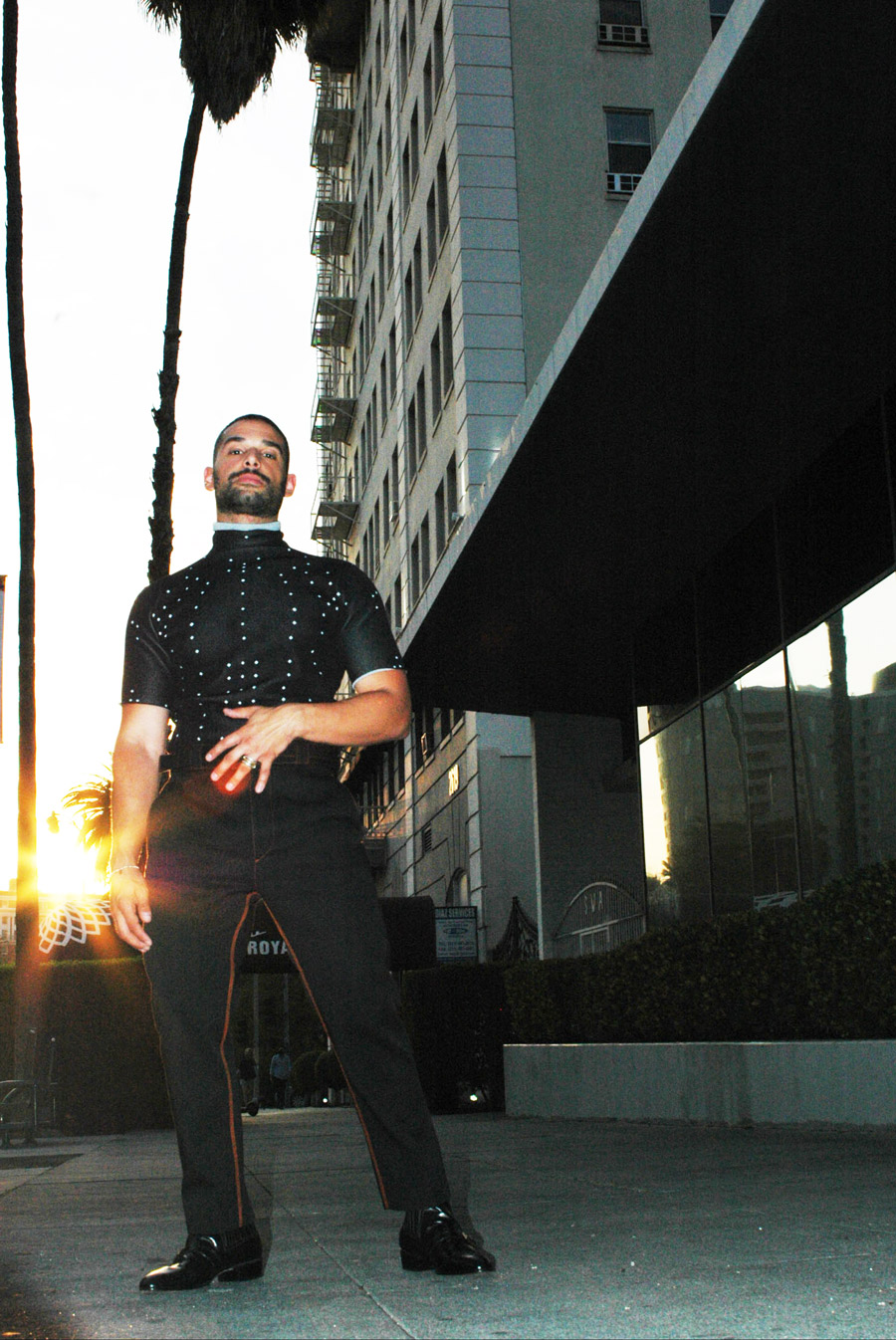 Top – Xander Zhou, Pants – Prada, Boots – Gucci, Ring by Spinelli Kilcollin
Everyone's got their own journey, and some people's journey has them making a sound-bite on TikTok that goes viral. Your "Hit It" sound on there is universally loved.
Ha! Honestly, that was just me being a gay boy gassing up another gay boy! And it really is universal. Straight guys come up to me telling me their girlfriends play it while they're getting ready for dinner. These DJs, Moodshift, picked up the sound and turned it into a song. The day after it was released, it made it to number 12 on the iTunes dance chart. At first I was like, "Oh yeah, this will be cute," but then when it was actually making the charts I was like, "What?" It was channeling that ballroom energy from "Pose" or "Legendary," so it had all the elements people love but it literally was just me vibing in bed.
So what's the next stop on the ride? What can we expect?
Well, "Hacks" is coming back for Season 2. I don't know what's happening with my character so I can't really say much about that. I also just wrapped season 2 of my show for Logo. I'd never hosted anything before. There are so many industry rules if you're an actor. They say you can't be on reality tv, you can't be a host, and whatever. Whereas now in the social media world I feel like you can do anything and have a successful career.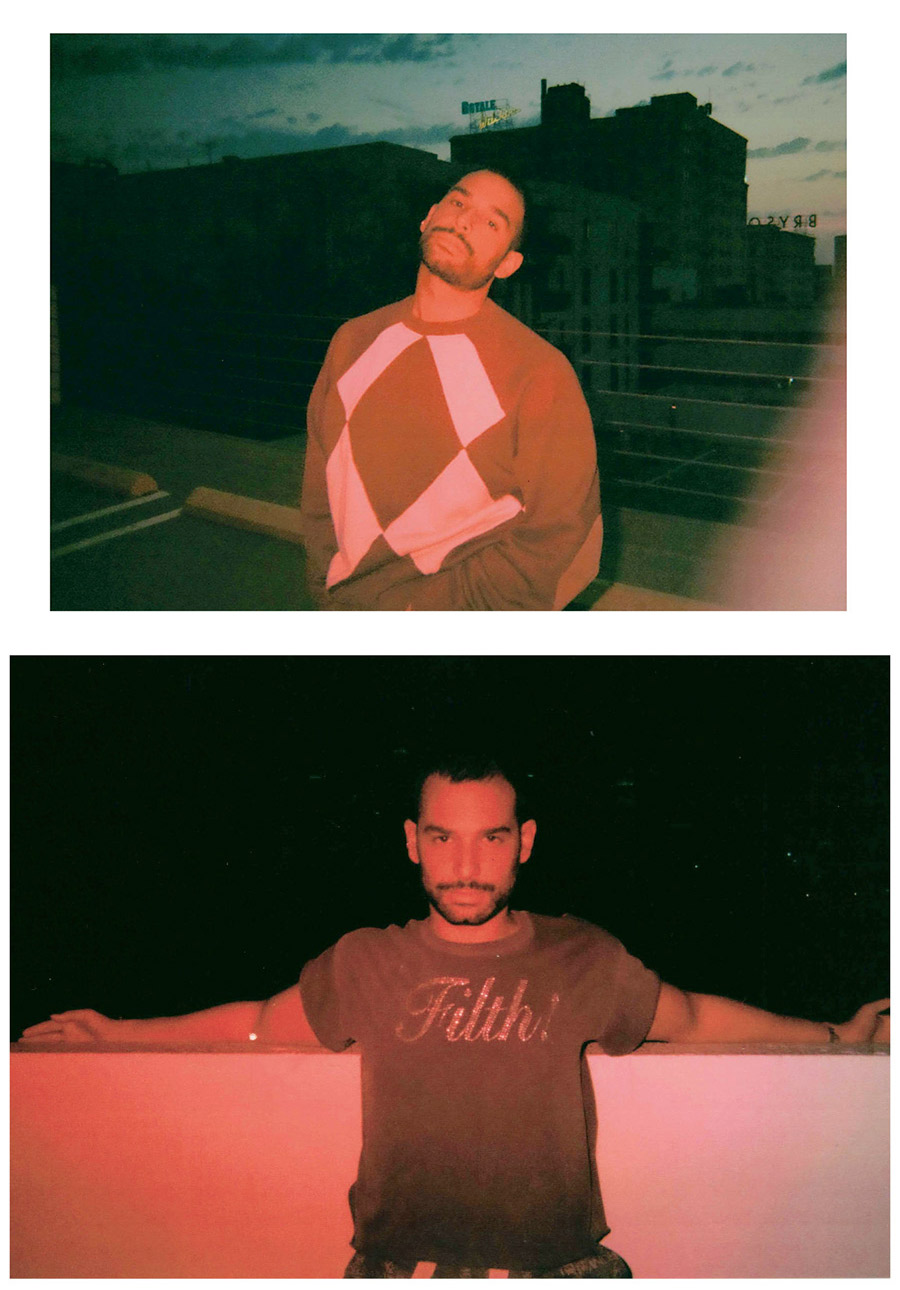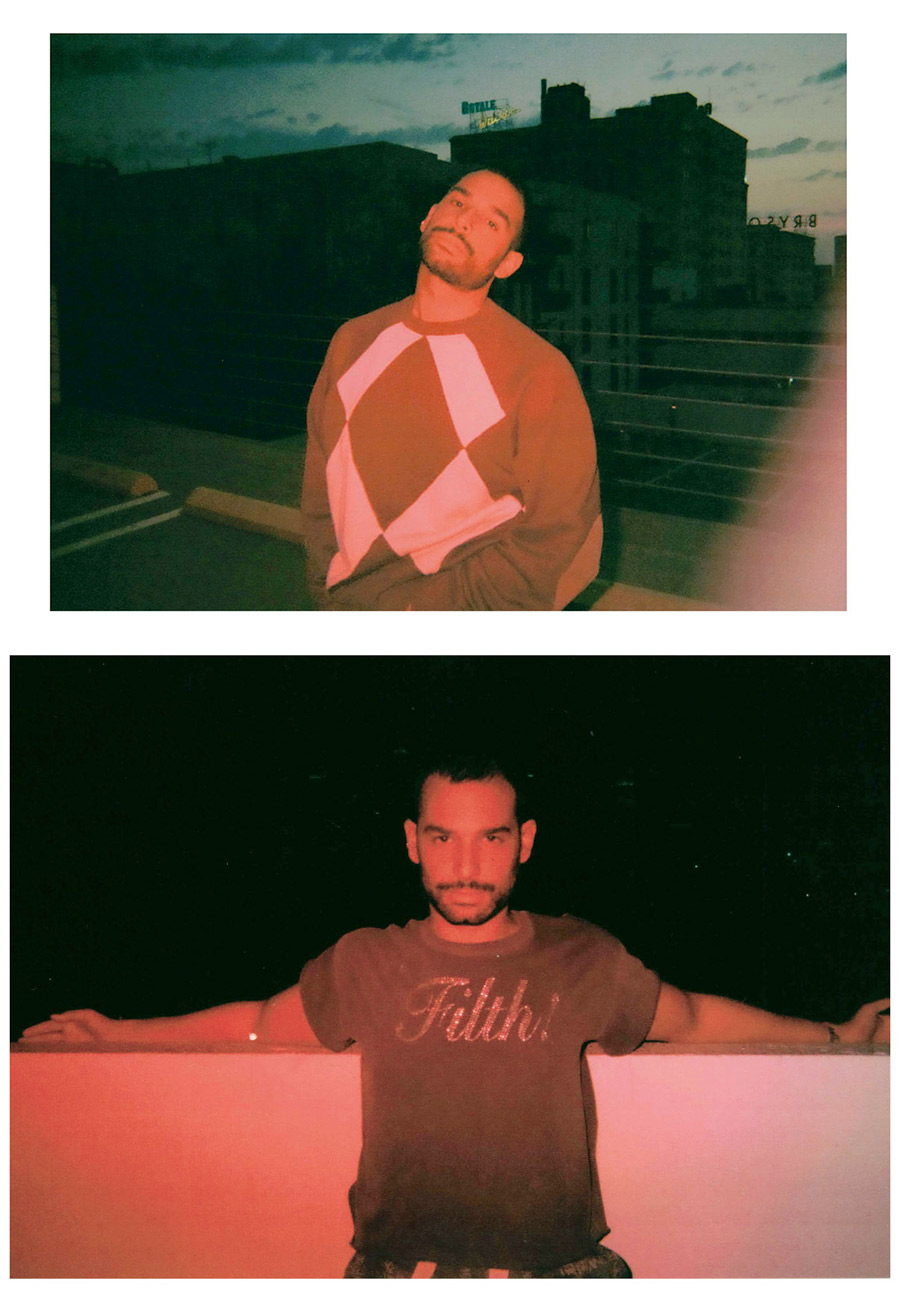 Sweater – Acne Studios, Shirt – Troy Dylan Allen, Shorts – JW Anderson
I feel like this question is the modern-day equivalent of asking a woman her age but, what is your screen time like?
 My screen time is wild. I'm always on my phone. The other day I was wishing I could get off social media for two months. Even when I take a break for a week, I come back to it so differently. I approach it differently and enjoy it until I slip back into my old habits. I do take breaks every now and then until a friend texts me worried about me and then I'm back. Take breaks, you should! I promise you won't miss too much. My best friend and I are always joking about going the way of the old Hollywood ladies and becoming recluses but I don't see that happening.