COMMITTING TO JONATHAN TUCKER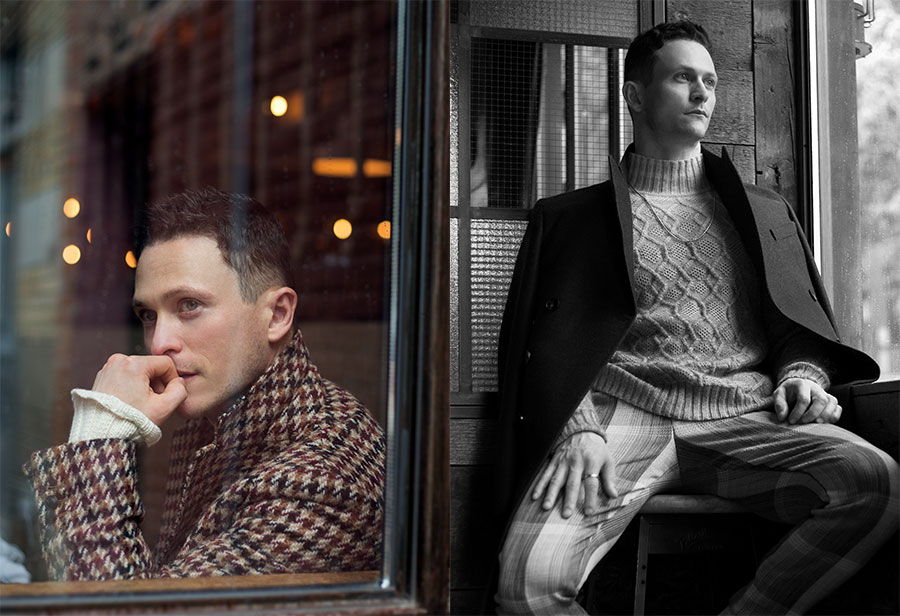 On Left: Coat by Canali, Sweater by Belstaff, On Right: Coat, Sweater, Pants by Missoni
Jewelry by Eli Halili
Photographer: Karl Simone @karl_simone
Stylist: Michael Fusco @mikeystyles
Groomer: Jeff Chastain @mascbyjeffchastain
Stylist Assistant: Merrit Rea @merritt.rea
Special thanks to Gem Saloon
Interview by Matthew Rettenmund
Jonathan Tucker is one of the best parts of all your favorite shows. The actor, who is currently playing devil to the women of Charlie's Angels as the new film's villain, is killer-with-a-conscience Frankie on the Matt Damon/Ben Affleck-produced Boston crime drama City on a Hill; was mercurial Low Key on American Gods; and was a highlight of Season 2 of Westworld as intense, self-unaware host Major Craddock, to name a few.
Perhaps most memorably, and in a role that will leave a mark, the Boston native trained like a fiend to play MMA fighter Jay Kulina on Kingdom opposite Nick Jonas — and still has the abs to prove it.
In an exclusive interview with Iris Cover Book, the 37-year-old actor talked about his myriad roles on TV and in film, what he's carried with him from his youthful pursuit of ballet (#JayKulinaDancesToo) and how he hopes to be remembered.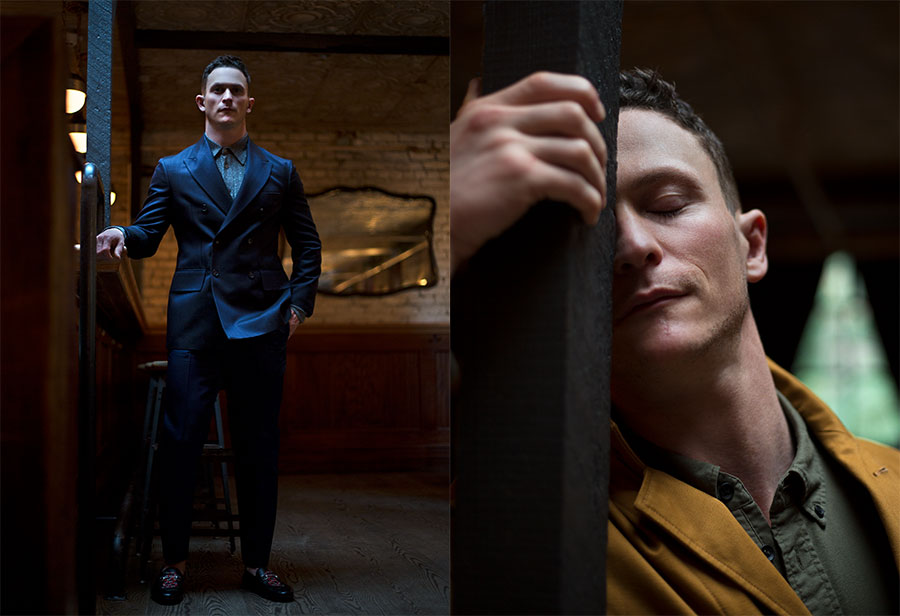 On Left: Suit and Shirt by Missoni, Loafers by Gucci
On Right: Jacket and Shirt by Rag and Bone, Jeans by Helmut Lang
I've seen you in so many things over the last few years, but only recently connected that you were the teenager in The Deep End (2001), the dark, gay-themed story with Tilda Swinton.
That movie changed my whole life! I turned 18 the day I shot the sex scene with Josh Lucas.
It's interesting how choices can lead us in totally different directions. I wondered how you decided early on in favor of acting over ballet, which you'd studied?
My second-grade teacher had seen an advertisement for a national call for a [1992] movie called Lorenzo's Oil. I'd really fallen in love with ballet, particularly with being onstage, so I took him up on this offer and I went to the audition. I didn't end up getting the movie, but I ended up getting on the radar of the local casting director's office, and they'd call me back for national commercials they were shooting in Boston, and I ended up getting one for Fruit Roll-Ups. The moment I was there on set with the camera and the crew and understanding the process, I was like, 'This is what I wanna do."
 I remember coming back with my parents saying, "We need to get an agent — do you guys know what an agent is? I found a woman who I think is very reputable, I think we should have a meeting with her,' so I certainly steered that ship early on, and I was very lucky to have supportive parents that helped make it happen for me. I was 10 years old.
Though you changed courses, have you retained anything from your ballet training?
I think self-discipline, the ability to listen and take direction, punctuality. As much as one can work on the interior of a character — we're all spiritual vessels — physicality is a really important part of being a human being. That's a critical component to the process of creating a character. Being in your body is something ballet dancers understand.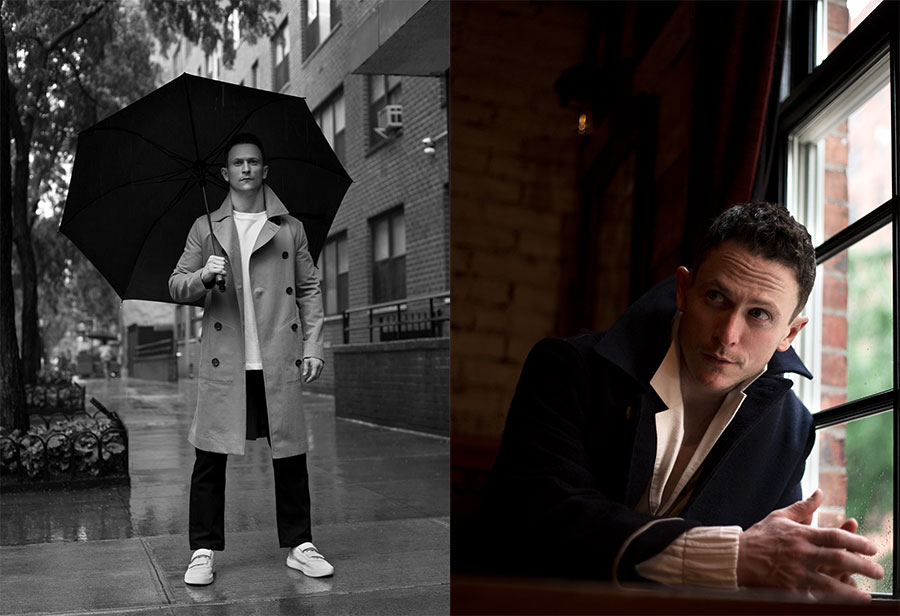 On Left: Trench by Belstaff, Tee by Mitchell Evan, Jeans by Linder, Sneakers by Geox
On Right: Jumpsuit by Kyle, Overcoat by Linder, Sneakers by Geox
Being committed physically is something you did for Kingdom. You can be committed to playing a doctor but you won't be ready to go into surgery, yet on Kingdom, your training had you ready to walk into the ring and be an MMA fighter.
I was living that life. Actors are always toggling between "truth" and "truthful." Everybody wants truth in their lives, but sometimes we have to settle for truthful, as an actor. Certain roles afford you the ability to get closer to truth, but it's an actor's responsibility to be the voice for at least truthful, as the bare minimum. No one's gonna buy you as a fighter, if you don't look like a fighter.
That must've been a tremendous commitment.
I like tremendous commitments and setting goals and achieving them, and discipline. I think my wife had a significantly more challenging time with what was required to keep and maintain Jake than I did; your mood is profoundly affected. When you hear about people who are imprisoned, they get out and the first thing they wanna do, they don't care about revenge, they want to eat. That was very understandable for me at that point.
You'd been acting since you were so young, did you have a special bond with Nick Jonas when you were shooting Kingdom?
He's a very important friend to me for a lot of reasons. I would say when you have been through the crucible of this profession and the craft, you then realize you're always in it. It provides a great deal of wisdom that you can't buy. People who have stood with you, people you thought would who don't, people you didn't think would support you when things were tough but who end up being the most supportive, making money, losing money, fame, no fame, successful movies, bomb TV shows — it's a business that provides these artificial highs and lows until after a certain point in time, you start to realize what's really important. Those people who have that understanding can spot each other from across a crowded room. I feel that way about Nick, and he's had even more complicated experiences than I have. Growing up in the business and getting to see it for as many years as we both have is certainly a connection that we both share — and we value.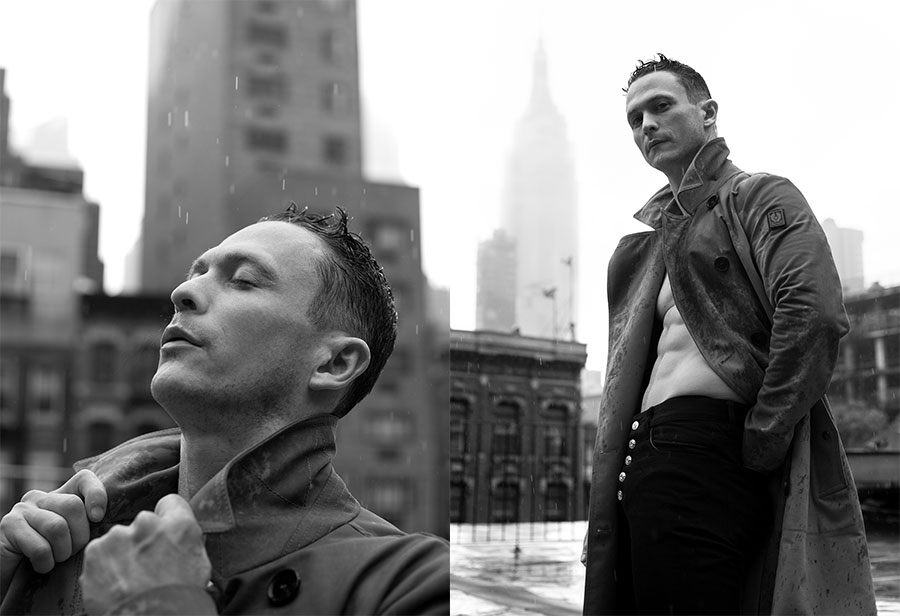 Trench by Belstaff, Jeans by Linder, Sneakers by Geox
 Were there any older actors you've worked with who served as role models?
You learn early on there are many classrooms providing an education, not all of them academic, and the teachers are not always society's notable ones. It's not just the famous people, it's the dolly grip sharing how they made a lot of money when they were young, but now their back and knees are gone but they can't do anything else because they didn't take a larger perspective on their life.
I wanna have people say, when I die, that I was able to honor different kinds of people and reflect honestly a variety of worlds, or a host of experiences. So, if I could bring that authentic light and shine it in those places or on those people, it's exciting to me. I don't see the world in blacks and whites. The more educated I am on certain topics, the less clear they become. What ends up becoming immutable are certain themes in terms of how I want to live my life, rather than unequivocal truths about kinds of people or certain political topics or certain systems. What I'm looking for is truth, and I find that characters that interest me are significantly more complicated than people think they are — sometimes more than even the writer thinks they are — and I'm interested in that sort of dynamic.
You've been in the industry long enough to see the push for diversity. Would you agree that Westworld is an example of a show that is diverse, and organically so?
Westworld was diverse before this was a national conversation, or at least a business conversation, and I think it's a really important point to share because diversity, just throwing around "diversity" as a cultural token does a disservice, rather than trying to address in a meaningful way a system that hasn't been able to offer the same sort of opportunities to groups of people that it should.
It also comes from the system that [Westworld creators] Lisa Joy and Jonathan Nolan have created and cultivated, which is, "How do we mentor different and unique voices and support and guide them?" versus trying to plug holes for the sake of optics. The business has a lot to offer every culture, every faith, every skin color, every economic background, we're all storytellers.
Being on Westworld thrust you into the realm of a series where storylines are top-secret. Are you good at keeping secrets?
I like secrets. As an actor, you never want to tell anyone anything about your work. Your experiences are bifurcated between work and employment — you're oftentimes working more than you're employed. People say, "What's going on?" What, are you gonna tell them about all the auditions you went on that you probably won't get? About the movie that's coming together that probably won't come together? So, I'm pretty good about being tight-lipped. I might not even talk about it when it comes out — I'll let you see it. I've sat next to people that have been cut out of movies and they had a great role and we're at the premiere. [Laughs] It's like — just keep your mouth shut.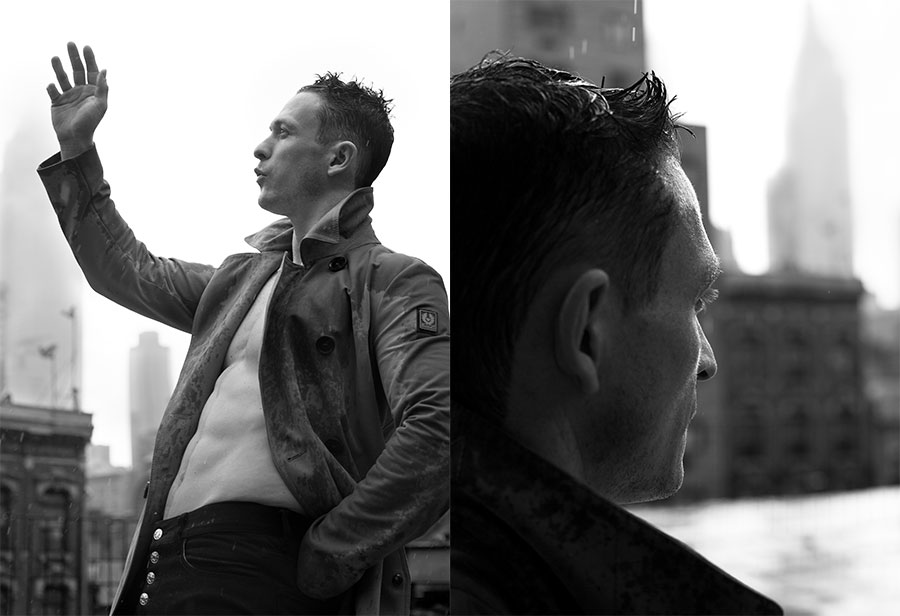 Trench by Belstaff, Jeans by Linder, Sneakers by Geox
Can you keep your mouth open about Charlie's Angels?
There's something great about making a movie that's simply a lot of fun, about three very talented young actresses kicking ass. It doesn't need to say anything more than that. A great movie stands on its own, so if it happens to be about three young women doing things that we typically expect only three young males to do, I think that sends a greater message than having to explain to everybody what the message is.
 Your character in that seems thrillingly without merit as a human being.
I would say certainly without merit, but not without a clear intention. [Laughs] I think I was cast as the manifestation of violence against women.
How was director Elizabeth Banks, who also acts in the film, to work with?
She's pretty, pretty outstanding. I've known her for quite a few years, so when this opportunity came we jumped on the phone and I said, "I'm gonna send you a text of what I think this character looks like, aesthetically speaking," and she said, "You've gotta be kidding, check your texts," and she had sent me the same model — different picture, but the same very distinctive model, so we were on the same page from the jump.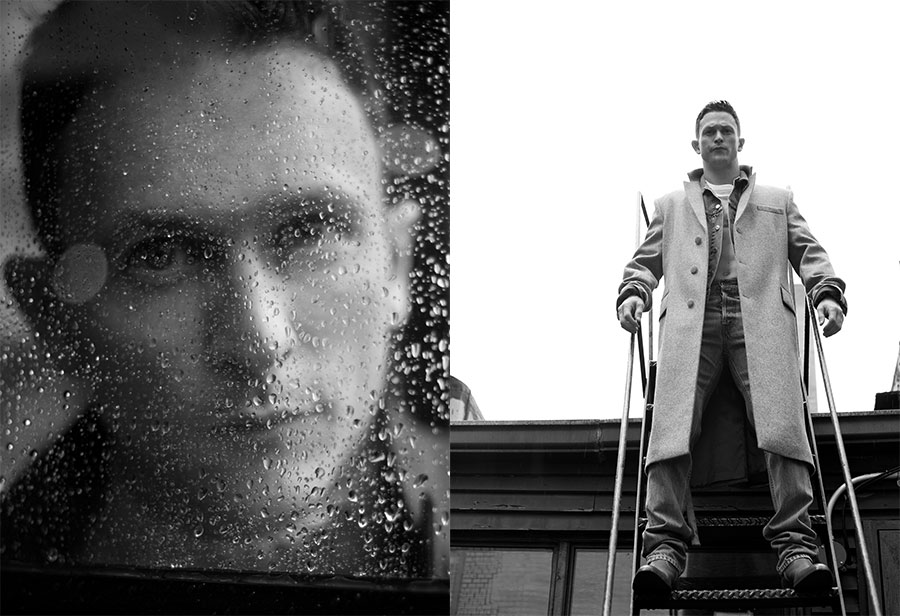 On Right: Helmut Lang full look, Boots by Saint Laurent
You've been in so many things, I don't think there is a type that screams "Jonathan Tucker character." Is there a role you've played to which you most relate, that's closest to you?
I don't think anyone's ever asked me that. It's kind of like: you're a pitcher, you have a certain kind of pitch you know you're really good at, and you have a strike box you know you're guaranteed to get an umpire to call a strike in, and you're trying to work the corners a whole bunch. You're always you, but if it's not a strike, then at least you attempted it.
Being scared to throw in the corners, being scared of being unsuccessful with the choices you're making as an actor is the death of a good actor. You have to be willing to throw a few balls or have that errant pitch.
Are you an actor who enjoys photo shoots, like the one you did for Iris Covet Book?
You gotta commit to those things. You're relying on the team so you can walk in there and just jump. You wanna commit to things in your life. If you're not willing to do that, don't show up.