LOGAN POLISH STAR OF APPLE TV+ THE MOSQUITO COAST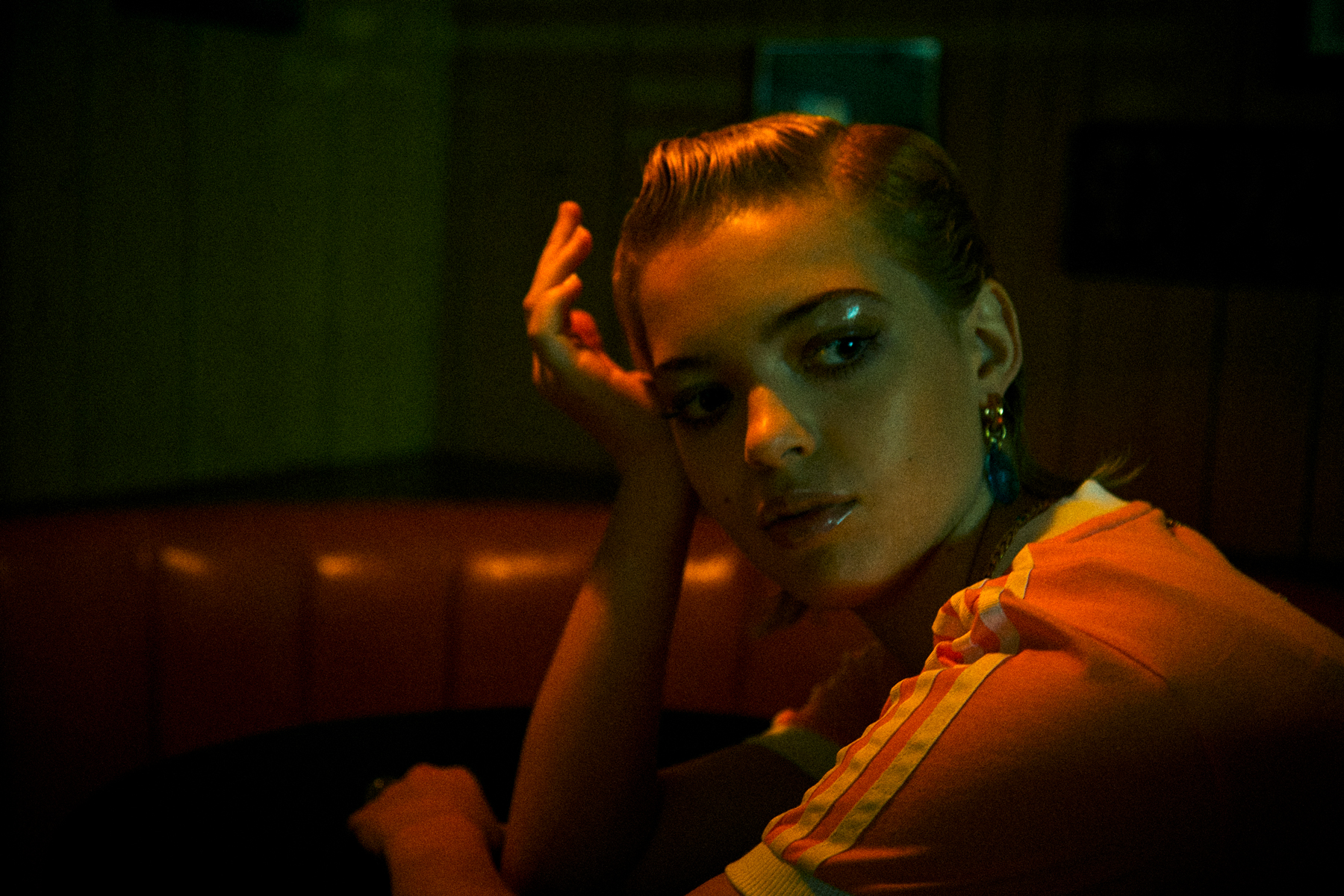 T-shirt by Adidas, Necklaces Stylist's Own, Earring by Notte
Logan Polish was born to be in the entertainment industry. The young actress was raised behind the scenes, her father and uncle both writers, producers and directors have a long list of successful projects. As a child actor, Polish was cast in the 2006 acclaimed film, The Astronaut Farmer starring Billy Bob Thornton, Virginia Madsen and written, directed and produced by the Polish brothers.
Logan made her American television debut with the launch of Apple TV's hit series The Mosquito Coast, starring opposite Justin Theroux. You might be familiar with the novel by the same name which was written by Paul Theroux (Justin's Uncle) and adapted into the 1986 film starring Harrison Ford. The success of the premier season led Apple TV+ to approve a second season which will began filming this year. 
Logan spent the day with Iris Covet Book during her photoshoot at friend and co-star Justin Theroux's Lower East Side bar, Ray's to chat about coping with anxiety, filming in Mexico, and her favorite 80's playlist.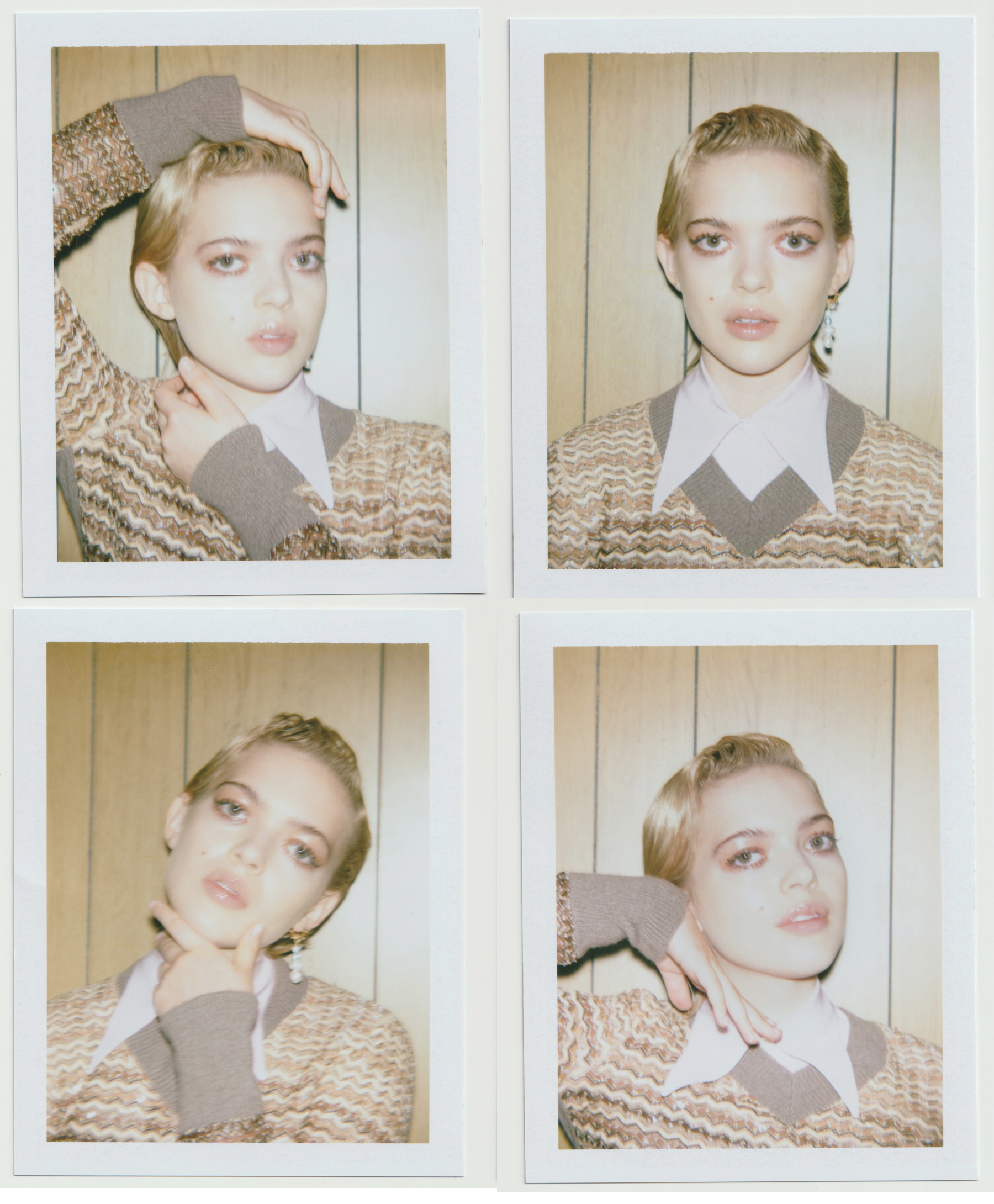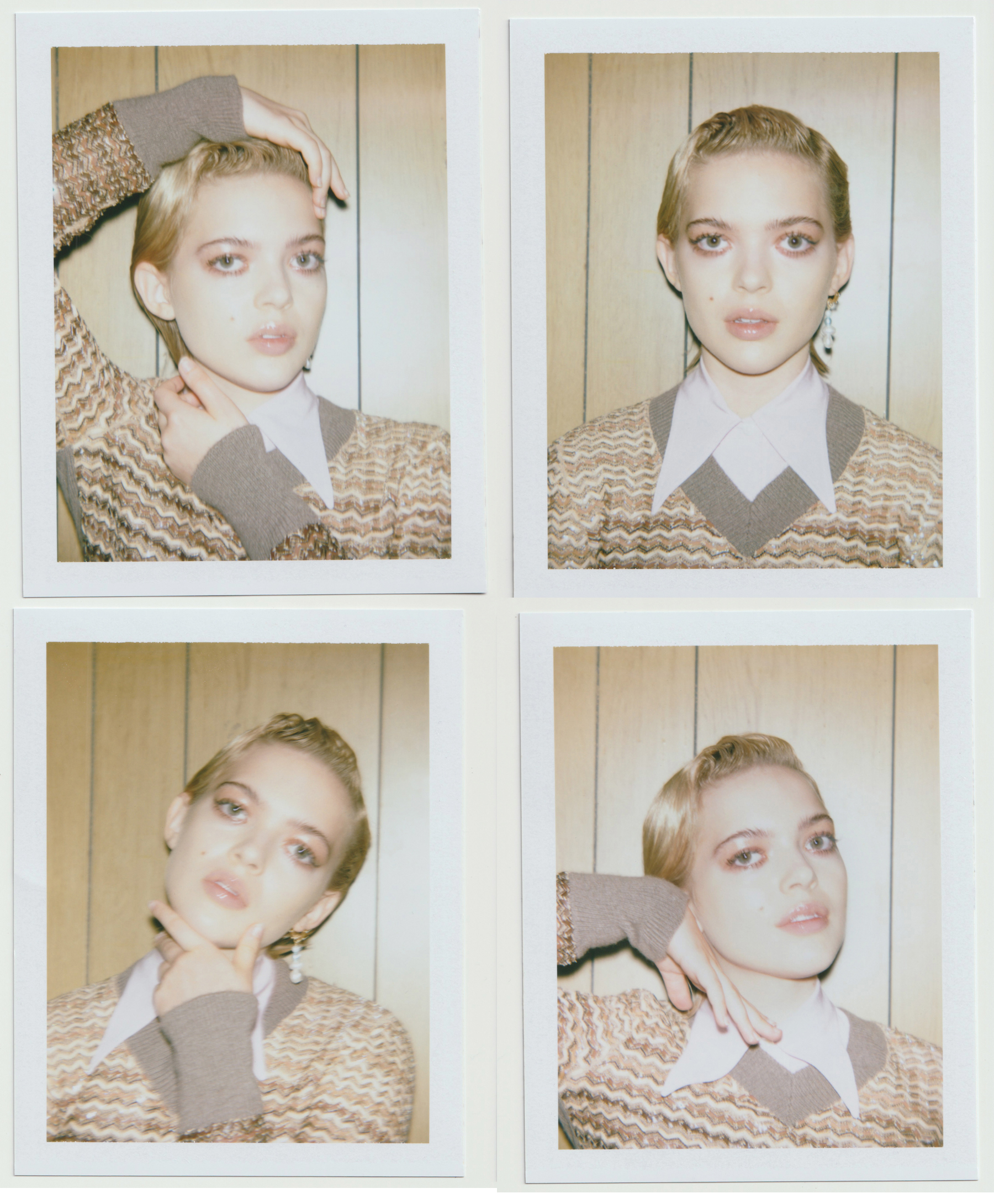 Shirt by Victoria Beckham, Sweater by Chloé, Earring by Notte
Being surrounded by parents and family in the film industry, how much do you think you were influenced by their careers to start acting? 
I was heavily influenced. I grew up on my dad's film sets and he was always working on new projects around me. So, I couldn't really imagine doing anything else, I still can't. I think it's sort of in my DNA, at this point. I have always loved the community within film, it something I constantly yearn for; those connections, those bonds that are created.
Your first acting job as a child was playing opposite Billy Bob Thornton and Virginia Madsen in The Astronaut Farmer. You then took a break from acting until you were scouted at the age of thirteen by your now agent. What was it about this incident that reignited your passion for acting? 
I was so excited when I met my agents because I had been wanting to act for a while, but my parents were definitely hesitant to push me into the industry. I think they wanted to preserve my childhood as much as possible and I'm really glad that they did. It was super exciting to finally be able to pursue the one thing I'd wanted to do for such a long time.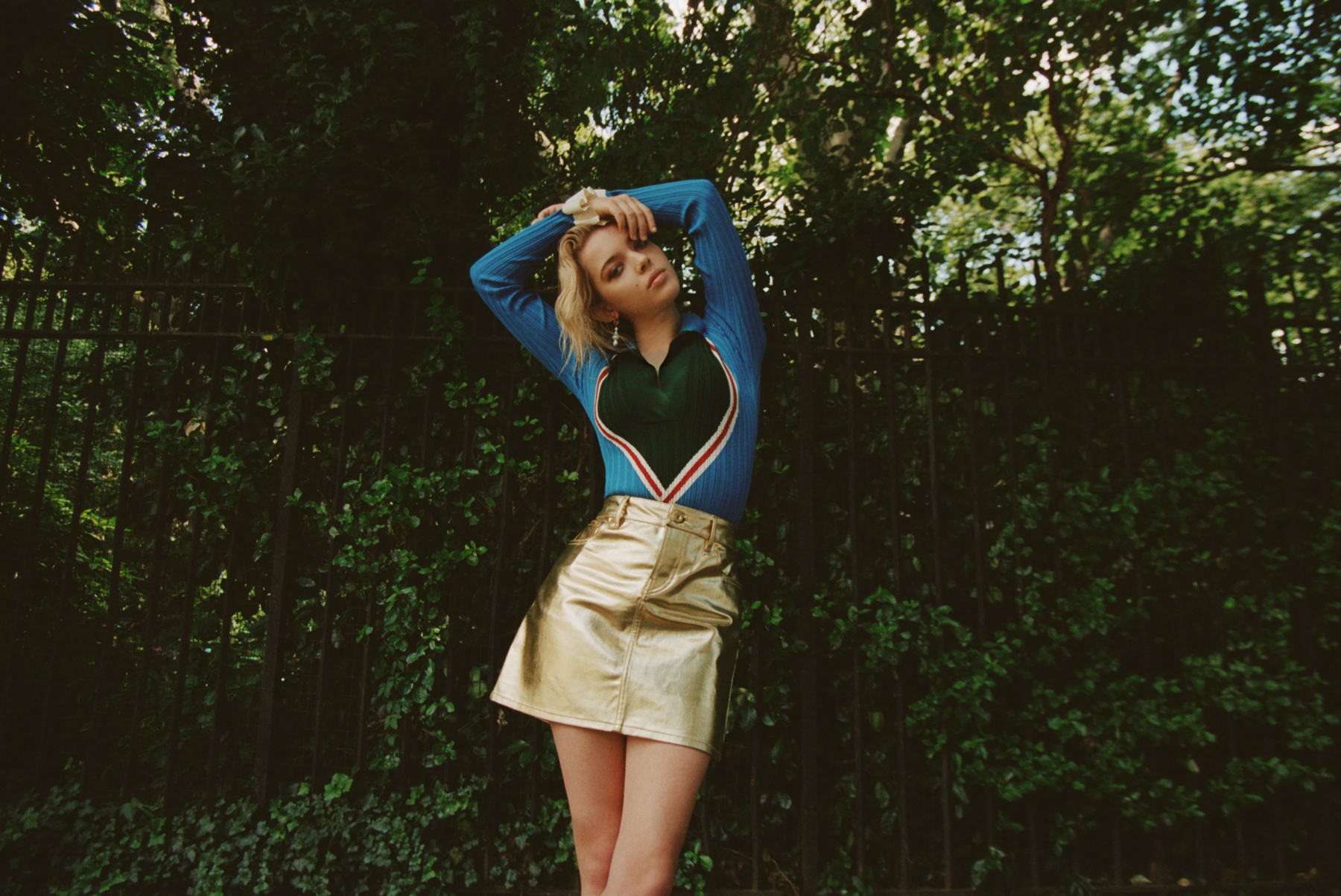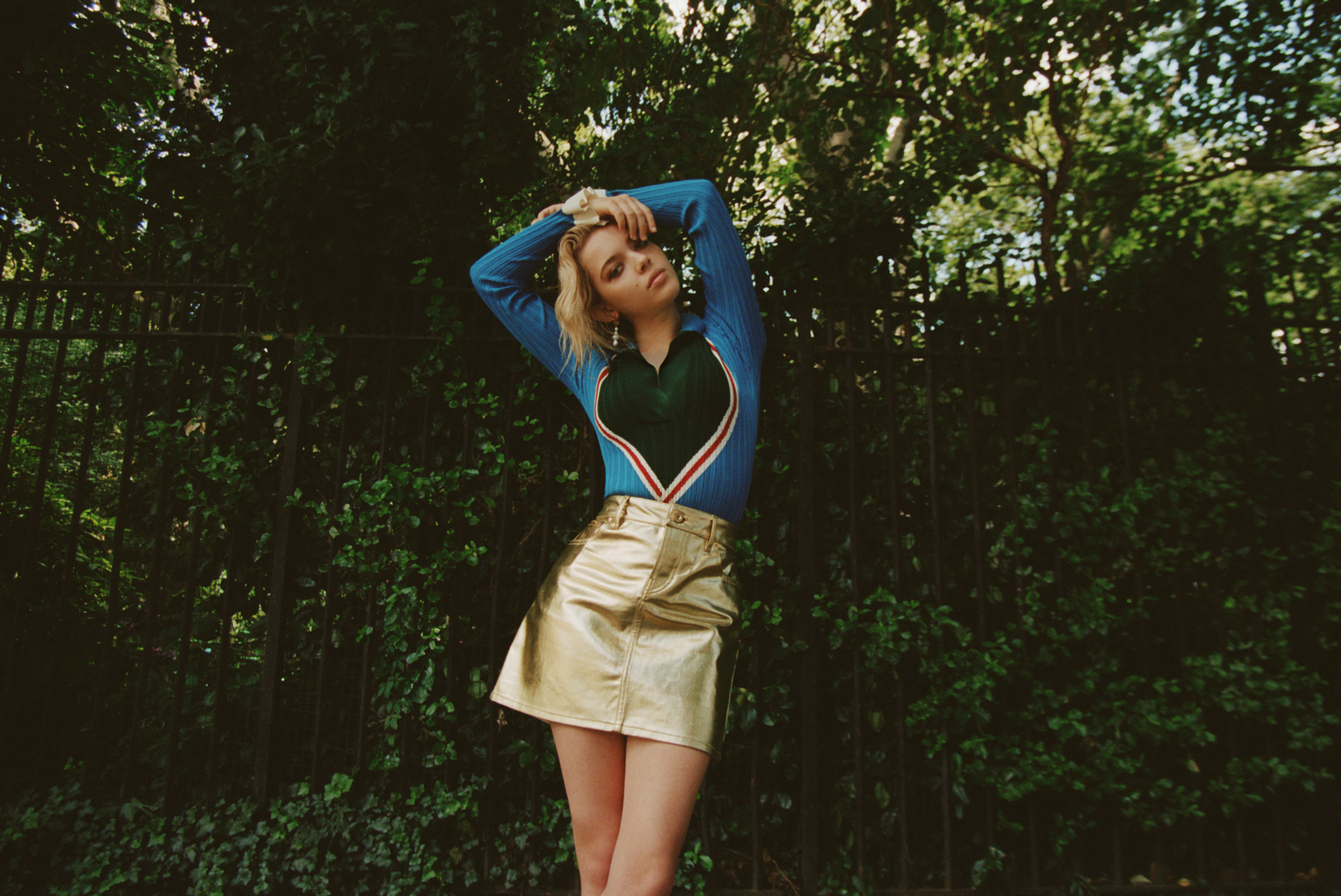 Sweater by Esteban Cortázar, Skirt By Paco Rabanne, Earrings by Notte
You star opposite Justin Theroux in the Apple TV series Mosquito Coast which was just picked up for a second season. Tell us about your character Dina Fox and how you relate to her. 
I really related to Dina's maturity. She is put in many difficult situations and has to make many grown-up decisions for herself, and I think that's something that I could relate to. I could also just relate to growing up in such an eccentric family because my dad started out making indie films and, in a way, he was sort of an inventor. My mom is also an artist, so similar to Dina, I was used to seeing my parents 'invent' new things every day.
What has been the most rewarding part of filming the first season? 
Wow, I mean there are so many things that have been very rewarding about the show. I think the first thing that comes to mind is just how amazing it's been to work with such talented people. From the actors to the directors, it was an eye-opening experience to be around that level of talent. It's also been so rewarding to be able to work on my craft for a whole season. I had never gotten so much time to be that serious about acting and really practice, get better, and grow.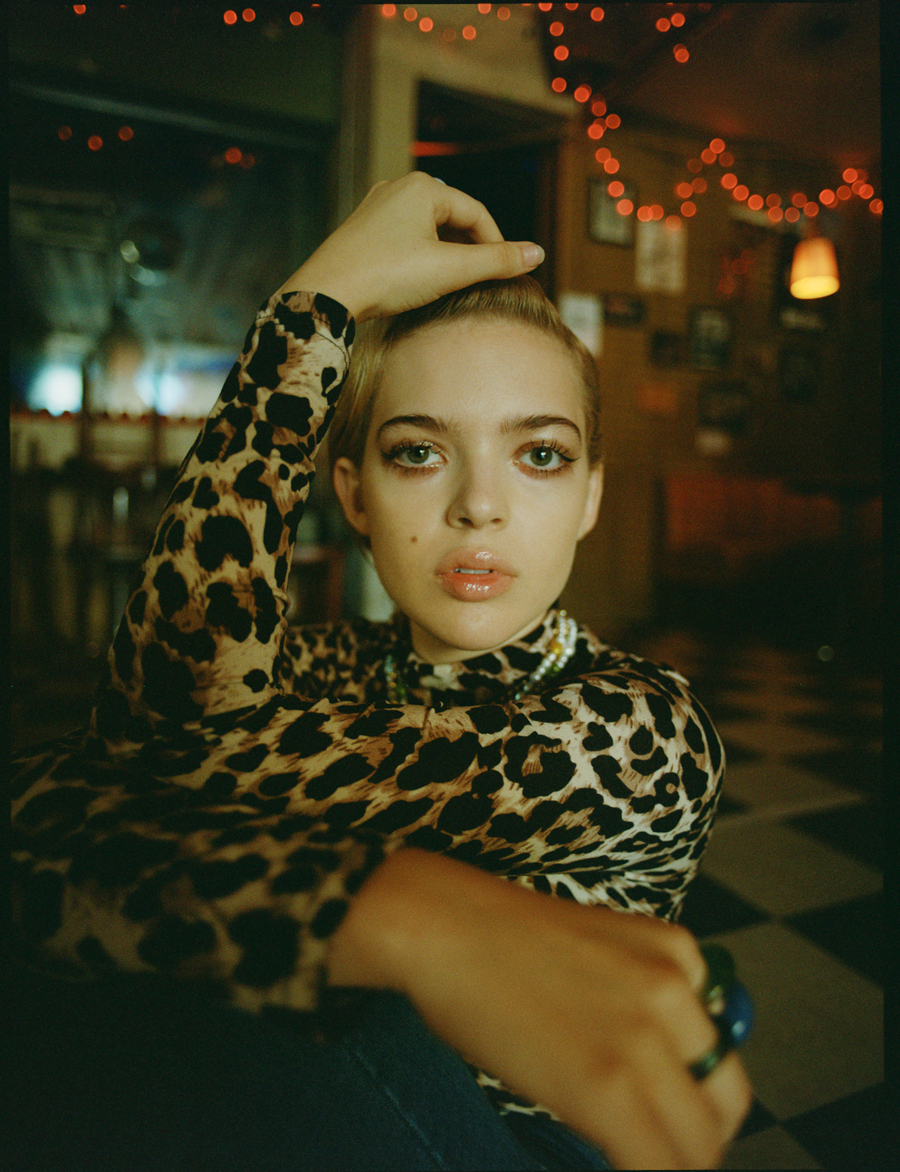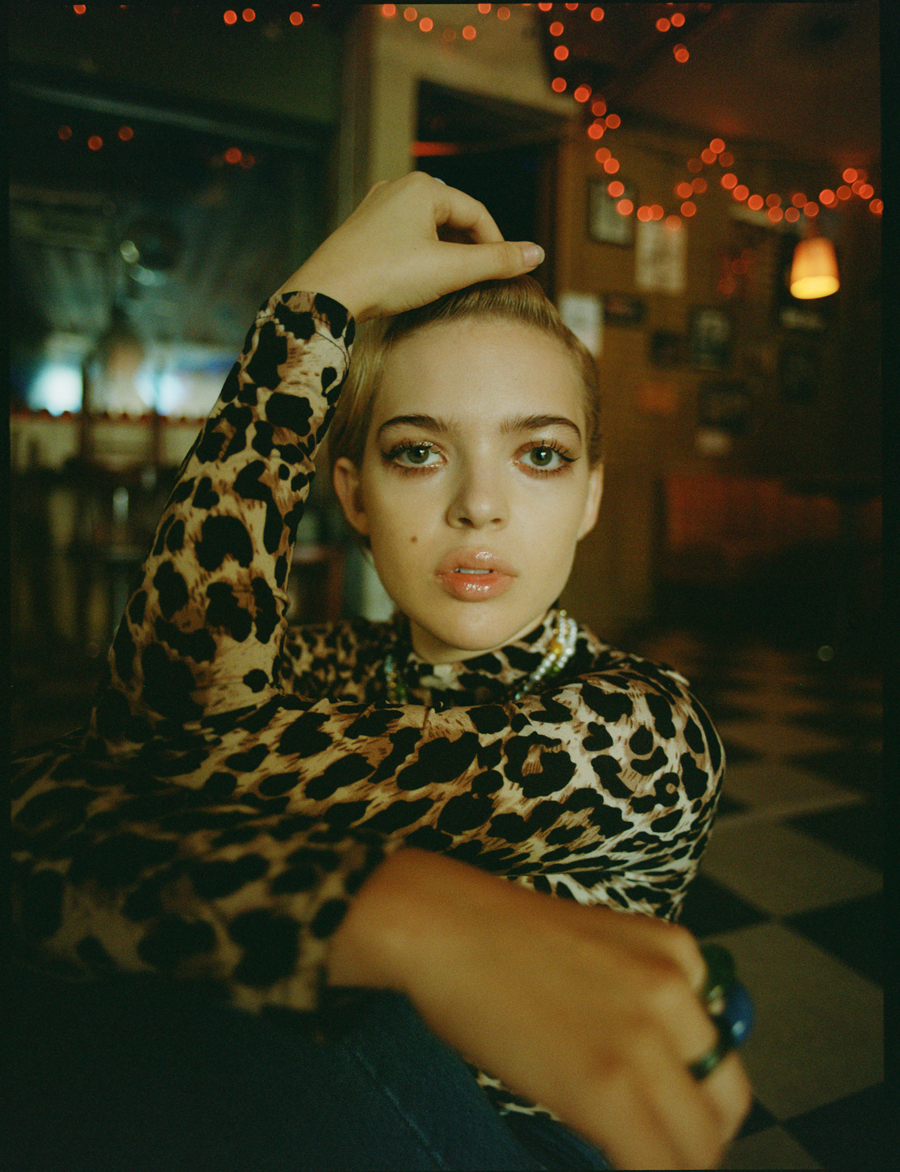 Jeans by Levi Strauss & Co., Bodysuit, Stylist's Own Necklaces by Notte, Rings by Keane
What was the biggest lesson you learned from filming? 
I think filming always teaches me and continues to teach me how to be present. It can be such an overwhelming process with all of the different schedules and lines and things that we're having to do within a day. Mosquito Coast really taught me how to take it day by day, hour by hour, and really focus on the task at hand.
I was reading an article where you said you learned not to be too stressed out about working with new people after filming The Mosquito Coast.  What are some things that help you cope with the anxiety of working on new projects? 
One of the biggest things that really helped me with my anxiety was expressing how stressed out I was to the people around me, like Justin or Gabriel. I think keeping in my nervousness or reservations really made it worse, but whenever I was able to confess to people that I wasn't feeling good about certain scenes, it took the pressure off. It became a good habit of mine to go to a cast-member anytime I had any stress and tell them what I was feeling, and they always had some sort of advice that immediately got rid of my anxiety.
I think one big misconception I had about acting was that 'I'm going to know how to do everything and do it perfectly' and that ultimately created so much pressure. On Mosquito Coast I quickly learned that I'm not going to always have all the answers but there's a director, a writer, and other actors around to help. By the end of the season, I had become really comfortable with confiding in and being vulnerable with the people around me.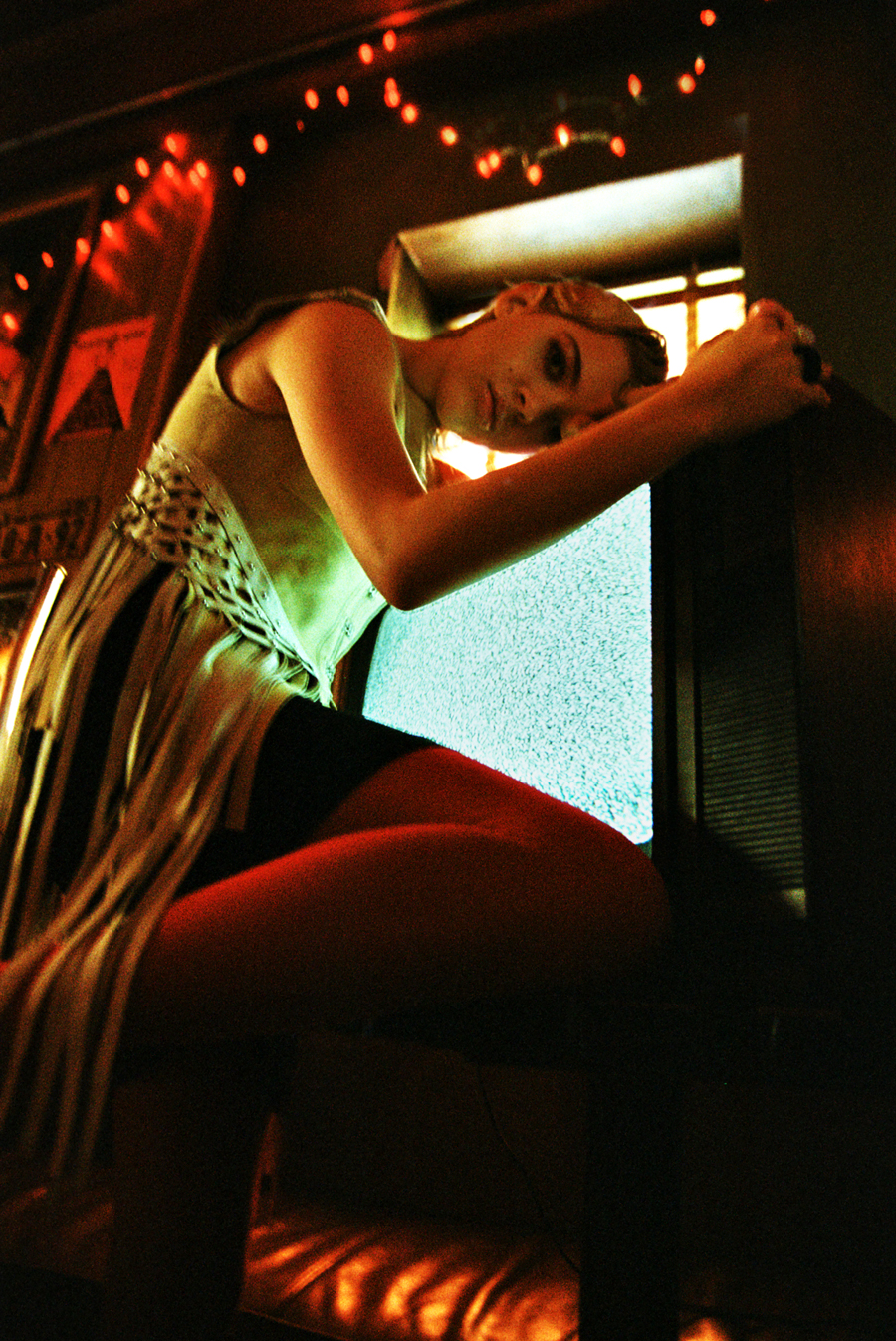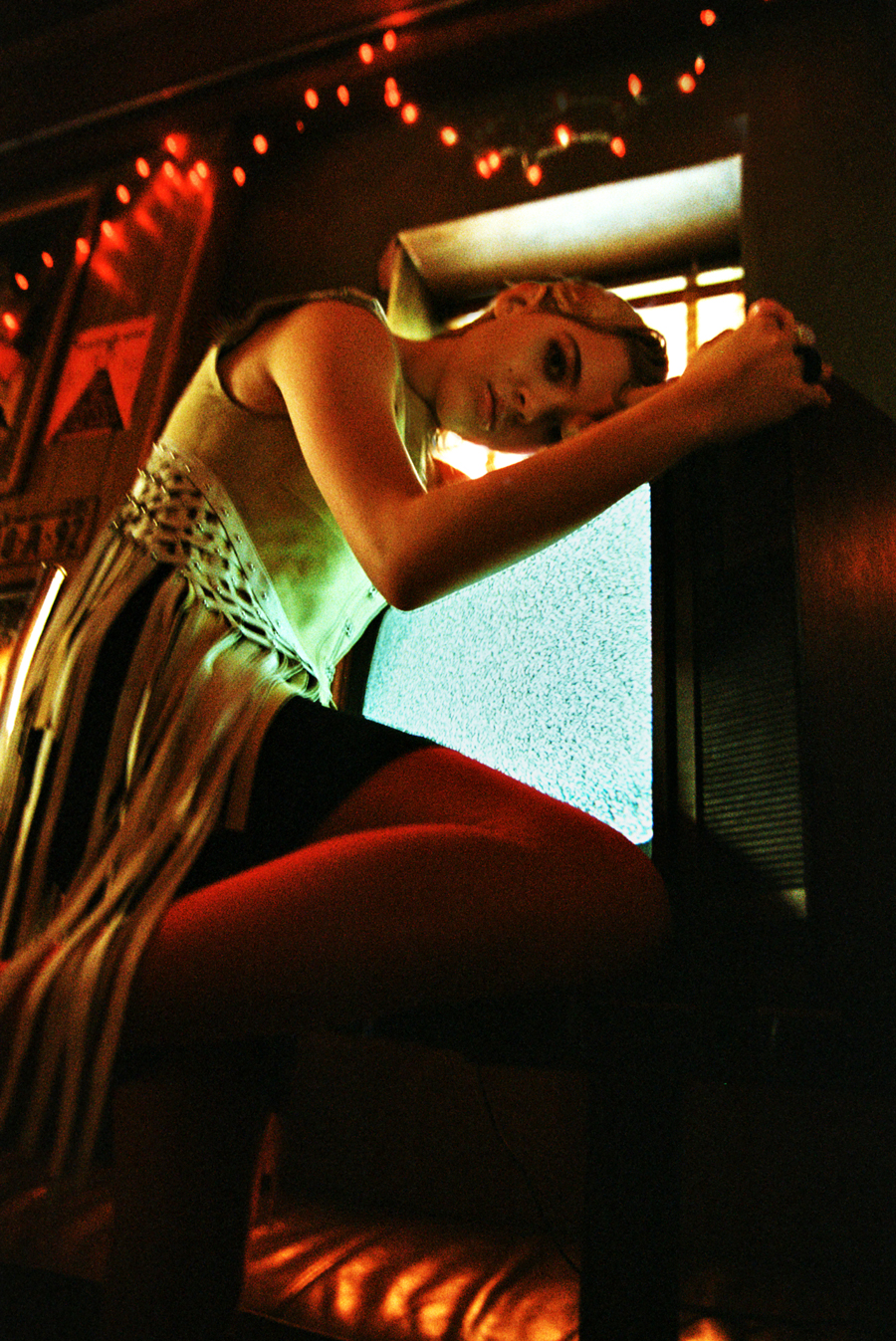 Vest by Chloé, Romper by The Row, Rings by Keane, Tights by We Love Colors
Various parts of Mosquito Coast were filmed in Mexico.  What were some of the cities you filmed in, and did you have a chance to explore and experience the culture?
We shot in so many places from Mexico City, Puebla, to Guadalajara and Punta Mita. I feel like the one city I spent the most time exploring was Puebla and I'm so happy that we got to go there. It's so colorful and there is a church on every corner and it's a very historical town. So, I spent the weekends just walking down each street trying to go to as many churches as possible and that was very fun.
You are following your family into the movie business. Writing and directing your first short film entitled Margot.  Do you see influences from your father's process, or have you found your own way of working? 
I do see a sprinkle of his process within my own but the one great thing about my dad is that he has really let me figure out my own voice. Whenever he's helped me with my writing or working on my own sets, he's kind of been a guide for me to go to if I need help but he's always sort of just let me figure it out on my own. But ultimately, we are related so I definitely think there will always be connections between our work and things that we like.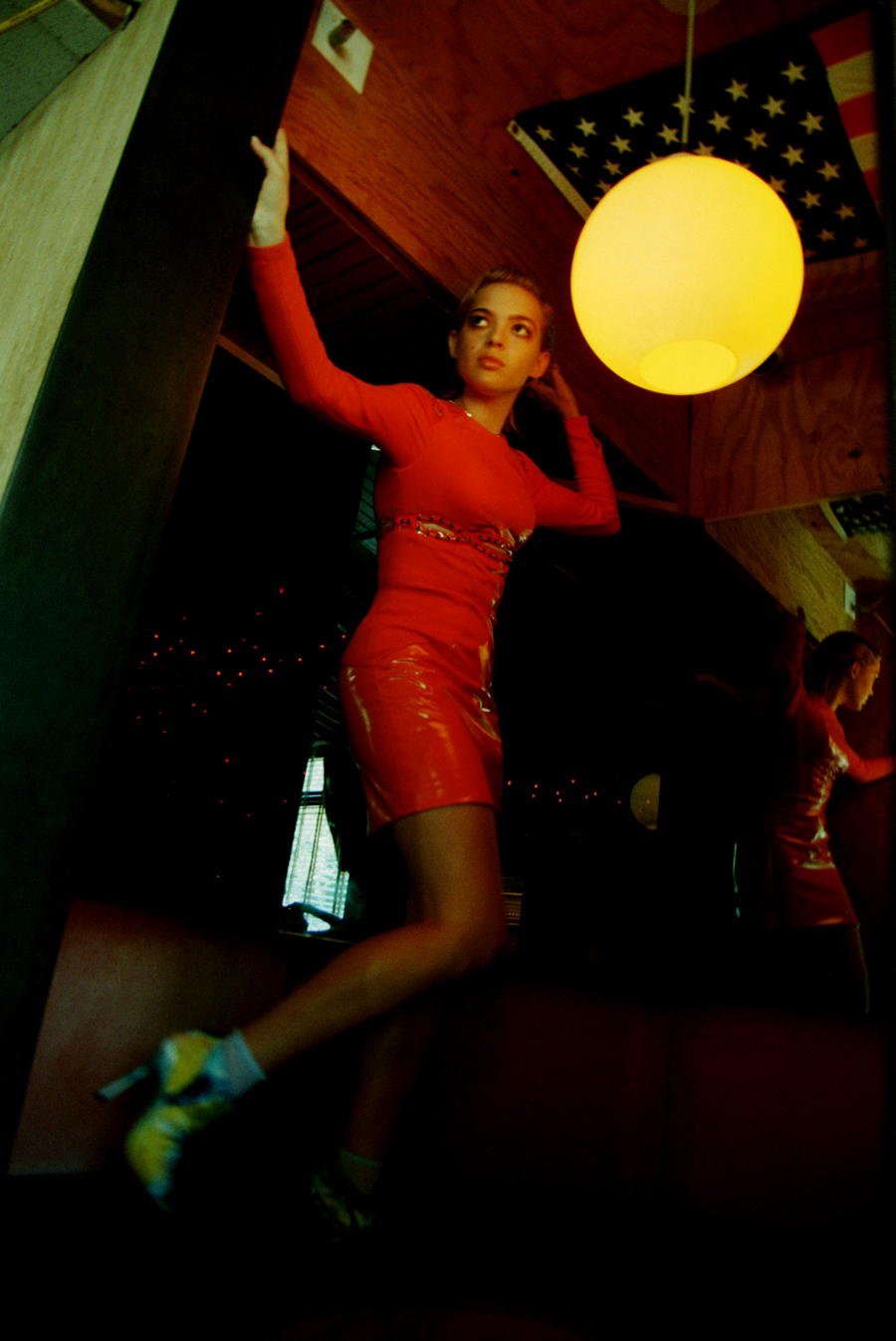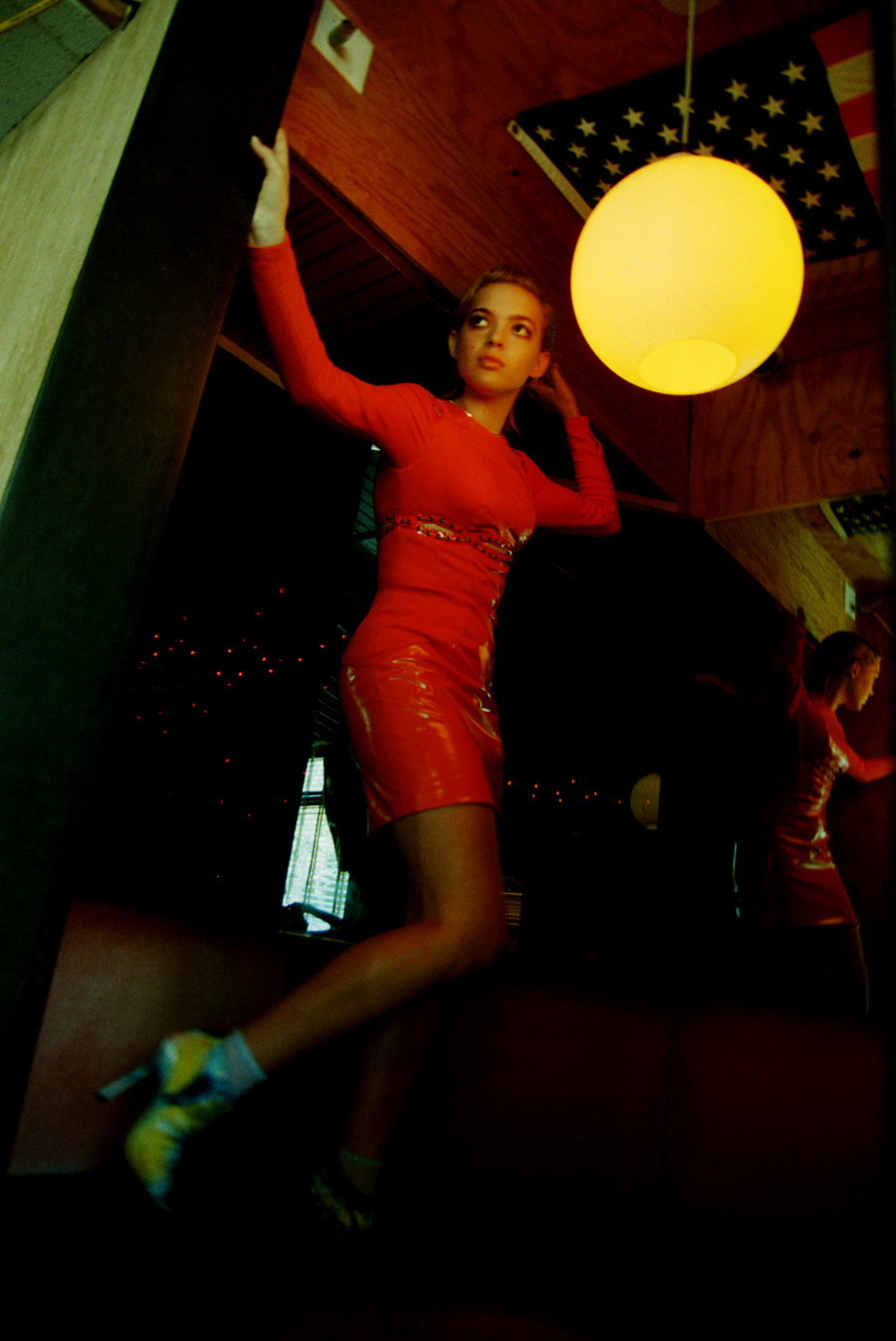 Dress by Versace, Necklace – Stylist's Own, Socks by We Love Colors, Shoes by Manolo Blahnik
Do you enjoy working behind the scenes as much as in front of the camera?
I do enjoy working behind the camera, if not sometimes even more. I am a bit of a control freak, so I like being able to follow a movie from the page to the set to the editing process to it being promoted. I love every part of the process and so when I'm just acting it's sometimes hard for me to let go and not join in on every part of the creative side.
Your aunt is Kate Bosworth.  What was the best acting advice she has ever given you?
She's always been a good example on how to navigate the business side of everything, and how valuable it is to understand it.
Who is on your wish list of directors to work with?
Christopher Nolan! He has been on my list for such a long time. I'm also very keen on working with Yorgos Lanthimos or Sam Esmail.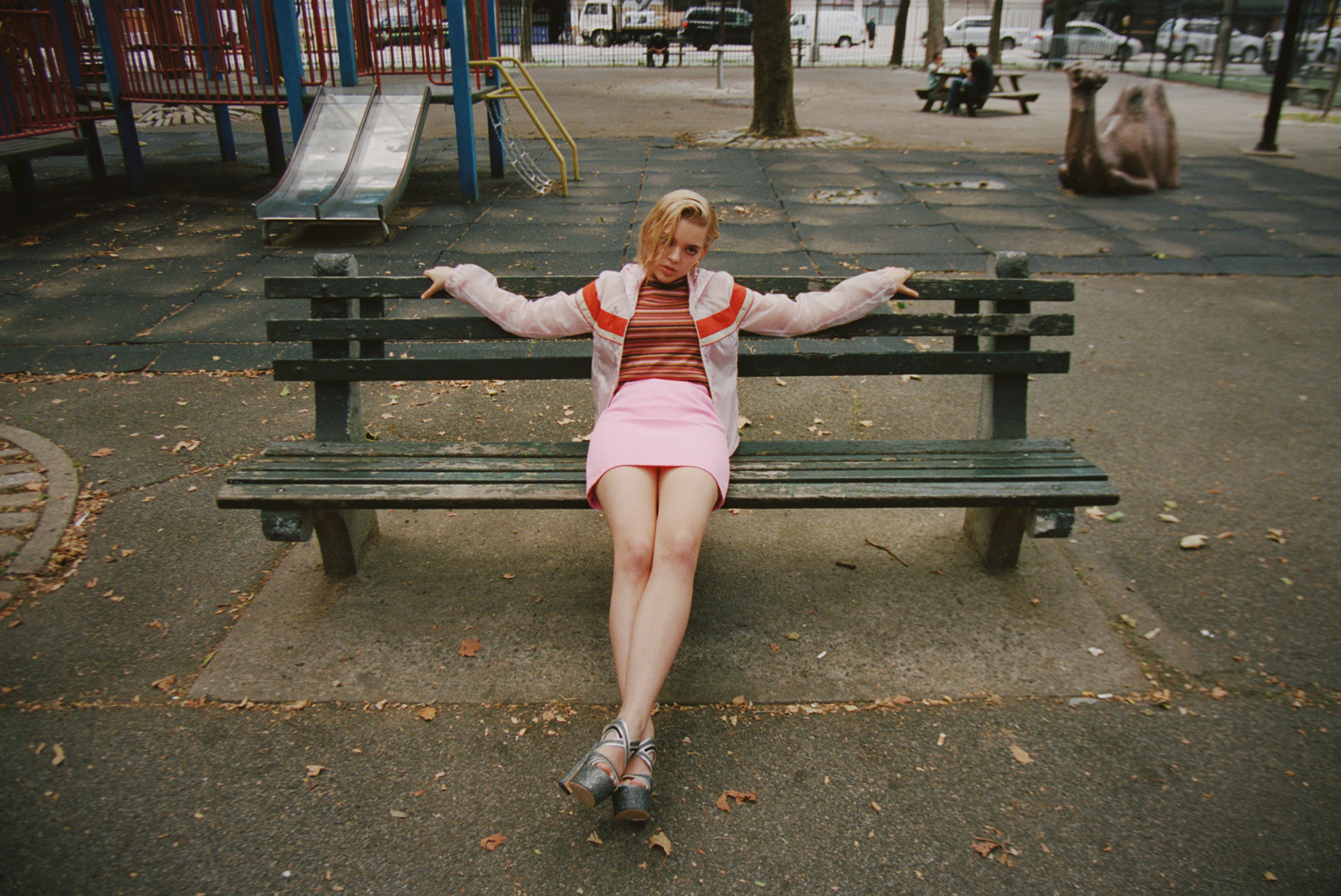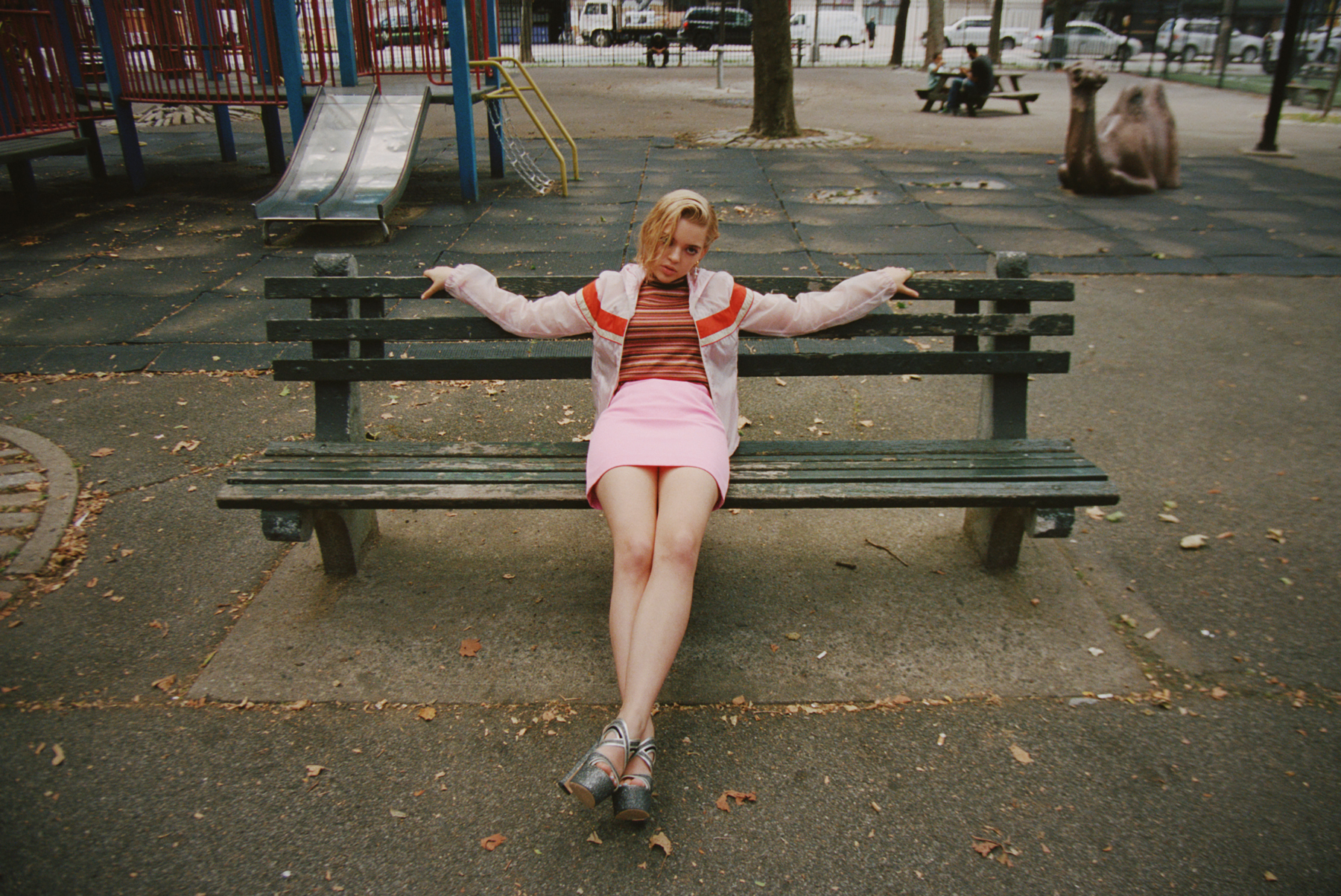 Jacket by Prada, Skirt by Jacquemus, Vintage Top – stylists' own, Shoes by Nicholas Kirkwood
Do you believe in astrology and if so, what is your sign, and do you think it's fitting to your personality?
Yes, I do! I am an Aquarius, with a Scorpio moon and Taurus rising. I do heavily relate to my sign, but I think I am very influenced by having a Scorpio Moon. I can get very dark, and emo and I sometimes lean more into that than I do my fun Aquarian side.
During the shoot you requested 80's music on set.  Who is currently on your music playlist?
Everything 80's!!! Currently I have The Smiths, New Order, English beat, Cocteau Twins, Duran Duran… with a sprinkle of Interpol and Sade.