EXCLUSIVE: RICKY MARTIN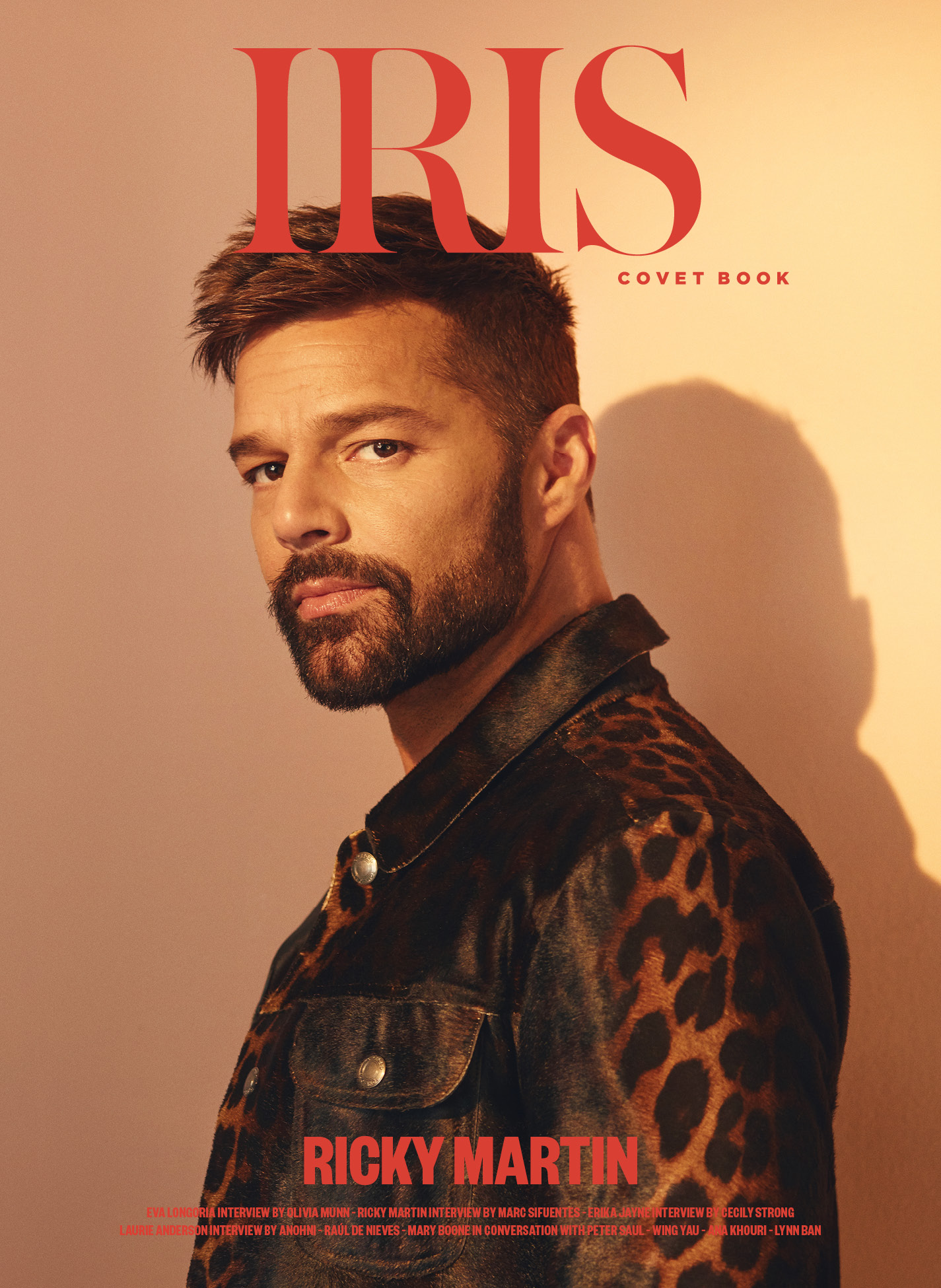 Jacket by Tom Ford
Photography by Greg Swales
Styling and Interview by Marc Sifuentes
Taking over the legendary Sin City strip, making history as the first Latino to headline a Las Vegas residency, and jumping headlong into the world of acting, Ricky Martin shows he is one of the most intriguing and impactful entertainers of our time.
Father, husband, singer, dancer, and actor. Ricky Martin is constantly juggling his many roles with seemingly effortless ease. Currently a resident on the Vegas strip at the Park Theater at Monte Carlo for his solo show, Martin is also eager to further pursue his acting career, release a new album, create a new world tour, and continue helping the people of Puerto Rico and the victims of human trafficking. Filled with love, down-to-earth spirituality, and an effervescent charm, Ricky Martin has proven himself to be an everlasting icon of pop culture.
In an exclusive interview with Iris Covet Book Editor-in-Chief Marc Sifuentes, the Puerto Rican star gets personal about his daily life with his husband and twins, life in the limelight, and his continuous efforts to make the world a better place.
Hi Ricky! I wanted to thank you for doing this interview and for being so fun and easy-going on the day of the shoot.
Well, thank you! You and your team were amazing and had such a beautiful energy in the studio.
Thank you! So, I want to start with asking about your second "back by popular demand" Vegas residency at the Park Theater, what is the key to producing such a successful and in-demand show?
I give credit to the people that I work with: the producers, directors, all of the people behind the scenes, the musicians, and the dancers. It really takes a village, and I wouldn't be able to do this show without an amazing group of people behind me. I'm happy to have these talented producers and directors who can translate my vision and make it magic! To be the first Latino male to have a residency in Vegas is a big responsibility. What I love about this show is having the opportunity to perform every night in front of a very international crowd. Just to be on stage and see all of these faces from all over the world really motivates and inspires me. What I want to do is break boundaries and unite cultures. To see the crowd disconnect from their everyday problems in life and leave the theater with a smile is a very beautiful thing. I wish we could do this show for many more years.
Will you be taking this show on the road at the end of it's Vegas run?
Well since I have an exclusivity contract I won't be able to take this particular show on the road or perform it outside of the Park Theater. But I will hopefully be on the road touring a new show next year through Latin America and the United States. The idea is to take a new show all over the world, hopefully by next year.
I was watching clips of the show and it just looks amazing, you seem larger than life and so confident. Do you ever feel insecure? And if you do, what do you tell yourself to get out of that headspace?
I am very insecure. I am insecure when I write music, when I perform, when I act…but what gets me through are my years of experience. I am human and I go through a lot of highs and lows before I go on stage. If you see the show, for the first song I'm coming down from a 300-foot drop! I may look super confident, but I'm not! (laughs) I suffer from vertigo and it can be very difficult to focus, but it is part of confronting my demons and breaking that trauma that triggers my vertigo. By the time the music starts, I just have to forget everything and jump into storytelling mode.
Well it's been getting really great reviews! Would you consider extending your residency for a third round?
Oh, I would love that! And funny you should ask because that's exactly what we are in discussions about at the moment, and if we do, I will need to create a whole new show for the international audience.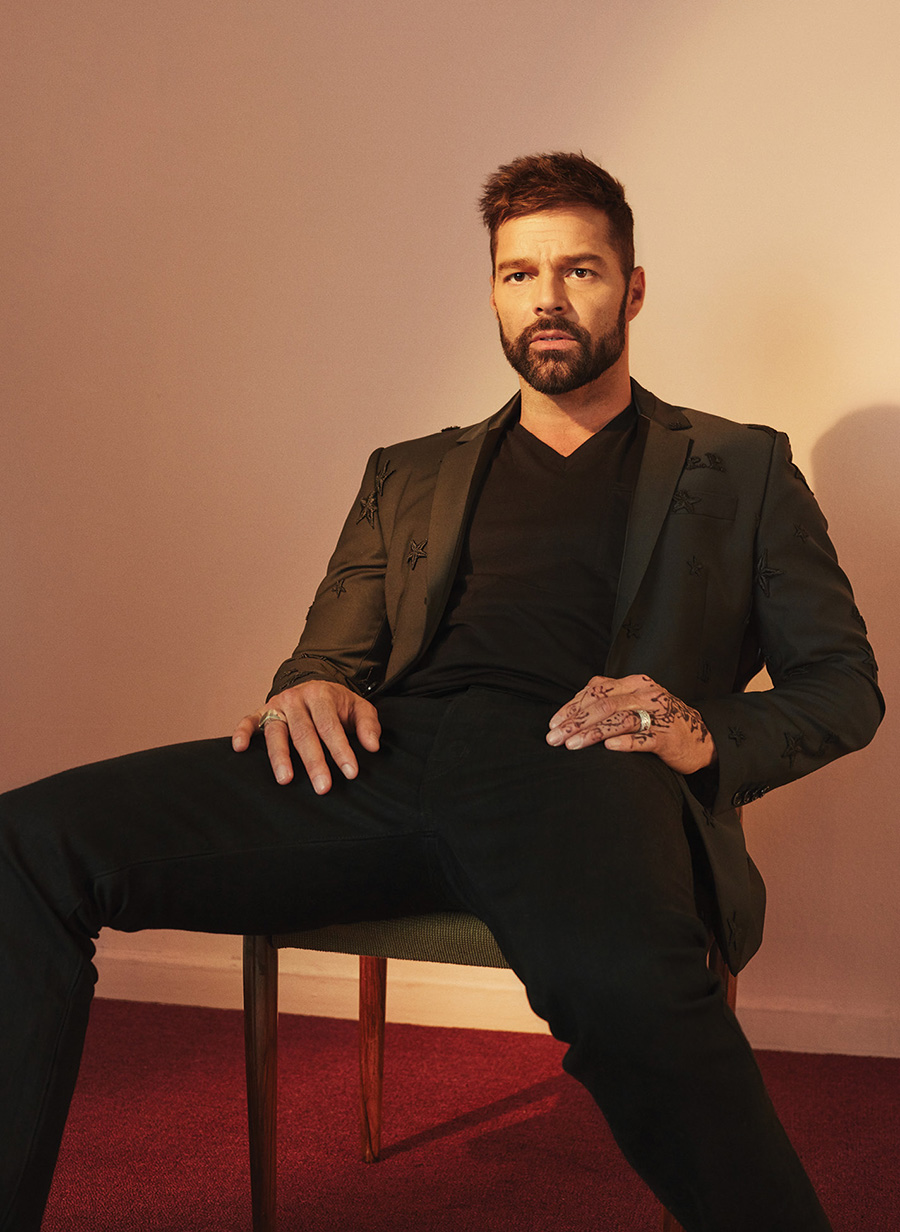 jacket and t-shirt by Philipp Plein, jeans by Tom Ford, rings by John Hardy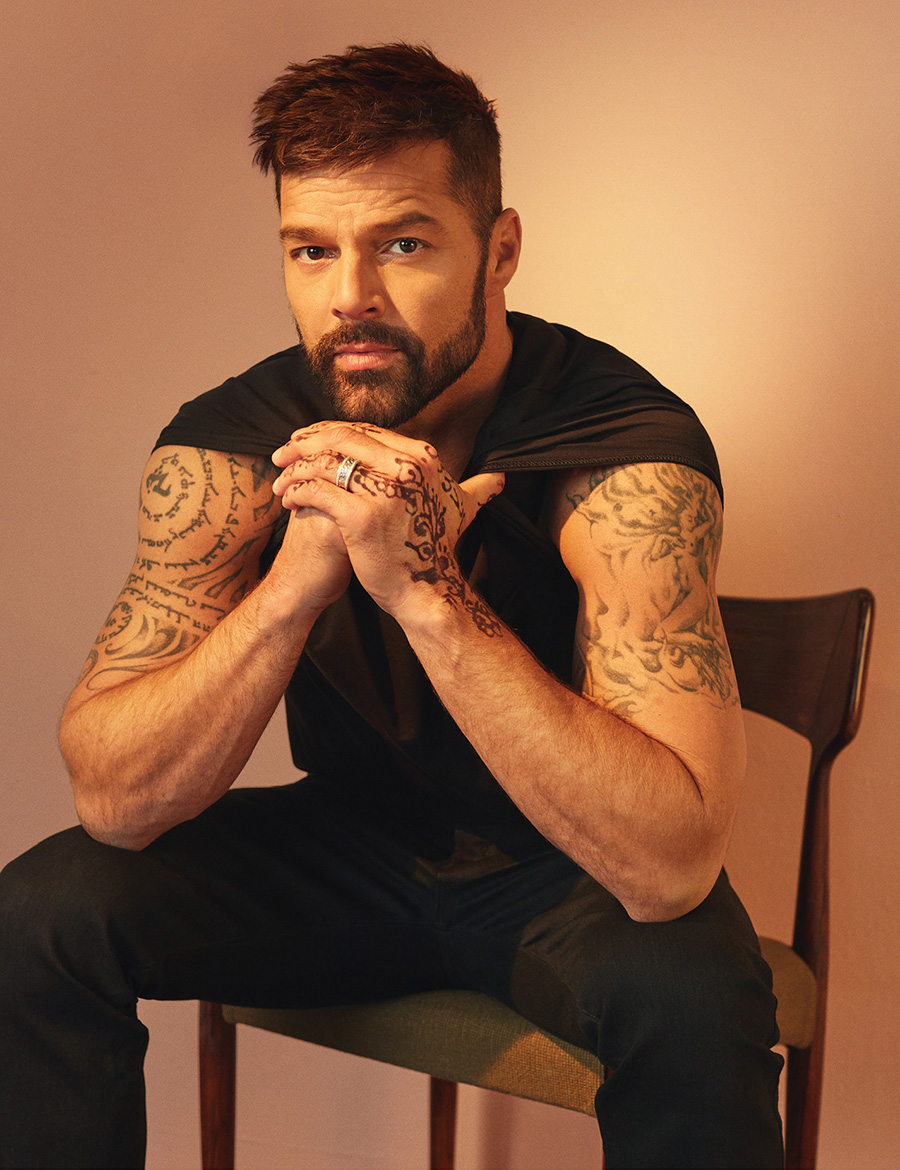 t-shirt by Philipp Plein, jeans by Tom Ford, ring by John Hardy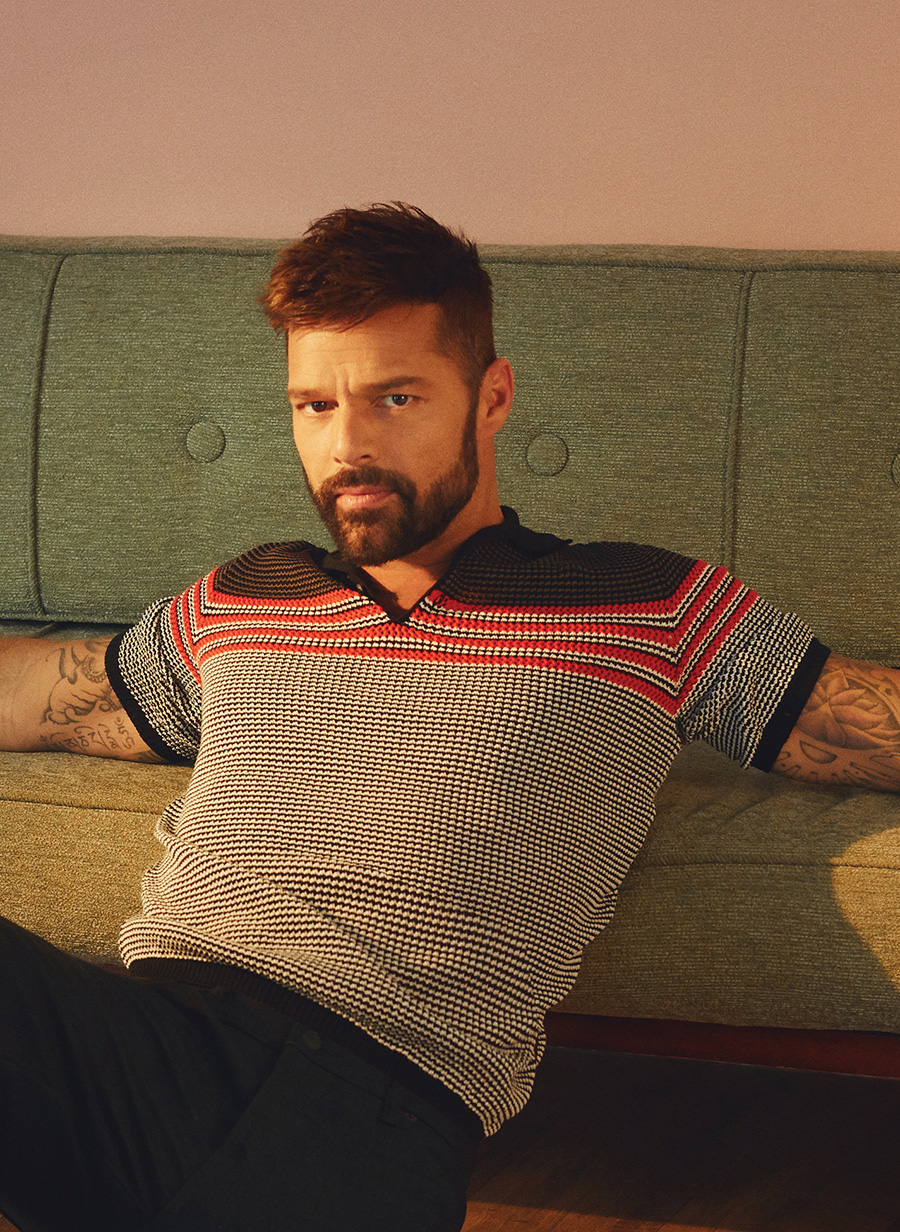 shirt by Ferragamo, jeans by Tom Ford
You recently teased your fans with a new single, "Fiebre", when can we expect a new full length album?
I am thinking hopefully by the beginning of next year, but right now we have been pretty focused on the Vegas show and American Crime Story, which we were shooting for eight months. Today, the record company no longer needs the record out at a very specific time so the artists have more freedom, and if a song is ready then I can just release it. Obviously numbers are important in this industry, but it gives us an idea of what the audience likes or dislikes, and I have never felt more relaxed doing music.
Since you mentioned American Crime Story, how did you become involved and what made you say yes to the story?
A few years ago I had the opportunity to work with Ryan Murphy on an episode of Glee. We've kept in touch and he invited me to dinner to tell me that he thinks he has a role for me. Once I read the script I immediately said yes because it was personal. I knew I wanted to be a part of telling Versace's story. I wanted to remind the viewers the injustice behind what happened. Because it's not how Gianni Versace died, but how we allowed it to happen. What angers me most is that Cunanan was on the FBI's Most Wanted List, living on Miami Beach which is a very small community, but the FBI turned the other way because he was a gay man killing gay men. There is no denying to me that this was really an issue of homophobia. I think we did a great job covering that aspect of the story.
I read that Ryan Murphy wants to give you your own show, any word on that project?
Well he told me about it and then made it public, and I got really excited! We haven't spoken in detail about it because he is transitioning from one network to another and he told me that he will be busy until June, but I'm not in a rush. (laughs) I would love to do something behind the scenes as well. But no, we haven't talked about it yet.
You brought up the issue of homophobia and it made me think of your new music video. "Fiebre" and of course American Crime Story both show you openly embracing your sexuality. After being forced into the closet for so long, how does it feel for you to finally be able to express being gay through your music videos and now your acting roles?
Amazing! If I could go back and come out in the late '90s or early 2000's then I would, because it felt amazing to come out. When I talk to people who are struggling with their identity, I tell them that it may be bumpy for awhile but in the long run the love that I received from my friends, family, from social media…it was spectacular. I know this is not the case for everyone but at the end of the day it is about dignity and self love.
You recently received a Trailblazer award from The LGBT Community Center in NYC, what did receiving that award mean to you?
Well like receiving any award, it is a big responsibility, but at the end of the day I am proud because it lets me talk about where I have been, who I am, and what I did to finally understand my real essence. In my case, I get to share my story. I meet so many people in the streets or on social media who tell me, "Ricky, thank you so much because I know what you went through and I can better understand my gay father, gay uncle, gay brother, lesbian aunt…" and I think it is a beautiful thing and it is important.
I wanted to talk about your husband, artist Jwan Yosef, a bit. You met on Instagram and I was reading you instant messaged for six months before meeting—
Yes! And nothing sexy! It was very romantic. We talked a lot just about our problems and lives. I never even heard his voice until six months later when I went to visit him in London, where he was based. I said to myself, "This is it. I just met the man who I am going to marry." Two years later we were married. He is a great man, he loves my kids, and we have so many things in common.
He is a conceptual painter and I have mad respect and admiration for what he does. When I see him and his creative process… it is so sexy. I just love when he locks himself in his studio and starts creating. I become a fly on the wall, watching him paint and create works of art. I am in love, man, I am so in love.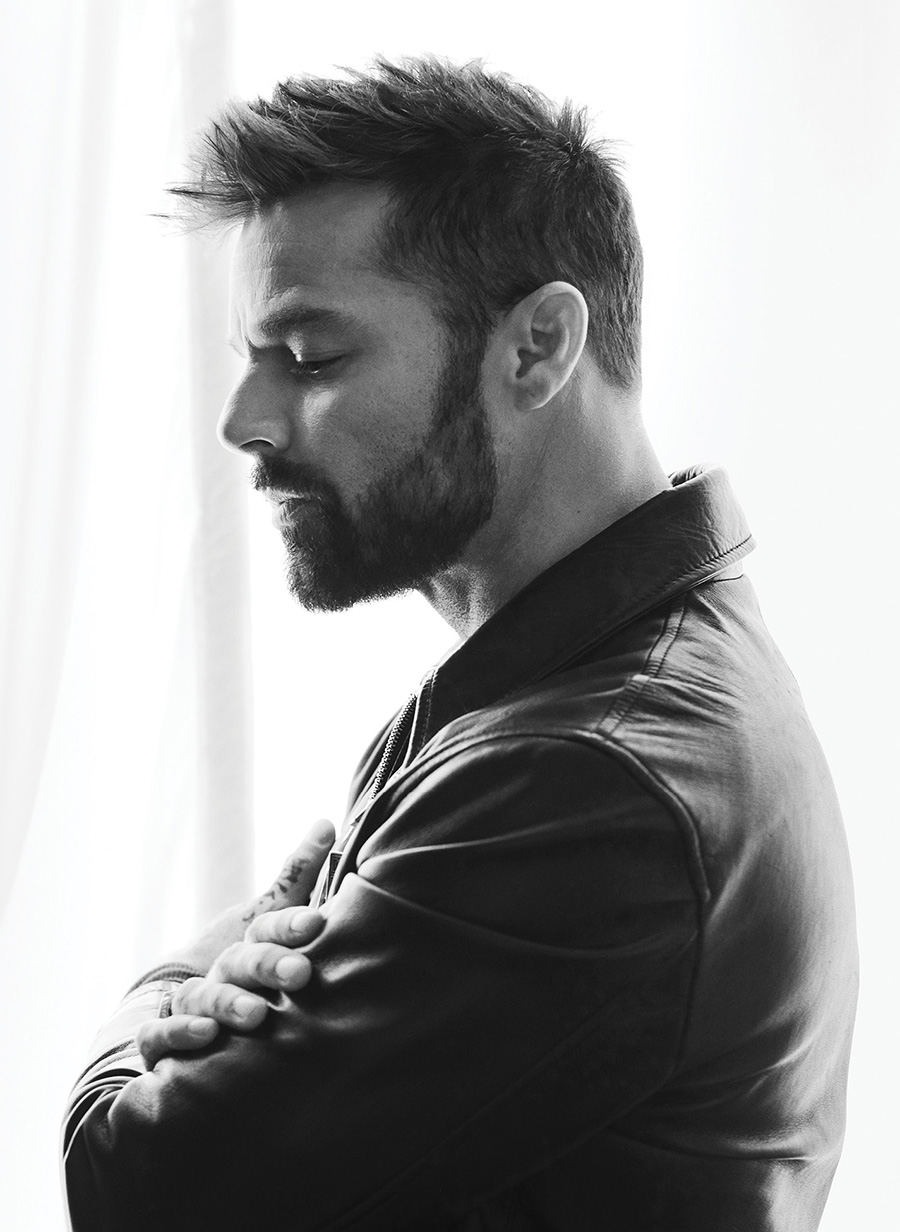 jacket by DSquared2, ring by John Hardy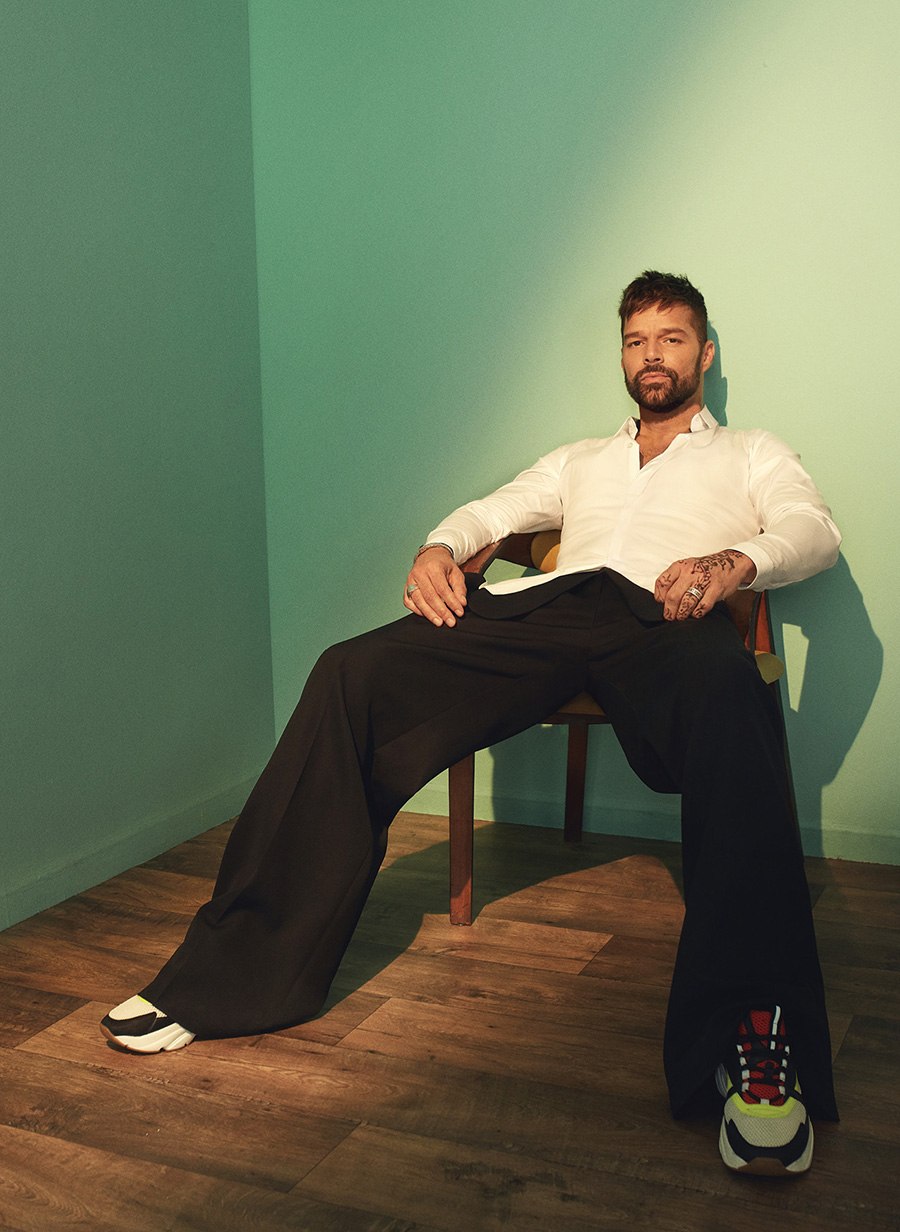 shirt, pants, and sneakers by Dior Homme, rings by John Hardy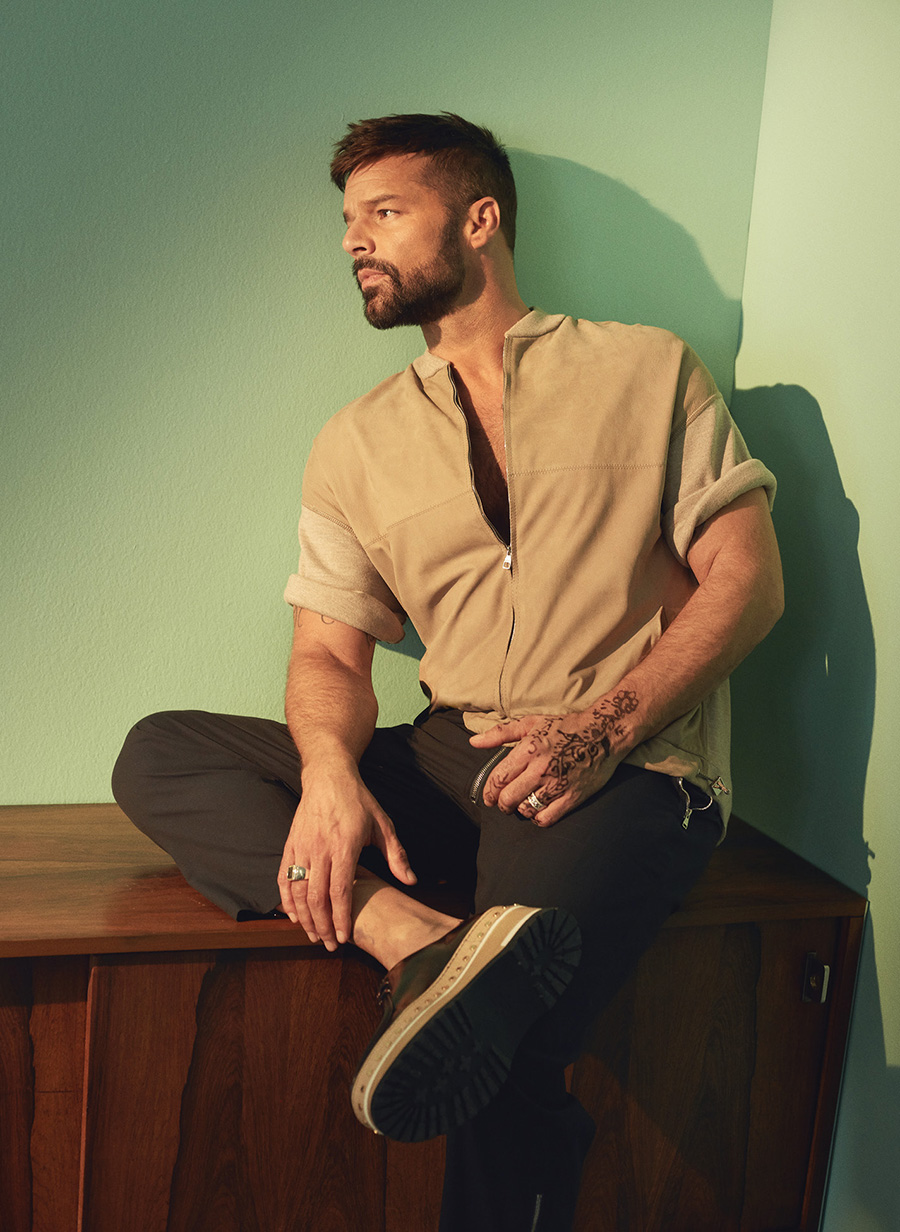 shirt, pants, and shoes by Louis Vuitton, rings by John Hardy
You've mentioned in the past that you want more children, what do you love about being a father and what is the most challenging part of raising twins?
Yes, I want more; I'm just getting started! If it was my decision I would have six more, but Jwan says let's take it one step at a time. (laughs) With kids, and I'm sure every parent out there will say this, but everything is new every day and being a single father with twins was extremely challenging, especially in the first year. No one is sleeping, and it's two against one. Now that they're older it's still two against one, but they are amazing kids and the bonding time over the first year was so important. I took a sabbatical, and I did not accept any help. I wanted to do it all, change every diaper, bathe them everyday, and the relationship I have with my kids… there's just so much love. They are almost 10 years old and this is when dads stop being cool and they start making fun of you! I'm really happy because I'm not there yet with them (laughs).
I'm sure your spirituality plays a big part in your parenting too, what helped you to discover your spirituality?
When we talk about spirituality we go back in time. Religion has nothing to do with spirituality, but I would say that growing up Catholic, even being an altar boy, was too much for me. I kept searching and looking for other philosophies and dogmas to ascribe to. There was a moment where I was obsessed with India and going about four times a year because they call it the "Cradle of Spirituality."Then my kids became my religion. It doesn't matter how late I go to bed, I religiously wake up at 7:00 a.m. everyday to have breakfast with them, and that bonding experience with the three of us is the only way I want to start my day. But once a Catholic, always a Catholic. To this day I sometimes look to God when the boys ask me questions because they ask some really hard questions, and I just want to give them the right answer.
I want to talk about Puerto Rico, from your experience can you give us an update on how the country is doing currently? I know that you were and still are very involved in fundraising after hurricane Maria.
Oh man, well 43% of the island still has no power, and if you go up to the more rural mountain areas, even now nine month later, people still have no power, no running water, and are bathing in the river and using candlelight. It is really frustrating and I wish the federal government would have done more. You have to wonder, if this were any other city in the continental US, would we ever hear that nine months later people have no power? No, I don't think that would happen. But we have to do our part, and Puerto Ricans have experienced a great level of compassion, empathy, and care from volunteers, and the country has become creative and adapted. This too shall pass, but it will take a long time to go back to normal.
Another cause that is close to your heart is bringing awareness to human trafficking, can you explain where this compassion comes from and tell us more about the Ricky Martin Foundation?
With natural disasters like hurricanes for example, the community becomes more vulnerable and human traffickers take advantage. Traffickers come to the island and see all of these people who have lost everything and need money to buy things, and these kids end up selling their bodies or getting forced into pornography.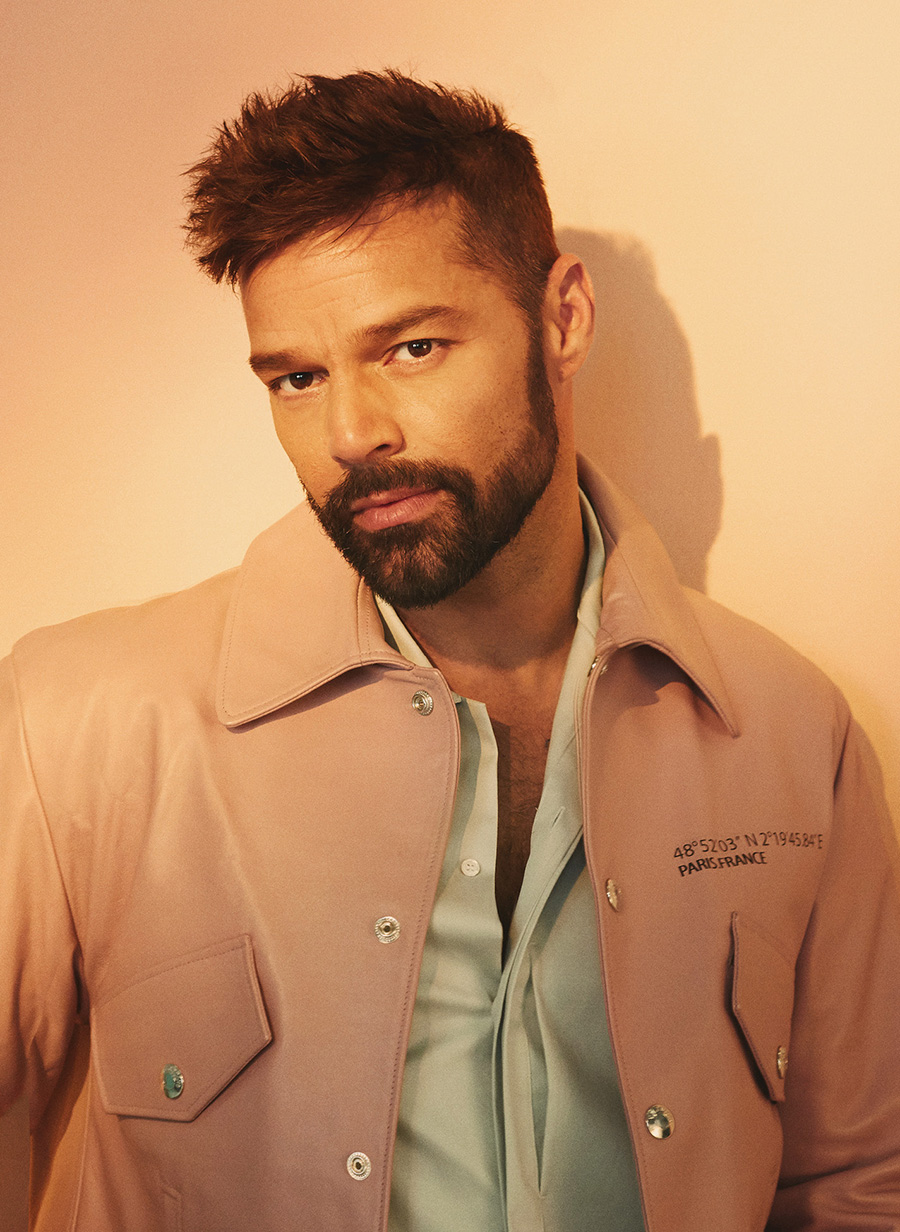 jacket by Valentino, shirt by COS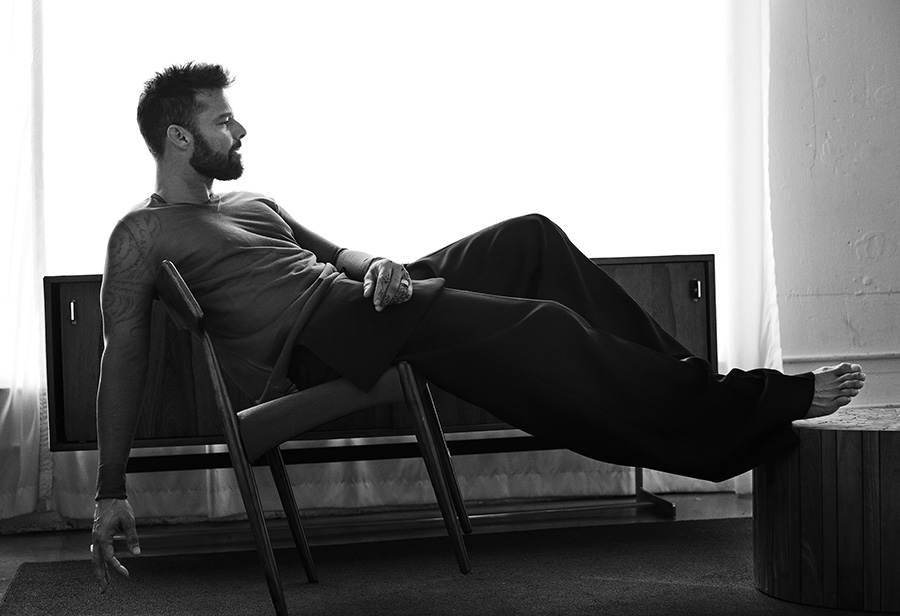 sweater by COS, pants by Dior Homme, rings by John Hardy
How did it first come to your attention?
More than a decade ago a friend of mine was building an orphanage in India, and this was when I was looking for any excuse to go to India. I flew to Calcutta, and he took me to the slums and said, "Come on, let's rescue girls!" I had no idea what this meant, but when I got to the slums he started to point out girls like, "You see those three? They could be forced into prostitution." and I'm standing there like, "What?! What do you mean? That girl must be five and her sister must be eight and her older sister must be eleven" and he says, "Yes, Rick. This is human trafficking. These girls live on the streets and they need money to help their family and they get paid for selling their bodies." I was so astounded and went back home and started to educate myself on the subject. I went to Congress and told them we needed to bring more awareness to this global $150 billion industry. The victims are sex slaves.
Did you know there are more slaves today then back in the slave trade of the 18th century? Today, as soon as you open your computer you could easily fall victim to a criminal persuading you into the world of prostitution.
It's encouraging to hear you are using your platform to educate others of these injustices.
It's not easy. Ten years ago I wanted to stop. I said I couldn't do it anymore because we couldn't keep up. We were working so hard but I felt like I didn't see any change. My mentor looked at me and said, "Ricky, you've got to stop being so arrogant. Who do you think you are? Do you think you will change the world? You're not Superman! How about focusing on saving one life? And one life can become two." We went back and built a holistic center in Puerto Rico in an area affected by trafficking, and right now we have 132 children coming to the center. We are educating them about human trafficking and opening their eyes to the predators. It's a lifetime commitment. We are not going to save everyone, but we will save one person at a time.
What else can we expect from you this year?
I'm getting more prepared as an actor, meeting with great writers, producers, and directors and I think there are some great opportunities on the table. I am so lucky to be at a place where I can pick and choose the projects that speak to me. Aside from still making my music, I really want to jump into acting more and playing amazing roles that can have a positive impact on society. My acting career is very personal to me right now; I am obsessed and don't want to stop!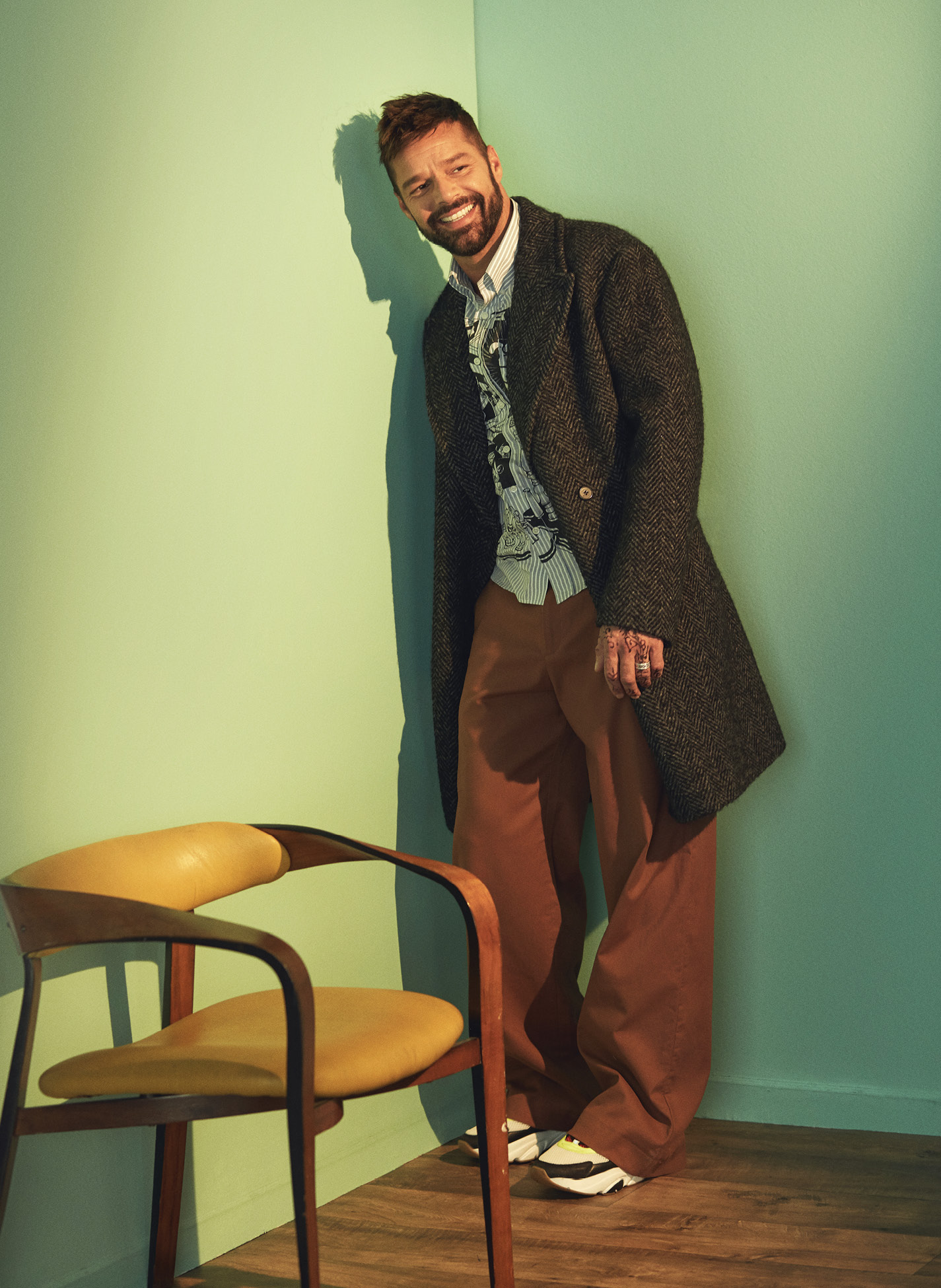 coat and shirt by Prada, pants by COS, sneakers by Dior Homme, ring by John Hardy
Hair by Joey Nieves @ Grey Matter LA using Hanz de Fuko, Makeup by Maital Sabban @ MS Management, BTS Video by Lavoisier Clemente, Photo Assistant Amanda Yanez, Art Direction by Louis Liu, Editor-in-Chief Marc Sifuentes, Production by Benjamin Price