AI WEIWEI
Ai Weiwei's fight for the human rights of others has meant that his own have been jeopardized. Creating work that is both dangerously loud and quietly considered, the artist-activist is a true revolutionary of his time. By using the internet as his soapbox, he has become a global figure for those without a voice.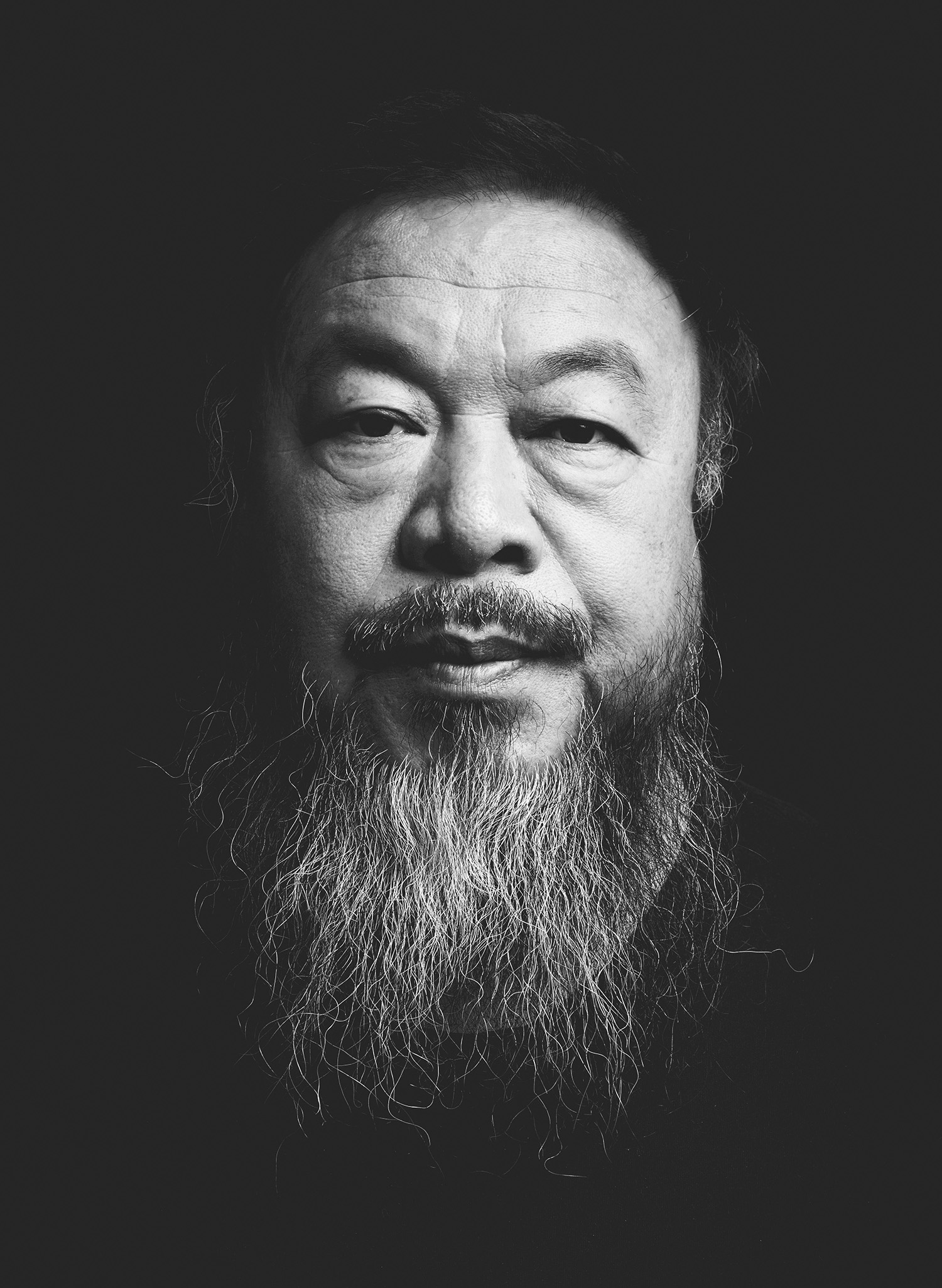 Portrait Photography by Zachary Bako
Essay by Ashleigh Kane
"I consider myself more of a chess player. My opponent makes a move. I make a move. Now I'm waiting for my opponent to make the next move."
This is how Ai Weiwei responded in Never Sorry, the 2012 documentary about his life, when asked how he would describe himself. Aside from a chess player, Weiwei has been called many things; artist, curator, filmmaker, activist, philosophist. Also dissident and criminal. While the Chinese government has gone to extreme measures to stop Weiwei raising his voice, his fellow Chinese people have heralded him as a figure of worship. As have many of us in the wider world. Technically into his third decade as an artist, Weiwei's art became increasingly reactionary and prevalent ten years ago, after he launched a citizen's investigation into the devastating 2008 Sichuan Earthquake.
The tragedy pushed his frustrations with China's oppression, surveillance, and lack of transparency to a boiling point, and he began to create works that questioned the mechanics of the country he called home. Weiwei also found the tension between old and new China fascinating, and the ways in which it denied the advancements of the Western world, particularly the internet – a realm which he has wholeheartedly embraced, and, in turn, has embraced him. Since relocating to Germany in 2015, Weiwei has become most recognised for his work with the ongoing refugee crisis. Seeing no distinction between the artist and the activist, earlier this year he told CBS, "I think artist and activist is the same thing. As artist, you always have to be an activist." When pressed by the interviewer whether one had to be political to be a good artist, he responded, "I think every art, if it's relevant, is political."
A self-described "natural outsider", the seeds of Weiwei's rebellion were planted by his father, the famous poet, denounced traitor and accused 'rightest', Ai Qing. Shortly after Weiwei was born in 1957, Qing, along with his family, was exiled to Heilongjiang, followed by Xinjiang. In 1976, at the end of the Cultural Revolution, the family was allowed to return to Beijing. But Weiwei's growing fascination with art led him to leave his home in 1981 for New York where he attended Parsons School of Design. Inspired by Marcel Duchamp – who said anything can be art – and Joseph Beuys – who said anyone can be an artist – Weiwei's only art show in New York, Old Shoes, Safe Sex, was held at Art Waves gallery in 1988 and featured a series of readymades, such as a trenchcoat with a hole and a condom attached (Safe Sex, 1986). In 1993, his father's incurable illness brought him back to China, after 12 years abroad. Bringing with him the lessons of the artists he'd come to admire.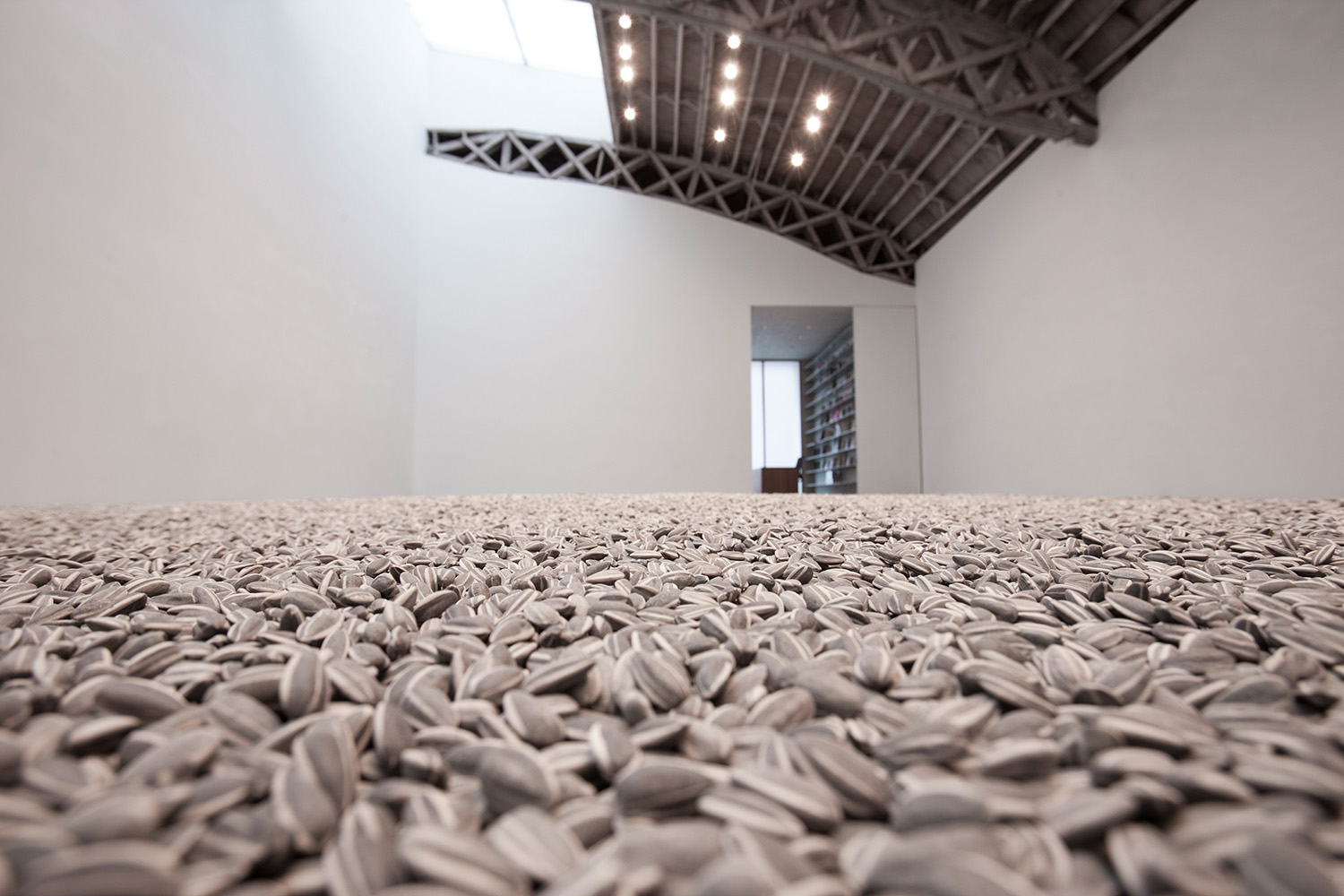 Above: Sunflower Seeds (5 tons) Installation: Mary Boone Gallery, 541 West 24 Street, New York, January 2012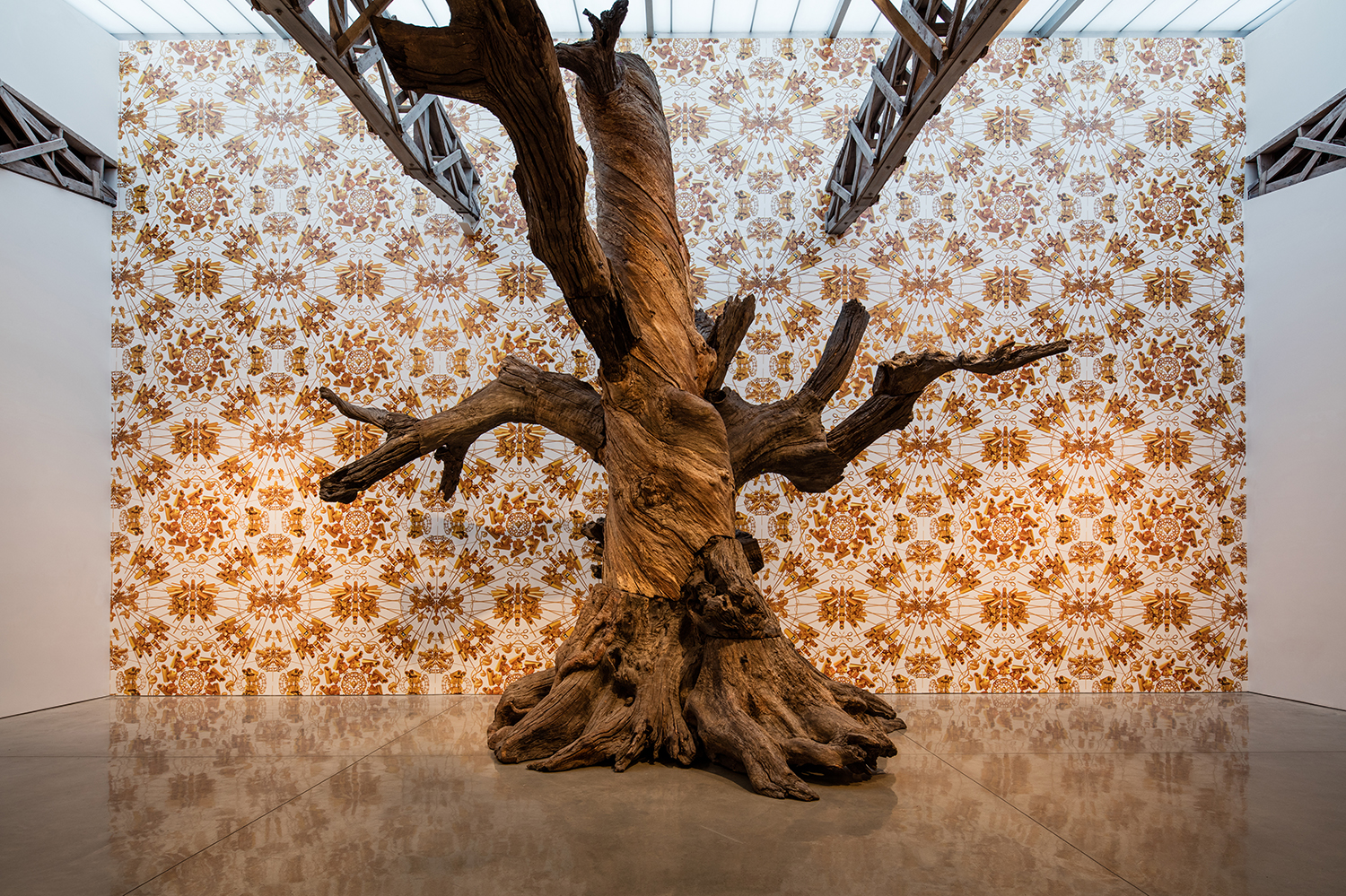 Tree with The Animal That Looks Like a Llama but is Really an Alpaca wallpaper Installation: Mary Boone Gallery, 541 West 24 Street, New York, November 2016.
At home, Weiwei submerged himself in the underground art scene by creating a series of publications which profiled American artists such as Andy Warhol, Barbara Kruger and Jenny Holzer, as well as contemporary Chinese artists. Described as "a free space" where "you could write anything", "Black Cover" (1994), "White Cover" (1995) and "Gray Cover" (1997), were only available through word-of-mouth. In 2000, Weiwei was included in Feng Boyi's exhibition, FUCK OFF – an alternative to the Shanghai Biennale. The show debuted his series, "Study of Perspective" (1995-2010), alongside "Dropping a Han Dynasty Urn" (1995). The latter an early documentation of Weiwei's growing penchant for smashing or modifying Chinese antiques, and one he would continue throughout his career. Such as "Neolithic Vase and Coca-Cola Logo" (2010), which crosses capitalism with a classic cultural relic.
In 2003, Weiwei began work on the Bird's Nest, the stadium for Beijing's 2008 Olympics. But after seeing the impact of the event's looming arrival on local homes and businesses, he became critical of it. In 2008, he was the first prominent Chinese person to oppose the games when he published an article on The Guardian, titled, "Why I'll stay away from the opening ceremony of the Olympics". Three months later, the Sichuan Earthquake struck, killing 70,000 people – 5,000 of them children. Devastated by the government's refusal to release the death toll, Weiwei and his volunteers collected the names and birthdays of all the children who perished and published them on his blog on the tragedy's one-year anniversary. Authorities shut down the platform, but Weiwei found a way to subvert the Great Firewall (of China) – he joined Twitter.
It would be a disservice to Weiwei to think all of his work is overt middle-finger-up, in-your-face art-activism. His 2010 installation, "Sunflower Seeds" (2008), at London's Tate Modern, which included 100 million porcelain sunflower seeds and covered 1000 square meters with a depth of 10cm, shows a more considered side to the artist. The piece, which took two-and-a-half years to create, is a nod to China's conformity and censorship. At a distance, the seeds all look the same, but on closer inspection, viewers will find signs of individuality. "Tree" (2010) is another work that peacefully pushes Weiwei's message. The sculpture is made up of different species of trees. It pays homage market vendors who sell branches, roots and tree trunks as decorative items to be displayed in homes, but a more complex political reading symbolizes the rapid urbanization and economic growth of China.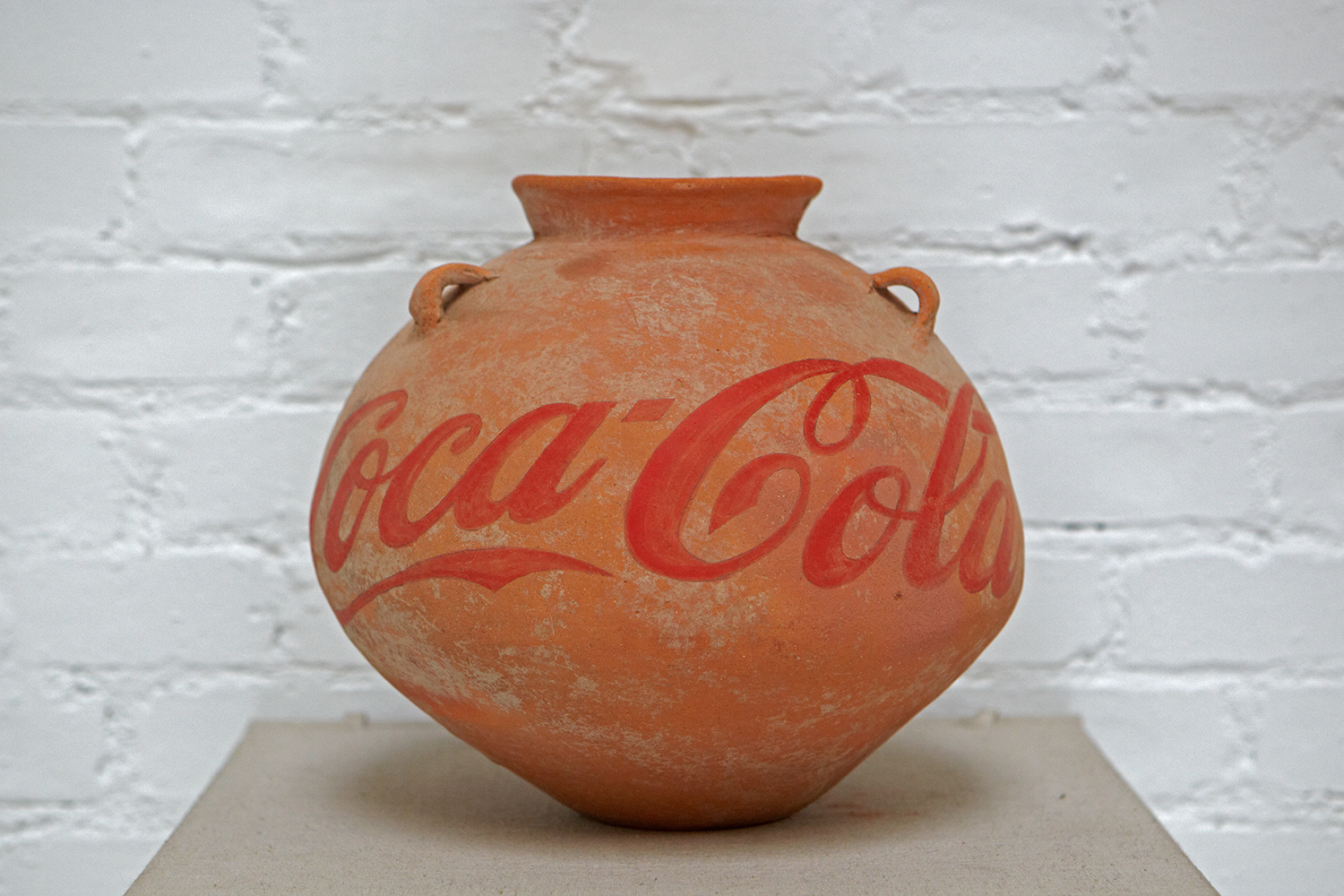 Below: Neolithic Vase with CocaCola Logo, 2010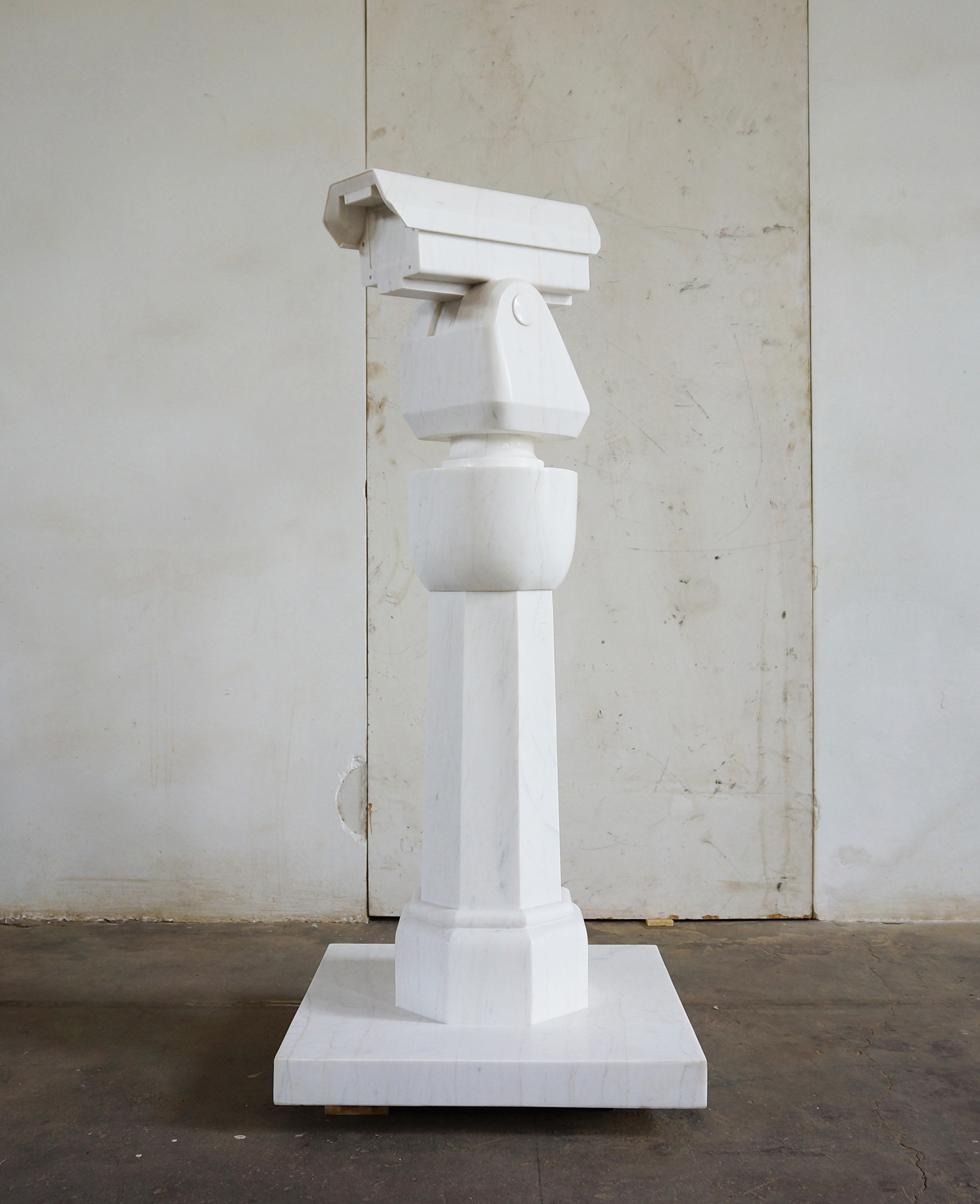 Surveillance Camera and Plinth, 2015
Despite this, no matter the volume of Weiwei's messaging, his refusal to cease making work about his home country led to the Chinese authorities detaining him on 3 April 2011 for 81 days. Initially reported as missing – news which sparked a worldwide #FreeWeiwei campaign – authorities claimed they had arrested the artist on suspicion of tax evasion. While he was never charged or convicted of a crime, Weiwei's passport was confiscated for four years and he was banned from leaving the Beijing for one year. After his release, Chinese authorities installed at least 15 cameras outside of Weiwei's Beijing studio. He retaliated by launching "WeiweiCam", a self-surveillance project which live streamed from within his own house. Later, he would create "Surveillance Camera and Plinth" (2015), a marble reincarnation of the CCTV cameras.
With the return of his passport in 2015, Weiwei relocated to Germany. Initially unsure what his purpose would be in a foreign country, he quickly found his cause; the refugee crisis. Weiwei set to work creating 70 meter sculptures from inflatable life boats ("Law of the Journey", 2017) and building 100 fences and to be displayed in New York ("Good Fences Make Good Neighbors", 2017). He even set up a studio on the Greek island of Lesbos to facilitate his increased artistic output. More recently, Weiwei premiered Human Flow, a documentary which put a face to a crisis which has seen more than 65 million people flee their homes after famine, war and climate change claimed their safety.
Even as one of the most recognisable artists in the world, Weiwei continues to place other people's fight for freedom above his own safety. Like all true revolutionaries of their eras, many have tried to quell his voice and his spirit, only for him to show that no matter how many people, or governments, want to silence him, Weiwei's voice will only get louder.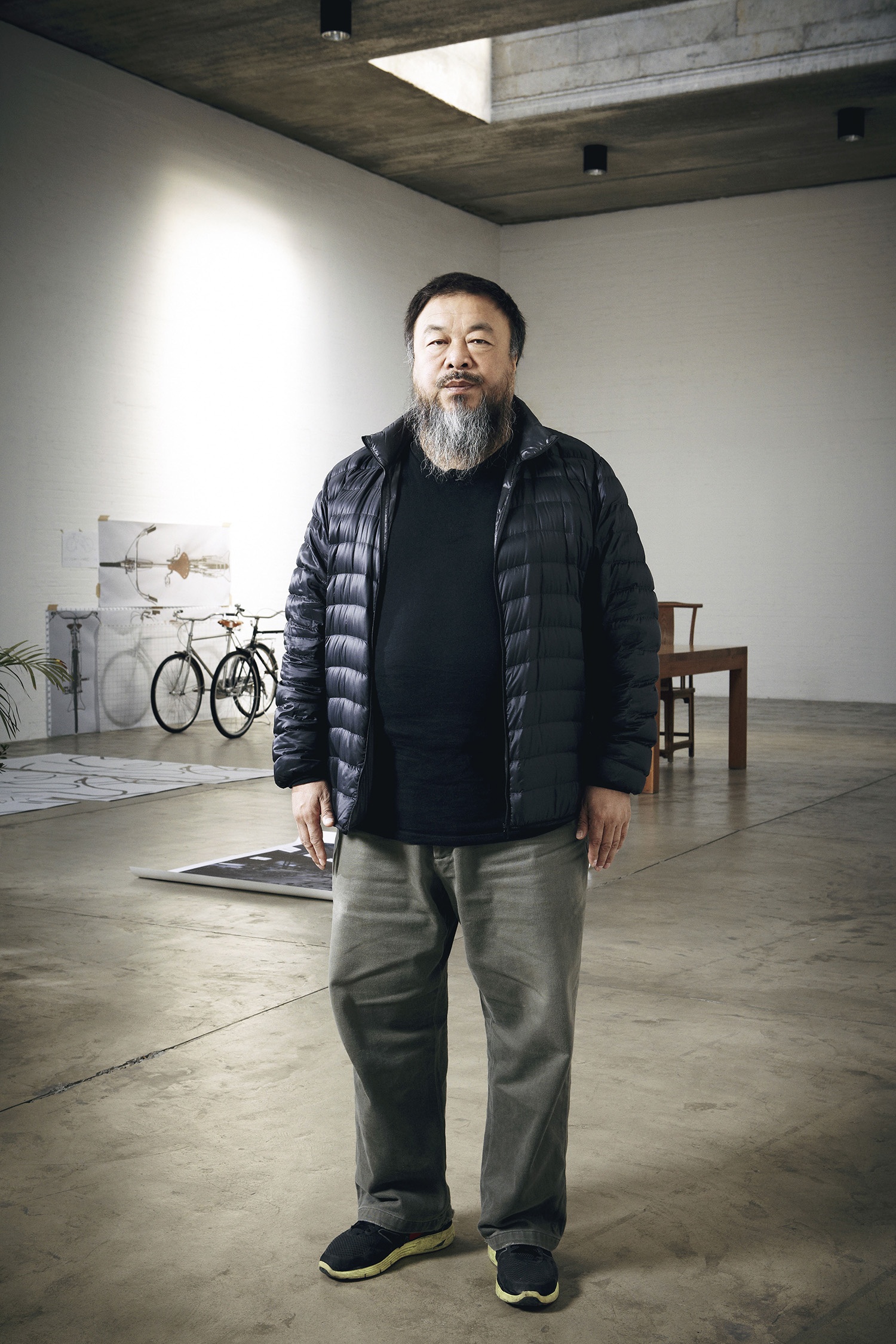 All artwork courtesy of Mary Boone Gallery New York
For more information visit aiweiwei.com | maryboonegallery.com