EXCLUSIVE: EVA LONGORIA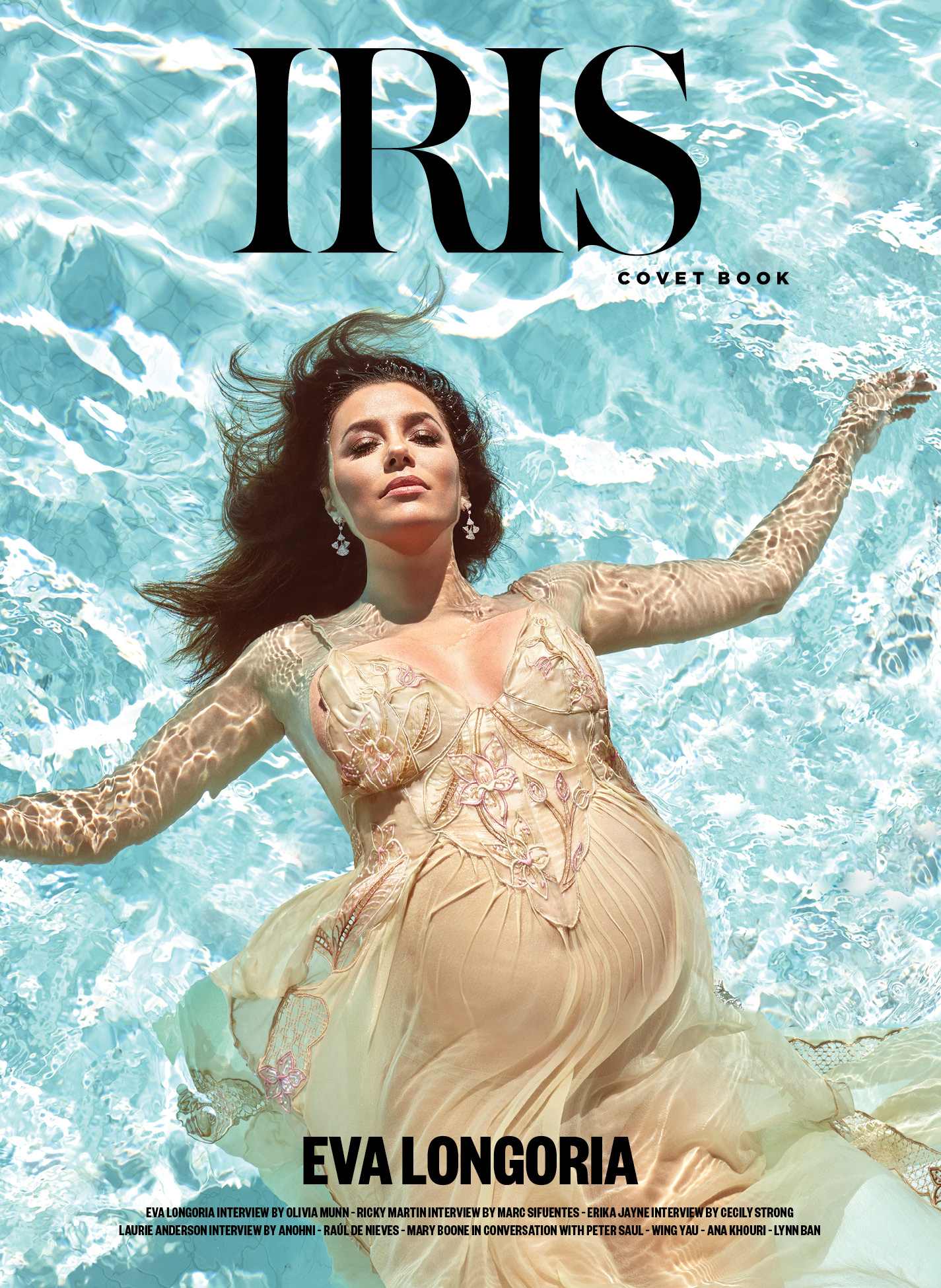 Dress by Helo Rocha, Earrings by Bulgari
Photography by Greg Swales  | Styling by Charlene Roxborough | Interview by Olivia Munn
Inspired by David Hockney's series of pool polaroid collages, Eva Longoria becomes a modern day Venus in the waters of the Waldorf Astoria Beverly Hills as she celebrates the miracle of motherhood.
They say there's no rest for the weary, but Eva Longoria is anything but weary. Co-starring alongside Anna Faris and Eugenio Derbez in the remake of the Goldie Hawn fan-favorite Overboard, producing a new television show entitled The Grand Hotel, throwing her hat into the television directing ring with the ABC hit Blackish, designing an eponymous fashion line, being the face of L'Oreal, championing the Time's Up Movement, and carrying her first child would even make Wonder Woman tired, but Longoria sees no reason to slow down. Amidst these ever unfolding projects, Eva spent an afternoon with Iris Covet Book for an exclusive photoshoot at the Waldorf Astoria Beverly Hills, channeling the glamour of the poolside scenes of Old Hollywood.
Longoria began her career competing in the pageant circuit of her hometown of Corpus Christi, Texas, eventually moving to Los Angeles, playing small roles in daytime TV until landing her big break in the hit television series Desperate Housewives. After eight seasons of success on the ABC show, Eva put her political interest to work by touring across the U.S. with Barack Obama on his re-election campaign, finding a personal and ardent activist voice for immigration reform. Keeping up at marathon pace, Longoria continued her work in Hollywood, while balancing multiple businesses and projects in the world of fashion and restaurants. With her first child on the way, it seems like the perfect time for Longoria to celebrate her many achievements including her greatest one to date, becoming a mother.
Eva has granted Iris Covet Book the exclusive opportunity to document this miraculous moment in her life, her first pregnancy. Interviewed by friend and fellow actress Olivia Munn, Eva Longoria is glowing and glamorous as ever, lounging pool-side in Beverly Hills.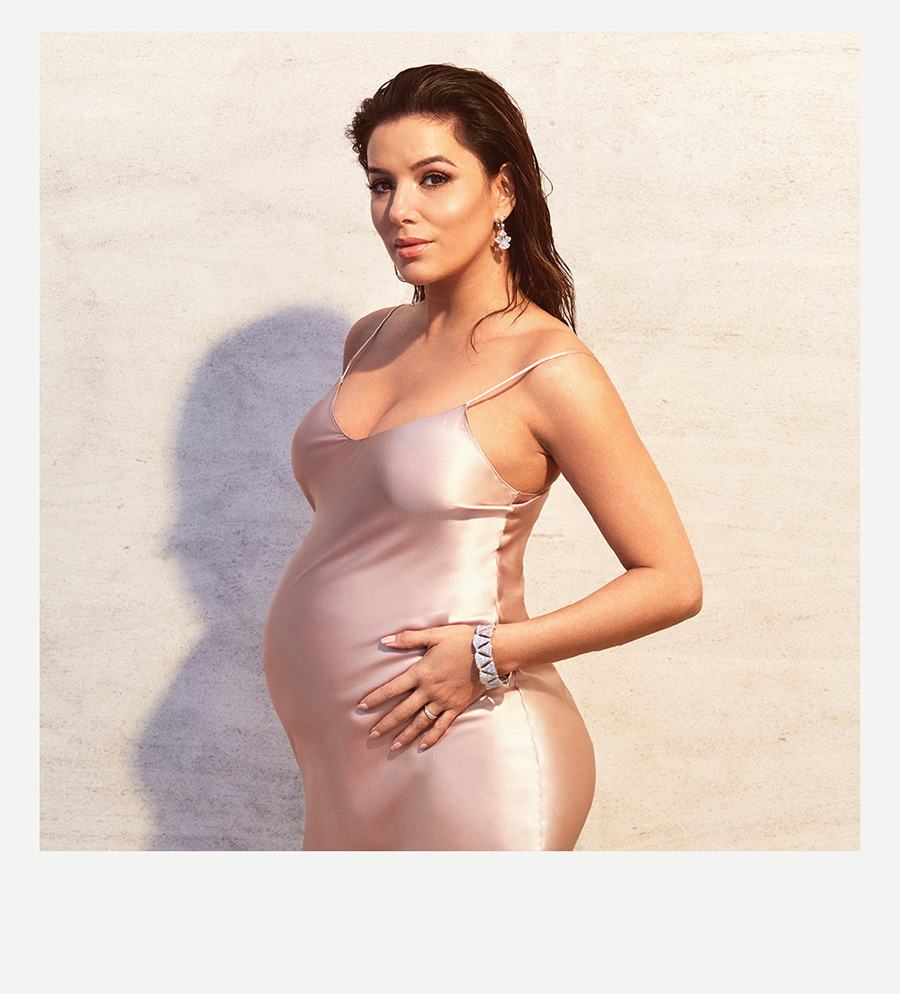 Dress by Nili Lotan, Earrings and Bracelet by Bulgari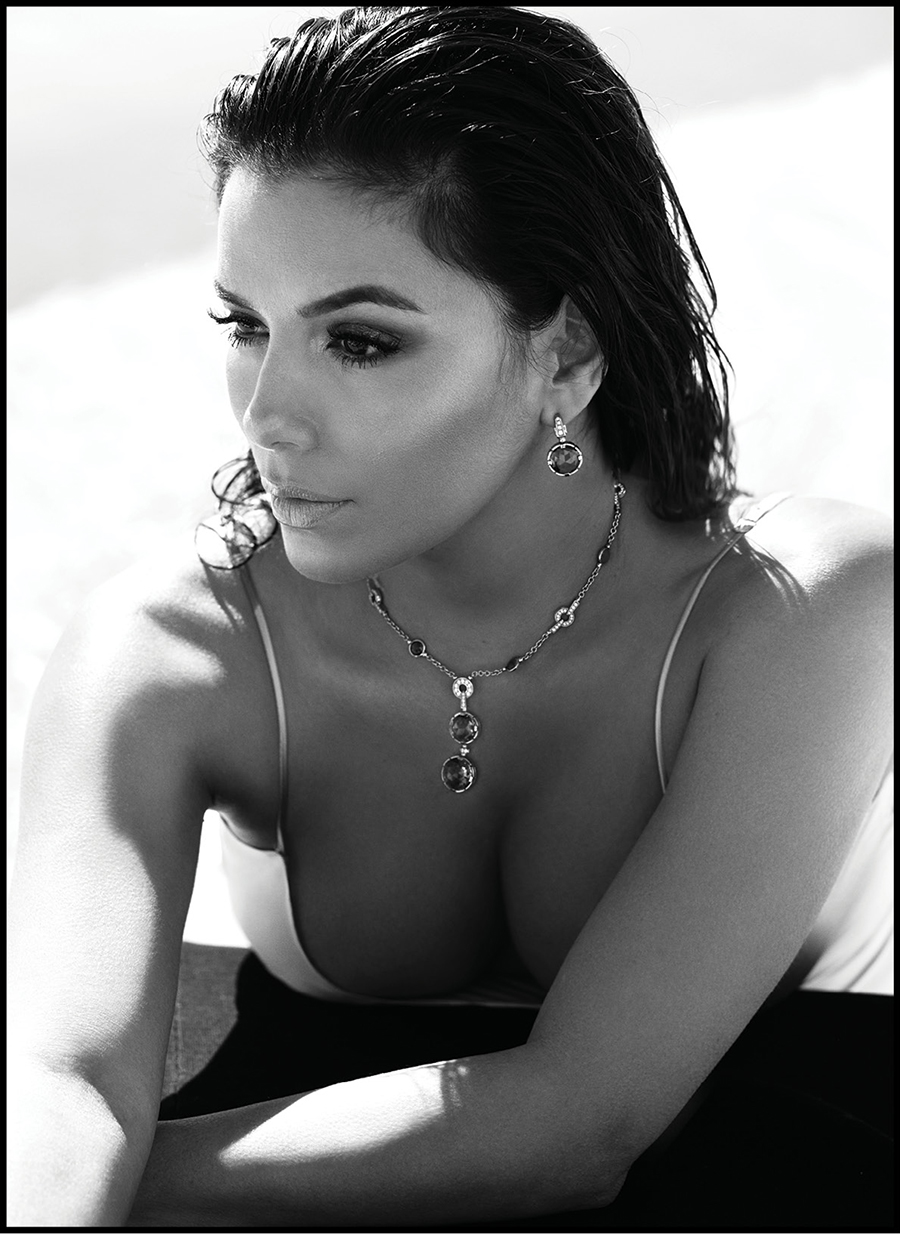 Dress by Nili Lotan, Earrings and Necklace by Bulgari
Hi Eva! It's so funny, I was just thinking about us in Miami because usually women are so tired at the beginning of their pregnancy, but I was the one sleeping all day, and you were staying up with me all night and still getting up early in the mornings! (laughs)
I know, I have it reversed… I am so tired now! I was doing so well and had so much energy, running around directing and producing. Then about a week ago I just hit a wall and now get knocked-out four times a day. This was what everyone was talking about! (laughs)
Have you had to pull back on a lot of your projects? It felt like you had a new show to direct every day.
Yeah, my Hollywood Walk of Fame ceremony was the last official thing I had to do for work, and I have some press for Overboard left to do. I was on the Ellen show the other day and I felt like I was going to fall asleep, like uncontrollable sleep, and I was like, "Ellen, if I fall asleep can you edit around it?" (laughs)
You're growing like literal body parts inside of you and that takes a lot of energy!
Yeah it takes so much energy making a human. (laughs)
So, I heard that the cover story you shot for Iris Covet Book is the only magazine cover you shot while pregnant?
Yes it is!
I cannot believe this is your only magazine shoot while pregnant! Did it feel weird?
It was so awesome and freeing because I didn't have to suck in! You know how it is on a shoot or on the red carpet and you have to suck in and pay attention to your posture? But this time I was just letting it all hang out! (both laugh)
You were telling me that now the dialogue has changed with the paparazzi from when they would take pictures of you before—
Oh yeah! Before I was pregnant, I would just be eating a burger or something and they would write, "Baby Bump Watch!" (laughs) When we found out I was pregnant, my husband Pepe was worried about hiding it, and I said, "It doesn't matter, they say I'm pregnant all the time. It's fine." And then the paparazzi would say "Oh, Eva's getting fat! Eva's overeating!" and I'm like, "No, no, no! Now I'm really pregnant!" (laughs)
One thing I don't think people realize about you is that it's not fun to be around this constant speculation, but you just let it roll off your back and it's so admirable. I have learned a lot from you because of that.
I think I've always been like that. I grew up with three older sisters so I think I developed a thick skin. I read this amazing book called The Four Agreements by Don Miguel Ruiz and one of the agreements is to not take things personally. It stuck out to me because I really never let things get to me. I try not to be affected by a bad audition, not getting the part in a movie, having a bad breakup. I was kind of born optimistic and it was how I grew up. We were a family of four daughters who were all very sharing and loving. My parents always taught me that failure was just another step to success.
I've thought about that a lot, and I was talking to a friend who did not get a role recently and told her what you told me when you had gone out for some big movie and did not get the part, but right after that denial you got Desperate Housewives. At that moment, getting a big movie could have really catapulted your career and it's hard to see that in a positive light. Were you bummed at all or did you just move on?
Well you know I really just forgot about it! Like what part? Which movie? Maybe I'm not that invested! (laughs) But no, I remember when I got that call I said, "Oh, ok no problem!" If it's your role, it's your role. There's no one who can play your role and nobody can take it from you.
Right, that's true. You're just able to roll through so much in life and still look so freaking young! It's so interesting to think of you as a first time mother. You are just so nurturing and it is so weird to think of you as having your first child because I feel like there's no big change. You'll have the baby and keep rolling. Does it feel like a shock to you?
My friends always say the same thing, that I have been a mother to so many in my life. But I'm not freaked out at all, even with all of the other mother's advice and everyone telling me how exhausted I'm going to be and blah blah blah, I'm like… yeah, that sounds about right. There's nothing new that is being said to me or that I haven't already read which…I mean, unless a monkey comes out of me, nothing is really going to shock me! (both laugh)
And even if a little maltese came out of you, you would just say, "Ok, so I had a dog!" and keep on rolling. (both laugh)
Yeah, I'd roll with it! And i'm not saying it is going to be easy because motherhood is never easy, but Im just saying that I'm prepared for the challenges in the greatest way possible.
Is there anything that worries you?
Health always worries me. You just don't know what can happen with their health at any stage of life. From the time of their birth, to walking, to teething, to their first heartbreak. I want to protect my child from everything in the world, but there are certain things you won't be able to.
Honestly, I think one of the best ways to protect your child from heartbreak is picking the right partner and Pepe, your husband, is literally one of the best human beings I have ever met. I love him so much and he is just one of those people who instantly becomes family. I think picking a great father for your child is so important, and your son will have it made with the two of you as his parents.
He really is the greatest human being in the world and he's an amazing dad and husband. We can talk about anything from our day-to-day, politics, world events, or artificial intelligence, but at the same time we can just watch TV and he'll laugh at me when I turn on my crime shows. There couldn't be a better person made for me in the world. He is such a good father, so I already know that he will be a good father to our son. It feels like we've been together forever, but it also feels new and fresh every day.
Speaking of spirituality and being connected to people, how does the experience of being pregnant affect you spiritually, if at all?
It's funny because the minute I got pregnant I wanted to know everything that was happening in my body. Not only physically, like "What to Expect When You're Expecting", but also spiritually. It is the greatest change you can experience, creating another human. My friend, Deepak Chopra, wrote a book about spirituality and pregnancy and it was just what I needed because it takes you through the whole pregnancy journey and what is happening metaphysically, physically, spiritually, what your baby can hear, when he can smell. He spoke about being careful of the images you take in because the baby can absorb fear from even a scary movie, for example.
It's true, the baby is absorbing the energy around you. I read this interesting story about these horses which were the top competitors in all of the horse races and they were clones. The interesting thing is that the horse which was cloned had an incident with a water hose that hit him in the face and from then on he was always afraid of water hoses, and then his clone was born and since birth that clone horse would freak out in the same way whenever he saw a water hose. It raises the question of where our memories lie. People think it is our brain, but it is really in every cell of our body. So it makes sense that your baby is not only absorbing the food and drink but also the energy that is around you and produced by you.
Yes— energy, thoughts, meditation. I was really obsessed from the beginning wondering what is he feeling? What is he hearing? What is he thinking?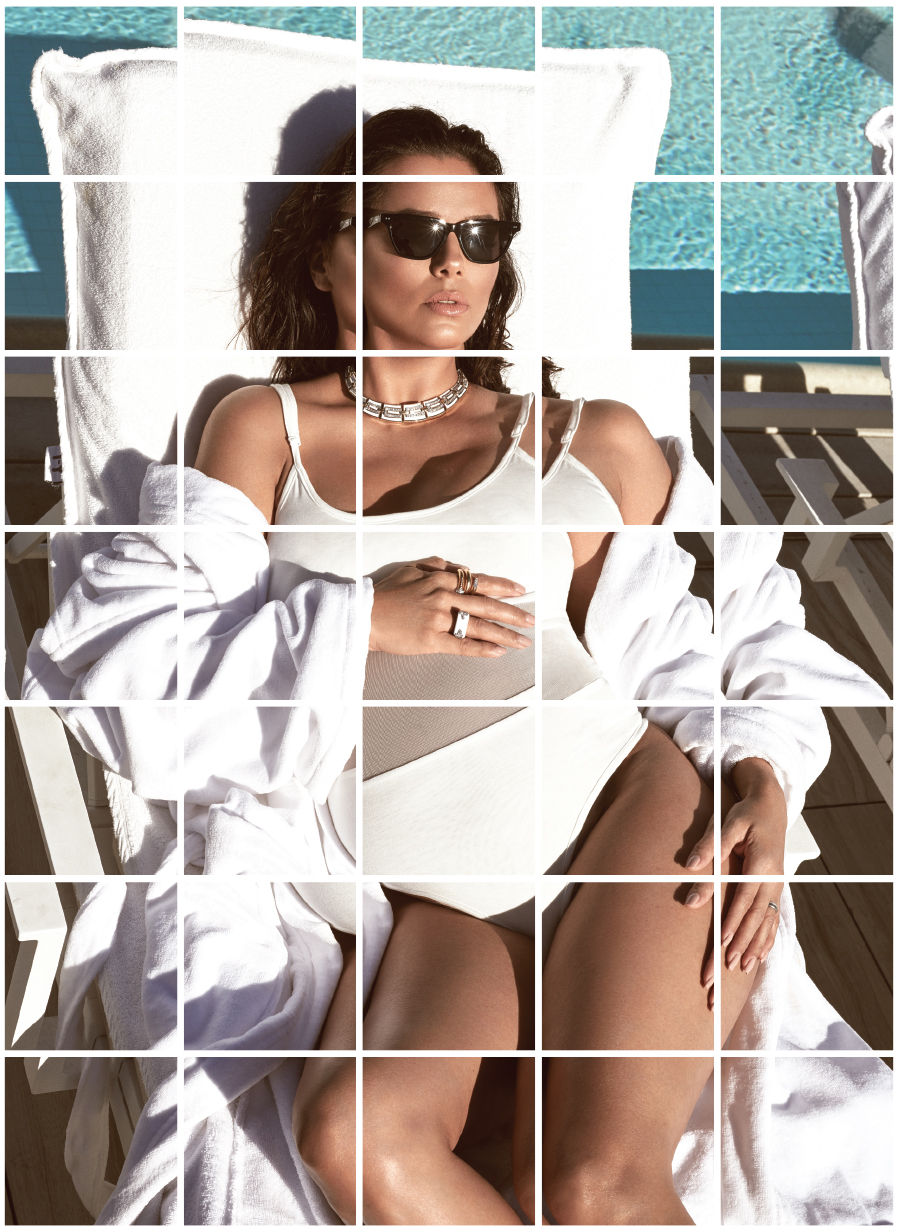 Bodysuit with mesh by Naked Wardrobe, Choker and Rings by David Webb, Robe by Ralph Lauren, Sunglasses by Celine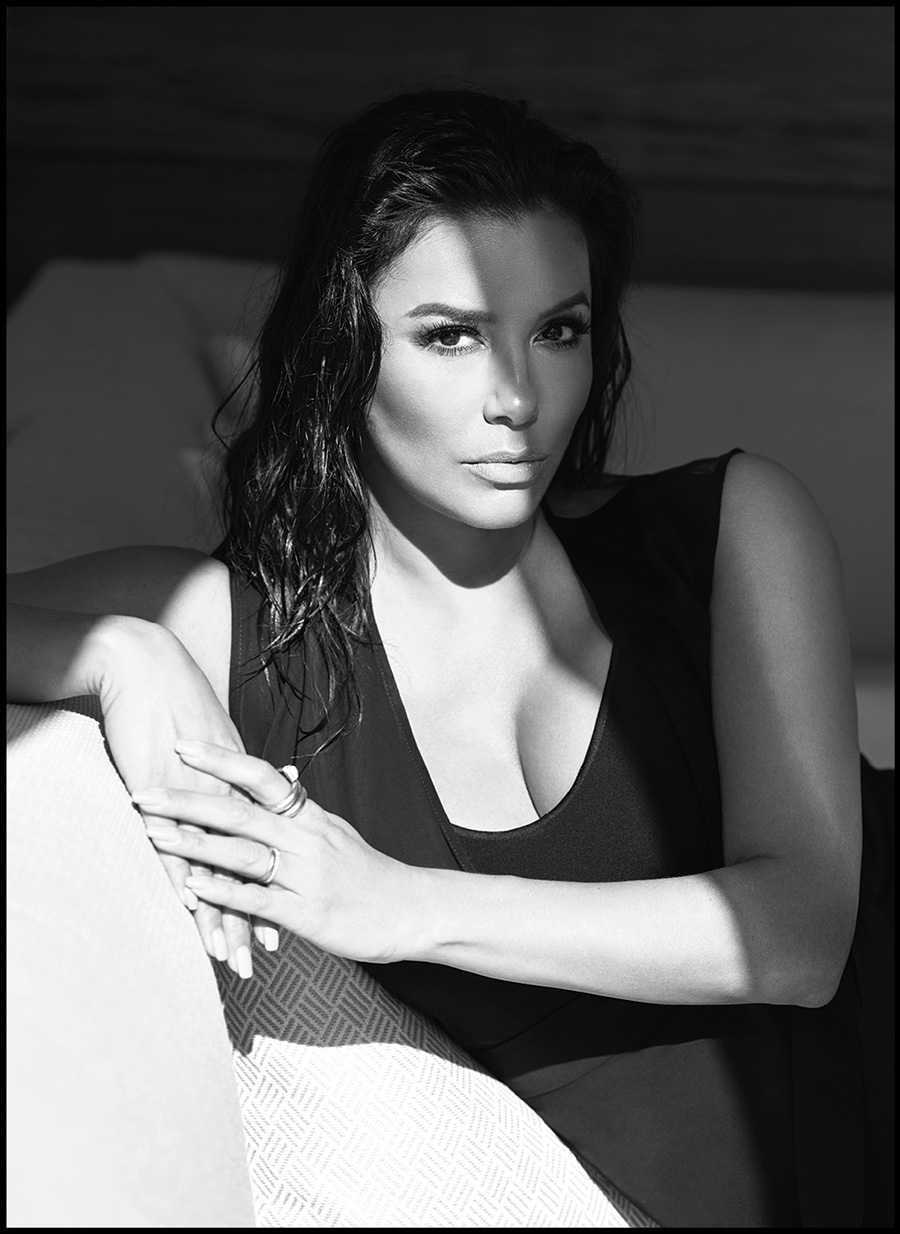 Bodysuit by Wolford, Wrap Dress by Murmur and Ring by David Webb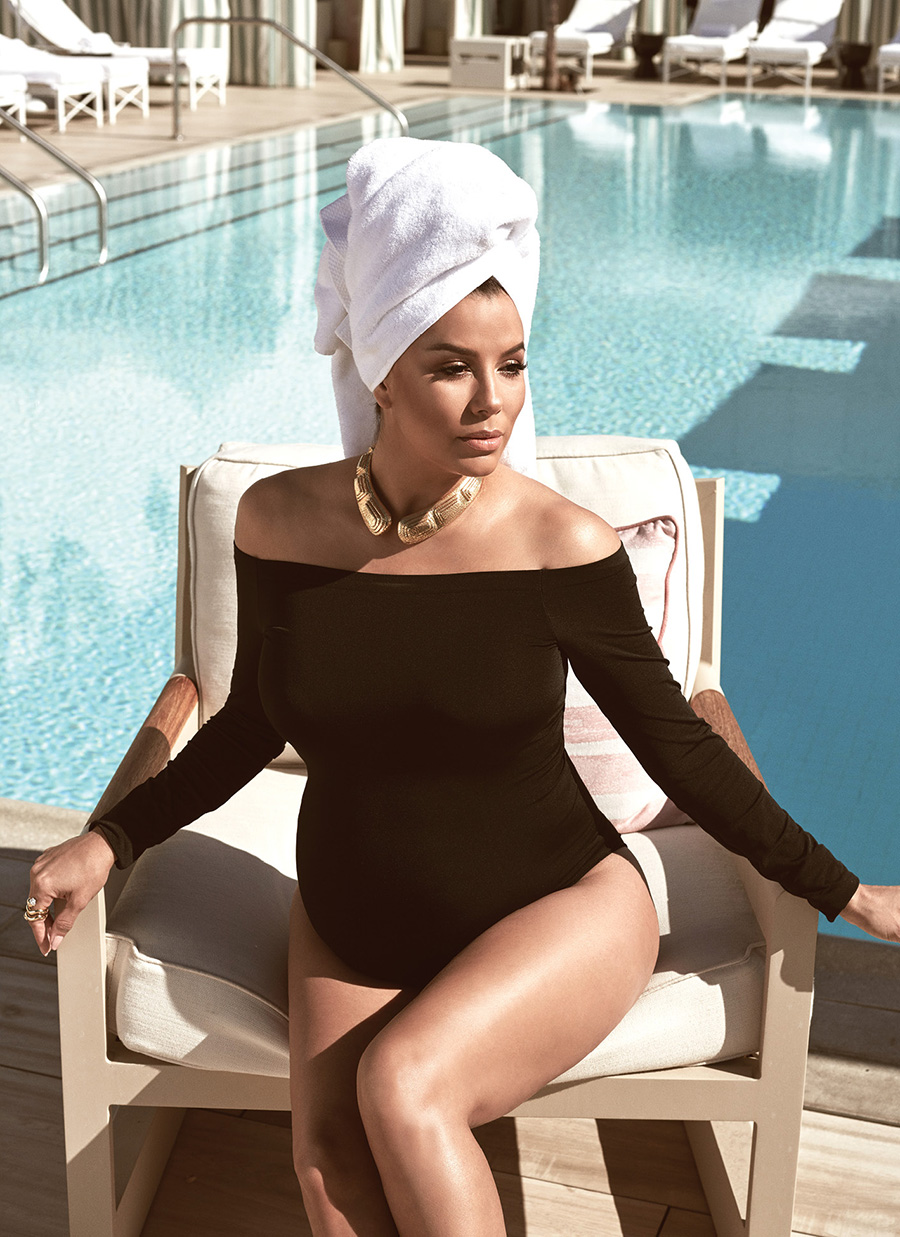 Bodysuit by Wolford, Ring and Necklace by David Webb
I learned a lot about sound therapy and it is really interesting because you can use this sound tool with the baby and it relaxes them, and then whenever they hear it again they instantly go into a state of relaxation.
No way! Well I've been playing meditation music with him and I do aromatherapy. I sleep with an essential oil diffuser with lavender oil at night, but that sound therapy sounds amazing!
To switch gears a bit, you are in the remake of Overboard which is such a beloved and highly anticipated release, is it a lot of pressure on you to work on a new rendition of such a classic movie?
Yeah…well it's funny because I don't have as much pressure as Anna Faris! She ran into Goldie and Kurt and they were like, "We heard you were doing Overboard", and I would have freaked out! But it's different because it's a change in gender and it's a much more contemporary version of the idea. It's current for the time. I don't think you could do the original today due to where we are socially. It's funny, and I am such a big Anna Faris fan. I just think she's a comedy genius. Eugenio Derbez, who is just the biggest Latin star ever, plays a wealthy playboy with a ton of money. It was so much fun shooting with them and playing with them, and seeing the movie was so exciting. People are going to love it!
Oh, I can't wait to watch it! So you've directed the season finale of Blackish which is such a big show. It's such a big deal to direct a season finale, and I know you want to direct more, but do you have a movie that you want to do?
Well I've been offered a couple of movies that I didn't really connect to. I didn't feel like I had a perspective to offer, and as a director I think that's everything. I just love the medium of television, the pace of television, and working with actors who really know their characters. Not too much actor directing or motivation because they really know their role better than you do. So you're really there to create camera choreography and make it better. I'd love to do a feature film, and I've been looking for one, but it's just such a time commitment. You prep for six months, shoot for four months, and edit for a year…so it's really just two years of your life dedicated to one project, one idea. It has to speak to me and I have to have a point of view and something to contribute. There's a relevance and a purpose for a movie to be out there, even if it is just to make people laugh. I haven't found that perfect script for me yet.
You have a project called Grand Hotel which you produced, did you direct as well?
No, I just produced it, but I will be directing if we go to series.
Was it hard to produce it then step back and let someone else take the director's chair?
Well that's why we usually pick a collaborative person, and Ken Olin (This Is Us) is an amazing director and was really perfect for this project. He brought so much to this project and I was excited to work with him, observe him, and have him mentor and teach me. He was so amazing and collaborative, and I asked him all of these questions like, "Why would you put the camera here instead of here? Why would you put the lens here instead of here?" I'm super nosy and curious and not scared to ask questions. So just using that opportunity to learn from someone who has been in the industry for a very long time was invaluable.
I think that is why you can do so many things and do them so well because you are so collaborative. I think the most successful people are some of the nicest and most collaborative, and you really show that with everything you do. You launched your eponymous clothing line in 2016. What have you learned from that process as a designer?
Well I've been sewing since I was seven, so for me it was a natural extension of what I wanted to do in my life. I love clothing, seams, textiles, and garment construction. It was really exciting, but also a completely different language for me. It's a totally different industry and I'm not one of those celebrities who's just like, "Put my name on a label! Look at my shirt!" I really wanted to get into the process, not just design, but everything from sourcing to design to marketing. It's different press, different events, and the fashion world is its own animal. To jump in and navigate that was definitely challenging but so exciting because it challenged me in a different way then acting, producing or directing.
And I had no idea that you had a Master's degree in Chicano studies. How did you have the time to get a Master's degree!?
When I started it I was on Desperate Housewives and we were the #1 show in the world, and I was going to night school… it was crazy. It stressed me out, overwhelmed me, and I didn't want the news to get to the press in case I didn't finish. I was just taking classes, but the press found out and I was like, "Great, now I have to finish!" (laughs)
So were you in a private class or being taught with other students?
Yeah I was with other students, but they were graduate courses so they were smaller classes. I was with all these 22 year-olds who were way smarter than me! I'm sure people thought I would be the intimidating one, like a big star coming in, but it was the other way around. I walked in and they were like, "So, the Oedipus theory is applicable to…" and I was like, "Wait? I'm sorry…what is that…?" (laughs)
You know, it is so interesting what your intuition can pull you towards, like when I saw you give your speech at the DNC which was so eloquent and so articulate and smart and thought-provoking and it makes sense because all of those things that you spoke about were so powerful not just to the Latino community but to minorities in general. As an Asian-American, I felt that it connected us all whether going through those experiences or not.
I loved that time of my life because Desperate Housewives had ended and I was focusing all of my time on getting Obama re-elected, and so I spent eight months on the road with him and the campaign. People don't realize how hard it is to be President because the states are all so different. We are so lucky to live in such a diverse country, but to unite all of those states is such a challenge because of our different needs and values. Just to travel the country and listen to all of these people was such a lesson in and of itself. I encourage it on a global level to reach across our state and country borders to learn about each other. I wish everyone could do what I did and listen to the people and hear their differences, but yet realize that we are all Americans and have that commonality.
We are all human beings and we are all trying to do our best, but we live in a time where people are being specifically targeted. Specifically, the Latin community. When you spoke at the DNC you did not mince words on your stance on immigration, and now we are forced to deal with the attack on DACA, The Dreamers and deportation. It makes me wonder if you have any advice you would give to young people who may be facing this reality?
There are so many things we can do to help The Dreamers who are great citizens, have a lot to contribute, and have been contributing with no criminal history. There are many great organizations, and a lot of progress is done locally on a state level. I know this is a national topic that has been on the administration's agenda for many many decades, but a lot of these rules, regulations, and policies are on a state level—so figuring out what you can do locally is very important.
What's interesting to me is that you are so busy and are doing so many things but you are also a huge philanthropist and activist. We are in such an amazing time in our world right now with the Time's Up Movement and women's rights being up front and center. What do you think is next for gender equality, and how do we keep pushing forward so justice continues on for future generations?
I think that's it. We have to keep putting on pressure. There's the private sector and the public sector, and in the private sector you can hold people accountable and create change in your industry. We started the Time's Up movement in our industry, but it is not for actors, it is for all women in every industry to make sure men and women have a safe work environment. And something like that should be guaranteed and should be a no-brainer. Everyone should have a safe work environment. That's when you should approach the problem through many aspects whether it is through legislation like equal pay, a pipeline for leadership from more women, and then there are just so many things we have to work for in the interest of gender equality. There are so many systematic barriers which have been ingrained, subconscious biases that people never see, and just getting our stories out and hearing women's side is game-changing.
Allowing other people to tell their story and listen and be outraged, and whether you love this person or this actor, it doesn't matter. People that you love can have dark and disappointing sides, and the line needs to be drawn.
Out of all of the hats you wear—from acting, directing, producing, designing, philanthropy—which do you connect to the most and which gives you the most excitement?
Definitely my family and friends give me the most excitement. You would think it would be my job, but there are so many adventures, so many great things in our life that happen to us, and if you can't share that with your family and friends then none of it matters!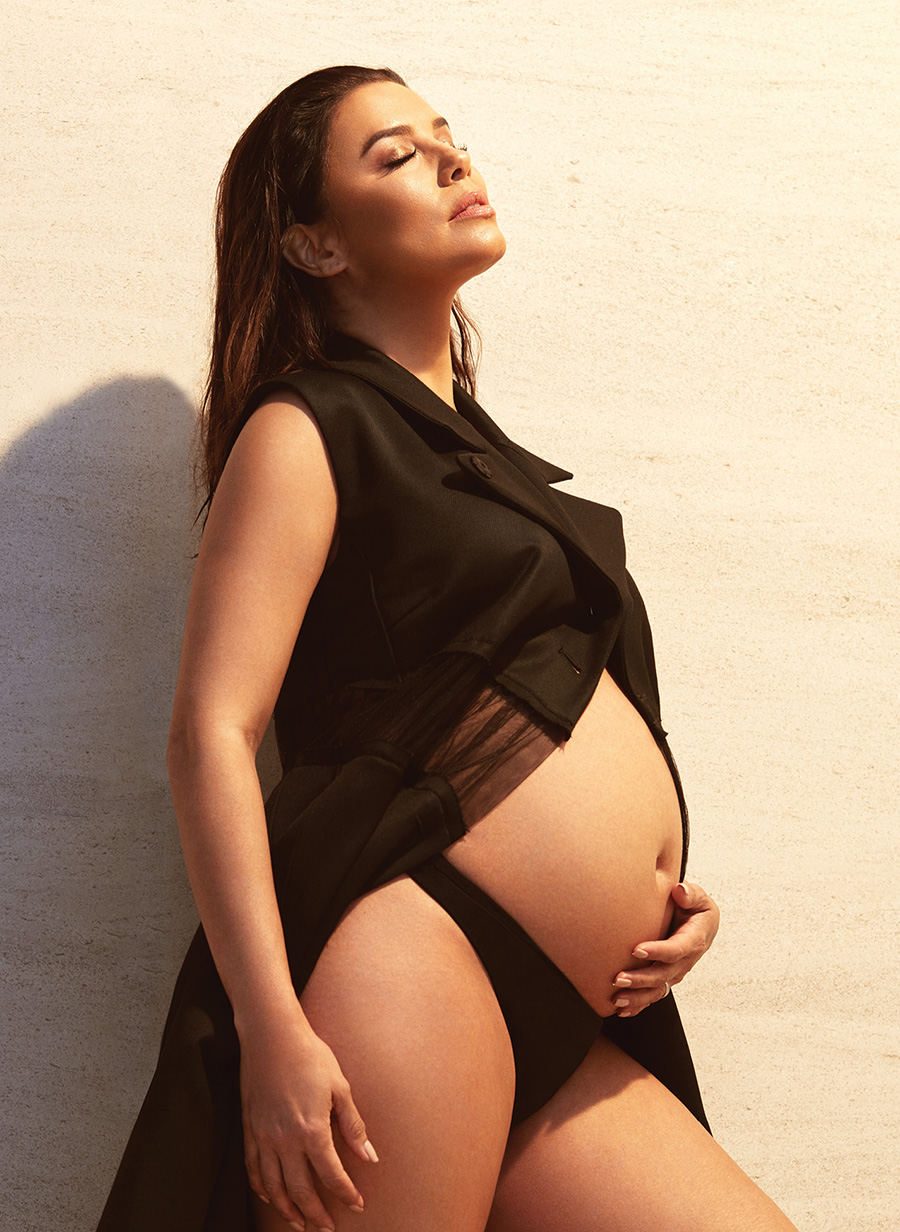 Vest by Maison Martin Margiela, Bottoms by Wolford
Hair by Ken Paves, Makeup by Elan Bongiorno @ Rouge Artists using Tatcha, BTS Video by Lavoisier Clemente, Photo Assistant Amanda Yanez, Art Direction by Louis Liu, Editor-in-Chief Marc Sifuentes, Production Assistant Benjamin Price, Special Thanks to Waldorf Astoria Beverly Hills, Christina Vu, Kendal Hurley of Ballantines PR, Liza Anderson and Whitney Peterson of Anderson Group PR, Marcel Pariseau of True PR