IRIS VAN HERPEN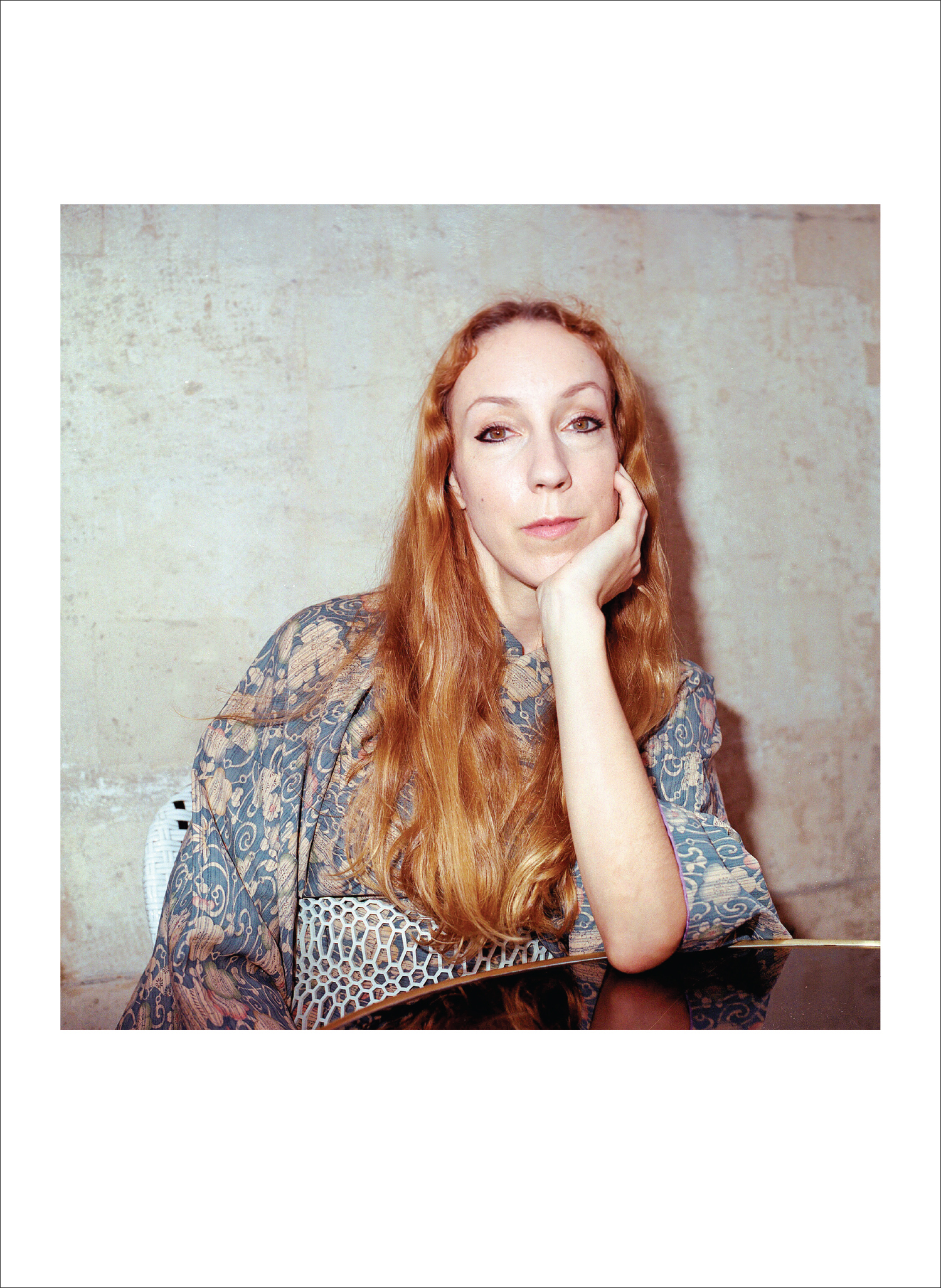 Iris Van Herpen, Paris, France, 2017
At the intersection of science, art, heritage craft, and fashion lies a singular point, the inimitable and pioneering couturier, Iris Van Herpen. Known for seamlessly blending lazer-cut fabrics, 3-D printing technology, cutting edge fabrics, and haute couture hand-work, Van Herpen's work is a summation of the old world and the new.
Photography by Maya Fuhr @ The Canvas Agency | Interview by Benjamin Price
All clothing (not including models' own) Iris Van Herpen Couture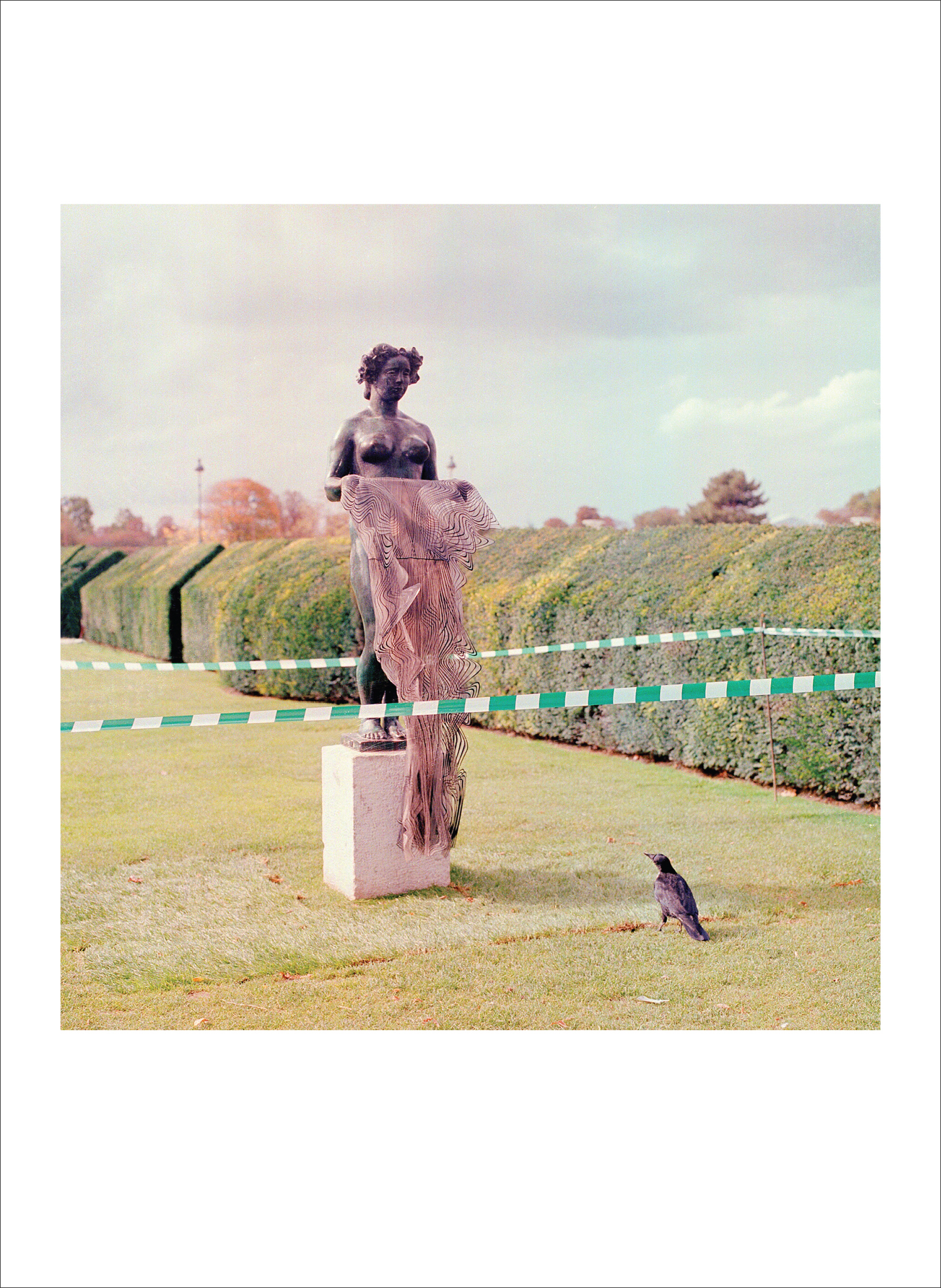 Untitled I, Paris France, 2017
Amid the canals and stone-paved streets of Amsterdam lies a haute couture atelier led by a woman who is equal parts scientist, architect, artist, dancer, and designer. Iris Van Herpen sits at the helm, diving deep into different multi-disciplinary worlds to push fashion design further into the future. She is known as one of the most innovative and pioneering fashion designers in the world. Through her experimentation with different materials and collaborations, Van Herpen has created fantastic, awe-inspiring pieces that have defied previous ideas of what fashion can be.
At first glance, Van Herpen's iconic designs look like sinuous creatures from mysterious planets, chemical reactions, waterfalls frozen in time, and skins of unknown species – but in reality they are the results of copious research, experimentation, and countless hours of handwork. The fusion of technology and heritage craft work is what makes Van Herpen's designs so unique. From the initial research stage to the fashion show presentations, every iota of information is explored and disseminated to produce magical worlds that hold a mirror to our own reality of climate change, space travel, and the global stage.
Iris sat down with me, thousands of miles away in her studio, speaking through a computer screen – our conversation punctuated by the atelier cat running across the keyboard. The studio team draped, melted, 3D printed, and slice through materials for the upcoming couture collection in the background. Here is our exclusive interview with Iris Van Herpen and Iris Covet Book.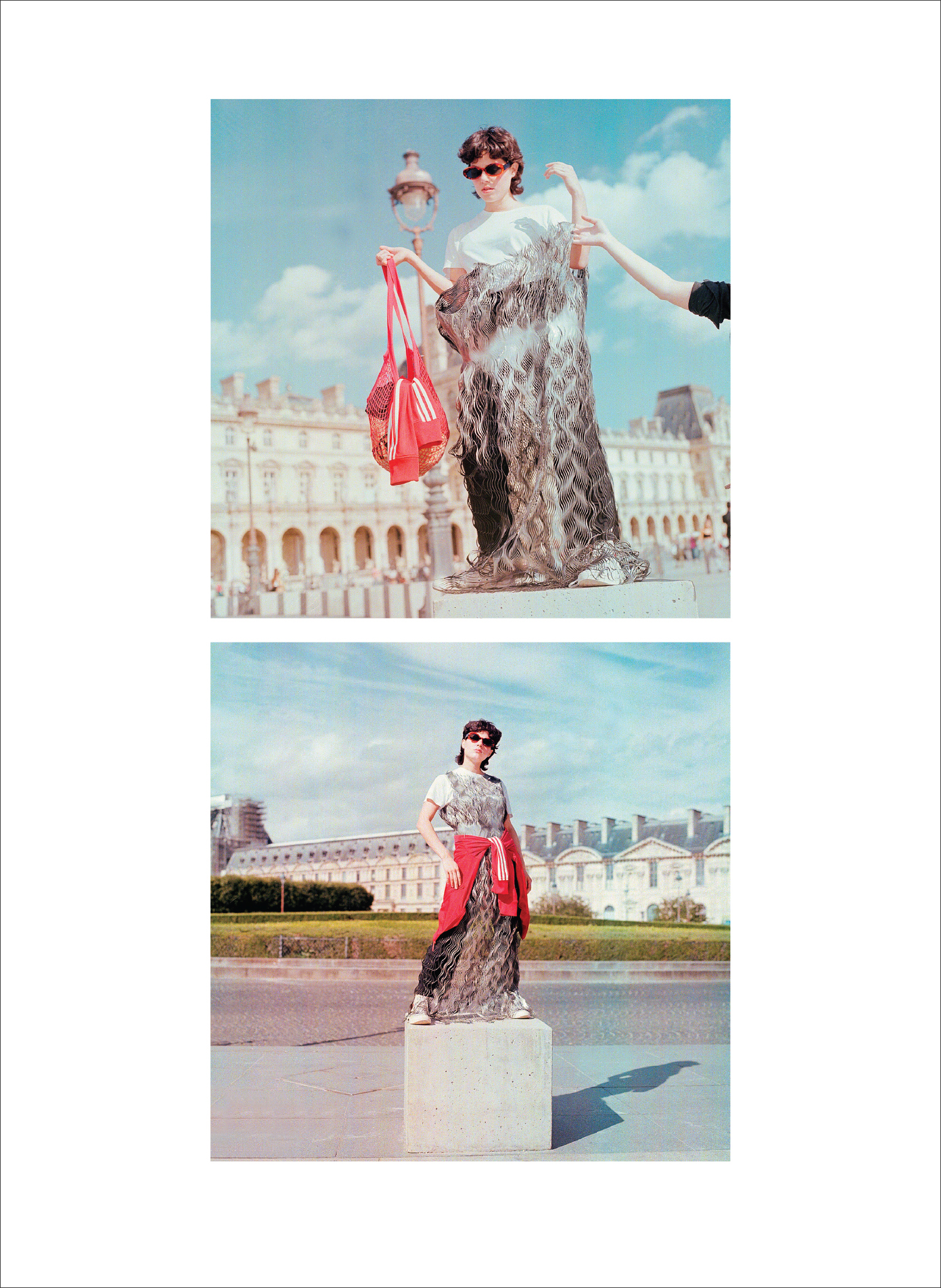 Guadalupe, Paris, France, 2017
What does a typical day look like in the Iris Van Herpen studios?
It really depends on what we are working on… right now we are working on the new collection. There is a lot of experimenting and creating with new materials. I'm a bit in-between my own space where I do design work, guide the process, and give feedback to the team, then going to meetings with different collaborators for certain projects. The atelier is filled with people with fashion backgrounds and people from other disciplines.
I was going to ask if you have sculptors, plaster specialists, or mold-makers in studio. Traditional fashion labels have a lot of draping and patternmaking, but I was wondering if there are physicists and artists, etc…
I work with people outside of the fashion world a lot such as architects, scientists, or other artists. It is sort of spontaneous. I won't have them here all the time; it's a day here and a day there with different disciplines, and sometimes I will go to their studio.
In the past, what has been one of your most fruitful collaborations?
One that is very special to me is my work with Philip Beesley who is an architect and artist from Toronto, and I've been working with him for four or five years now. Our process has become very intertwined… like a friendship. He's always exploring with his team, and we share a lot of the process and experimentation together. If I find a new material, then I'll send it to him and the other way around. So, it's really like a collective intelligence there, which is a nice way of sharing. On a much more personal level, I would say that my work with choreographer Benjamin Millepied was special because I come from a dance background. I found huge inspiration in the work he does and the way he works; it was very special to see our worlds coming together.
Looking at your designs, your earlier work specifically, it appears like there is conflict between movement and form. How does your understanding and love of movement and the materiality that you're using work together?
Well, dance is where I learned how to transform my own body, but also how to use the space around me. In the early years, I was questioning not only how to design for the body, but also discovering the space around it and how it can be transformed. That was like principal research, which I'm still doing, but it became more sentimental along the way – maybe because dance is still part of my work, but it has grown bigger with art, architecture, and even scientific collaboration. I have just expanded my focus, and therefore become more reliant on the materials I use to express the relationship between body and space.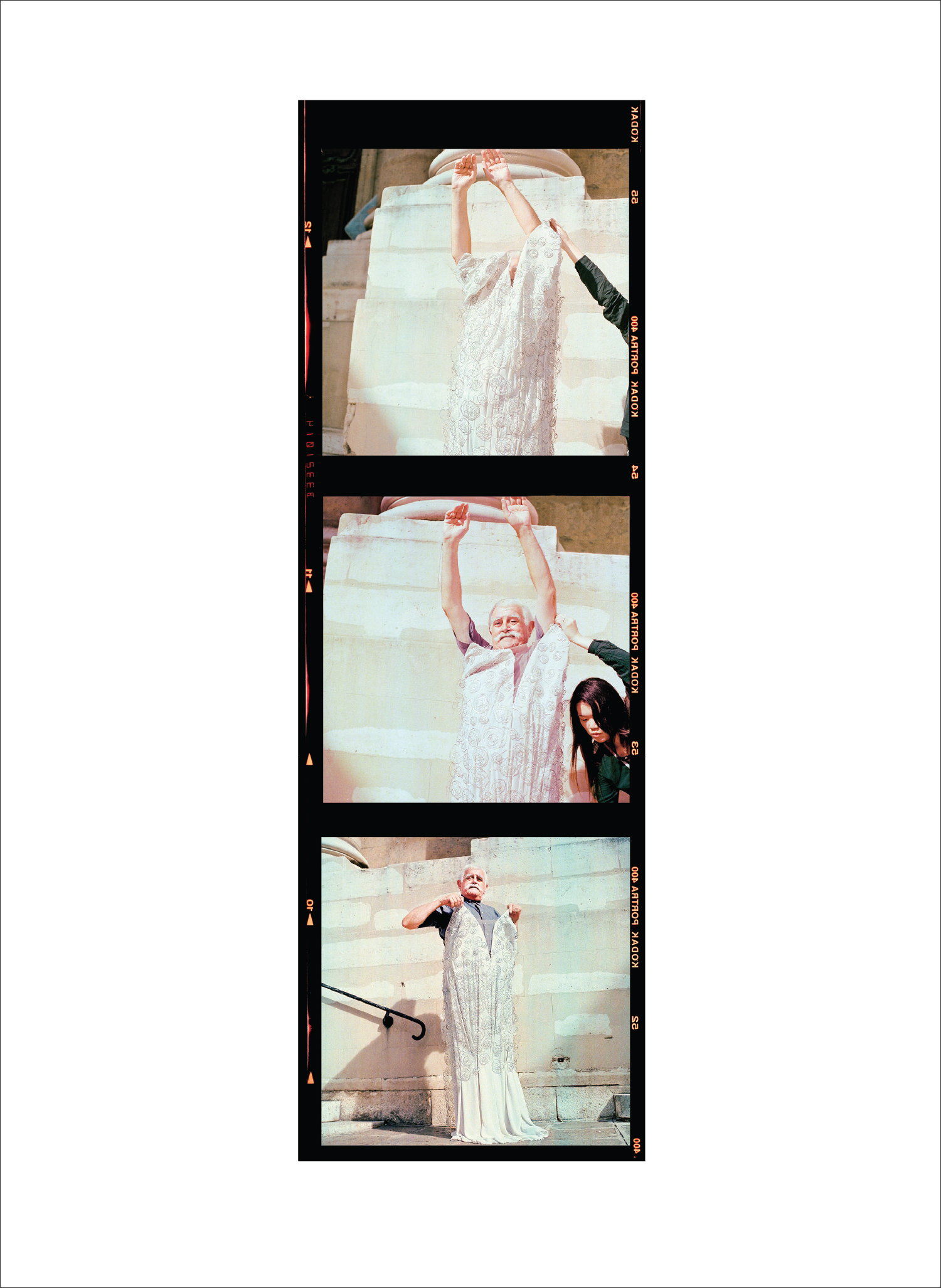 Henry (Film Strip), Paris, France, 2017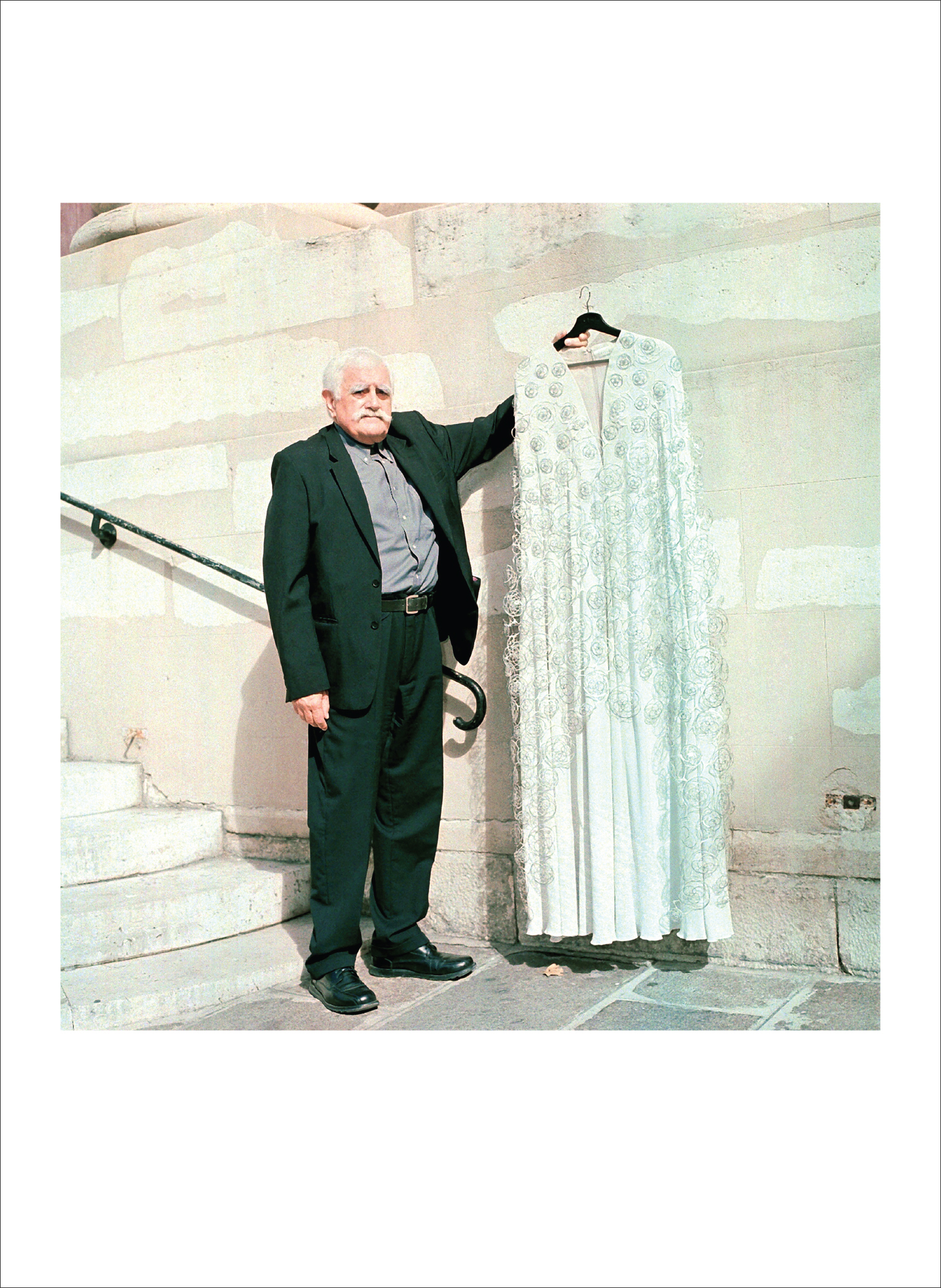 Henry, Paris, France, 2017
Speaking of materiality, there's a material library here in New York City that has every new material that you can think of. Every time a new one is created they send it to the library to be catalogued. Do you use spaces like that to gain inspiration or do you have custom materials that you make?
In the first years of the studio, I would find materials and then use them in my own way. By now, the process is a little bit more personal and elaborative. Mostly we don't use the material as it is. We either develop a new material, sometimes as the result of a collaboration, or we use existing materials that we then transform into new hybrids. So, a big part of the design process actually depends on the material design. We start developing the techniques and materials and I start draping – where in the beginning I would just shop for the right material and then drape. It's evolved over time.
I want to now switch gears and talk about the conceptual inspiration of the collection. When you begin researching, what sparks your interest? Is it something small or something more meta such as an intangible theory?
Well, it can be both actually. I'm thinking of [the collection] "Micro" where we explored microscopic structures that I found inspiring. Everything around us, like my own body and materials surrounding me on a micro level. Then there are collections like "Magnetic Motion" which was inspired by the conversations I had with scientists about really big subjects like parallel universes and the whole perception of life, which was a lot more philosophical. Sometimes it's simply in the material that is next to me, and sometimes it's a super inspiring theory that changes my way of looking at life.
Growing up, were you very interested in studying nature and science?
Yeah, absolutely. I grew up in a very small little village next to the water. So, nature was really part of my youth; it shaped me. My parents stimulated my interest in the arts, so nature and art together were an integral part of my growing up. I think it's important to understand, or at least appreciate, how the world works around you and the importance of nature.
How do you see your design reacting to global warming and these heightened more chaotic political spheres?
Well, I think there are two paths in my work: one of them is within the material and technique, and the other is looking at the materials as part of the process of sustainability, but it's not something I want to communicate. Sustainability has become a PR tool, and I personally find that it is happening too much. For me, it is a natural focus because we want to move forward and still live on this planet in 20 years. I don't think it should be the central message because it can easily become everything you do, and as an artist or fashion designer, I think a specific environmental issue isn't a long-term vision. It's part of the process, but the message that I want to communicate is much bigger than that. I believe that in the long term fashion will change slowly. The materials we use and the way we use them will become better and more sustainable. I hope to help a little bit there, but it's not something I can do on my own.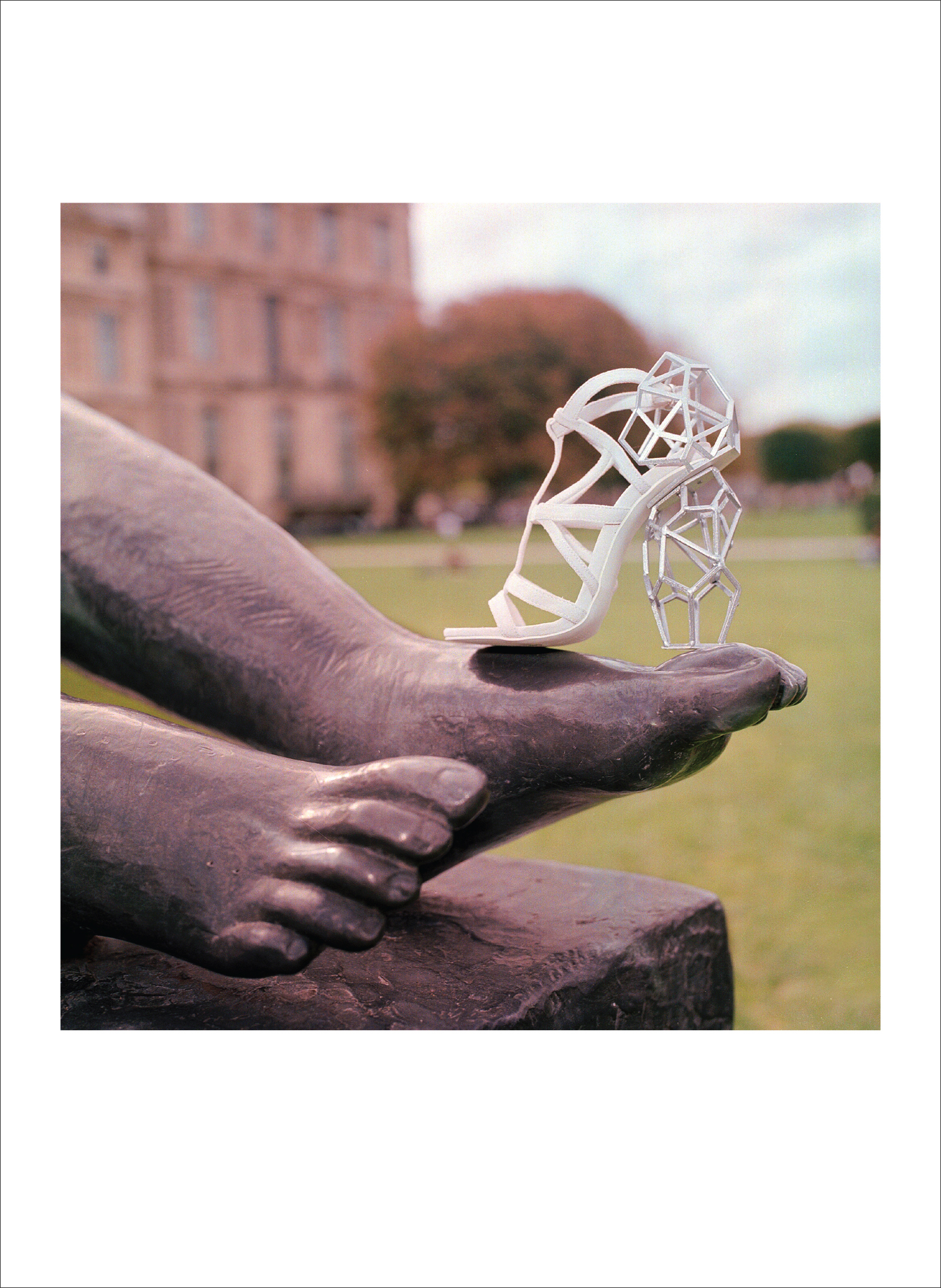 Untitled II, Paris France, 2017
Do you think that fashion – because it is one of the top polluting industries in the world – will change in the future? How do you hope consumer relations will change?
I think a very big step in this would be that the whole system becomes more personal again and less globalized. The problem is that most things are made in bulk, and more than half of everything that is being made is not being bought. I believe that the future will be technology that will make the process more personal again because I think through technology there is more direct communication possible between customer and designer. If we go to smaller productions again, we can reduce half of the waste because we'll start making what people actually need rather than making twice as much. Hopefully we can begin utilizing the materials that can be 100% reused again like with 3-D printing. These are the two big steps that need to be made, and it will take awhile.
Well, speaking of technique and new technology I think that a lot of the interest in your early work was your use of techniques like laser cutting and 3D printing which were not as normalized as they are now. How do you foresee these two worlds of technological futurism and craft heritage melding?
I see the diversity of new techniques and new tools as equal to my hands, and I would not use one over the other: it's a hybrid between them. For me craftsmanship is as valuable and as important as the newer techniques that I work with. I noticed that by using various techniques we can actually improve the others. Sometimes we want to work on a piece that we simply cannot make by hand, and a 3D printer can inspire the process where we are actually able to make it by hand. So, it's really interesting how the knowledge from one goes into the other, and I think in the beginning the processes were quite separated. I would work on 3D printed garment, and I would work on a handcrafted garment, but now we have blended the processes. In one dress there can be 3D printing, laser cutting, hand molding, and stitching all in one and no one is able to see the differences anymore; I think that is very beautiful. In the end it is not about the technique behind it anymore, but about the freedom to combine different techniques. I'm able to go into the absolute maximum of intricacy if I'm not limited by one technique because every technique has its possibilities and its limitations.
I think that the future is – I don't want to say cyborgs – but humans and computer technology coming together to create. You can see that in your fashion shows, which have been very viscerally engaging and surreal. Where does that inspiration come from? Does it come from your concepts? What does this theatrical element add to the show?
It's really part of my process. I try to translate the energy of the experimentation that I feel from the work into the collection. When I started working on Aeriform I had my collaborators performance in mind, and really working with the empty gravitational aspect of their work, and the way of working that conflict together. So, I work to make those elements the base of designing the garments, while keeping the whole performance alive. Some shows are very minimal in their setting because the inspiration comes from something physical like an artist or work of art, and I want to show people my process and concept. Sometimes the collection comes from a completely different world, and I let the collection be itself.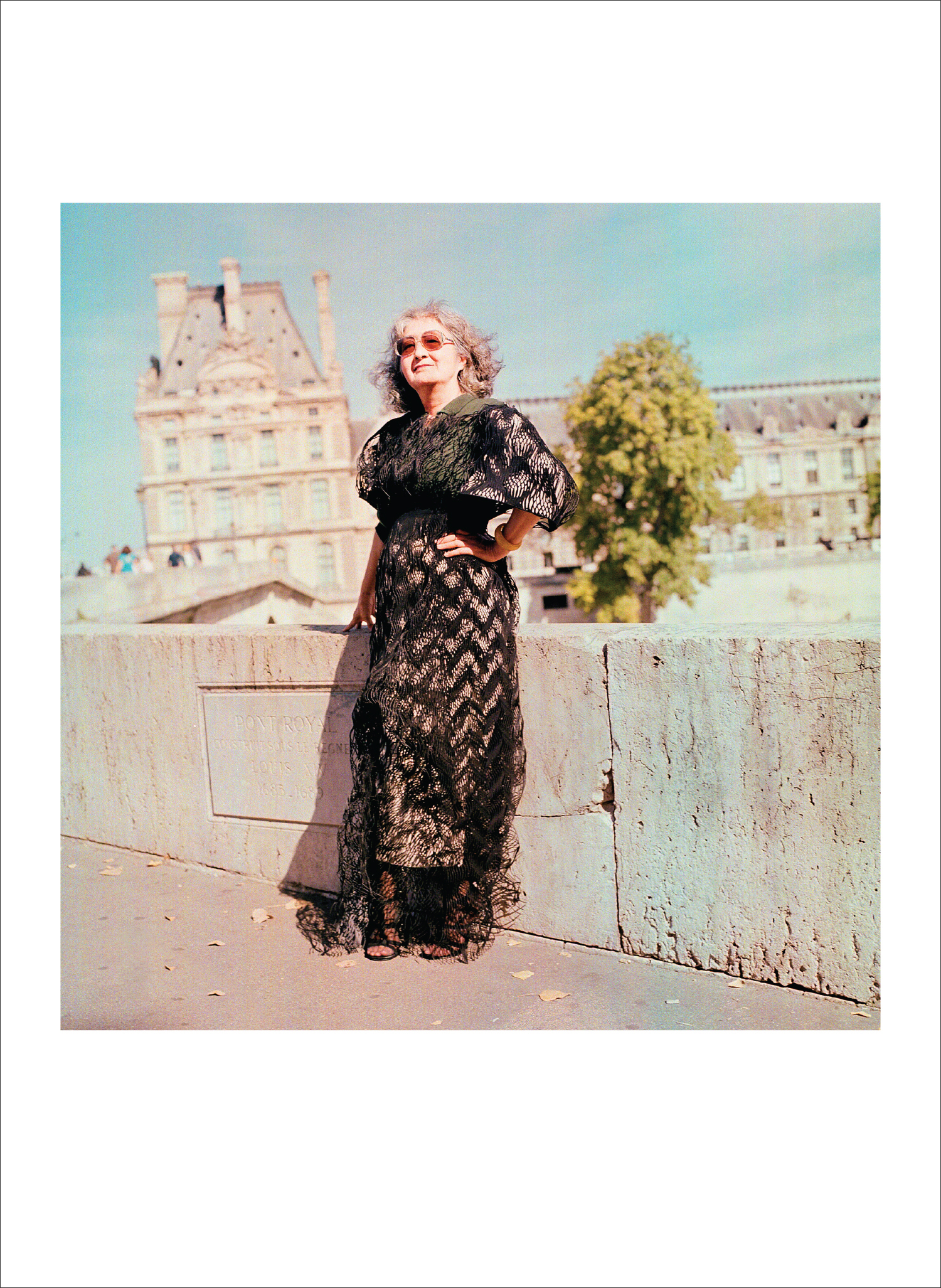 Chen Chen, Paris France, 2017
You have worked with Bjork, Lady Gaga, Beyoncé, Tilda Swinton; do you feel the context of your work changes with the visibility and the popularity of these artists?
Well, I guess it connects to different people. They are very specific identities. They all created their own worlds, their own system, and fan bases. The body itself is my source of integration, and these people bringing it into their own world and their own vision creates a new perspective of my work. I think it's very important because I don't want my work to be this very controlled and linear thing.
In reference to the "worlds" that you design into, do you often build worlds in your mind when designing?
Not really to be honest. My interest is in the here-and-now because the inspirations that's translated into my work comes from architecture, art, or things that I see around me. To me, the world we live in is actually so fascinating and it has so many sides. So, I want to look at different perspectives. Some people think I'm inspired by science fiction, but I think the world we live in is magical. It's really more like zooming in and zooming out – focused on where I am at this point.
Magical and terrifying all at once.
Yeah, yeah, it has everything in it.
In the past you have referenced your work as "New Couture", what does that mean to you?
It's a place where innovation is possible. It's a place where craftsmanship is possible. To me, it's a place that has real humanity and personality in the work, and it has its place in the digital age and in the digital transformation that we are going through. To me, it's really about finding the relationship between the world we come from and the world we're going to. We have to learn how to use all of these great tools in combination with our humanity. I think those tools can be used to create art and beauty, not just functional technology to make our lives quicker and easier.
That's beautiful. I think that we are at crossroads of so much negativity in politics and in nature, but the world also has a lot of positivity and beauty. What do you want to say to the world as a designer, as an artist?
I think fashion is not only a form of art, but also a place of innovation and progress. I think it is important that we we start collaborating with science and art because all of these disciplines have to change. If we talk about sustainability and moving forward, design is needed everywhere, and I don't think we're making progress if we keep on only focusing on one method of thinking. I think disciplines have to cross over to create a collective intelligence to direct the sustainability of design. We're never going do it on our own. I think that one of the bigger messages behind my work is that the power of collaboration will affect future change.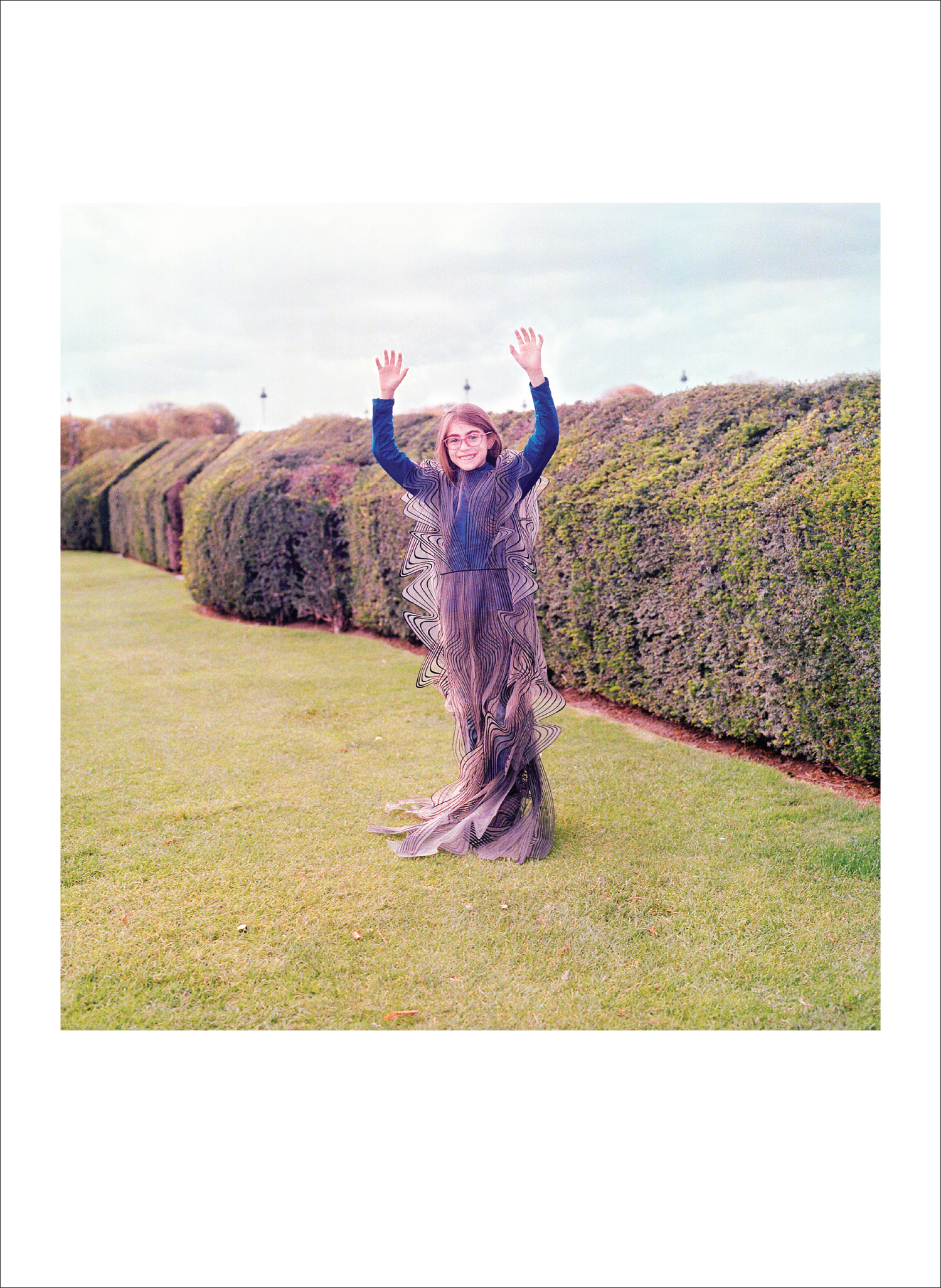 Francesca, Paris, France, 2017
Makeup by Jay Kwan | Special Thanks to Fanny Moal @ Karla Otto Paris
For more information visit irisvanherpen.com