FASHION'S BIGGEST NIGHT OF THE YEAR: THE 2018 MET GALA
By: Sarah Conboy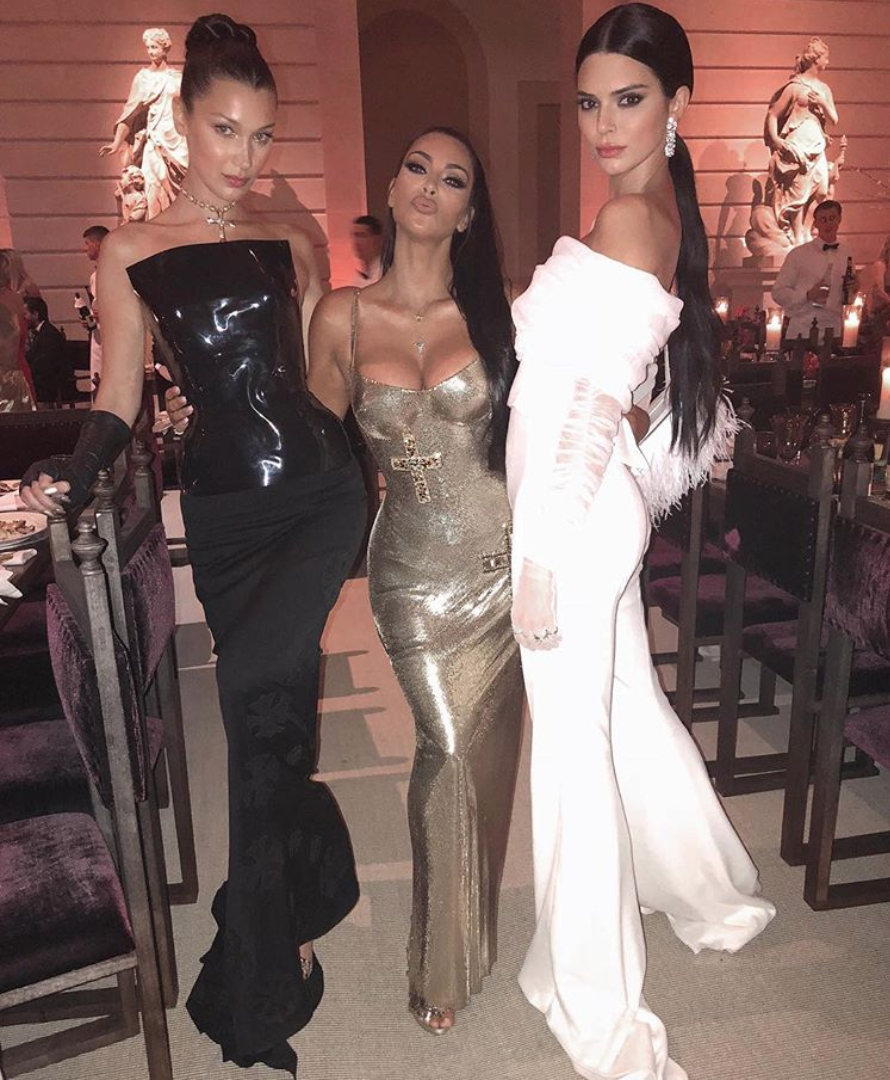 From Left to Right: Bella Hadid, Kim Kardashian, and Kendall Jenner
On Monday, May 7th, the Metropolitan Museum of Art in New York City hosted its annual gala in conjunction with the Anna Wintour Costume Center. Sponsored by Versace, Christine and Stephen A. Schwarzman, and Condé Nast, the exhibition's theme is "Heavenly Bodies: Fashion and the Catholic Imagination." The show traces fashion's connection to Catholicism, including pieces from designers such as Azzedine Alaïa, Cristóbal Balenciaga, Dolce & Gabbana, Jean Paul Gaultier, Christian LaCroix, and more. As a special addition, the show presents a number of garments and accessories loaned from the Vatican's collection at the Sistine Chapel sacristy.
Spanning not only the Costume Center, but the Byzantine and medieval galleries at The Met 5th Avenue and The Met Cloisters uptown, "Heavenly Bodies" was organized by Andrew Bolton, Curator in Charge of The Costume Institute. This year's co-chairs included Rihanna (who dressed for the Gala in a papal-inspired look by Maison Margiela), Amal Clooney (dressed in a Richard Quinn, recent recipient of the Queen Elizabeth II Award for British Design), Donatella Versace (dressed in a beaded Atelier Versace number), and of course, Anna Wintour (dressed in a glittering Chanel Haute Couture gown).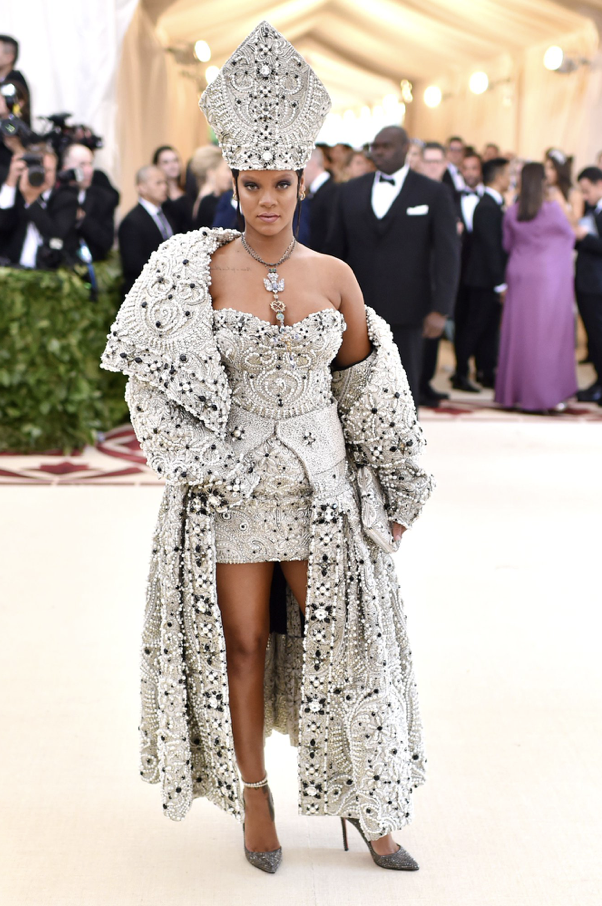 Rihanna in custom Maison Martin Margiela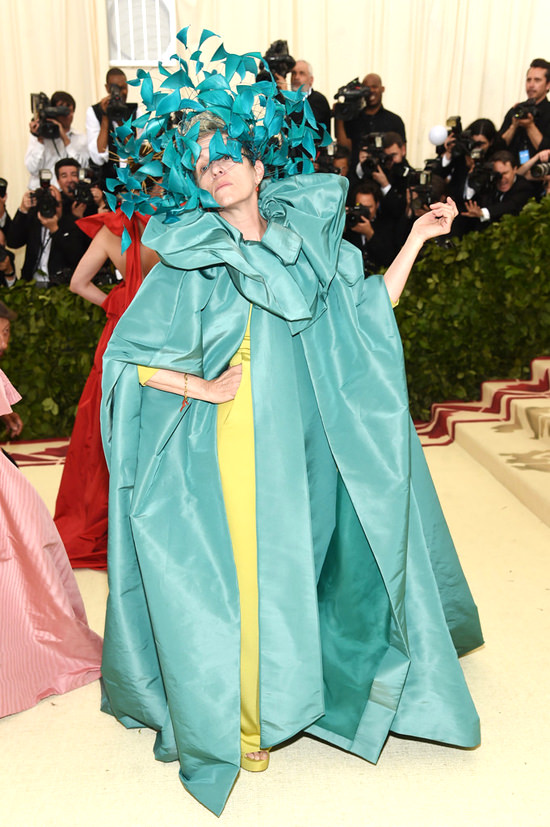 Frances McDormand in Valentino Haute Couture
Guests included a number of A-List celebrities and public figures. Kate Moss attended for the  first time since 2009, showcasing her supermodel figure in a short, black Saint Laurent by Anthony Vaccarello dress. Other models making a cameo at the Gala were the likes of Kendall Jenner, the Hadid sisters, Ashley Graham, and Joan Smalls. Virgins to The Met Gala—pun intended—included debuts from Cardi B (guest of Moschino's Jeremy Scott), and SZA. Other musicians at the Gala were man-of-the-moment Donald Glover, Solange Knowles, Nicki Minaj, and Katy Perry. A number of award-winning actors came, from George Clooney (supporting wife and co-chair Amal) to Blake Lively, Frances McDormand, and Chadwick Boseman amongst many more. On the designer front, the Olsen twins, of The Row, attended, as well as Off-White's Virgil Abloh, and Gucci's Alessandro Michele, accompanied by muses Jared Leto and Lana Del Rey. Couples Hailey Baldwin and Shawn Mendes, and Elon Musk and Grimes, made their first public appearances at the event.
Once inside, guests were treated to a seated dinner, and a preview of the exhibition before it officially opens to the public. As we imagined, the night closed with an on-theme performance by Madonna, who aptly sang "Like a Prayer" and "Hallelujah." A number of after-parties were thrown to continue the festivities, most notably a post-Gala party hosted by Donatella Versace at the Mark Hotel.
"Heavenly Bodies: Fashion and the Catholic Imagination" officially opens at the Metropolitan Museum of Art on May 10th, and will run through October 8th.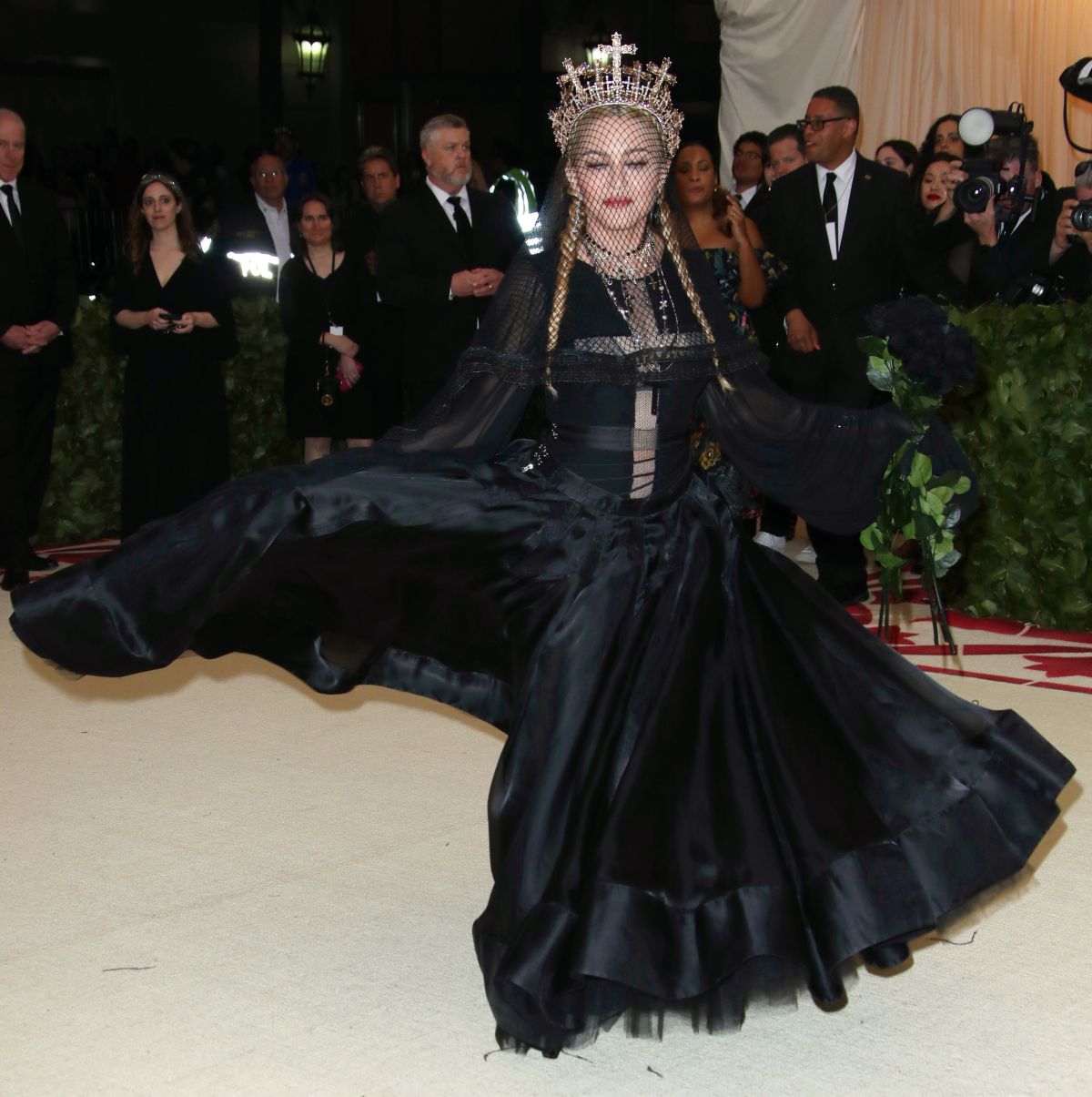 Madonna in custom Jean Paul Gaultier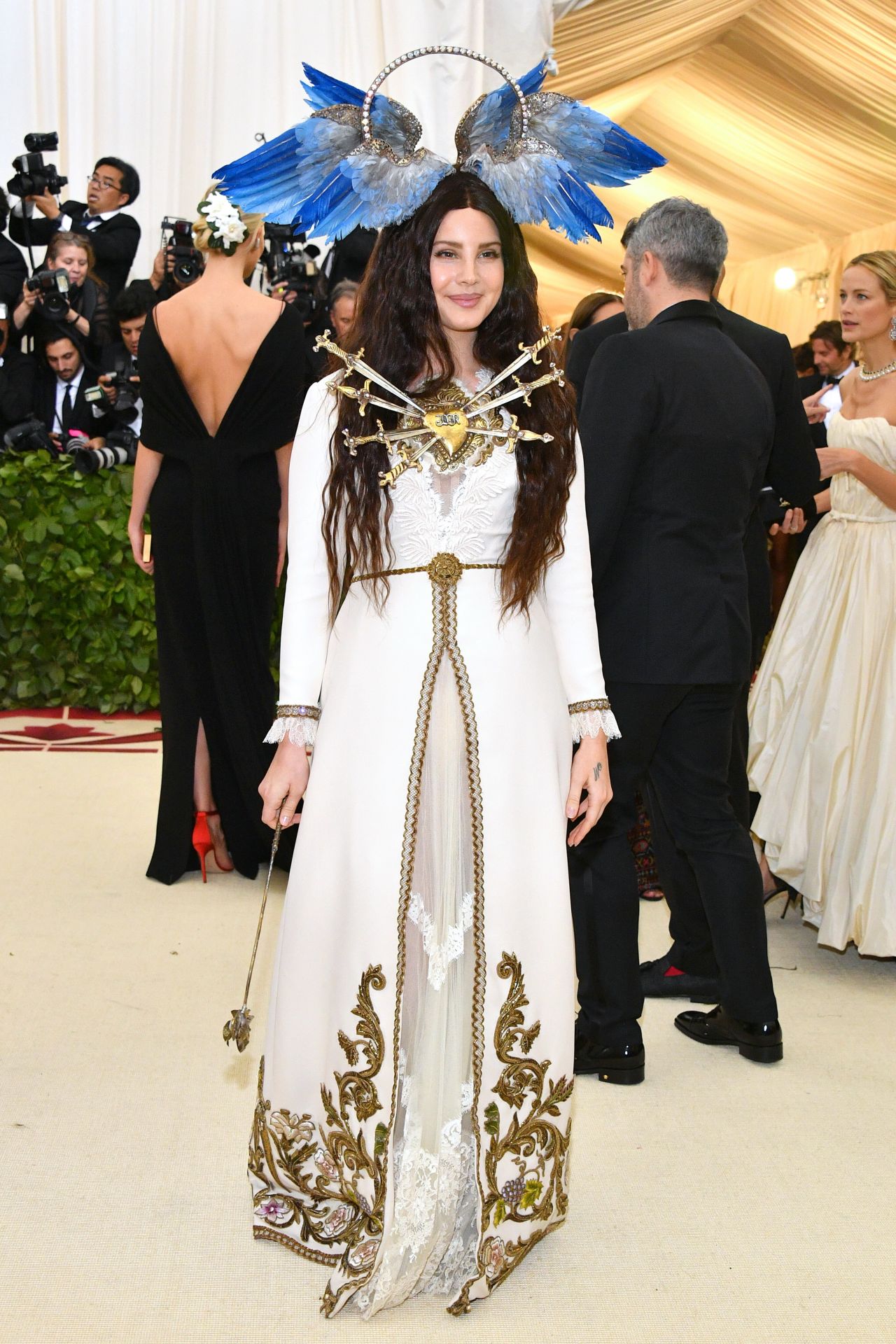 Lana Del Rey in custom Gucci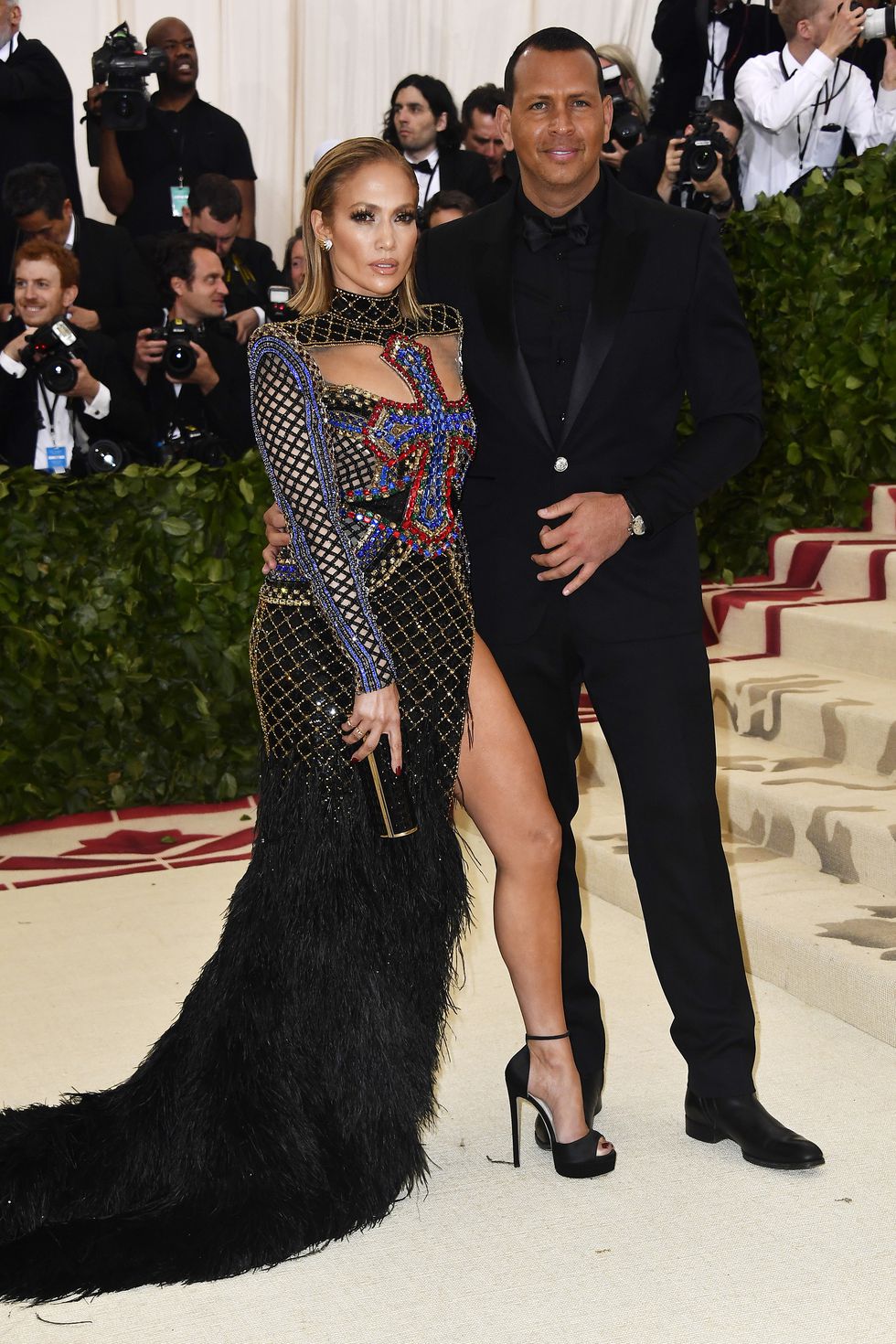 Jennifer Lopez in custom Balmain accompanied by Alex Rodriguez