BLONDIE
On the brink of a summer tour promoting the release of her 11th studio album with Blondie, the punk/new-wave/rock goddess, Debbie Harry,
shows no signs of slowing down.
Blazer by Vivienne Westwood | Fox Fur Leopard Print Boa by Georgine | Sunglasses by Le Specs Luxe

Photography by Nicolas Kern | Styling by Britt McCamey | Interview by Roger Padilha
Ever since she injected New York City's ground-breaking, underground music scene with her infectious presence, Debbie Harry found her rightful place as Queen of Cool, and for the past 41 years has reigned as a trailblazing pioneer within the realms of pop culture, fine art, high fashion, and music. Arriving at Splashlight studios with an entourage of one, the low key Harry informs us there is no need for the more discreet side entrance. Instead she prefers to stand in line and check in with the front desk security like everyone else. This drama free attitude seems in line with her polite demeanor upon entering the set with a shopping bag full of past Blondie tour t-shirts and introducing herself to everyone on the crew. "Hi, I'm Debbie. Would anyone like a t-shirt?"
At the age of 71, Harry and her world-famous, Rock and Roll Hall of Fame band, Blondie, have released their eleventh studio album entitled Pollinator. Since their debut album in 1976, through the band's signature look and pioneering new wave/punk music, Blondie has become an internationally recognized and praised band. With her photogenic face, two-toned hair, and punk style Harry quickly rose to the level of fashion and pop culture icon. Debbie quickly became a muse for Andy Warhol, the late fashion designer Stephen Sprouse, and famed fashion photographer Steven Meisel, to name a few. She was and remains very influential across music genres, and Blondie's song Rapture became the first #1 song in the US to feature rap, thanks to her influence by friends Fab Five Freddy, and hip- hop pioneer, Grandmaster Flash.
Frontwoman Harry and guitarist/conceptual mastermind Chris Stein were the founding members of Blondie, along with drummer Clem Burke, whose powerhouse playing always distinguished Blondie's sound. Their newest project, Pollinator, is a fusion of pop and disco with that ineffable Blondie sound. The newly released album is mostly comprised of collaborations with outside performers and songwriters. The list of collaborators include Dev Hynes of Blood Orange, Johnny Marr of the Smiths, Charlie XCX, Sia, Laurie Anderson, Joan Jett, The Strokes' Nick Valensi, comedian John Roberts, and Dave Sitek from TV on the Radio. The album's first single, "Fun", sets the tone for the album, with a music video that features technicolor footage of an astronaut flying to Mars cut with scenes of the band performing at a psychedelic rave in space.
The album title, Pollinator, refers to Blondie's creative cross-pollination over the years with many other icons in the industry. With the fabulous collaborations between Blondie and other artists throughout the studio album, Pollinator is a veritable hive of delicious tracks and beats to enjoy. The Rage and Rapture Tour kicks off on July 5th and features the acclaimed alternative rock band Garbage.
Though the tunes were culled from disparate sources, the feel of the album is impressively unified, with a playful nod to 1978's groundbreaking Parallel Lines. Harry, Stein, Burke, and company took this raw material and deftly transformed it in the studio into an album that's quintessentially Blondie. The emphasis is on arrangements that are fast and fun, lyrics that are romantic and teasing, and synth-stoked hooks that evoke the New Wave era. It was Grammy-winning producer John Congleton (Franz Ferdinand, St. Vincent, Sigur Ros, David Byrne, War on Drugs) that brought the late 70's attitude out of Blondie again. He found himself having breakfast with Debbie and Chris in the summer of 2015. "We hung out for an hour, talked about music, about where they were as people and what they thought a Blondie record should sound like these days. We were simpatico on that."
"I had more of a deliberate agenda than they did," says John. "Their agenda was the best agenda: they still love each other; they like playing music, so let's have fun. At the end of the day Blondie doesn't have anything to prove. My agenda was more dogmatic. I didn't want to make a pastiche lifestyle record or a modern pop record that sounded like Blondie being influenced by what's happening now. I wanted to know what it's like to be Blondie at this age." Debbie, Chris, and Clem joined by band members bassist Leigh Foxx, guitarist Tommy Kessler and keyboardist Matt Katz-Bohen have embarked on a new Blondie summer tour.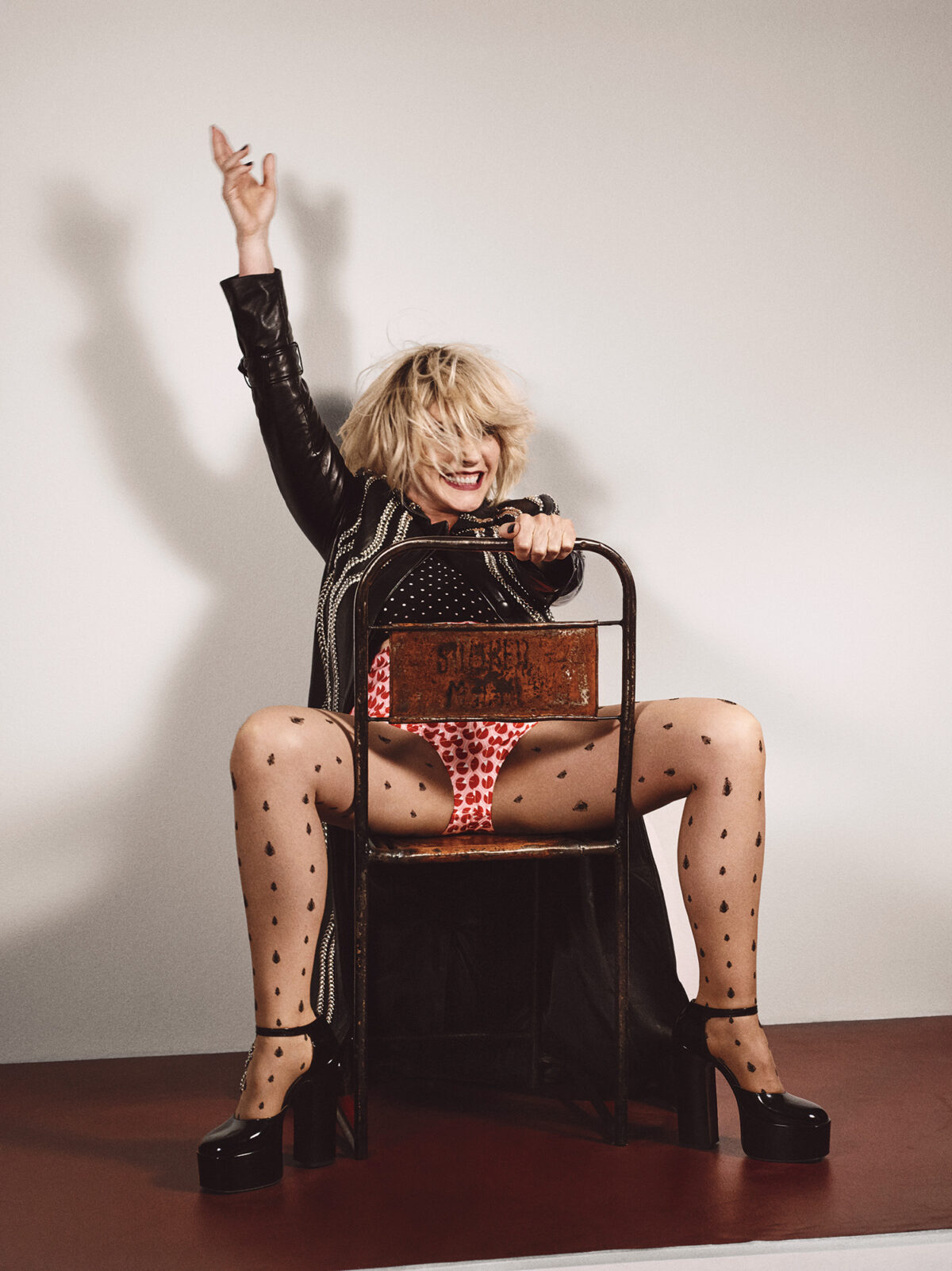 Leather Trench by Georgine | Bloomers by Miu Miu | Tights by Falke | Patent Pumps by Laurence Dacade | Earrings by Orchid & Art Deco
We were fortunate enough to chat with the legendary rockstar at Splashlight Studios in Manhattan during her exclusive Iris Covet Book photoshoot.
How have you managed fame as an artist? Do you find that the commercial aspect of making music gets in the way of artistry?
Being a more private type, fame has sometimes been disturbing. But as a commercial artist, it is the goal isn't it? To become known and get your music out into the world market.
I feel like I see your face and image every day on t-shirts and instagram. Are you ever overwhelmed by the global impact of the band and the image you played a definitive part in creating?
If I stop to think about it, yes it is overwhelming. That's all part of the game though, isn't it?
You've always seemed to be very reserved and a bit of an introvert in person, but yet you have been able to get onstage and perform in huge venues in front of millions throughout your career. What is the process you undergo to change into that onstage, larger-than-life persona?
I don't really think of myself as an introvert but I have been described as being very polite. I was encouraged growing up to be well mannered and able to listen to others. To not always have to be the center of attention when in social situations. On stage it's a different story…….it's MY stage.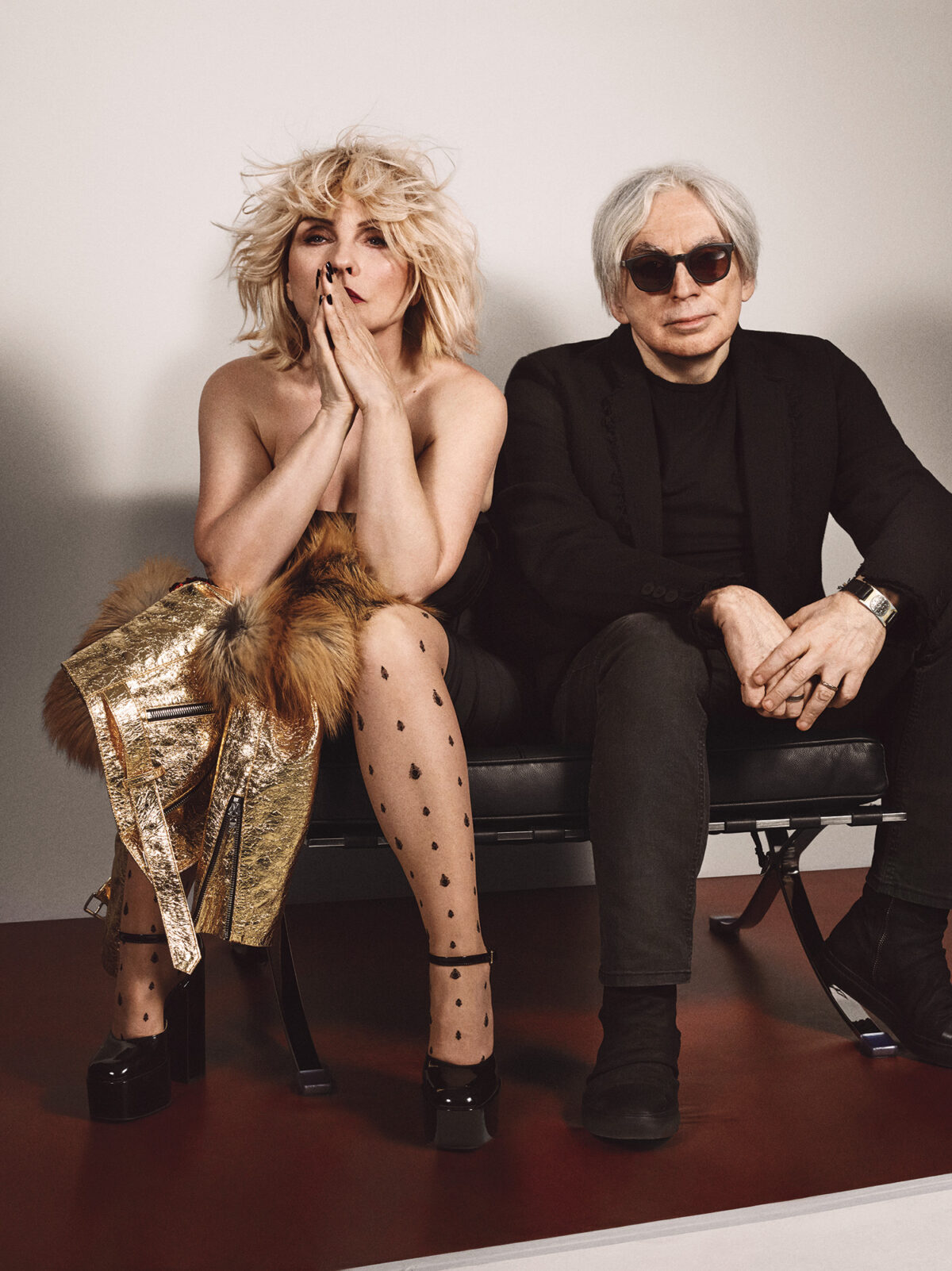 On Debbie: Jacket by Marc Jacobs | Skirt (Worn as a dress) by Comme des Garçons from New York Vintage | Tights by Falke | Pumps by Laurence Dacade 
On Chris: His Own Clothing
Never satisfied to rest on your laurels, Blondie's incessant need to fly the flag for cross-genre rock never relinquishes because your punk spirit never died. How do you keep your punk spirit alive?
Punk spirit…just stubborn I guess. Always have been. Independence has always been important to me. I grew up in a sheltered home and was always wanting to see more of the big bad world.
How was it collaborating with all of these amazing, boundary-pushing artists such as Sia, Dev Hynes of Blood Orange, and Joan Jett?
Collaboration has always been something I enjoy doing. It can be so much fun tossing ideas around. I loved working with Dev Hynes and Joan Jett, whom I've known for years. Sia actually wrote the song [on the new album] and I only met her briefly at a Saturday Night Live party. I'm happy the way it all came together. It was a different approach for us, to draw in all of these things. I feel like we did what we did back then, and we put out these sounds and ideas and now have come full circle. We are pulling it back in, continuing this ongoing chain of events, this circular motion.
You will be touring the country with the legendary rock band, Garbage, fronted by Shirley Manson. Tell us about how this tour collaboration came to be, have you worked together before?
I don't think we ever worked together before, but I met Shirley many years ago in Scotland when she was singing with Goodbye Mr. Mackenzie. Years later we ran into each other at Gary Kurfirst's office. We were both being managed by Gary at the time. Shirley and her band Garbage are one of my faves.
40 million album sales and countless accolades later (including a Rock And Roll Hall Of Fame induction in 2006 and NME Godlike Genius Award in 2014) has cemented the band's importance. After all of the success, what inspires you to keep creating new music?
One of the most inspiring things to happen in the last year has been the David Bowie release after his death. I only hope that I can be one-tenth as creative as he has been, and to leave a parting gift of music or art is truly what art is about.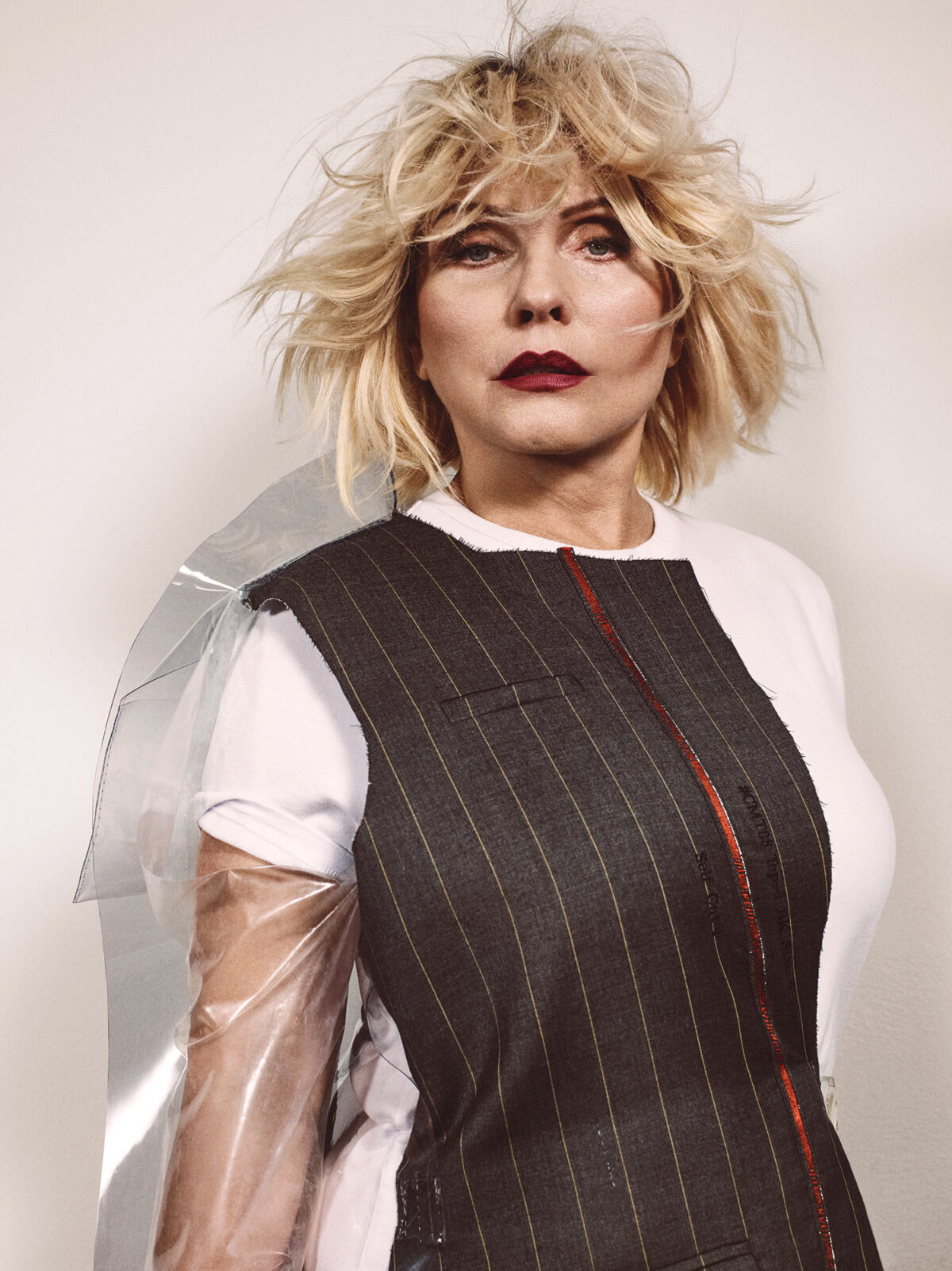 Jacket by Song Seoyoon | T-Shirt by Han københavn
Two of the original members of the band have been replaced with other musicians over the years, how has the new dynamic of Blondie shifted the energy of the band?
Good question. Blondie has always been, or tried to be, a true ensemble situation. Input by musicians or actors in a group is extremely valuable, but not always easy. We have one fucking great band now, and I can't wait for everyone to hear us play the new material.
When you first moved to New York, it was a much more dangerous and rough city, but that energy also helped fuel many creatives at the time. Now that NYC has gone through so much gentrification and commercialism, do you think it's possible for artists to make profound music and art in the "new" New York City?
Food for thought…that's what cities and colleges supply. So why not, in spite of all the odds against it, why can't a fresh, alert mind be creative in any circumstance. Although chaos is famous for being the founder of great creativity.
Which album or song are you most proud of? And beyond that, what are you most proud of in your life?
I don't think I can limit myself to one album or song, they all seem connected to each other for me. As for my life, I'm amazed that I actually achieved my dreams and that I'm still at it.
You've done 11 albums with Blondie and 5 albums as a solo artist, not to mention compilations and collaborations on other artists' albums. How do you stay inspired? Is there anything you feel you haven't said through your art yet?
Knowing what you like and what excites you is the most important part and Blondie is really the only group I've ever been in with the exception of singing with the Jazz Passengers for about four years. Fortunately, now I'm on a collision course with environmental issues. As I've gotten older and climate, clean air and water have become more important issues for us, I want to do my part to draw attention to these problems and their solutions.
The world lost a great contributor to the arts recently with the passing of your friend Glenn O'Brien. Glenn was very supportive of Iris Covet Book and agreed to be interviewed for our first issue. He was always very generous to emerging creatives. Can you share a favorite memory you had with Glenn?
Oh yes, Glenn was a great writer and a keen observer of the arts. He had such a wonderful style: dry and funny, so sharp. I will miss him. Before he passed he gave me his newest book, LIKE ART which I have enjoyed thoroughly. I have had lots of good times hanging out with Glenn and Chris. Just talking and making fun of things like on TV Party when they were co-hosts. I feel lucky to have known him.
Blondie really incorporated so many different genres and types of music that it seems unfair to call you just a Punk pioneer as many people do. What would you like your music legacy to be?
A lot of the music that I've made over the years was never even recorded and maybe this is something special. Food for the spheres. Blondie albums and Deborah Harry albums have had a lot of different musical and cultural influences but this is the city we live in and the world of today. Let's face it, we can know as much as we want about all the cultures of the world. What we need is time travel.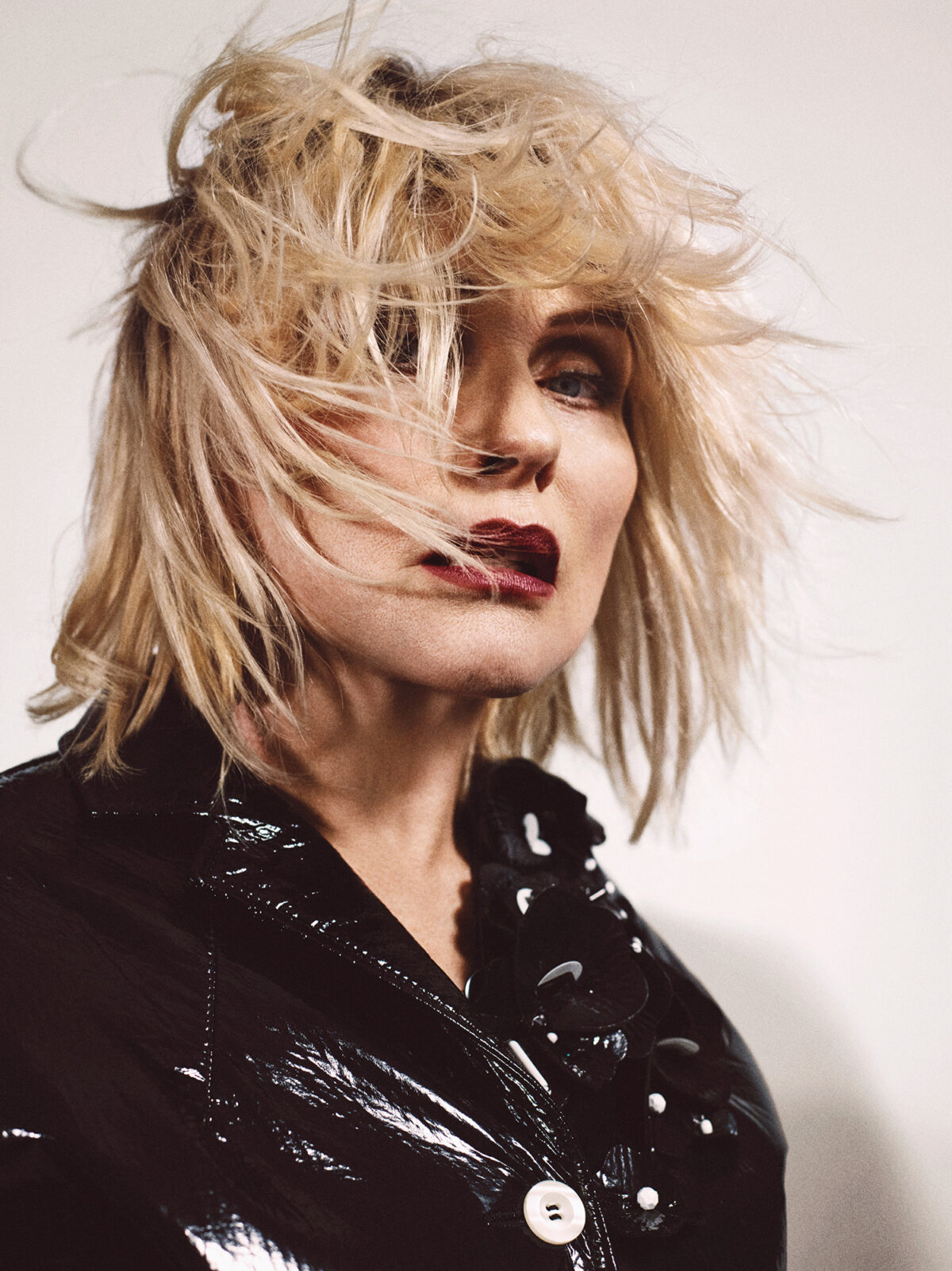 Patent Coat by Miu Miu | Earrings by Ana Khori
Art Direction by Louis Liu | Editor Marc Sifuentes | Hair by Adam Markarian | Makeup by Yumi Lee @ Streeters | Manicure by Narina Chan @ Wilhelmina Artists for Chanel Le Vernis in Roubachka | Set Design by Mila Taylor Young @ D+V Management | Editor's assistant Ben Price | Filming by Scott Keenan | Video editor/post production YaYa Xu | Special Thanks to Splashlight Studios NYC