WILLOW SHIELDS STAR OF NEW NETFLIX SERIES SPINNING OUT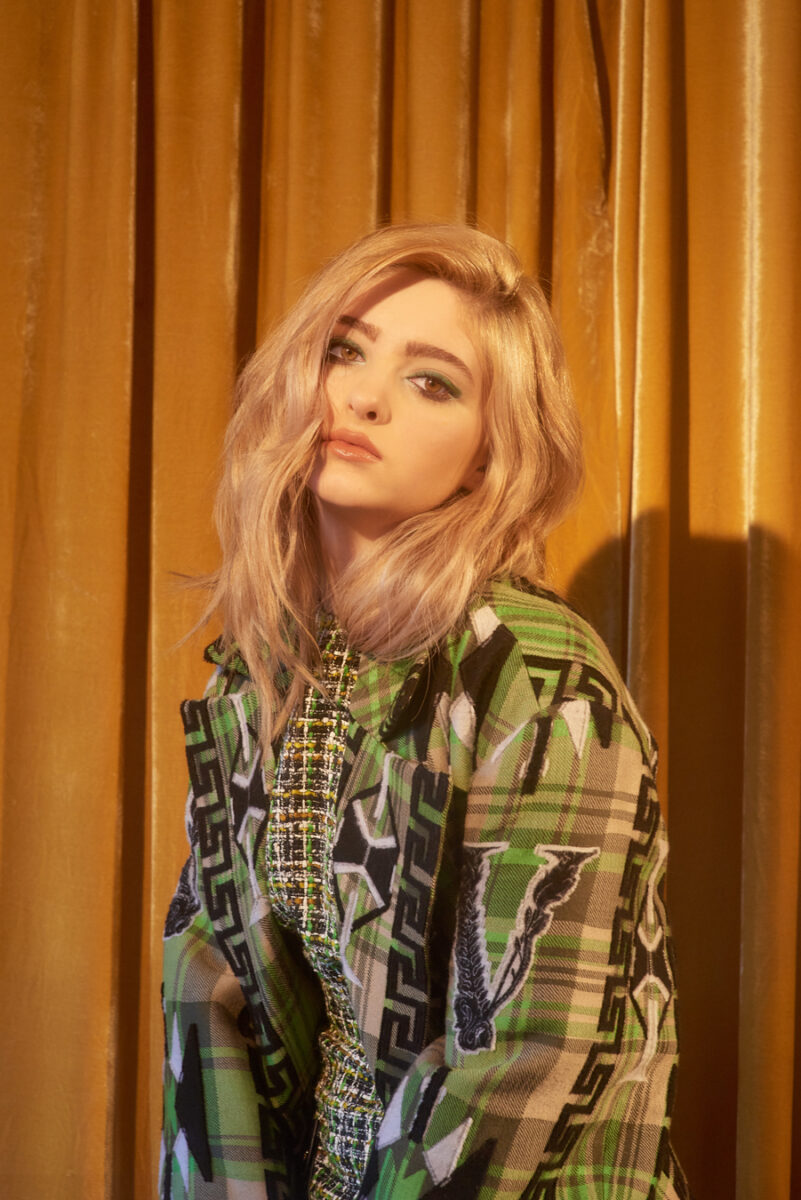 Dress and Coat by Versace
Photographers: Fionayeduardo @fionayeduardo
Art Direction: Louis Liu @herecomeslouis
Styling: Marc Sifuentes @marc.sifuentes
Hair: Austin Burns @austinkburns
Make-up: Agus Suga @Agus Suga
Production Assistant: Benjamin Price @benprice4real
Location: Colony Studios @colonystudios
Interview by Regina Moretto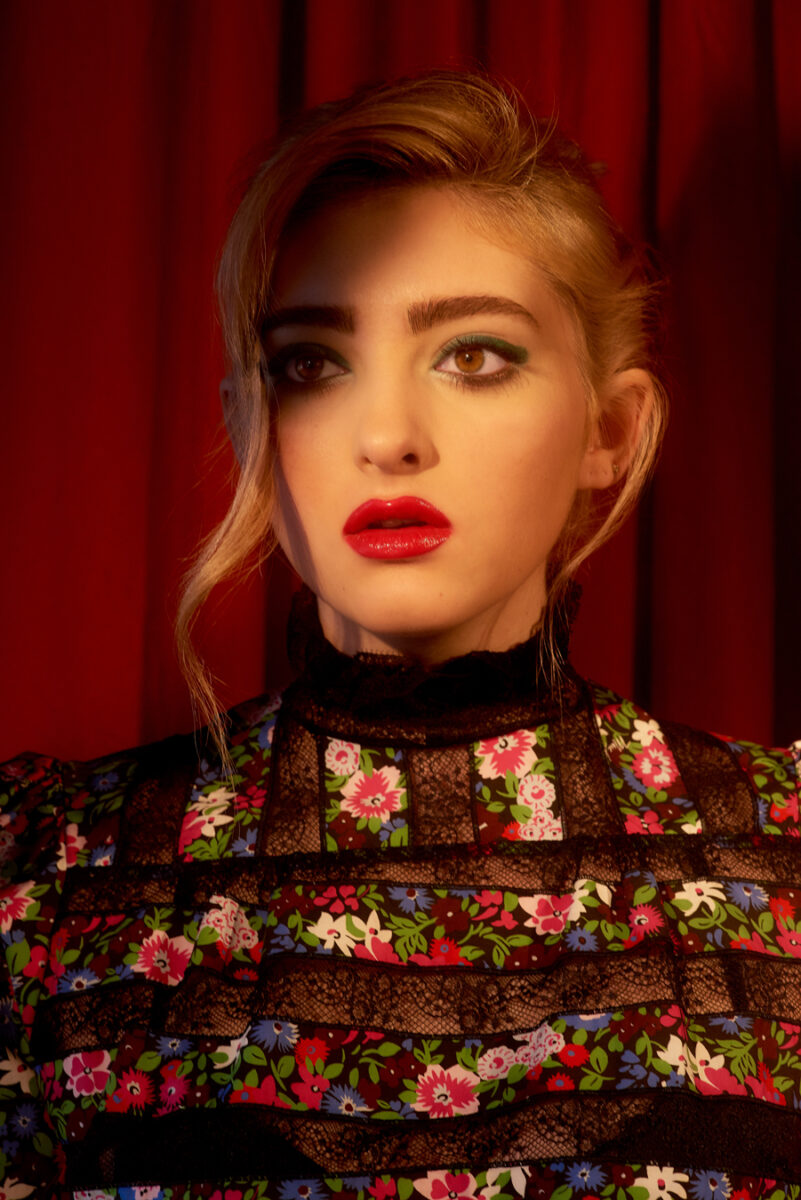 Top by Marc Jacobs
Hunger Games alum Willow Shields deftly navigates her acting career with the confident beauty and grace of an ice skater. 
The beguiling illusion of easy jumps and spins requires many hours of handwork and tenacity; quite similar to the dedication, preparation and training expected of an actor, which makes watching this young star transcend new roles all the more intriguing.  Starting out with a box office smash at the early age of 12, surrounded by the likes of Jennifer Lawrence, Julianne Moore, and Philip Seymour Hoffman, the precedent was set for Shield's strong work ethic which helps drive her blossoming career. 
We sat down with Shields amidst her busy schedule to talk about her latest project; Netflix series Spinning Out.  Spinning Out, created by Samantha Stratton, is a series based on a figure skating Olympic hopeful struggling to balance her dreams of competition and the state of her family's battle with mental health all while her dream of winning takes a dizzying hold.  Never one to remain idle for too long, Shields shared with us a few additional projects her fans can look forward to seeing her in soon.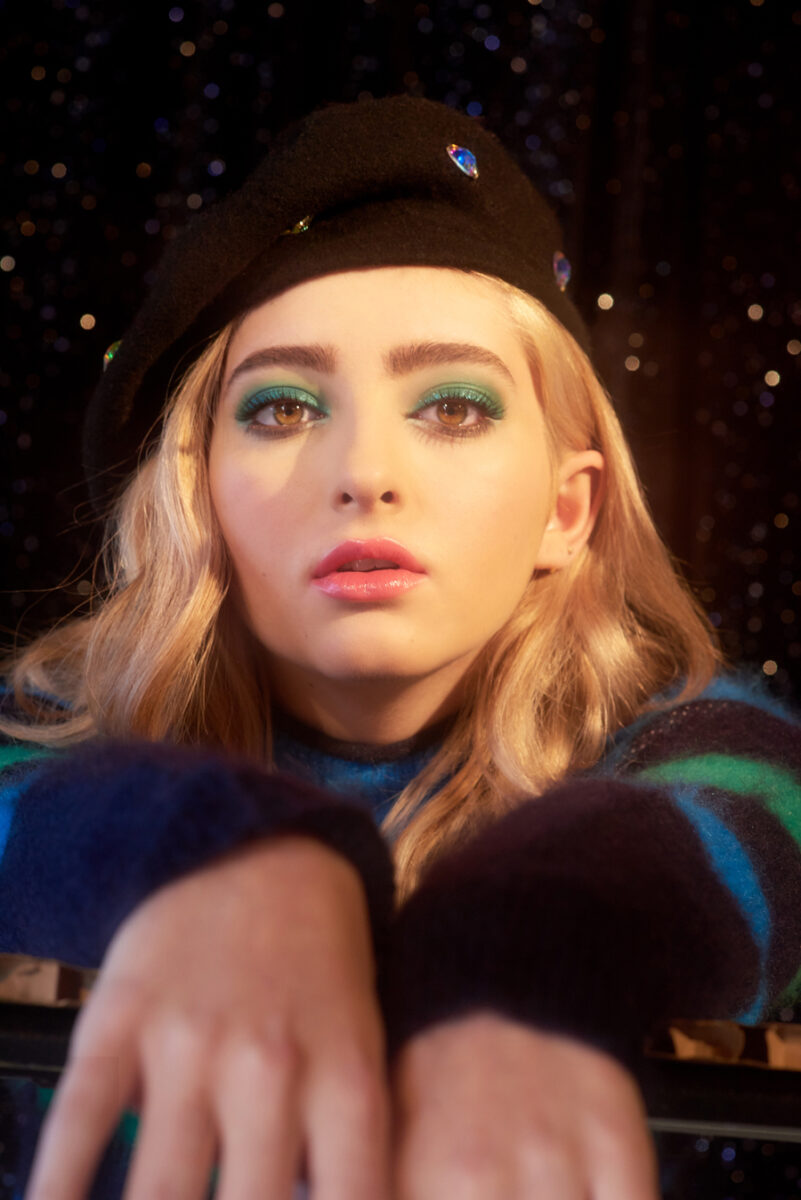 Sweater by Proenza Schouler White Label, Hat by Dara Senders
When did you know you wanted to be an actor?
I started acting when I was about seven but working on my first big film and experiencing the creativity and tight knit community involved in the acting world was when I knew I would love this job.
What was your first big break into entertainment?
I did an episode of a show called In Plain Site when I was about eight and that was my first experience on set. But I guess my big break into entertainment was two years later when I did the first Hunger Games film.
Fans know you from your role as Primrose Everdeen in The Hunger Games, can you tell us the best part of working on these films?
I truly feel like I learned so much from working on these films. I grew up on set for five years learning from the most brilliant actors from Jennifer Lawrence, to Julianne Moore, Philip Seymour Hoffman, and so many more but aside from being able to watch and learn from them everyday I was also able to witness other brilliance from the technical side of filmmaking watching our director Francis Lawrence working. I feel like after those films I had more of an understanding about filmmaking and every detail that goes into making a great film.
Being cast in Hunger Games at age 12 and being surrounded by a cast of seasoned actors, what are the most important lesson you learned on set with this crew?
To work hard, show up on time but to also give yourself room to be creative and have fun at the same time.
Do you have any funny or memorable Hunger Games stories you could share?
We had so many cast members as a part of our whole series that there was always so many fun stories being told everyday on set. When you're in a room with Jennifer Lawrence and Woody Harrelson, you know you're gonna be laughing all day with those two.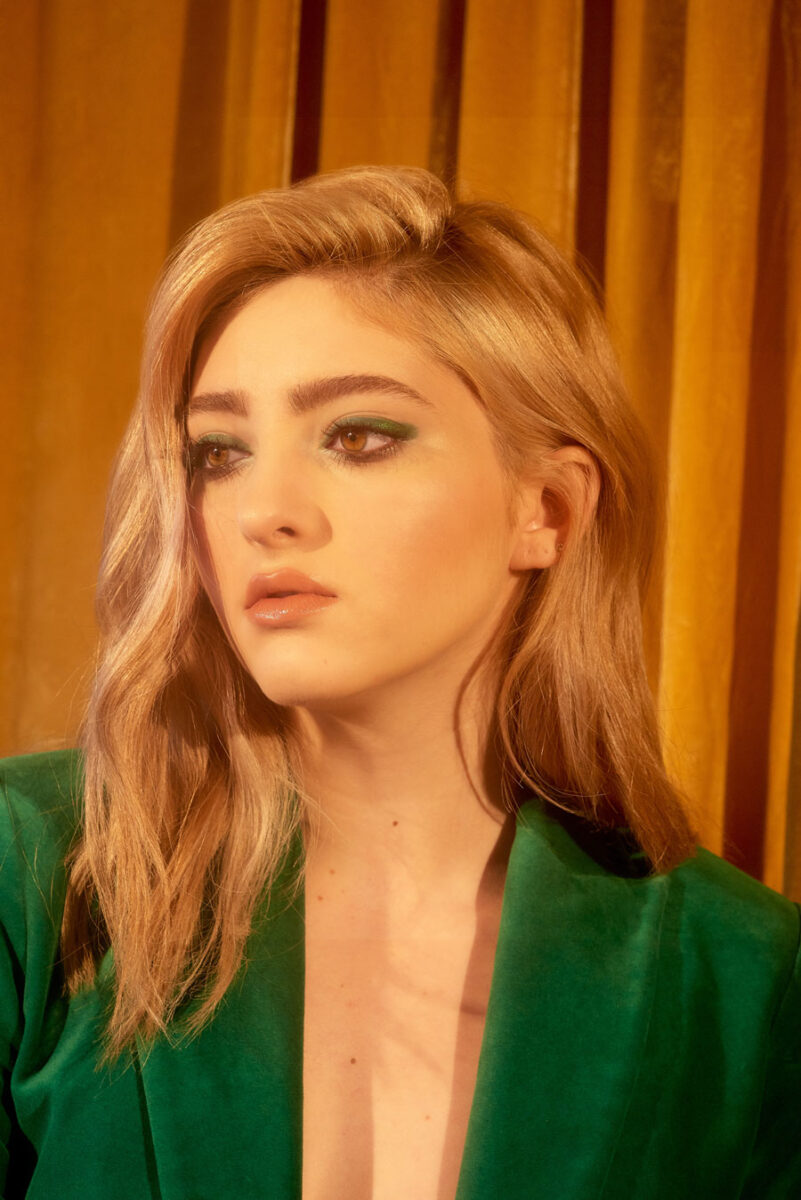 Jacket by Zadig & Voltaire
Tell us about your new Netflix series Spinning Out and how did you land the central role as Serena Baker?
Spinning Out was a very exciting project for me after reading the script. The story elements are something I'd never seen in a show before and it deals with a lot of pivotal emotional and physical stories that I feel need to be seen.
I fell in love with the character of Serena because she feels like a real teenage girl who's very complicated. She has a very unusual home life and deals with a lot of emotional ups and downs between her family life and her time in competitive figure skating. It felt like a bit of a dream come true to play a figure skater as well.
Your character is training for ice-skating  competitions, did you have any formal training in your past?
I did not. I came into this show with zero ice skating abilities but I trained for about two months everyday prior to filming the show. My goal was not only to be able to do as much of my own skating as possible but also experience what it was like to train that hard everyday. I came home black and blue all over my body from falling everyday but it helped me understand my character Serena and how figure skaters train.
The show brought on Sarah Kawahara, a former figure skater and Emmy winning choreographer who has worked on "Blades of Glory" and "I, Tonya"…what was it like to work with Sarah on this series?
Sarah is phenomenal. We were all so excited to work with someone so brilliant in this specific field. She helped us train in Toronto and choreographed all of our routines. The coolest thing about Sarah is she was right there with us on set when we filmed these scenes so any detail that was off she was able to help us fix in order to pull off all of the intense skating involved in our story.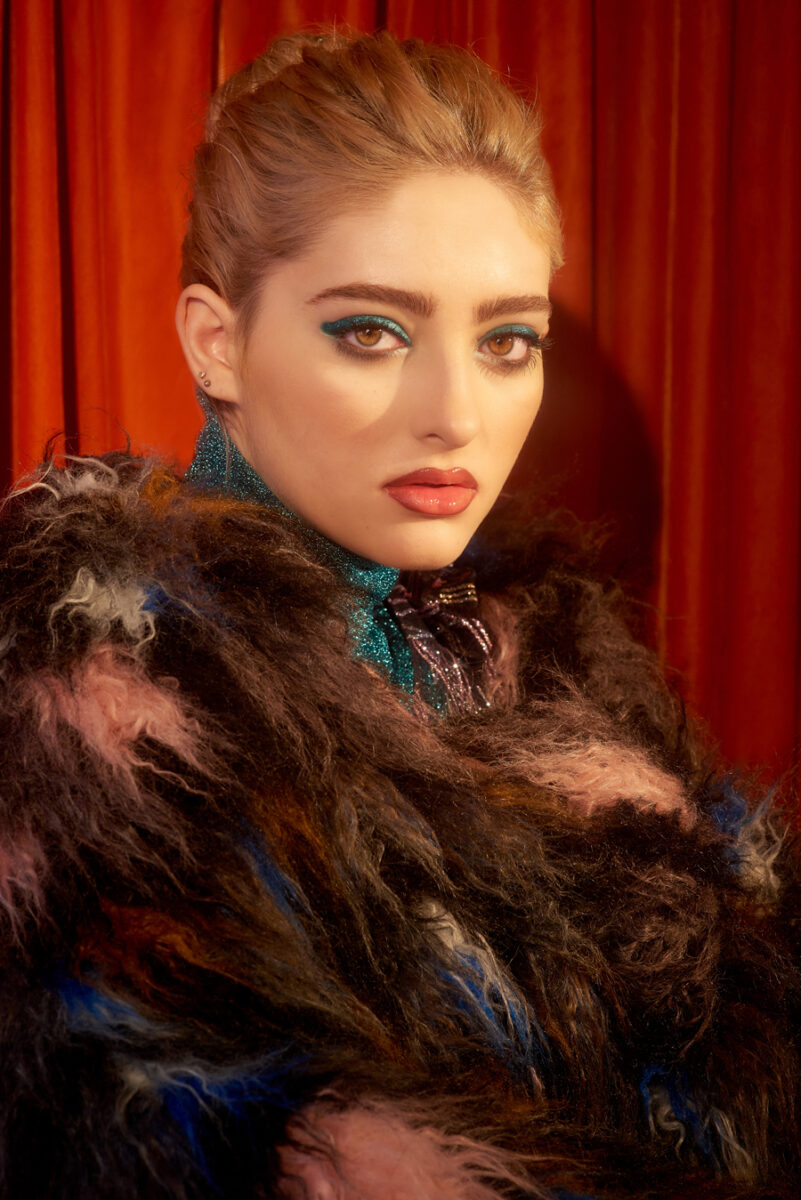 Coat by Kenzo, Top by Zadig & Voltaire
Did you have any difficulties learning to ice skate or learning the choreography for the series and how did you work through these challenges?
It's definitely one of the most challenging things I've ever done. I trained for hours everyday and was so determined to learn as much as I could. But one of the most challenging things I did was for the final episode of the show I did a portion of my routine in front of an actual crowd of about five hundred extras so it really felt like a performance for me. Which is both stressful and exciting.
In what way is the character you play in this project different from the roles you've played in the past?
Her athleticism is unlike any character I've played in the past so that's very different for me. But just like any young woman she's full of so much life, emotion, drive, and confusion in her teenage life so those were similarities that I've seen in characters I've played in the past.
The series seems to focus on mental health.  What steps did you take to ensure your role was true to her character when handling her mother and sisters disorders?
My first step was to allow room for Kaya and January (my sister and mom in the show) to dive into those emotions and have room to experience that. I tried everyday to approach playing Serena in a very honest way, I thought through a lot of what she would go through on a daily basis living with her mom and sister who are both bi polar and how hard that truly is for a young woman who is struggling herself with things. But at the end of the day they love each other more than anyone and that was most important to portray.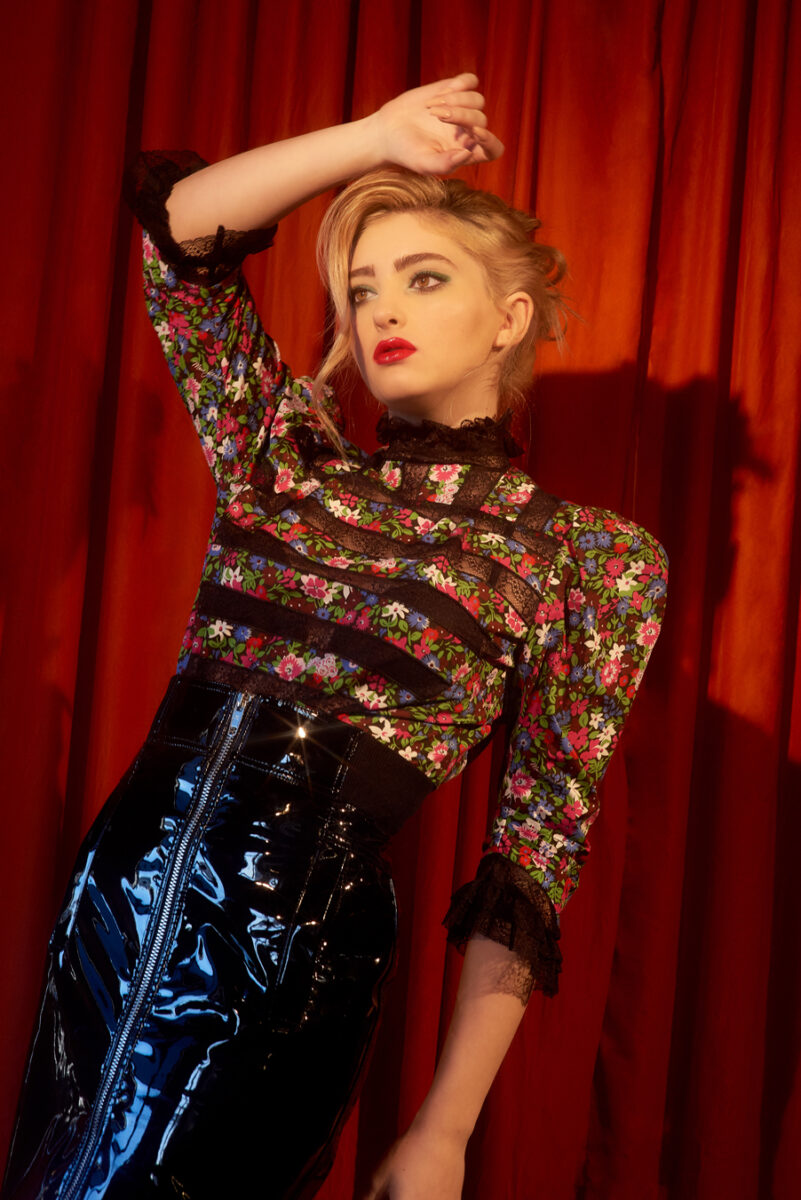 Top and Skirt by Marc Jacobs
How have your fans reacted to your role in Spinning Out?
They are so excited! It feels great to have fans that follow and appreciate any project I'm a part of.
Can you tell us anything about your upcoming projects When Time Got Louder and A Fall From Grace?
I am currently filming When Time Got Louder in Vancouver and it's been an incredible experience. Our story is complex and raw following my character Abbie and her family including her brother Kayden who has non verbal autism. Abbie leaves home to go to school and falls in love with a girl named Karly while at college but struggles with being away from Kayden after being there for him his whole life.
Do you have any other projects coming down the pipeline that you can tell us about?
Nothing I can talk about yet haha
Do you have a daily mantra?
Just to be open minded and open to learning from your accomplishments and mistakes throughout everyday.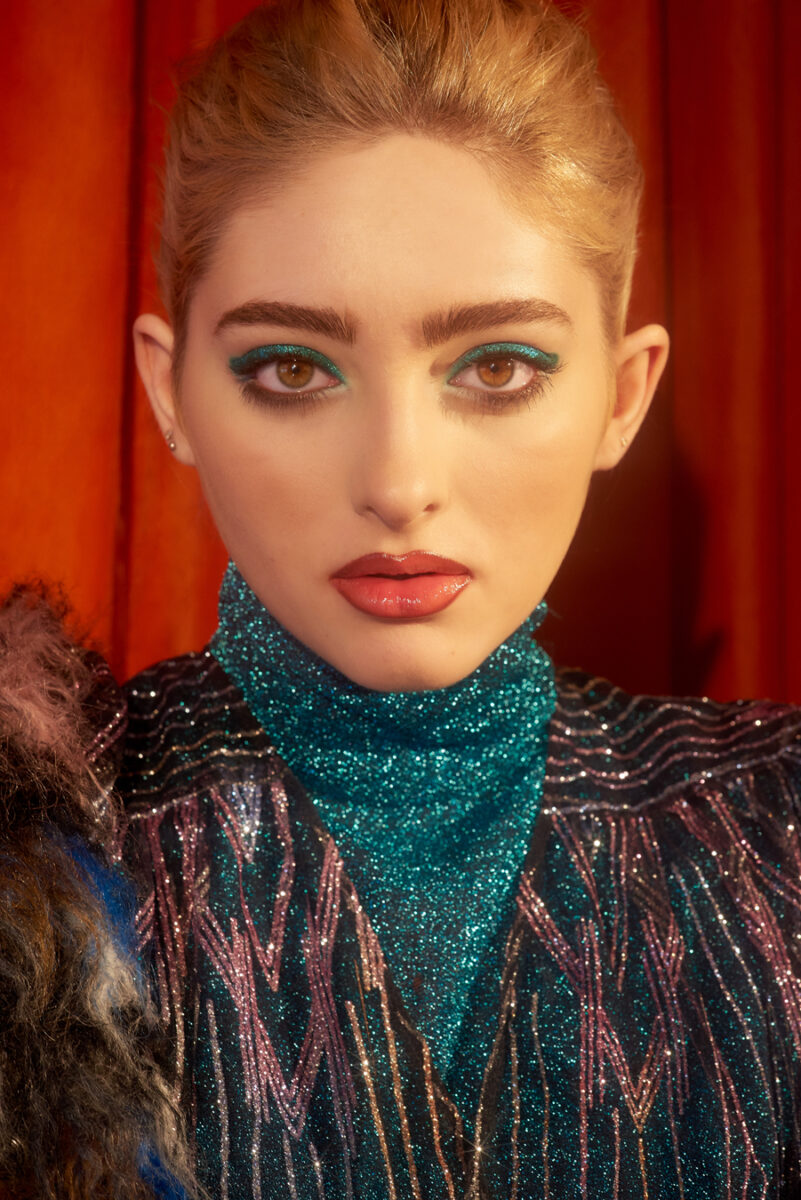 Coat by Kenzo, Top by Zadig & Voltaire, Turtleneck by Victoria Hayes