DEATHBYROMY BY JOSEF JASSO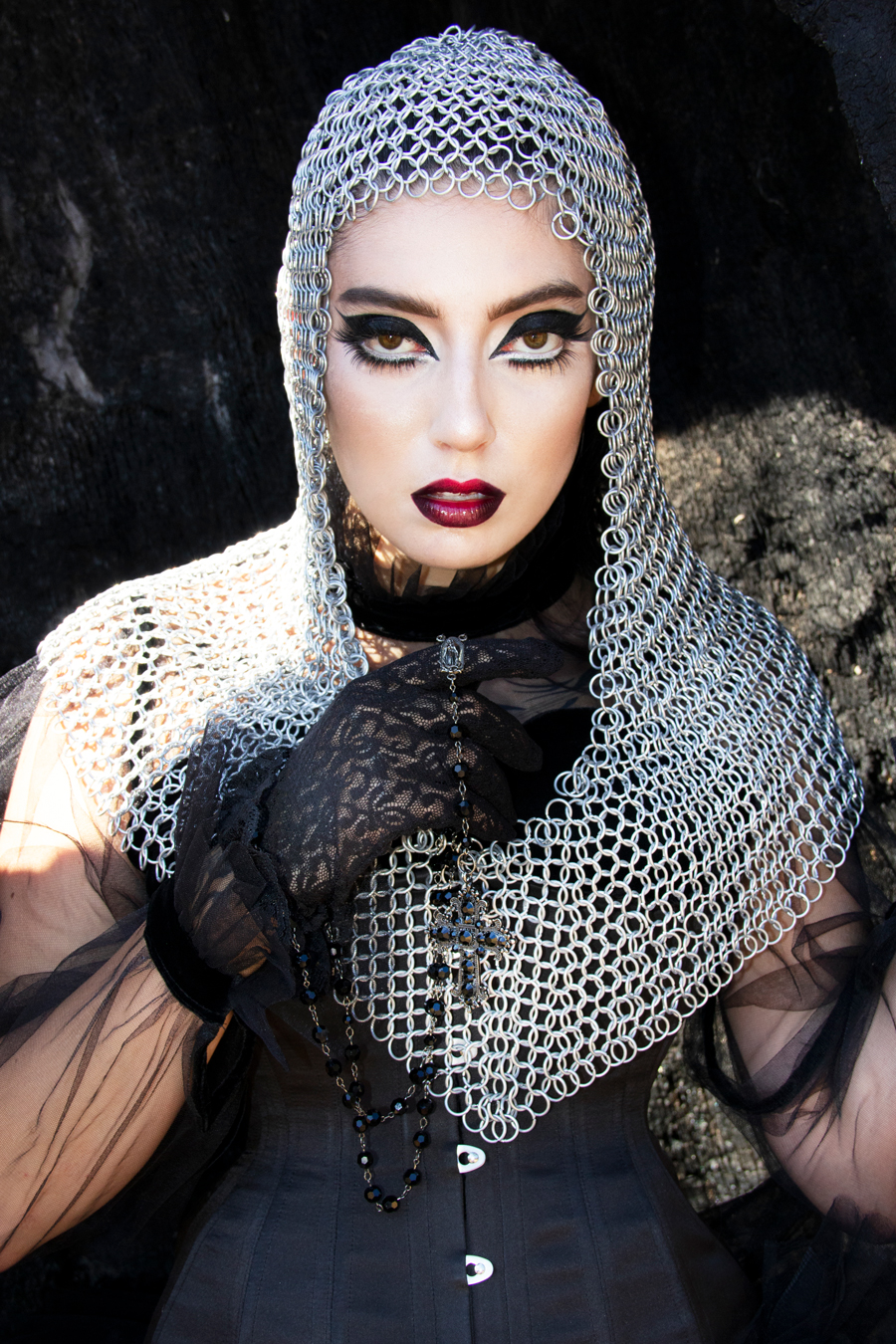 Dress by House of Mua Mua, Head-piece and crucifix by Mariana Harutunian
Photographer + Creative Direction Josef Jasso
Styling + Creative Direction Adrian Joseph
Style Assistant Carlos Posadas
Makeup director Nicky Andrea
Hair Stylist Ana Estela
Interview by Izabel Rose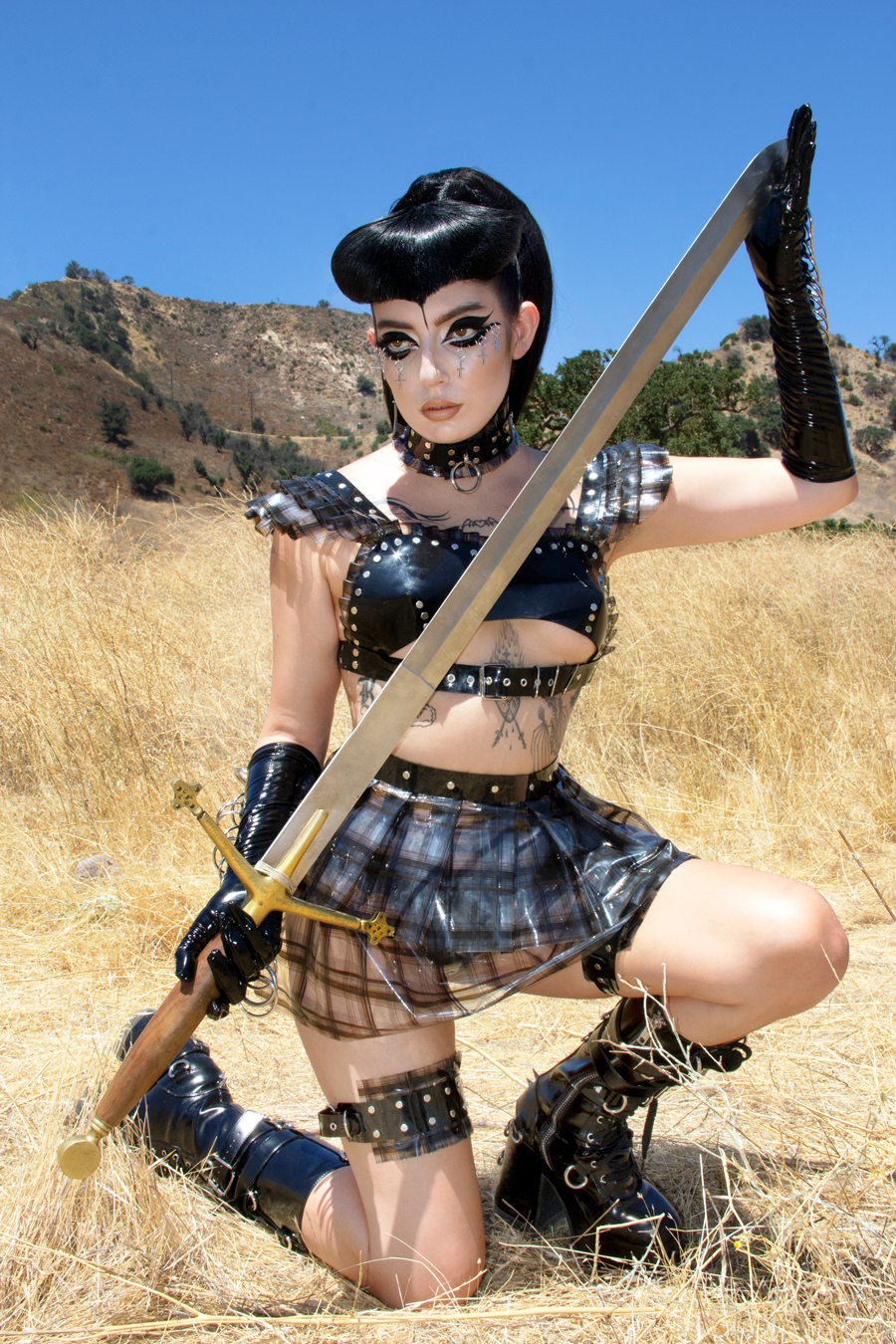 Weird Brain Creation pvc plaid look, Boots by Dolls Kill
Singer, songwriter, and dark-pop provocateur DeathbyRomy pays attention to every last detail. She pours both pain and euphoria into her catchy but heavy music, pitting electronic melodies and propulsive beats against hypnotic vocals and deeply personal lyrics. Now 20 years old, the Los Angeles-born Romy Flores wrote her first song at age 5 and began releasing her music at 15, mining inspiration from the iconoclastic artists she was raised on (The Beatles, Björk, Kanye West, to name a few). With her 2018 debut album Monsters, she soon drew an avid following and found countless fans turning up to her shows adorned in her signature eye makeup. Her Capitol Records debut, 2019's Love u — to Death EP, was short but sickly sweet, emphasizing her unique interweaving of rap boldness, electronic innovation, and raw rock 'n' roll passion. As Romy's sound has taken shape, so has her DeathbyRomy persona: the Harajuku punk fashion, the corpse-like makeup, and her hard-earned, utterly badass confidence. Stay tuned for more new music coming soon.
How did you find out that you wanted to be an artist? 
I was raised in a home covered in art, by two people who were not only artists themselves but who honored and valued art in all mediums. My mom would sing all the time to me when I was little, and museums were a regular outings during my childhood. I started writing at five, but it wasn't until I had experienced what I knew was real pain, did I know that I wanted to console and touch others who had felt the same. My best means to do so was through my art.
Where do you pull your musical inspirations from? 
My biggest inspirations are Bjork, Kanye West, Bring Me The Horizon, and Lady Gaga. But I pull my own inspirations to write from everything around me. From the void, to mania, to pain and love.
Describe the creative process behind your music? 
It constantly varies and is not limited to one set formula. I write everywhere. My favorite place to write is on the plane.
How would you describe your fashion aesthetic? 
hmmmm…bi-polar? Just kidding, Japanese Lolita meets goth hype beast and a sprinkle of Renaissance witch.
From the editorial shoot, which are your favorite designs?
I loved the Weird Brain Creations outfit best. I love her work.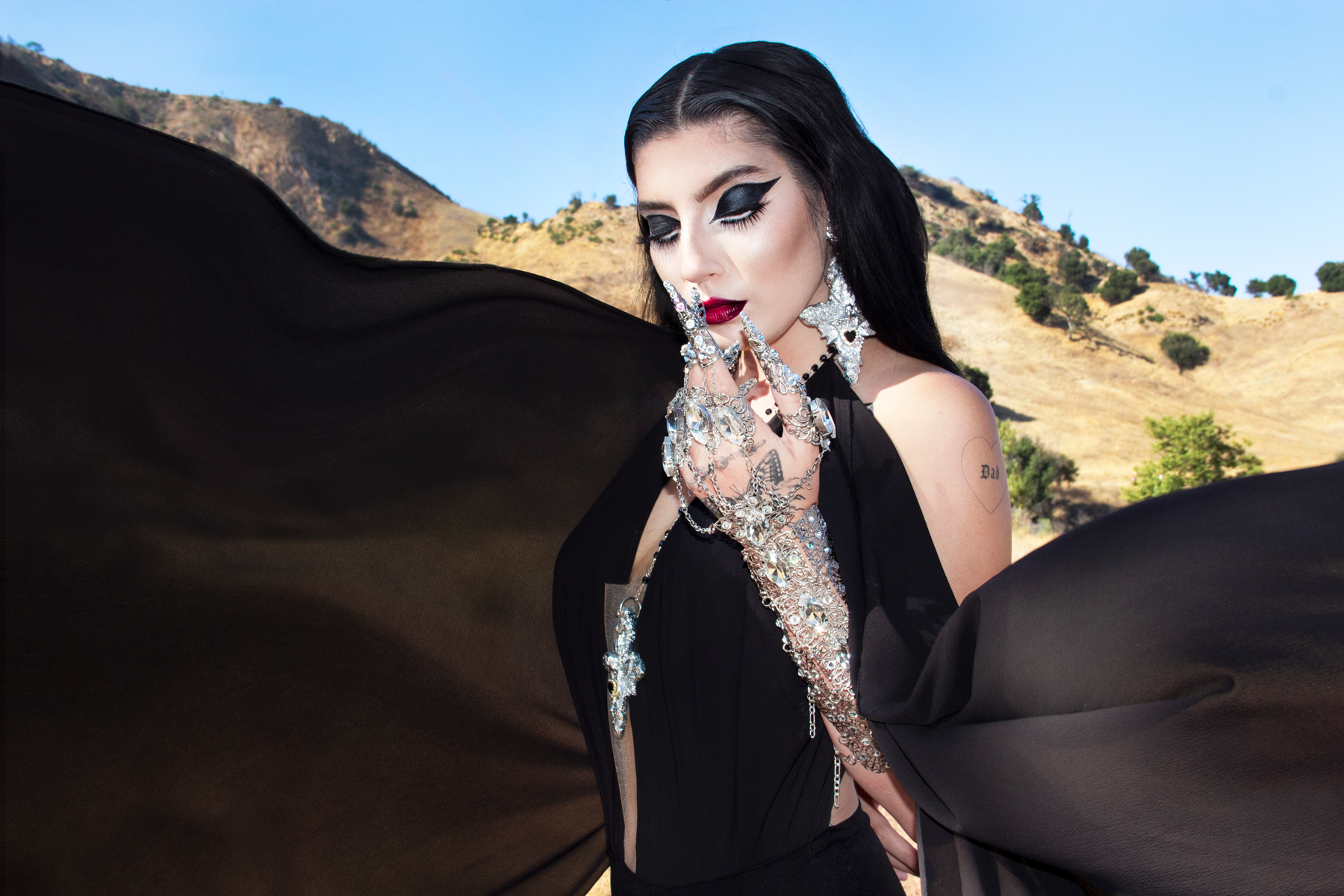 Black Dress by Michael Costello, Glove by Mariana Harutunian, Earrings & Necklace by Coutorture
What is the best advice you've ever gotten?
To never take anything personally. To not let compliments and high regards to be the only reason I am happy with myself or the only thing that makes me feel good about myself. And in hand, to not let negative energy or comments about me be the reason that changes how I see myself.
What song(s) would you most likely sing in the shower?
Anything that allows me to belt because you sound better with the bathroom acoustics. Maybe "Cry" By ashnikko.
What's to come from DeathbyRomy?
More music, and infinitely more life.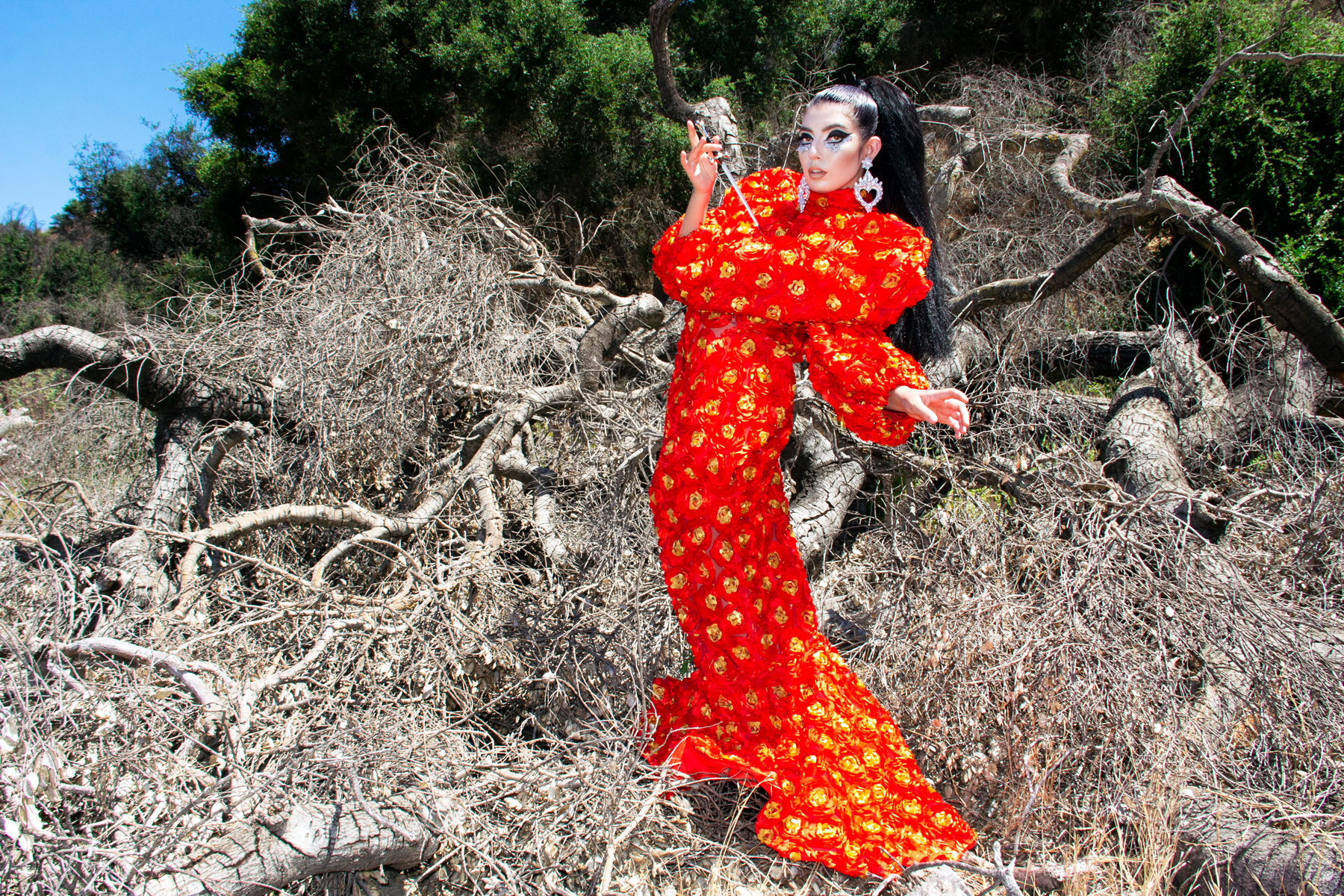 Queen of hearts dress by Helen Anthony, Jewelry by Couturtore