WEB EXCLUSIVE – LEX SCOTT DAVIS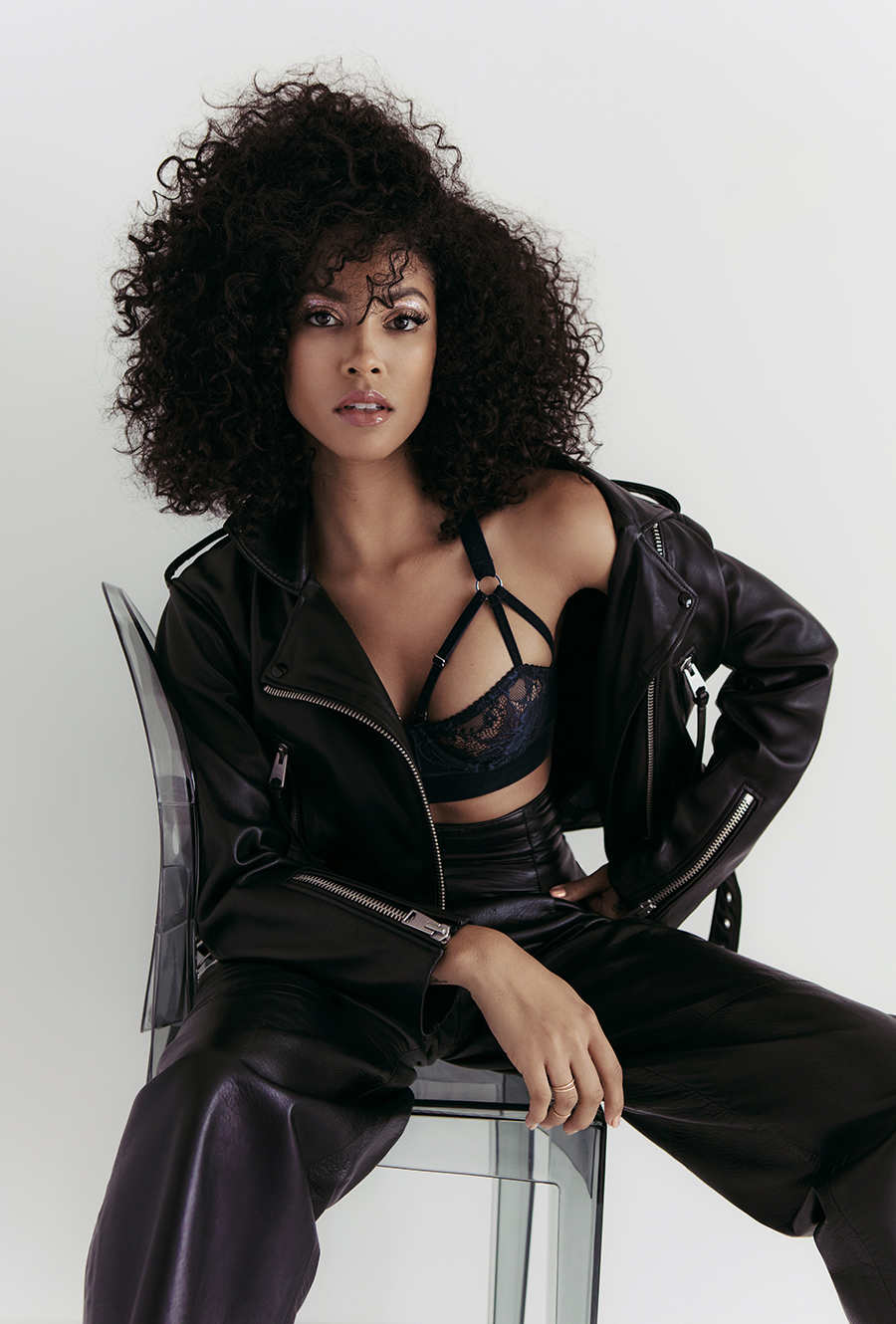 Leather Jacket by All Saints, Bra by For Love and Lemons, Vintage Leather Pants
Talent: Lex Scott Davis | Photographer: Raul Romo | Stylist: Mimi Le | Hair Stylist: Malaika Frazier | Makeup Artist: Rob Scheppy @ The Only Agency
Lex Scott Davis started off as a dancer but soon diverged onto the road towards acting in commercials and television and eventually starring in one of this summers blockbuster hits. After landing the role of Toni Braxton in the television-movie Toni Braxton: Unbreak My Heart, the snowball started rolling and Davis' career has taken off. Now starring as the lead heroine in The First Purge, Lex Scott Davis is a no-nonsense force on-screen, and her performances in The First Purge and SuperFly have proved that Davis is here to stay.
In this exclusive interview with Iris Covet Book, we learned more about her role in the latest installment of the Purge thriller franchise and how the film and her character resonated with her personal story.
Where are you from originally?
I'm originally from Baltimore, Maryland, then made the move to Philly, then New York, and now Los Angeles. The move to New York was challenging in the beginning,  especially when you don't have family there. New York wasn't necessarily the safest place either. Living in Bed-Stuy, Brooklyn and commuting to work in the city everyday was a culture shock, but also a great growing experience.
When did you first know that you wanted to go into acting?
I went to Drexel University in Philadelphia and majored in dance and physical therapy. I started to grow out of it; I didn't see the longevity of becoming a dancer. So in my third year in the program I decided to leave and move to NYC where I started acting classes at the New York Film Academy.
Was there a certain incident that confirmed in your mind you needed to pursue acting?
When I begin to realize that dancing had a cap to it. I think after a certain age you either become a teacher or a choreographer and I knew that wasn't what I wanted for myself.  I understood from a very young age that I loved performing, so for me it was like 'what can I do that will allow me to perform for people the rest of my life?' and the answer was acting. You never run out of opportunities as an actor. They will always need some 80-year-old black lady to come in and play someone's grandma, you know what I mean? (Laughing). 
How do you compare the differences between living and working in New York versus Los Angeles?
Well, they were two totally different experiences for me. NY was really about school and learning the craft of acting and when I moved to LA it was all about auditions and hustling for the jobs. When I first moved to LA I realized I wasn't really as prepared as I would like to have been. I knew I couldn't just dive straight into grabbing a professional acting job. I definitely had to work my way up with commercials and stage plays until I eventually found my way into the audition for the Toni Braxton biopic which was the first real opportunity within my first year of living in LA.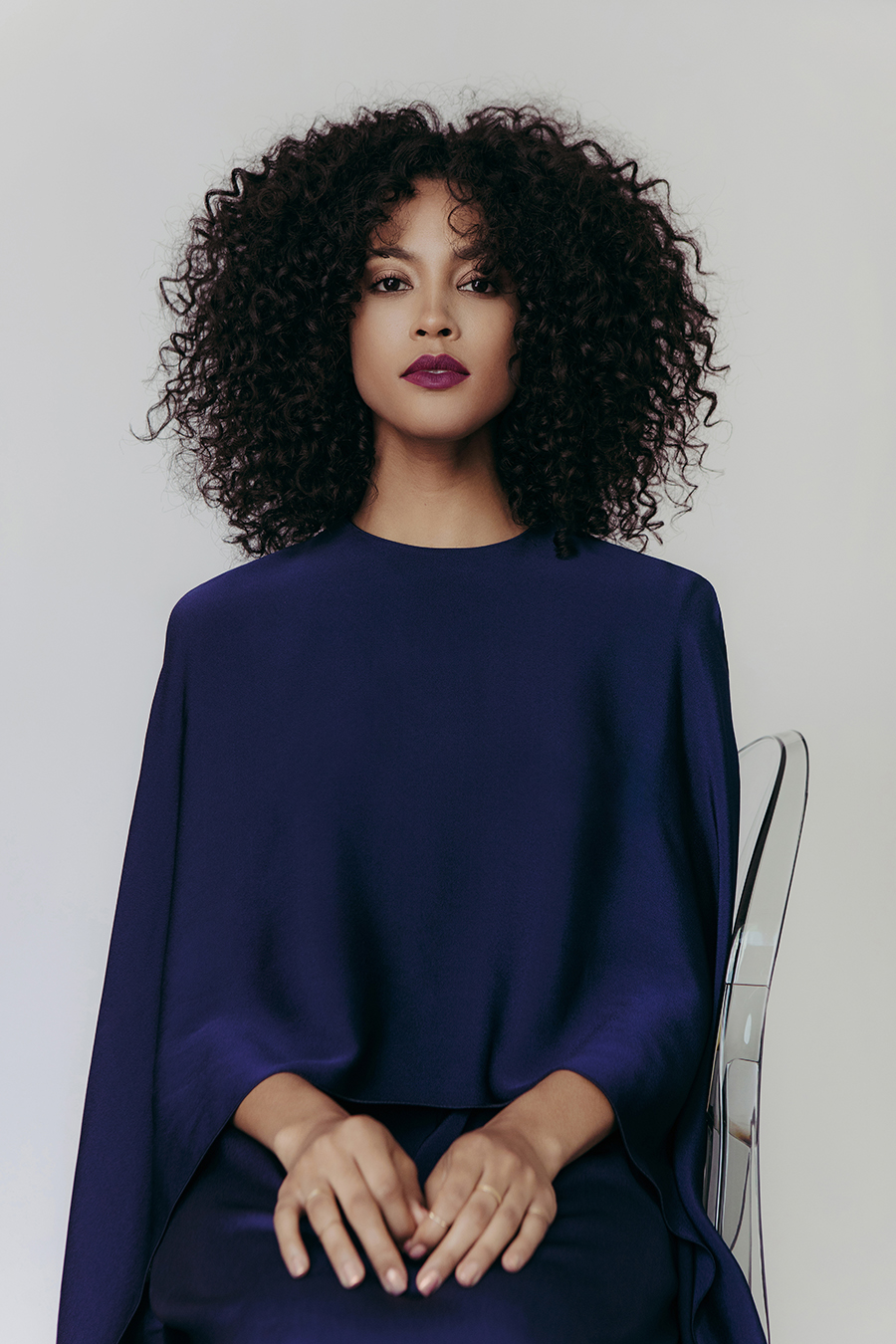 Dress by Stella McCartney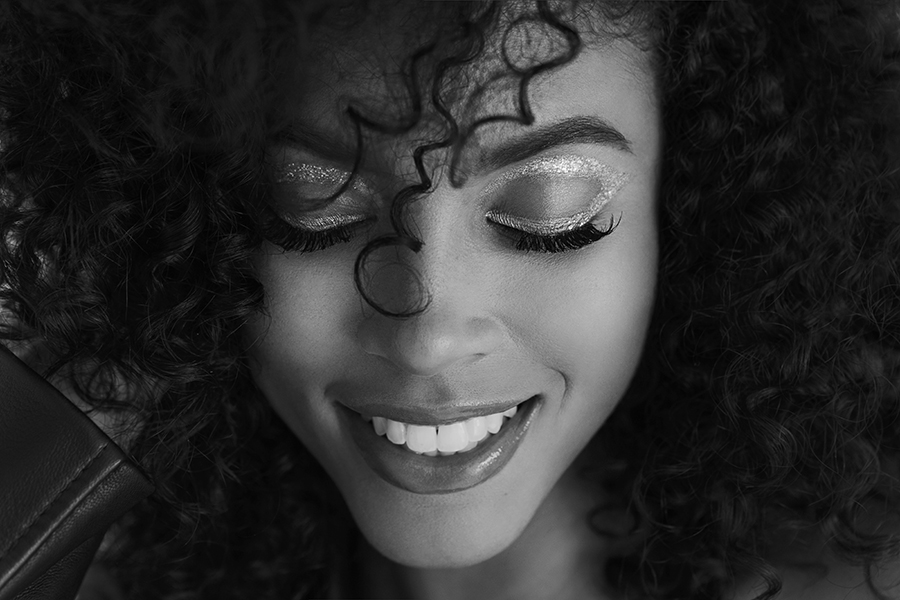 Leather Jacket by All Saints
How was it to work alongside Toni Braxton on the production of her biopic?
When I booked the movie my manager called to tell me I had to be on a plane to meet her in Vegas the next day.  I attended her show that night and she pulled me up on stage. That was our first time ever meeting. She was very involved in all the pre-production, table reads, and made herself available to us if we ever had any questions. She would do whatever it took for us to get to know her. I choose to be more of an observer and watched her every move, even when she didn't know she was being watched (laughs). I wanted to see how she interacted with people and the little nuances that she does.  I think I learned more about her that way.
Tell us about your latest film The First Purge. What should fans know going in?
Well I think each Purge is a stand alone story, so you don't have to see the previous movies to understand this one. And this is the prequel, so it's setting you up for the previous ones. It's not a horror slasher film like some would assume, it's actually way more evolved. The film is more of an action thriller and has a refreshing storyline where we get to see young black people being the hero's of their community. It's really fun to watch and I don't want to give too much away but it's very exciting. Oh, and the music is DOPE.  
Tell us a how you prepared for your role in The First Purge?
This role was so hard, and I fought very hard to get it. I went in to audition at least four times in a pretty rigorous process. In terms of preparation–I felt I could really relate to the script because of how I grew up, the people I grew up with, and the circumstances these characters lived with that were very relatable to me.  I'm from Baltimore and was raised around the circumstances of lower income neighborhoods.
So you felt a strong connection to your character?
It's a relatable story. Nia's story isn't exactly my story or how I grew up but it's definitely a story that I know and it is close to me. I think it's relatable to any woman in this scenario.  Nia is taking care of her brother and her household. She's working multiple jobs to make sure her family is supported and is a strong voice for her community. I know a lot of women who are that person. Women who are trying to make things work despite their circumstances, who push for resistance against the political matters at hand that are up against them.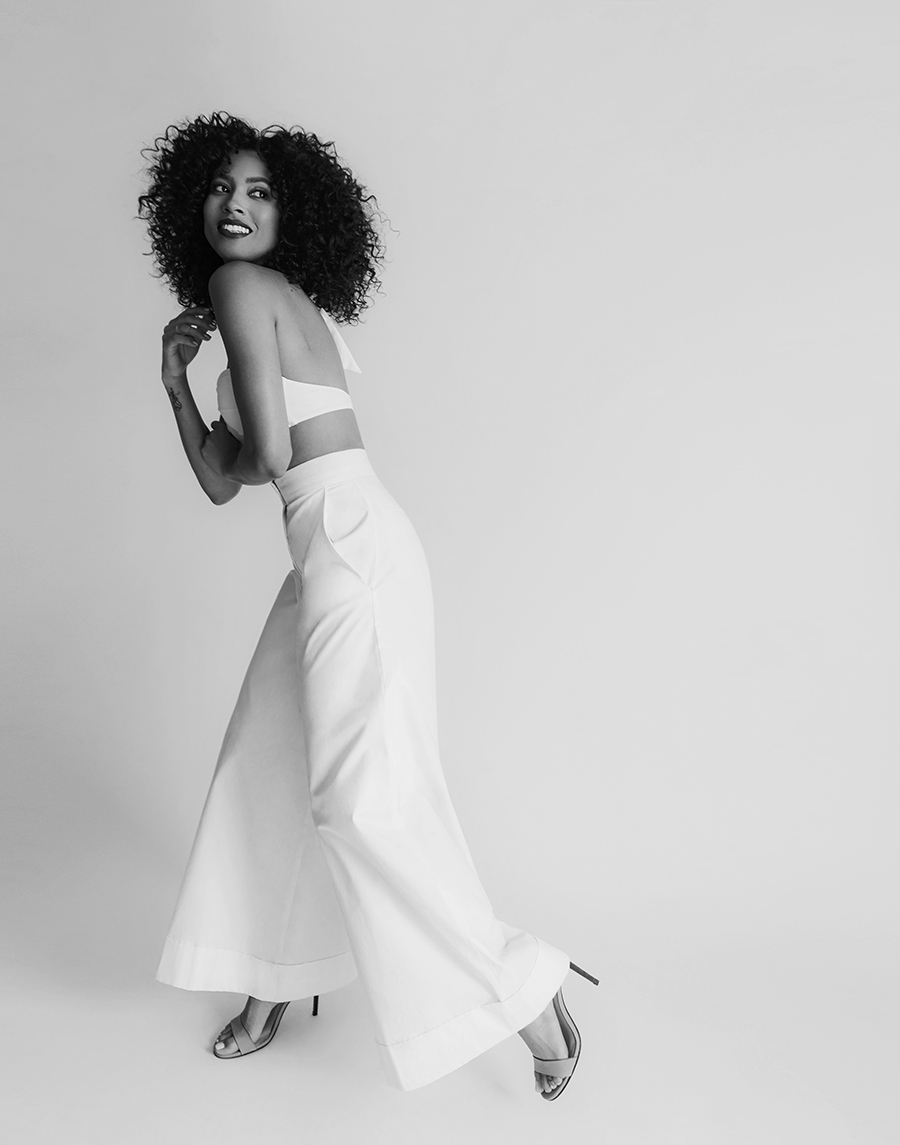 Bikini Top by All Saints, Pants by Stella McCartney, Heels by Jimmy Choo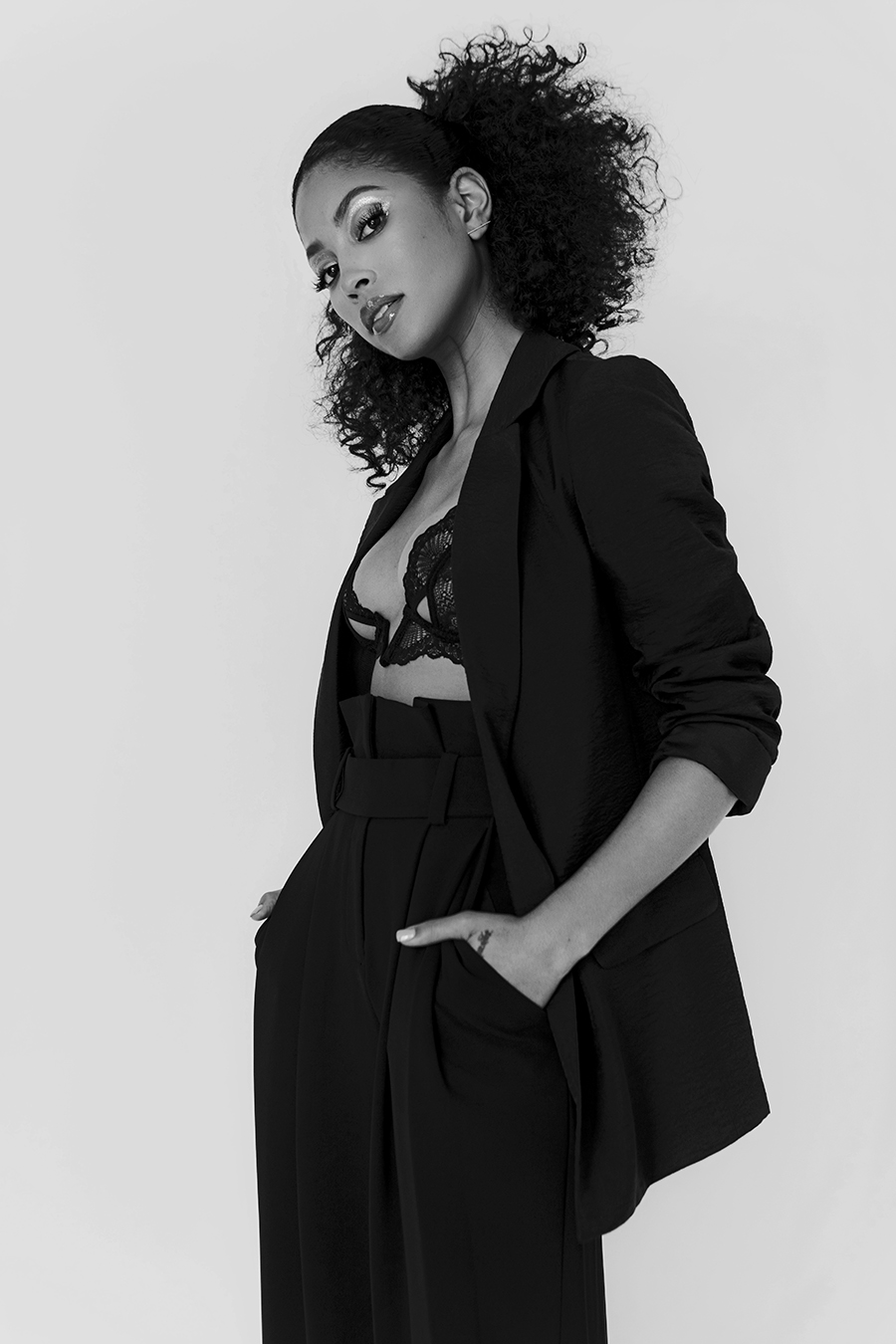 Jacket by Stella McCartney, Bra by Thistle and Spire, Pants by COS
We get to see a small glimpse of you as an action hero in The First Purge. Do you see yourself playing more parts like this?
Yes, definitely. I remember one of my earlier experiences that made me want to be an actor was when my mother took me to see Tomb Raider when I was young. Seeing Angelina Jolie in a kick ass role made me say, "Oh my god, I want to do that!" She was so beautiful and so physical and strong, and that was something I could relate to at the time because I had the dance background. To see her on the same playing field as men, and showing that dominance and strength, was amazing to me.
Is there a favorite movie that you would love to star in if there were ever a remake?
I would love to be in a role similar to Charlize Theron's character in Monster.  To be someone that is so put-together but then stripped down from all of that and completely raw. Seeing a different component of her level of acting and the layers and complexity of the role is to bring truth to the story. It's equally as beautiful as when she's all done up and doing her J'adore commercial. It was just a brilliant film. My mother showed me that film years ago. (Laughs)
What advice would you give to aspiring actors?
Even while Toni Braxton happened for me within my first year, a lot of people didn't see the other side when I was working at a salon. I worked for a massage therapy office, I was driving a Lyft–there were so many things going on. It certainly wasn't easy. Yes, I acknowledge it was quicker than some to obtain, but it certainly wasn't handed to me. There was a lot of hard work in between.
Nothing is by coincidence, and I'm a firm believer that if you truly love and are persistent in the thing you know you can do, then keep on doing it. What people don't always see is that on a day-to-day basis actors are handed a handful of auditions a week and it only takes one of those for something to happen. My advice would be to keep being persistent and to not be defeated by the 'no's'. Remember those 'no's' are leading up to that 'yes', and it's not by coincidence. Maybe the role that passed on you allows you to find a role thats going to catapult you into that big break. Everything happens for a reason.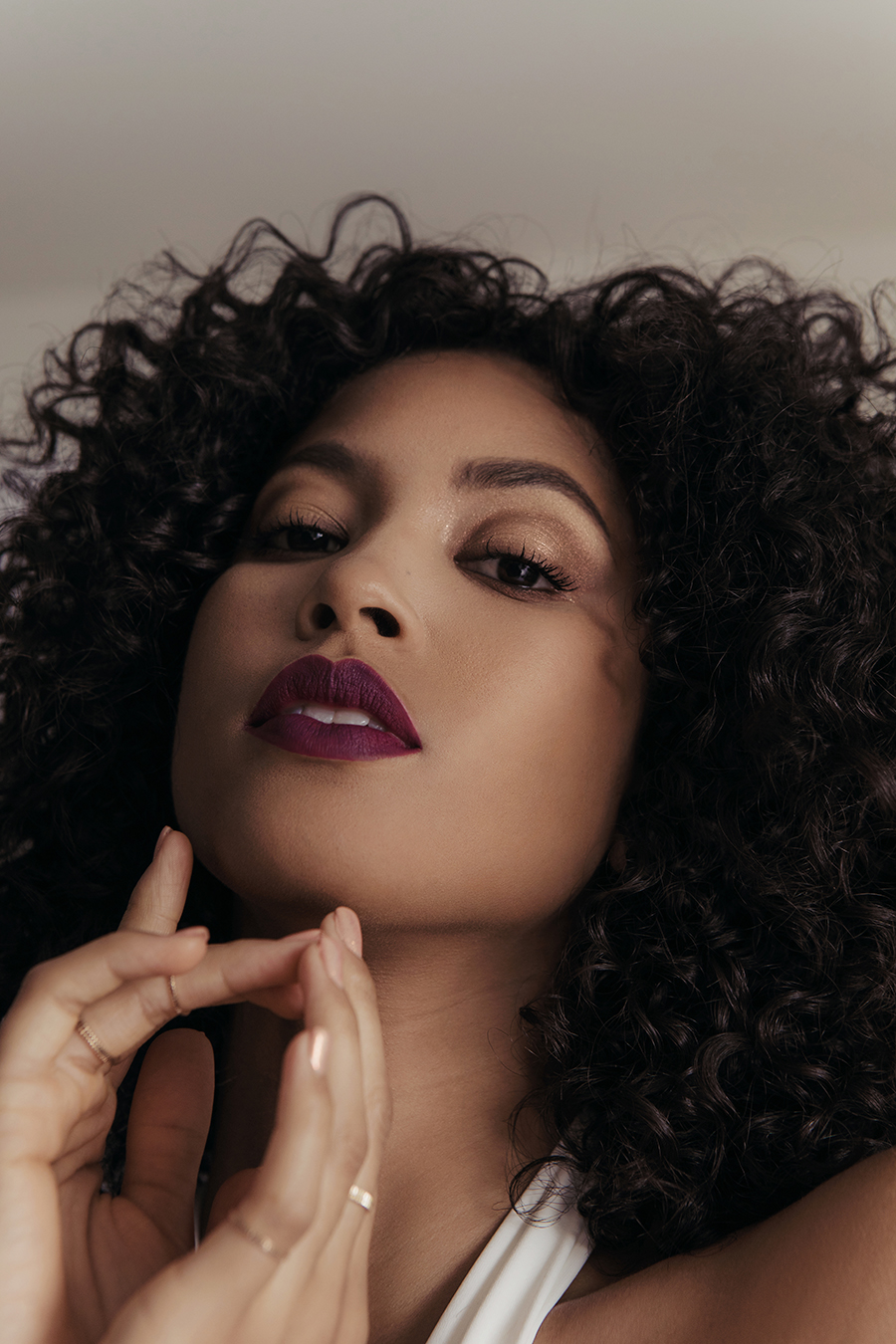 Bra Top by All Saints