DIGITAL COVER: DIEGO BONETA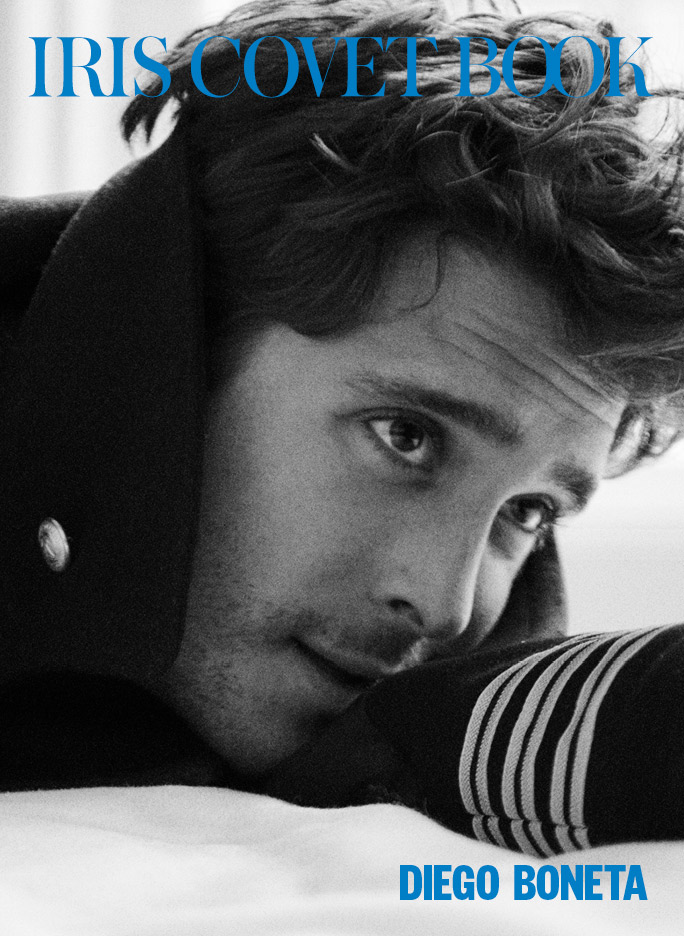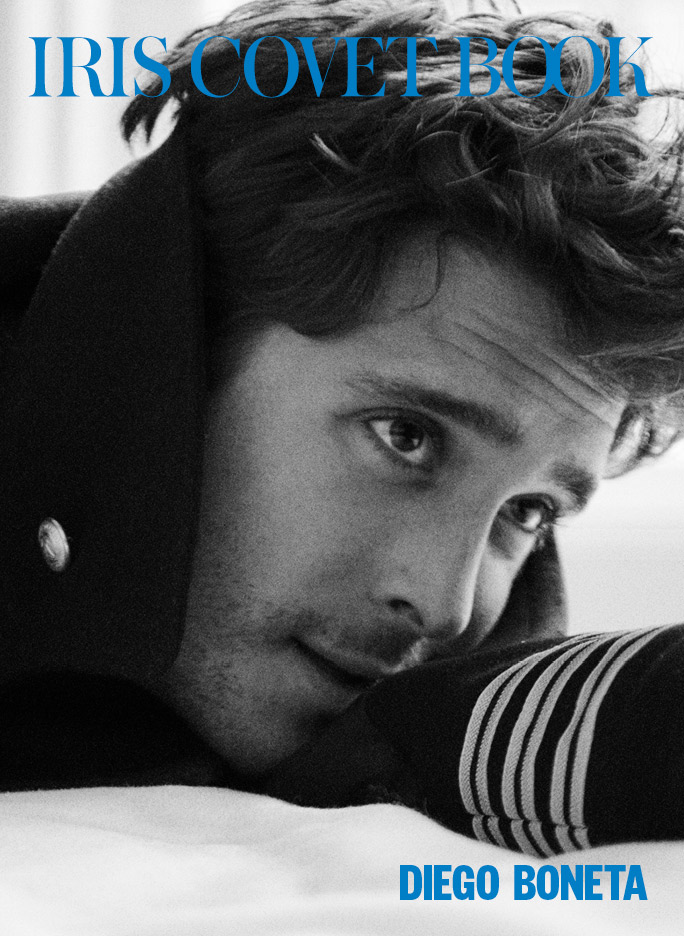 Jacket by Dsquared2
Photography by: Emilio G Hernandez
Styling & Interview by: Marc Sifuentes
Creative Direction: Louis Liu
Grooming by: Benjamin Thigpen
Location: @alloy.bk @168plymouth @rebeccarobertsoninteriors
Some might call it fate when an 11-year-old Diego Boneta won a televised singing competition with his rendition of a classic Luis Miguel hit song "La Chica del Bikini Azul". Fast forward 20 years later, and Boneta is not only the star of the three season Netflix hit series Luis Miguel: The Series, but was an integral part in creating the series as Executive Producer to the project. Not one to shy away from a challenge, Boneta recreated and re-recorded some of Miguel's top hits for the series, a nearly impossible task for those that understand the complexity of Miguel's catalog of music.  
Boneta spoke to Iris Covet Book about the time and preparation involved in playing the legendary crooner and the craft of perfecting a beloved real life character while still making it his own. Boneta also discusses the inspiration behind producing, starting his own production company, and his determination to open more doors for Latino actors.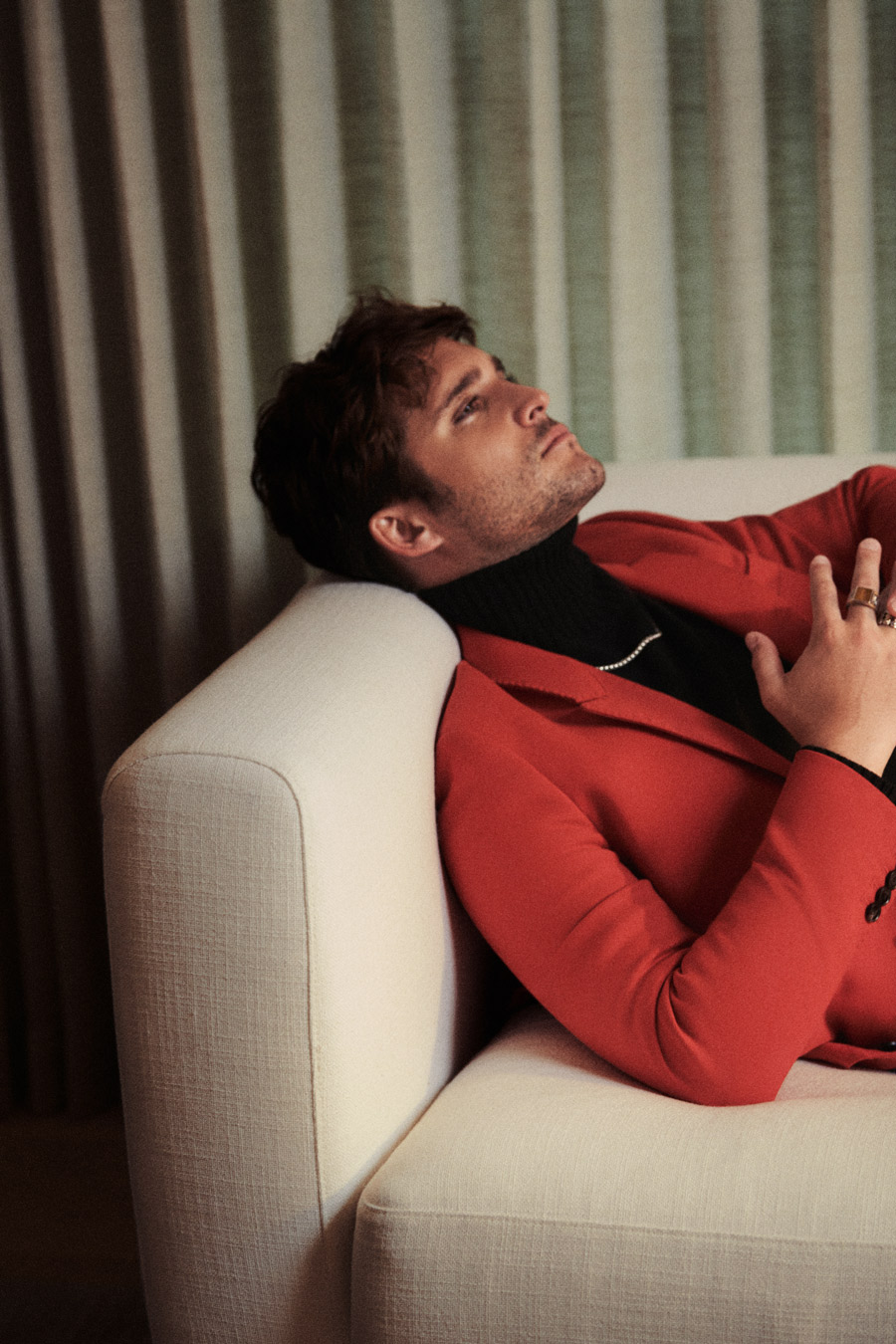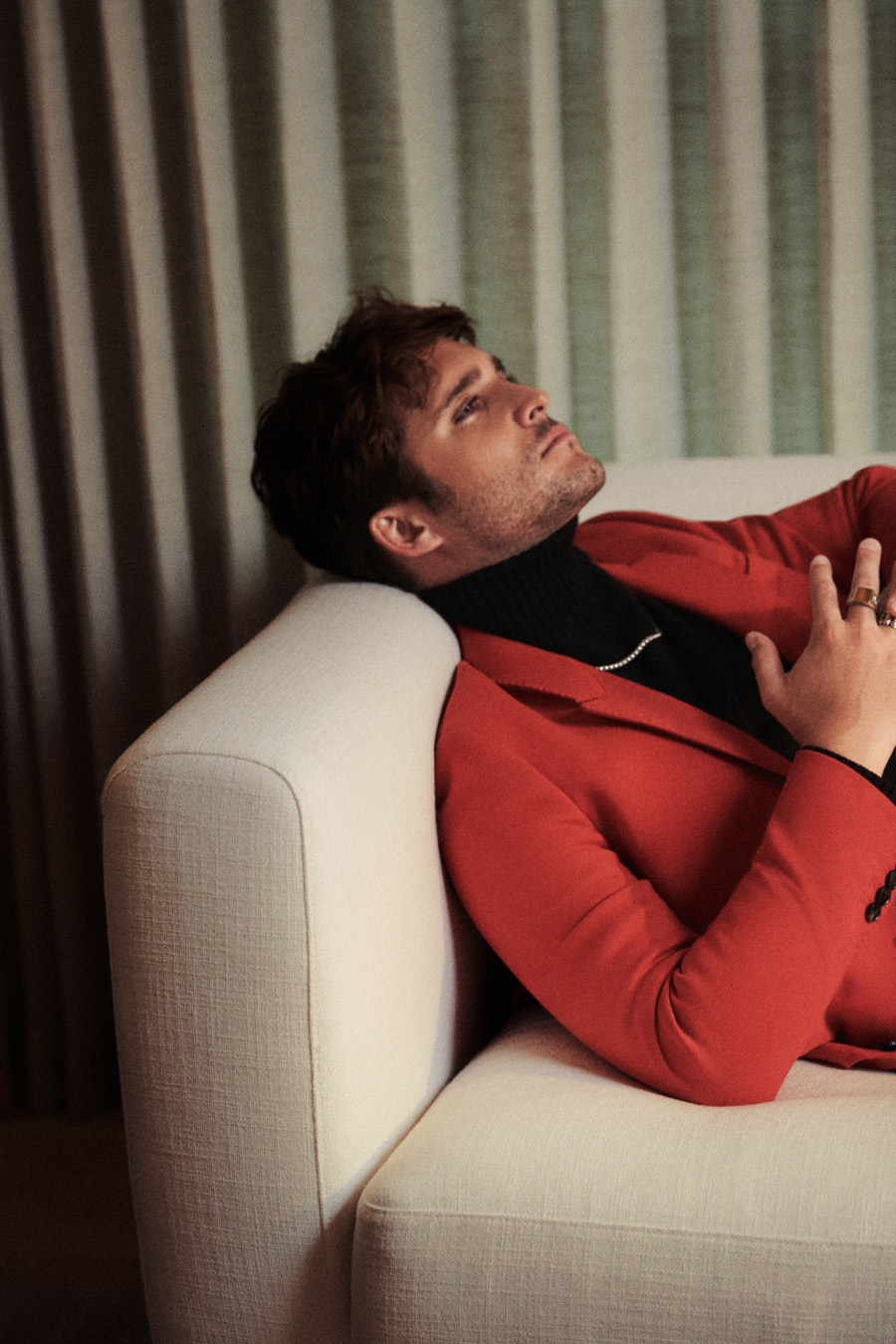 Suit by TEDDY VONRANSON, Jewelry by Konstantino
The Luis Miguel series has been a huge hit for Netflix for three seasons, but I want to go back to the beginning and talk about your process preparing to play the role of this international superstar.
Of course. Well, when I got offered the part I knew the challenge it would entail because Luis Miguel is somebody who is still very relevant and more importantly still alive. Normally a show like this happens once the artist has passed away. I knew that there was only one way to do this right and that was to really take the preparation part seriously, even more seriously than the actual shooting. It was the first time that I worked on a movie that was a full transformative role and becoming someone else is very, very intense. 
It's me becoming someone else, and not only acting but also singing. I basically took a year to just work on that. I had a vocal coach, Ron Anderson, and then I had my acting coach, Juan Carlos Corazza, helping me on the acting front, and I was also an Executive Producer on the series! It's the most demanding project I've ever been a part of. 
Some people might not know that you originally are from a musical background ,you were in a singing competition show at eleven years old and starring opposite Tom Cruise in the movie musical Rock of Ages. Did you know that you would have to take on the responsibility of re-recording all of the songs in the series in your own voice?
I sat down with Jamie Foxx one day,I've been a big fan of his work and his Oscar winning performance in the movie Ray about Ray Charles, I think he absolutely crushed that movie, and what he told me was, "the key is to do everything." You know, he told me if we recreate all the songs, don't stop there. I needed to recreate the music videos, the album covers,even the prop pictures on the set had to be me. He was also the person to say I needed to sing in the series. You know, Luis Miguel has crazy pipes. He's one of the best singers of all time. And I wanted to give it a shot. I wasn't sure if I was going to be able to do it. Ron Anderson, who was the vocal coach of Rock of Ages, helped me try to replicate the sound of Luis Miguel. It was like learning how to sing again. Going from changing your vibrato, to seeing where you have to place your voice to sound closer to his tone, to how to pronounce his vowels, where he places each vowel. It was crazy, and that's all I did for a year.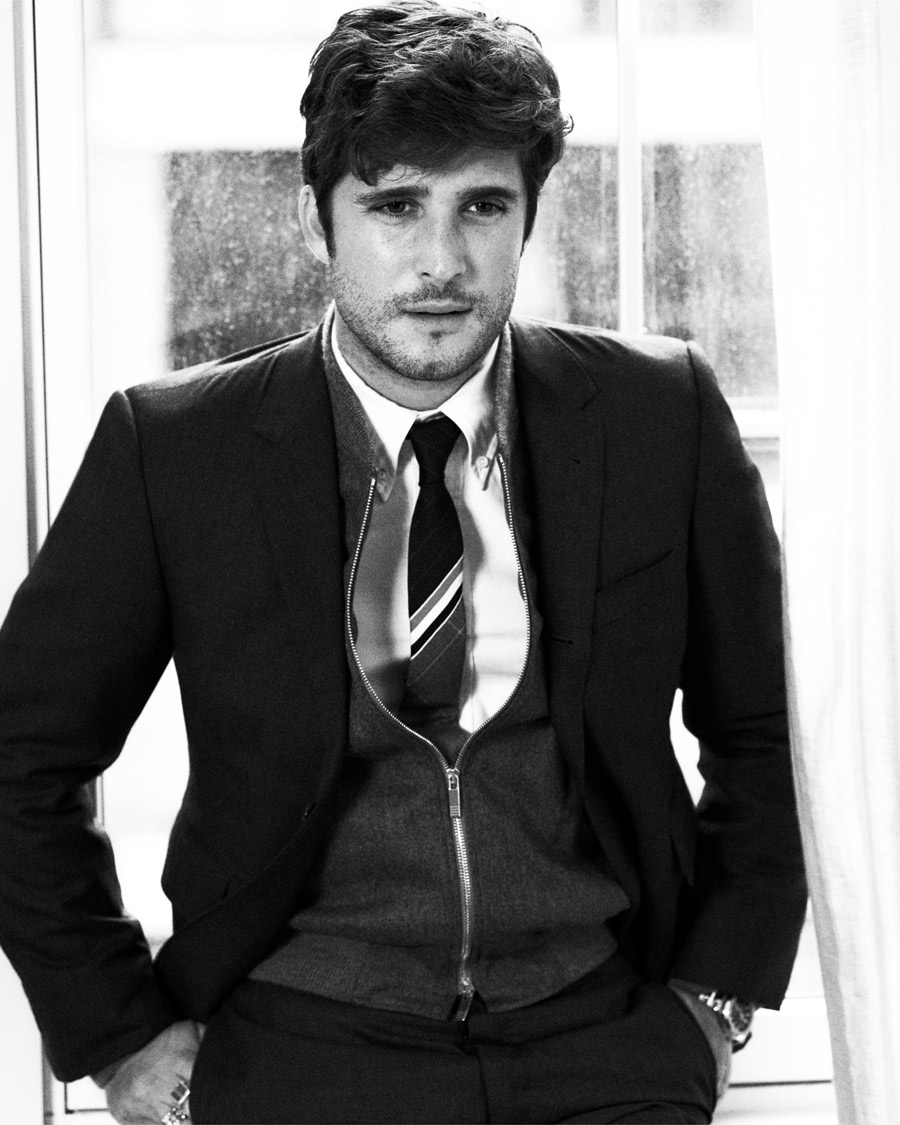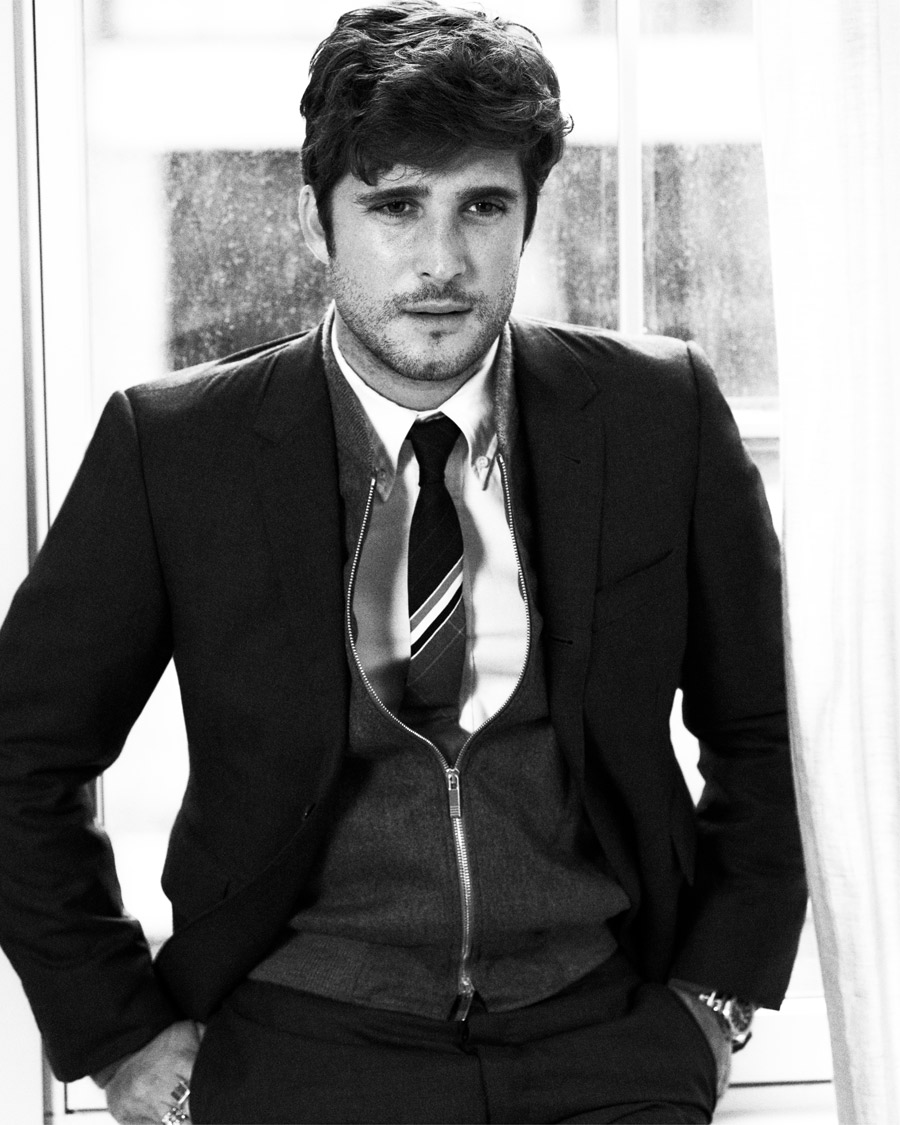 Full look by Thom Browne, Jewelry by Konstantino
If you didn't have the musical background, do you think you would have taken on that challenge or is that part of your personality to push yourself out of your comfort zone? 
I don't think I would've been able to do it without having a musical background. Because Luis has one of those voices that, I mean, what that man can do with his voice is insane. I don't think I would have been able to do it without having my 20 years of vocal training. 
A key part of the success was having Kiko Cibrian, who produced a lot of Luis' records, produce this soundtrack. All the songs were re-recorded, all the instruments were re-recorded. So I wasn't just singing over recorded tracks. Kiko made sure we re-recorded every single song. A lot of those songs were written and recorded back in the 90's by Kiko, so it was incredible to have him as the music producer for all three seasons of the soundtracks. 
And what about Luis Miguel? Did he have any advice for you during the recording process?
Well, I met him before we started shooting. There's actually a scene in season three that recreates when we met. He shared some very personal stories with me and he told me 'this is just for you for no one else, use it for your interpretation'. We hung out a few more times and he got to listen to the songs. He was extremely nice and very supportive. After seeing the show he said, 'Man, you killed it.' Hearing that from the person that you're playing, I don't think you can get any better than that.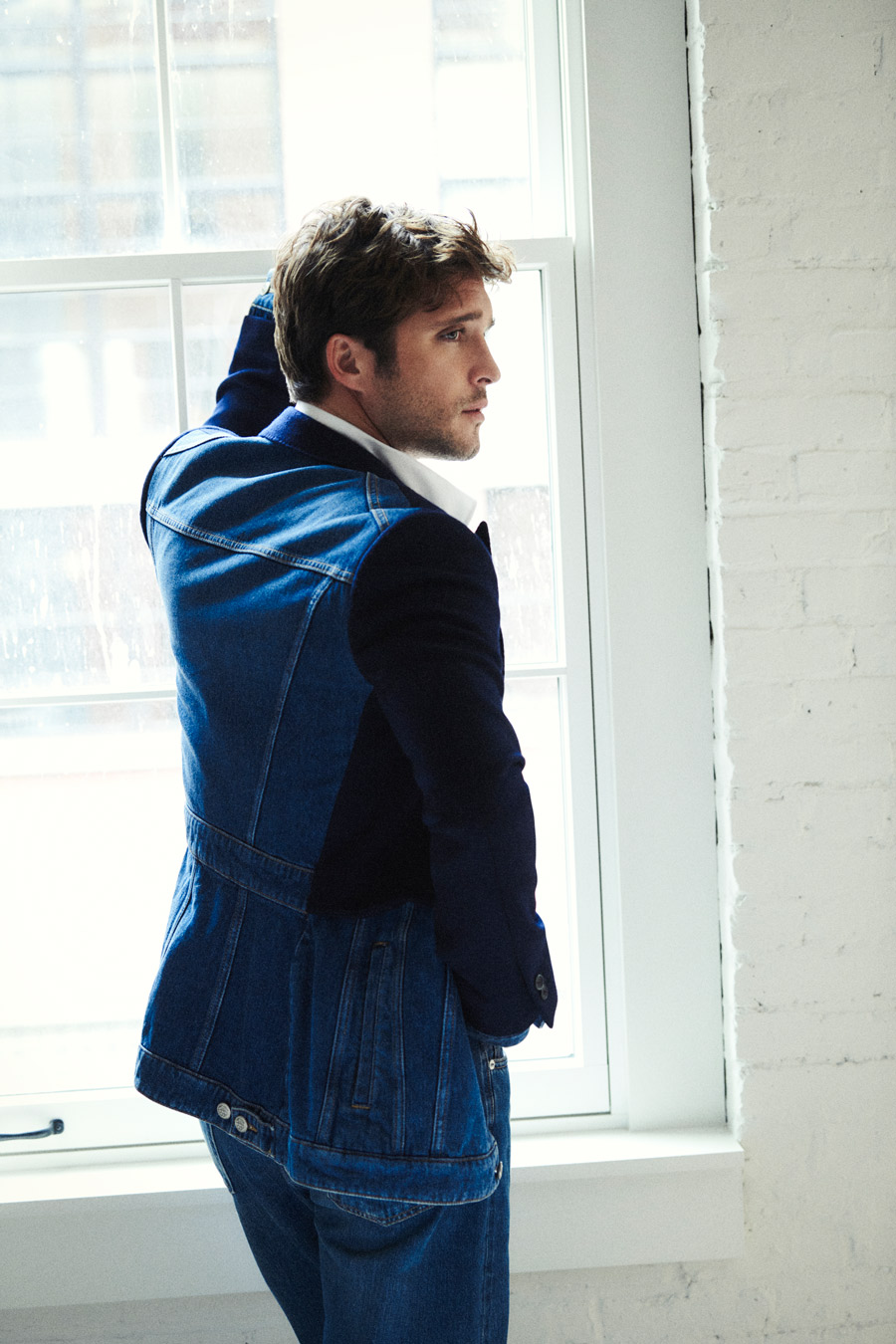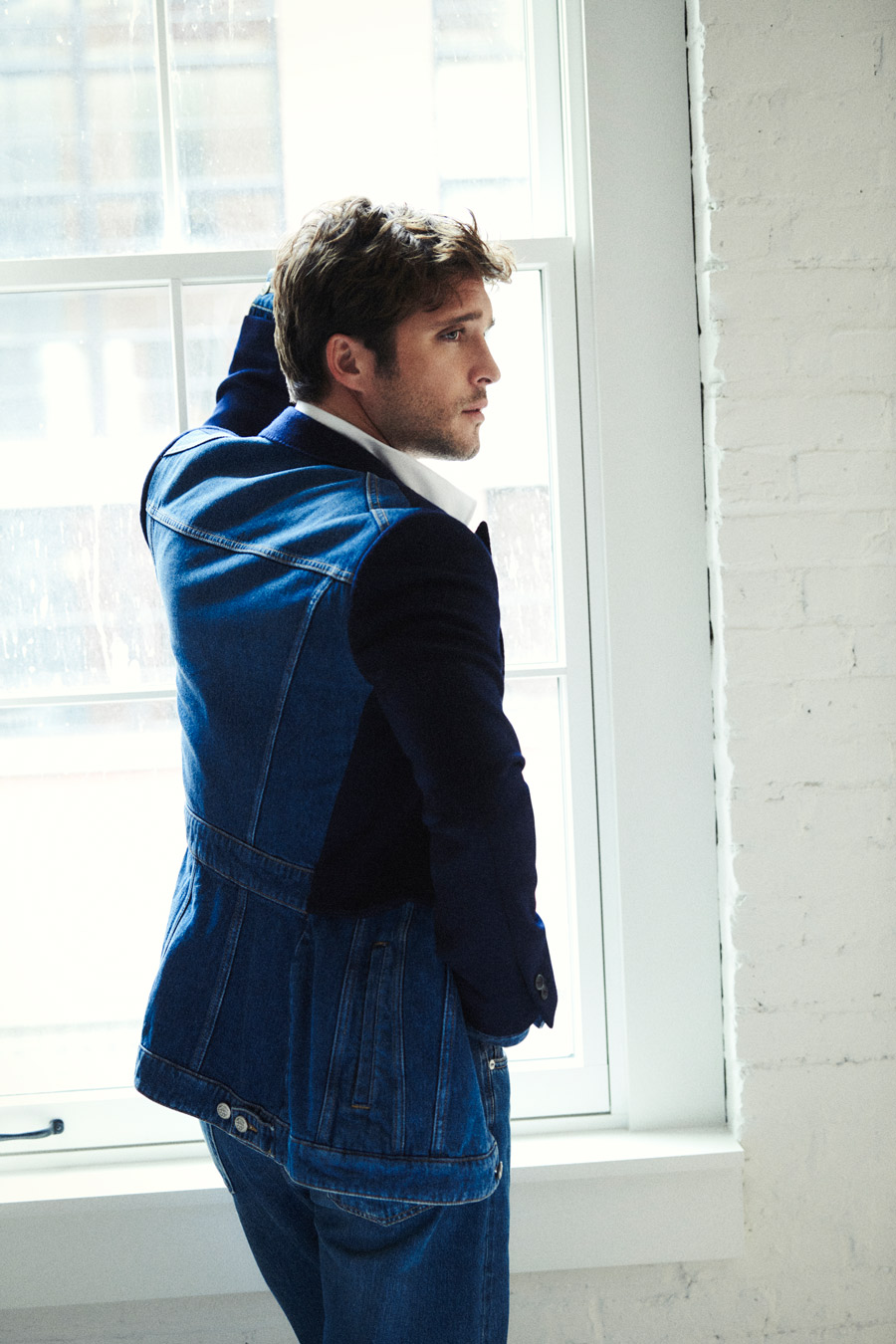 Full Look by Alexander McQueen
You prepared for this role for over a year, when did you feel that you had mastered the part? 
I'd say whenever we started doing rehearsals in Mexico City, before we started shooting with the director. He's really the one that found the tone for the show. In those rehearsals, in talking to him, going over the scenes and just playing with the script, that's where we found it. 
Just knowing and having that confidence that there was nothing else I could have done to prepare anymore. I had done my homework and no one knew the character better than I did. That gave me the freedom and the confidence to know that I was ready.
You also put in the work to be in a makeup chair for 4 to 6 hours a day getting your prosthetics on. What was that experience like? 
That was a whole different ball game because it's not just putting on the prosthetics and then boom you're the part, you know? Studying him and being him for 33 years of his life, from 17 to 50 years old. Studying each of those stages of his life, changing the mannerisms and the way he spoke throughout his life. 
The hardest part was trying to understand and imagine what life must have been like for him. The prosthetics consisted of six hours of makeup, wigs and body suits everyday to become that older Luis Miguel. The team behind it was amazing. Bill Corso is a two time Academy Award winning special effects makeup artist alongside Alfredo Moda, an amazing Mexican makeup artist.The fusion between both teams was a really cool experience, and they paid attention to the smallest details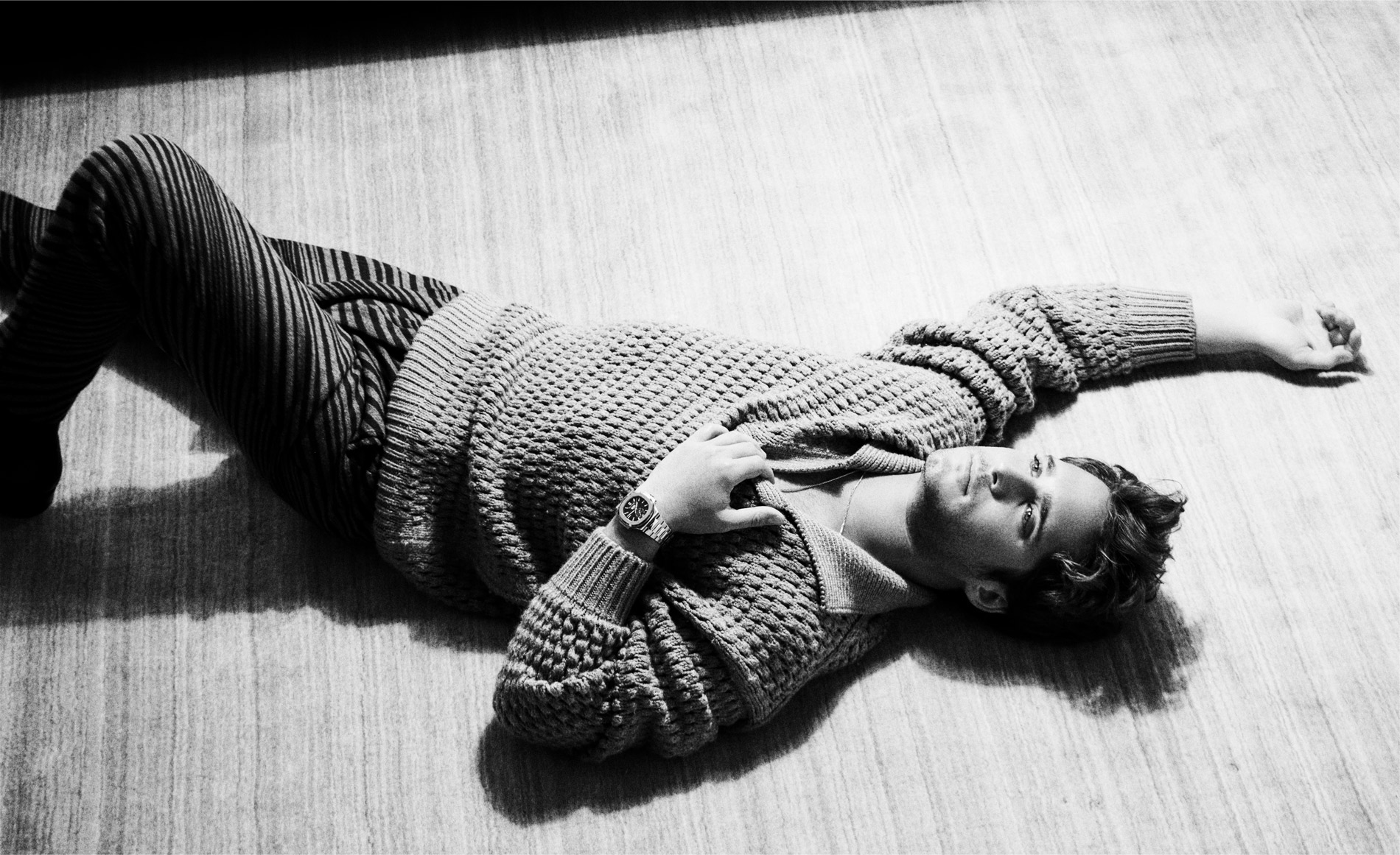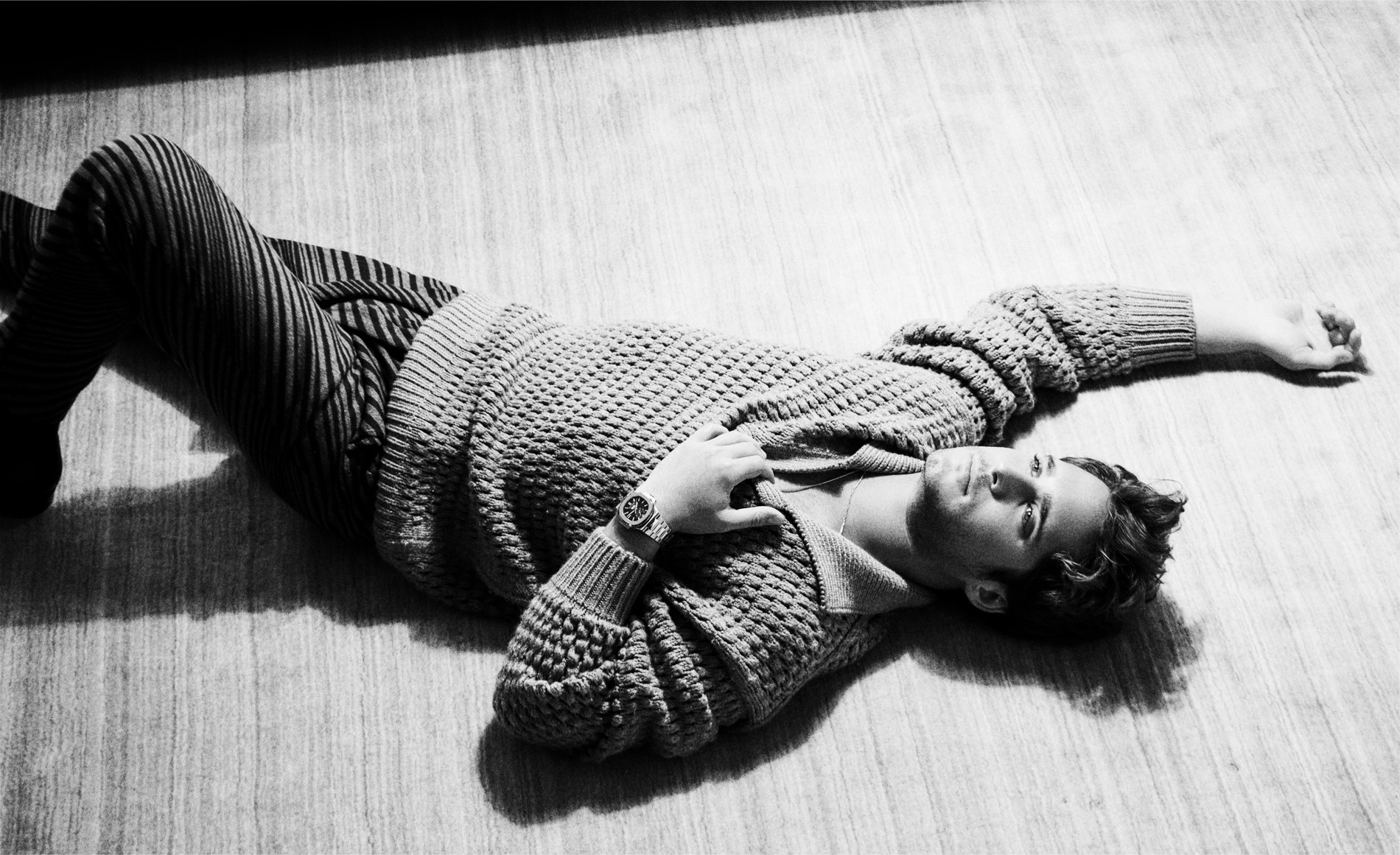 Full Look by Zegna
This series is your first project as an Executive Producer, and I was reading that Mark Burnett called you and threw out the idea. Had the thought of being an EP ever occurred to you before this project? Is that a role you were interested in?
I worked with Tom Cruise in Rock of Ages and observed how he did business and how he manages his career in-between making movies. He was always working on the next thing and working through pre-production on another. I thought that's what I wanted to do. 
Mark Burnett and I worked together on a TV show called the Dovekeepers, back in 2014. And I told Mark I really wanted to get into producing. It's not something that I want just to have a vanity credit. I actually wanted to learn all the in's and out's. So when Luis Miguel came around, he called me and said 'I have the perfect project. There is no script but I know you're very familiar with the music, with his life, with his story. Be a part of this production team and let's do this together.'
Producing together was the best part of the learning experience. Fully learning before there is even any scripts, no actor, no one cast yet. Really shaping this project from the very beginning. That was the best part and I got a big satisfaction out of it.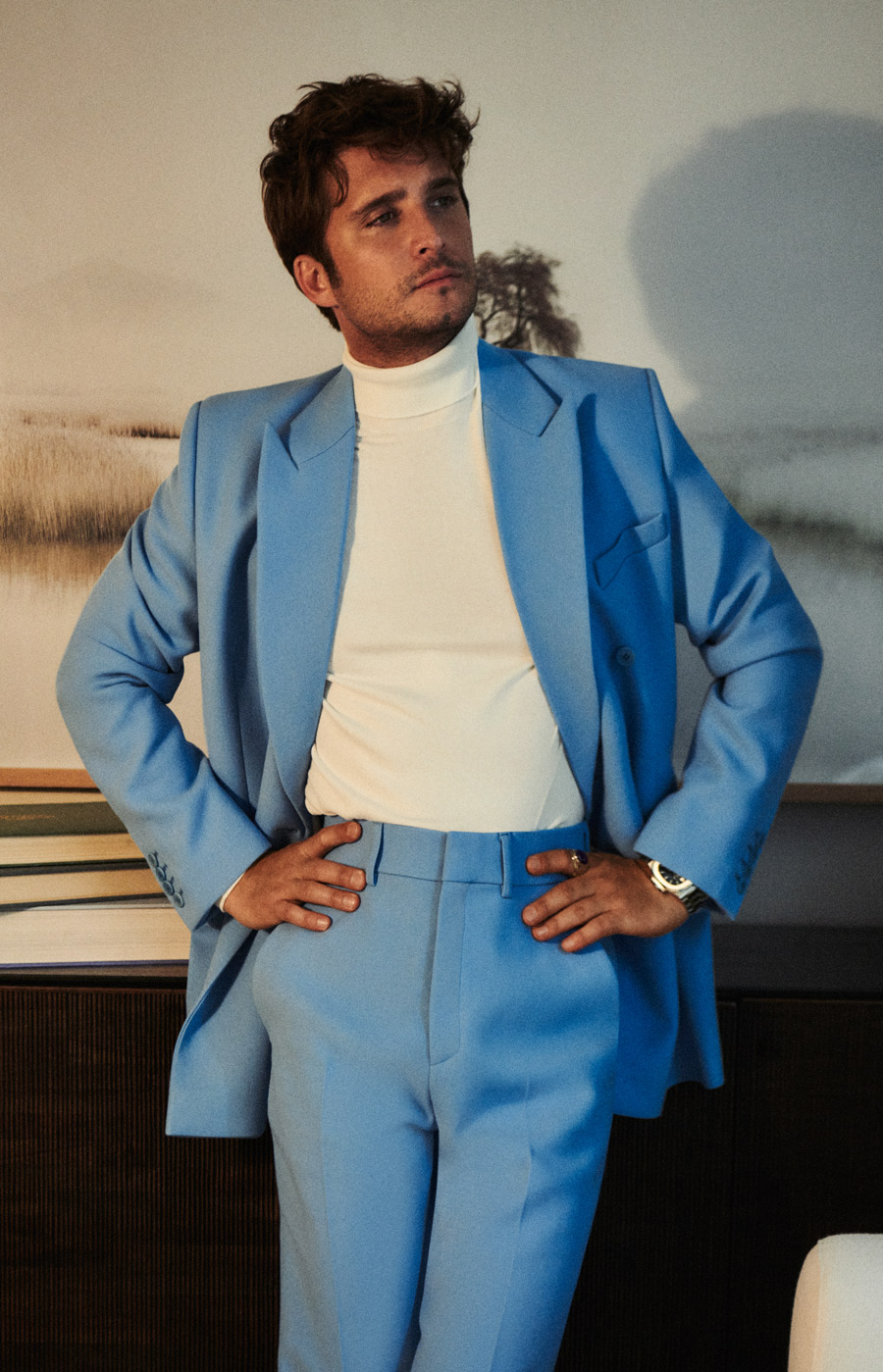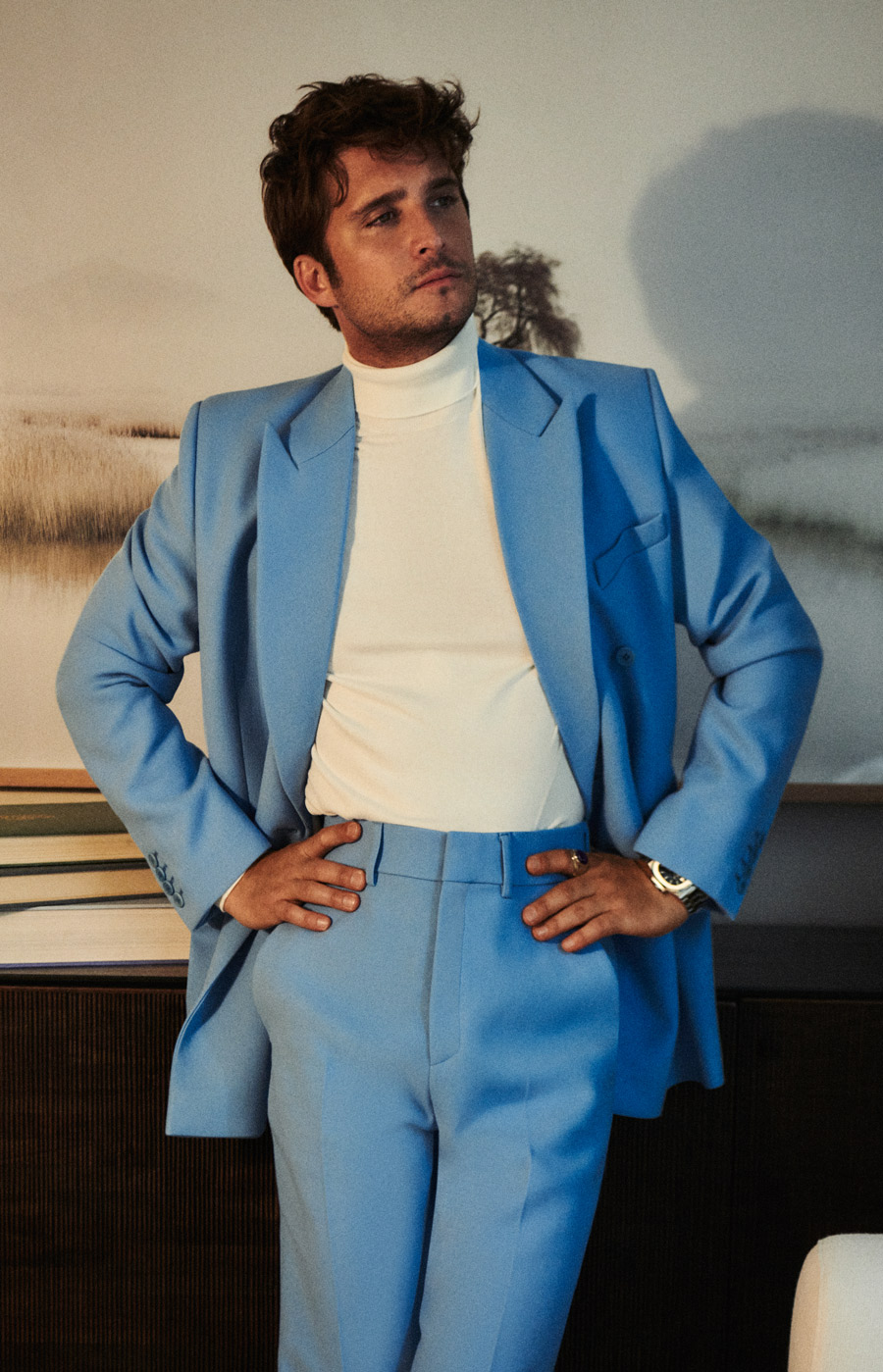 Full look by Casablanca, Jewelry by Konstantino
So tell me more about your production company Three Amigos. What is your team's vision? 
We see it as a media company because of our focus on television, film, books, and broadcasts. We want to find projects that show Latinos in an uplifting light. We are so excited to team up with some of the best filmmakers in the industry. At the moment, we are working on a romantic comedy with Paramount called At Midnight, it's something of a fusion between Hollywood and Mexico. Today, with more opportunities through streaming services, the business is realizing that people don't really care as much about the language as they do about a relatable and interesting story. Spanish is a global language. There are a lot of hugely successful Spanish speaking shows watched all over the world and we are looking forward to being a major player in bringing quality content to a global audience.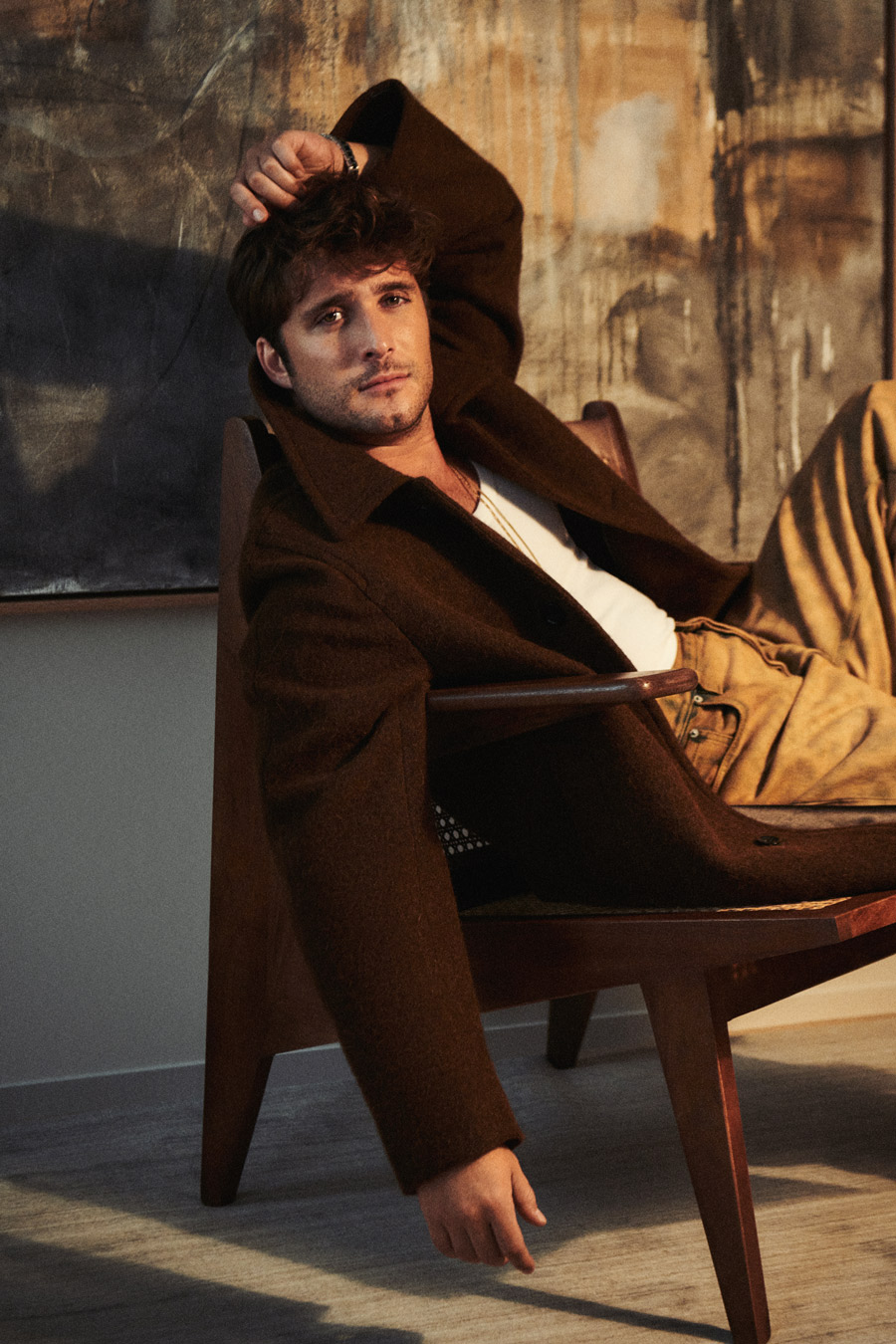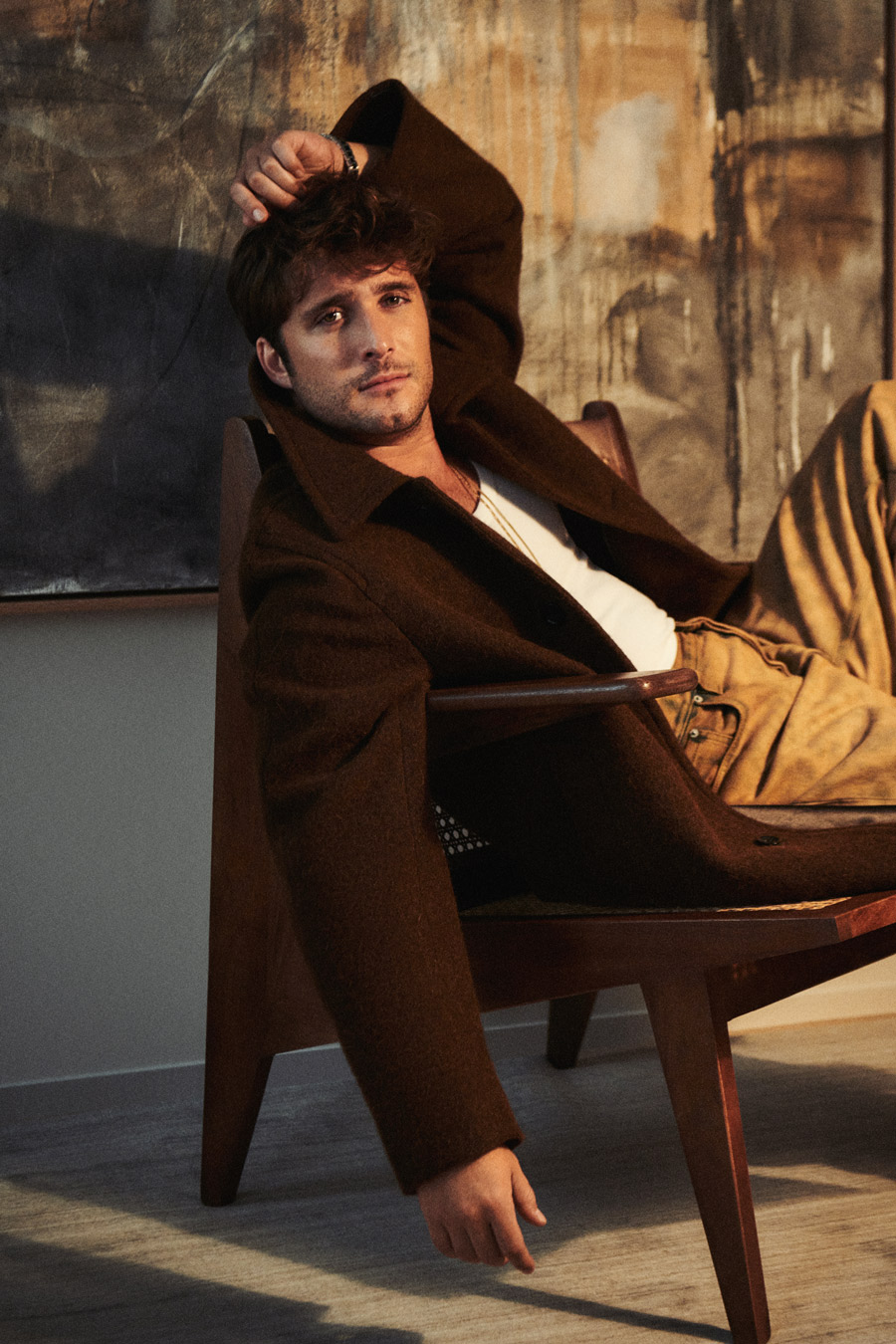 Full Look by Dries Van Noten
There has always been a lack of representation in Hollywood for the Latin community, and a lot of the roles that were out there leaned towards a certain stereotype. Did you ever have to confront a time where there were roles being pitched to you that were not a good fit for you as a representative of the Latin community. 
I think times have definitely changed from when I first moved to LA in 2007. There are more roles and better roles. But back then, yes, it was difficult to get good latino roles. 
There are plenty of actors of different races out there that can play different nationalities, and so can we. So yes, I think things are better today. I think they're moving in the right direction. There's still a lot of work to do. There's still a lot of room to grow and improve and that's why I'm so passionate about my production company Three Amigos, which is creating those vehicles for other actors as well.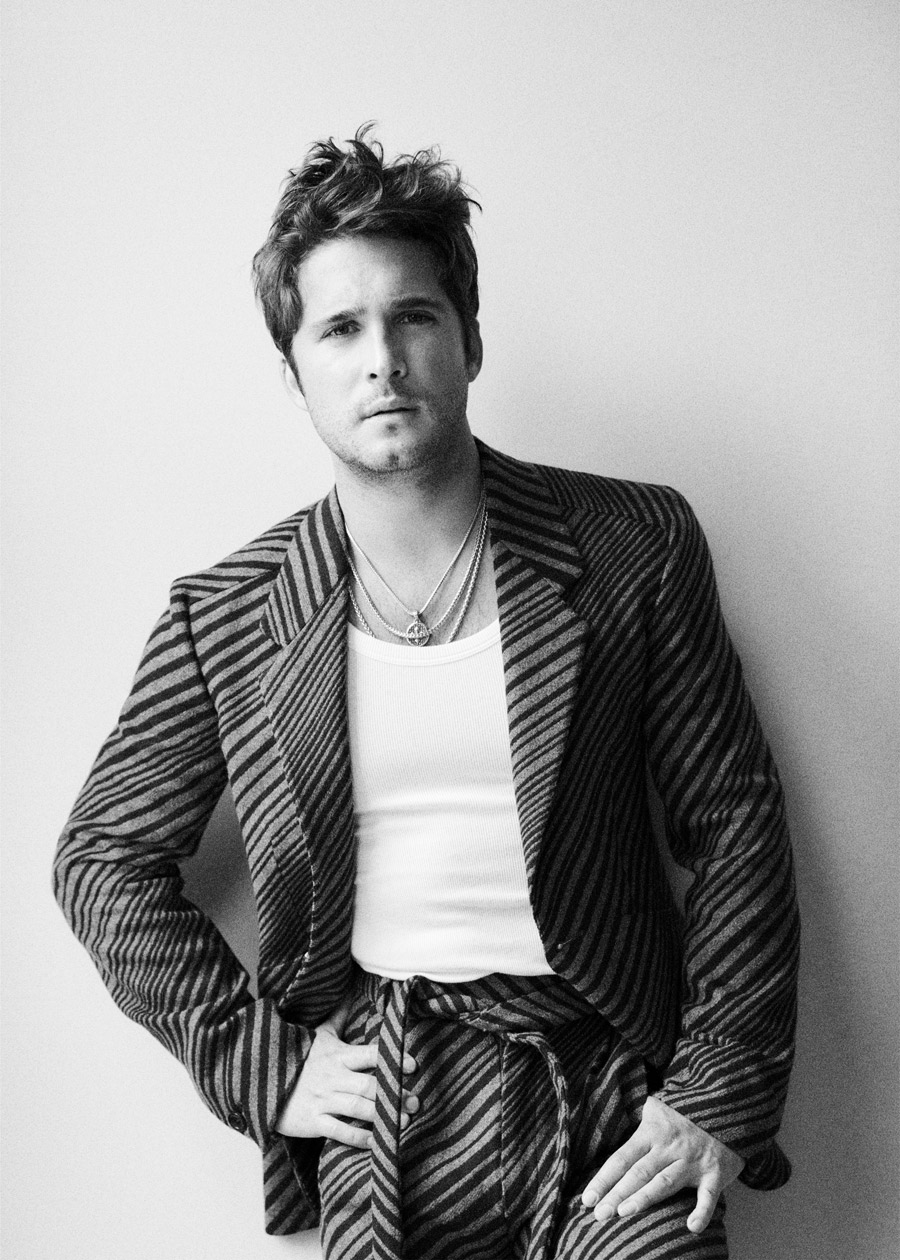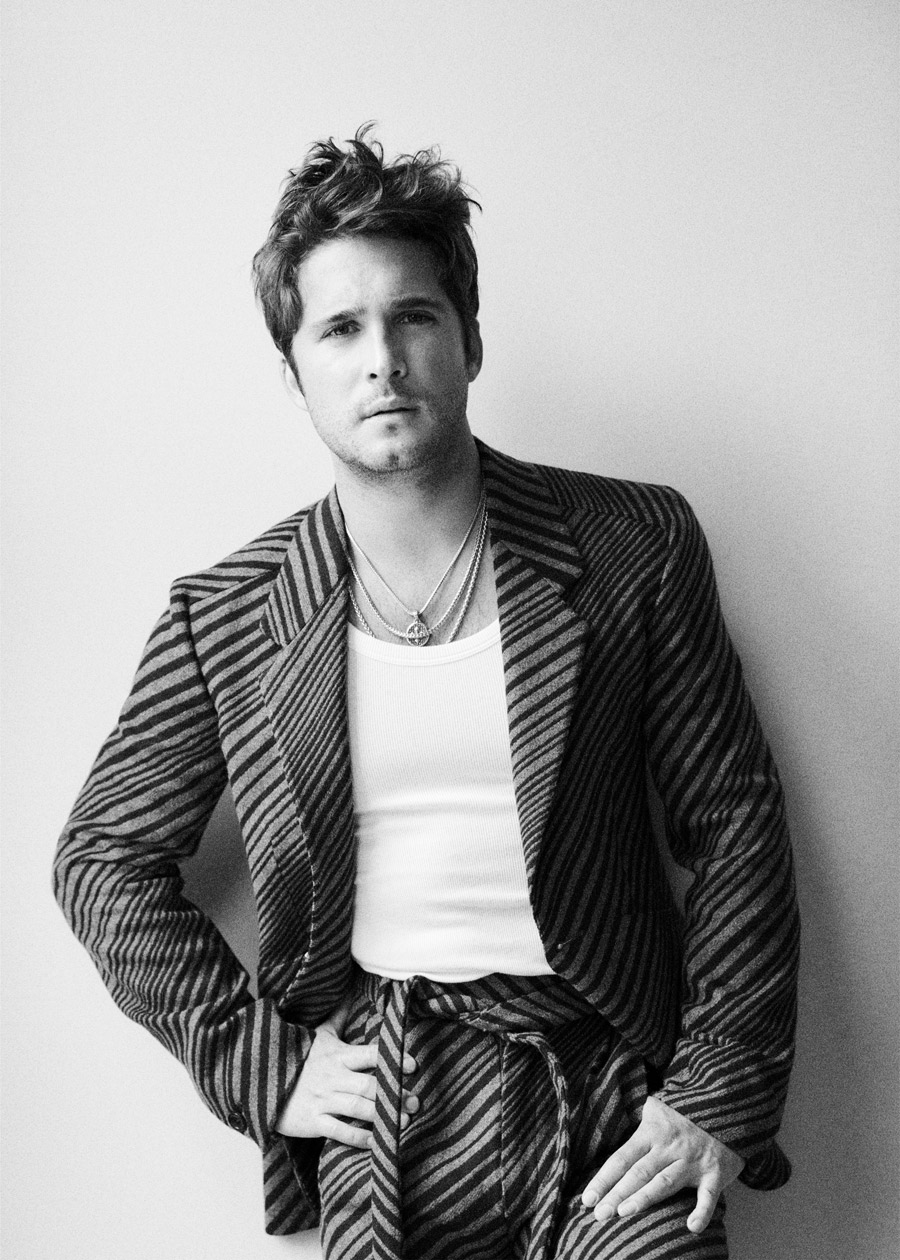 Suit and Pant by Zegna, Jewelry by Konstantino
Shot at 168 Plymouth, the last historic factory to residential loft conversions in Brooklyn's Dumbo neighborhood, composed of two 100-year-old paint factory buildings which have been attentively transformed by Alloy Development's architecture team. Pictured is the new Brick and Timber model residence with interior design by Rebecca Robertson Interiors.