FLOWER BOY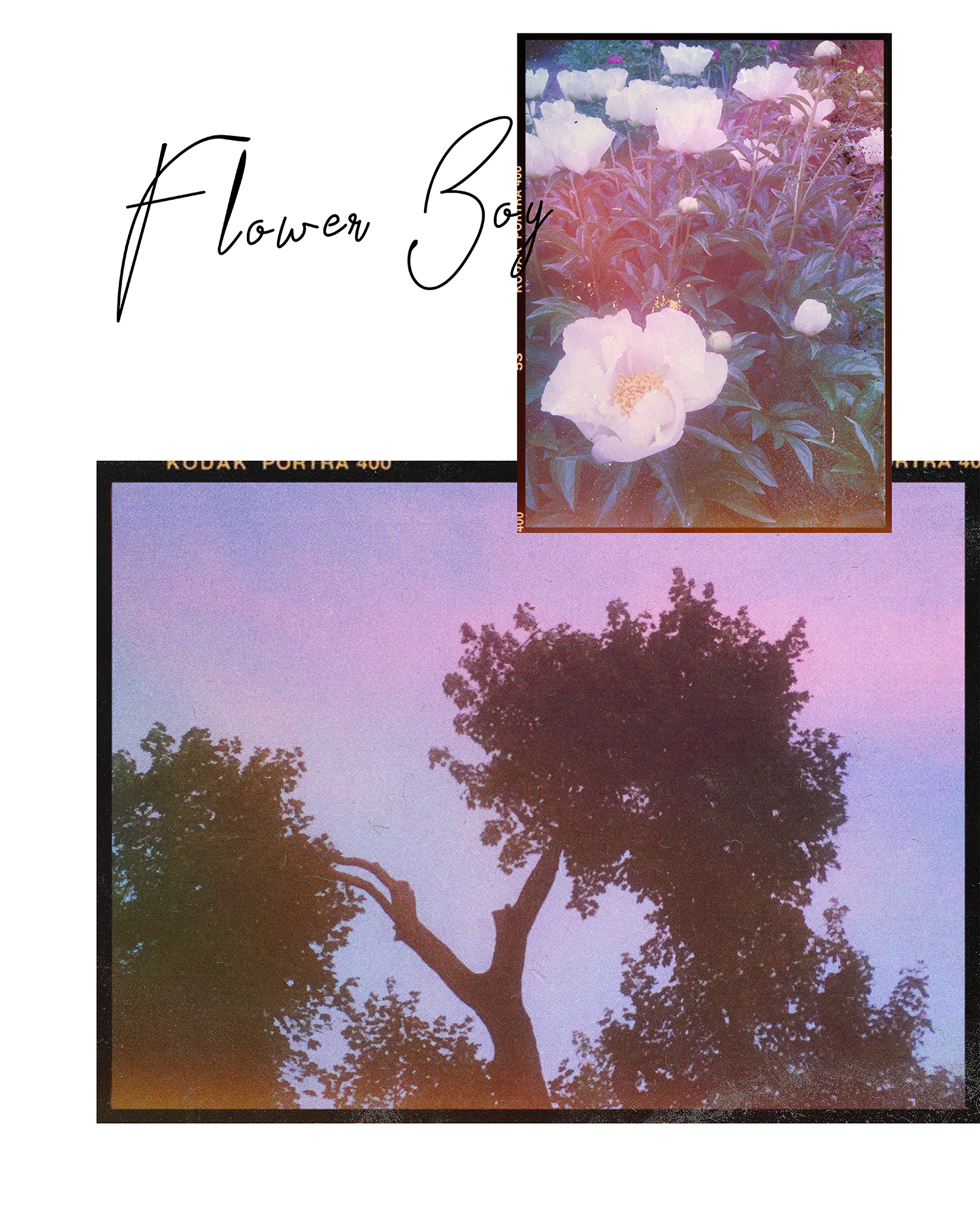 Photographer: Dustin Mansyur
Fashion Director: Marc Sifuentes
Grooming: Anthony Joseph Hernandez
Models: Philipp Proels | Jesse Gwin | Alijah Harrison | Eliseu Zimmer | William Schultz | Logan Booneof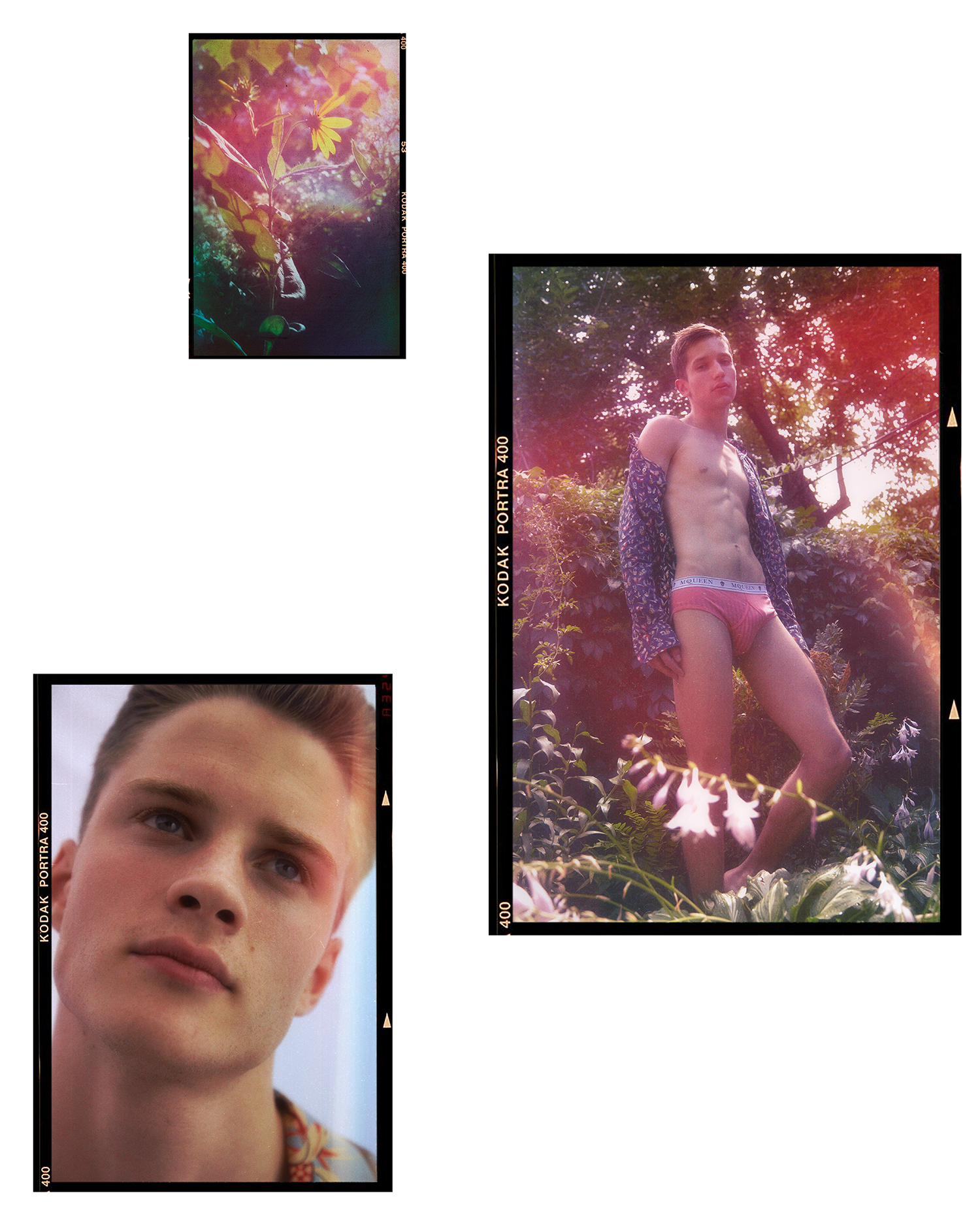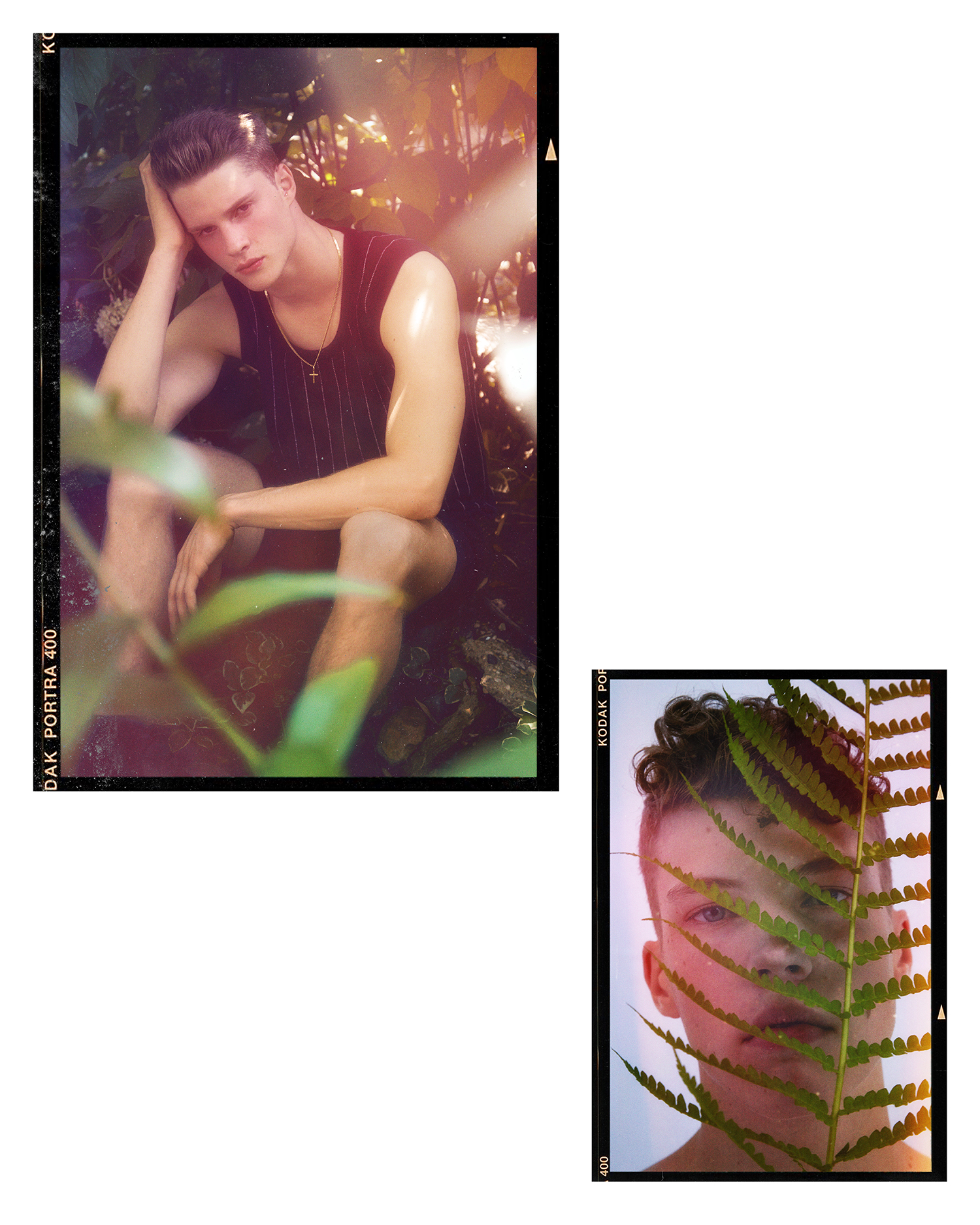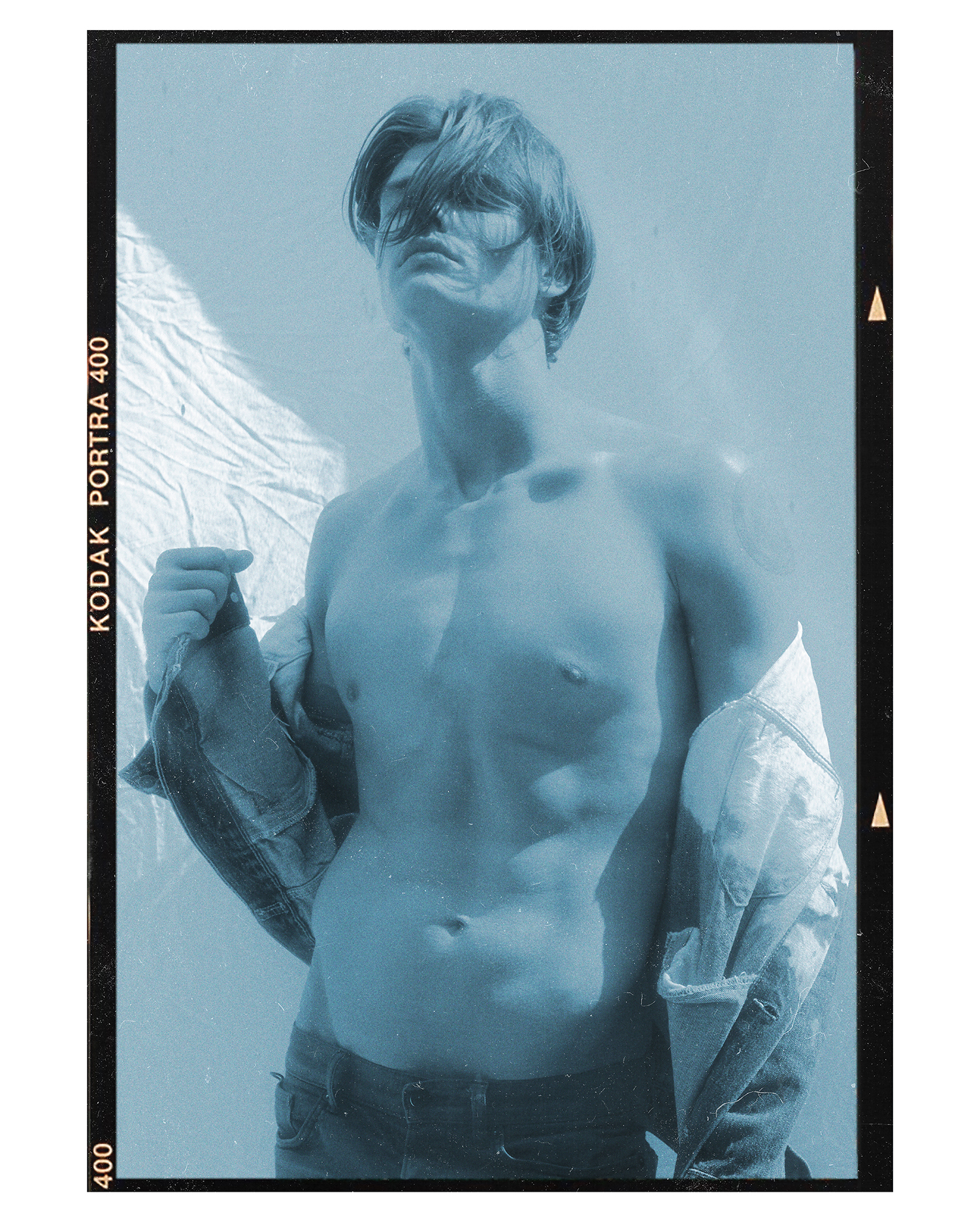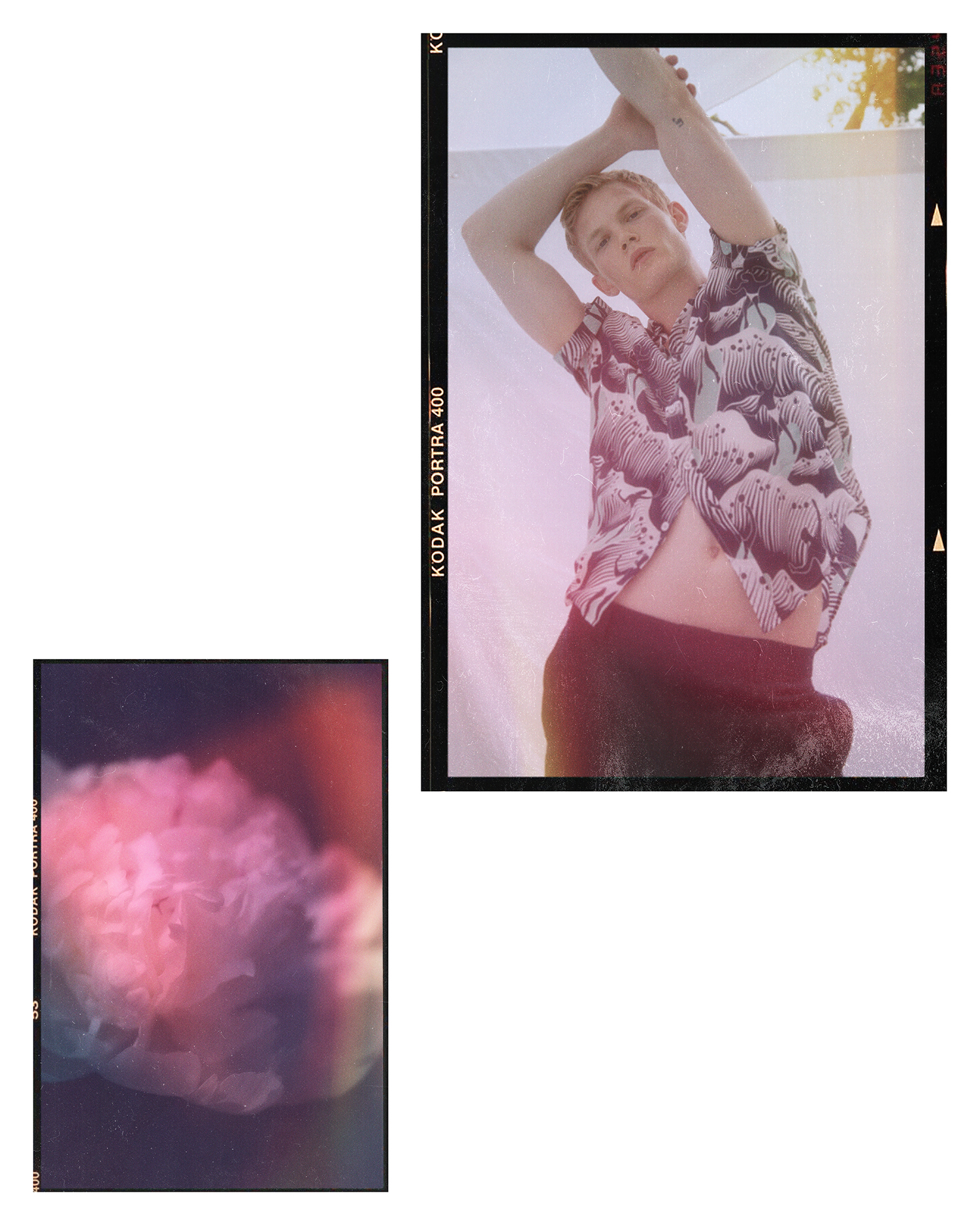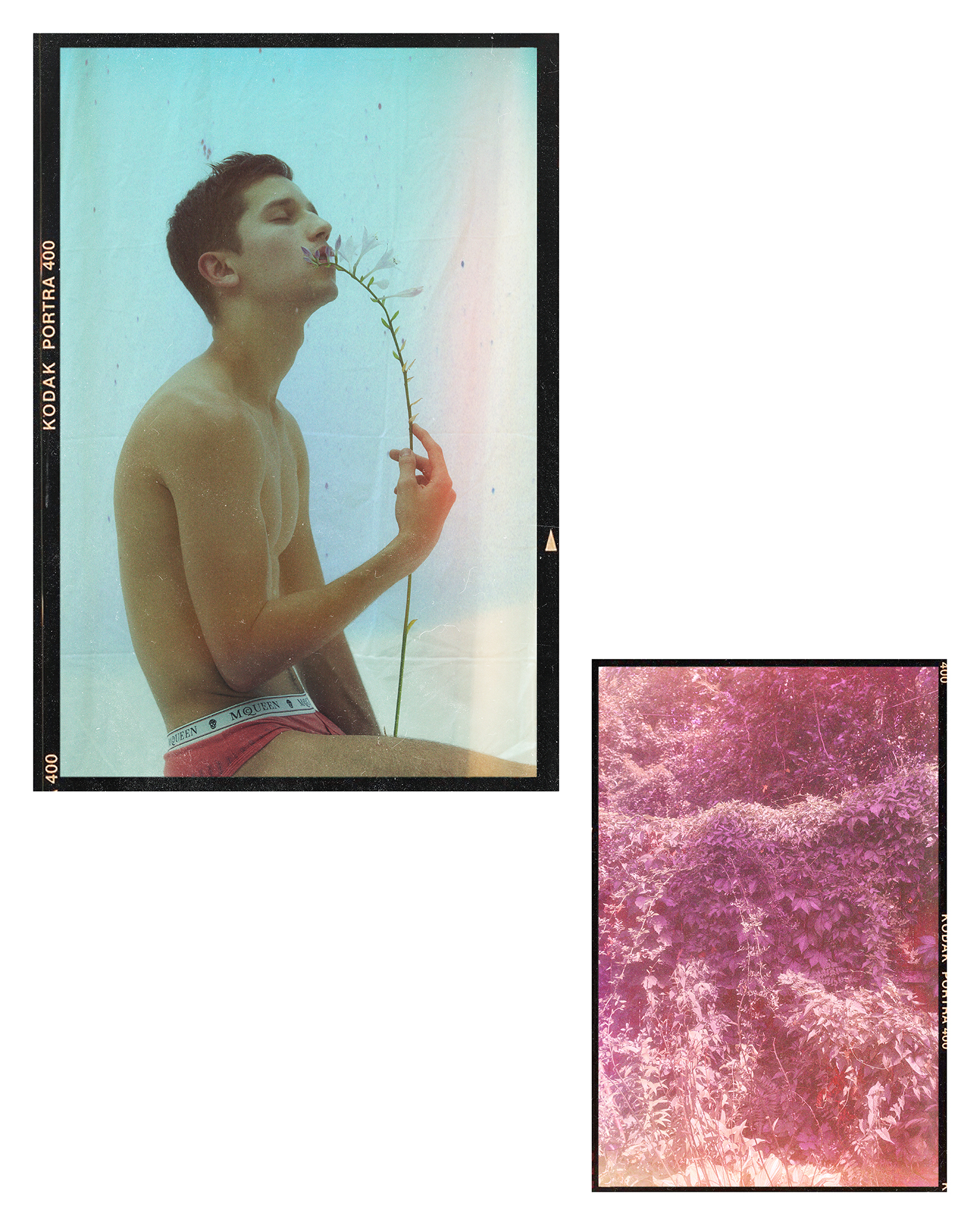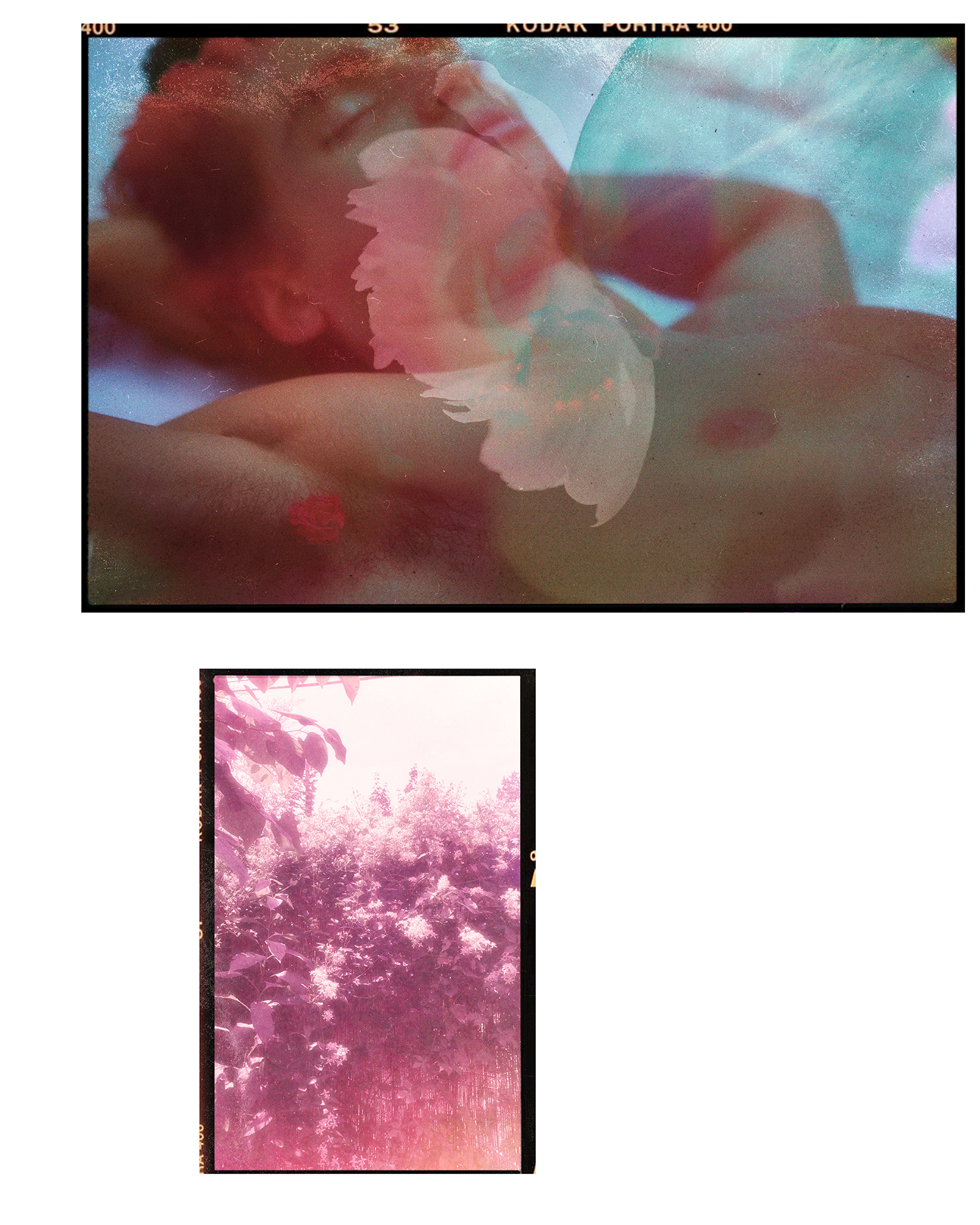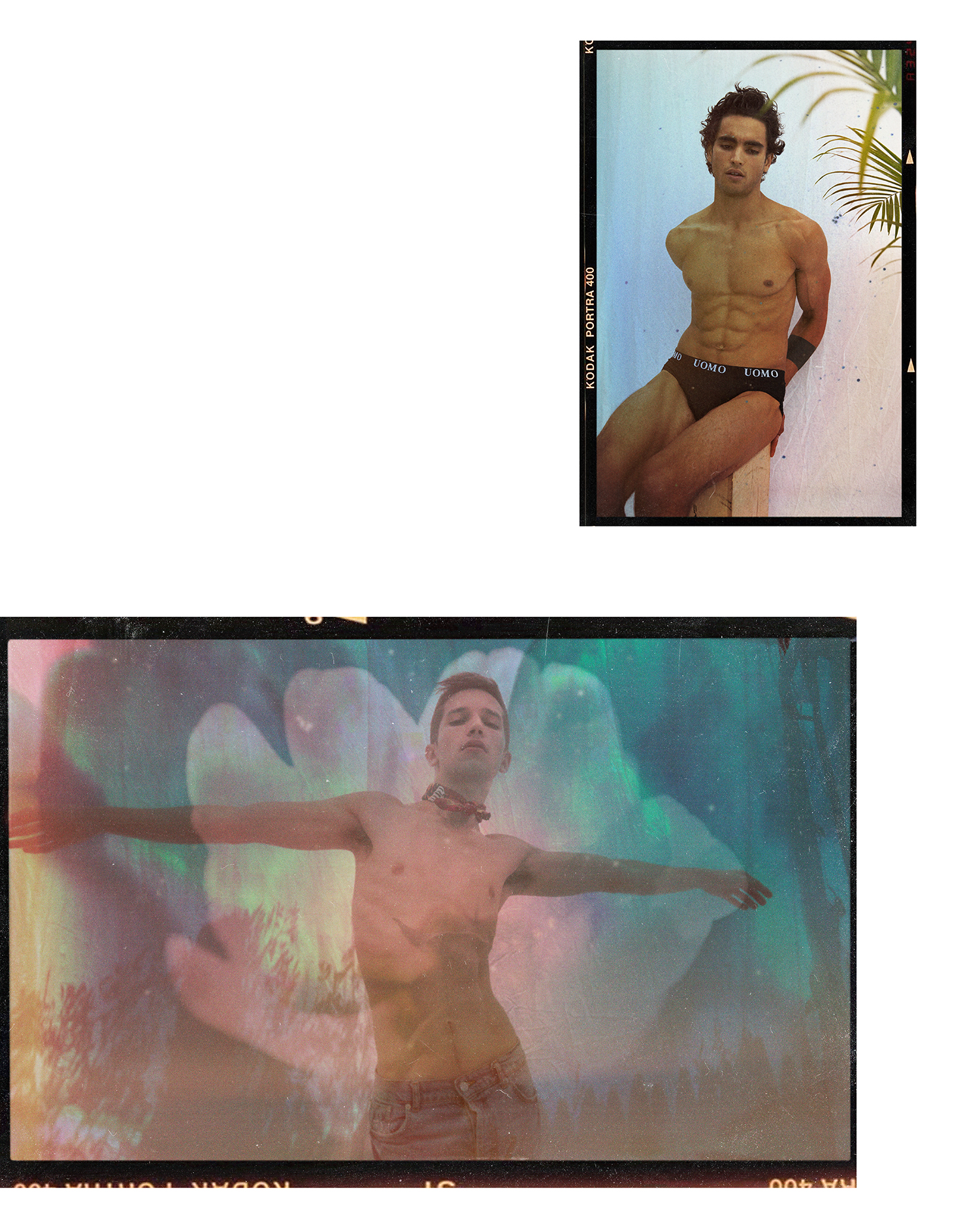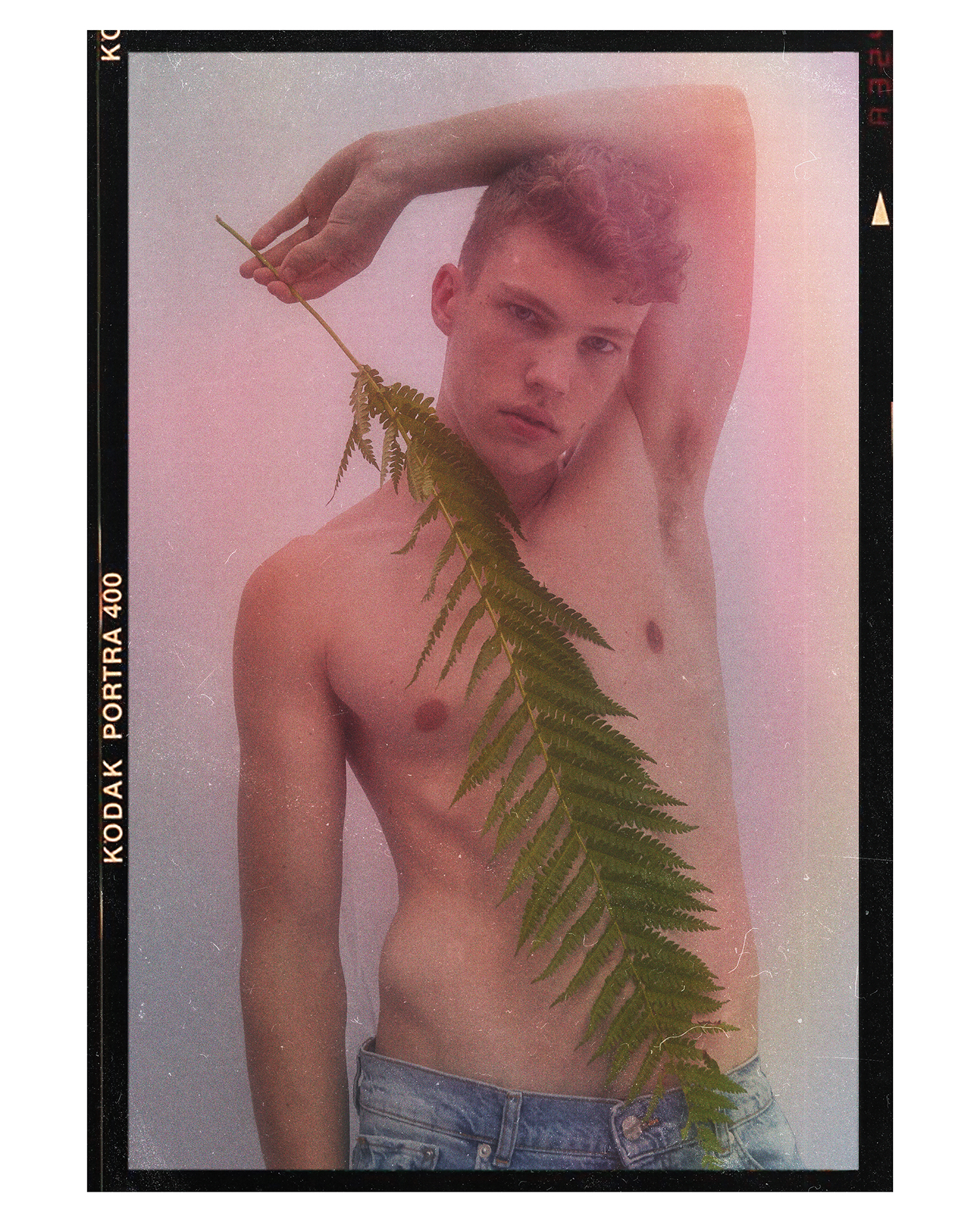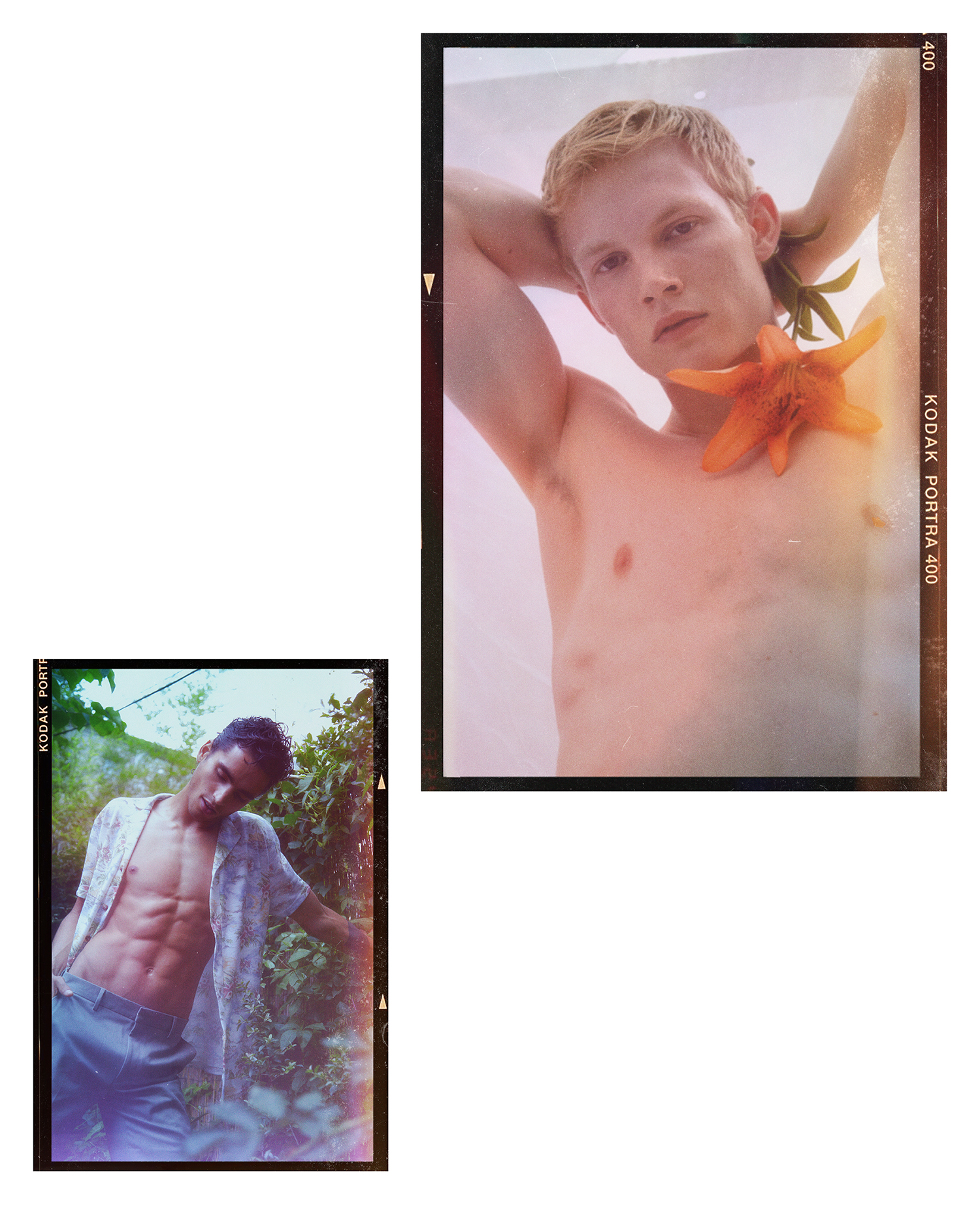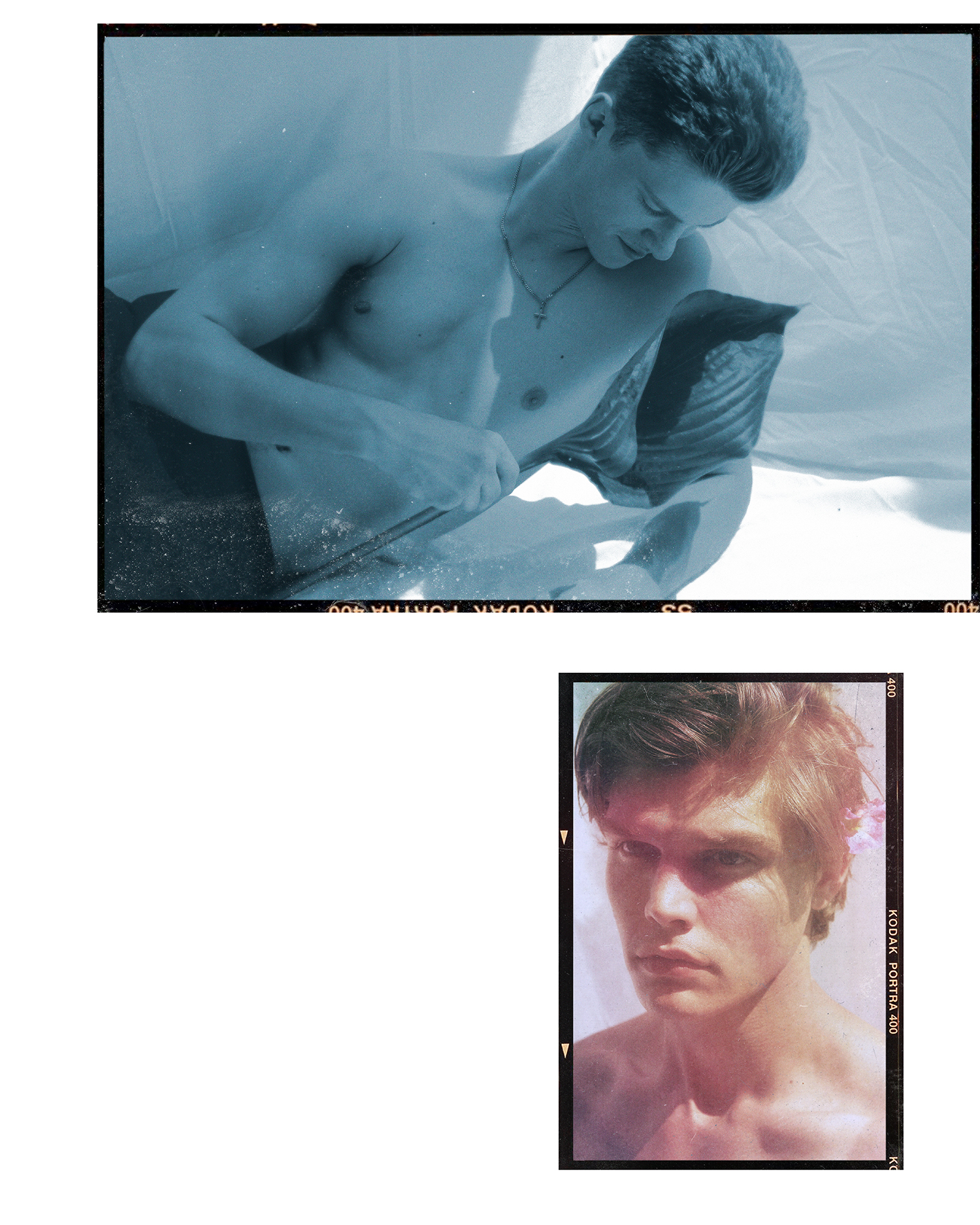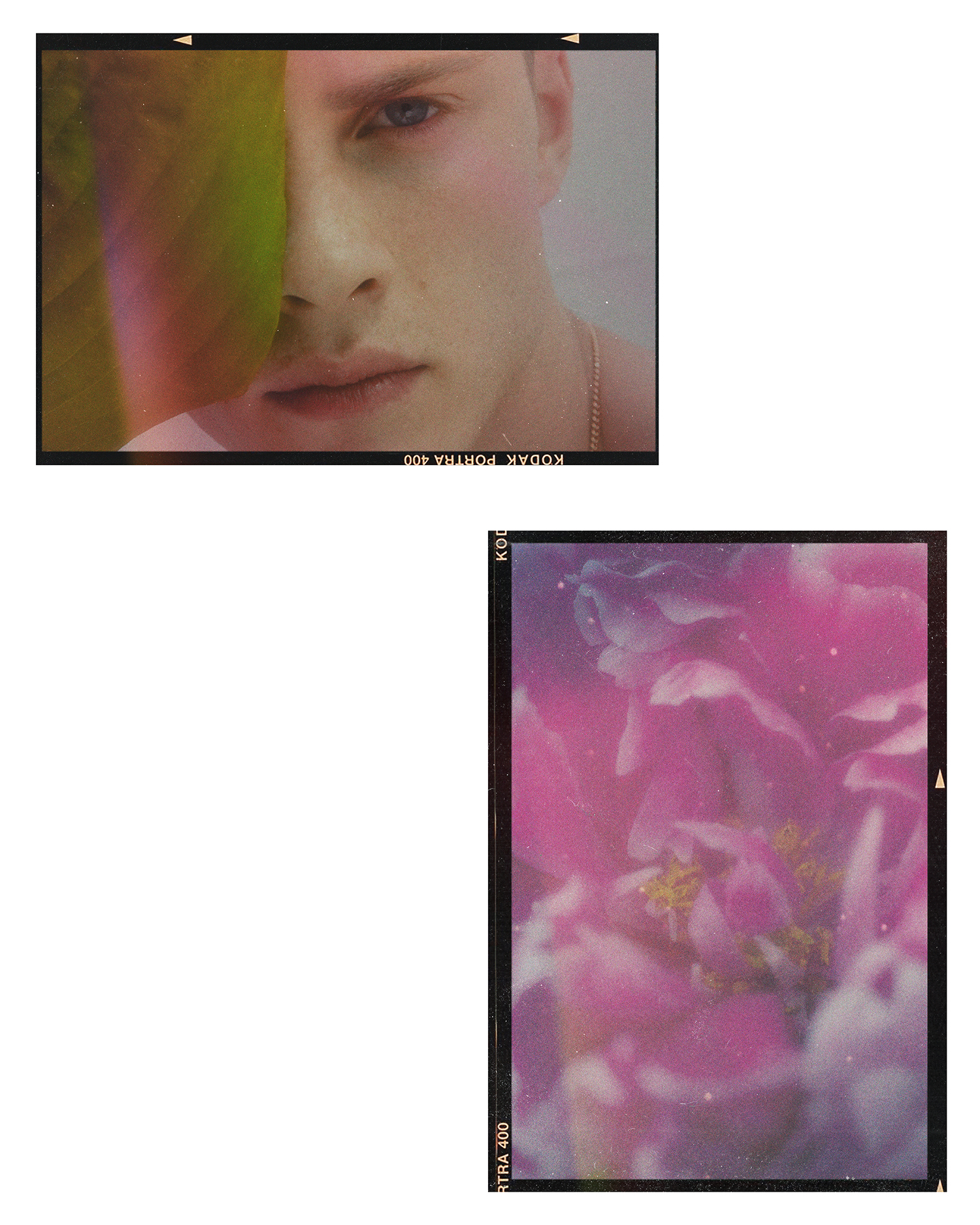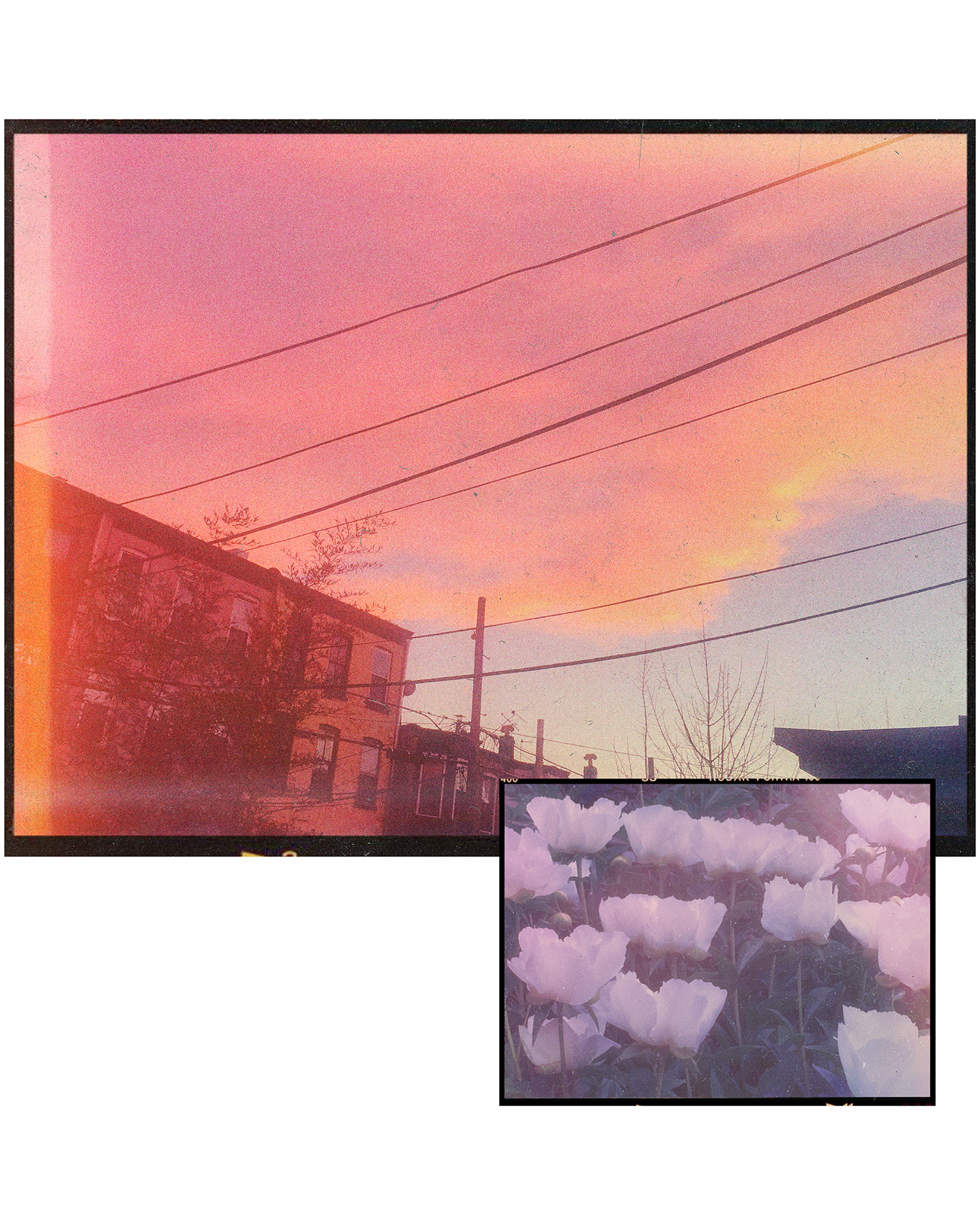 CANDY PERFUME GIRL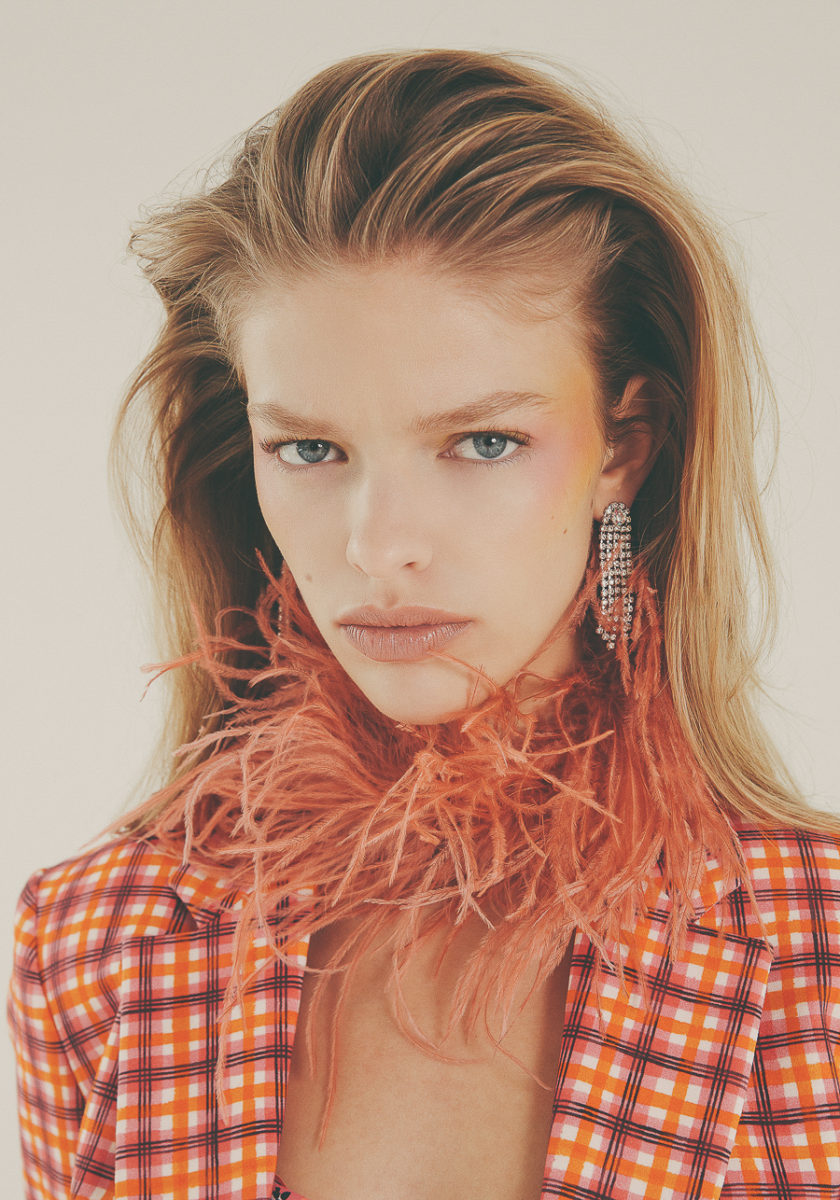 Jacket by Michael Kors Collection | Earrings by G.Sherman Jewels | Feather Collar by BINCbodyBaubles
Fragrance: LOST CHERRY by Tom Ford
Photography: Katie Borrazzo (@katieborrazzo) | Model: Clare Crawford at IMG Models (@clareacrawford) | Styling: Kingsley Osuji (@kingsley_nyc) | Hair: Erin Taylor (@erintaylorhair) using Wella Stay Firm + Wella Stay Essentiel | Makeup: Megan Kelly (@megankellybeauty) using Mehron | Set Design: Karen DeMaio Weber (@kwyoyo) | Set Assistant: Jana Bergstedt (@janadoesthings)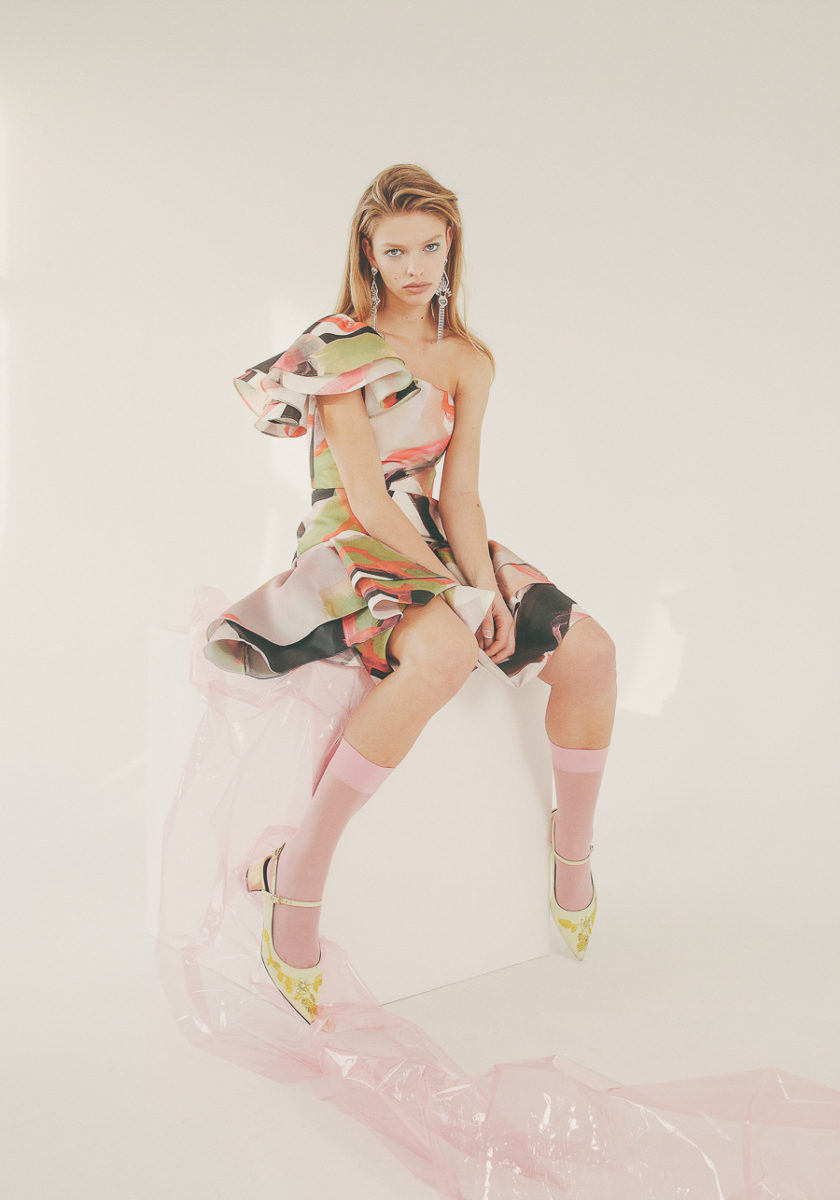 Dress by Kalmanovich | Earrings by Rainbow Unicorn Birthday Surprise | Socks Stylist's Own | Shoes by Erdem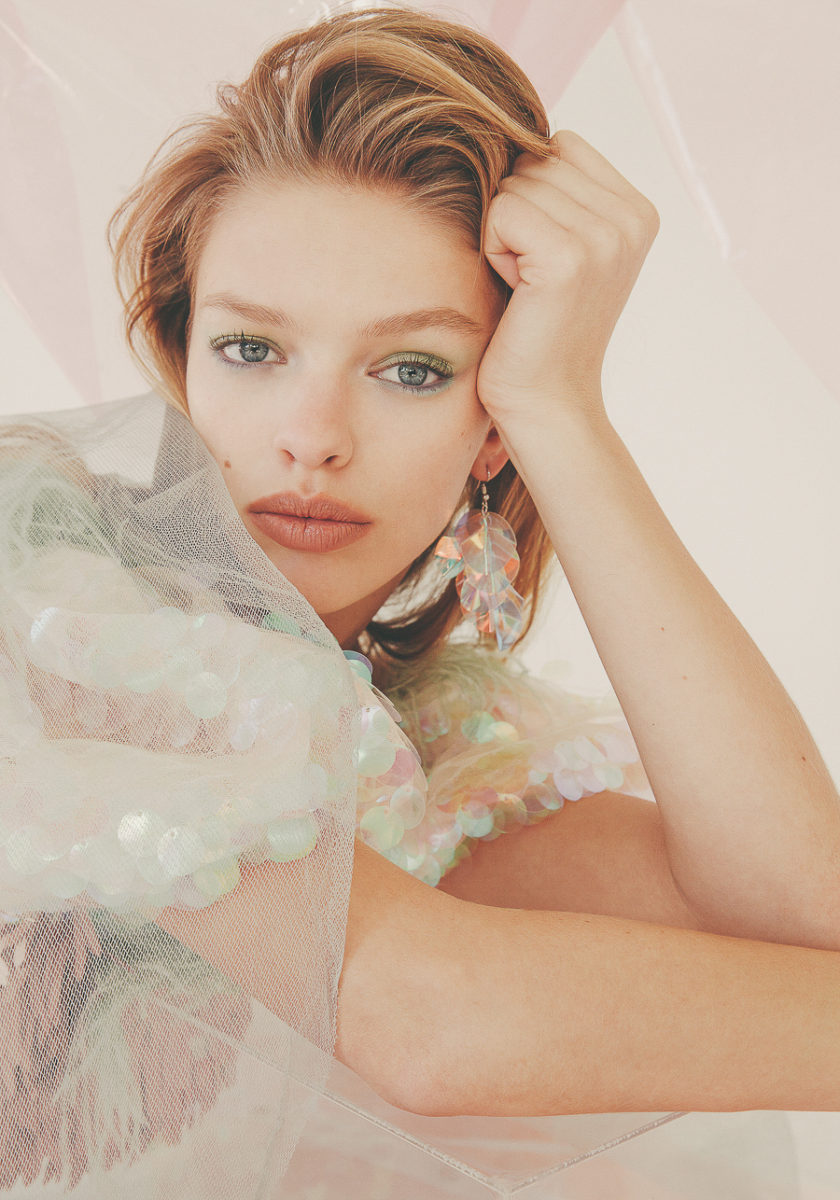 Dress by Alena Akhmadullina | Earrings by Rainbow Unicorn Birthday Surprise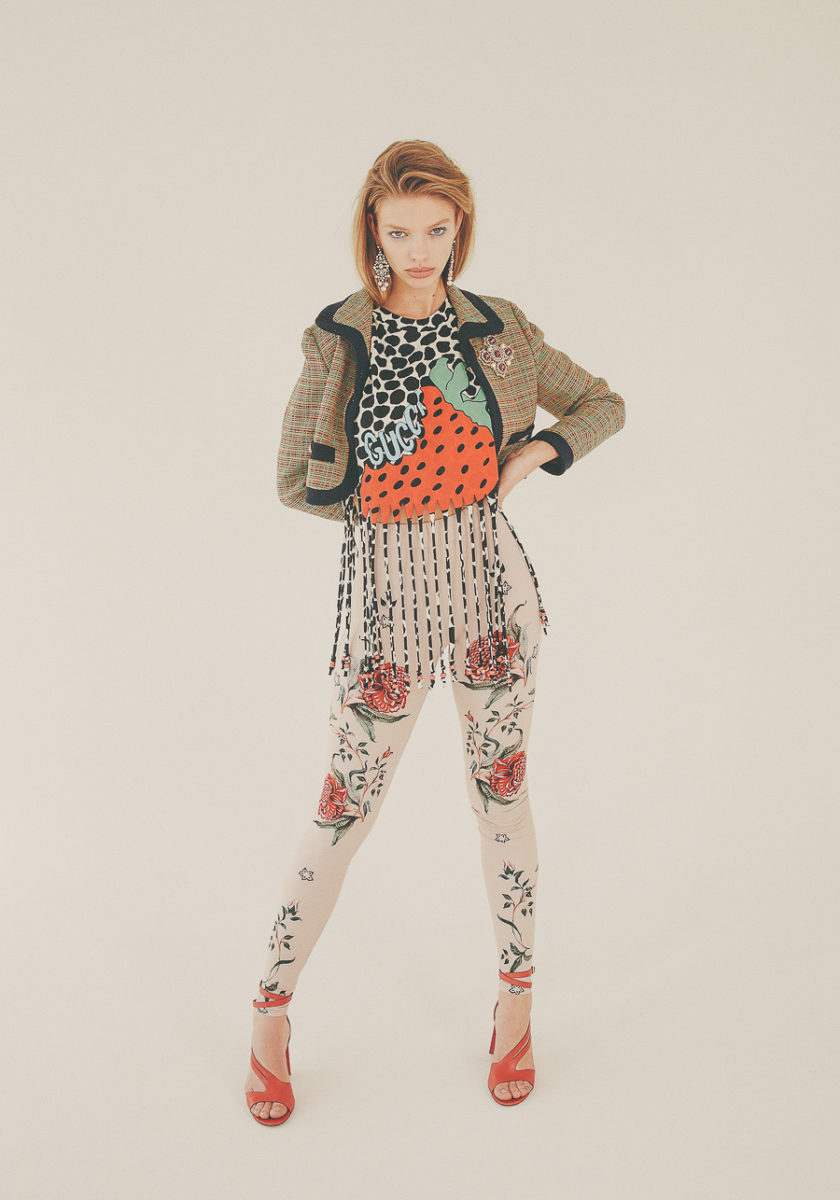 Jacket and Shirt by Gucci | Earrings and Ring by Rainbow Unicorn Birthday Surprise | Leggings by Alena Akhmadullina | Shoes by Clergerie Paris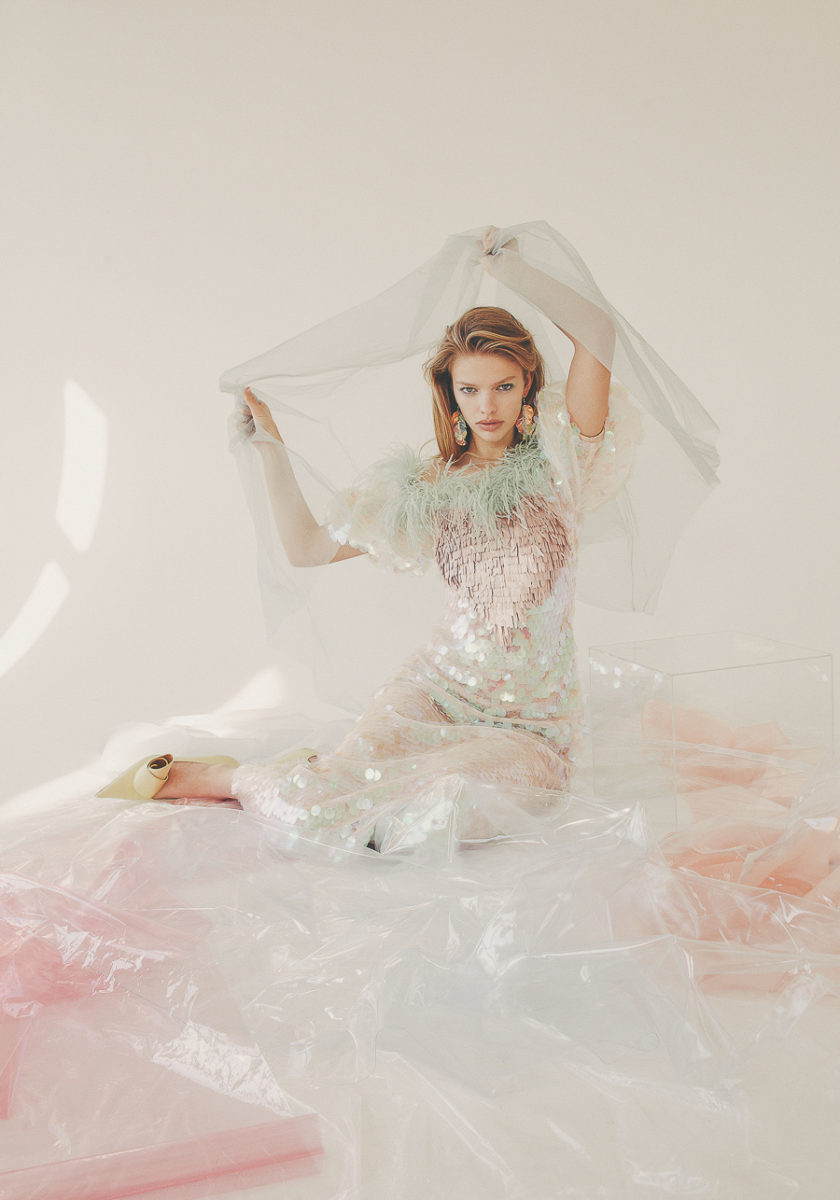 Dress by Alena Akhmadullina | Earrings by Rainbow Unicorn Birthday Surprise | Shoes by Marc Jacobs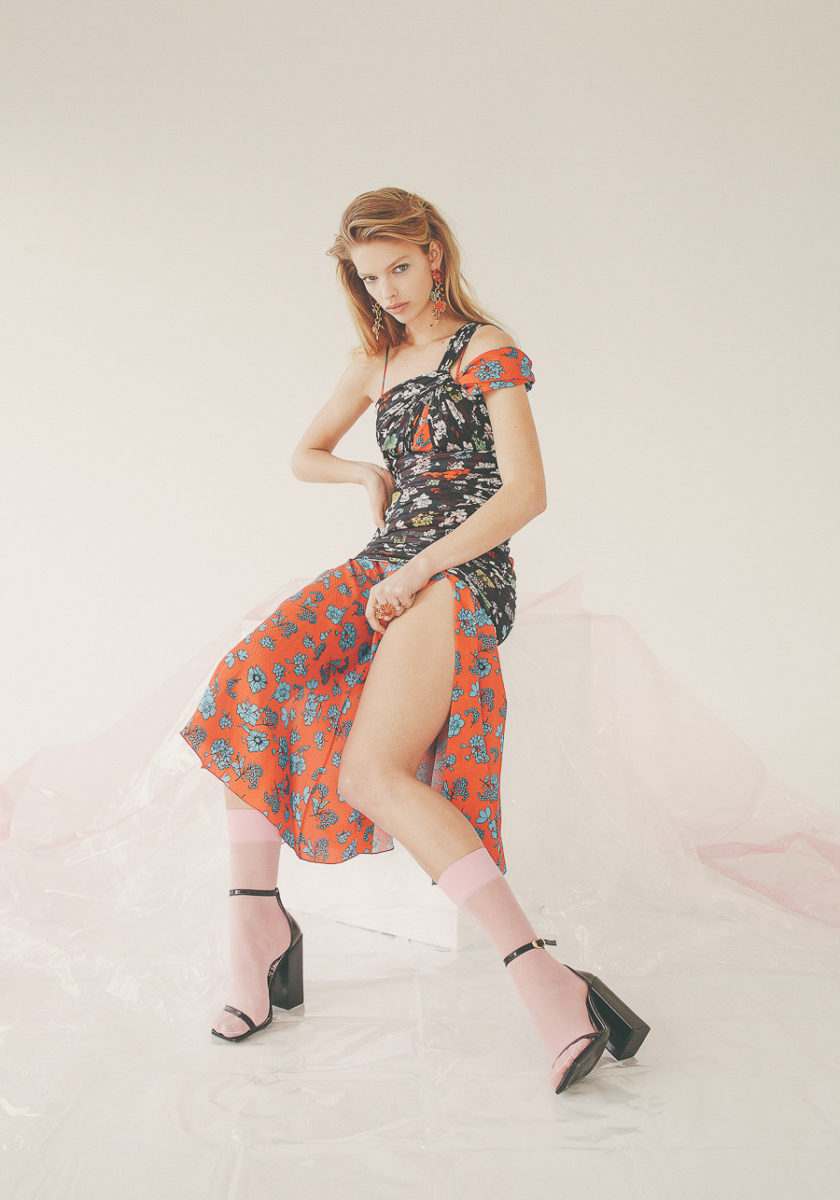 Dresses, Earrings, Ring, and Shoes by Versace | Socks Stylist's Own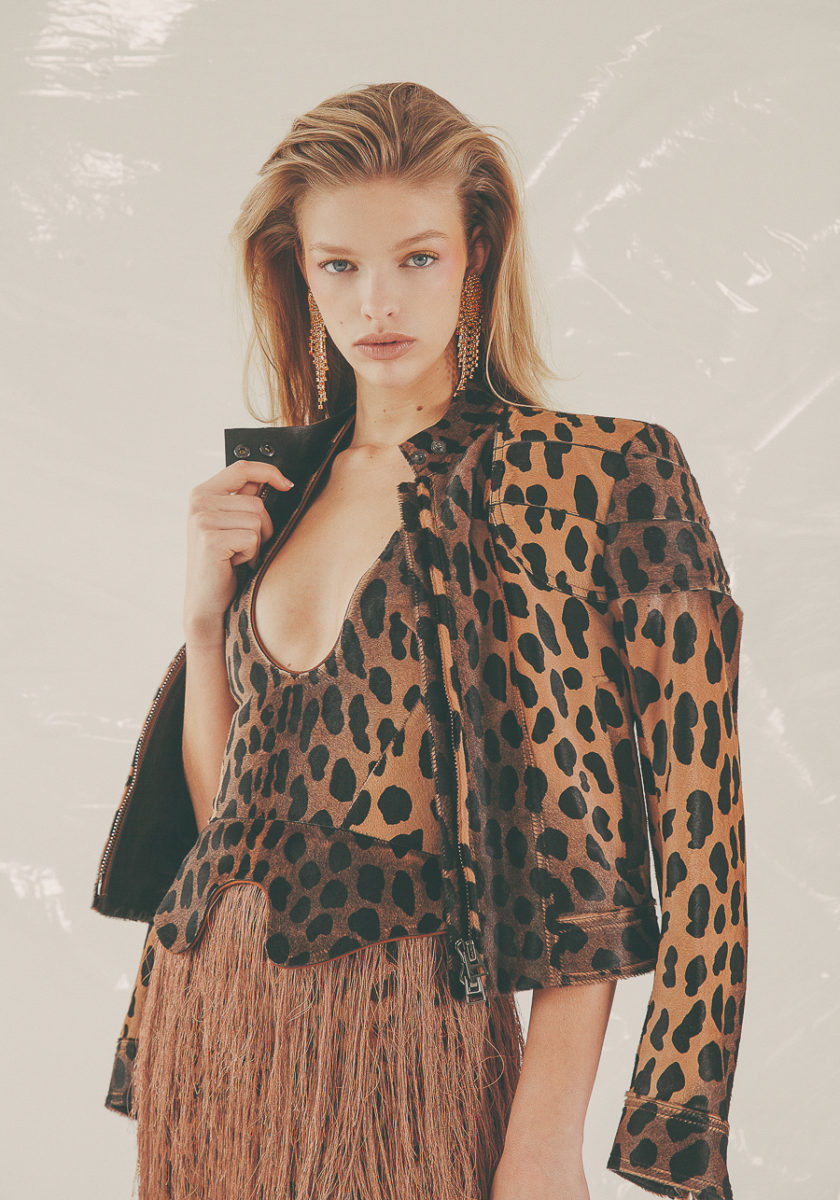 Jacket and Dress by Tom Ford | Earrings by Rainbow Unicorn Birthday Surprise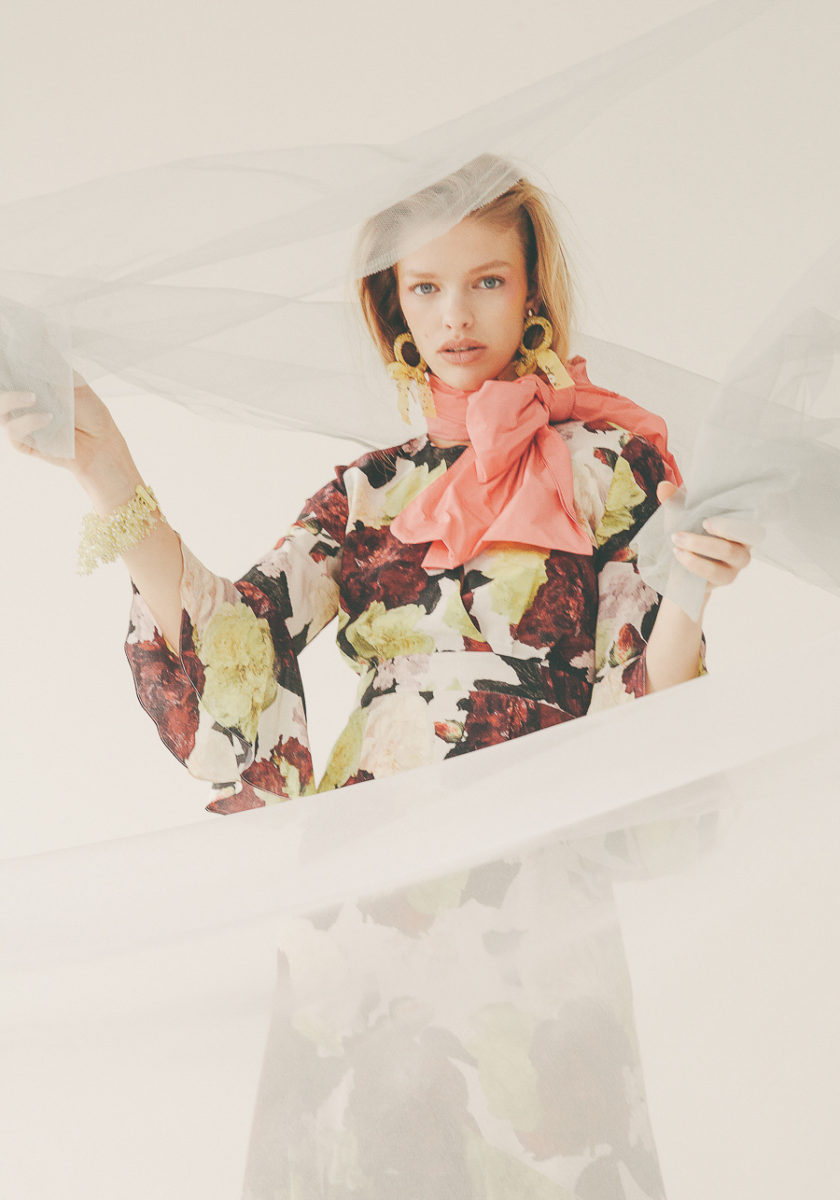 Dress by Erdem | Pink Cotton (worn as bow) by Erdem | Earrings by Rainbow Unicorn Birthday Surprise | Bracelet by Marc Jacobs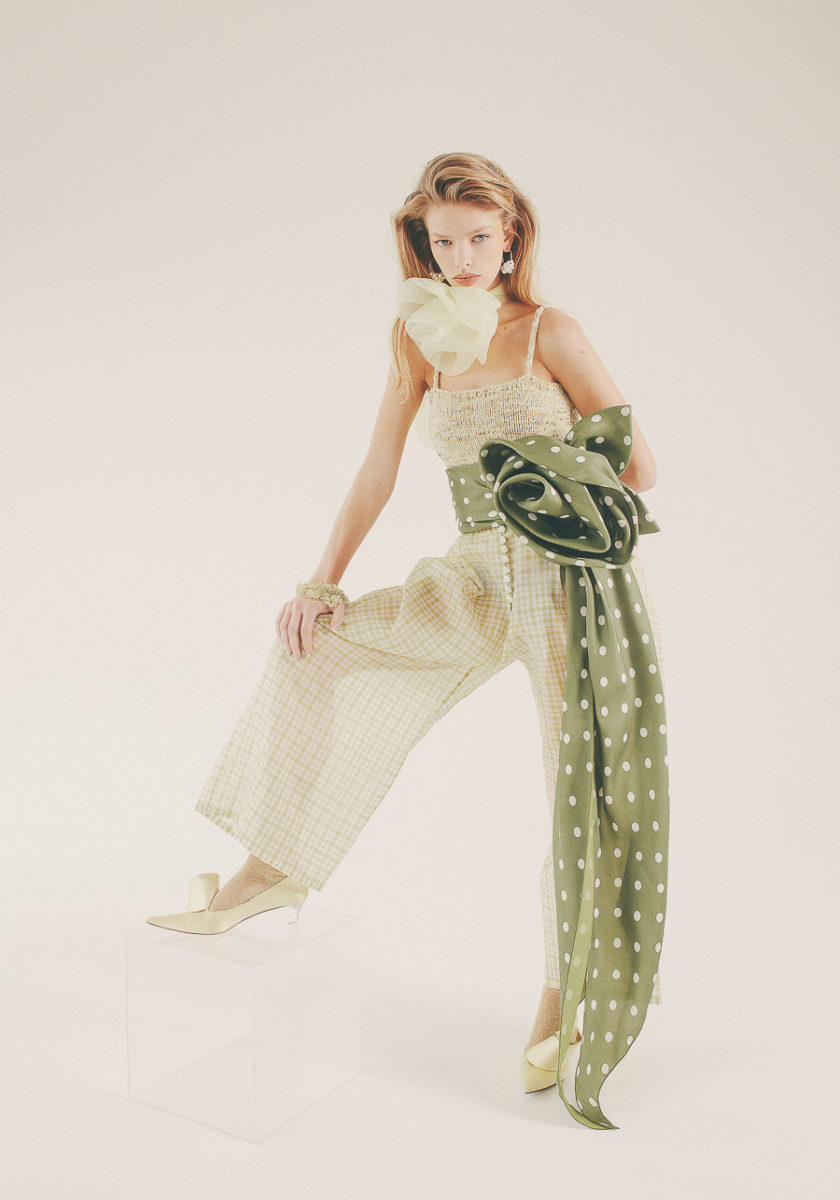 Top, Bow Collar, Bracelet, Bow Belt, Pants, Socks, Shoes by Marc Jacobs | Earrings by Rainbow Unicorn Birthday Surprise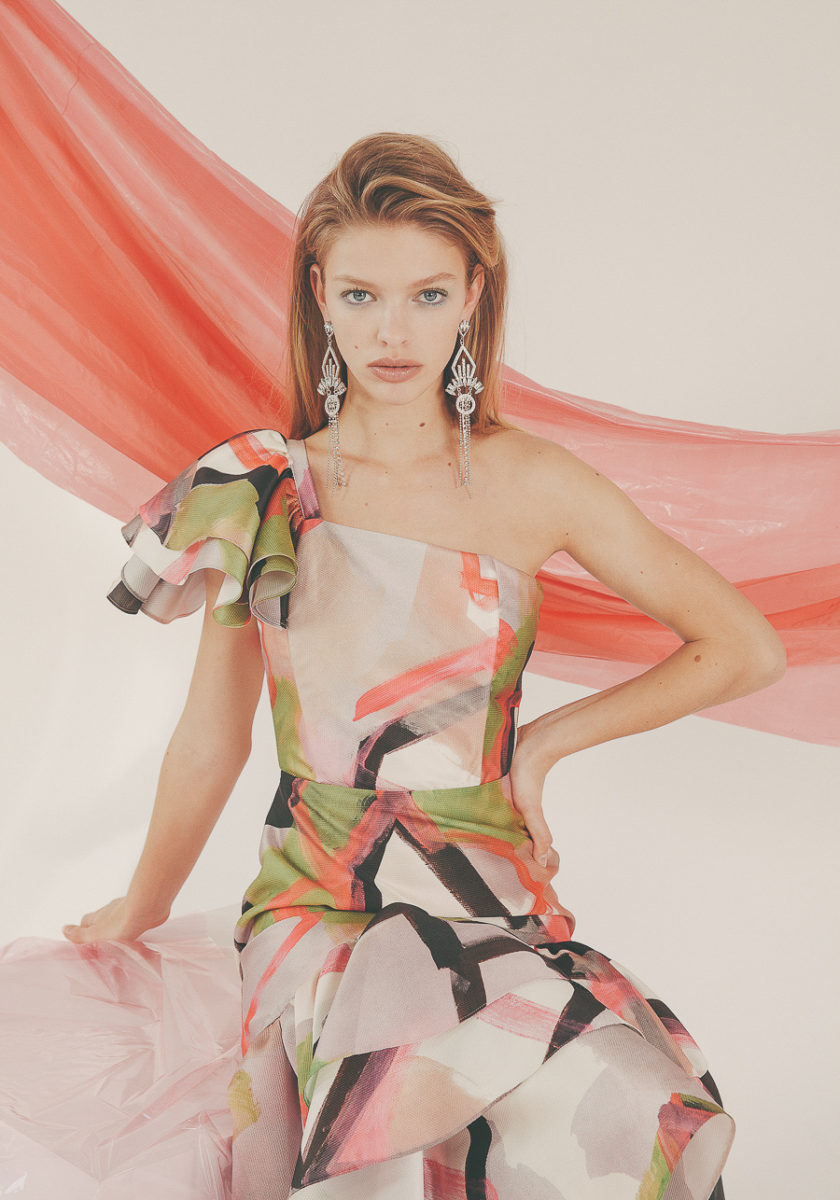 Dress by Kalmanovich | Earrings by Rainbow Unicorn Birthday Surprise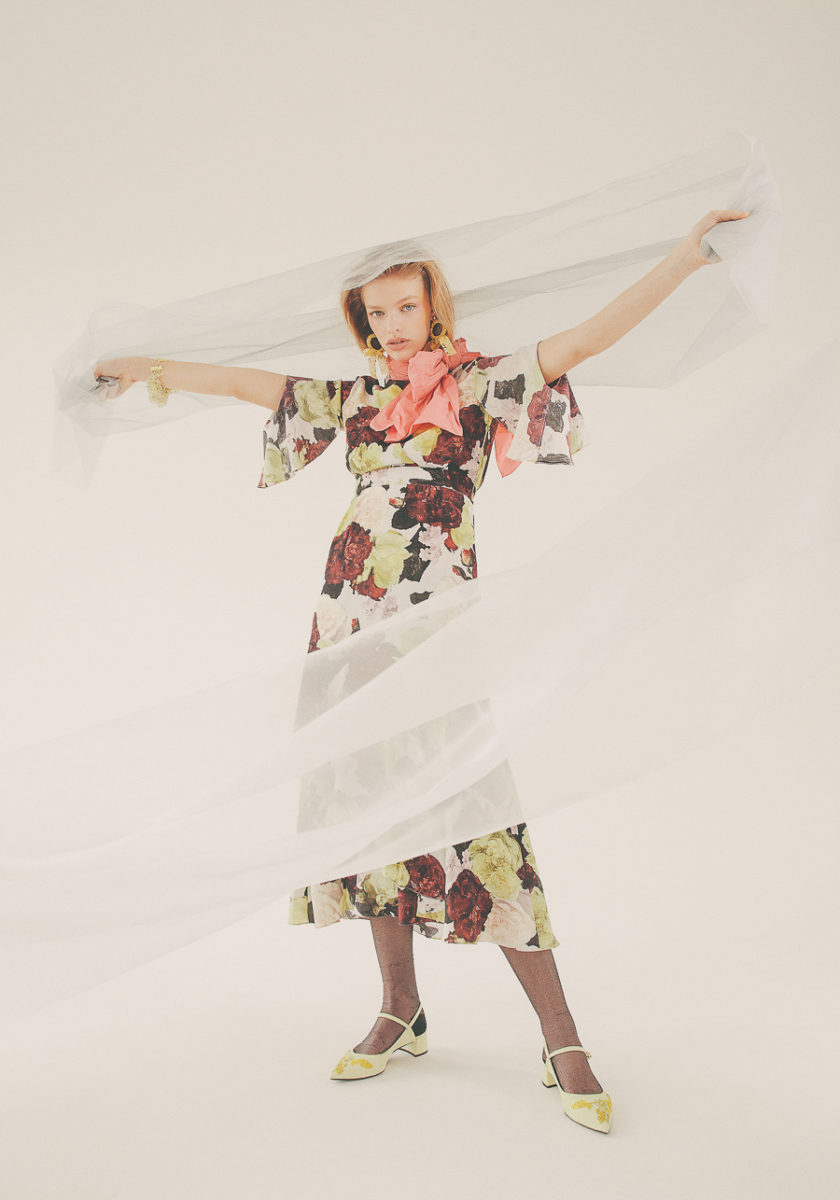 Dress and Pink Cotton (worn as bow) by Erdem | Earrings by Rainbow Unicorn Birthday Surprise | Bracelet by Marc Jacobs | Socks and Shoes by Erdem
BOUND – MAJORLILKWEEN – EXCLUSIVE MUSIC VIDEO RELEASE
Director: Alexandra Elizabeth (@alexelizabethljadov) | Director of Photography: Samuel Levine (@sammy.august) | VHS: Silver (@silvernyc) | Producer: Julia Banas (@banasjulia) | Art Direction: Julia Banas & Alexandra Elizabeth | Editor: Alexandra Elizabeth & Andy Lincoln (@andyestonia) | Music: Majorlilkween (@majorlilkween) ft. Hadar Adora | Stylist: Liz Rundbaken (@iseelizrund) | Stylist Assistant: Drew Harris (@kingdrewharris) | Make Up: Ayaka Nihei using MAC Cosmetics, @ayaka_nihei | Hair: Takuya Yamaguchi (@tak8133)
Cast: Alexandra Elizabeth (@alexelizabethljadov), Alana Terumi (@meru_turao), Bridget Hearst (@bridgethearst), Danusia G (@beingsilver), Teresa J (@teresacarollynn)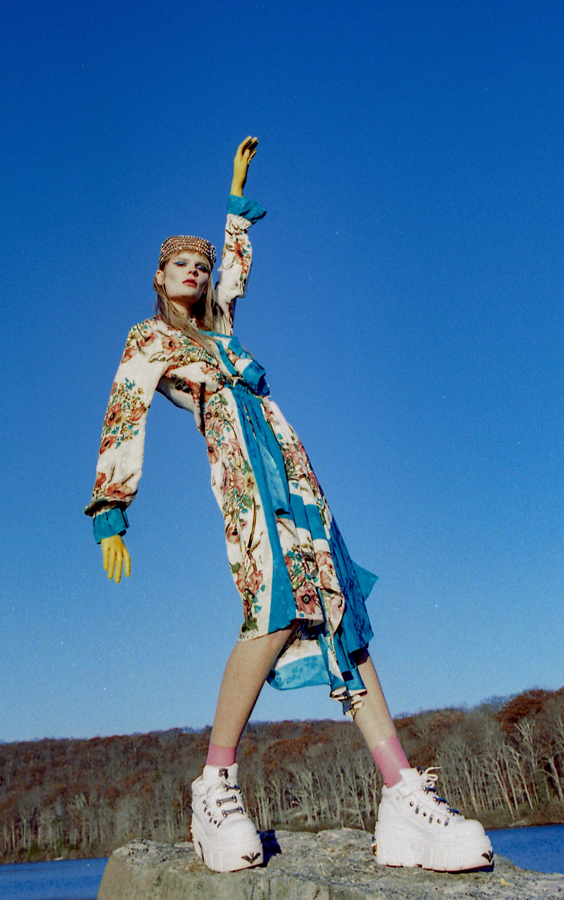 Top, Hat, Skirt, and Shoes: Gucci | Gloves and Socks: Vex | Ring : Laruicci 
Photographer: Enmi Yang (@__enmi) | Stylist: Liz Rundbaken (@iseelizrund) | Stylist Assistant: Drew Harris (@kingdrewharris) | Make Up: Ayaka Nihei using MAC Cosmetics, @ayaka_nihei | Hair: Takuya Yamaguchi (@tak8133)
Models: Alexandra Elizabeth (@alexelizabethljadov), Alana Terumi (@meru_turao), Bridget Hearst (@bridgethearst), Danusia G (@beingsilver), Teresa J (@teresacarollynn)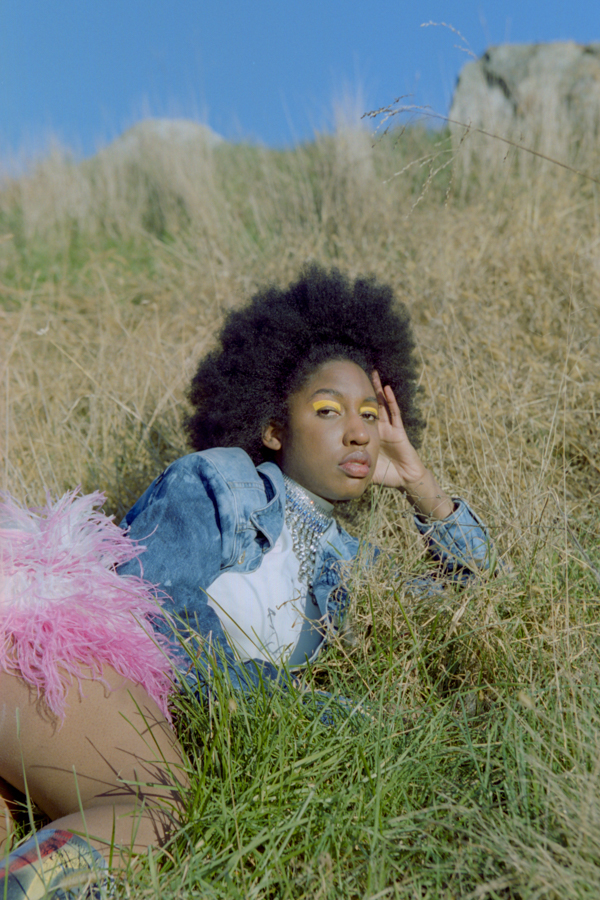 Jacket and Skirt: MSGM | Top: Alon Livné |Boots: Daniel Silverstain | Top necklace (choker): Laruicci | Bottom Necklace: Stylist's own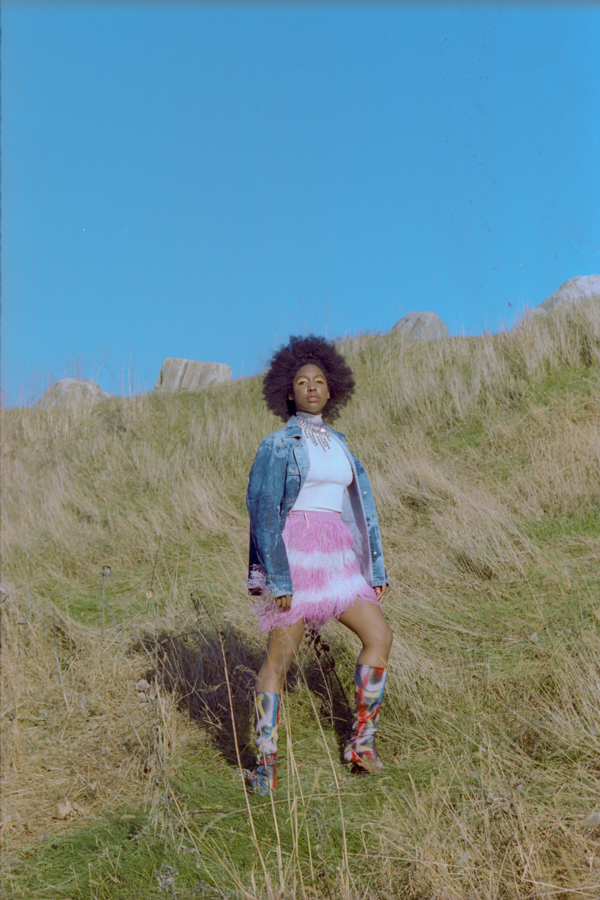 Jacket and Skirt: MSGM | Top: Alon Livné | Boots: Daniel Silverstain | Top necklace (choker): Laruicci | Bottom Necklace: Stylist's own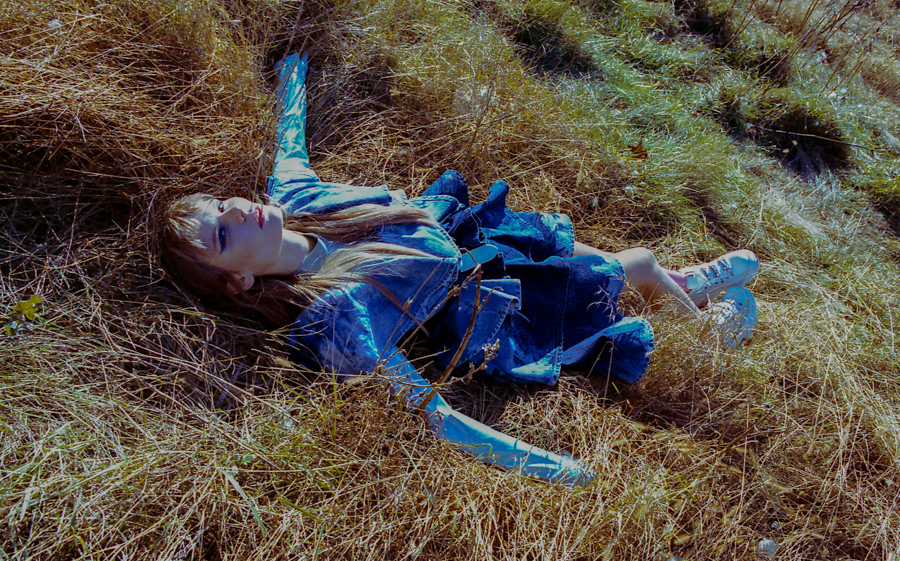 Dress: MSGM | Belt: Arthur Arbesser | Gloves: Alon Livné | Top and Socks: Vex | Shoes: Gucci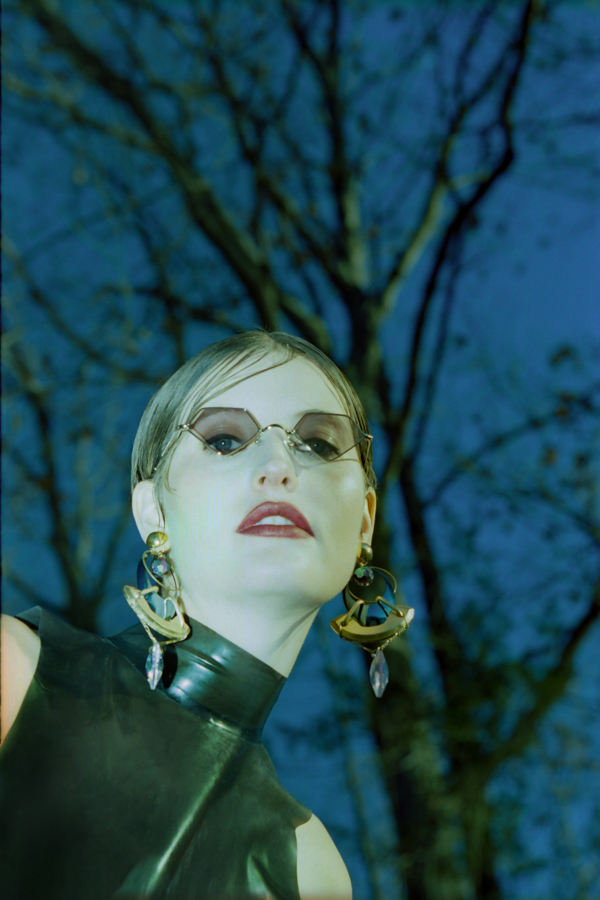 Sunglasses: Bonnie Clyde | Earrings: Laruicci  |Top: Vex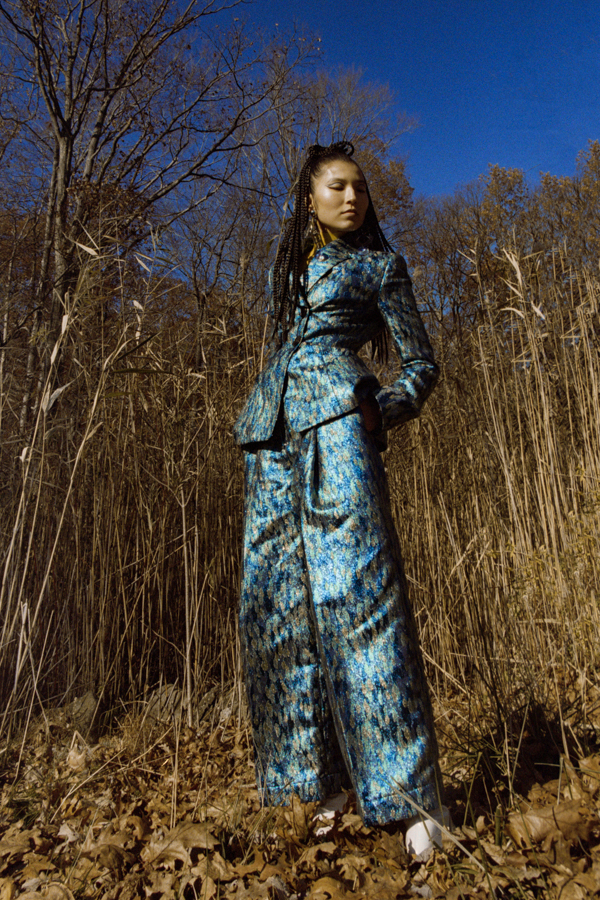 Suit: Claudia Li | Earrings: Laruicci | Top: Vex | Shoes: HAVVA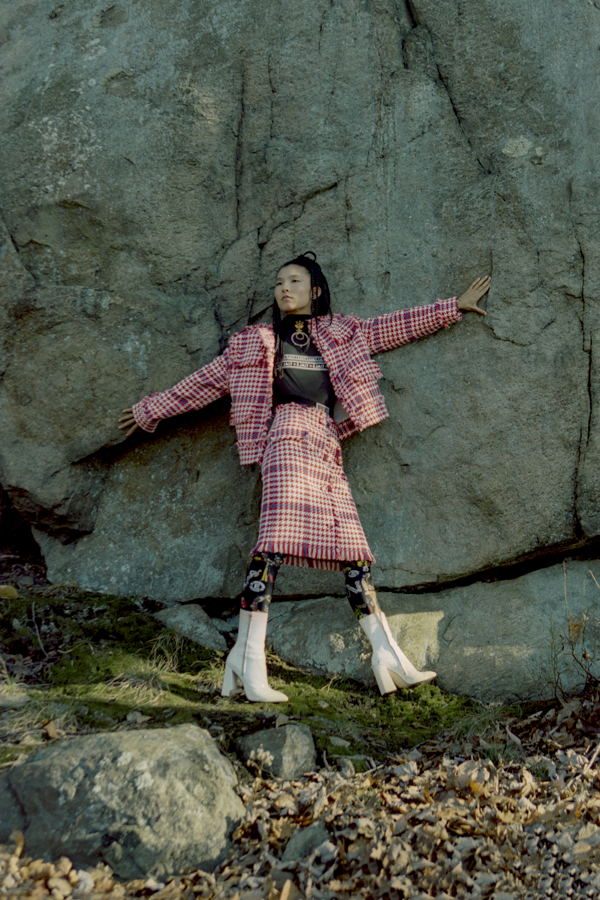 Suit: MSGM | Leggings: Versus Versace | Necklace: Laruicci | Bodysuit: This Is a Love Song | Shoes: HAVVA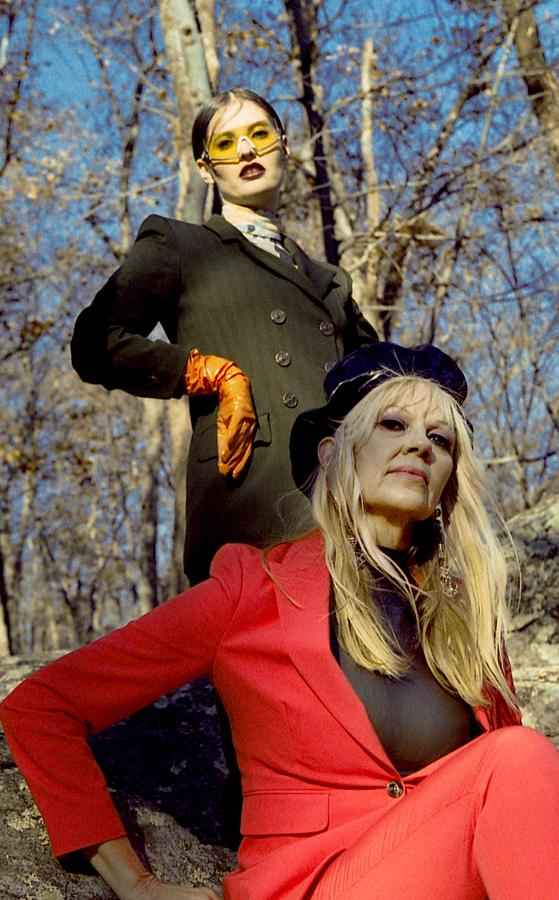 Bridget–Sunglasses: Westward Leaning | Turtleneck: Arthur Arbesser | Suit: Vintage YSL | Gloves: Alon Livné
Danusia–Hat and Top: Vex | Suit: Topshop | Earrings: Laruicci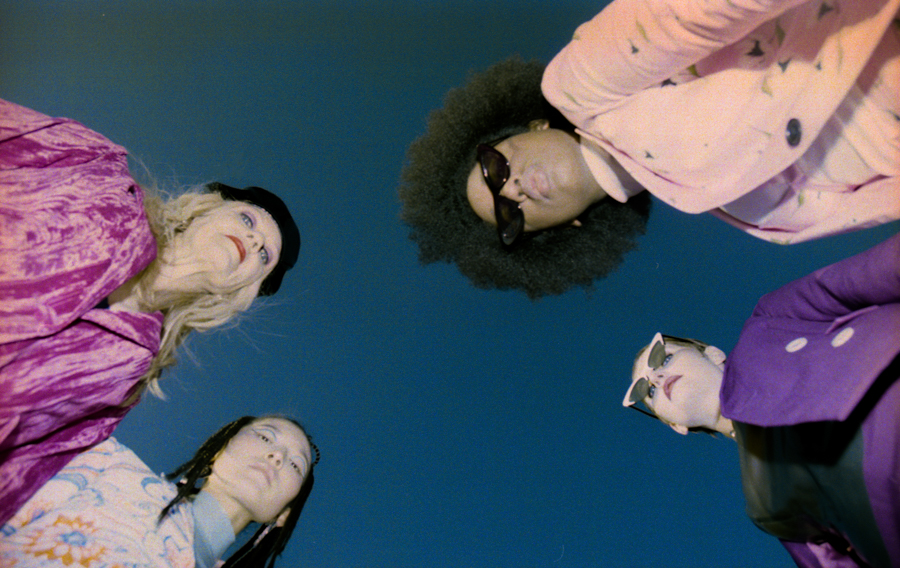 Teresa – Jacket, Bralette, and Pants: Milly | Top: Alon Livné | Sunglasses: (no label) Slim Cat EyeRetro Women's Sunglasses
Danusia – Hat and Bra: Vex | Suit: Topshop | Earrings: Laruicci
Terumi – Suit: Roberto Cavalli | Shirt: Vex | Earrings: Valen & Jette
Bridget – Suit: Topshop | Necklace: Laruicci | Top: Vex | Sunglasses: Bonnie Clyde "Layer Cake"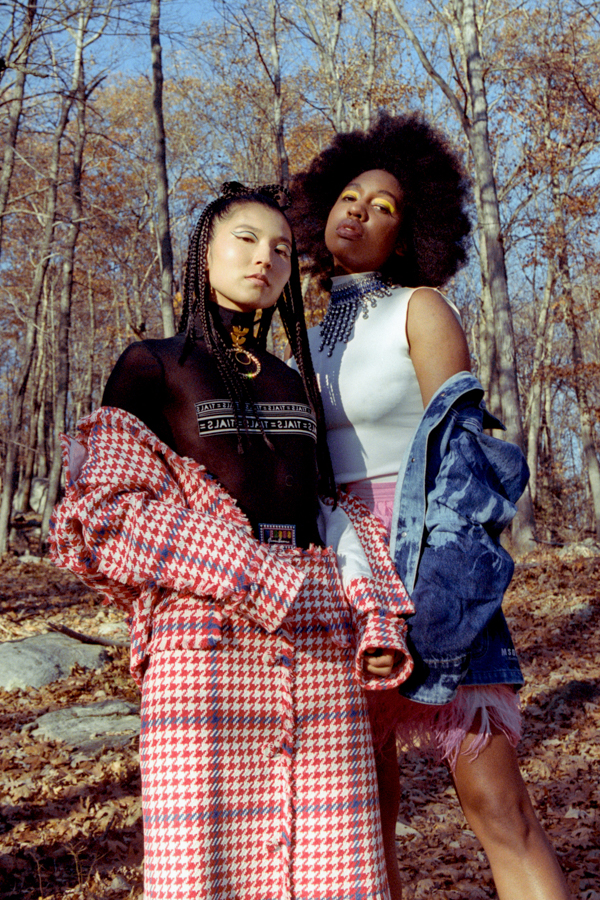 Terumi – Suit: MSGM | Necklace: Laruicci | Bodysuit: This Is a Love Song
Teresa – Jacket: MSGM | Top: Alon Livné | Skirt: MSGM | Top necklace (choker): Laruicci | Bottom Necklace: Stylist's own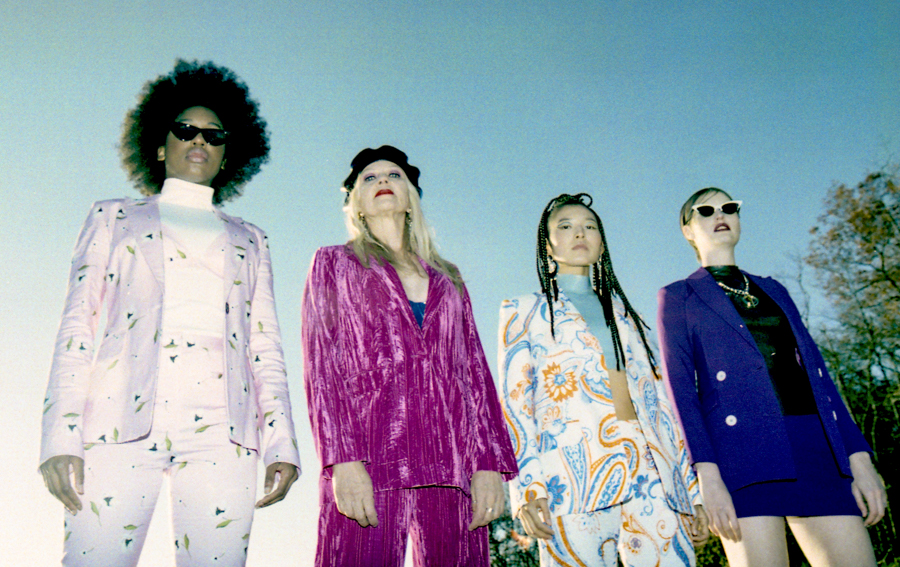 Teresa – Jacket, Bralette, and Pants: Milly | Top: Alon Livné | Sunglasses: (no label) Slim Cat EyeRetro Women's Sunglasses
Danusia – Hat and Bra: Vex | Suit: Topshop | Earrings: Laruicci
Terumi – Suit: Roberto Cavalli | Shirt: Vex | Earrings: Valen & Jette
Bridget – Suit: Topshop | Necklace: Laruicci | Top: Vex | Sunglasses: Bonnie Clyde "Layer Cake"
COLOR THEORY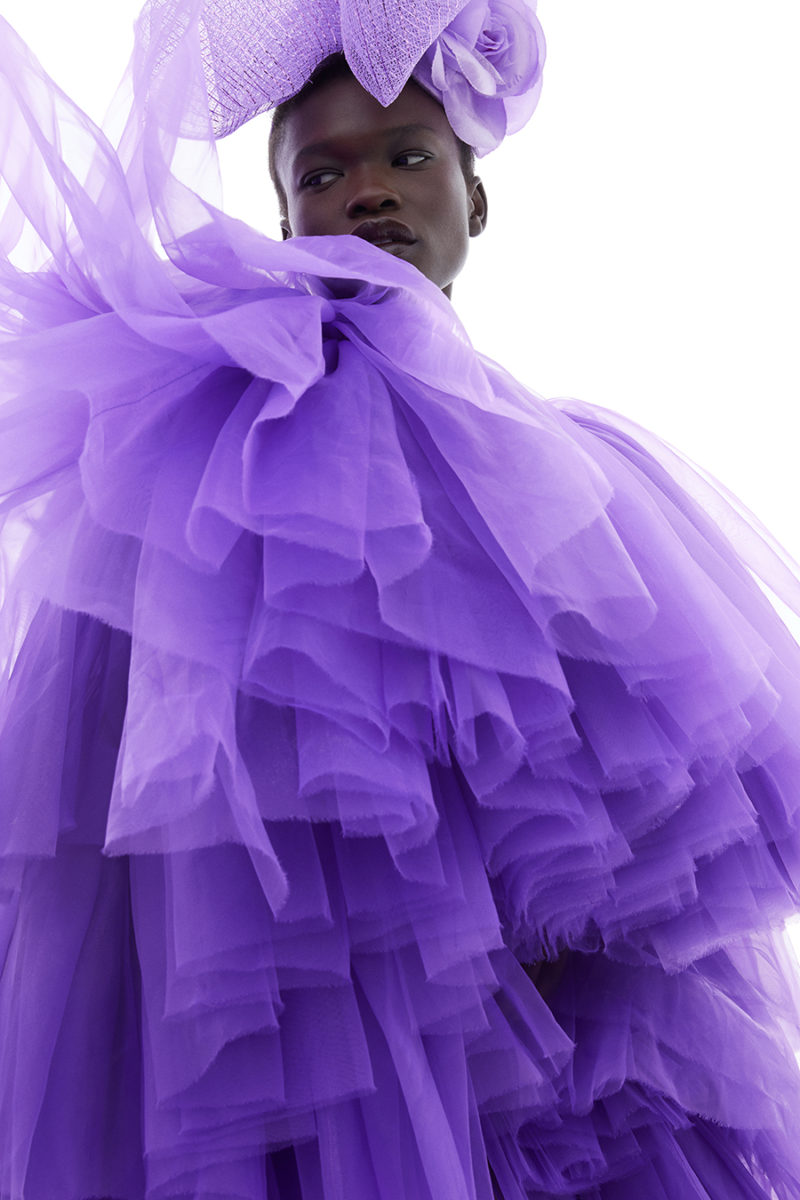 Head piece by Harlem's Heaven | Dress by Laurence and Chico
Photographer: Anastasia Garcia | Model: Awar Mou @ RED Agency | Stylist: Tiffani Williams | Hair: Kristi Wilczopolski @ Bryan Bantry Agency | Makeup: Julianna Grogan @ Bryan Bantry Agency | Photo Asst: Brandon Harrison | Photo Intern: Nina Dietz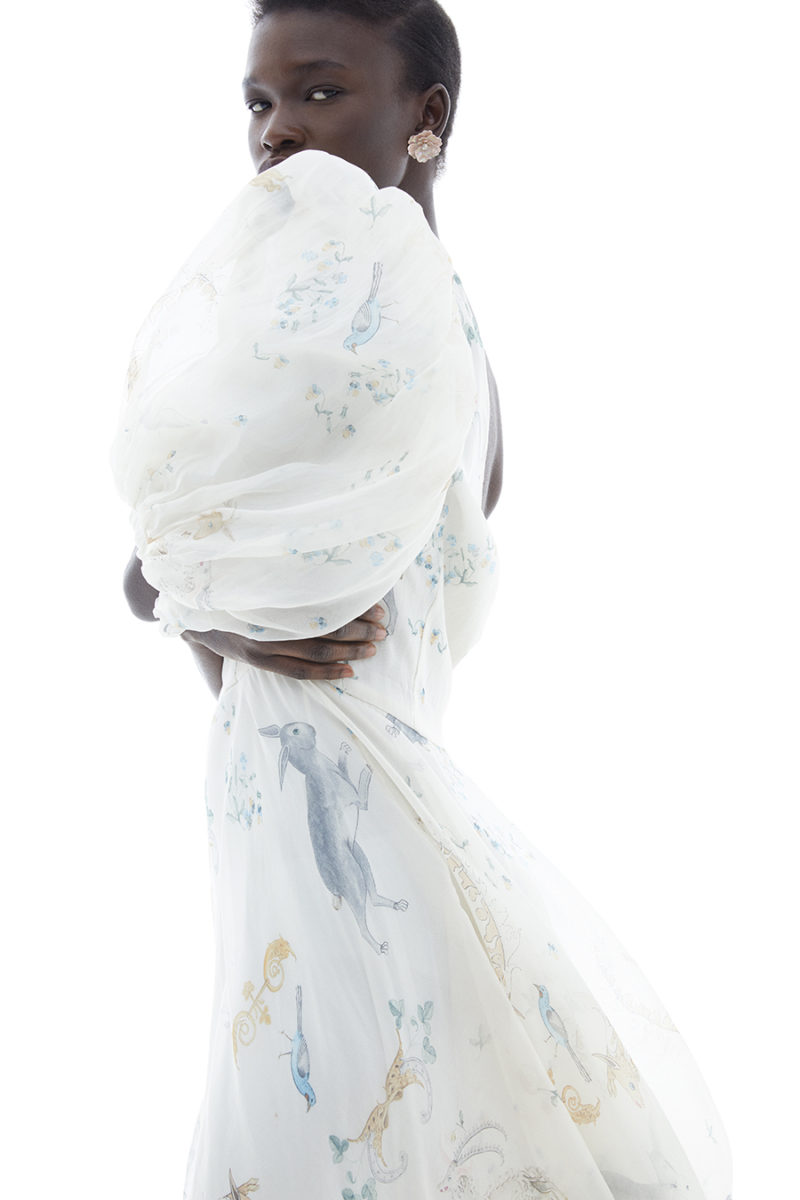 Dress by Alena Akhmadullina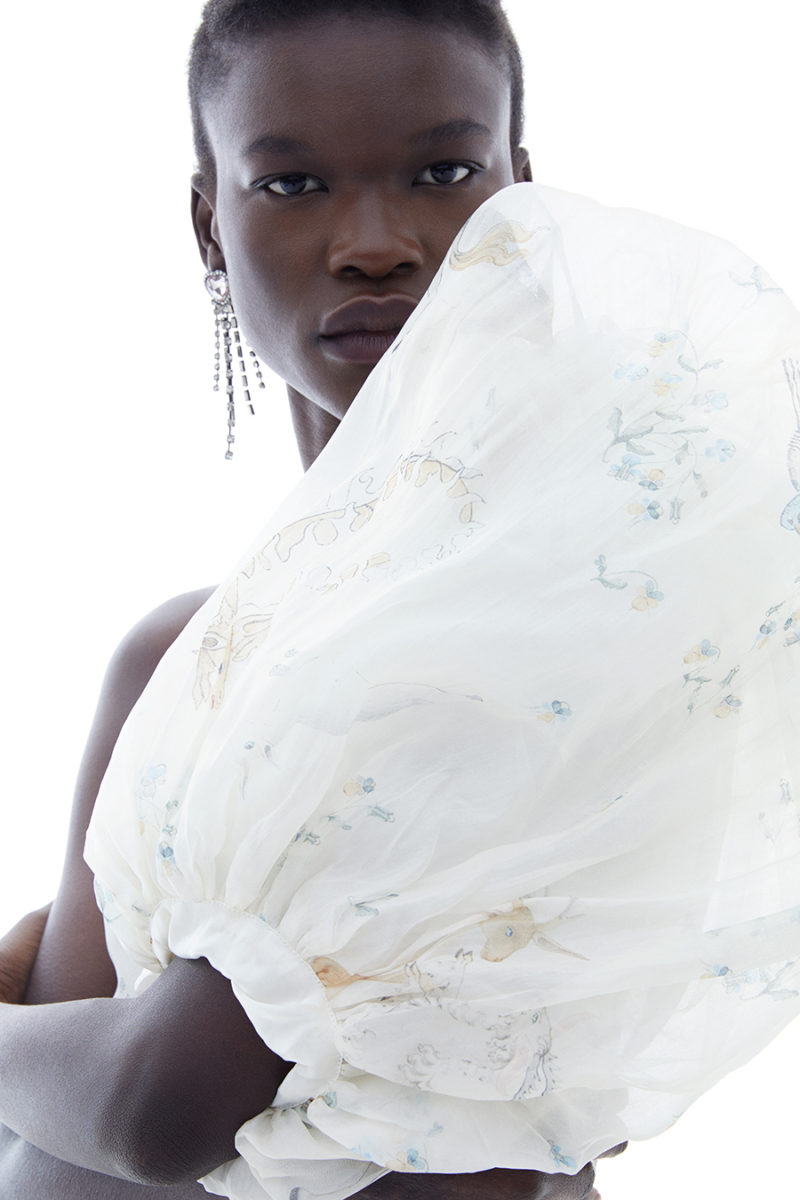 Dress by Alena Akhmadullina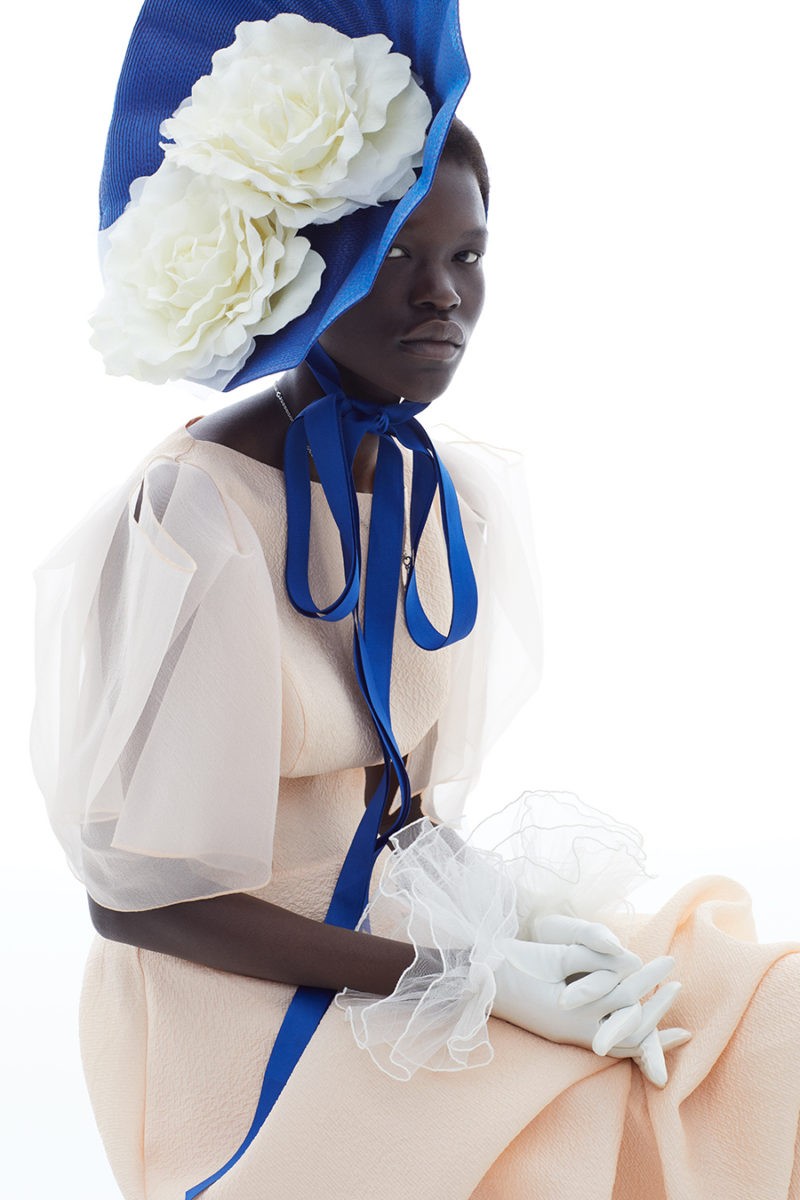 Head piece by Harlem's Heaven | Dress by John Paul Ataker | Gloves by Wing and Weft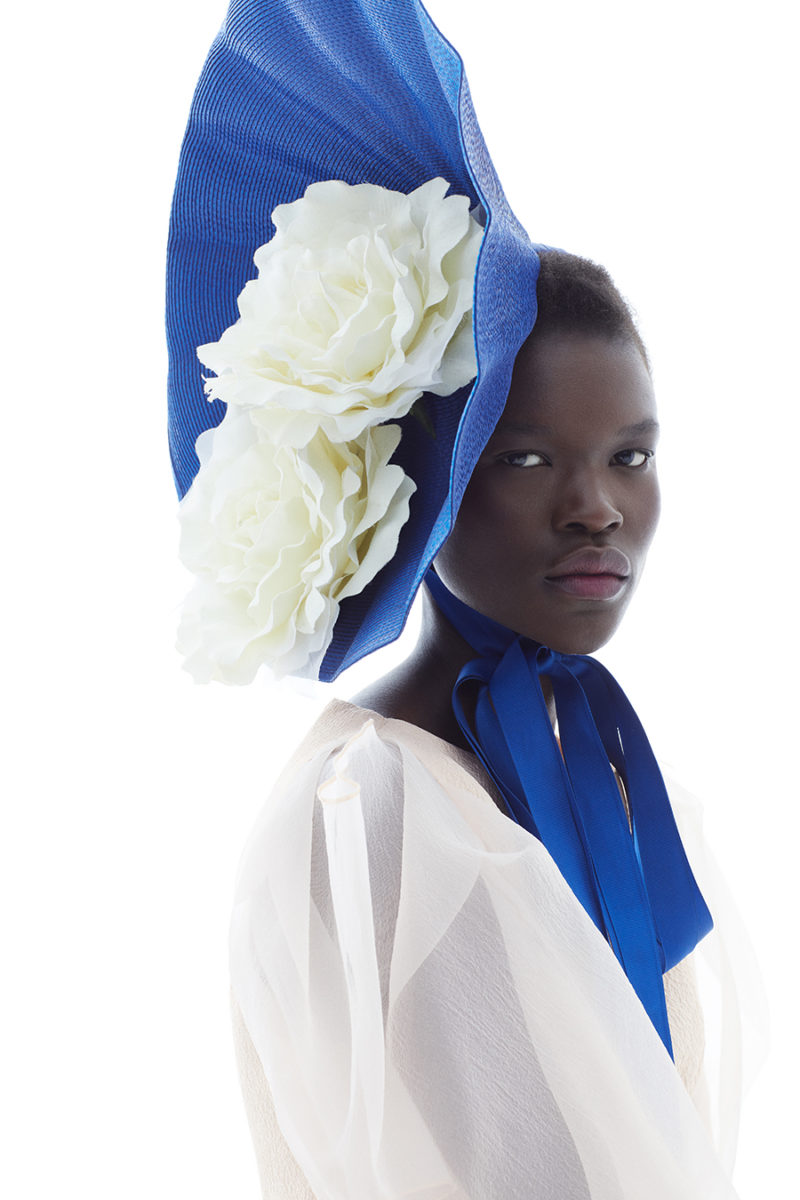 Head piece by Harlem's Heaven | Dress by John Paul Ataker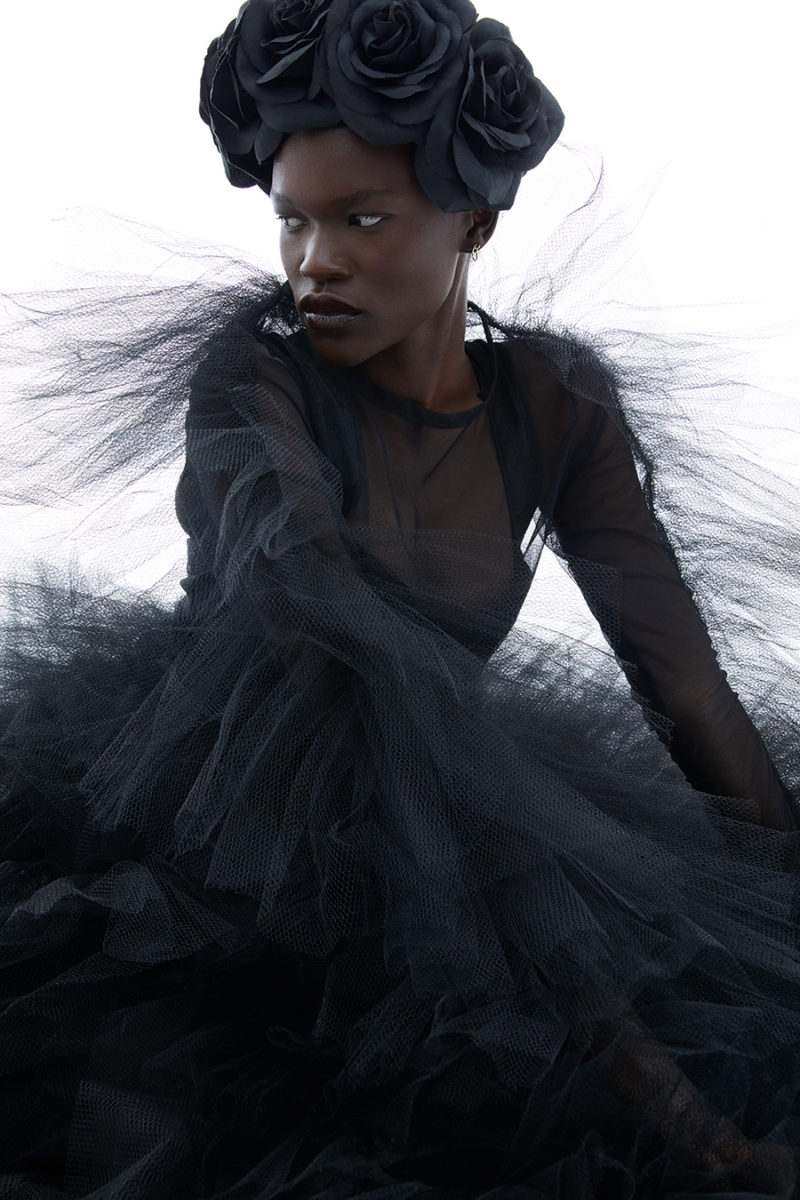 Head piece by Harlem's Heaven | Dress by Maison D Ferrer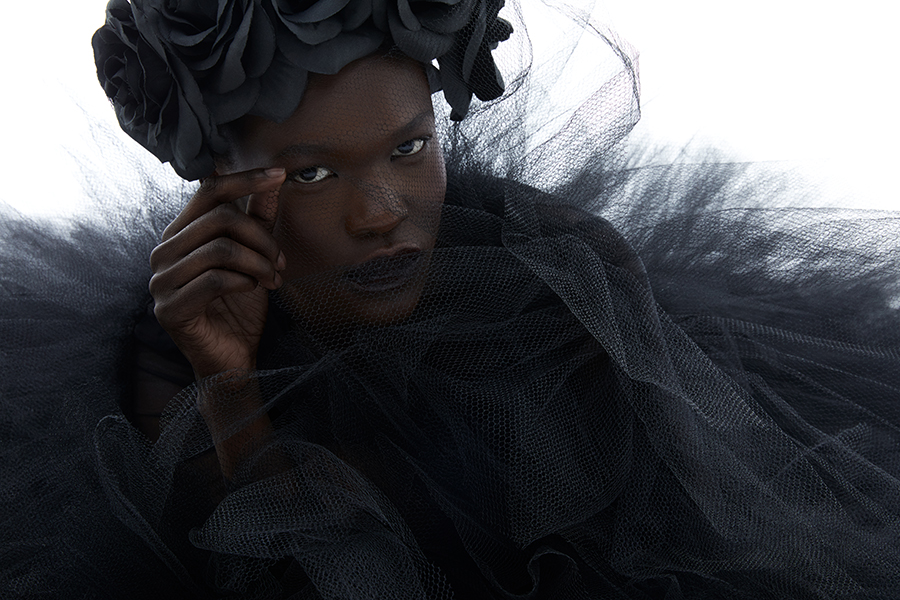 Head piece by Harlem's Heaven | Dress by Maison D Ferrer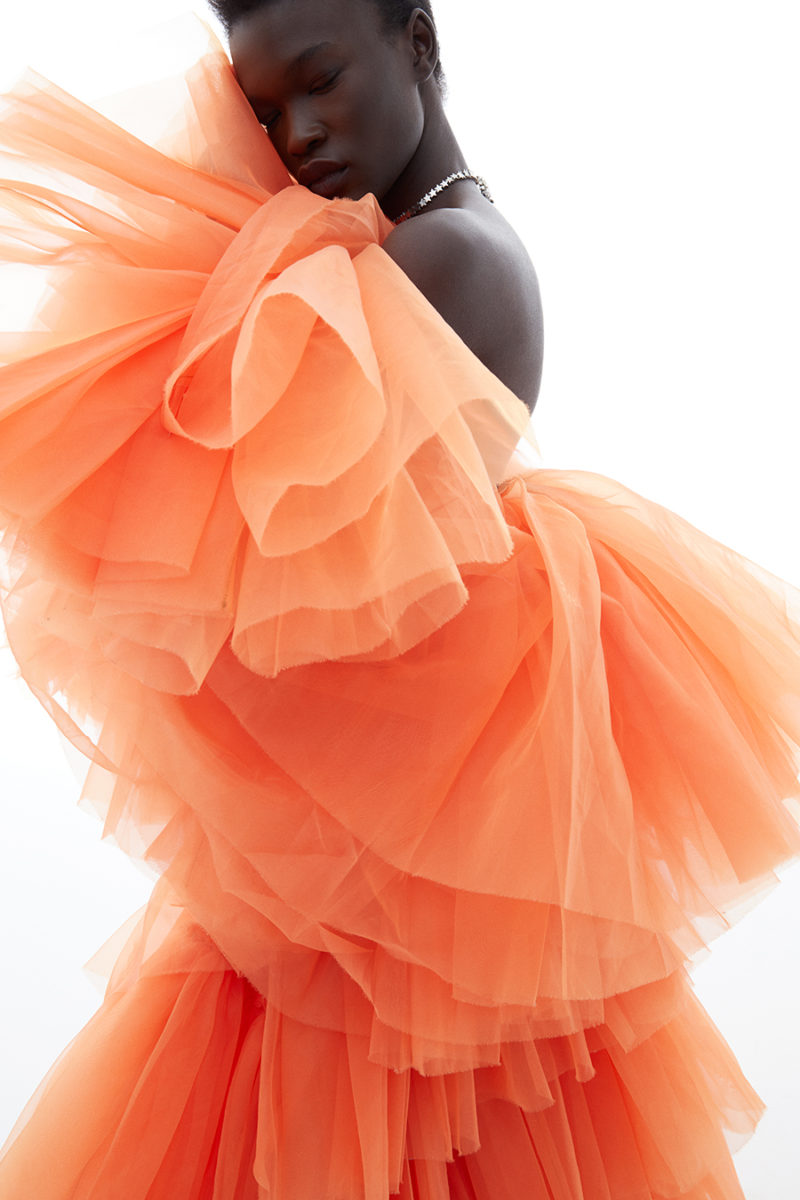 Dress by Laurence and Chico | Jewelry by Tuleste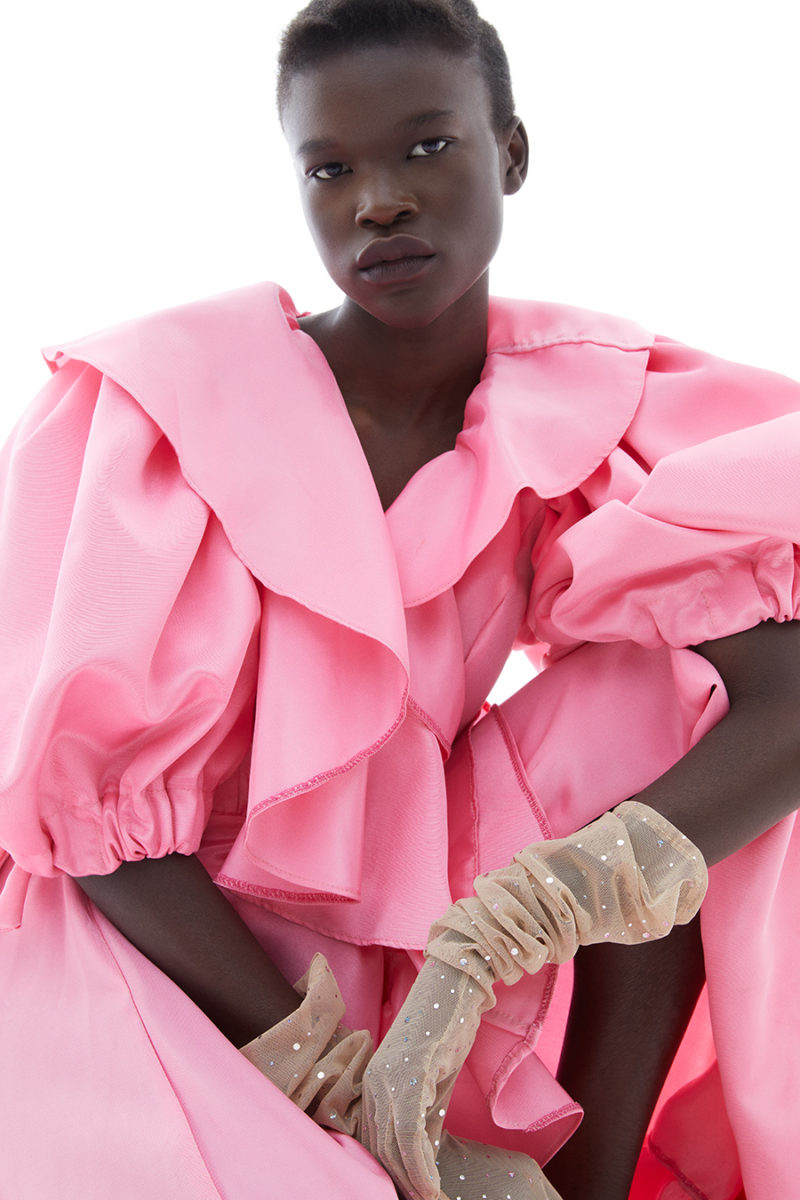 Dress by Alejandro Collections | Gloves by Wing and Weft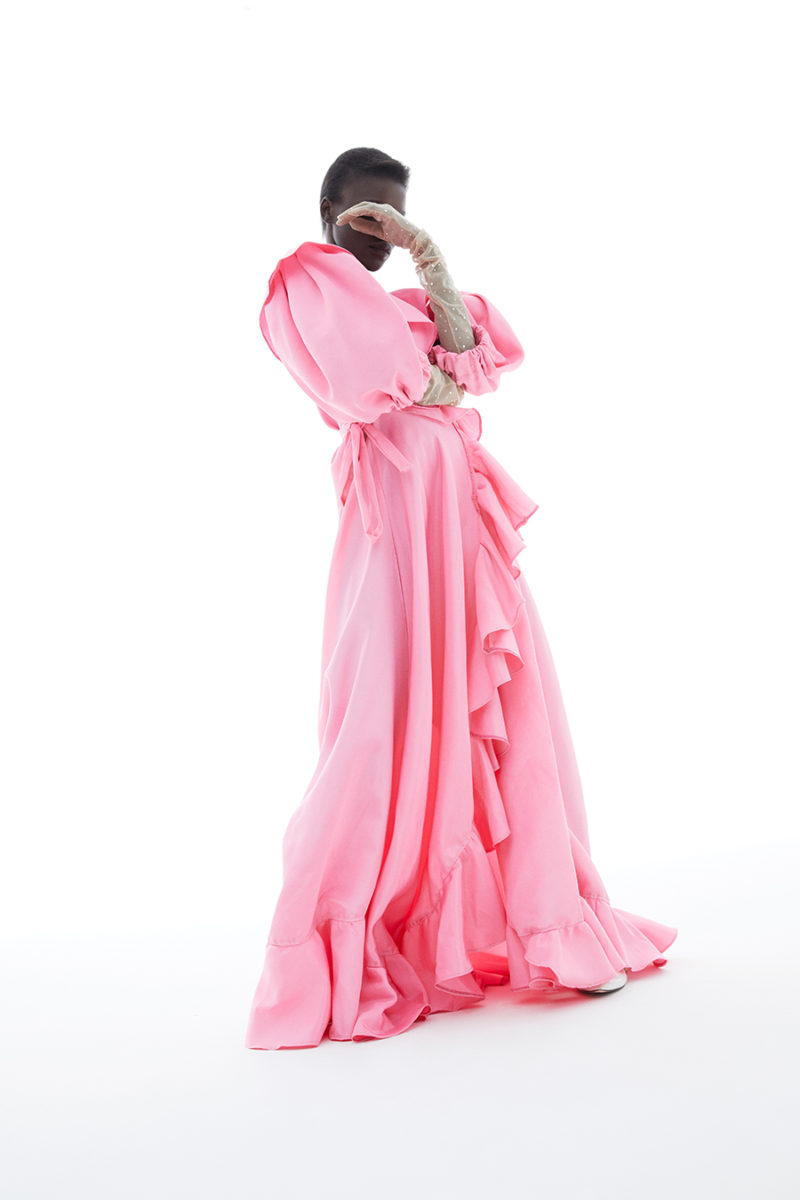 Dress by Alejandro Collections | Gloves by Wing and Weft
STEPHAN JAMES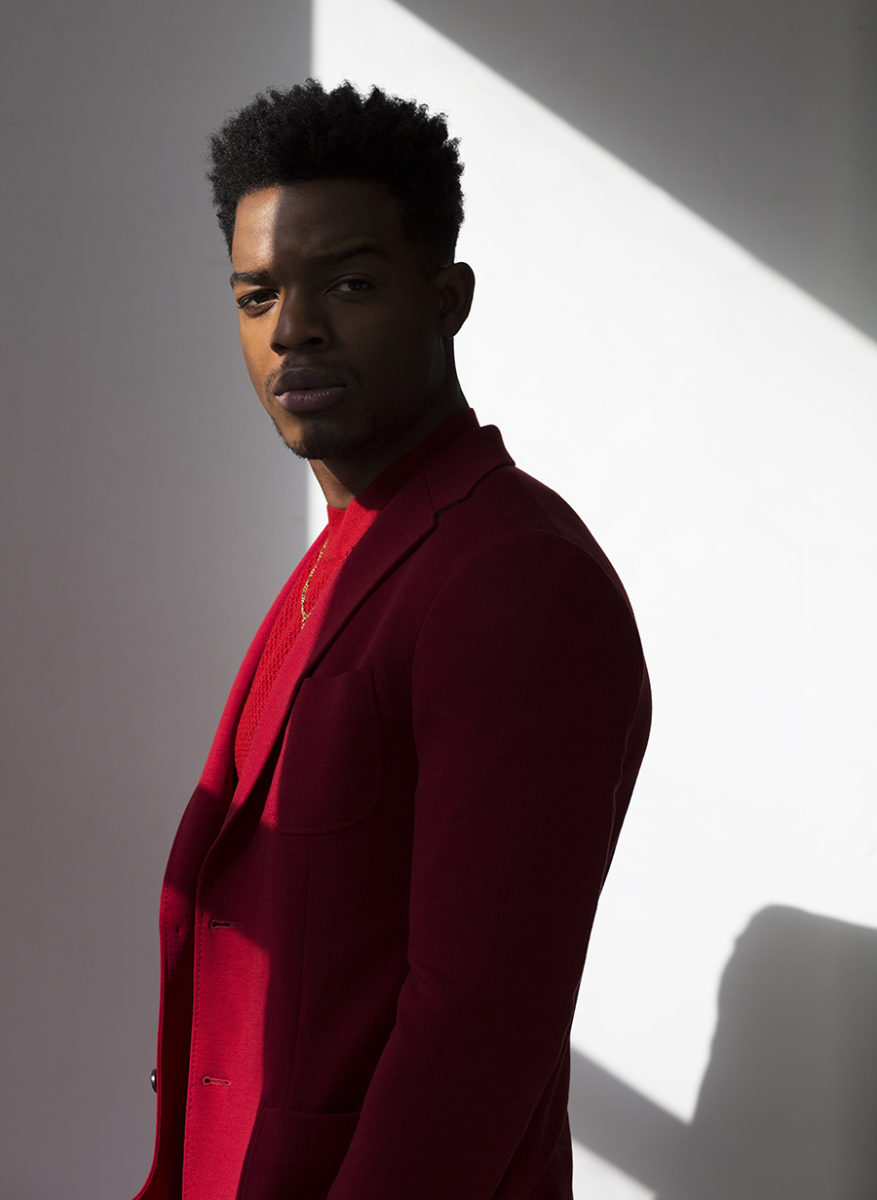 Full Look by Z Zegna
With a Golden Globe nomination for Homecoming under his belt and rounds of praise for his work in If Beale Street Could Talk, actor Stephan James is a storytelling force to be reckoned with.
Photographer: Karl Simone | Fashion Editor & Stylist: Marc Sifuentes | Interviewer: Stacy-Ann Ellis | Creative Director: Louis Liu | Groomer: Tara Lauren for Epiphany Artist Group using Kiehl's | Features Editor & Producer: Ben Price | Photo Assistant: Ned Witrogen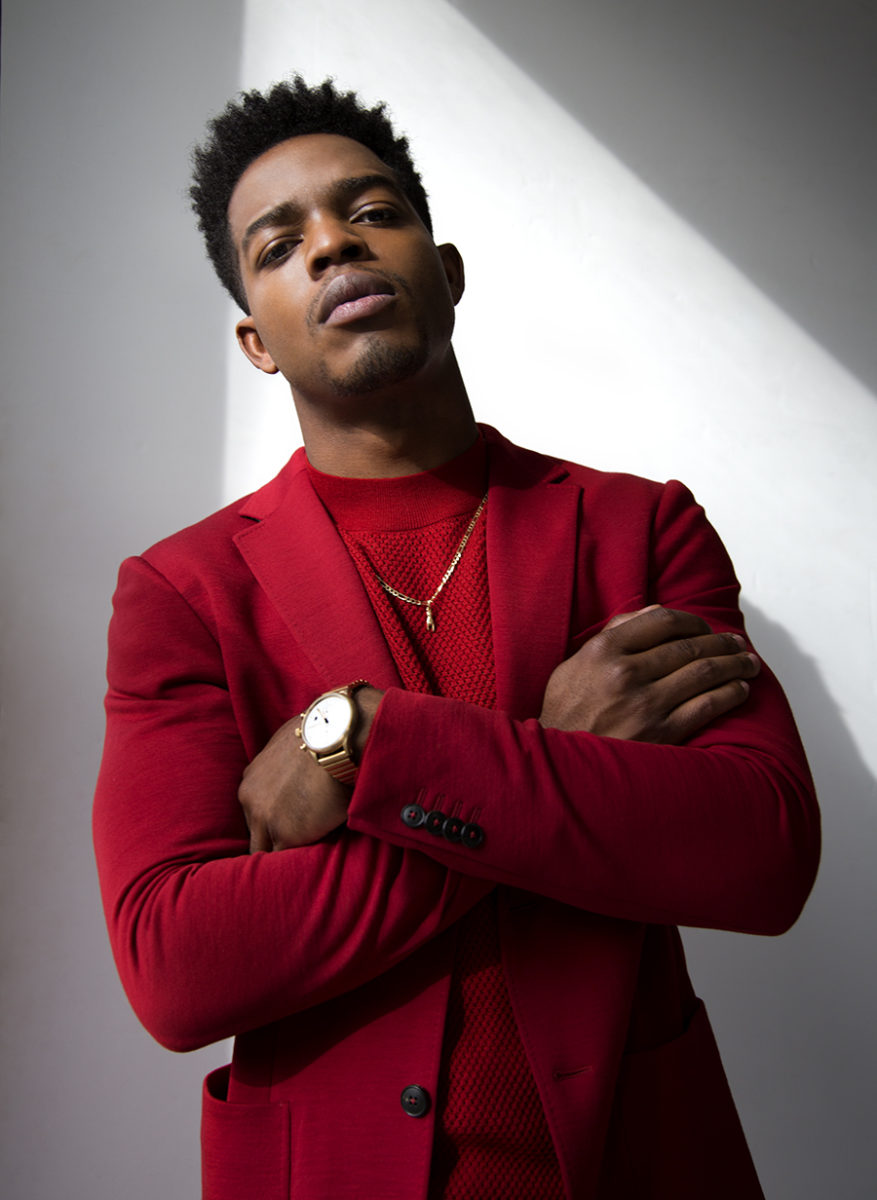 Full Look by Z Zegna
Stephan James is well aware of the power of his eyes. For the better part of If Beale Street Could Talk's two-hour run time, his gaze as Alfonso "Fonny" Hunt from James Baldwin's 1974 novel of the same name, is plastered across the full length of the cinema screen. As his deep, pleading eyes focus maddeningly on his fiancée, Tish Rivers (played by KiKi Layne), or well up from behind prison walls, they wring out raw emotions from the audience scene by scene.
We've seen these penetrating eyes before in films like Selma and Race, and in the FOX TV series, Shots Fired. "Some actors, they use their eyes to carry a lot of emotion, I think that's part of what I do," James says over an early morning phone call, humbly attributing his affecting stare to the skills he's honed as an actor. "It's the subtleties sometimes."
James' grasp on director Barry Jenkins' vision and intention for the Baldwin adaptation is clear, as is the importance of his role in delivering it. The first time the Toronto, Canada native read the novel, or any Baldwin literature for that matter, was after he'd read and fallen in love with Jenkins' screenplay. However, the gravity of Baldwin's words (and the necessity to be a proper vessel for them) were not lost on him.
"I was really blown away by the language of Baldwin," he says, even describing his verbiage as Shakespearean. "Just how descriptive and vivid he was, the way he described love, the way he described tragedy in the same breath. The poetry in which he went about doing it. And then again those themes, the fact that this man wrote this book in 1974 and it just felt so relevant."
Jenkins' Beale Street follows the newly engaged black Harlem couple as they navigate major life hurdles occurring at the same time. (Shortly after Fonny is falsely ID'd and imprisoned for the rape of a Puerto Rican woman, Tish finds out she is pregnant with his son.) As the story weaves in and out of the befores, durings and afters of Fonny's grim predicament, Jenkins explores topics such as community, vulnerability, restraint and sacrifice. However, one particular theme is paramount: bonafide black love. "This film is showing what the power of black love is able to help us get through," he says.
IRIS Covet Book caught up with Stephan James to dig into his future as a leading man, the threads that bind him with his character, Fonny, and the way If Beale Street Could Talk challenged society's narrow expectations of black men.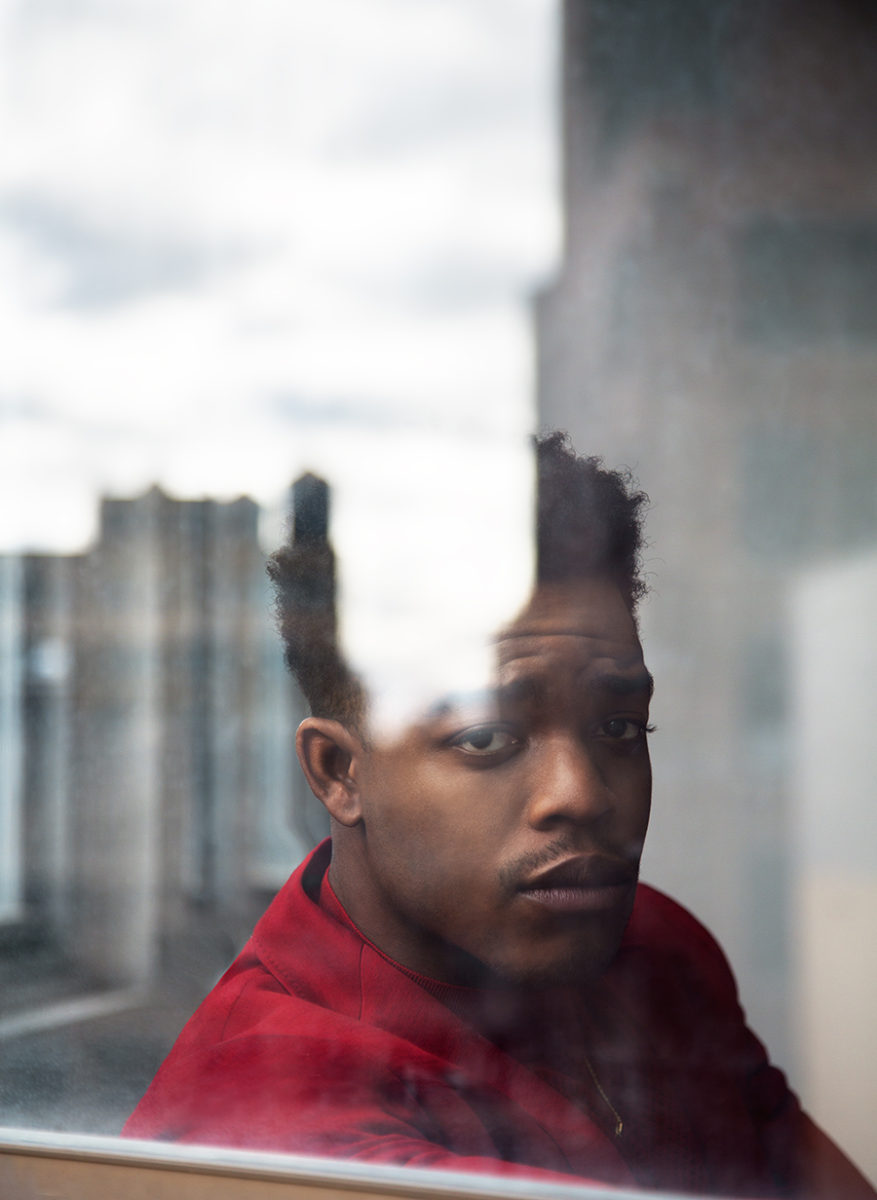 Full Look by Z Zegna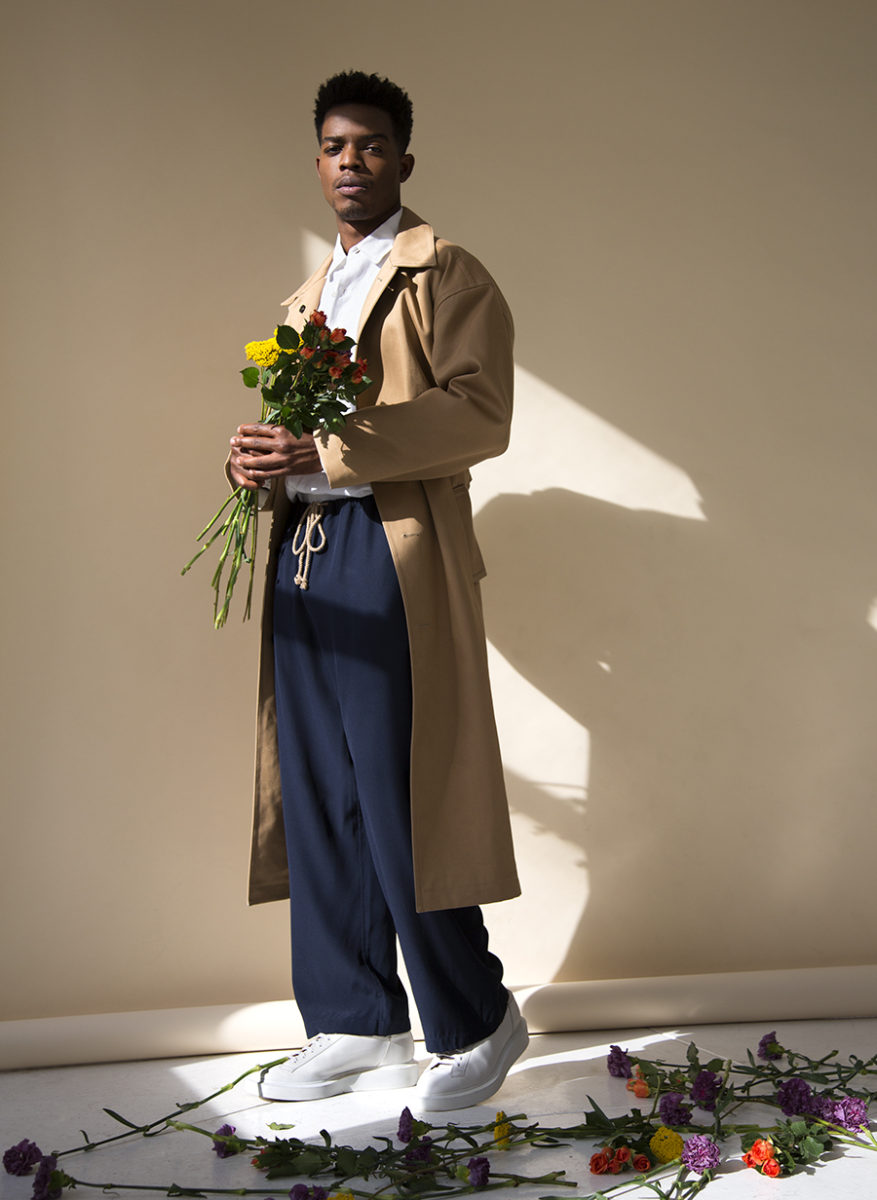 Full Look by The Saltings NYC, Shoes by Bally
Once If Beale Street Could Talk wrapped, what was your experience watching the finished film for the first time?
The first thing that struck me about the film was it felt very much like a Barry Jenkins film. It felt like a movie about faces more so than places, and I think that it's pretty striking when you have these characters talking directly to camera, cutting out the middleman. And Barry Jenkins, by the way, would never tell us when he's doing those shots. He would never plan them. He would feel it out as a scene was going along and say, "Okay, well now I'm going to put it directly in your face, so let's go." It's a great tool to cut out the space between the audience and the characters and just have a direct line of conversation.
When pursuing the role, what part of yourself did you see in Fonny reading from the page?
First and foremost, Fonny is an artist. He's an artist much like I'm an artist. Outside of acting I also like to paint, and Fonny is a sculptor. He's deeply, deeply sentimental and artistic and he loves a lot, so I found some similarities with just his artistry. And then maybe a couple of months before hearing about this film, I had become infatuated with the Kalief Browder story. It was striking because as soon as I read this screenplay, I thought of Kalief immediately. I thought that their stories were so similar, almost unfortunately similar. The fact that Baldwin wrote these words in 1974 and they had so much resonance in 2017 when I was reading this script and when I was reading this novel. It was just something inside of me that told me, wow, Fonny is Kalief's story. Fonny is an opportunity to give a voice to young men like Kalief and so many other young men across the country who are going through the same sort of ordeal. So I feel like I kind of made the connection really quickly. And ultimately it just felt important. It felt important to embody somebody like Fonny. Although he is a fictional character, and all these characters are fictional characters, they're representative of very real people.
It was refreshing to see a black man being just an artist—not sketchy, not a hustler—on screen. What does that communicate about the scope of the black man?
This film challenges a lot of ideologies in terms of what it means to be a black man, what black love means and the idea of what black families mean. Seeing Fonny as this deeply sentimental artist—he's a sculptor, he takes something that is seemingly nothing and it's a labor of love for him—I think that it's important for the psyche of black men, young black men, watching this film. Often, especially in state of mind and art in general, I feel like there's a very limited perspective when it comes to the portrayal of black men and what black masculinity looks like. Especially when it comes to these men who have been criminalized. We never get to see them as artists, sculptors, lovers, fathers, husbands. I think that this film is revolutionary in that way.
You look at some of the scenes—particularly the scene between Daniel and Fonny. To have these two young black men who have been criminalized be able to sit down at the table and open up to one another, be completely vulnerable with each other and share their deepest darkest secrets with each other, their fears, the things that keep them up [at night]. What a special thing that is, just for the psychology of these young men watching this film. The fact that they get to see that we can be like this, we can lean on our brothers like this… If it's only one person, then we can use our brothers in this way and love in this way. I just think it's a powerful, powerful message that's being said.
Did you find yourself at any point angry just thinking about the helplessness conveyed in Fonny's story?
Yeah… I mean the thing is this. Baldwin says, "to be a black person in America is to be in a constant state of rage," but on a bigger scale, I think that the biggest theme in this book and in this movie in general is love. And in particular, it's black love. It's this idea that for hundreds of years the black community in general has been born into a world where the chips are stacked against them. Where we have an unjust system, a system that's supposed to be a place to protect us but is seemingly failing to protect a group of people time and time and time again. I think that this film is showing what the power of black love is able to help us get through.
I think that despite these tumultuous circumstances thet Tish and Fonny find themselves in, the darkest times, it's this love. It's this unbroken, undying love in the face of adversity that has kept them going. That's the only reason why at the end of the film, despite the circumstances, Fonny is still in prison, but it's this love that's helping to raise their child, this five-year-old boy now. That's the only thing that's kept them going. That's the bigger message. So of course you get angry, and it'd be impossible not to get angry. It's sort of the world that we live in, but I think Baldwin's making a statement on the power of black love.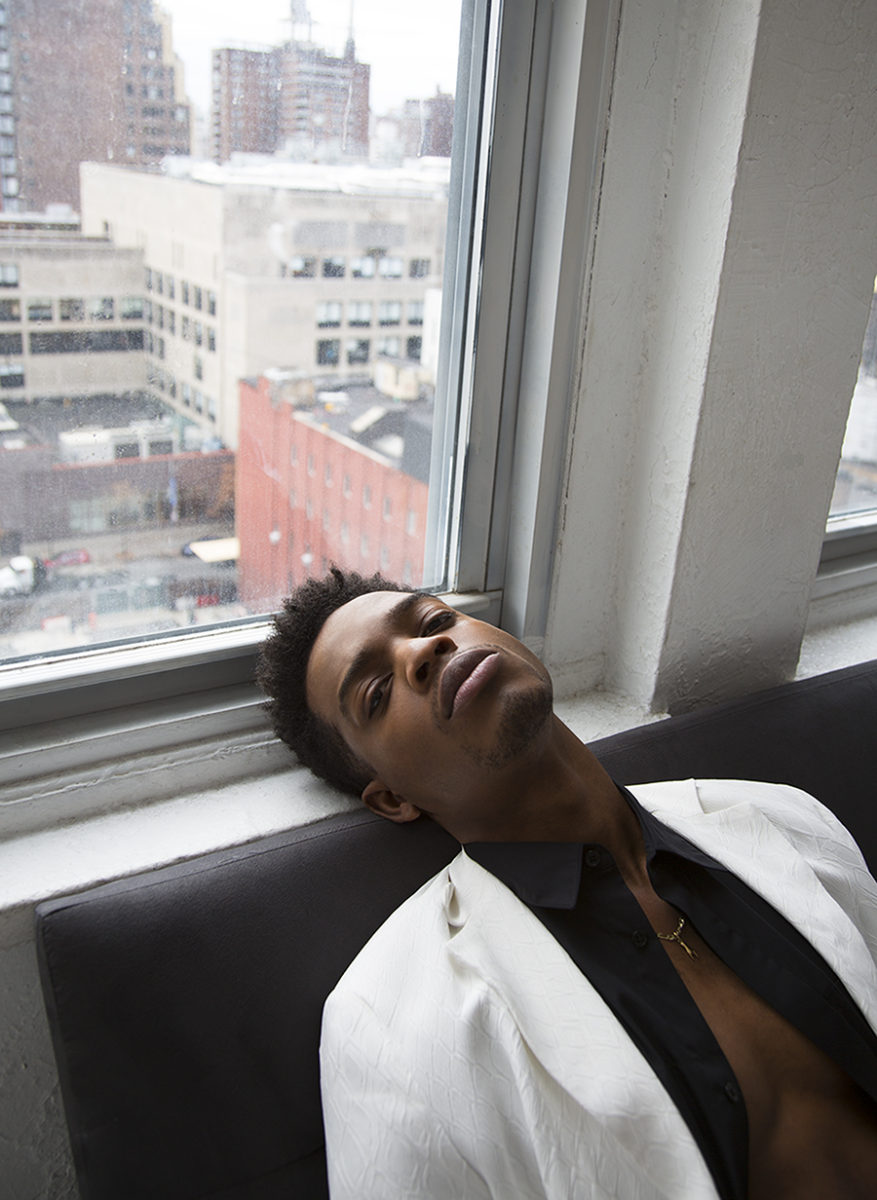 Full Look by Roberto Cavalli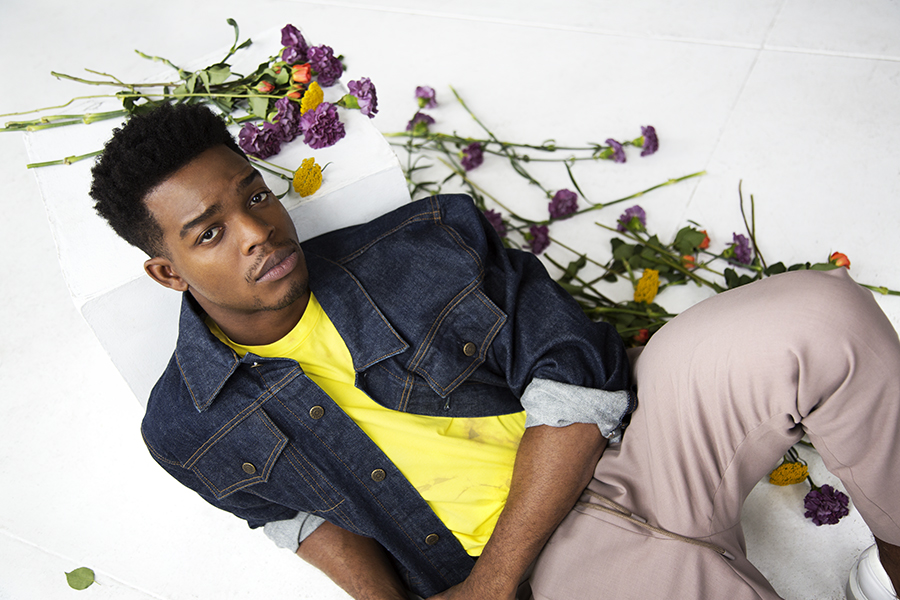 Jacket and Shirt by Helmut Lang, Pants by Burberry
The nuance of that love really presents itself at the grocery store. After Fonny defended Tish from a creep in the store, Tish had to protect Fonny from a racist police officer who threatened to arrest him and called him "boy" in the same breath. Tish didn't think twice when she spoke up to Officer Bell and said, "He is not a boy." There's so much energy packed into the scene where Fonny defends Tish, then she turns around and defends his manhood from a racist police officer. There's tension between you and the officer, the restraint you have to exercise, and Tish's fearlessness overcoming her physical fear.
I definitely saw that. I saw the restraint that many young men have to learn at a very young age and black men have to learn at a very young age, in terms of how to deal with police. It's something we're sort of instructed to [do] as young men. There's definitely a lot of energy between Tish and Officer Bell, the idea that a black woman can be strong and stand behind her partner in this way. I saw a level of frustration, too, maybe between Tish and Fonny. Almost like, I don't need you to protect me, and I should be the one protecting you. It's ironic that I was protecting you and now you have to protect me. It's interesting how the shift in the scene happens so quickly.
It seems to also speak to the power of the black woman in general. In the film, we see Tish, her mother, Sharon, and her sister, Ernestine—even Fonny's mother, Mrs. Hunt, has a powerful (albeit negative) presence. Do you feel like there's something to intentionally be said about women with this film?
In general, our ideologies have been challenged in this film. What it means to be a strong black woman. The fact that it wasn't Frank who went to Puerto Rico to find Fonny's accuser, it was Sharon. She hopped up on the plane and she went to find the accuser to see if she could plead for Fonny's innocence and for his freedom. I think there's something to be said for the family dynamic and how there's a balance of power. Especially if you look at Tish's family, how sometimes it's Frank that's out working and trying to make sure that everything's good before the baby comes out. Sharon's version of working is, I'm gonna hop on a plane and go to Puerto Rico. It's just the balance of sharing those duties of the responsibilities. It's Tish showing the strength of a black woman. She's working all the way up until the last minute that this baby's supposed to come into the world. There's a lot of commentary in terms of what it means to be a strong black woman. This whole novel, this whole story, is told from the perspective of a strong black woman. It's told from Tish's eyes, and I think that Tish really grows into herself in this film. You see her grow up pretty quickly and step into that womanly, motherly type of role.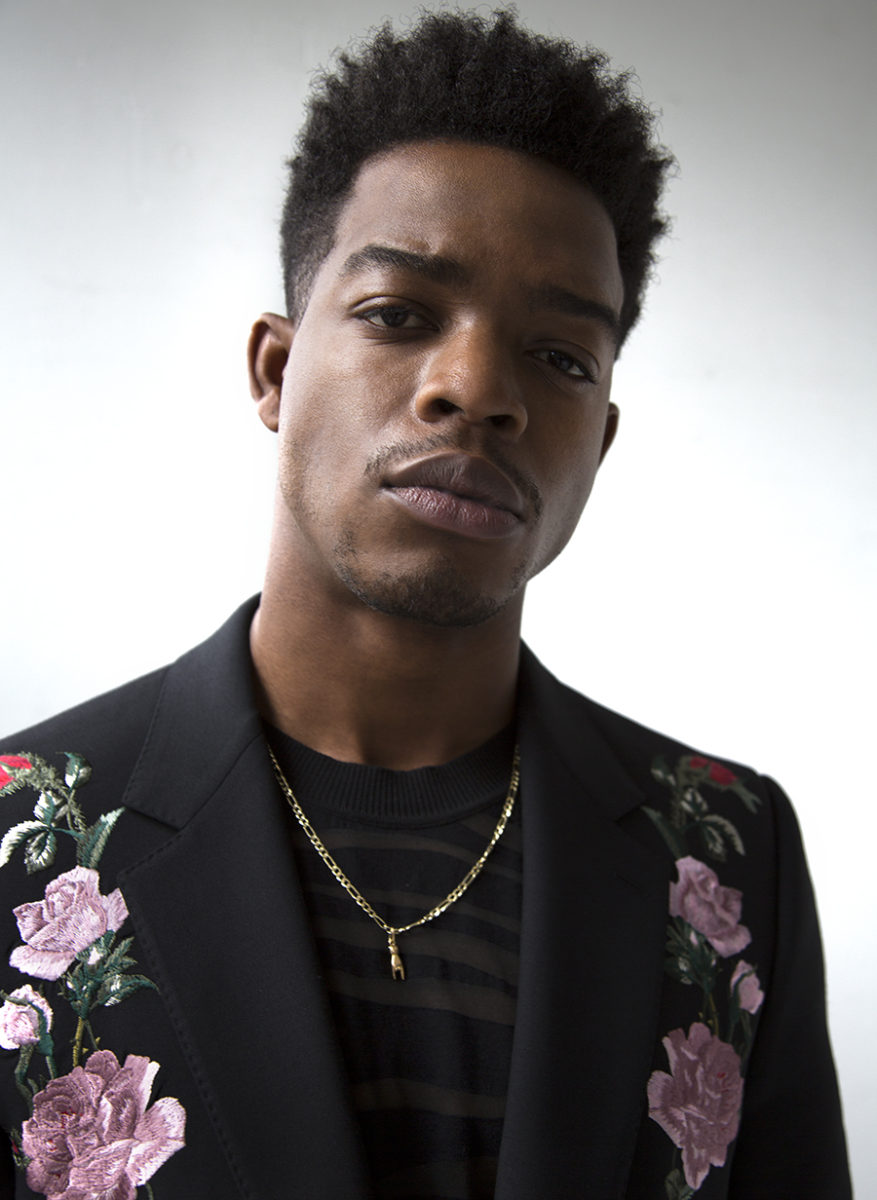 Jacket by Alexander McQueen, Shirt by Roberto Cavalli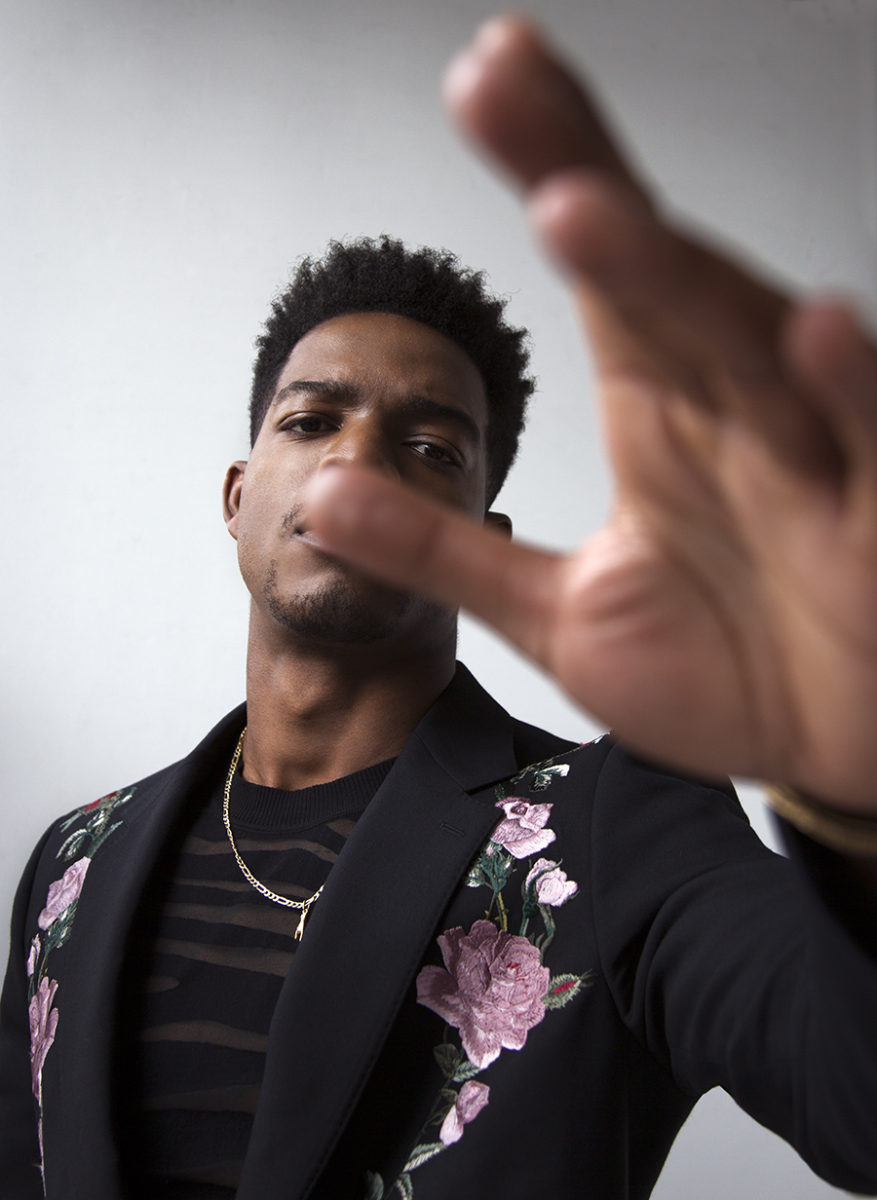 Jacket by Alexander McQueen, Shirt by Roberto Cavalli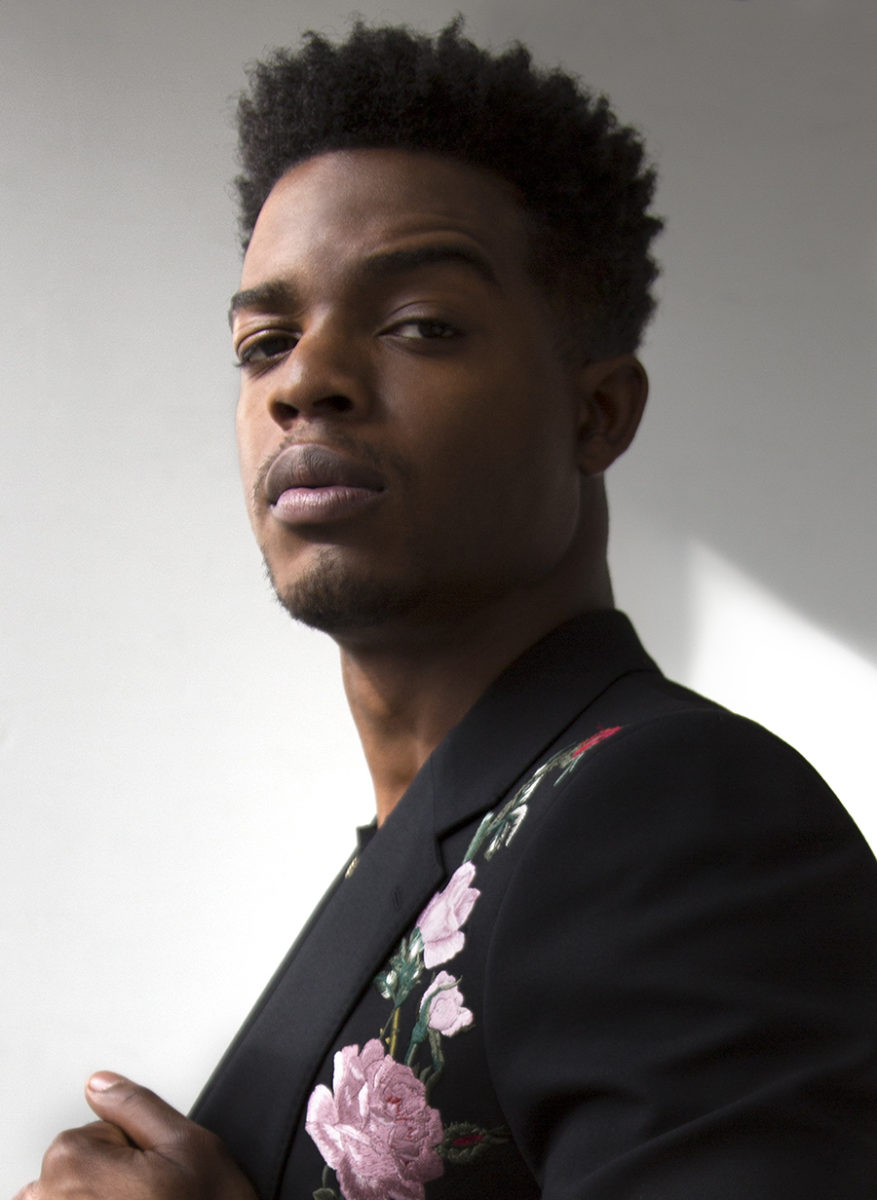 Jacket by Alexander McQueen, Shirt by Roberto Cavalli
Do you think that you would be able to maintain that sense of togetherness—in terms of love, sanity, optimism—if you were in Fonny's legal situation? Especially if there was not a guarantee of freedom in sight.
I really couldn't say, man, I really couldn't say. I've never been to prison. I have no clue what that's like. Those walls are meant to break people—physically, mentally, spiritually, all the above. So I can't say. I really, really, can't say. I'm thankful I've seen examples now in cinema of Fonny who was able to sustain himself through all this, but I've also seen examples of Kalief Browder who even after two years after his release from prison committed suicide. So there's no telling what a thing like that puts you through.
That plays out with Fonny and Daniel's conversation. Fonny tried to console him about his post-prison emotions and his acclimation to the world, and Daniel stressed that he just didn't understand.
Absolutely, and like I said, these walls are meant to break these men, so after they come out, they're still dealing with all of this trauma. This PTSD, if you will. So the conversation is not only about why they're in there—obviously wrongfully, of course—but what to do to them and with them after they come out? How do we treat them? Especially when we know that we've wronged them. The system has wronged them. Is there a system in place now to help them get their lives back together and to regain humanity? What do we do with these young men who have been wrongfully imprisoned and are now having to deal with the trauma and the acclimation back into civilian life in general?
After both this performance and your role in Homecoming, the world is paying attention. How does it feel to see that growth and recognition?
We don't make art from a place where we want a bunch of awards and stuff like that. I appreciate the recognition, that the people are seeing the work, and ultimately if that sort of recognition means that more people will see the work, you know, because it's being regarded and respected as such, then that's what I want. If [Golden Globe] nominations mean more people get to see Beale Street and more people get to see Homecoming, then I'm all for it.
Were there any key professional takeaways from working with Barry Jenkins for Beale Street and Julia Roberts for Homecoming?
There's just so much. I'm so grateful for Barry Jenkins, who's probably one of the great humanists that we have in this business. One of the incredible storytellers who's always pushing the envelope, I believe, in cinema. I'm grateful to be able to tell stories with a man like that. Probably one of the most patient directors I've ever worked with who just allows moments to breathe and live. And then Homecoming, obviously I'm in a position where I'm sitting across from one of the biggest actresses in the history of acting. I'm able to pick up gems from her on a daily basis about etiquette, how you go about your work day, and how you do your homework. I wouldn't say it's one particular thing, but getting to spend months with these people with my favorite filmmakers and to be able to pick up the nuances in their work, it's really an invaluable experience, altogether.
You've tackled stories of black love, injustice, tragedy, etc. Are there any stories or characters you'd like to explore next?
I don't know, I wanna be in a comedy. I wanna be James Bond, I wanna do a Mission Impossible. I wanna be Batman. I don't see any limits in terms of what I wanna do. I just see a whole world of… I mean I really feel like I'm scratching the surface, honestly. I want to do everything.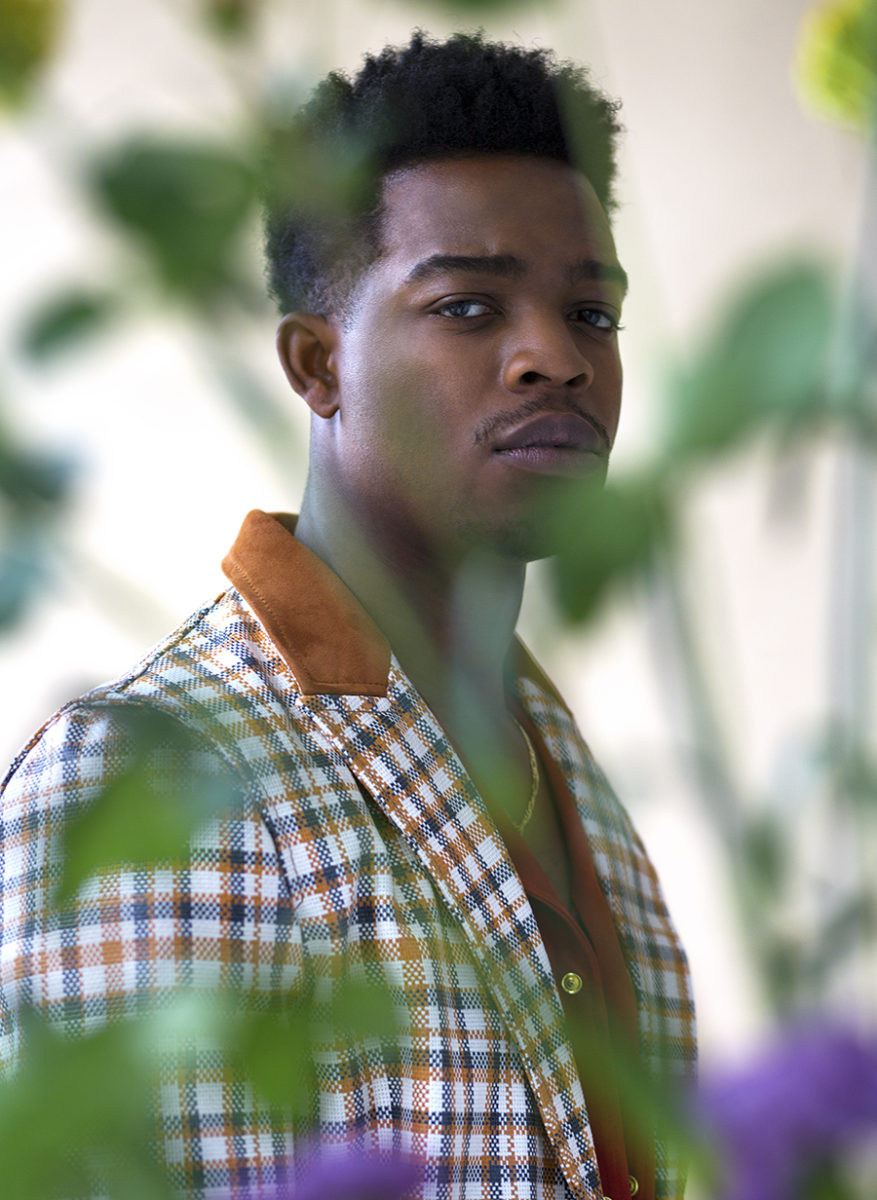 Jacket and Shirt by Bally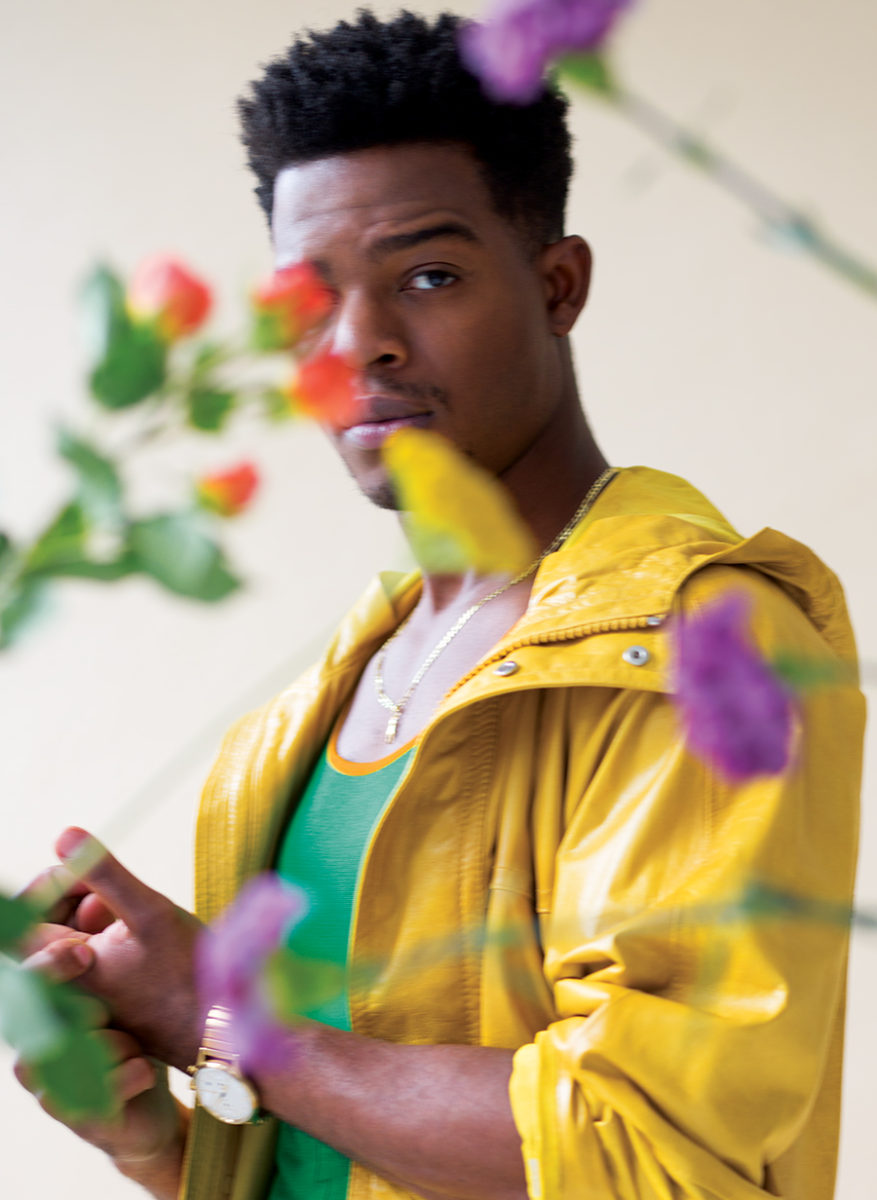 Jacket and Shirt by Bally
JOEY KING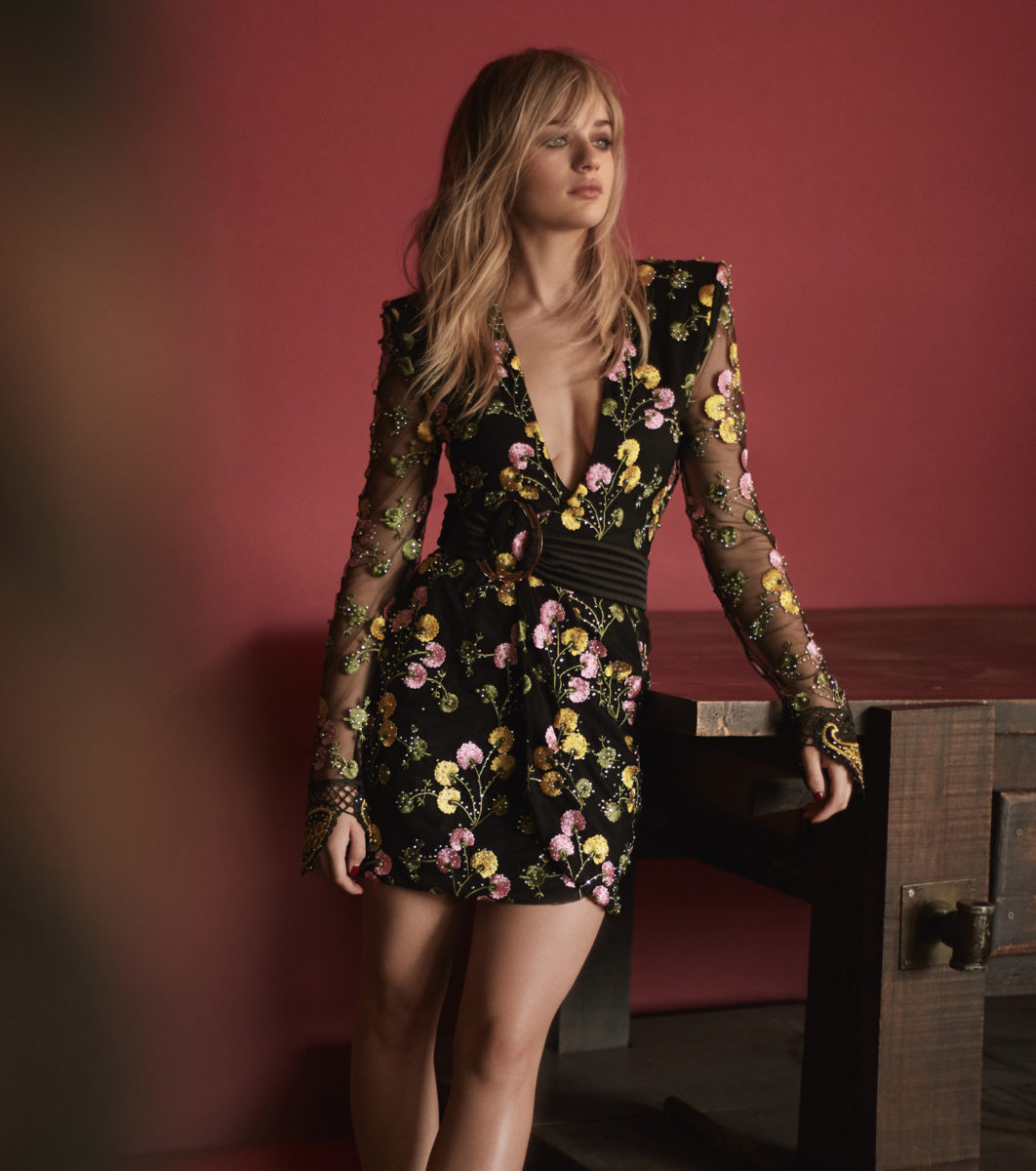 Dress by Zhivago
Photography by Greg Swales | Styling by Lisa Jarvis | Creative Direction by Louis Liu | Hair by Dimitri Giannetos | Makeup by Jamie Greenberg | Interview by Benjamin Price
Equipped with a dazzling personality, expressive eyes, charming sense of humor, and a girl-next-door smile, it is no wonder that 19 year-old Joey King has found herself to be one of the most promising young actors in Hollywood today. In what stands to be her most emotionally challenging role to date, Joey King has transformed herself into the abused victim-turned-convicted-killer Gypsy Rose Blanchard for Hulu's new series The Act. Gypsy Rose lived in an environment of abuse, manipulation, dependence, and exploitation at the hands of her mother Dee Dee Blanchard, played by the Academy Award winning actress Patricia Arquette, which Joey King portrays in a shockingly sincere and earnest performance in this disturbing, re-telling of true events.
Joey King's career and devoted fan following surged after her performance in Netflix's The Kissing Booth, which was one of the streaming service's most watched and re-watched films – landing the cast a sequel to be released sometime in 2020. Now, in her new role for Hulu's latest series The Act, King proves her acting can range from cute, romantic comedy ingenue to psychologically disturbing and multi-dimensional true-crime dramatic starlet.
Taking a break from filming her upcoming productions, Joey King takes the stage as Iris Covet Book's spring cover. The teenage actress sat down with Iris Covet Book to discuss The Act, the importance of badass women and minorities in Hollywood, and why she would love to direct the next Girl,Interrupted.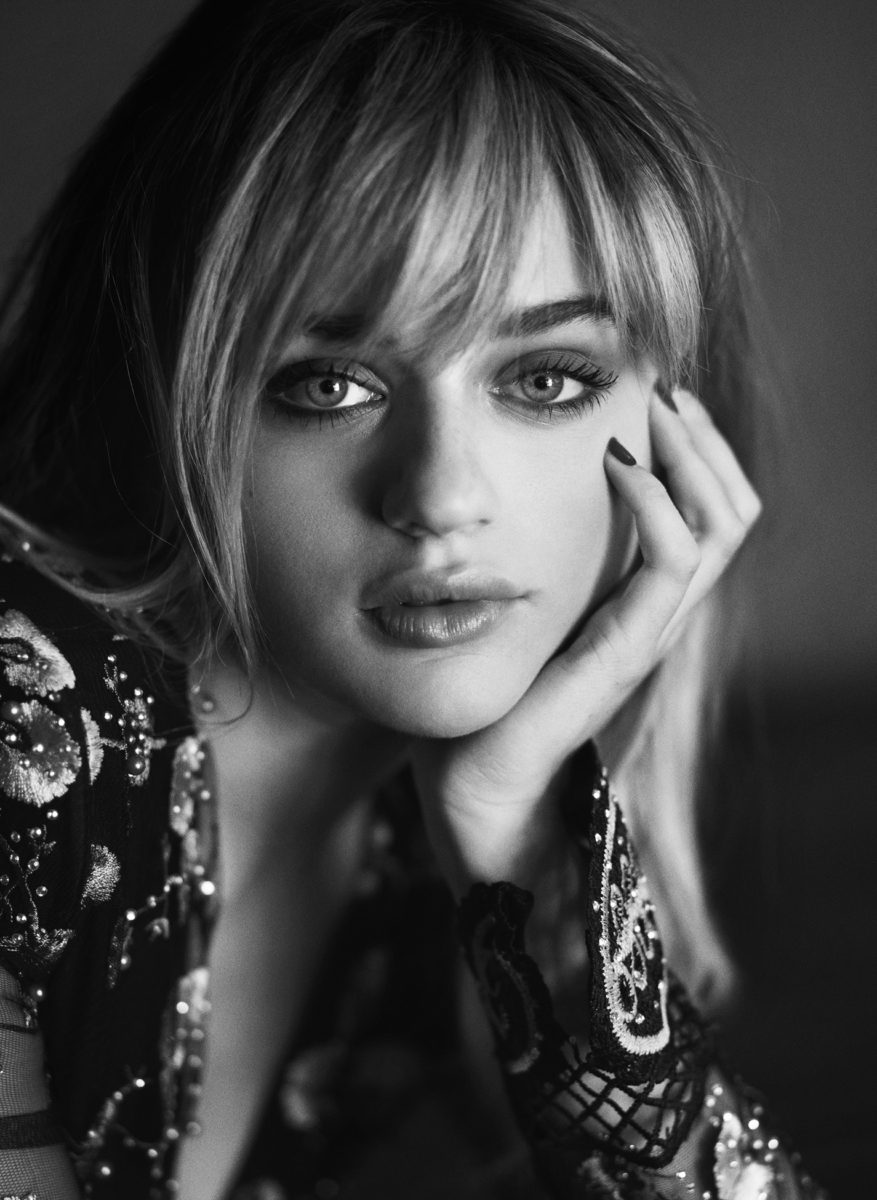 Dress by Zhivago
Hi Joey!
Hi, how are you?
I'm doing well, thank you – Ok, so let's jump into this! Can you tell us about your start as an actress at 4 years old? Did you think as a kid that you would be starring in major film and television projects today?
No, definitely not! But it's interesting because when I started acting, my very first job was actually a LIFE cereal commercial. I thought this was what I was always going to do and had no doubt about that, but I never imagined I would be where I am today. It's just been an insane journey and opportunity to be where I am, and to meet the people I have met along the way. I have been so incredibly lucky.
That's a good point. Making the right connections is important in any career – especially as a young actress in the industry I imagine it can be hard to trust everyone.
Exactly! With all of the things that have happened in the past few years with the Times Up Movement and Me Too, I think it's so exciting to see what new things are happening and how people can feel more safe in the industry. I've been in this business for a pretty long time and I feel like I have been pretty lucky to have avoided most of that. I mean of course I have experienced it every now and then, but I know what it looks like, I know how to stay clear, and I haven't seen a really really dark side as much as other people have. And I feel very lucky for that.
And starting out young would definitely teach you what to avoid later on as you grow and mature by meeting more experienced actors who can show you the lay of the land. And speaking of the Times Up Movement and what's going on in America at-large, but specifically in Hollywood, what changes have you seen personally in the industry?
I see a lot of inclusiveness and I think it's beautiful. I just think it's fucking awesome that more African American people and more Asian people get to tell their stories on-screen more often now, and that's a new thing to see. I'm really happy that I get to see more of that. It's great that I am not just being cast to be the daughter anymore, or the little best friend role, and seeing the change in available roles for young women like me is really exciting. I love it so much and I hope we get to continue on this path because things are really starting to change for the better!
It seems to be a really exciting time to be an actor or actress right now. It brings to mind Reese Witherspoon's production company that works with female-led and female-centric stories, and I wonder if you have any interest in going into writing or producing something like that?
I do! I'm always amazed by writers and directors and how you can come up with a story in your mind and translate it onto paper. I'd love to learn more about the writing process and to direct one day. I feel like now that I am a bit older I have such an interest with what goes on behind the scenes, like I love to hear the Director of Photography talk about the shots, the order of the scenes, and all of those things. I am actually paying attention, and it's so cool to see how much work and thought goes into making a film or TV show. It's the coolest thing in the world! I am amazed every day with what they do.
It's such an exciting time to be listening and aware of all of the different stories out there, especially with social media. You have nearly 9 million Instagram followers and have the ability to tell your story to all those people around the world. How do you feel as an actress and role model to have access to all of your fans directly?
It's so cool! I get to hear from people every day who look up to me, and I am lucky to have them. My fans are so so sweet, and I am excited that I get to have such direct contact with them. I mean, they are the reason that I am where I am, you know? The Kissing Booth couldn't have the success that it had without them and some fans watched it over and over again and because of that it became Netflix's #1 movie in 2018!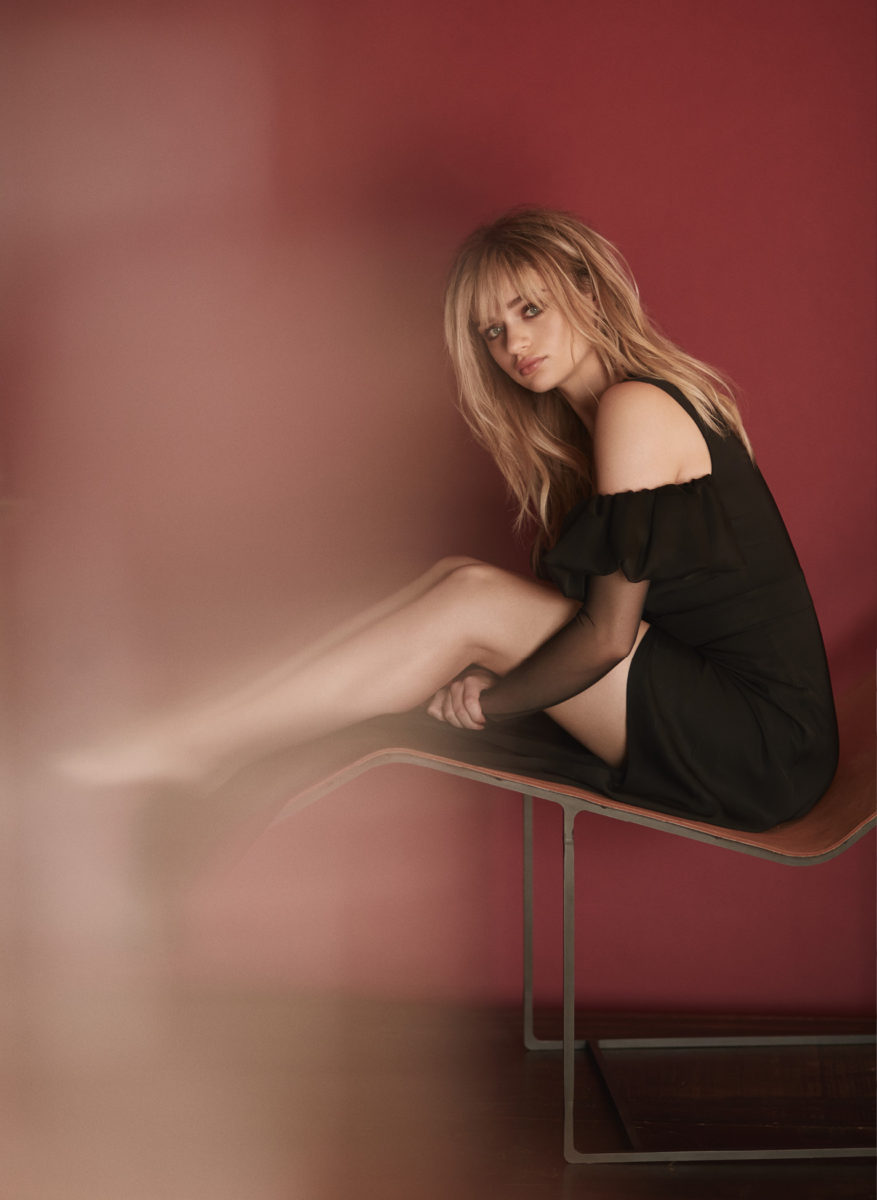 Dress by Murmur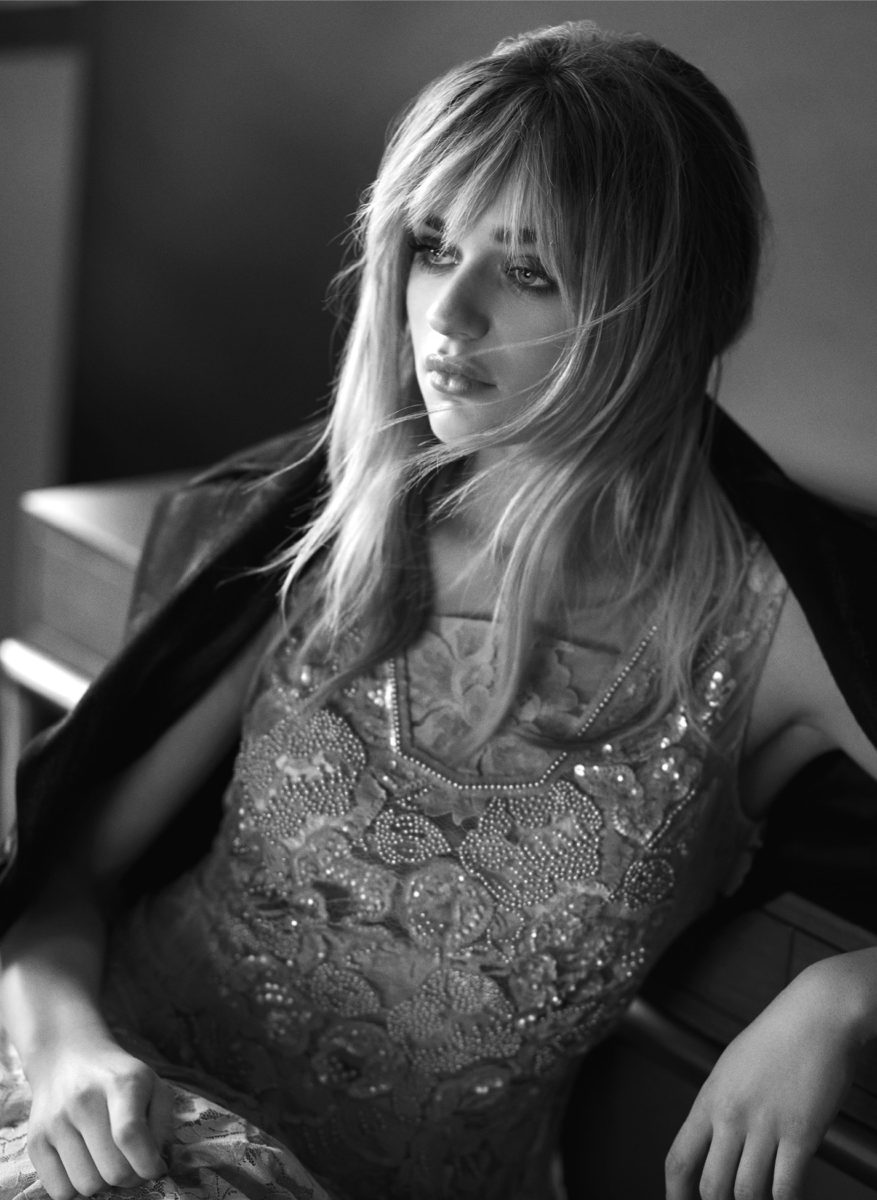 Dress by Stella McCartney, Jacket by Roberto Cavalli
Paris Hilton said in The American Meme documentary that she loves her fans because she can feel so alone on the road, and doing press, and she feels like her fans are like her family.
Absolutely! I totally agree with that, and I love that she said that. It's true, like now I am filming in Georgia and working every day, but when I have free time it's nice to hear from my fans and feel their support through social media.
Yeah absolutely! To pivot the conversation a bit, I really want to hear more about your upcoming role as Gypsy Rose Blanchard on Hulu's The Act.
Yes! I've actually really never been able to transform myself like this before and this is the first time where I can become a different person – a real person! She is alive and in prison as we speak, and the experience has just been incredible! Playing Gypsy was weird…I want to do right by her and I want people to understand her situation, and why she did what she did. Not that what she did was right, but I also don't think that she deserved to be completely blasted for her thought process. And working with Patricia Arquette is just genuinely the greatest experience of my life.
Were you able to meet Gypsy to prepare for the role or during the process? Does she know about it?
I know that she knows about that show, but I wasn't able to contact her. I would have loved to get to know more about her as a person, but all I can do is research her story and try to do the best I can and do right by her.
When the story of Gypsy Rose and Dee Dee came out three years ago were you aware of it? Did you watch the HBO documentary?
When I got the call to come in and read for Gypsy I had heard of the story, but I didn't know a lot and hadn't seen the documentary. I watched it before the audition and was like, "Are you freaking kidding me??" I went into the audition and was so nervous, but I am so happy that I got to portray her story.
Was there a lot of added pressure playing somebody real? Many actors and actresses have said it can be a bigger challenge.
It is a challenge, and I want people to understand and think about this, and I have conflicting emotions myself over Gypsy. She was raised by a master manipulator and so she kind of became one herself. I understand why a lot of people have a hard time sympathizing with her but I also think this show will hopefully open people's eyes and show how messed up the conditions really were. It's a lot of pressure playing a real person, one who is literally just sitting in prison right now, but at the same time I feel really good about it. I hope that I am doing right by her and if she sees it one day she will be like, "Thank God they portrayed me that way!" The series is partially fictional, it is a TV show, but a lot of the shit we are putting in there is true as hell!  
This is one of those stories, like you were saying earlier, that needs to be told. And it's a story that people can see multiple sides of this very famous, national news story retold in a different way.
Absolutely and there are parts of the show where you will start to feel bad for DeeDee or maybe not like Gypsy very much. The show goes over several years of their life, and you can't help but go through a lot of emotions while watching it.
It's real life and there are multiple dimensions and you won't always like it. I think that's what is so amazing for actors today because it seems like there are so many dimensional roles for women.
It's amazing how many female directors we have on the show! It is so awesome getting to work with these super smart women. I have a lot of "firsts" on this show, and these amazing male and female directors made me feel safe to try new, uncomfortable, and weird things.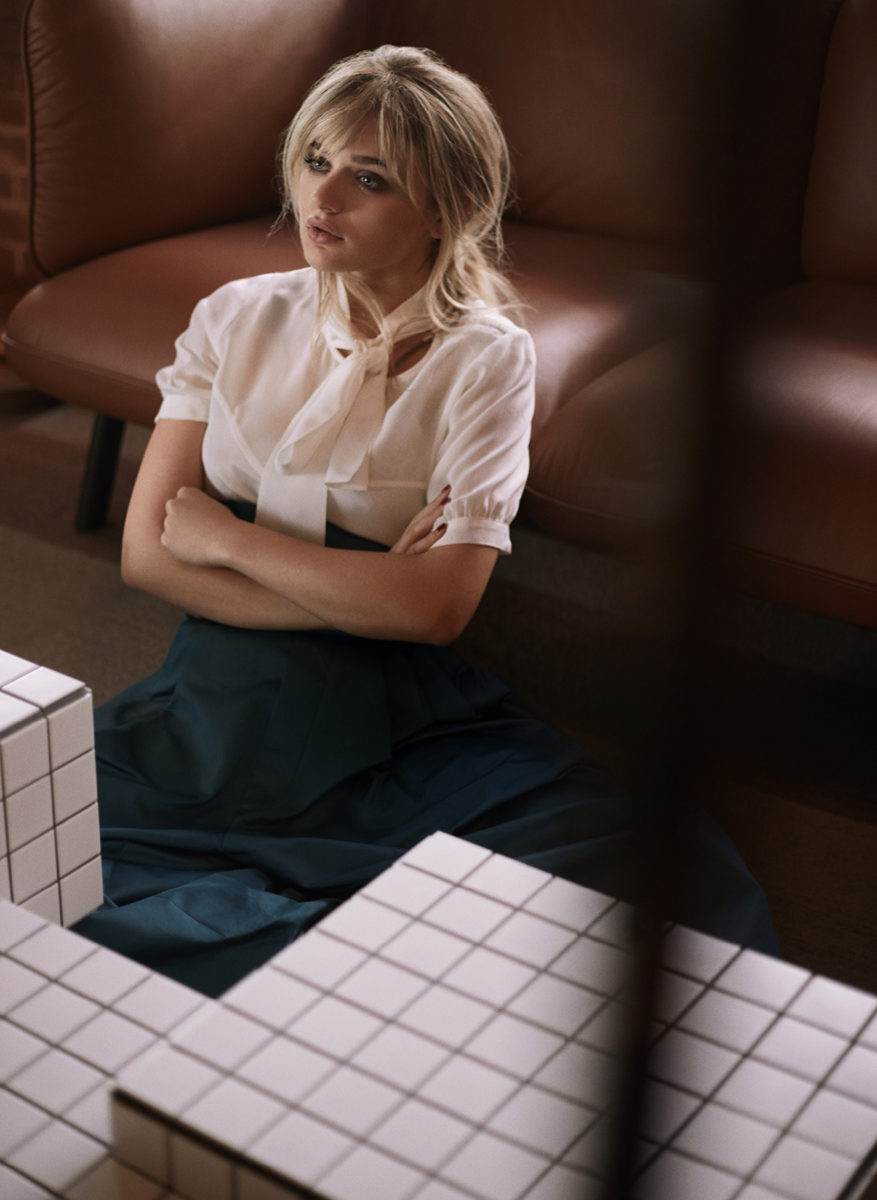 Blouse by Queenie Cao, Pants by Marc Jacobs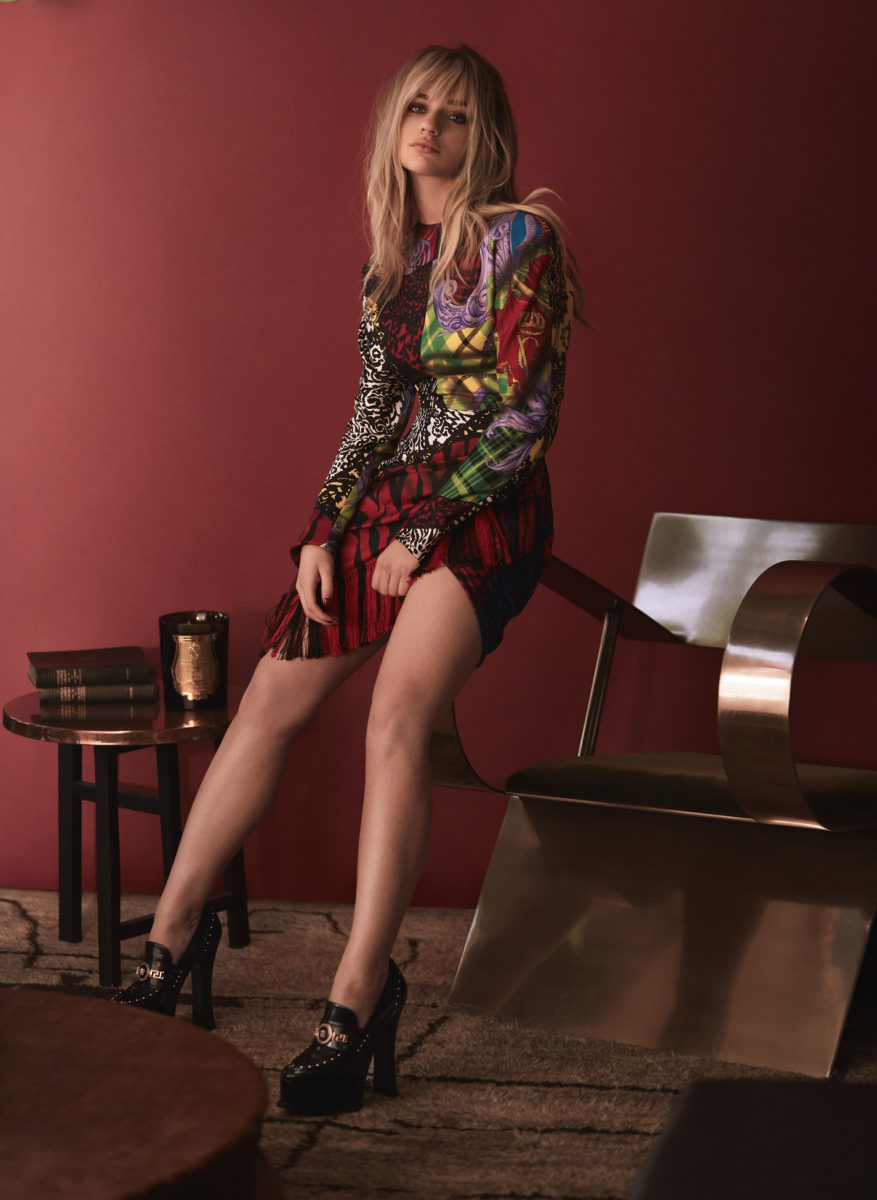 Dress and Shoes by Versace
How was the experience as an actress immersing yourself into such a dark space?
It really feels like being born again into this world. I've never been able to experience this before, and I am so lucky to have Patricia Arquette by my side every day because she was so supportive, she is so talented, and just a super kind person. And I know being her shooting partner that there are no judgments ever, and I feel like it is honestly so important who you work with because you are in such a vulnerable place as an actor. If you feel judged or feel that the other person is not there for you 100%, then it's really freaking hard to do your job. She has just been the best partner, and I am so grateful for her, and I am so excited to have everyone see her work on the show. She's mind-blowing–I mean it's fucking Patricia Arquette!
Yeah that's such an amazing opportunity! Have you had any moments while working with her where she has shown you a new layer of the craft?
Definitely! Patricia has definitely shown me a new way of looking at acting. She has such great advice, personally and professionally. She's just so amazing and I have learned so much from her in the past three months that we have worked together.
That's fantastic, you are so lucky to have that opportunity.
I know, I can't believe it! Like every day I'm like, "Oh my god, I get to work again!"
(laughing) That's great! Are there any other projects that you can hint at in pre-production?
Yes! But…I can't tell you about any of them. (laughs) I am going to be in Georgia for awhile, and I cannot wait to start doing more press for The Act's premiere.
What advice would you give another young actress? What would you warn them about?
I would absolutely warn them of people trying to use them or people being friends for the wrong reason, and when you find someone who is there for the right reasons then you have to be sure to hold onto them. Whether it's a friend, a relationship, a peer, or a mentor, just make sure to hold onto the good people and steer clear of the bullshit! (laughs)
I think that's good advice for everybody!
I think so too! And it's so hard to find the right people, but you know I am so lucky to have my family. Not everyone has a strong and supportive family, and if you don't then you need to surround yourself with really great people and create your own family. It's going to be hard and it will take awhile, you're going to cry a few times, but in the end it'll be worth it!
I love that, that's good advice! Following-up on our discussion of #TimesUp, minority roles, and the great projects coming out, especially in today's political climate, is there any movie that you would want to re-tell from your perspective or some story that you would love to produce or direct one day?
Oh my god! That's such a good question… I don't know…if I would want to retell a story and direct it myself…the movie I really am thinking about is Girl, Interrupted. I don't know why that is the first thing that came to mind, but I would love to direct the shit out of that.
Oh my god! Please do that! That's one of my favorite movies of all time, but I would definitely be very critical of it because it's just such a fantastic movie.
I would expect nothing but honesty from you! (both laugh) I love that movie so much and I am so happy you love it too. If I were to ever direct something, then that is the first movie to come to mind. I honestly would be open to anything. I have a lot more to learn about this business and a lot more to experience, so I couldn't tell you exactly what my directorial debut would be just yet!
Well even if it is not Girl, Interrupted, then I think that theme that we have been discussing of women's stories is so important and telling female-centric, multi-dimensional stories like that would be a great path for you.
I agree with you, that shit's awesome!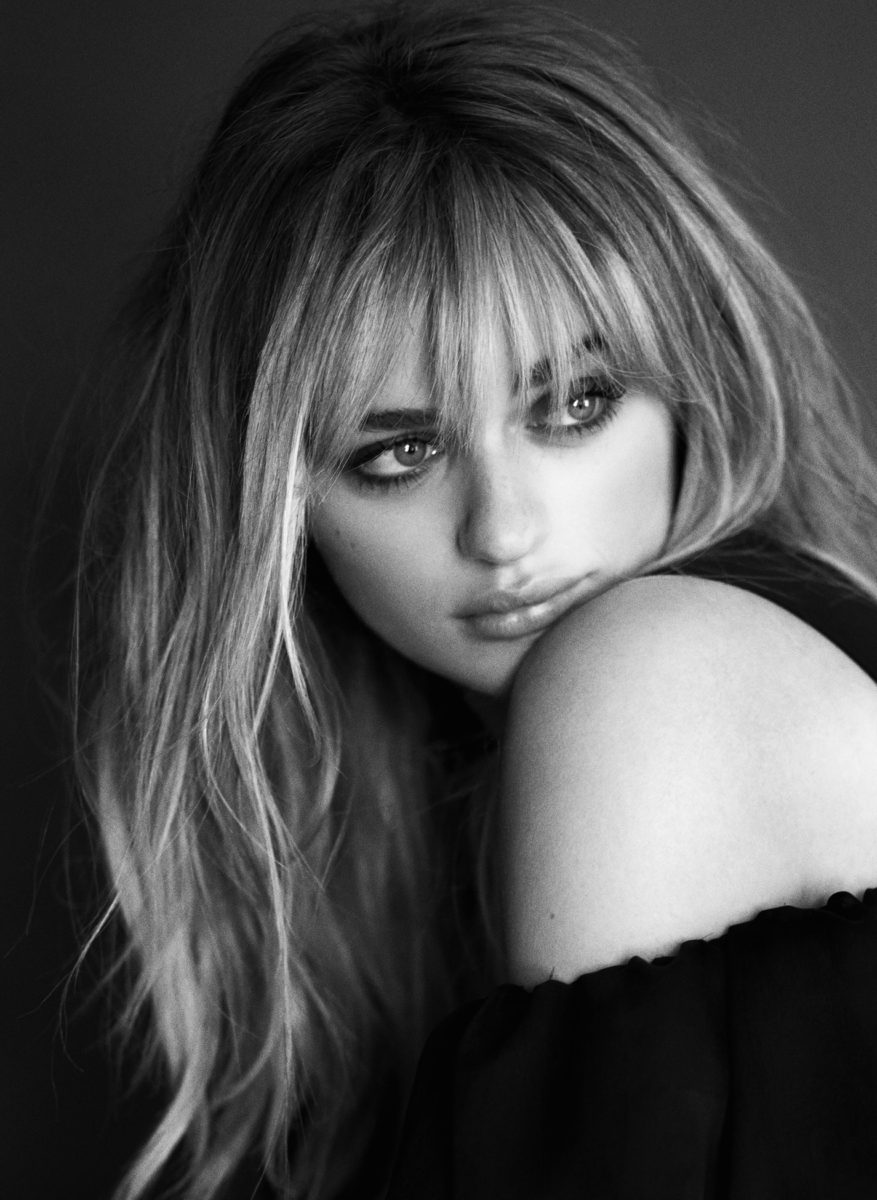 Dress by Murmur
Special Thanks to Hammer and Spear in Los Angeles and Larissa Saenz at i-D Public Relations
WILD COUNTRY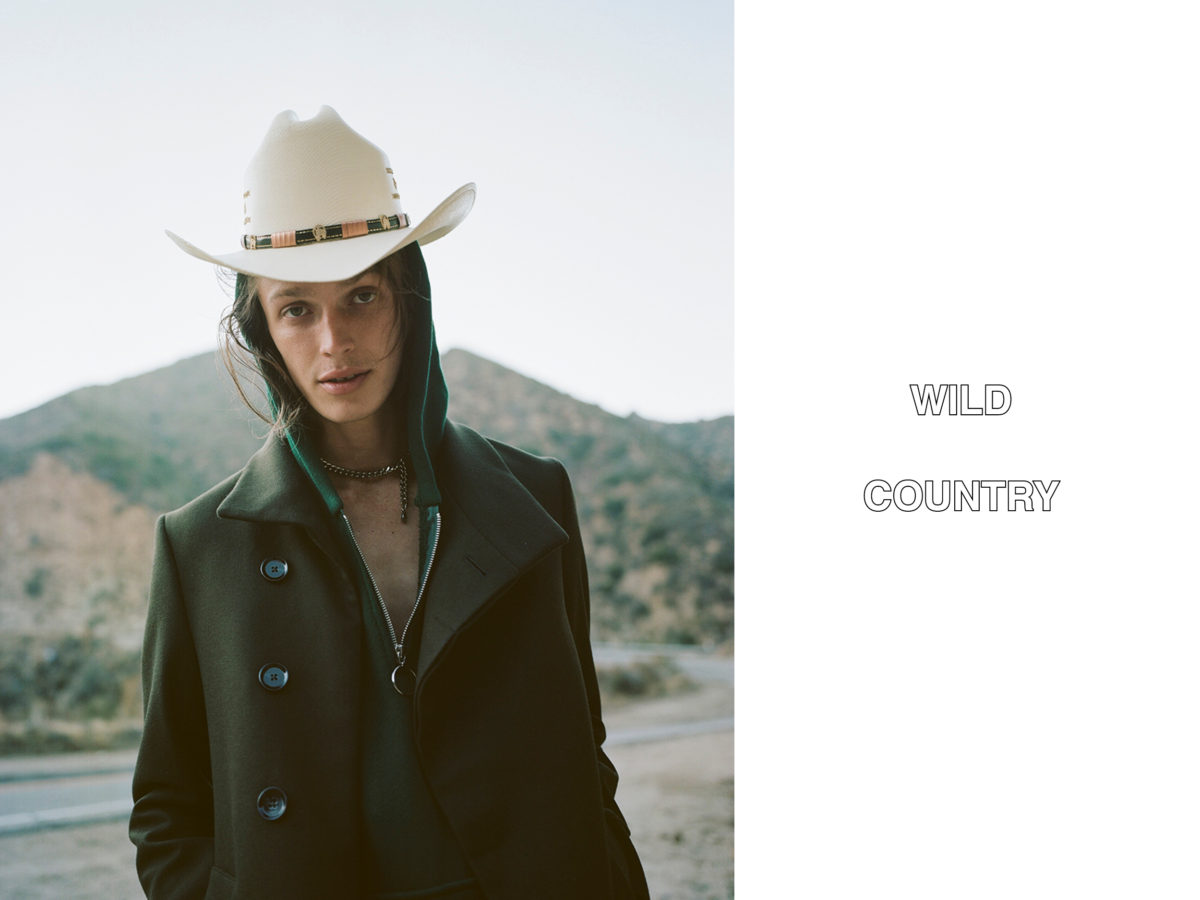 Coat by Harris Wharf London, Hoodie by The Rail, Necklace by Tevin Vincent, Cowboy Hat Stylist's Own
Photography by Samuel Ramirez | Styling by Ton Aguilar | Grooming by Jojo Torres | Model: Lucas Satherly @ IMG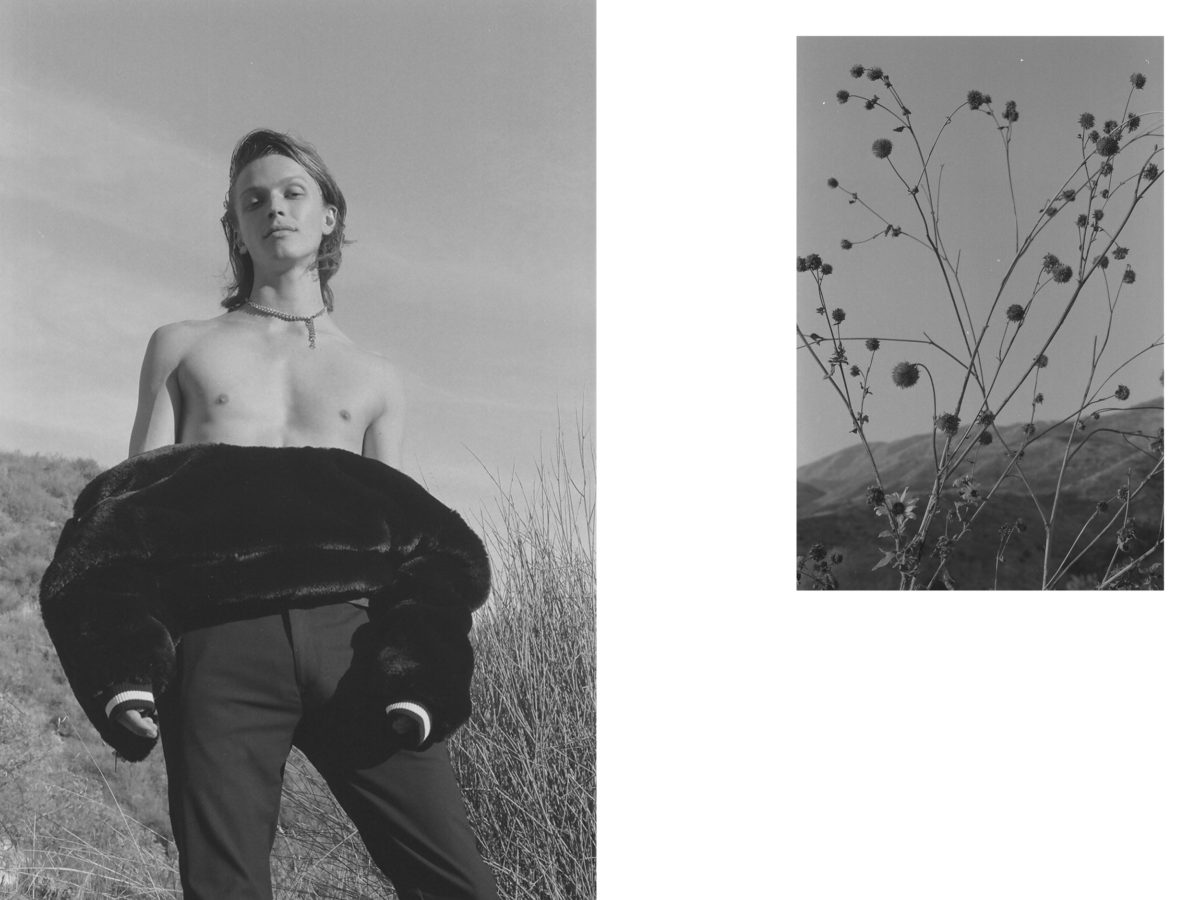 Jacket by Represent, Pants by Dior Homme, Necklace by Tevin Vincent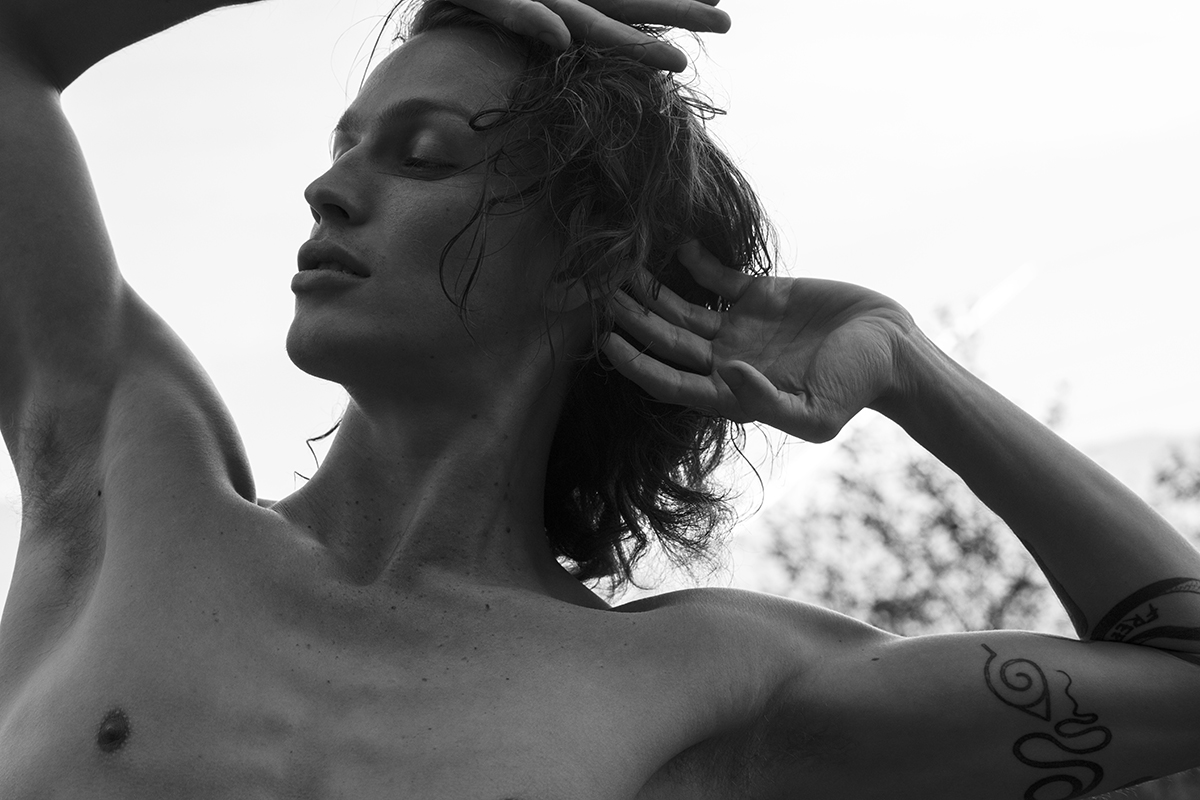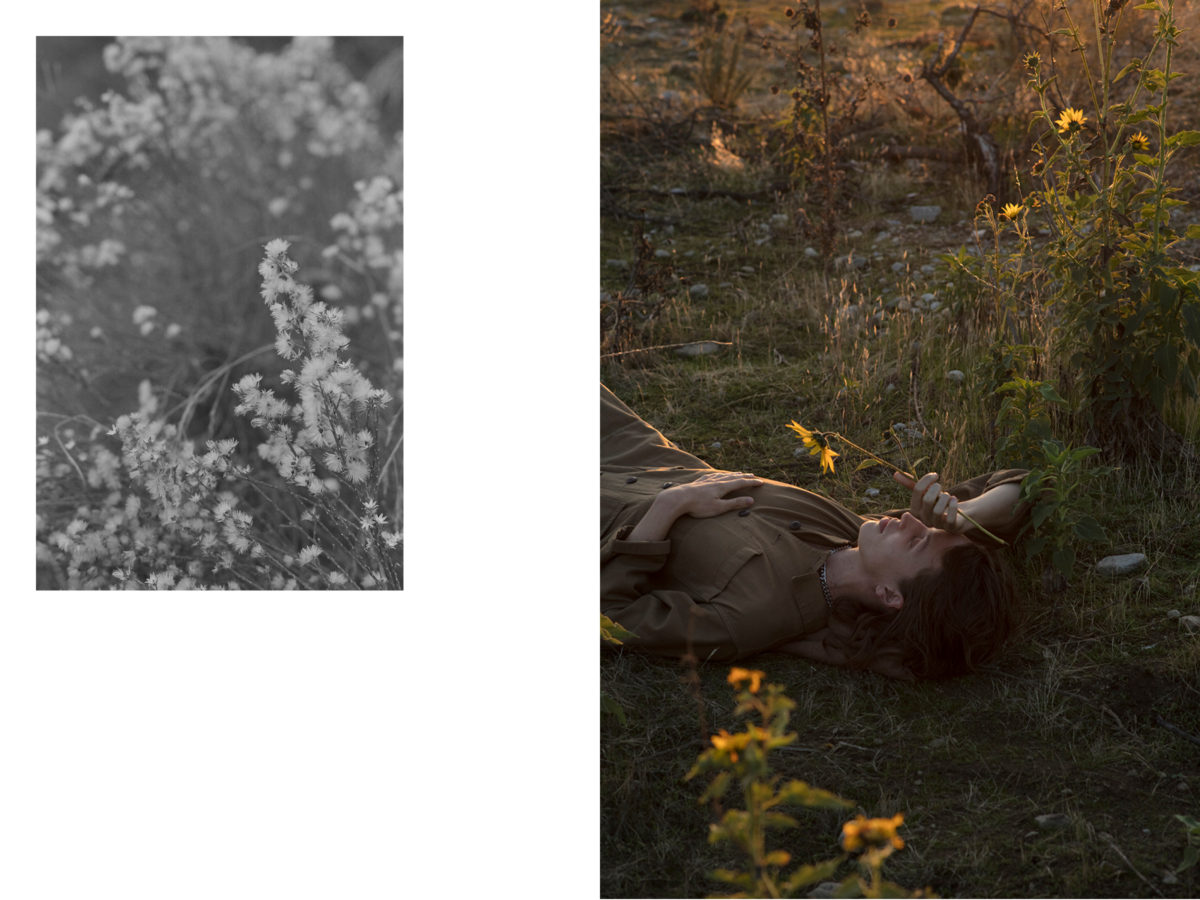 Bodysuit by Madewell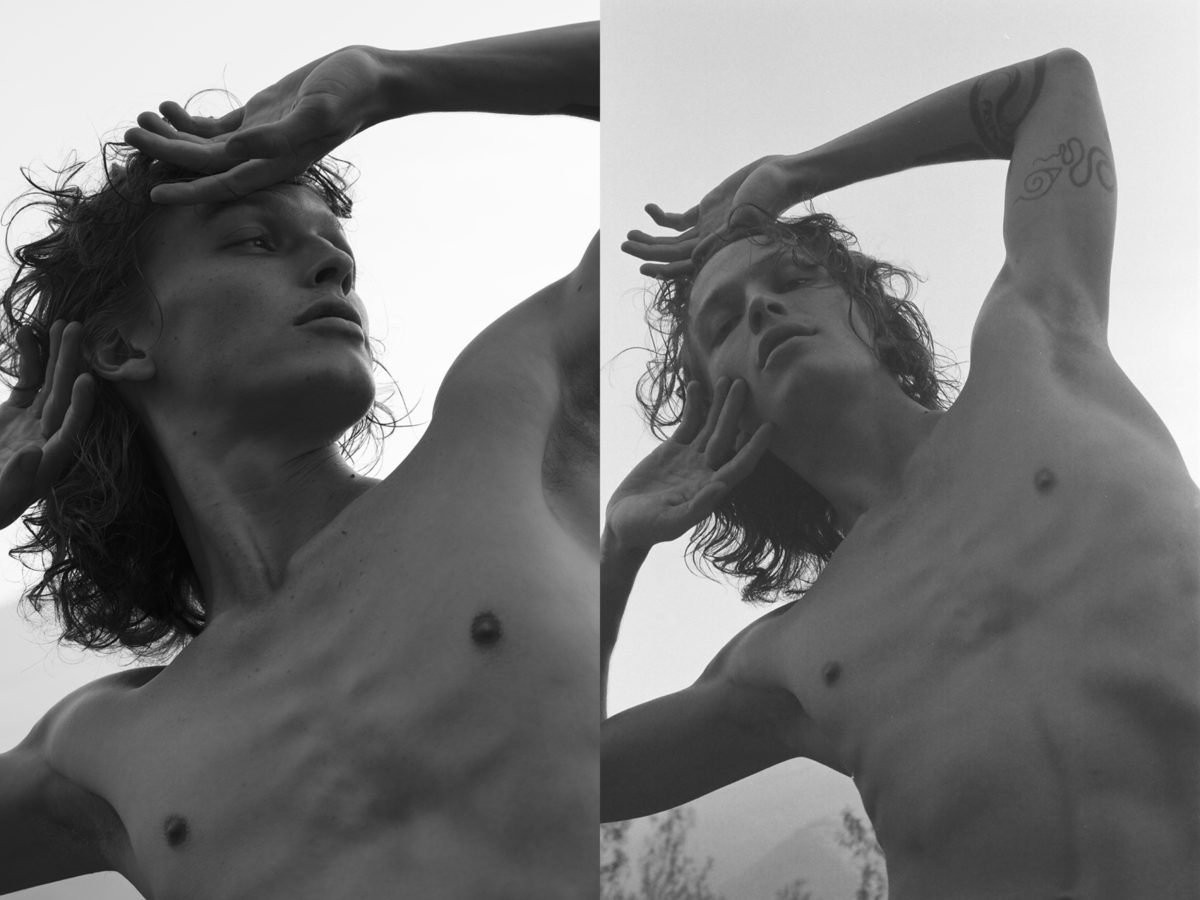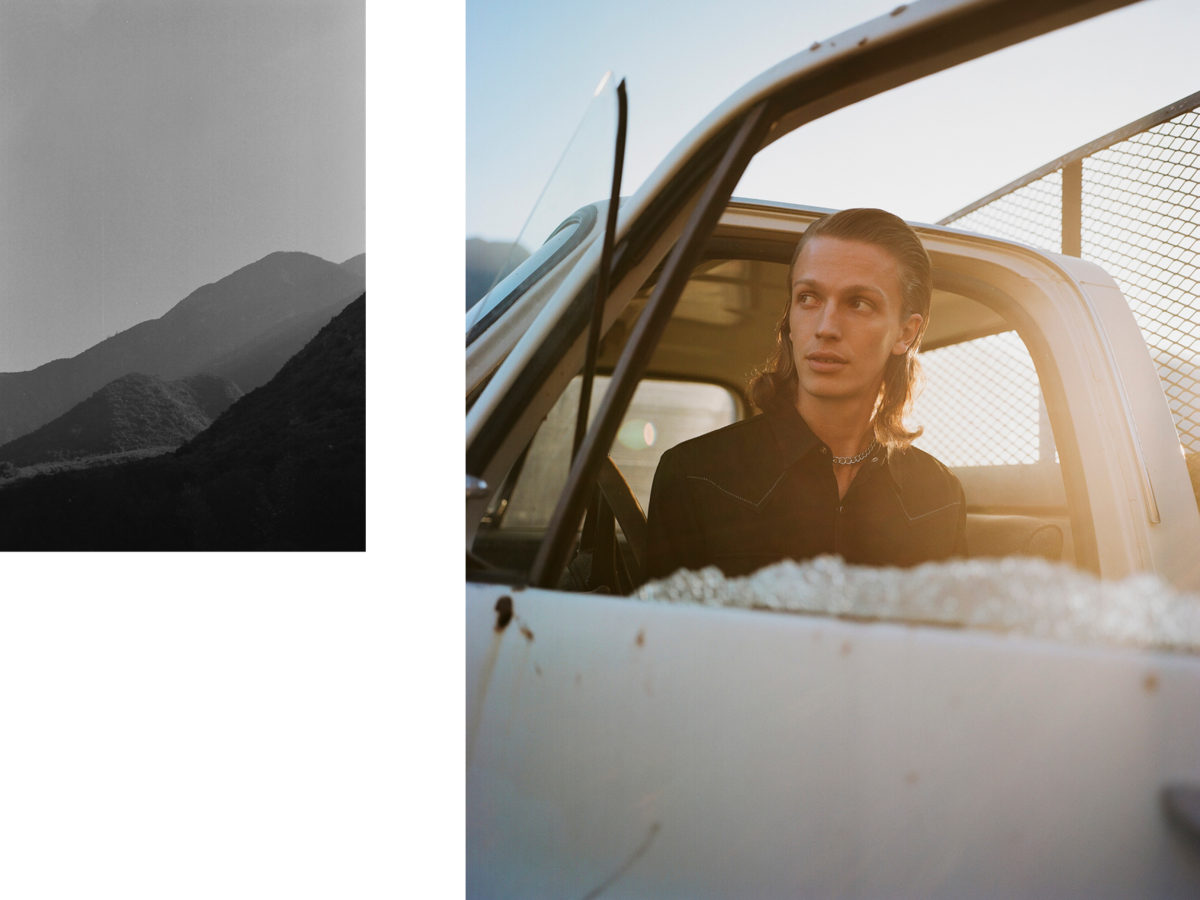 Shirt by Saint Laurent, Necklace by Tevin Vincent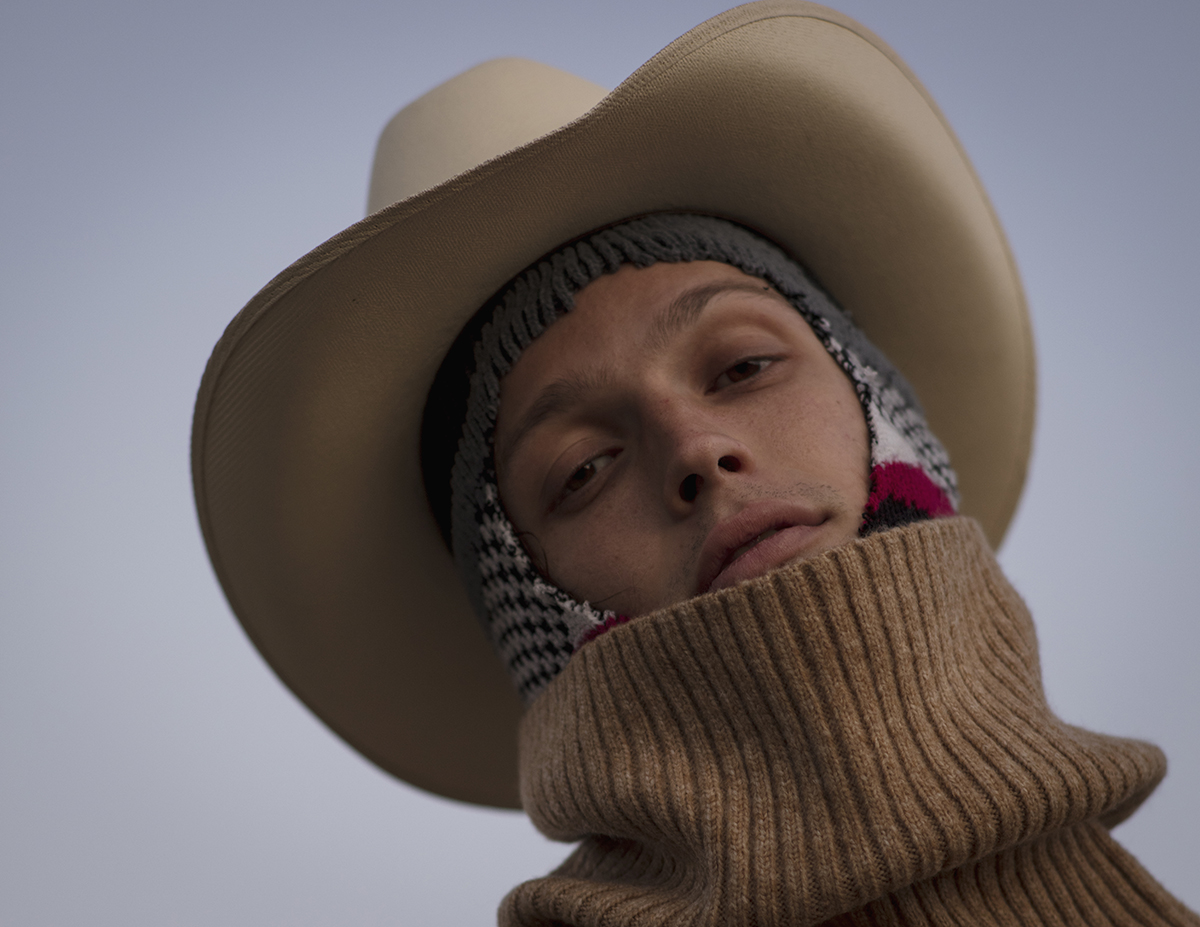 Turtleneck by Joseph, Headpiece and Hat Stylist's Own
FANTASTIC JURASSIC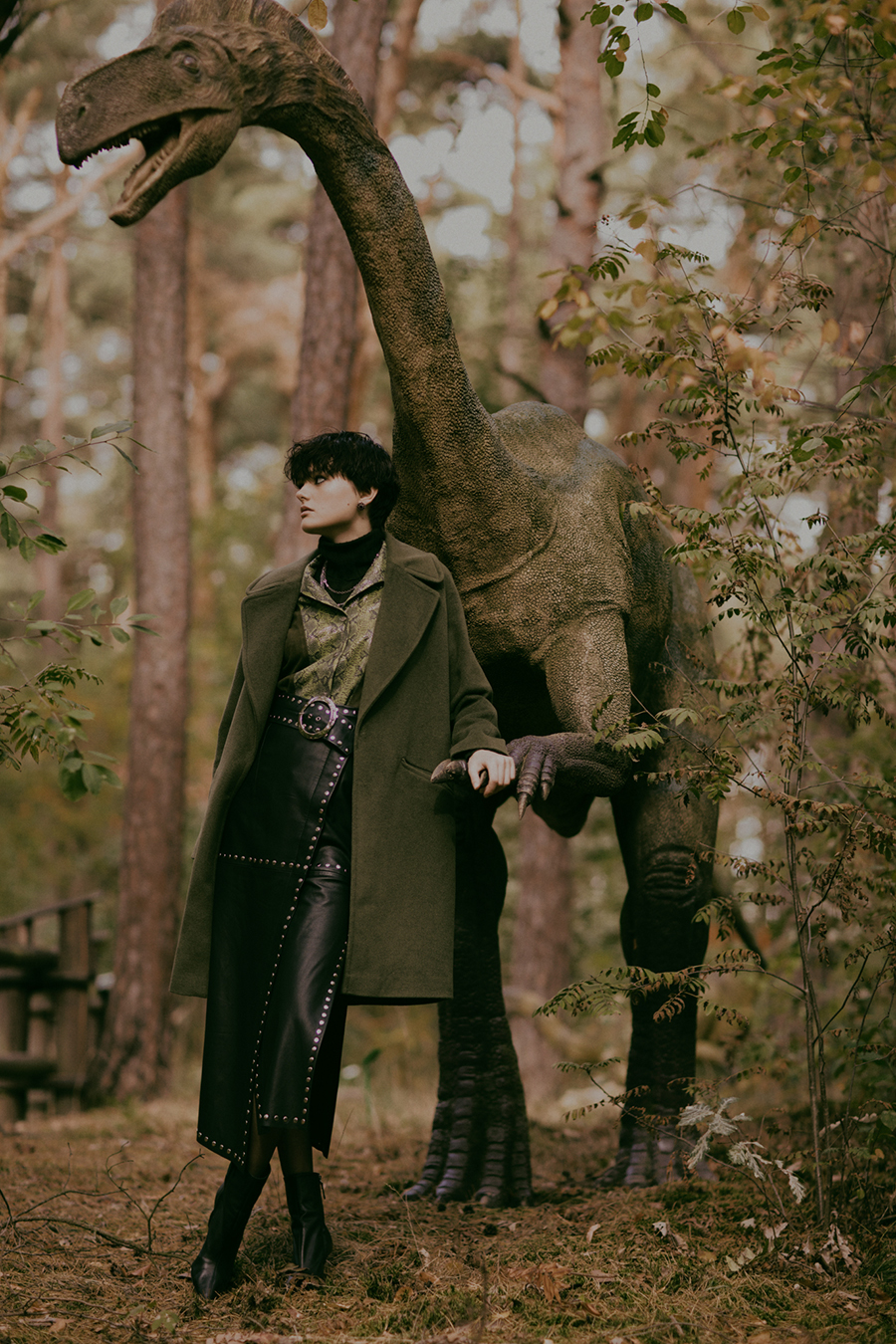 Shirt by Huzior | Jumper by Zara |  Coat by Lavard | Belt and Skirt by Simona Nikołajewska |Jewelry by Lewanowicz | Shoes by The Row
Photography by: Aleksandra Zaborowska (@aleksandrazaborowska) | Styling by:  Robert Łosyk (@robert_losyk) | Model: Nancy Topko @ AS Management (@lil__nancy @as_management_warsaw) | Make-up and Hair by: Marcin Kulak (@marcinkulak) | Assistant: Dawid Surowy (@daverawsurowy) | Special thanks to JuraPark Solec Kujawski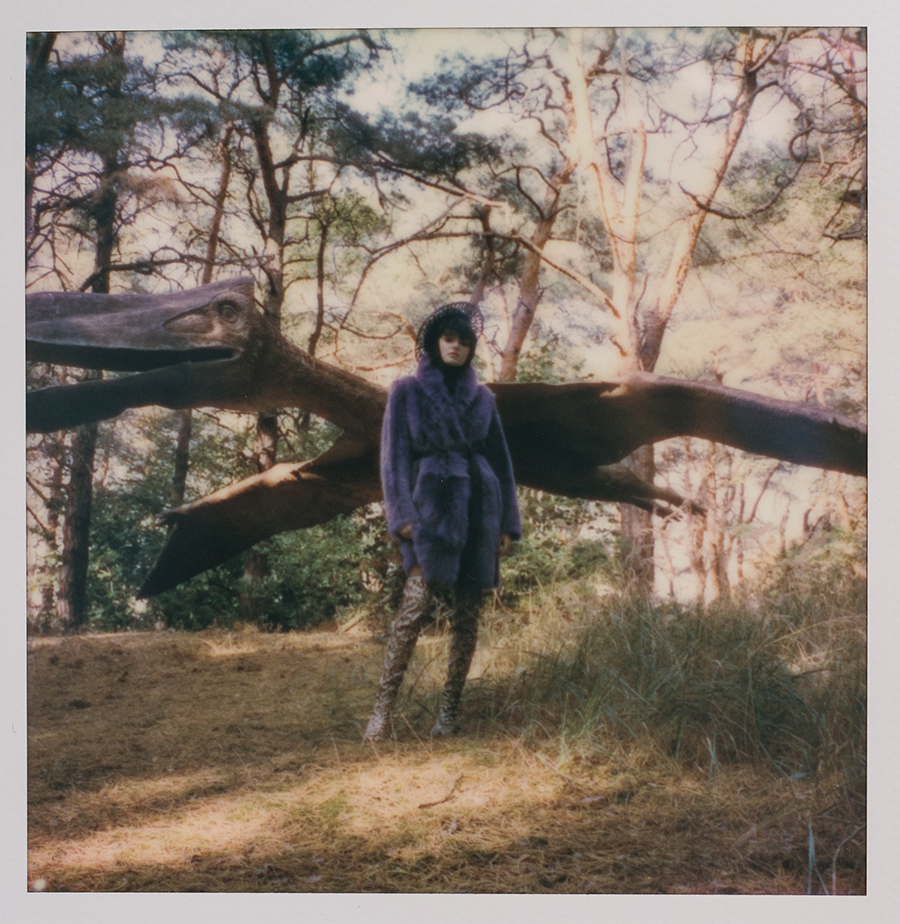 Fur by Huzior | Hat by Marta Ruta | Scarf  by Saint Laurent (Vintage) | Shoes by Mango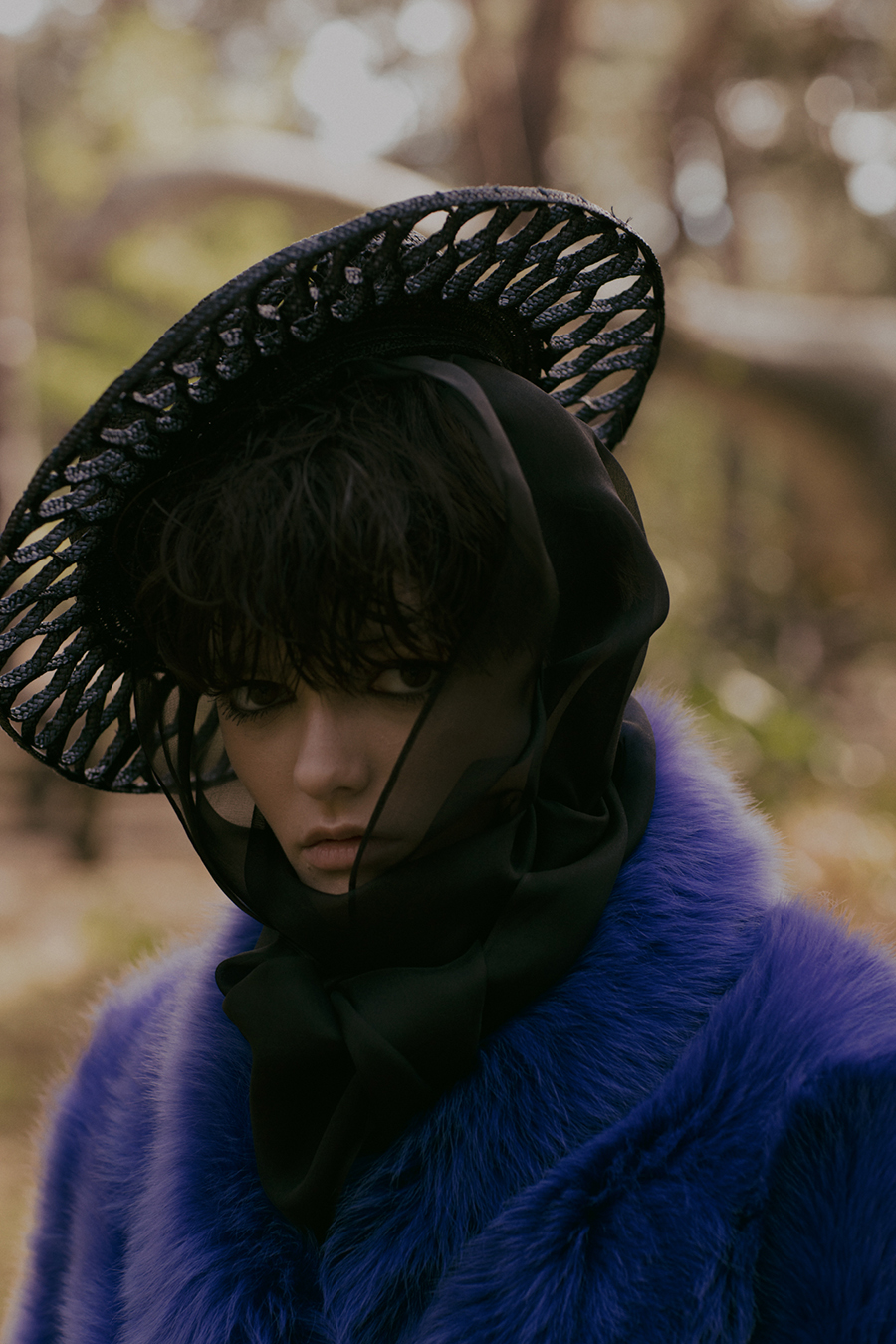 Fur by Huzior | Hat by Marta Ruta | Scarf  by Saint Laurent (Vintage)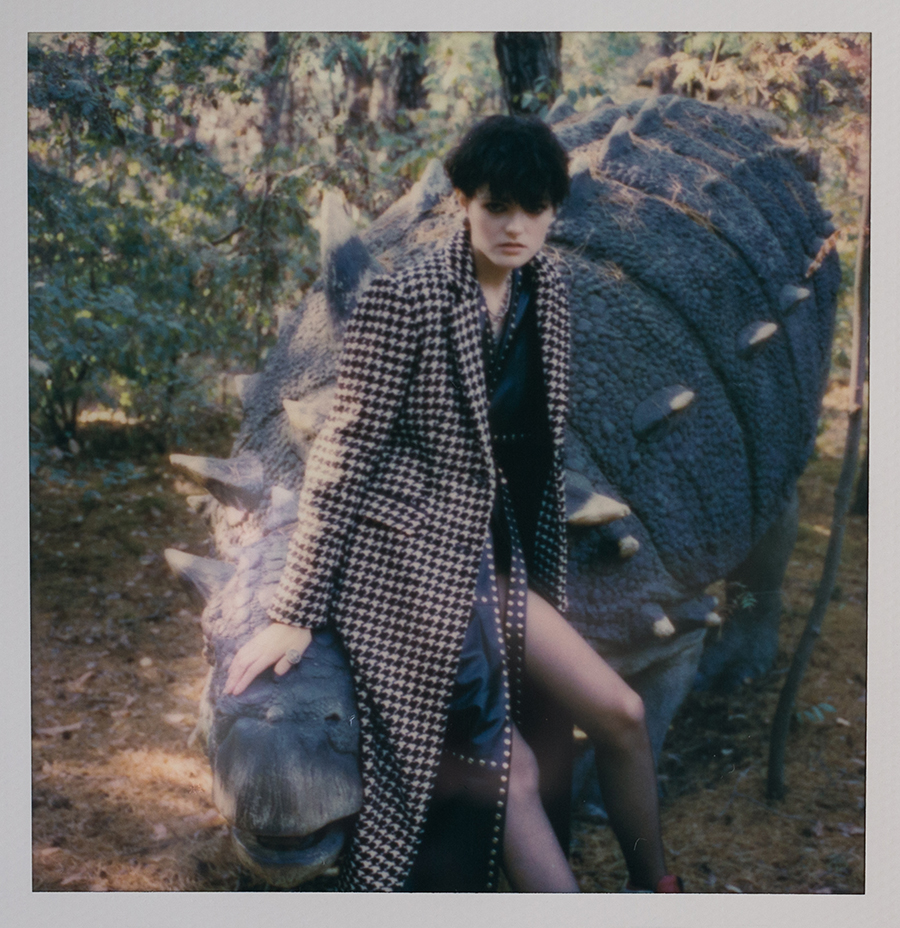 Coat by Simona Nikołajewska | Leather Coat by Liu Jo | Jewelry by Lewanowicz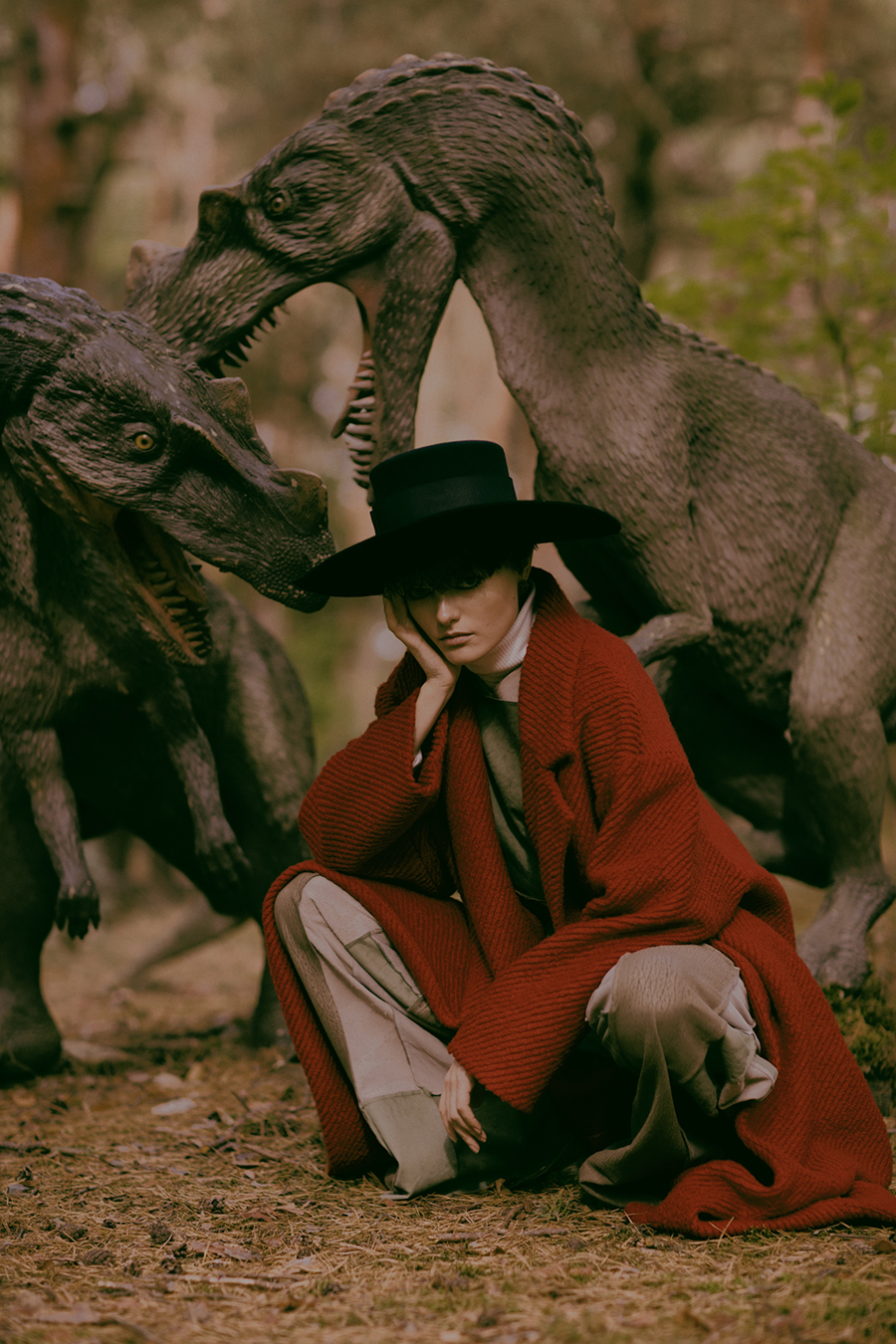 Jumper by Max Mara | Top and Trousers by Sara Kpodonou | Coat by MMC Studio | Hat by Marta Ruta Hats | Jewelry by Lewanowicz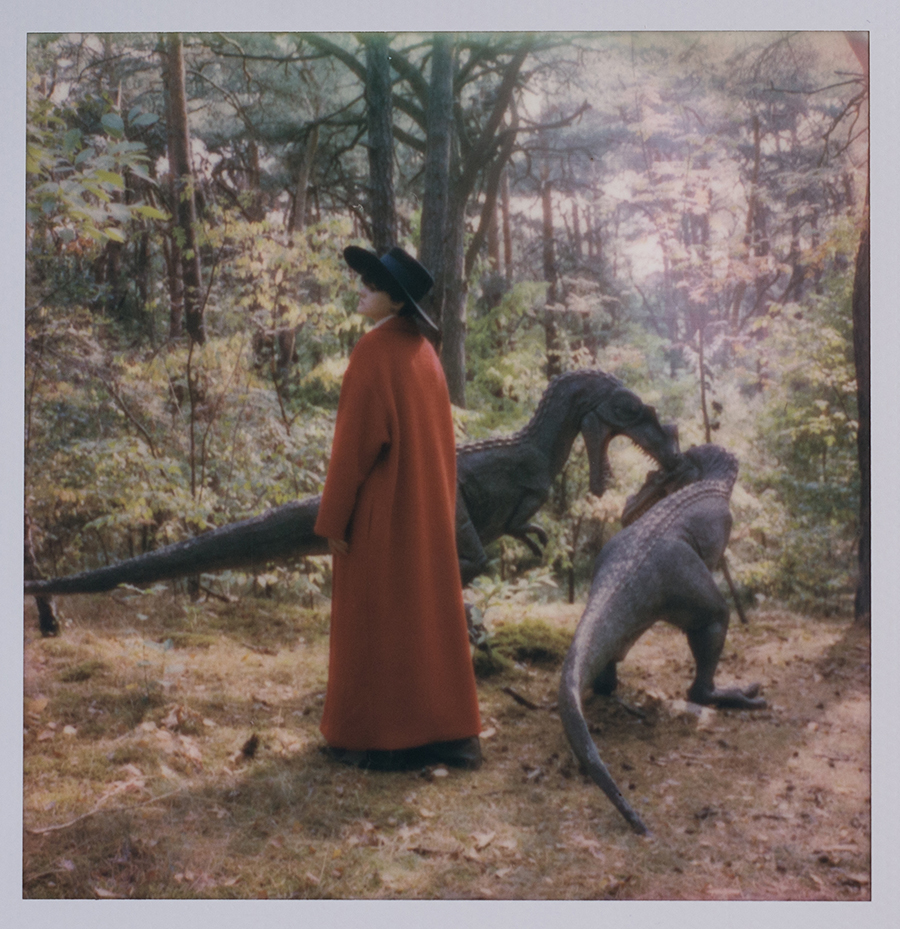 Coat by MMC Studio | Hat by Marta Ruta Hats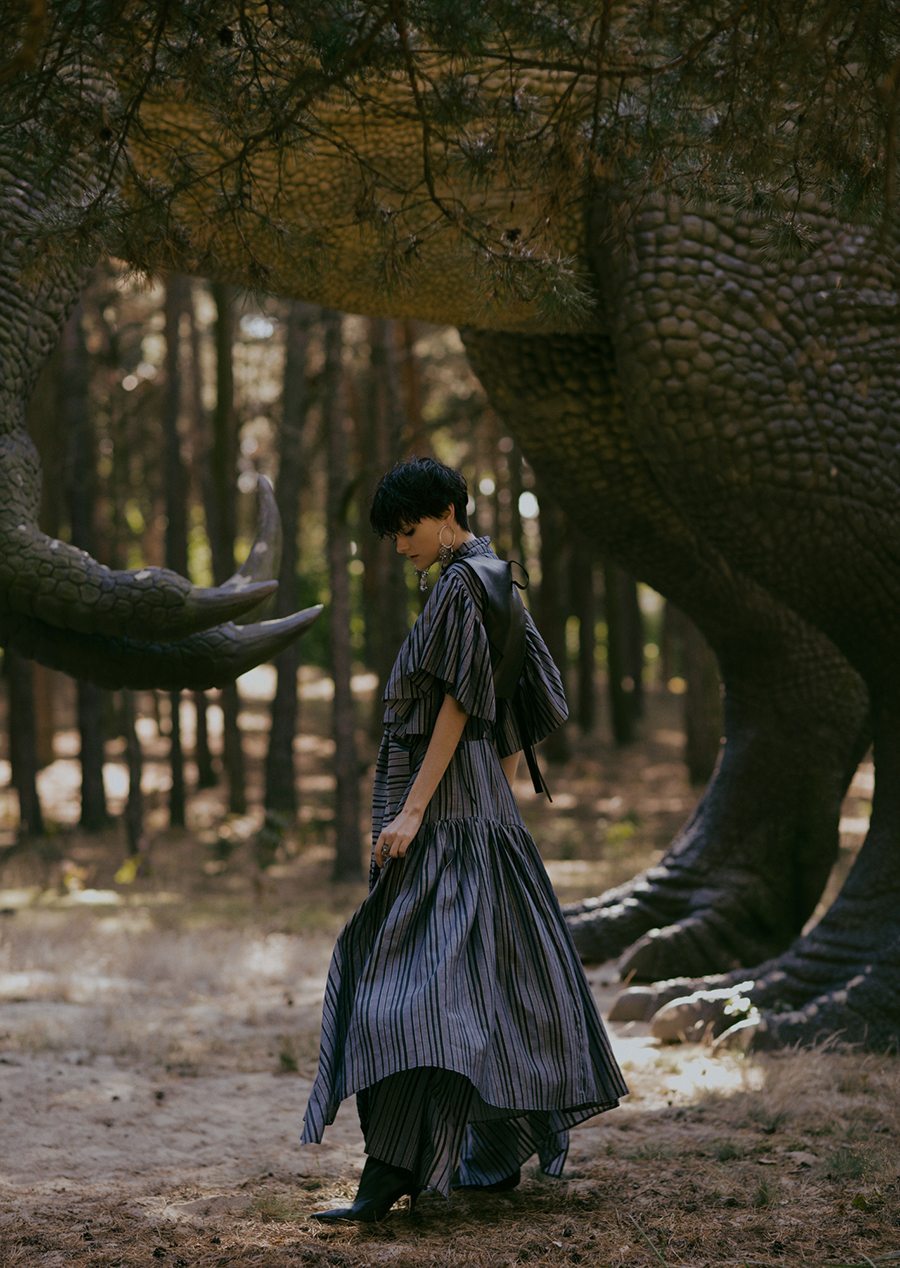 Dress by MMC Studio | Top by Femme Illimité | Shoes by The Row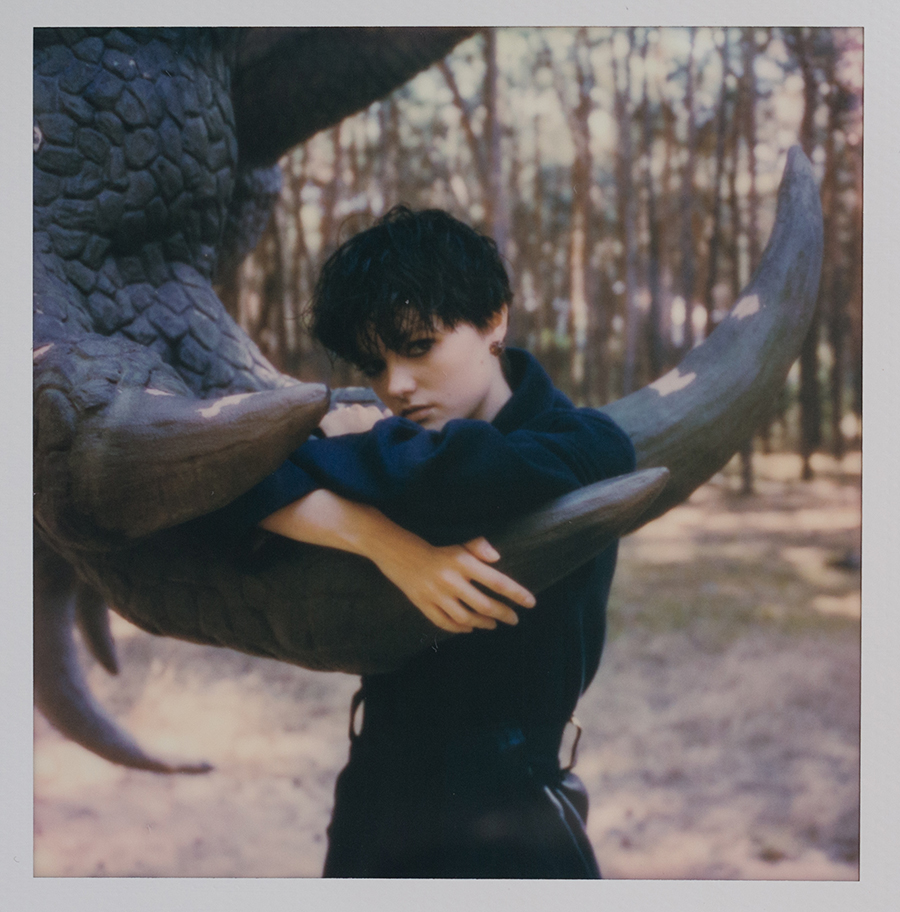 Coat by Siccone | Jewelry by Lewanowicz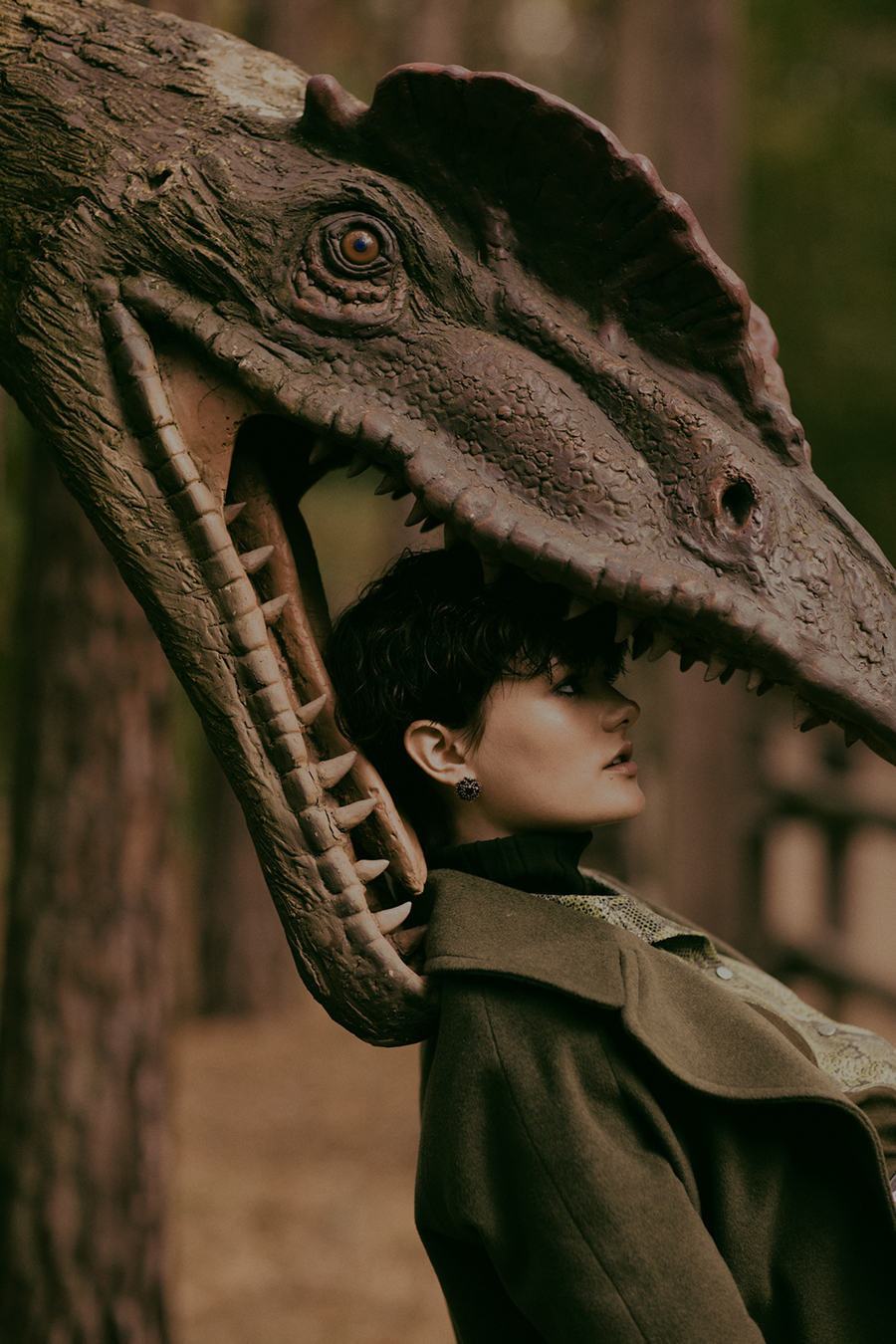 LUNAR NEW YEAR
Photography: Dennis Tejero (@dennistejero) | Model: Ting Yan at Silent Models (@xitingyan2387) | Styling: Marti Arcucci (@martiarcucci) | Hair: Takashi Yusa (@takashiyusa) | Makeup: Michael Chua (@michaelchuabeauty) | Casting: Eric Cano (@cano_castings) | Set Producer: Jess Zuluaga (@jesszuluagaO) | Photo Assistants: Nathan Sweet and Bryant Lopez
Dress by Alena Akhmadullina, Earrings by Laruicci, Vintage Ring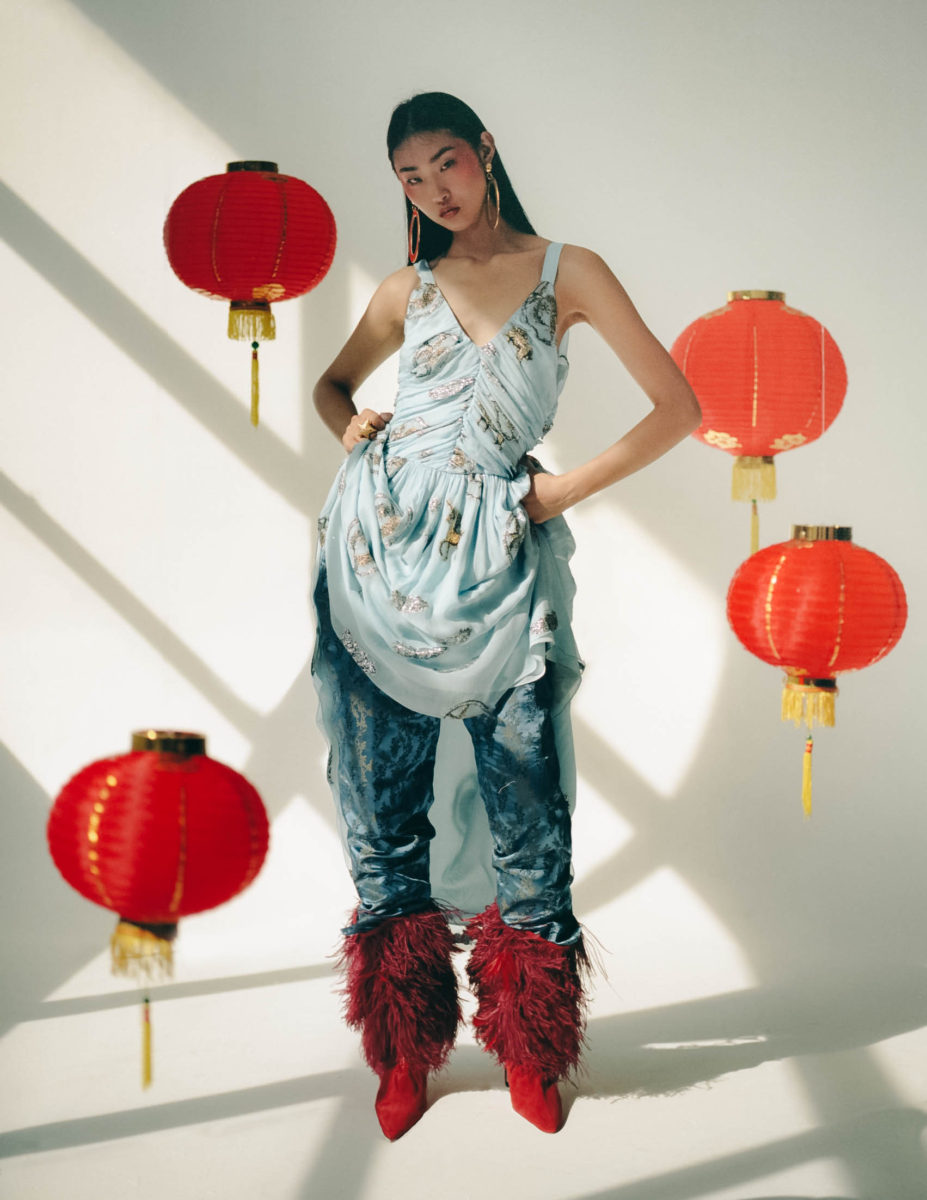 Dress by Alena Akhmadullina, Vintage Pants,  Earrings by Laruicci, Vintage Ring, Boots by Lena Erziak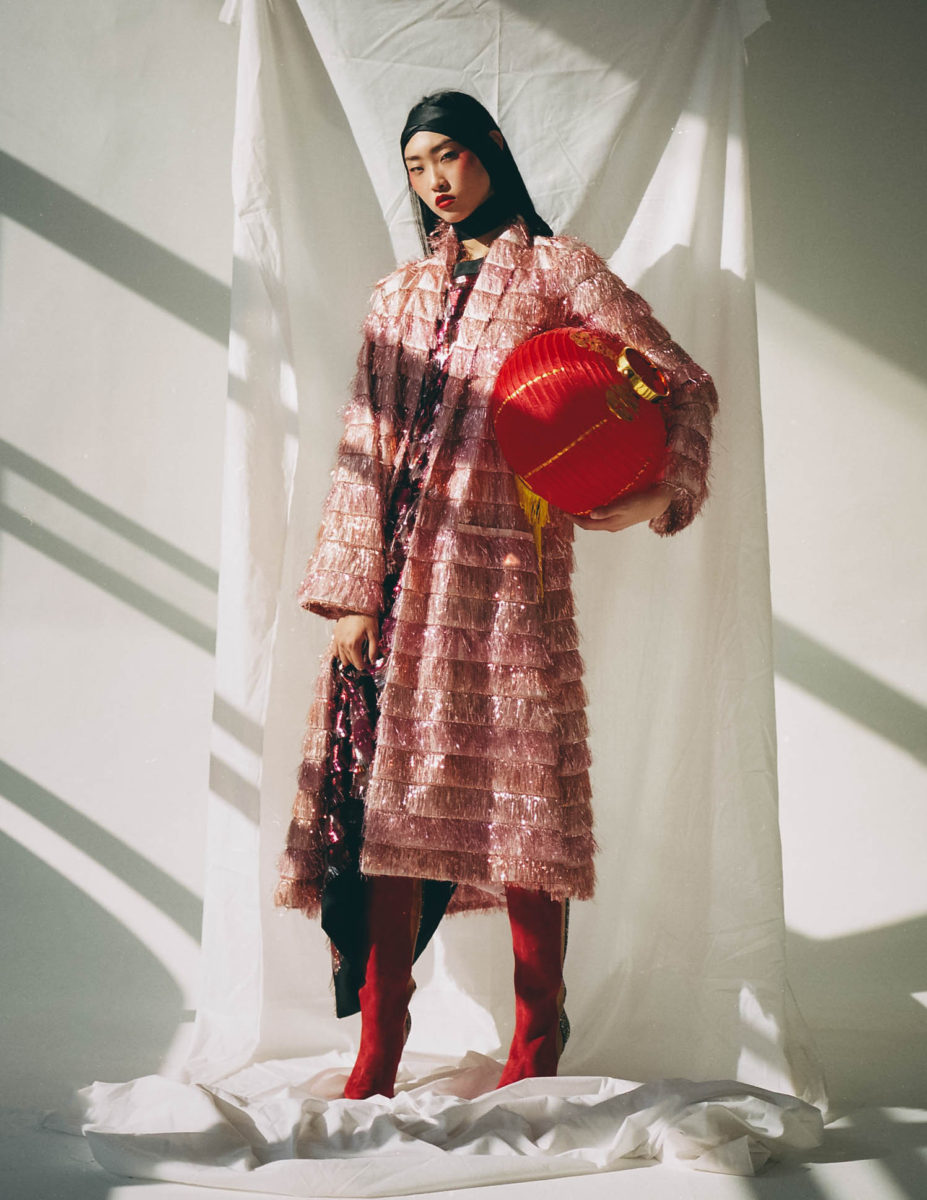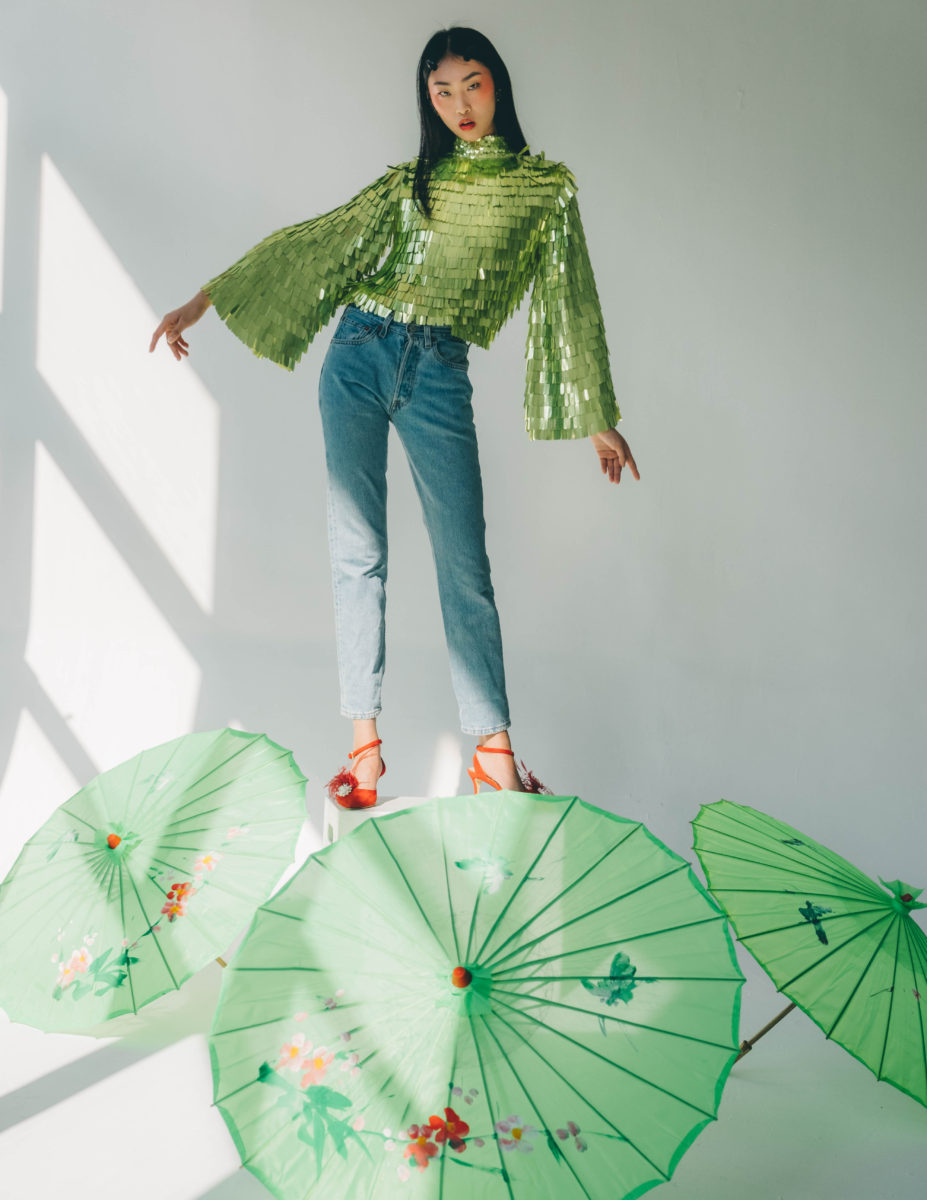 Vintage Sequin Top, Vintage Levi's Jeans, Shoes by Lena Erziak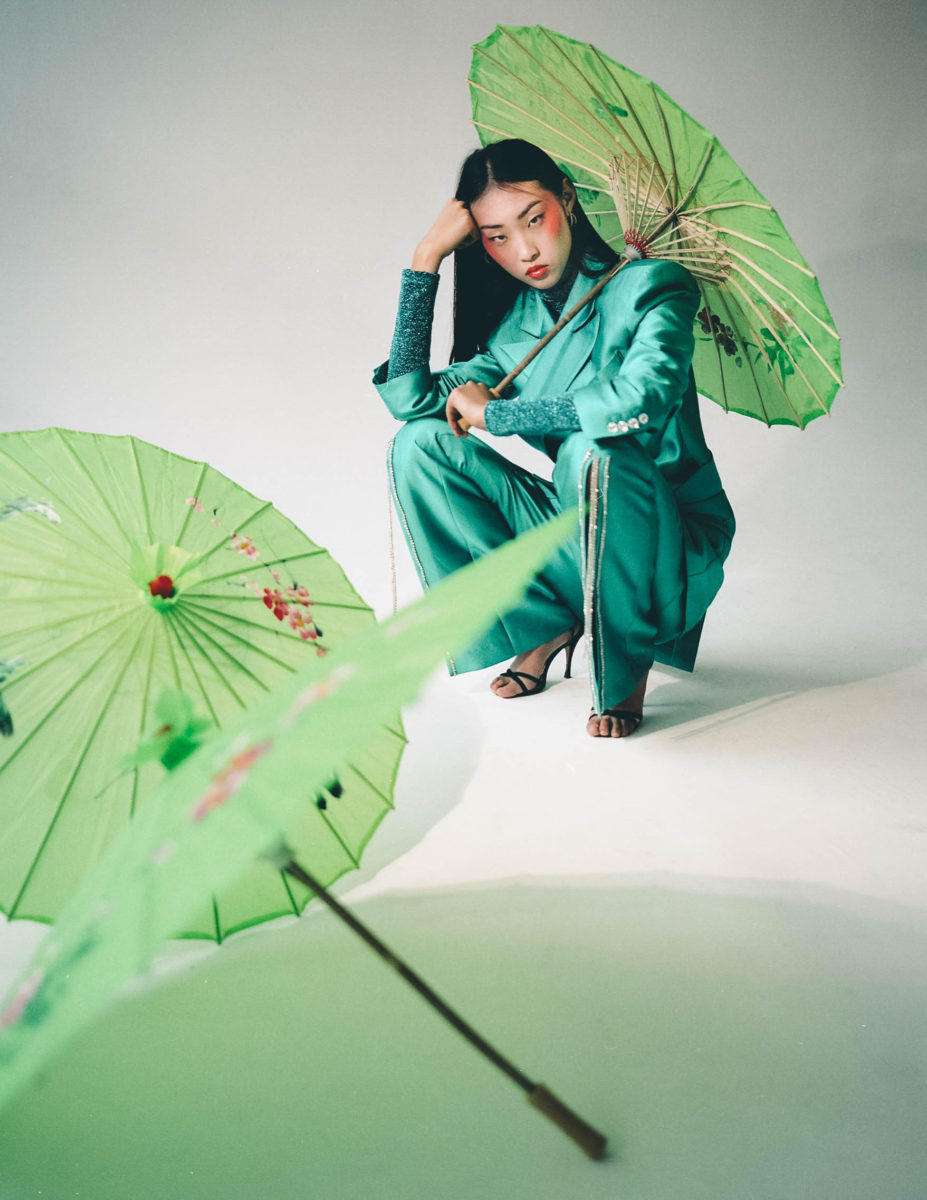 Suit by CHAE, Turtleneck by Victoria Hayes, Vintage Shoes by Manolo Blahnik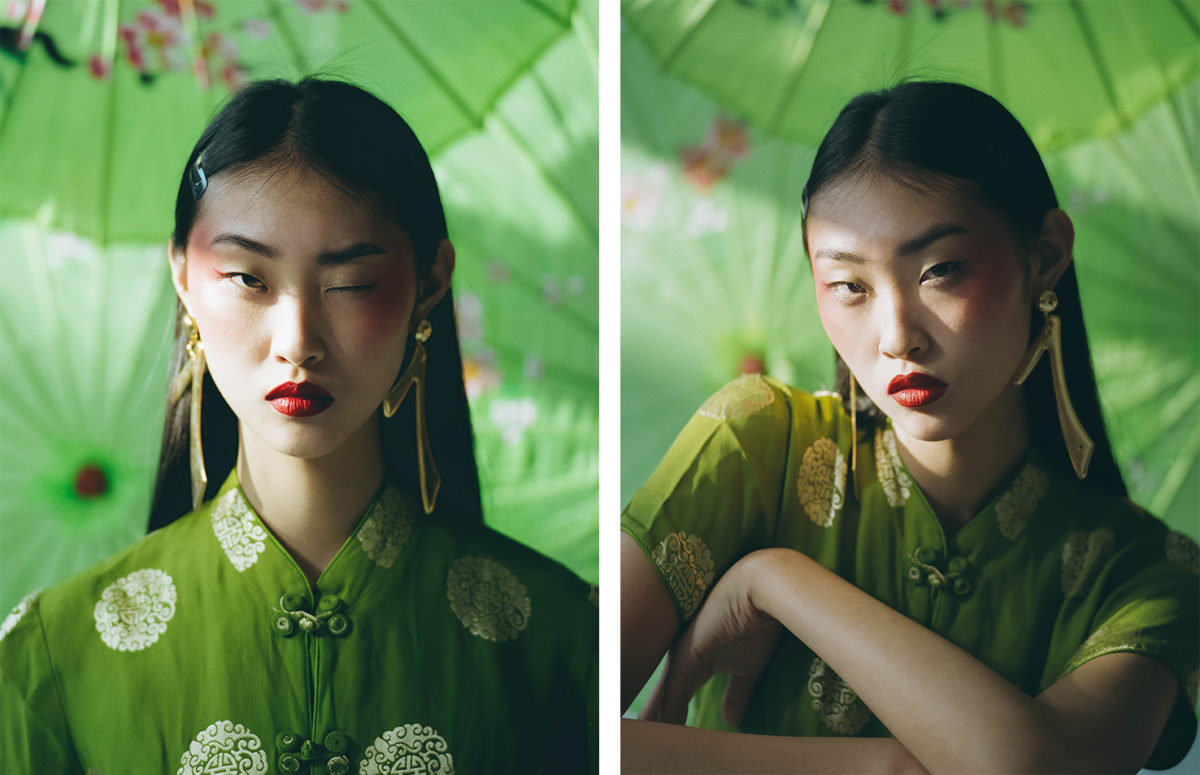 Vintage Top, Earrings by Laruicci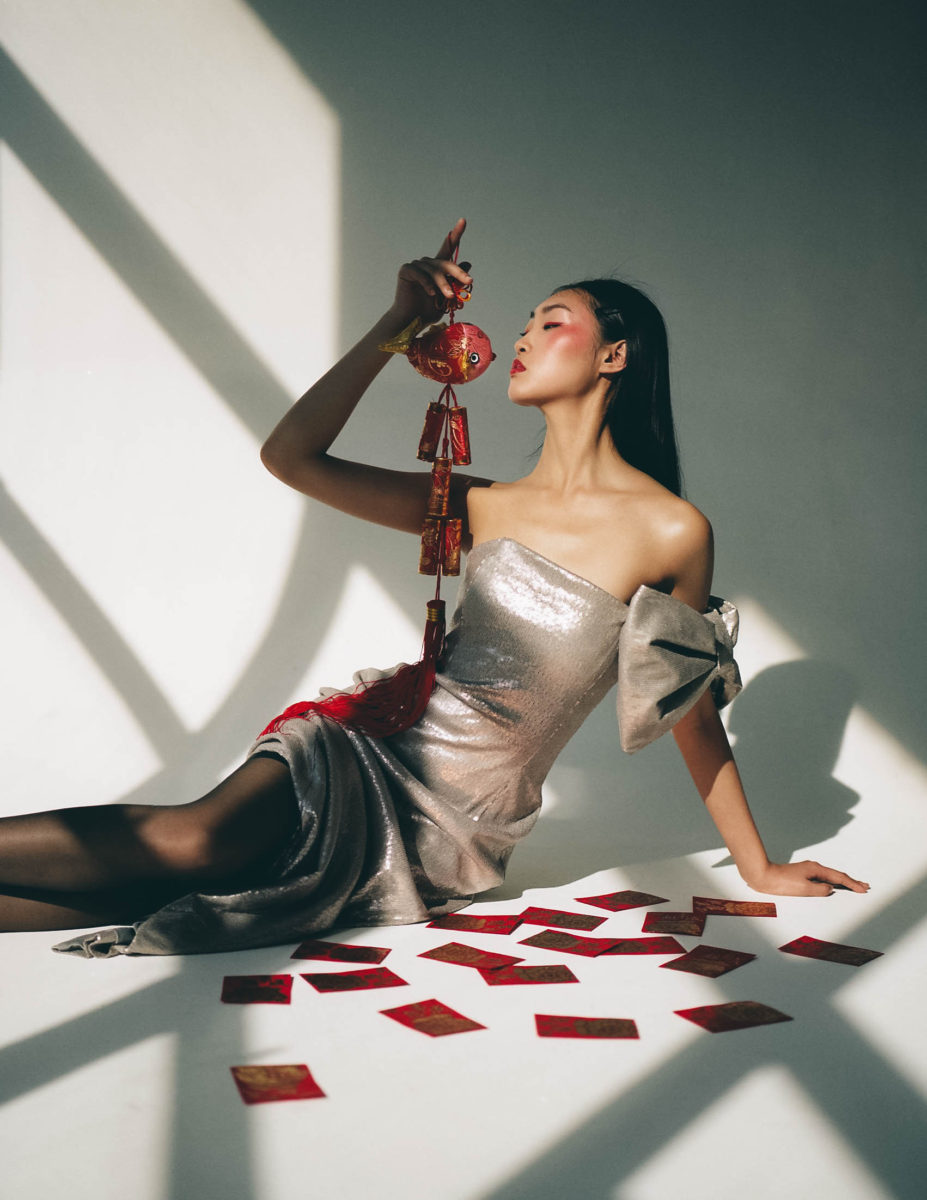 Dress by Kalmanovich, Stockings by Spanx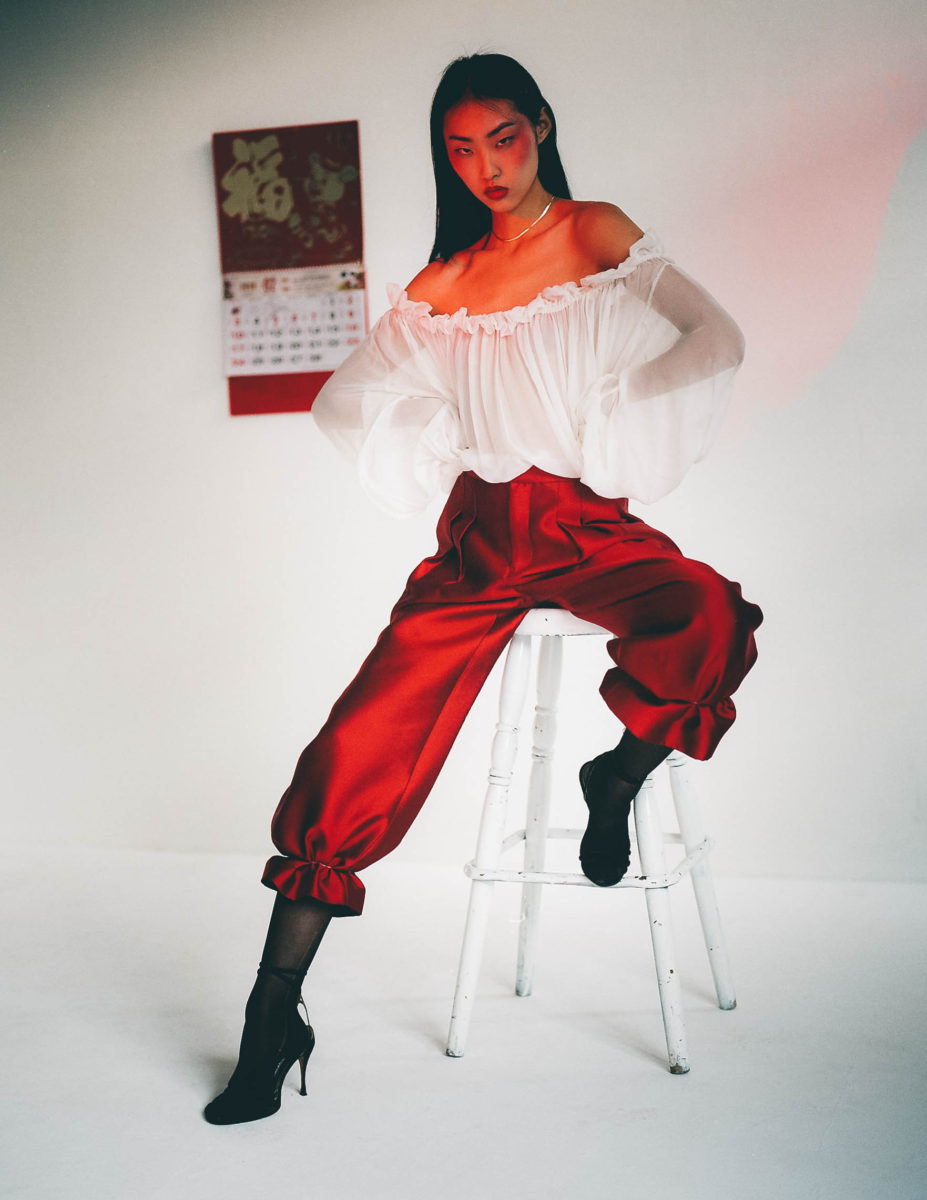 Blouse by Georgine, Pants by Victoria Hayes, Vintage Shoes by Manolo Blahnik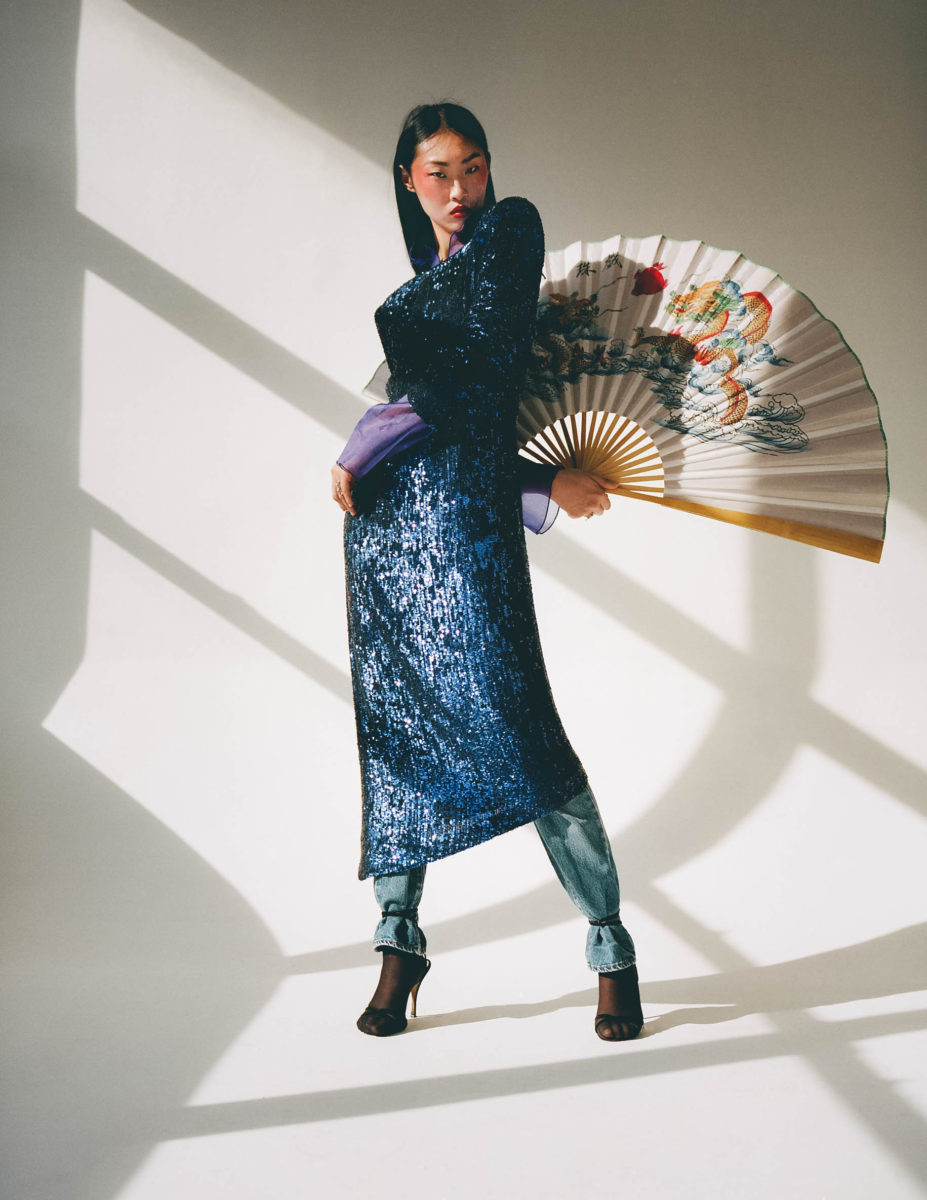 Dress by Victoria Hayes, Vintage Sheer Shirt, Vintage Levi's Jeans, Vintage Shoes by Manolo Blahnik, Rings by Ralph Masri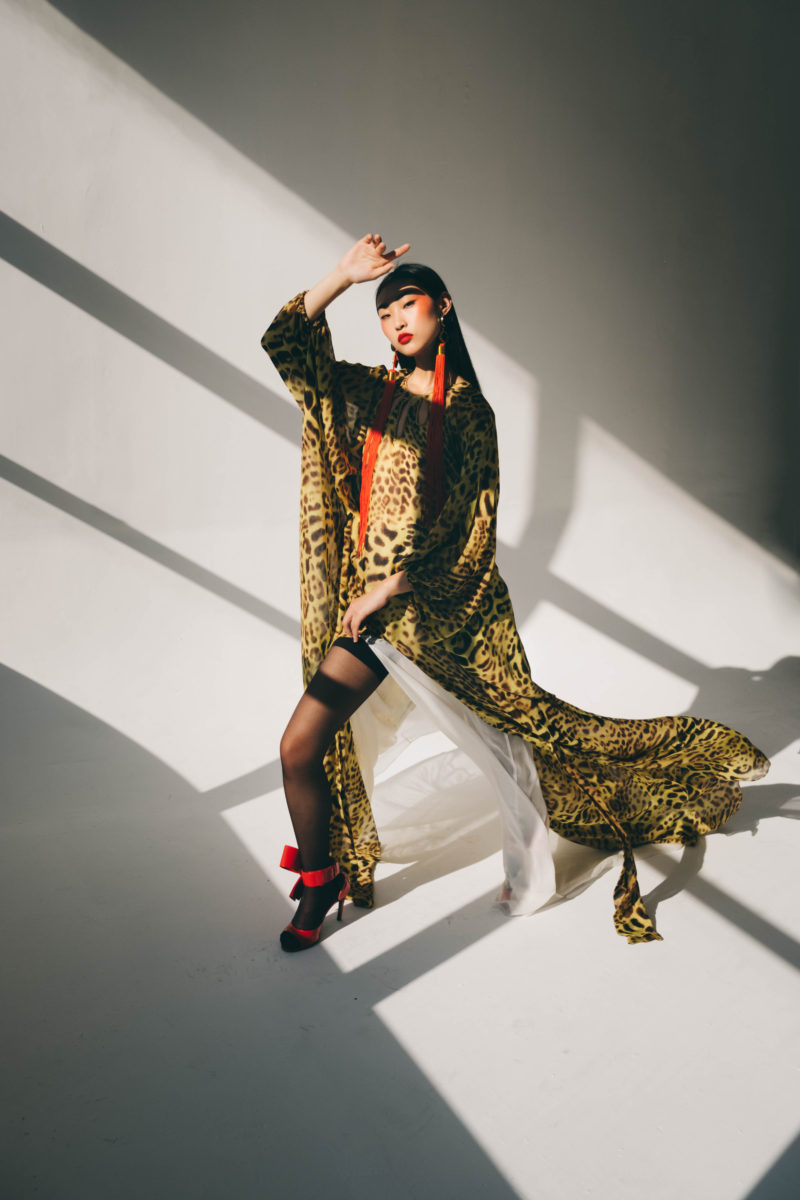 Dress by DELACRUZ, Shoes by Lena Erziak, Stockings by Spanx
WHO WILL STOP THE RAIN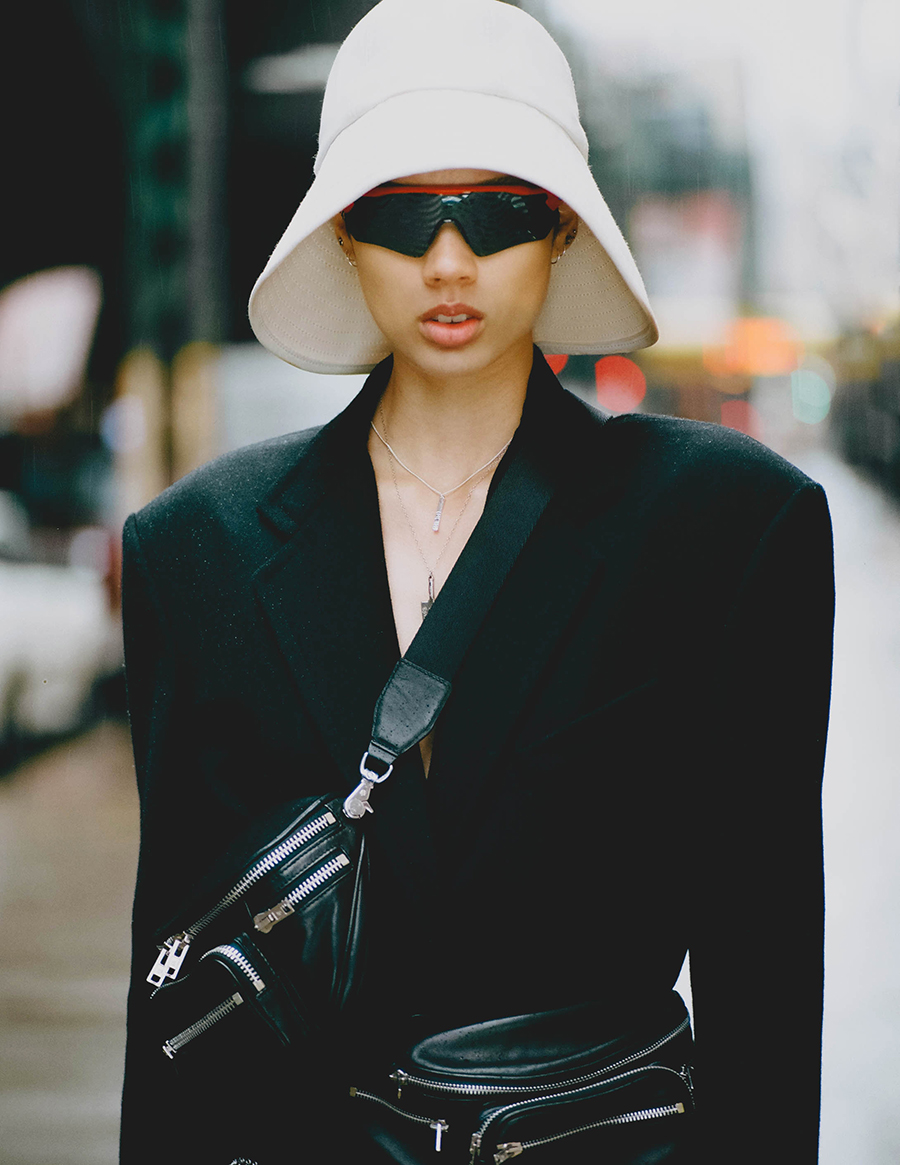 Photography: Dennis Tejero (@dennistejero) | Model: Brynn Bonner at Red Models (@theloneblackrose) | Styling: Cornelius Lafayette (@corneliuslafayette) | Makeup: Michael Chua (@michaelchuabeauty) | Hair: Jenni Wimmerstedt (@ivainsane) | Casting: Eric Cano (@cano_castings)| Photo Assistants: Tim Tamayo (@jalatimyo) and Bryant Lopez (@bryantglopez) | Retouching by Lara Ostertag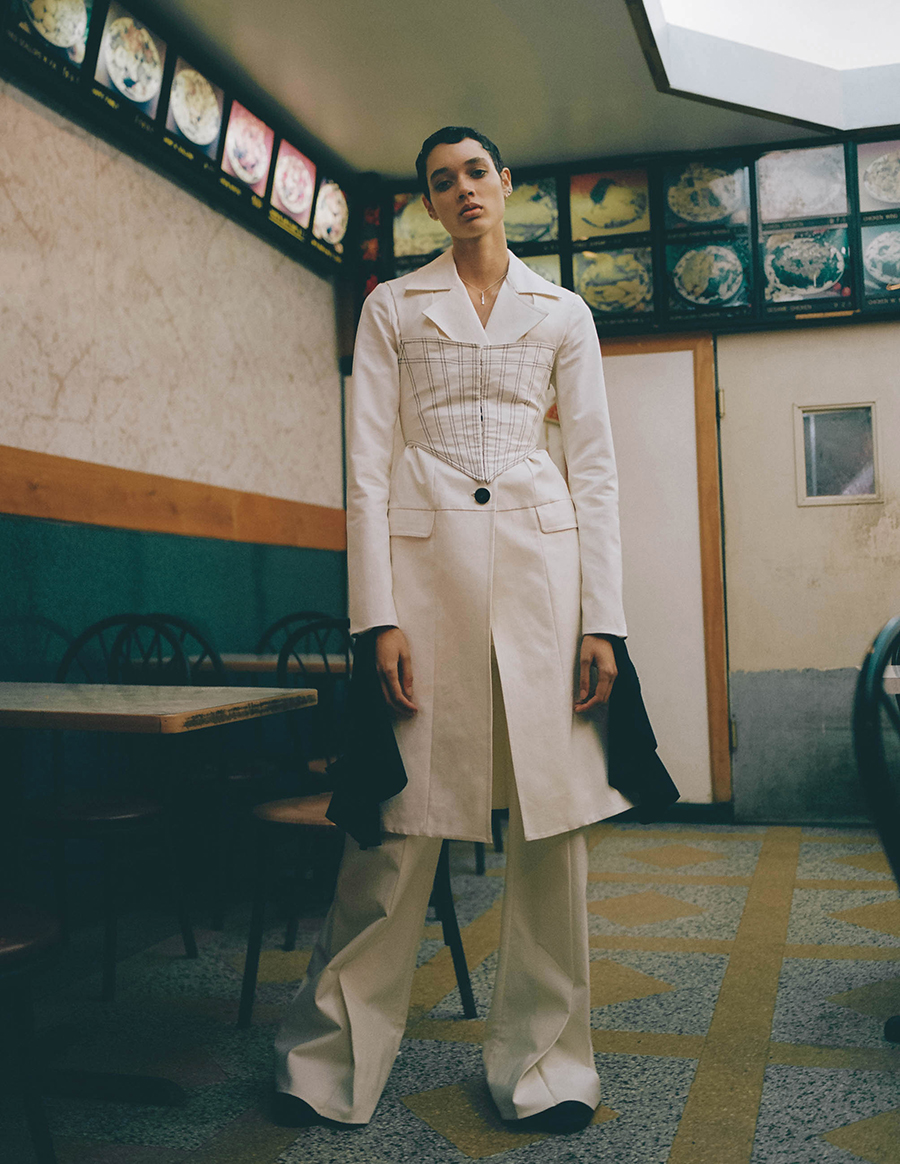 Full Look by Ellery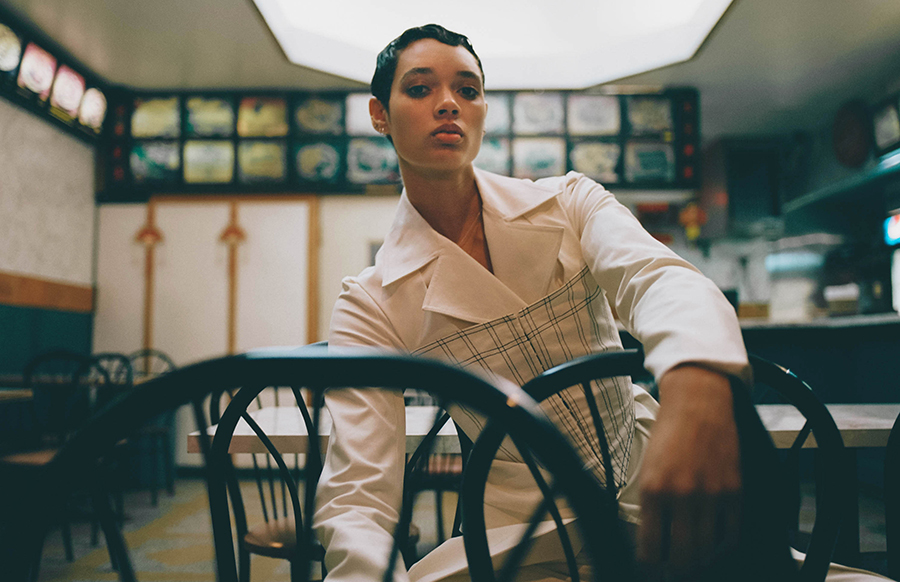 Full Look by Ellery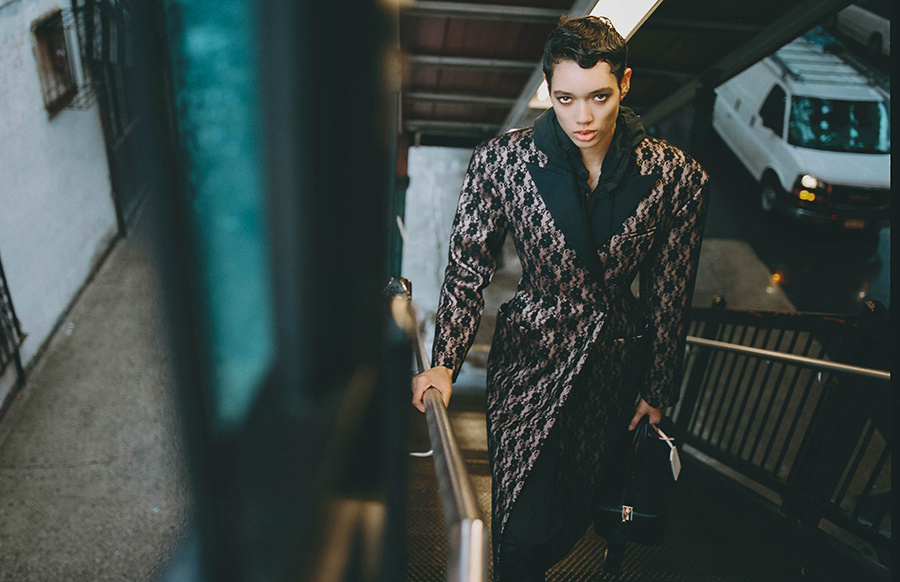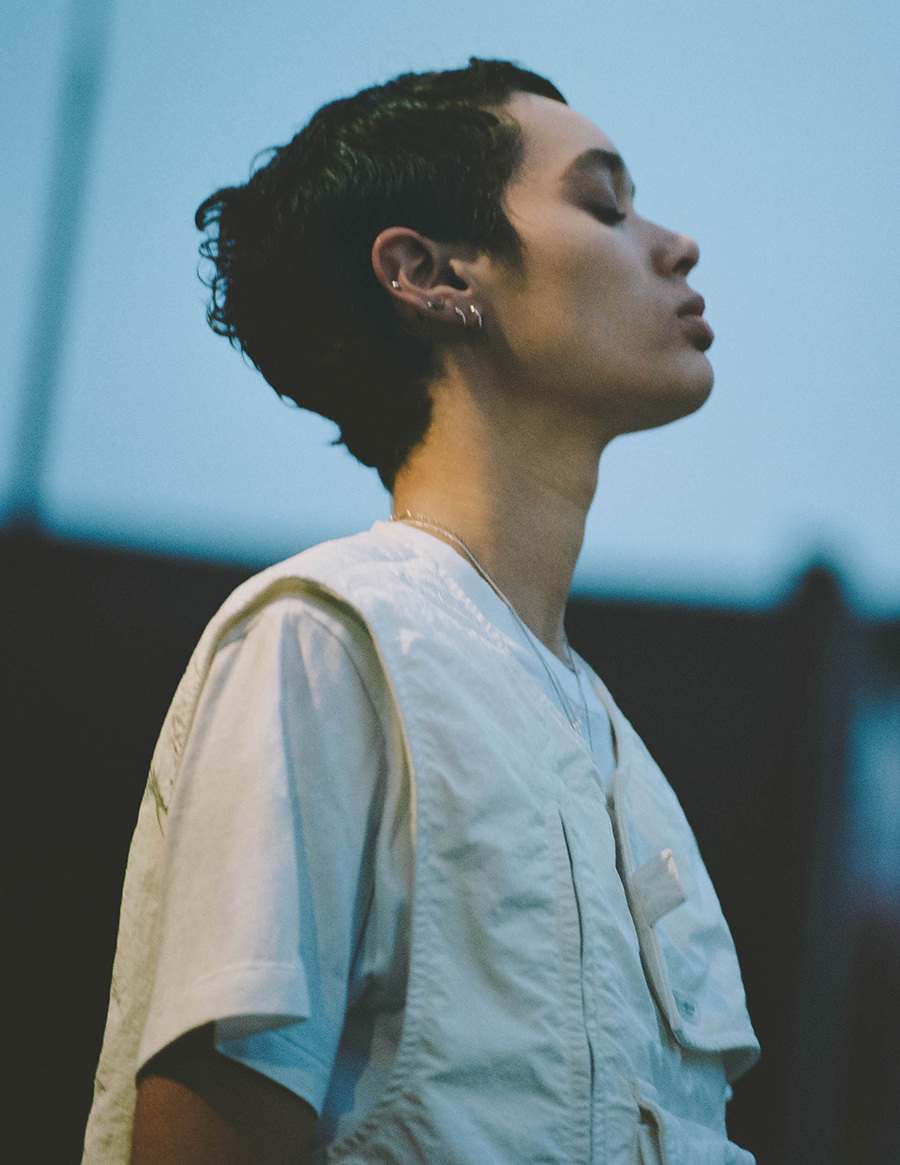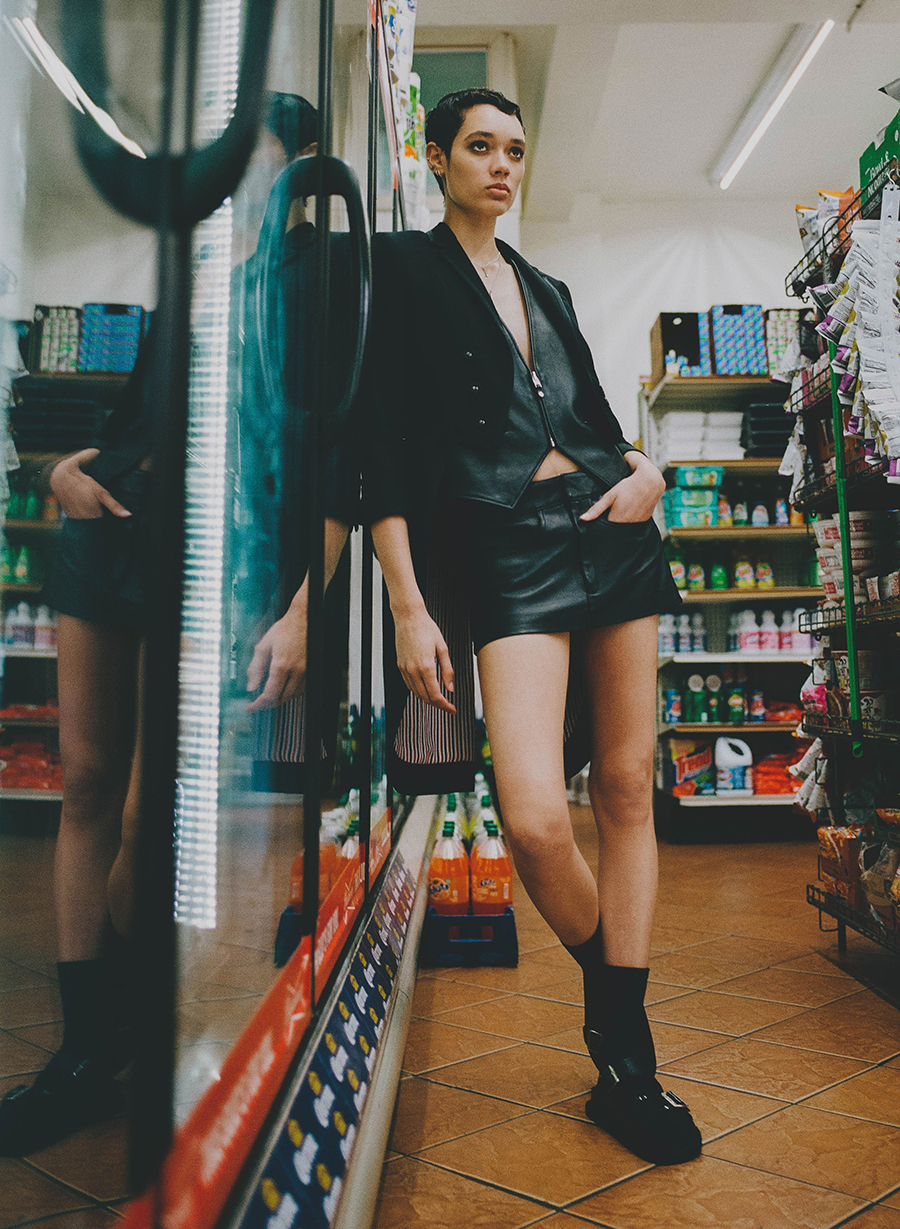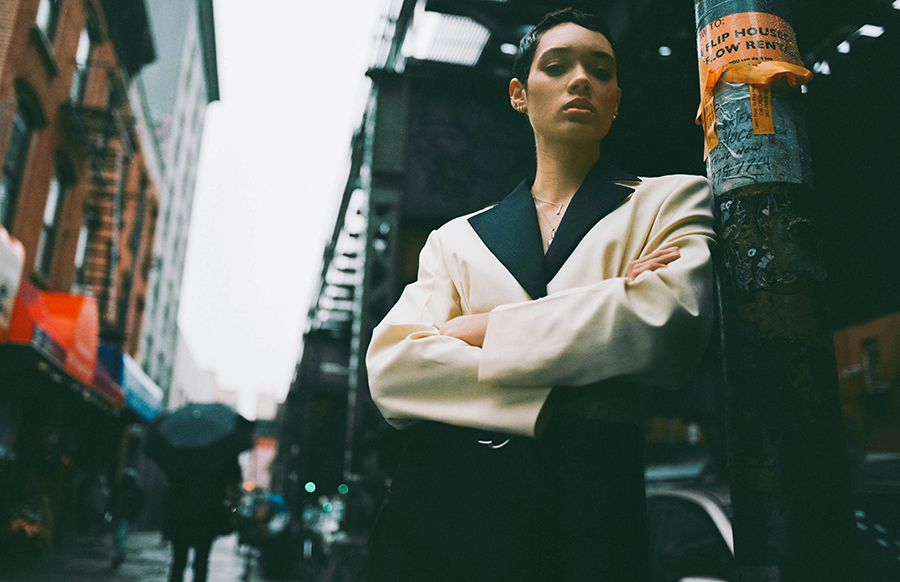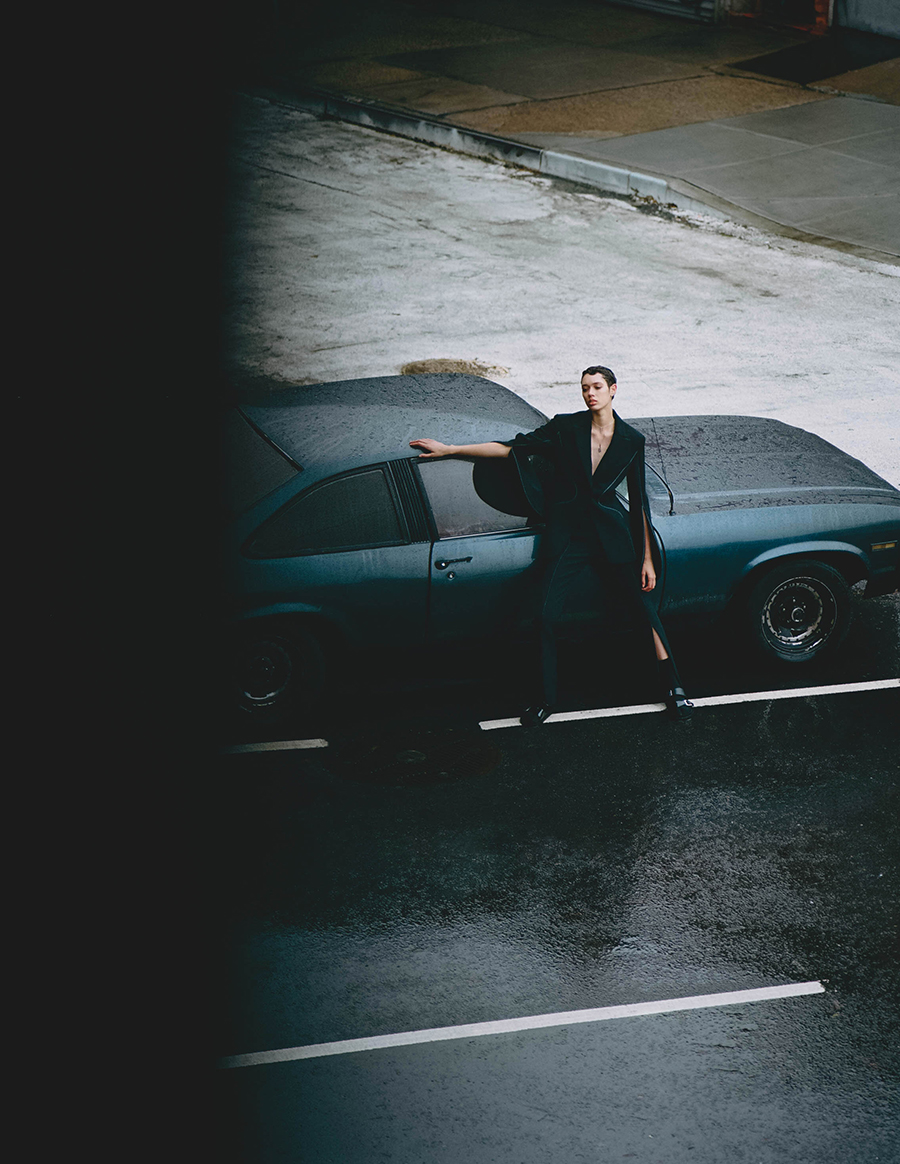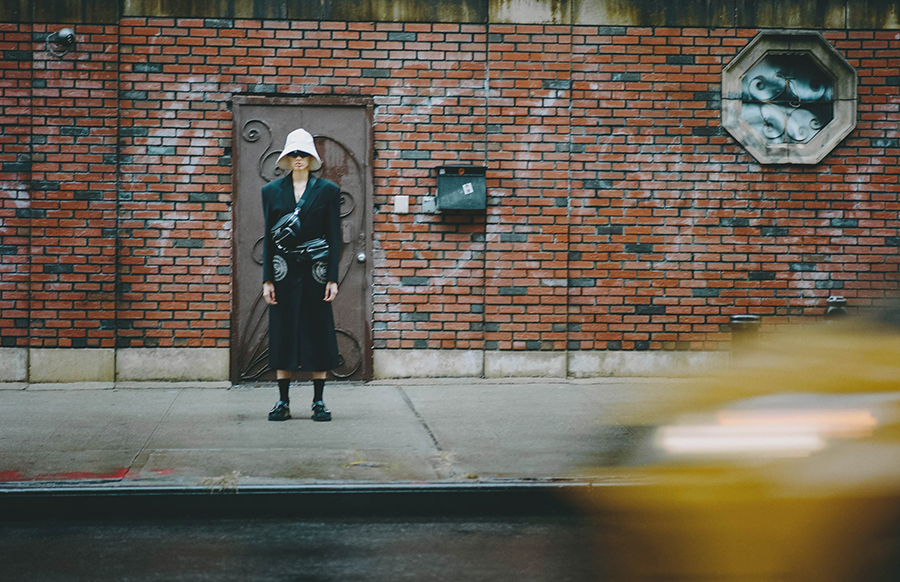 Full Look by JUUN.J, Shoes by Ellery